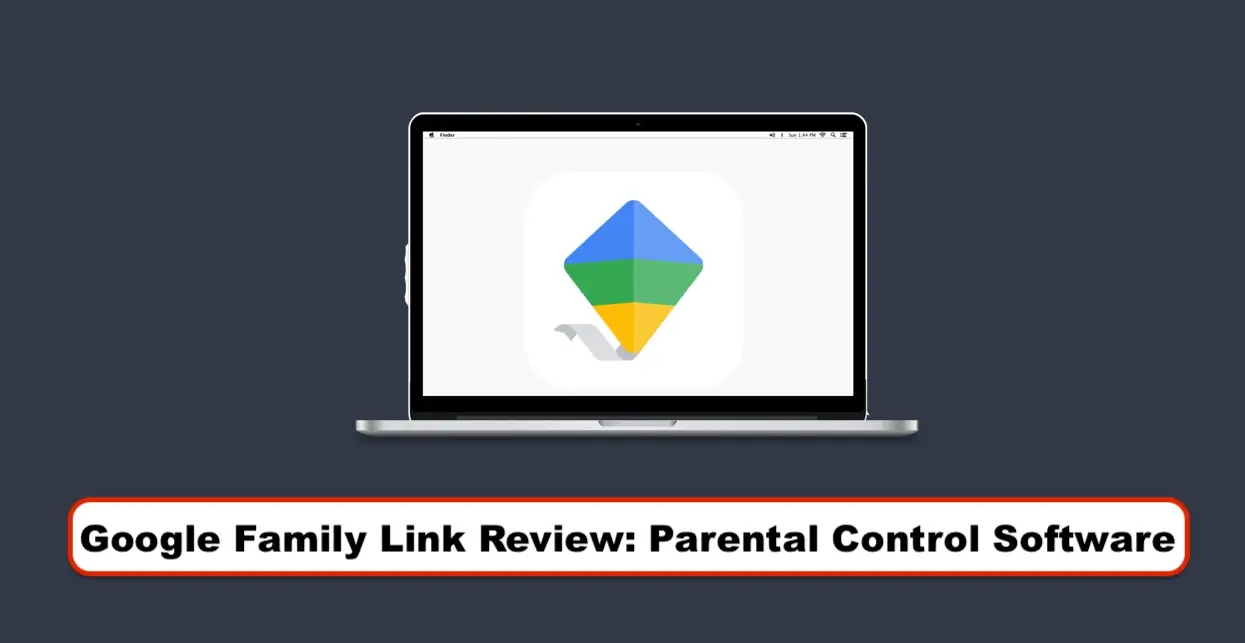 Google has introduced the Family Link tool for families to monitor and control their children's use of smartphones. In this article, we will review this tool and teach you how to create a Google account for your child and how to use it.
In the past, if users in specific age groups such as children and teenagers did not have access to the virtual world and communication tools, today, smart devices are an integral part of everyone's daily life, and these tools are always available to people, including children and teenagers. Having access to these tools and unlimited access to a space where all kinds of content can be found naturally concerns families about what is in front of their child's eyes, from the lessons given to children to raising awareness about internet use.
The period of a child's growth until reaching adulthood is a sensitive period, which is why parental control is not considered a hindering factor, and big technology companies have not overlooked its importance. For this reason, technology manufacturers and large companies active in the field have offered their own solutions to manage their children's use of smartphones and become familiar with the features included for this purpose.
In this article, we aim to introduce you to the solutions that Google has provided for parents regarding managing children's use of smart devices, teach you how to use parental control tools and examine their capabilities.
Introducing Family Link: Google's Solution for Controlling Children's Smartphone Use
Google has introduced the Family Link tool for Android devices to monitor and control children's use of smartphones. Family Link is one of Google's services in the Android operating system that gives parents many permissions to monitor their children's internet activities. This service allows the guardian's Google account to be linked to the child's account, enabling them to monitor activities such as app usage and usage time. It also allows you to restrict installation of apps from Google Play and manage the list of installed apps on their smartphones. Other features of Family Link include viewing the total device usage time, locking the device during specific time intervals, and tracking the location.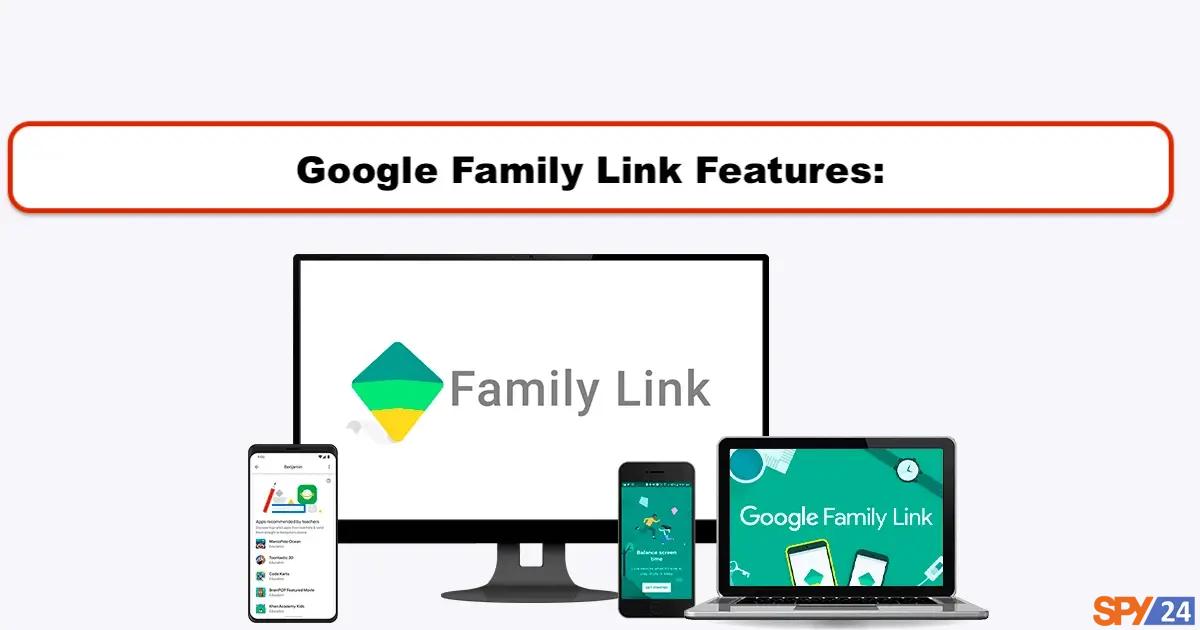 In addition to the control options mentioned above, Google automatically monitors the content displayed (even the content displayed by apps) based on the age range and does not allow access if a particular service or app is not applicable to the defined age range. To use this feature, you need to create a new Gmail account on your child's phone. Because according to Google's rules, individuals under 13 years old cannot use a regular Google account and a special account for children must be created under the supervision of an adult. In the following, we will explain how to create a new account for children and set up a guardian account to control the phone.
Creating a Gmail Account for Children and Activating Google Family Link
First, log out of all accounts, including Google accounts, on your child's phone. To do this, go to Settings and go to Accounts & sync or Accounts & backup. Select each account and choose the Remove Account option. If there is any specific data in the current Google account, you can transfer it to the new account later by logging in.
Open the phone settings and go to the Apps section. Find the Google Play Services app, enter it, and from the Storage section, select Manage space/storage, then Clear All Data to delete its data. Then, force stop it.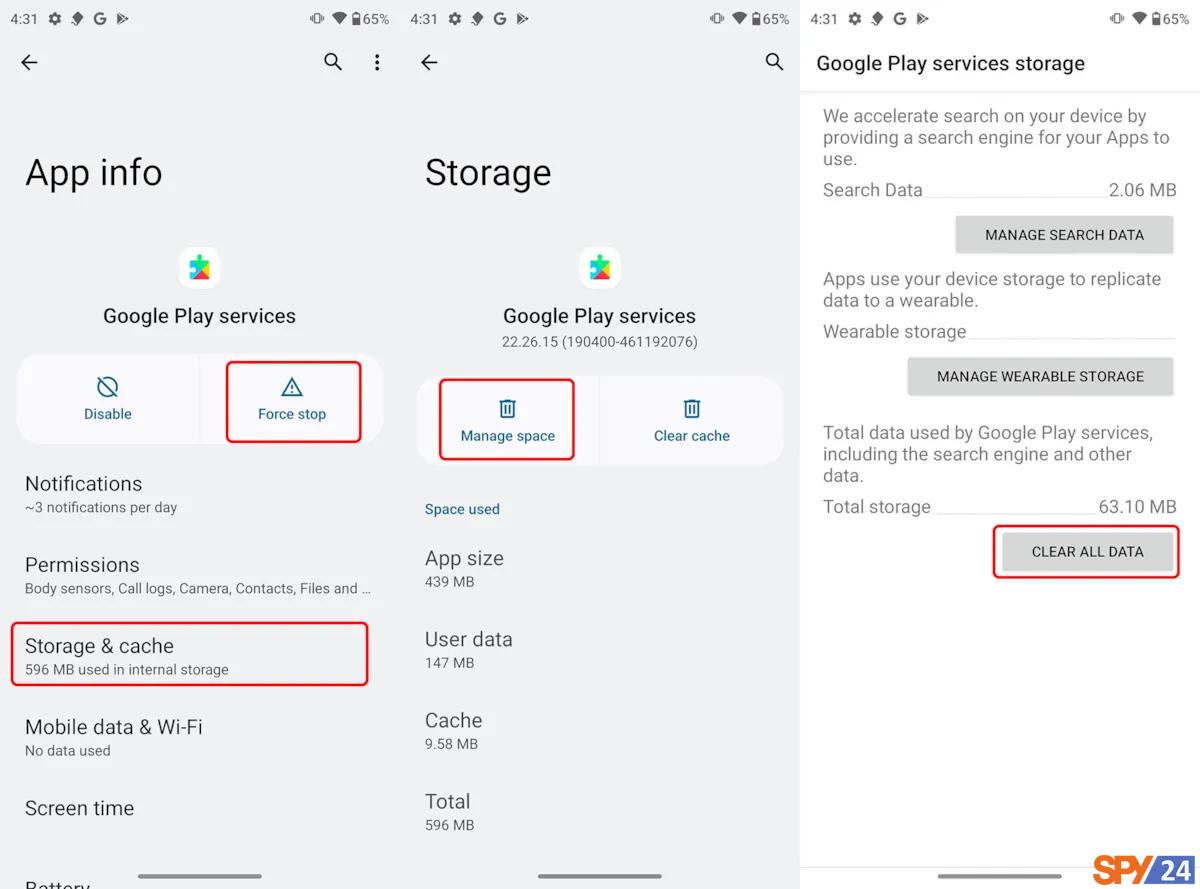 Open the phone settings again and go to the Google settings section and select Parental Controls. Click on Get started. Choose the Child or teen option.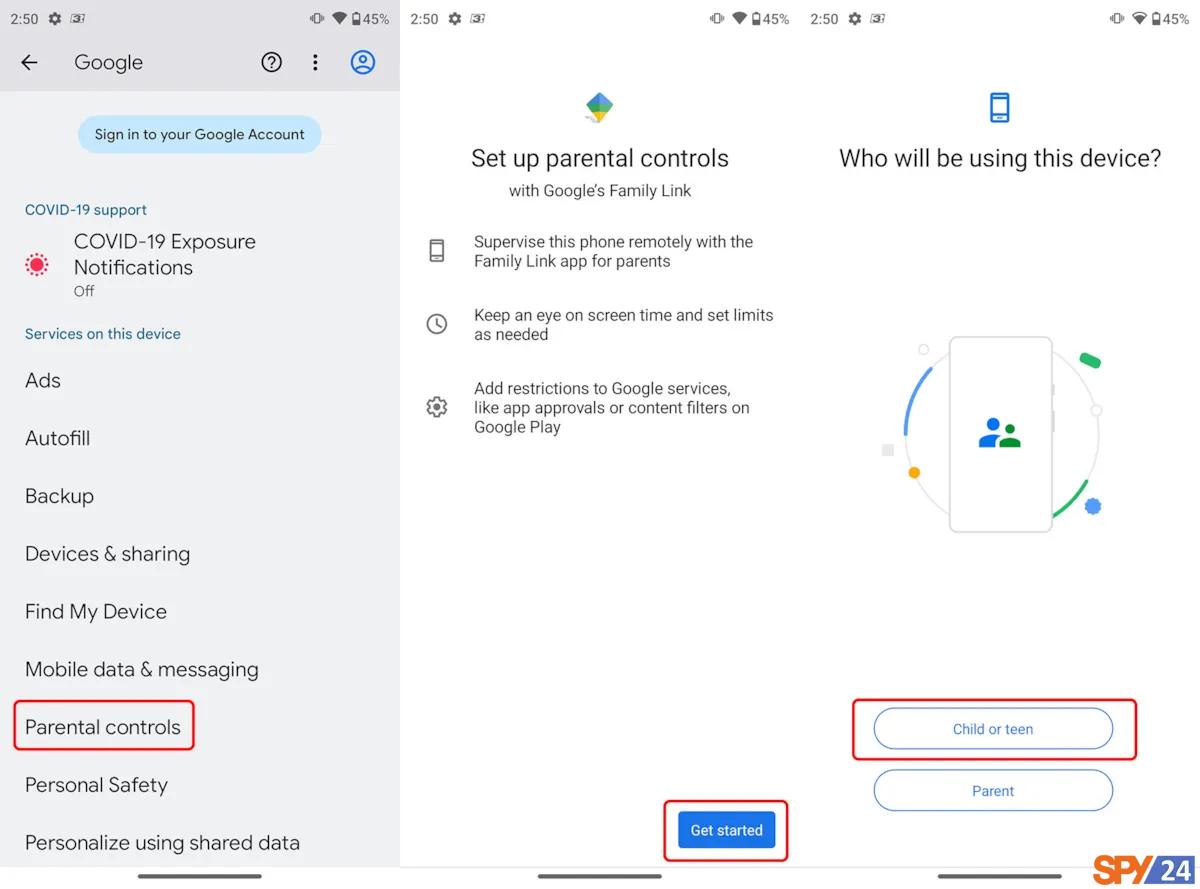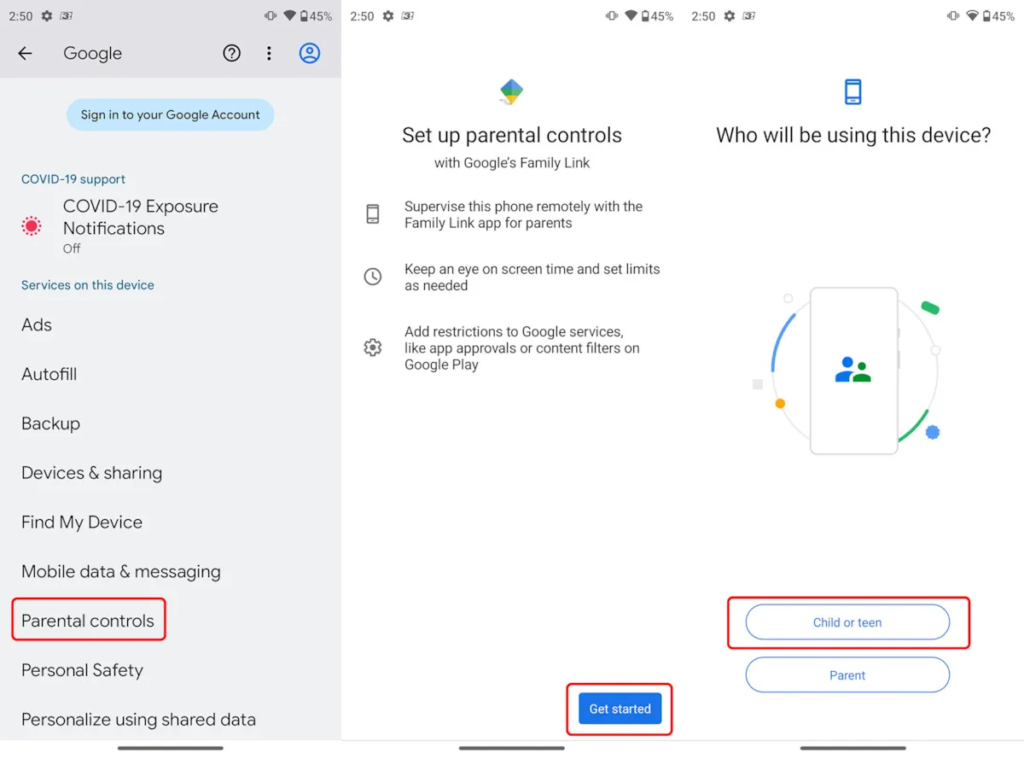 Select Next. Tap on add or create account for your child. On the next page, select Create Account and then For my child. Then, click on Yes, continue.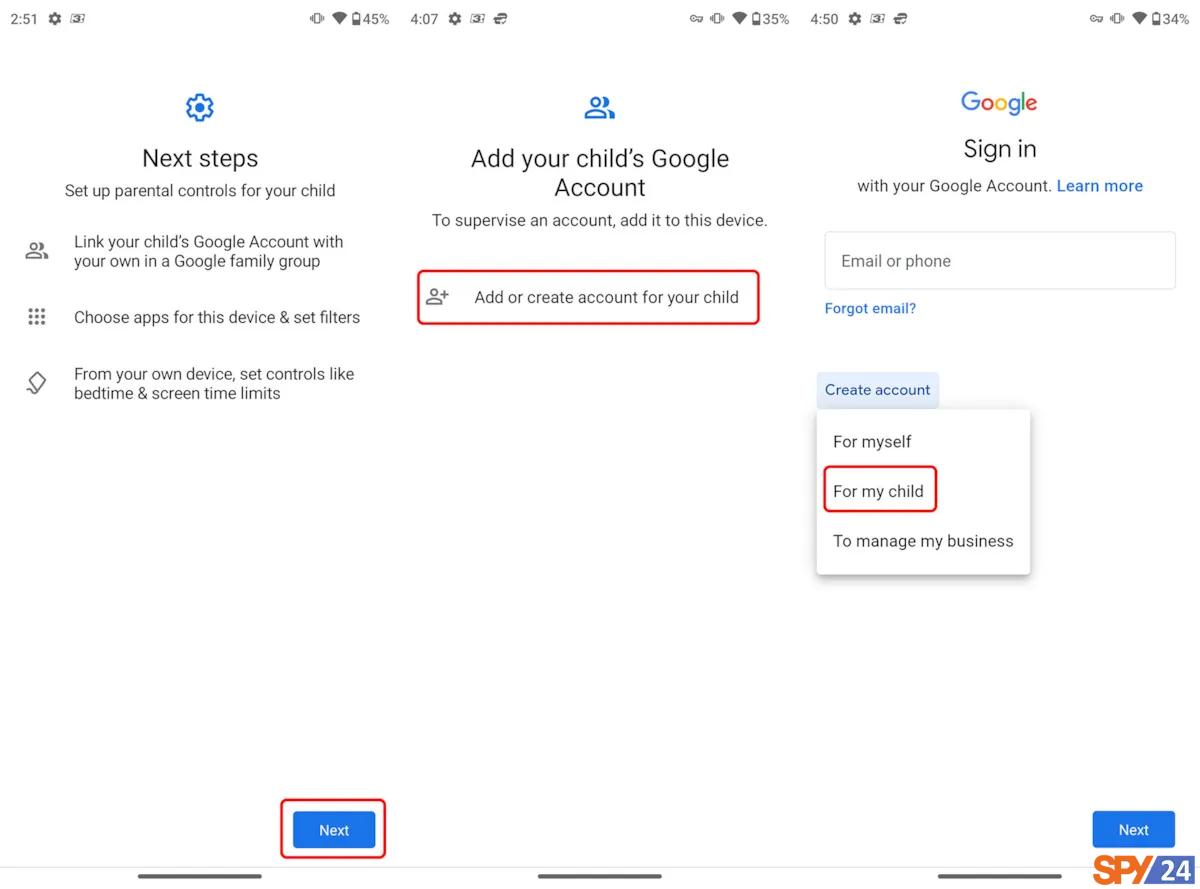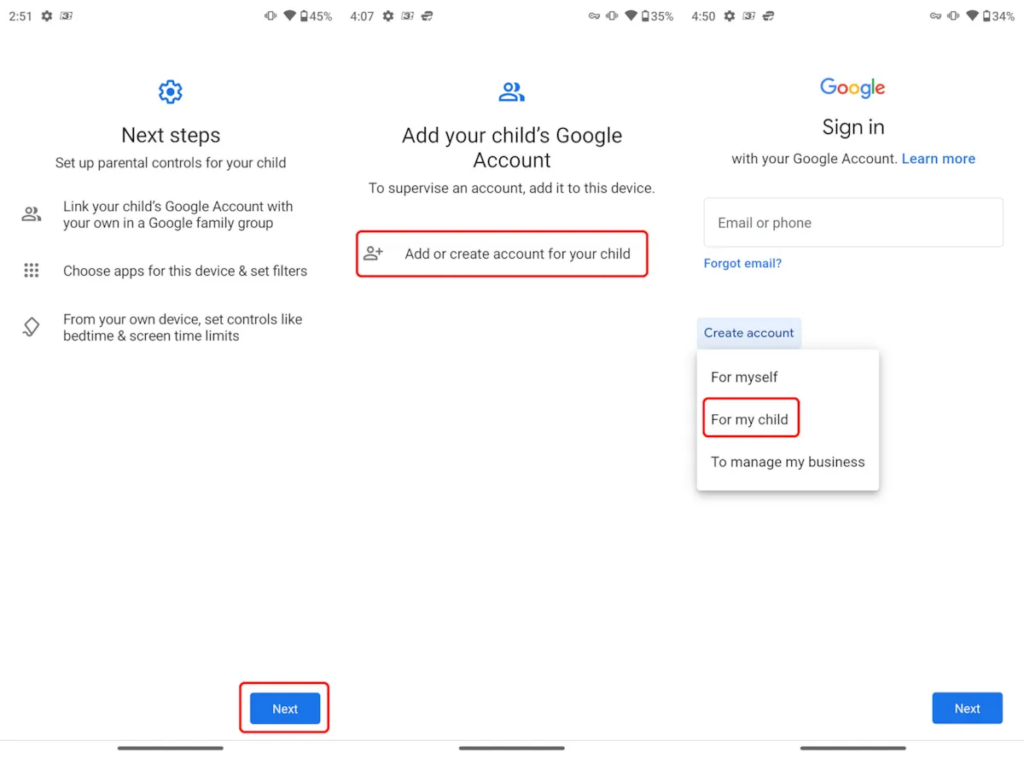 Enter your child's real name and date of birth. Then specify an email address for them.
In the next step, enter your own email as the parent. On the next page, select the two checkboxes for agreeing to the terms and privacy policy and click on Agree. Google then asks you to customize the main settings of the services available to your child, which we recommend doing from the start. Therefore, select the Manual personalization option.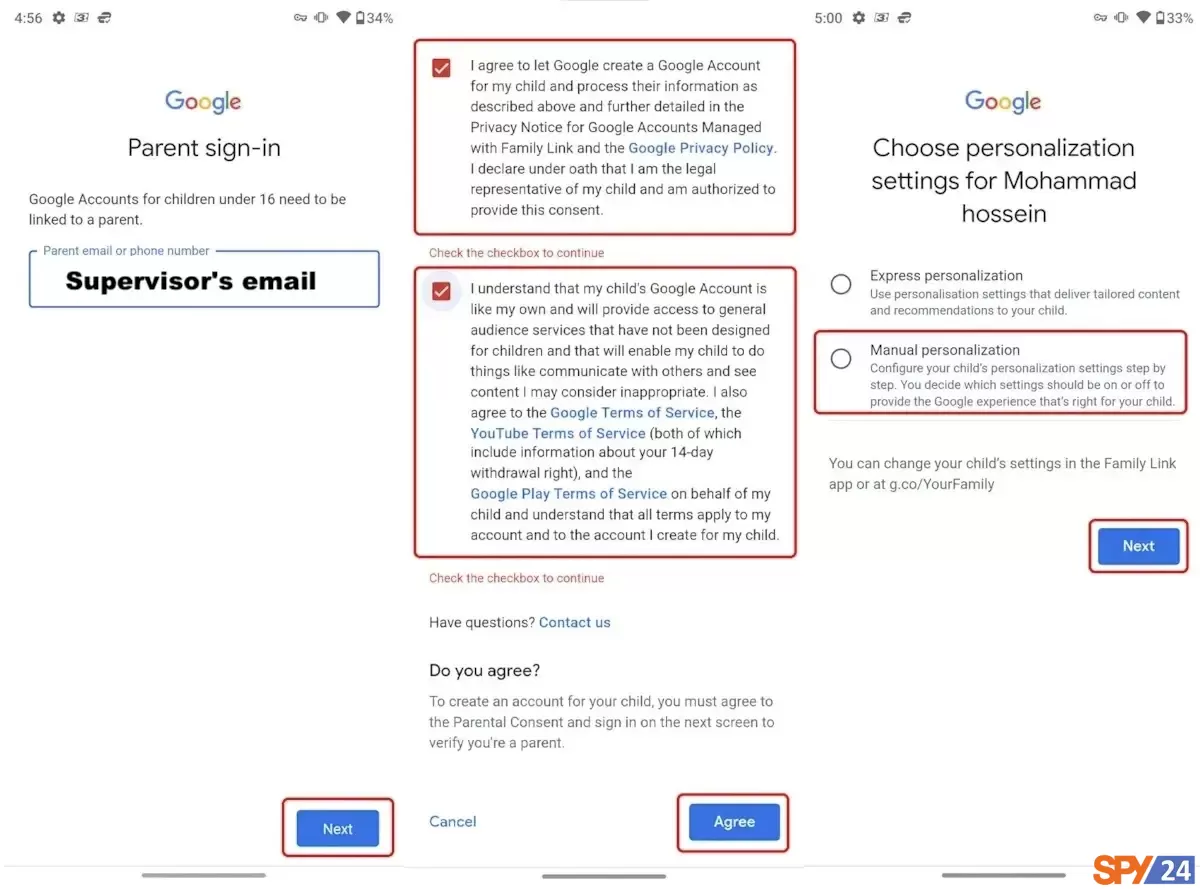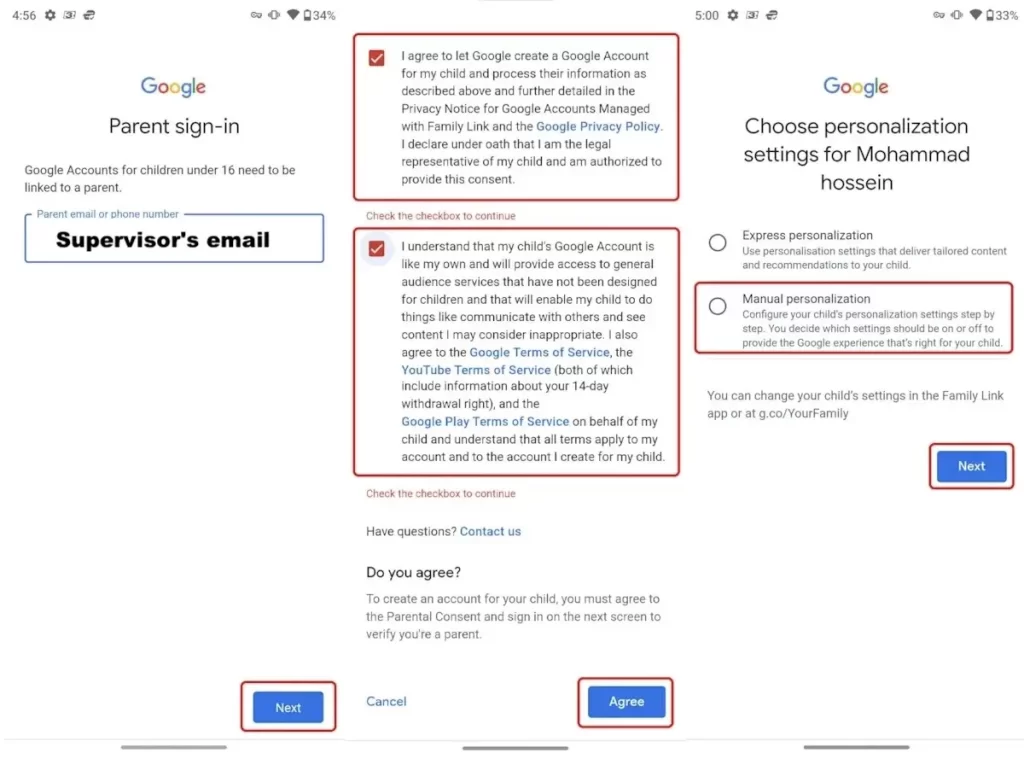 Here, you need to configure the initial settings in four steps.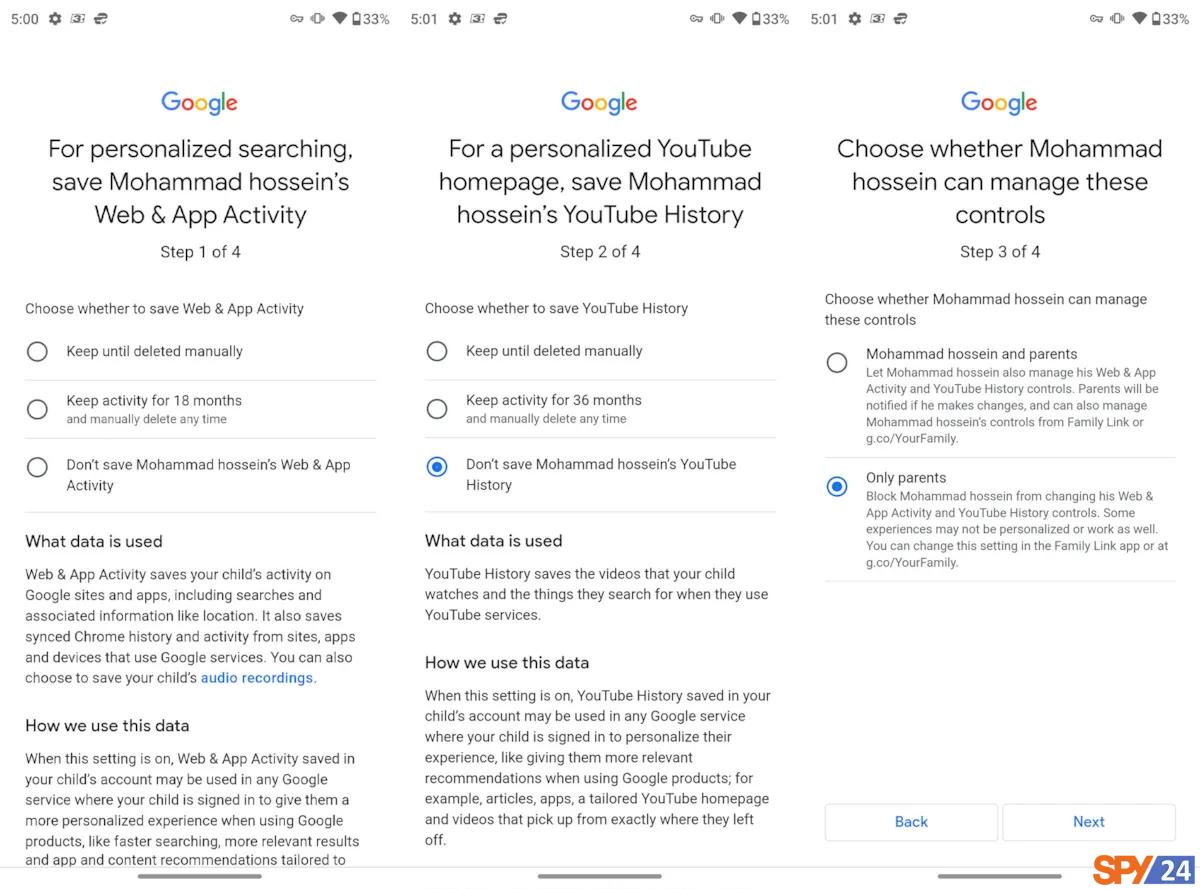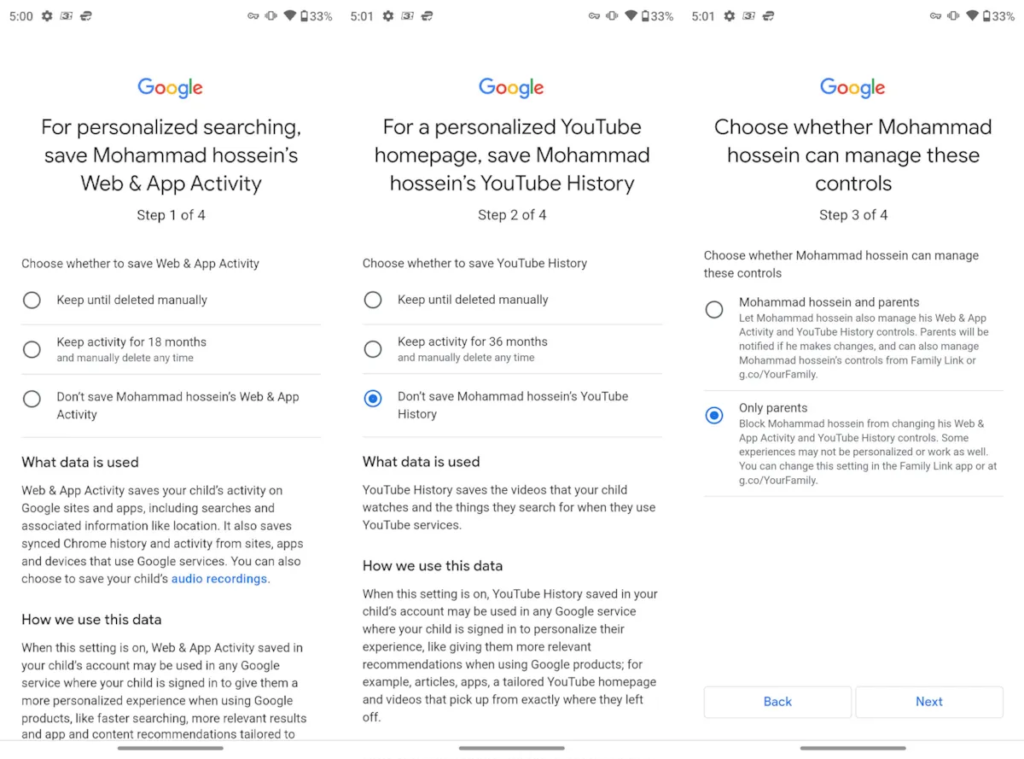 In the first step, you will be asked about saving your child's activities in Google services, including the operating system, apps, and search history. You can choose to either not save these activities at all, automatically delete them after 18 months, or keep them until you manually delete them. Saving these activities can be useful for providing personalized content and improving recommendations for your child.
In the second step, you need to select your preference for YouTube account settings. These settings can be changed in the future as well.
In the third step, you need to decide whether your child can change the above settings themselves in the future or if they need your permission to do so. In the fourth step, a summary of the selected settings is displayed, and you can proceed to the next step by clicking Confirm.
In the next section, Google informs you about the data it extracts from how people use its services and the processing done on that data. It also explains the reasons for collecting data, which you should read and click Agree if you agree with them.
If you want someone else besides you to be able to take care of your child's device, enter their email address in this section, otherwise click Skip.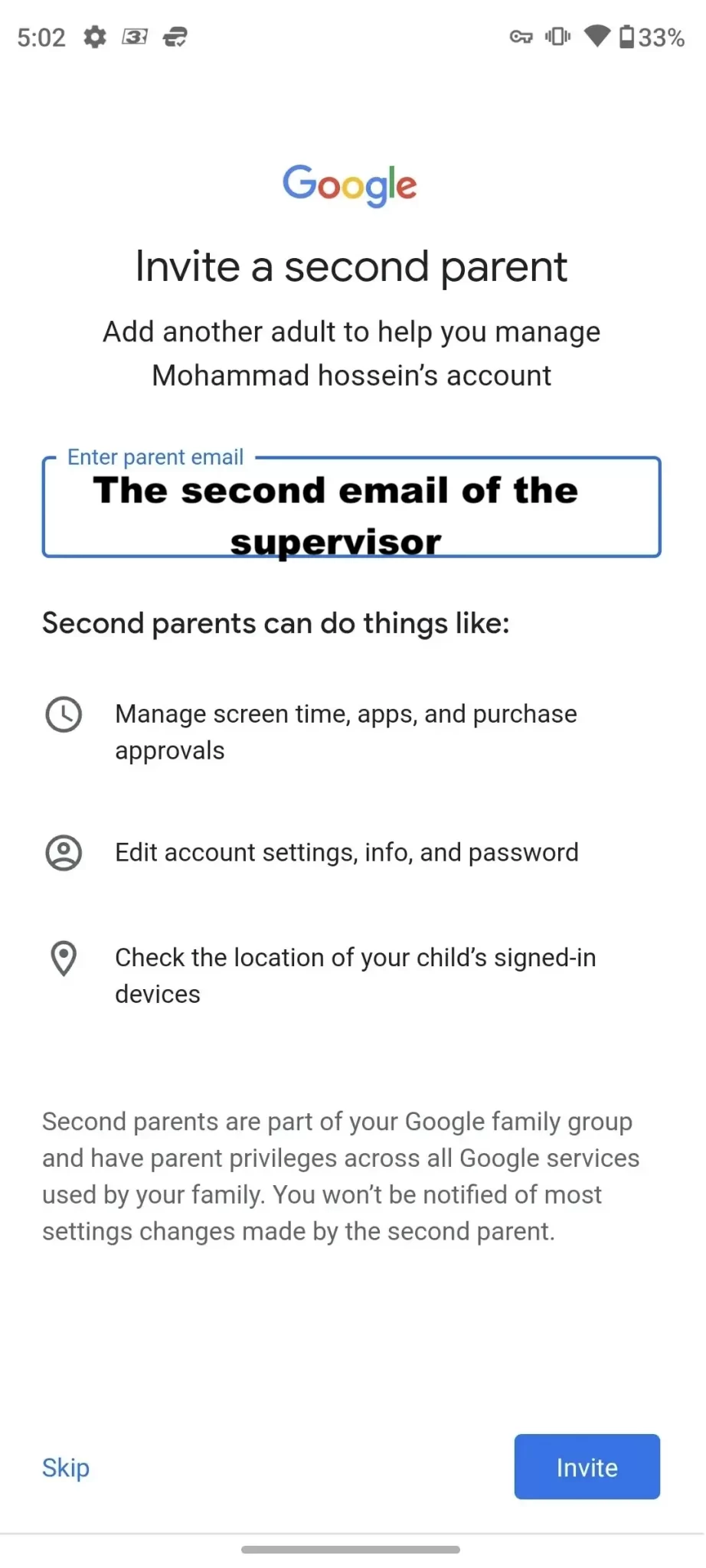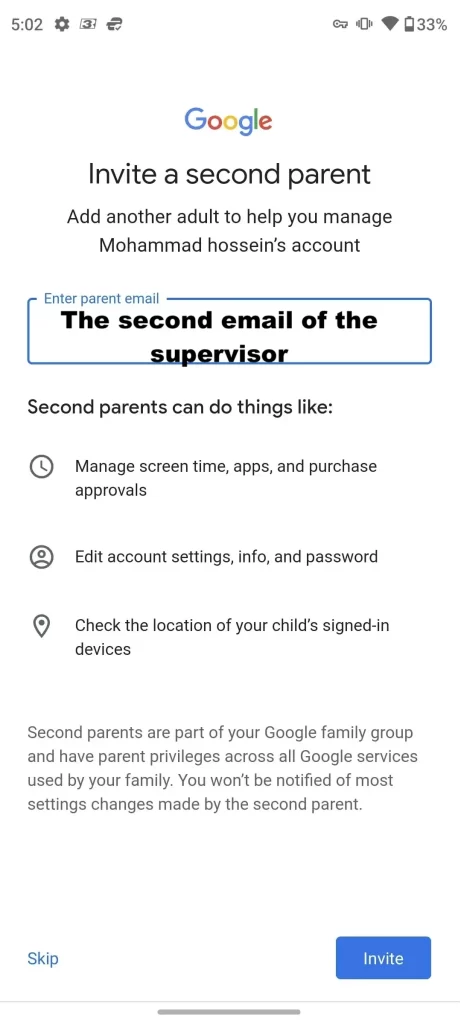 This step is for setting restrictions. Settings such as the content that your child can access on Google Play or filters that can be applied to search or browsing web pages are configured in this section.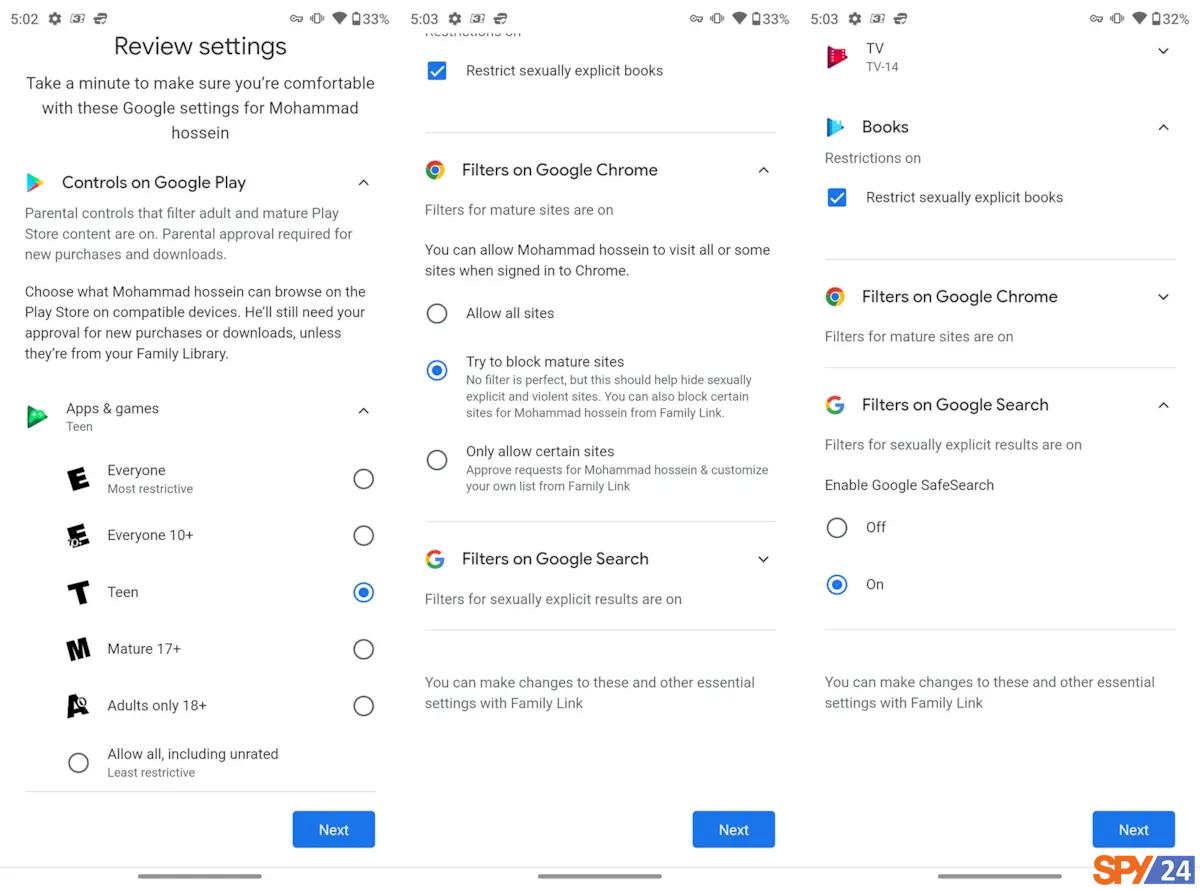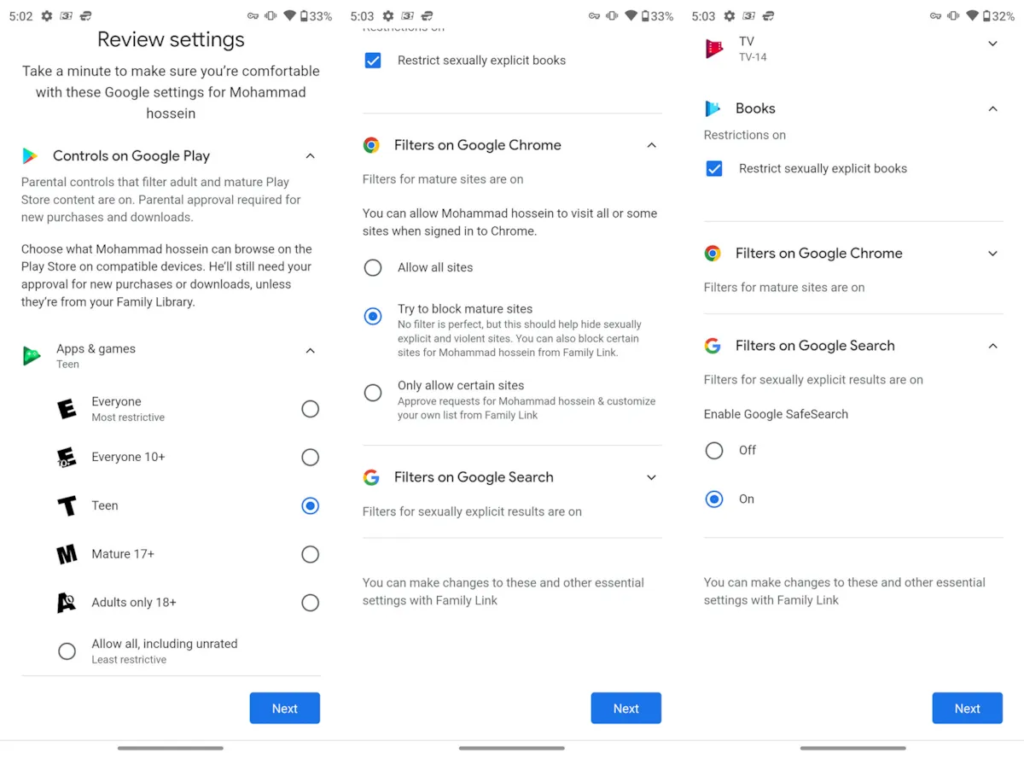 Click on Controls on Google Play to set age-based restrictions on Google Play content. The default content ratings are determined based on the child's age and in accordance with the laws of that country, but you can change these ratings for each section such as the app store, videos and TV, and books.
Click on Filters on Google Chrome to change the display settings for content while browsing web pages in the Chrome browser. To prevent your child from accessing inappropriate content, selecting the middle option Try to block mature sites is sufficient, but if you have specific sites in mind, you can define them by selecting the third option to block access to those sites. Note that this restriction applies to Google Chrome only. If another browser is installed, these settings may not be effective.
If you click on Filters on Google Search, you can enable Safe Search on Google during search. This setting is solely up to you, and your child cannot change it. After configuring these three options, click Next.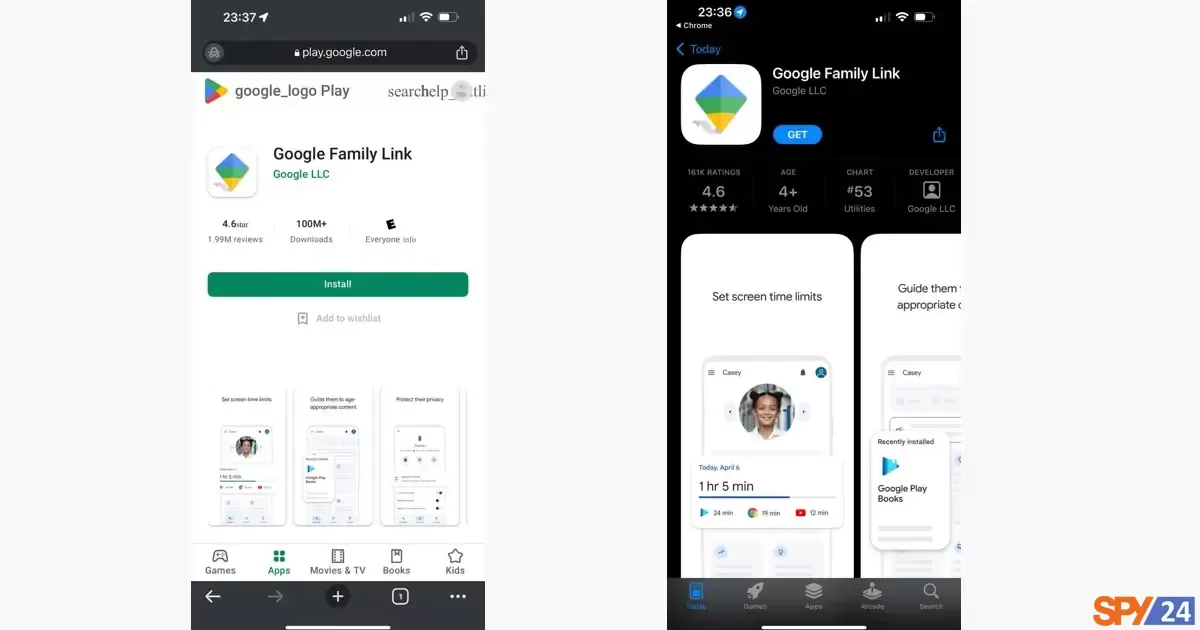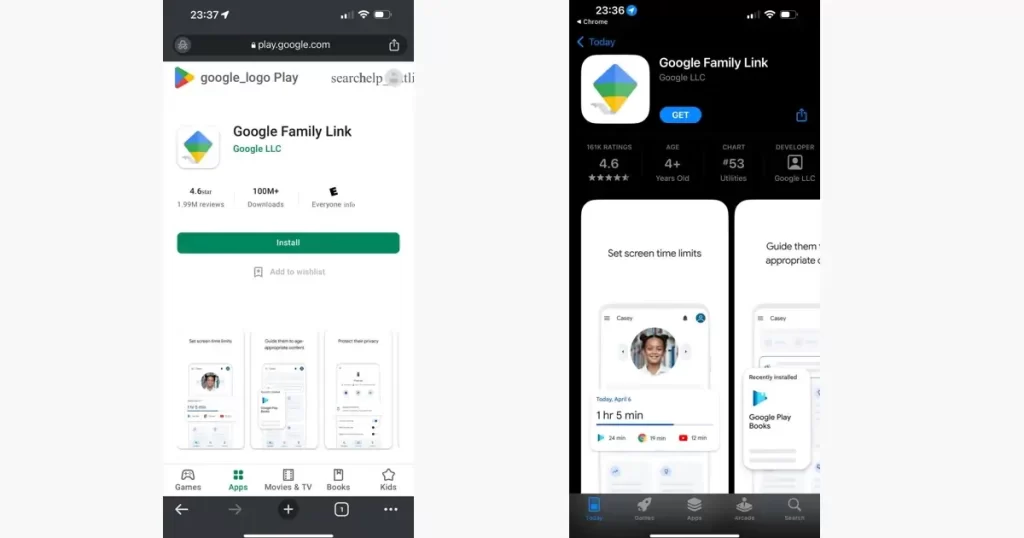 Google Family Link is one of the best parental control apps. Android users can download the app from Google Play and use the link below.
Google Family Link – Apps on Google Play
If you are an Apple user, you may need a Google Family Link link. Fortunately, iOS users can also use Google services. Users of this operating system only need to use the App Store and the link below to download the Google Family Link app.
Google Family Link on the App Store
Now you need to install the Family Link Manager in order to take control of your phone using it. Press Next and then Allow.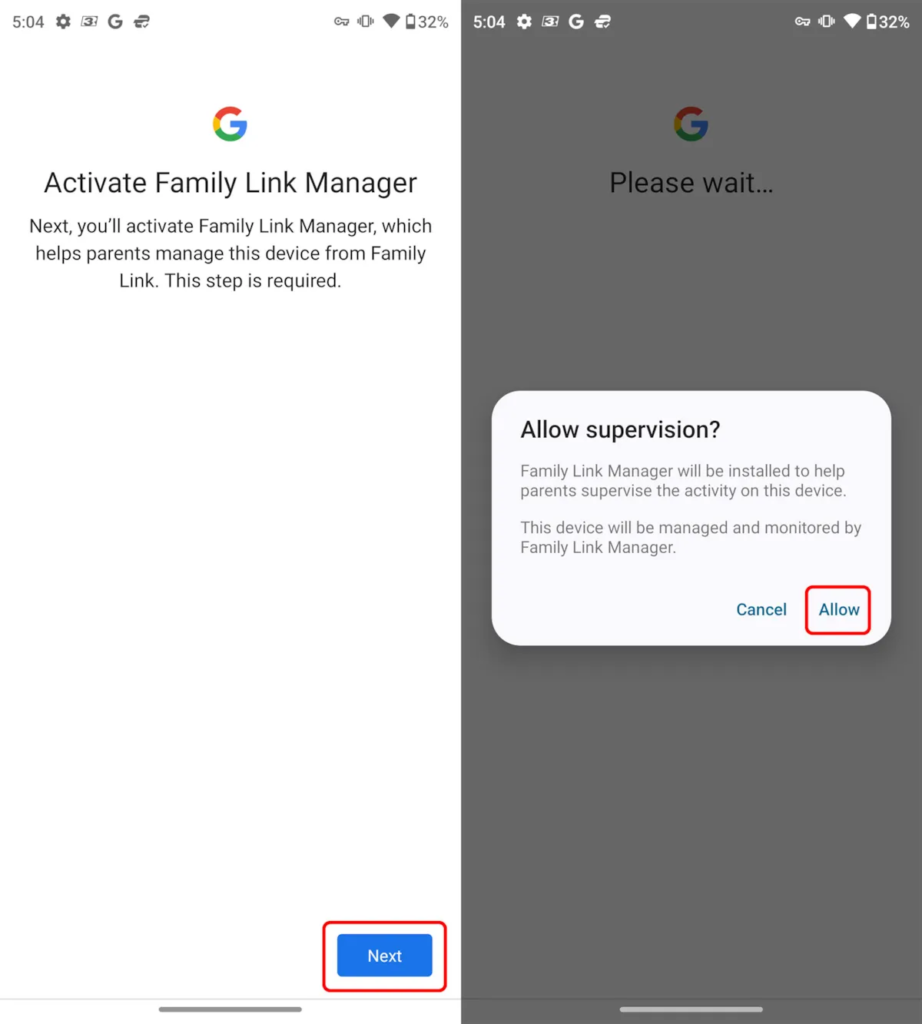 We now come to the stage of setting time restrictions on phone usage. There are two parts to this: one is limiting phone usage based on time, which you can set for weekdays and weekends separately. The next part is about limiting phone usage before sleep, where you can set two different times for school nights and holidays. After setting these restrictions, the phone will lock during the specified hours.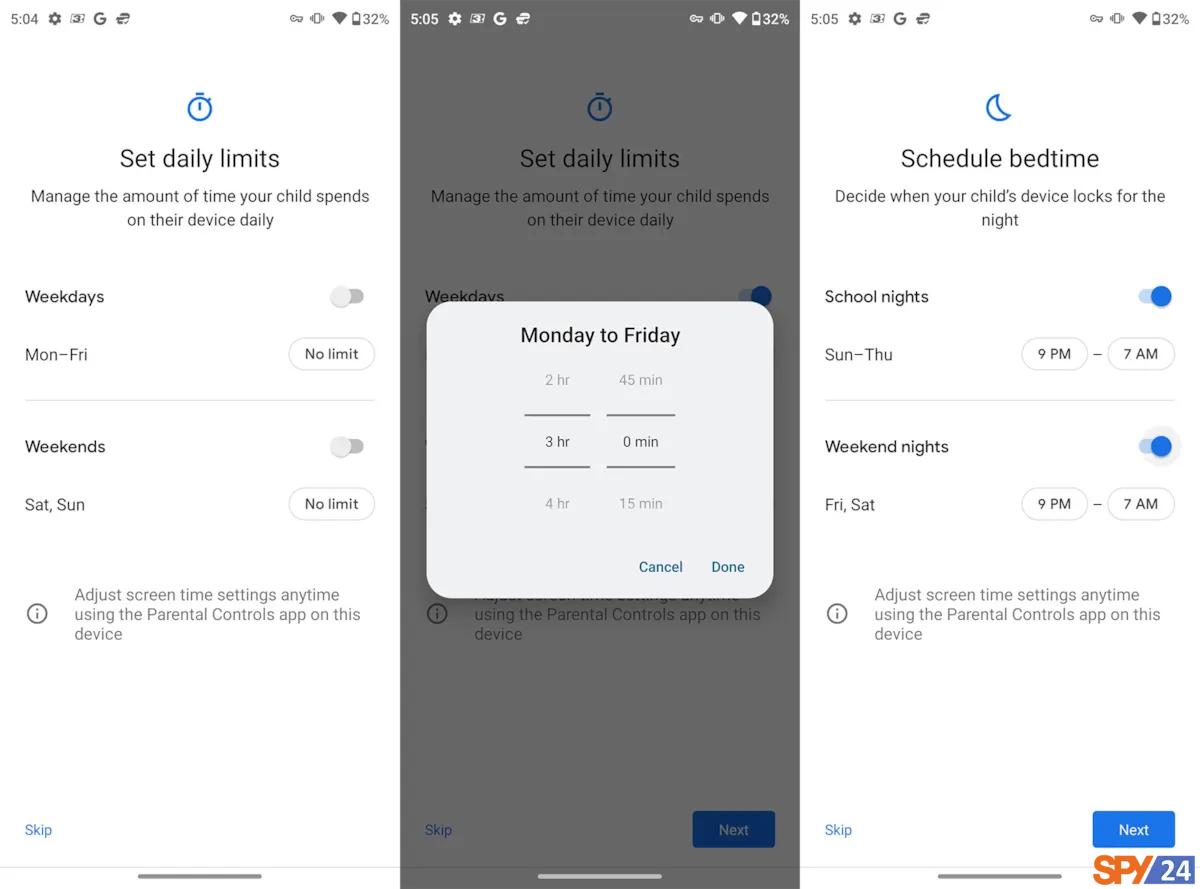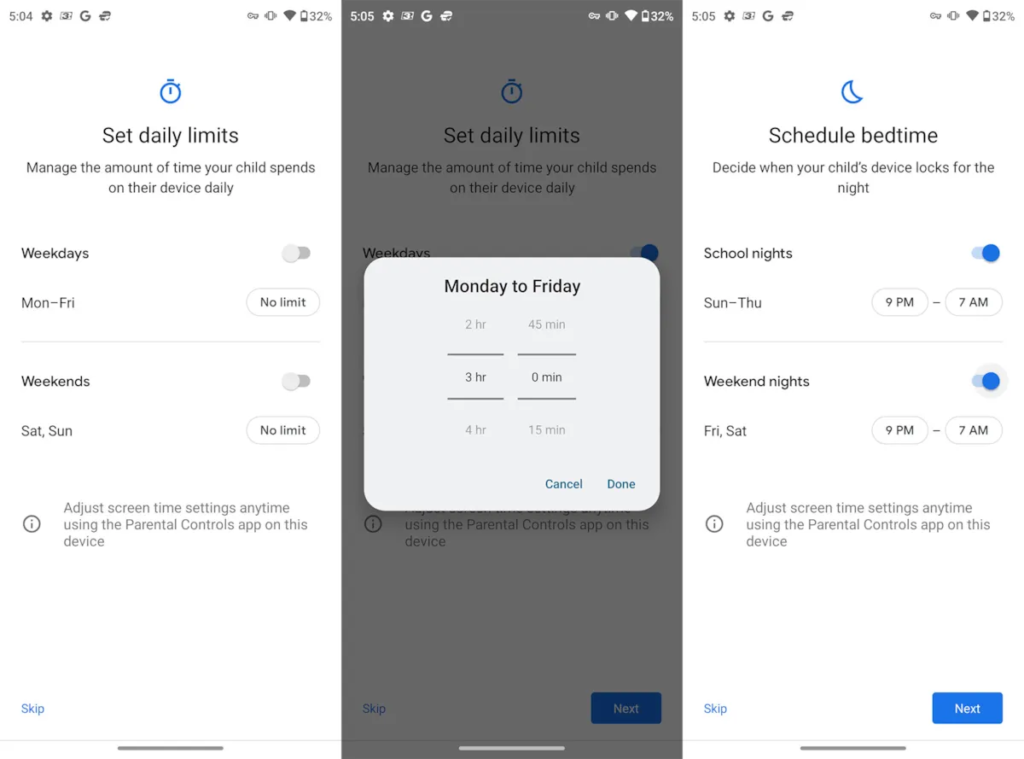 The final step is related to reviewing the installed applications. Here, the list of installed apps is categorized based on age restrictions. The apps that do not have a specific age restriction are labeled with "Everyone". Other apps may have different labels based on the age classification system of different countries. Disable any apps that you do not want your child to have access to, so they will be removed from the phone.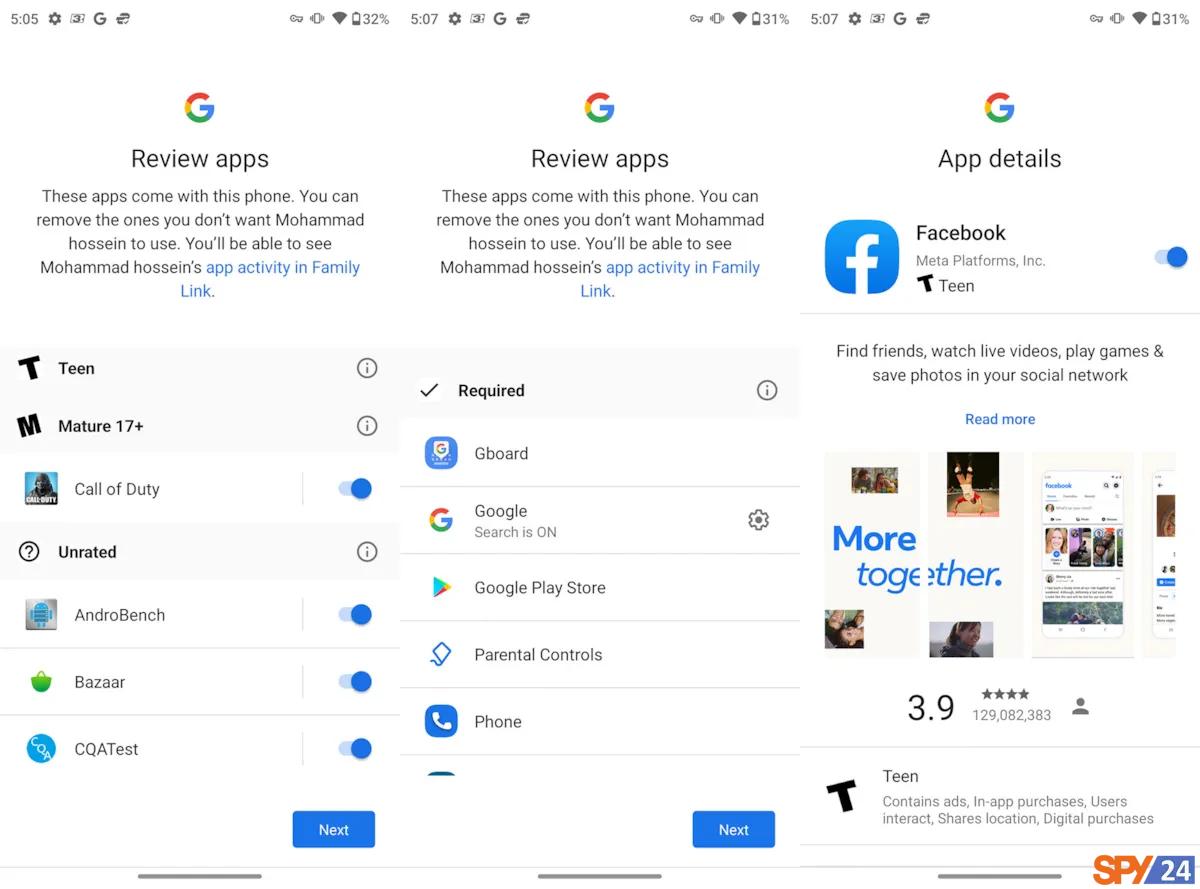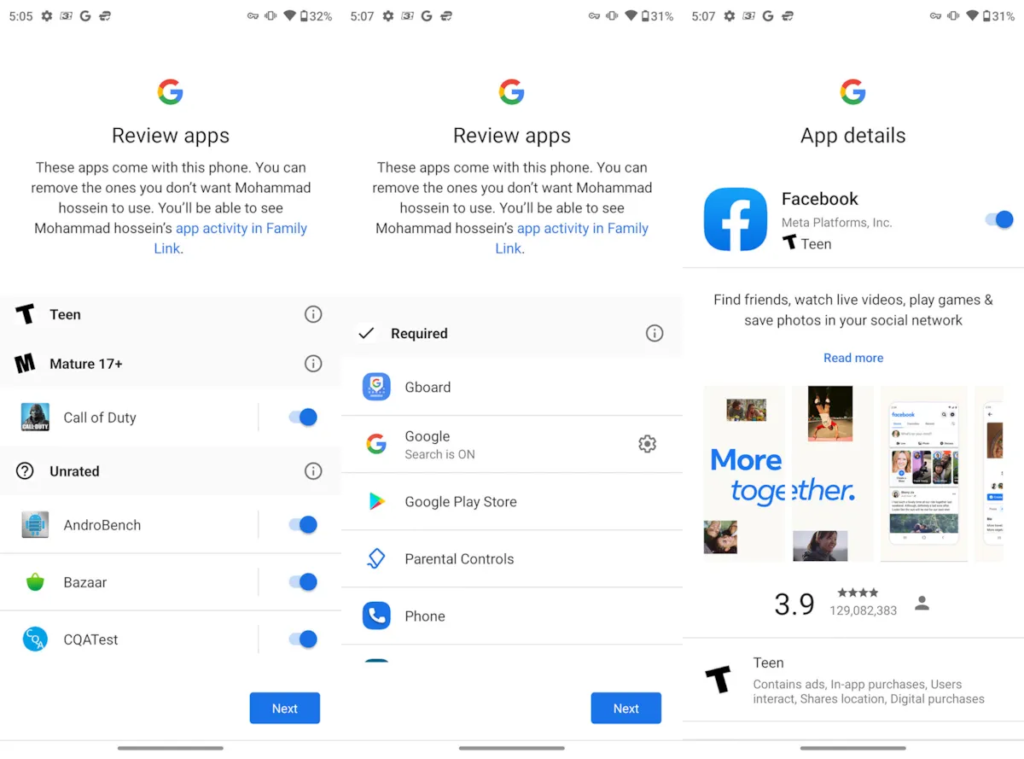 Finally, you can also install the Family Link app on your own phone to remotely manage phone activities. After installing the app, you will see a message about linking the child's device and the parent's device.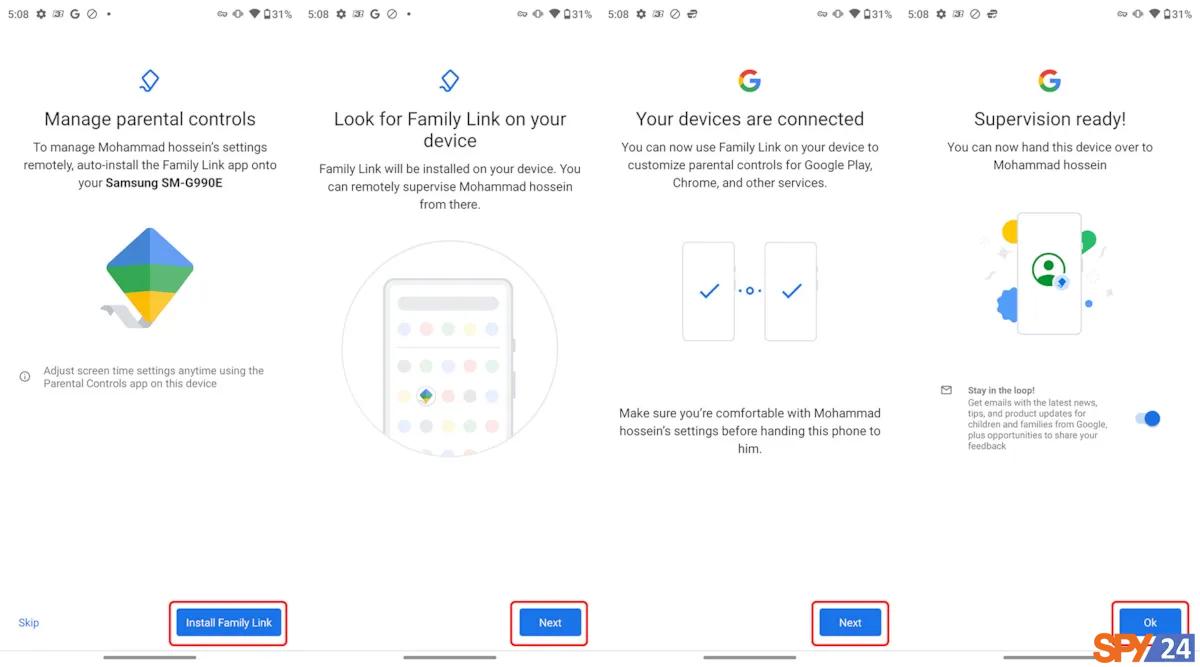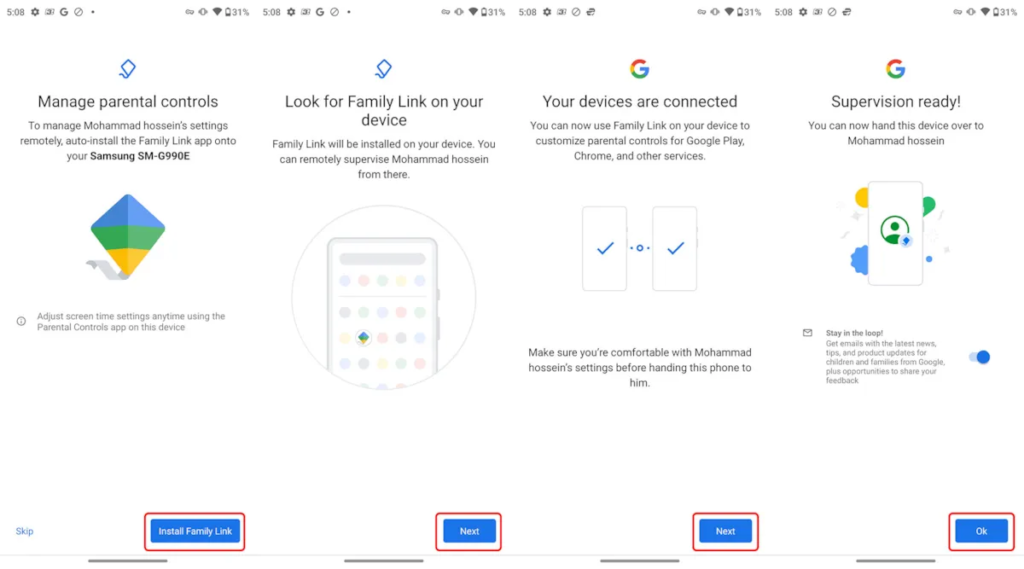 How to use Google Family Link and get familiar with its features
Now that the child account has been created, you can access various options through the Parental Controls app on the child's phone and the Family Link app on your own phone. Let's review these options below.
Also, if you encounter any issues or errors during any of the above steps, be sure to select the Retry option repeatedly. If the Family Link app is not installed on your phone or you have an iPhone, use the links below to install it.
After installing the app, open it and follow these steps to set up and link your device with your child's device:
Tap on "Get started", select "Parent", and click "Next".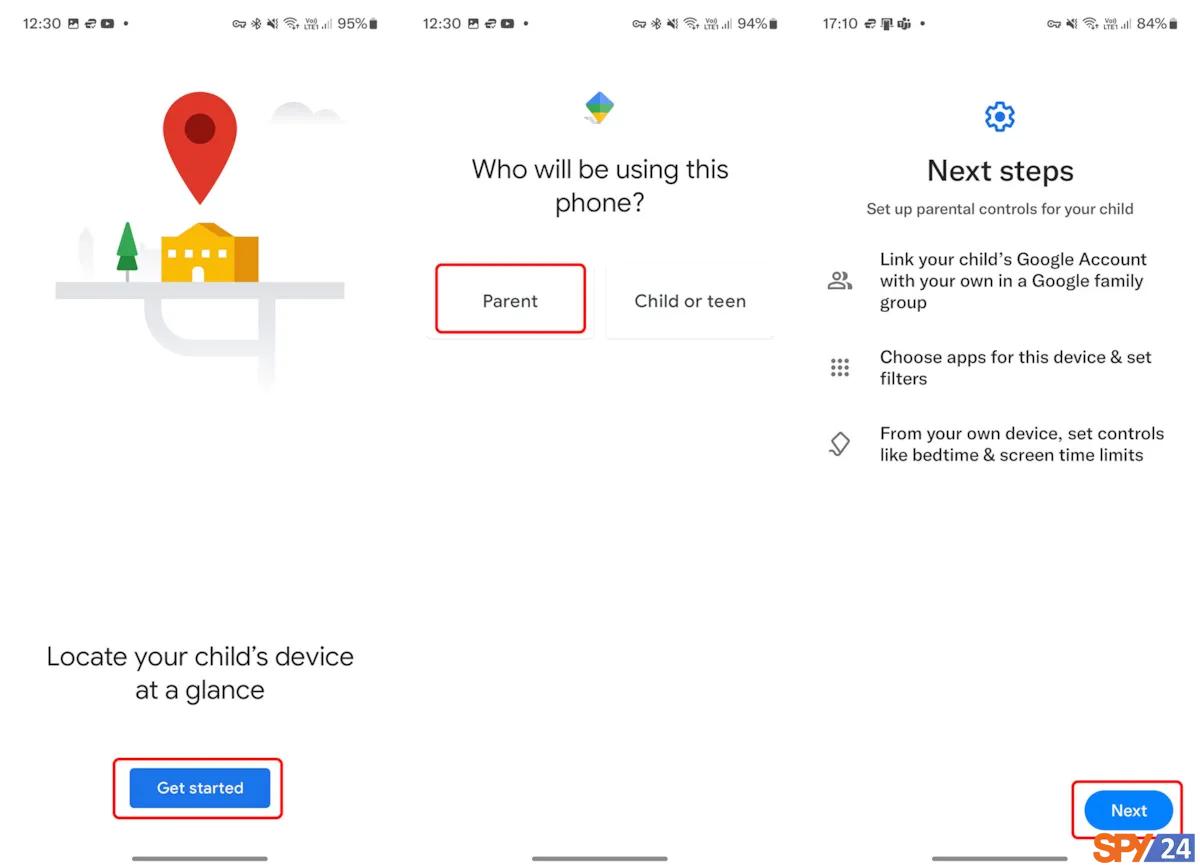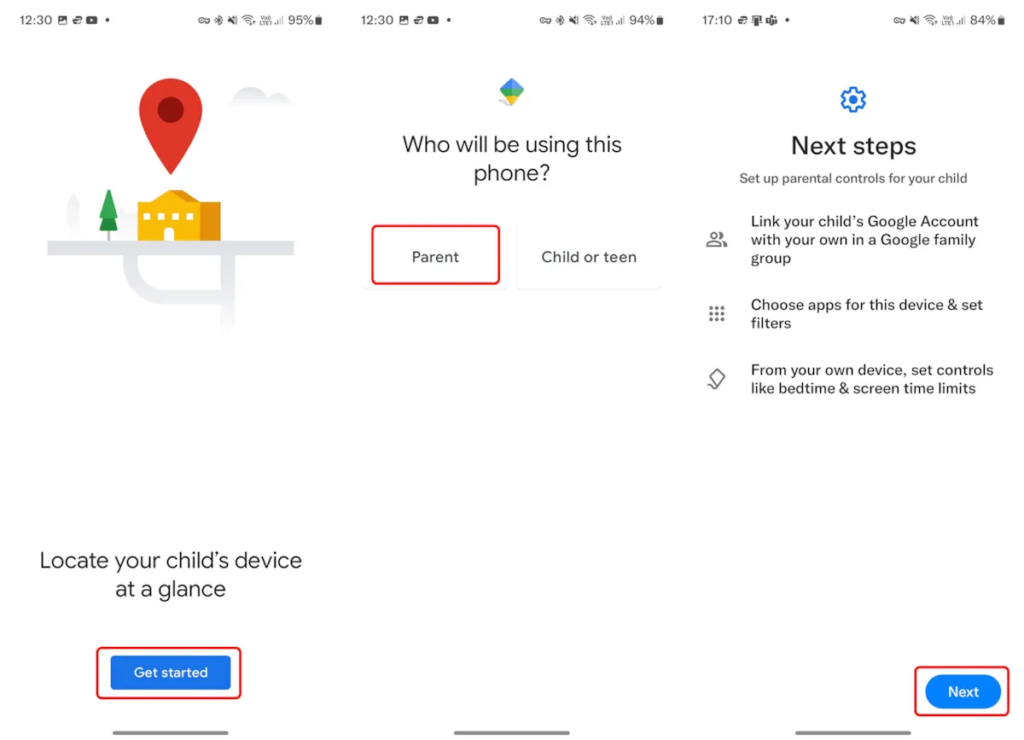 Once again, click on "Next" to set up your account as the family manager. If the Google account you designated as the family manager when setting up the child's account is not set up on your phone, click on "Switch account" and add that account. However, if that account is already logged in on your phone, select "Continue". You will be asked if your child has a Google account, so choose "Yes" since we created a new account in the previous steps.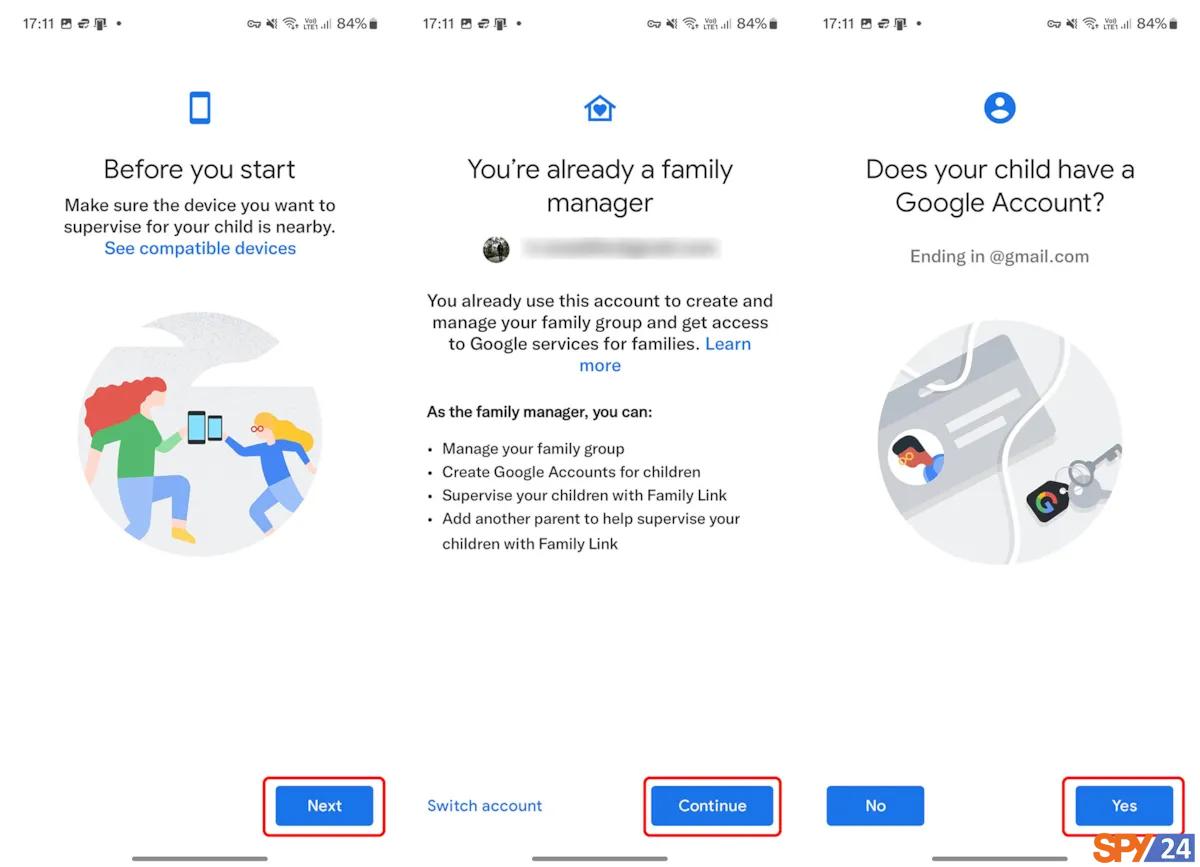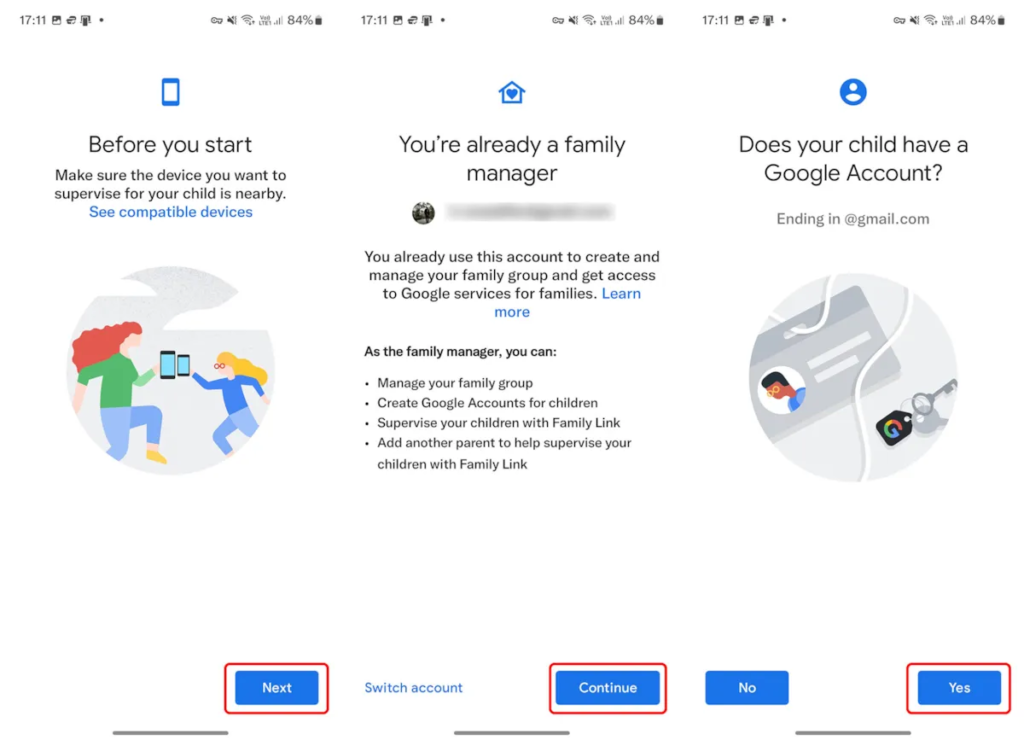 Now select "Done" to enter the main page of the app. If this doesn't happen, close the app and open it again.
After opening the app, tap on "View" on your child's profile to see various cards for configuring different sections.
App activity:
In this card, you will see a chart of phone usage time each day, along with a list of used apps based on their usage time. If you tap on "More", the full list of apps will be loaded. Here, by tapping the arrow next to the date, you can change the day. At the top, there are also three options to change the range to week and month, which shows the total usage time during that period.
In the list of apps, if you tap on any of them, you can prevent your child from using it by turning off "Allow App". Even in the "Permissions" section, you can disable some of its permissions (such as camera and microphone).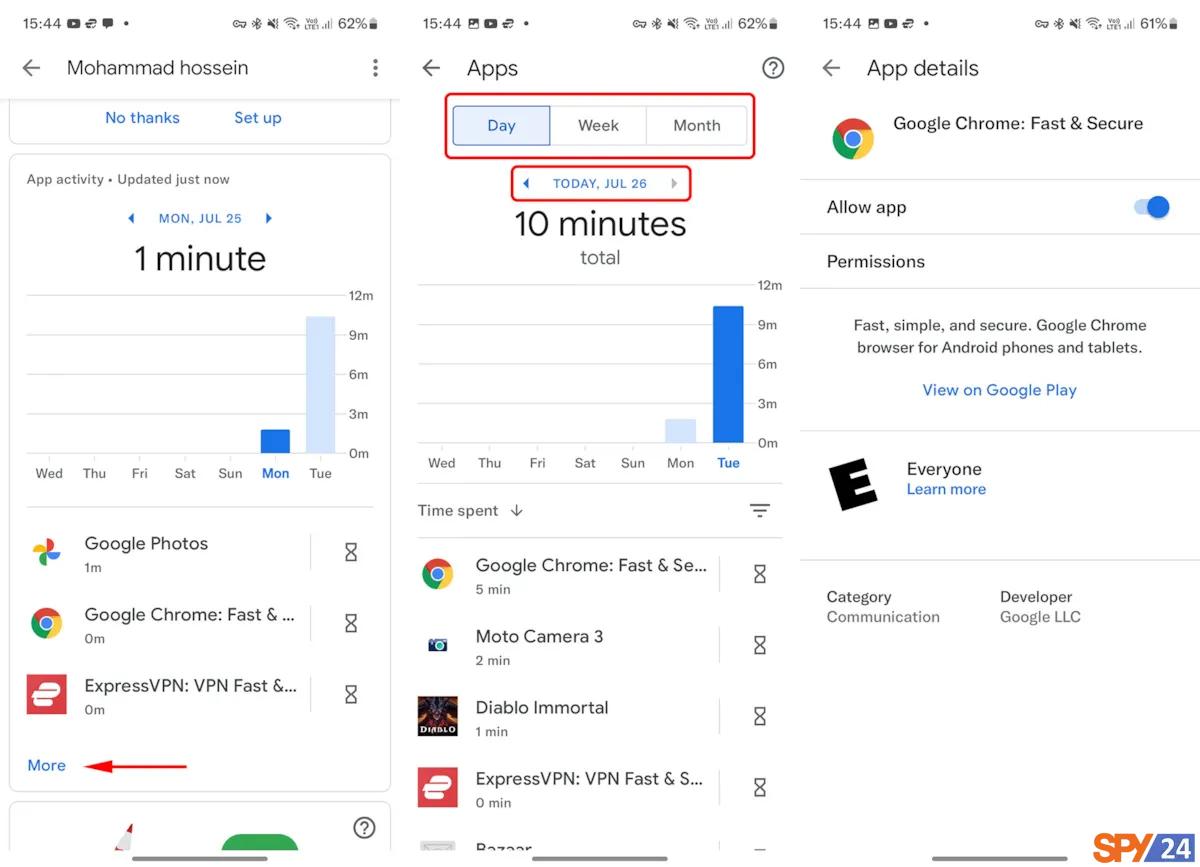 Alongside the applications, a stopwatch icon can also be seen, which by selecting it, four options are displayed:
No Limit: By choosing this option, the user can use the application without any time limit, but if the total phone usage time ends, they cannot use this application either.
Always allow: By selecting this option, the application is always available for use and its usage time is not calculated during the total phone usage time. However, if the sleep time is defined and the phone is locked at that time, it cannot be used.
Set Limit: By choosing this option, you can define separate usage limits for each application, apart from the overall usage limit. For example, you can set a 30-minute limit for a game.
Block: Block the application entirely.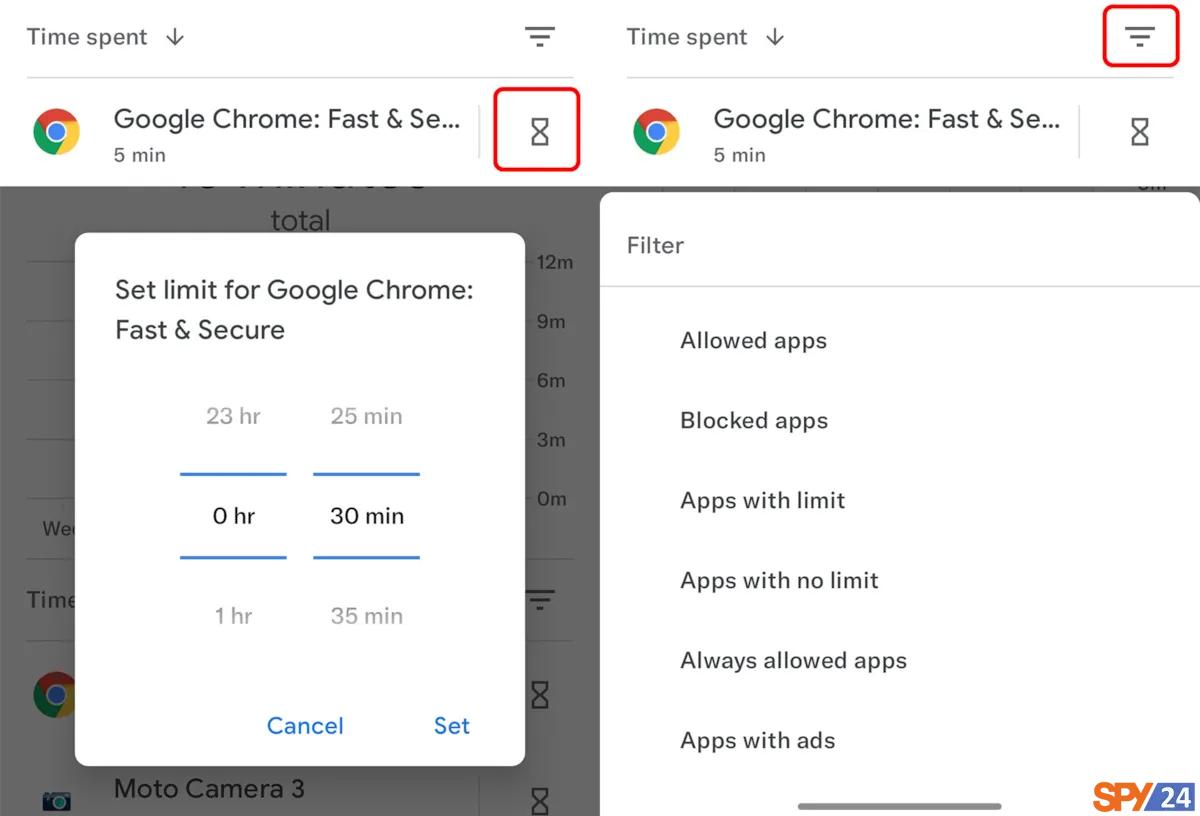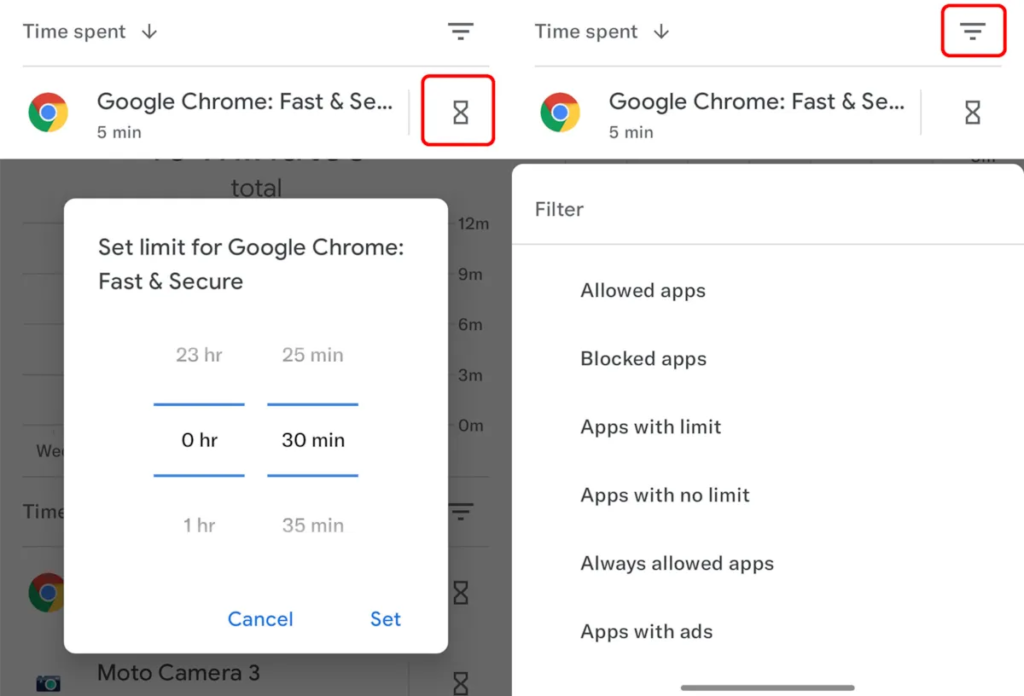 By configuring each of the above, the categorization of applications changes and is removed from the current list. In this case, you should tap on the three-line option at the top of the list and change the filter based on the created limitation type. In this section, you can even filter out apps that display ads and block apps you don't want to use.
Location:
In this card, you can view your child's device location in real-time. To do so, first select the Setup option, and then select Turn On.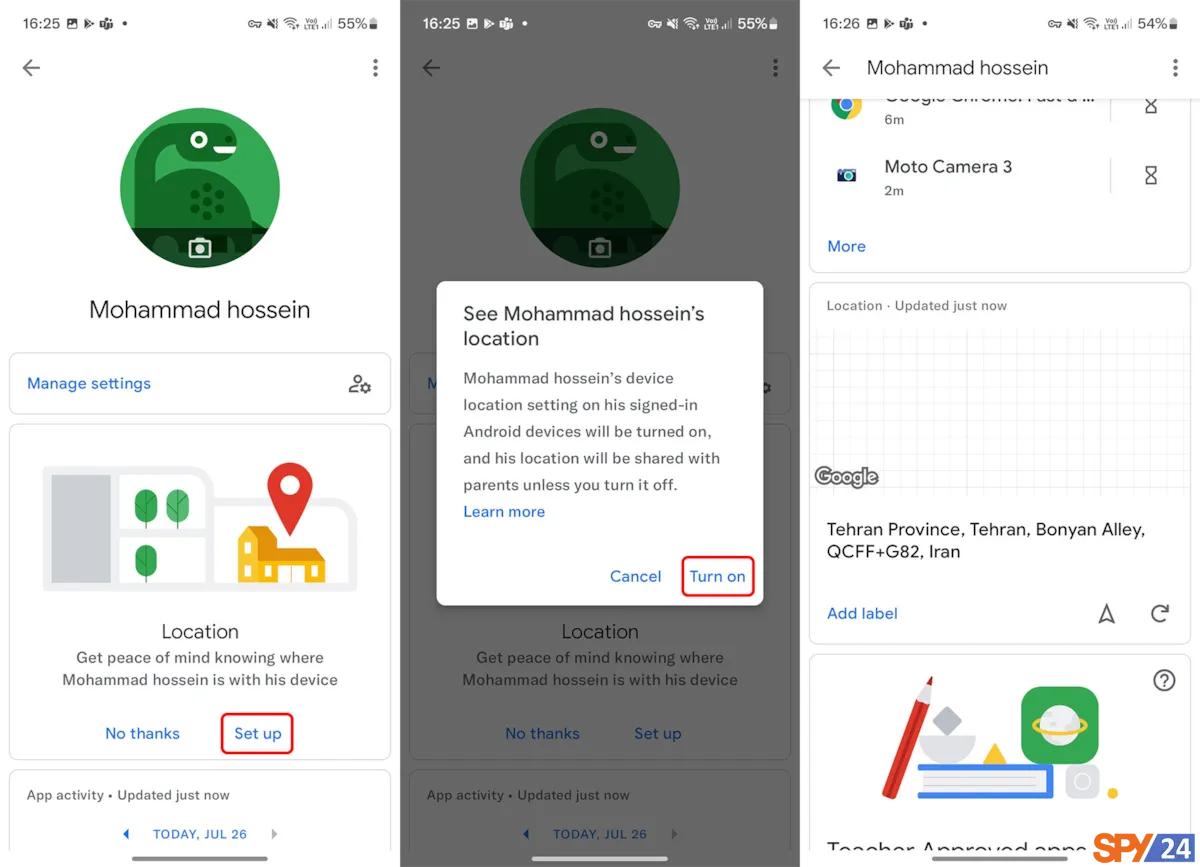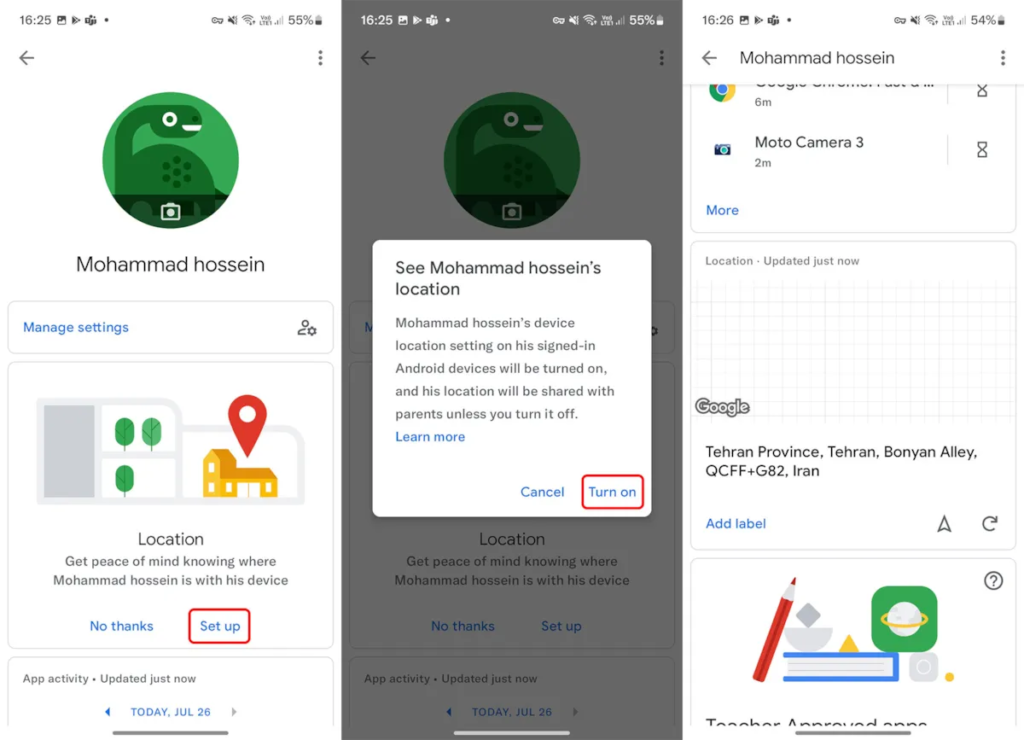 Teacher Approved Apps:
In this card, Google suggests apps based on your child's age and activities, which are mostly focused on educational or educational-entertainment applications. If you want to encourage your child to use these apps, you can select one of them from this section and install it on their device.
Screen Time:
In this section, you can modify the time limits for using the phone that you defined during the child account creation process, which includes two sections: daily time limit and bedtime. In the Daily Limit section, select the desired day and change the time limit. To disable the limit, you can uncheck that day. In the Bedtime section, you can also change the sleep time interval for each day as desired.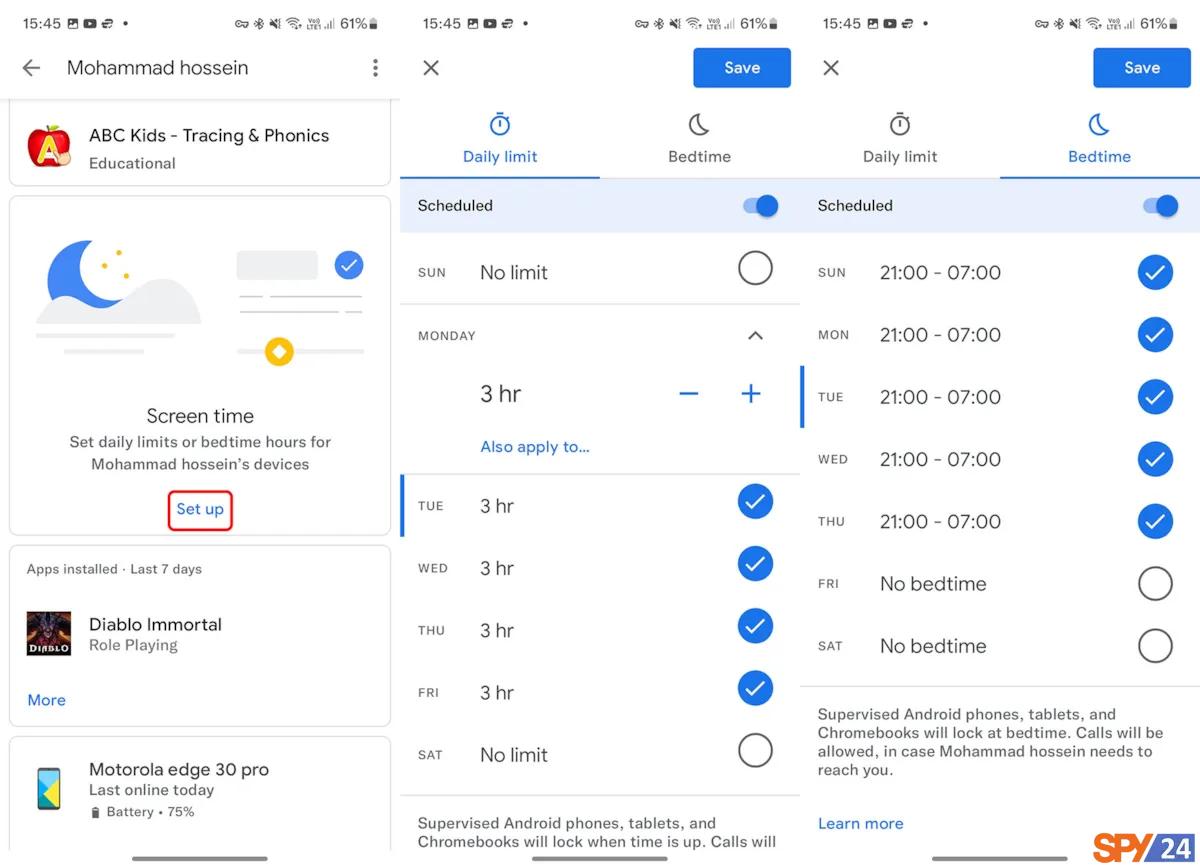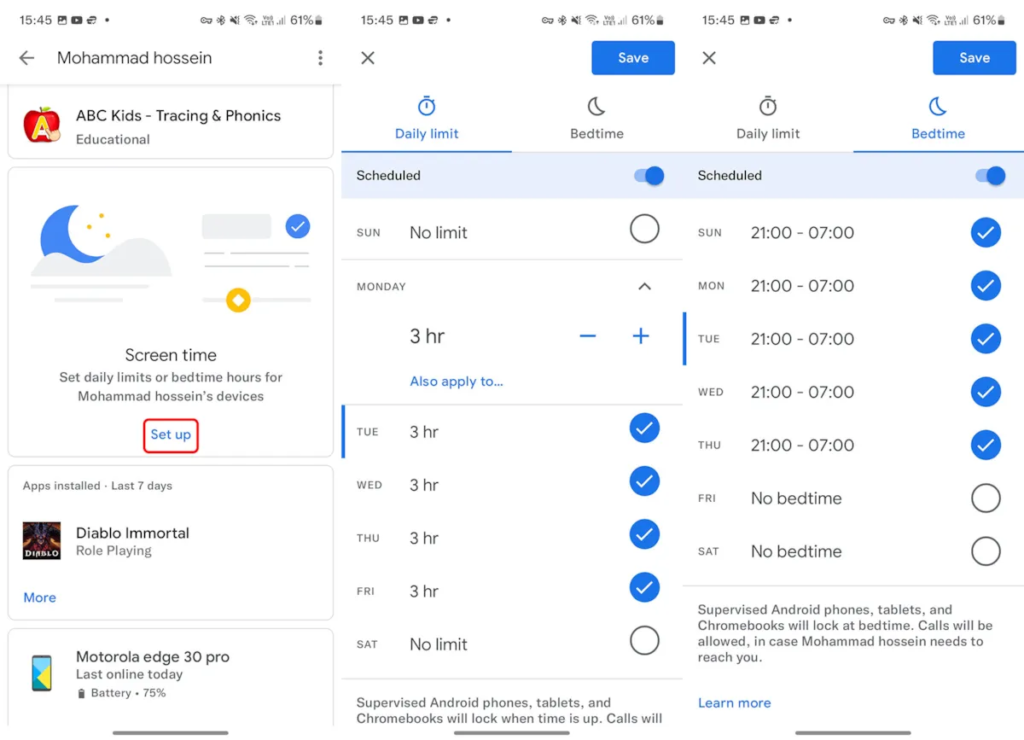 After reaching the time limit, the device is locked, and from here, you can temporarily remove the lock or increase the working time for a few minutes by selecting the Bonus Time option.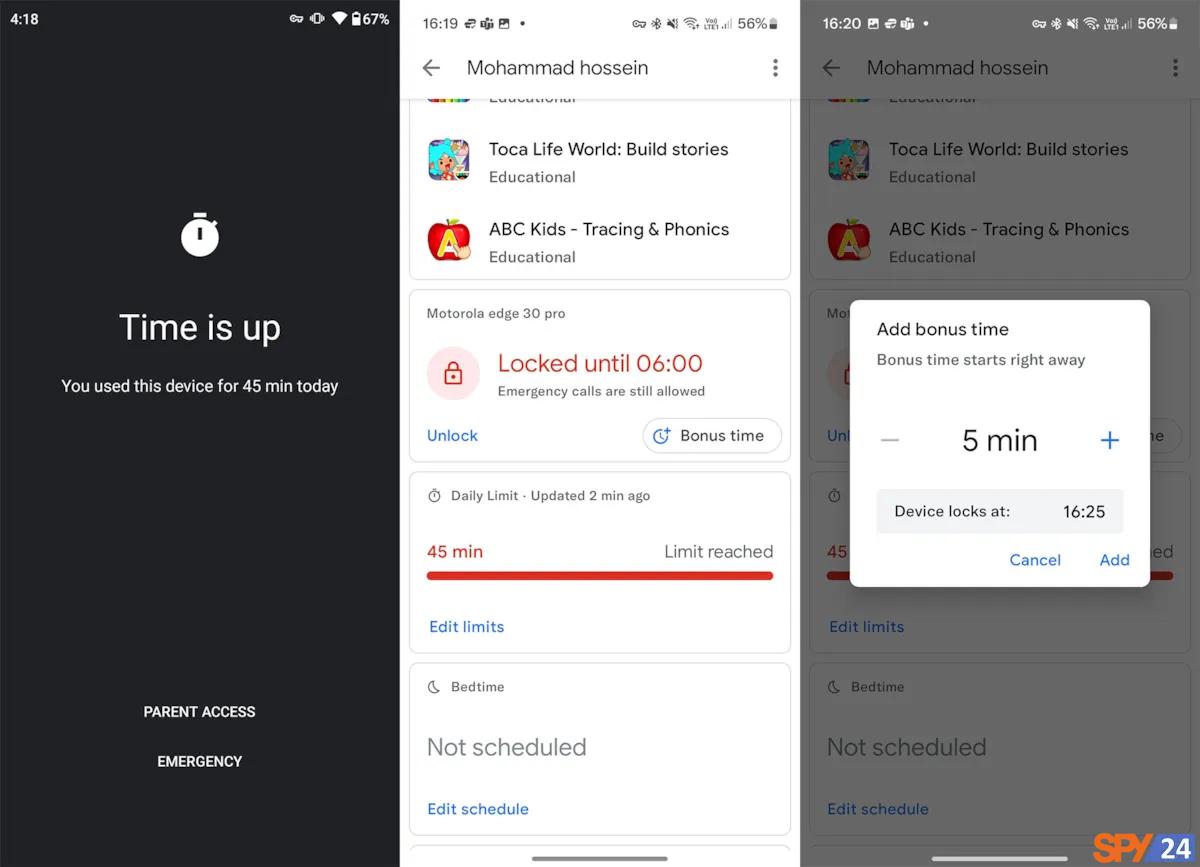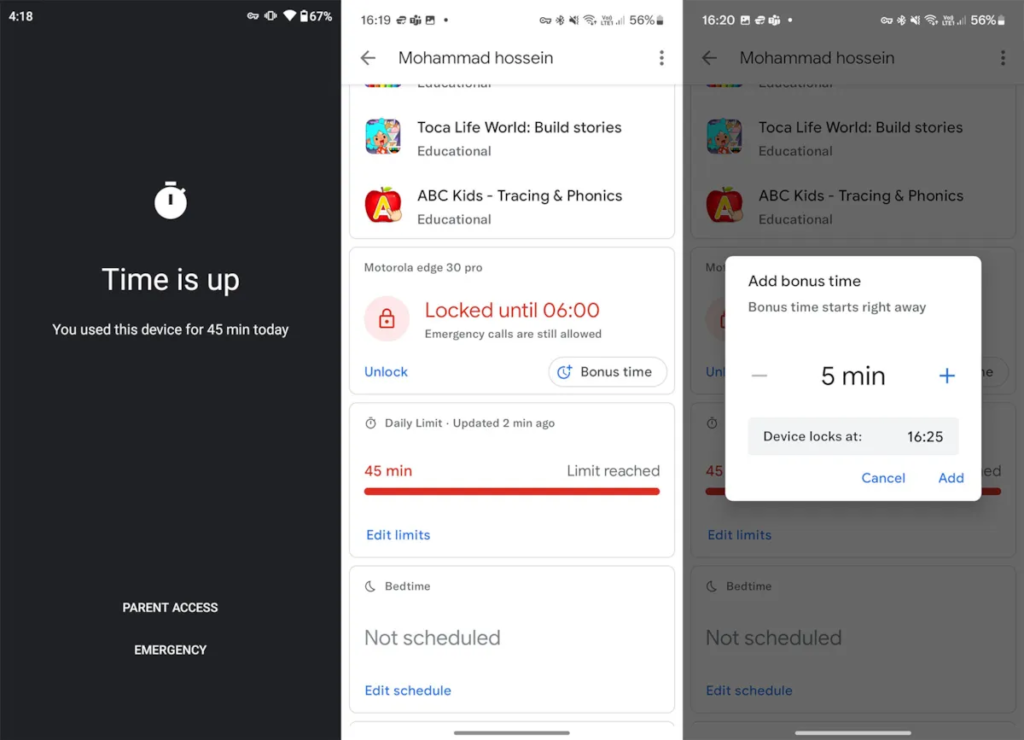 Status:
In the Status card, you can check the last online time of the phone and the battery percentage. At the bottom, select the Play Sound option, and the phone will ring loudly. By selecting Settings, you will have access to important device settings, including:
Add/Remove User: By enabling this option, you give the person the authority to add a new user profile to the phone.
Apps from Unknown Sources: By enabling this option, the person can install apps from places other than Google Play.
Developer Options: By enabling this option, the person can access the phone's developer options.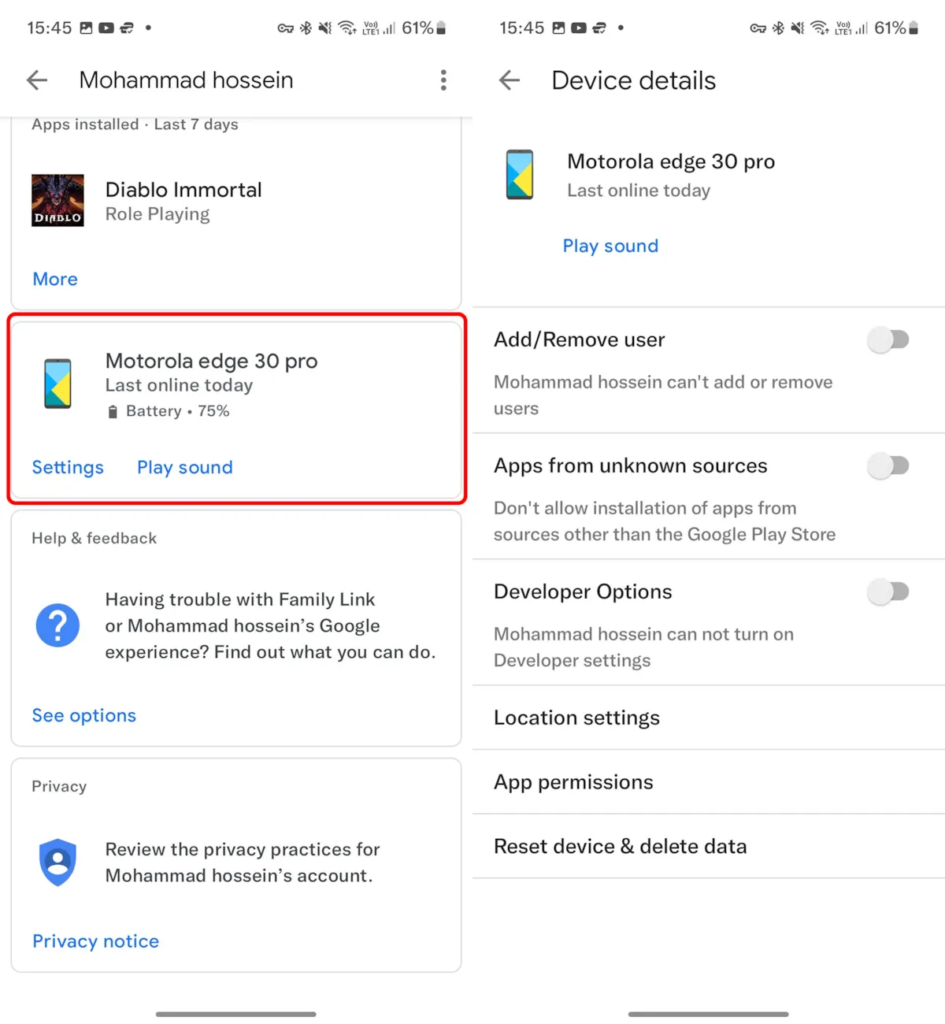 We recommend that you temporarily turn on the above three options and turn them off after completing your task, as they allow the phone user to change settings or perform activities that are outside of the system supervisor's control. Apart from the above, there are three other settings:
Location Settings: In this section, you can turn off the phone's location and change its accuracy level.
App Permissions: In this menu, you can manage and control all available app permissions on the phone. By entering each permission, a list of applications that have been authorized or unauthorized for that permission is displayed, and you can, for example, turn off or on access to messages for each app.
Reset Device & Delete Data: If the child's phone is lost or you want to reset it, you can do so from this section.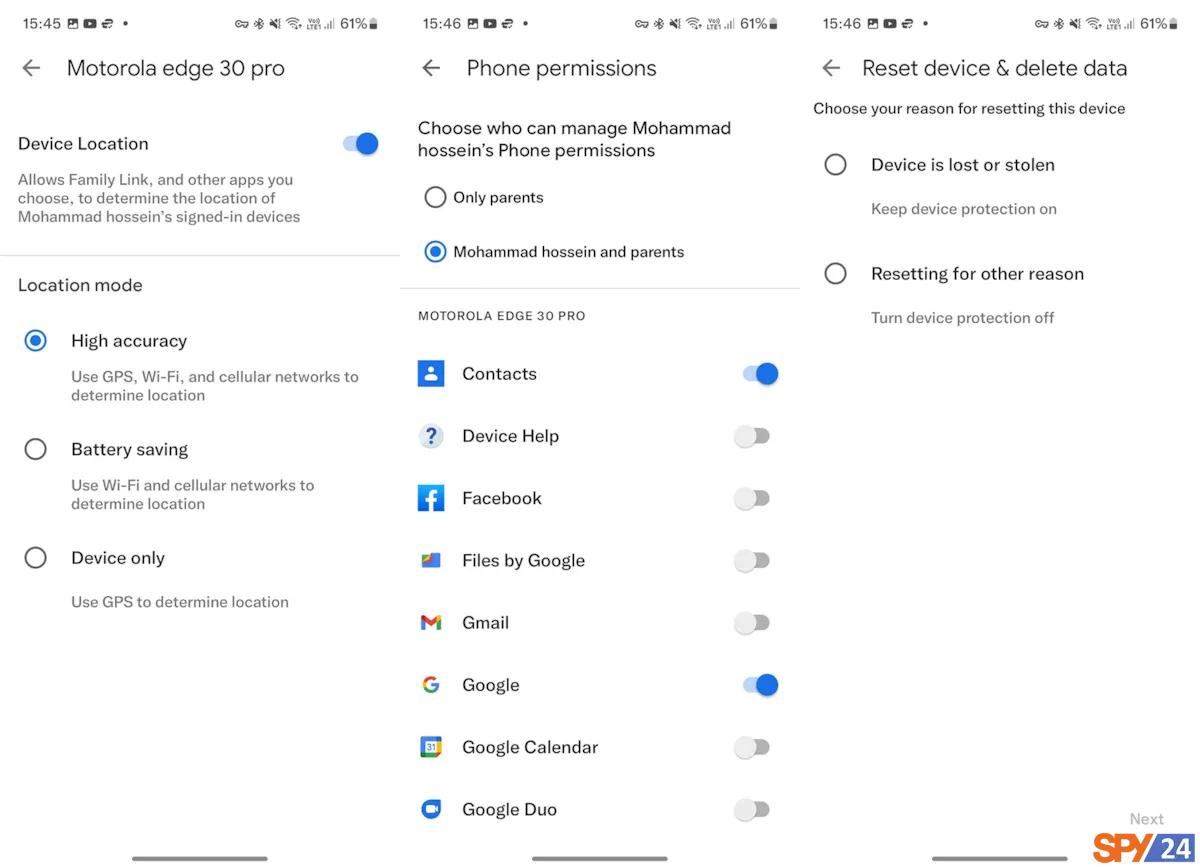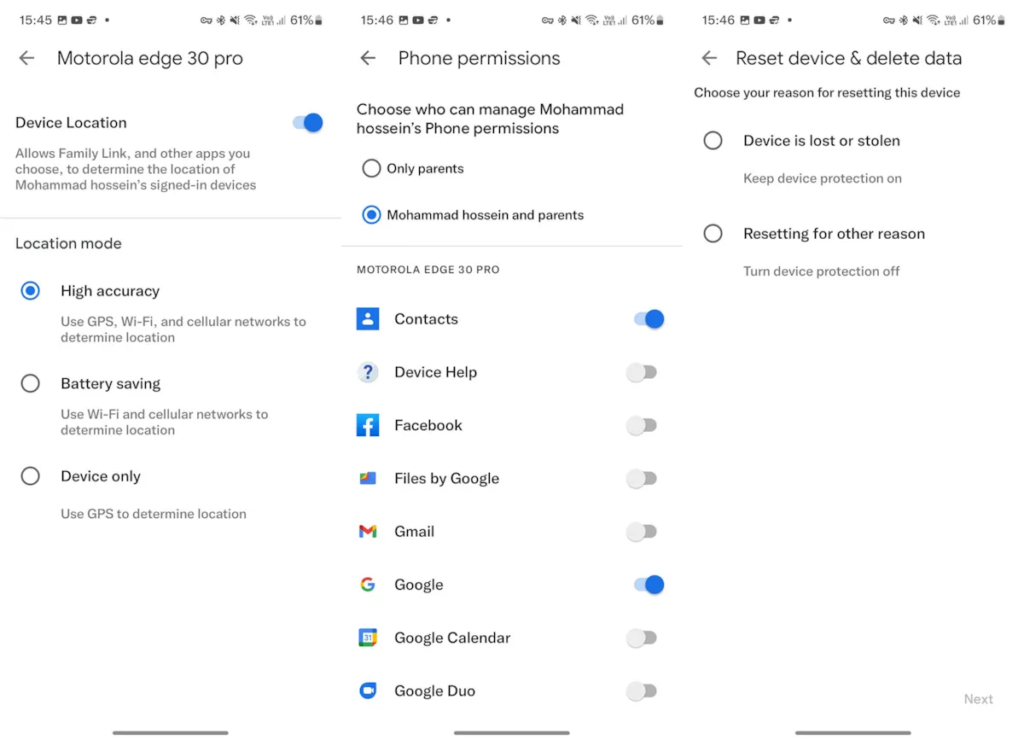 Managing Child Account and Content Display Settings:
At the beginning of the page, there is a card for Google child account settings that are related to how to use Google services on the phone or other devices. By tapping on Manage Settings, settings such as content rating level in Google Play, enabling safe search, filtering inappropriate sites for Google Play, Chrome browser, and search service, which you configured during the account creation process, can be changed from here.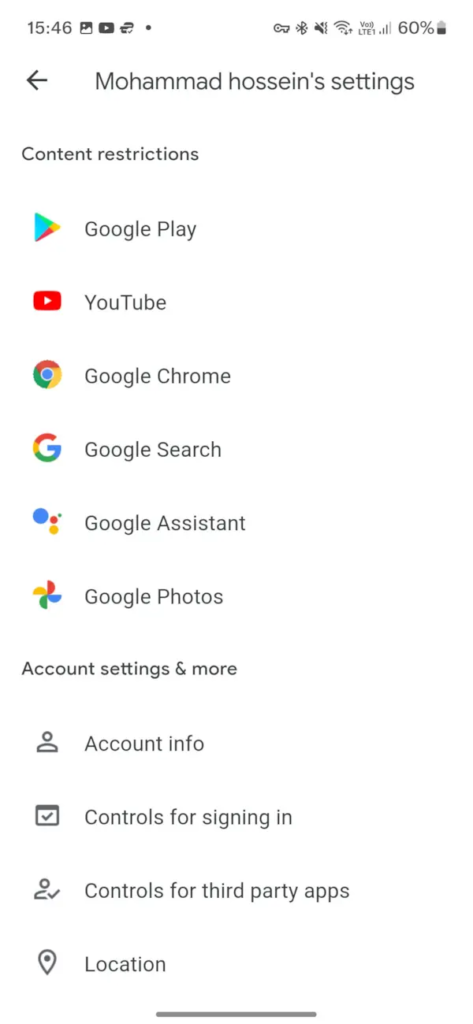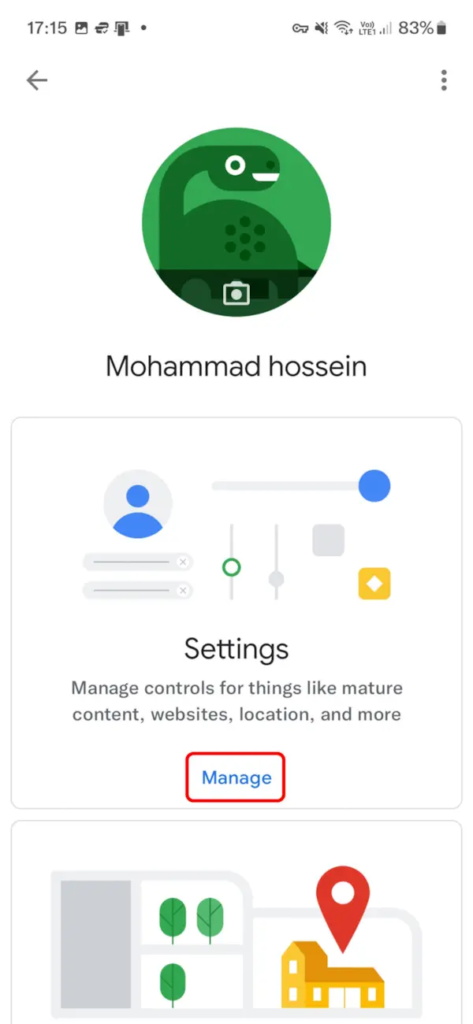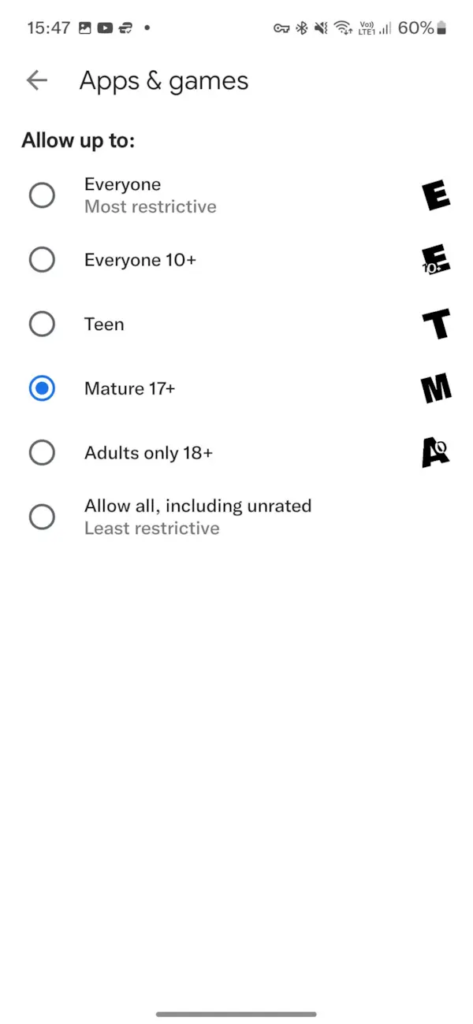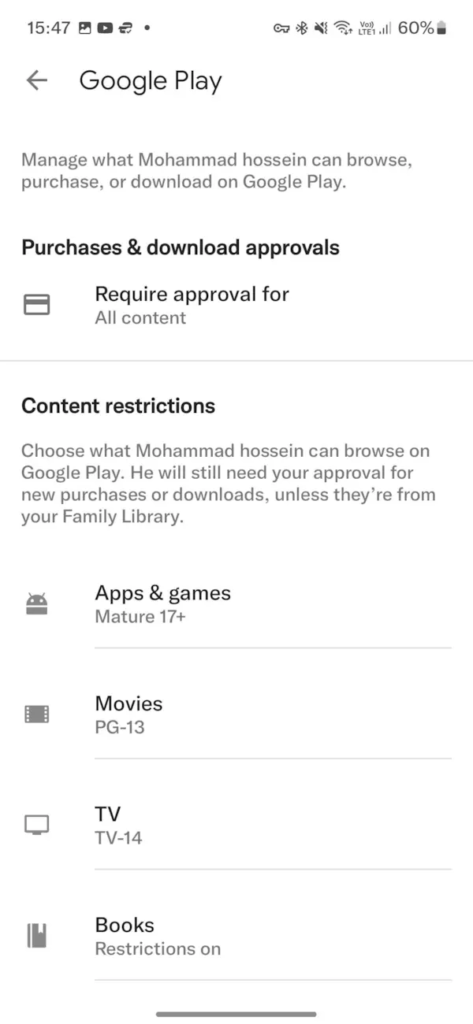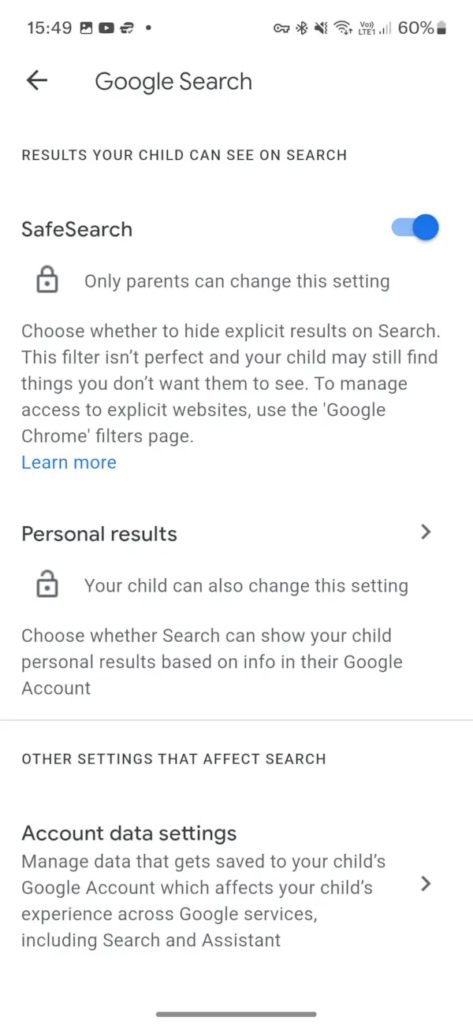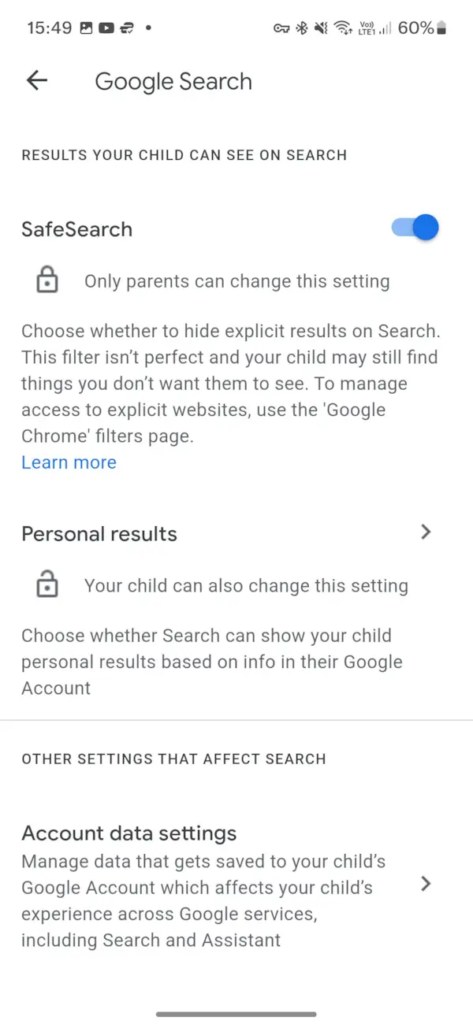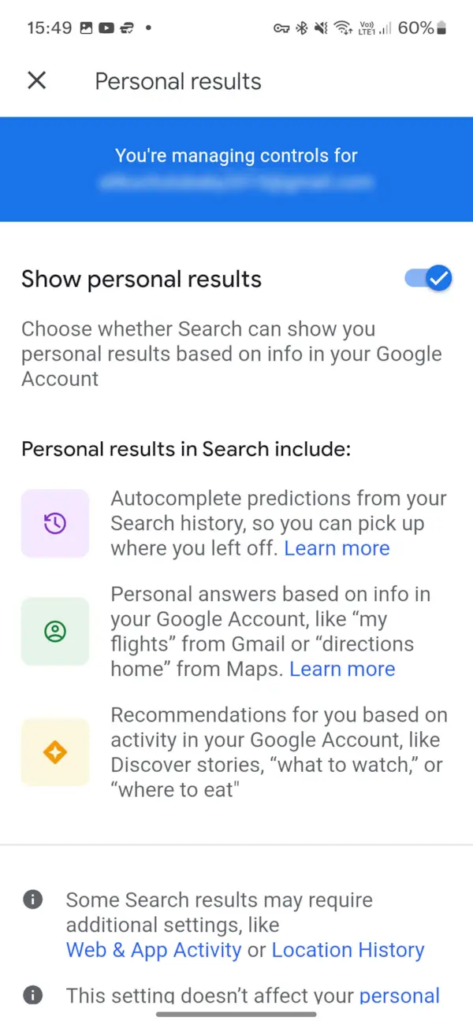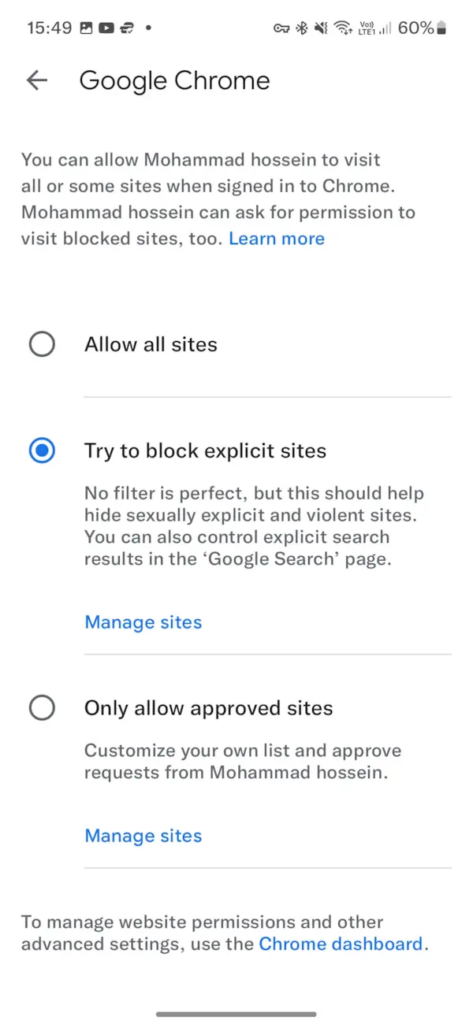 In the YouTube section, you can choose between YouTube Kids and regular YouTube. For regular YouTube, you need to do more settings, such as setting an age range to restrict content, and Google also warns you that some content may not be suitable for viewing. In the Photos section, you can also disable photo sharing from the child's device.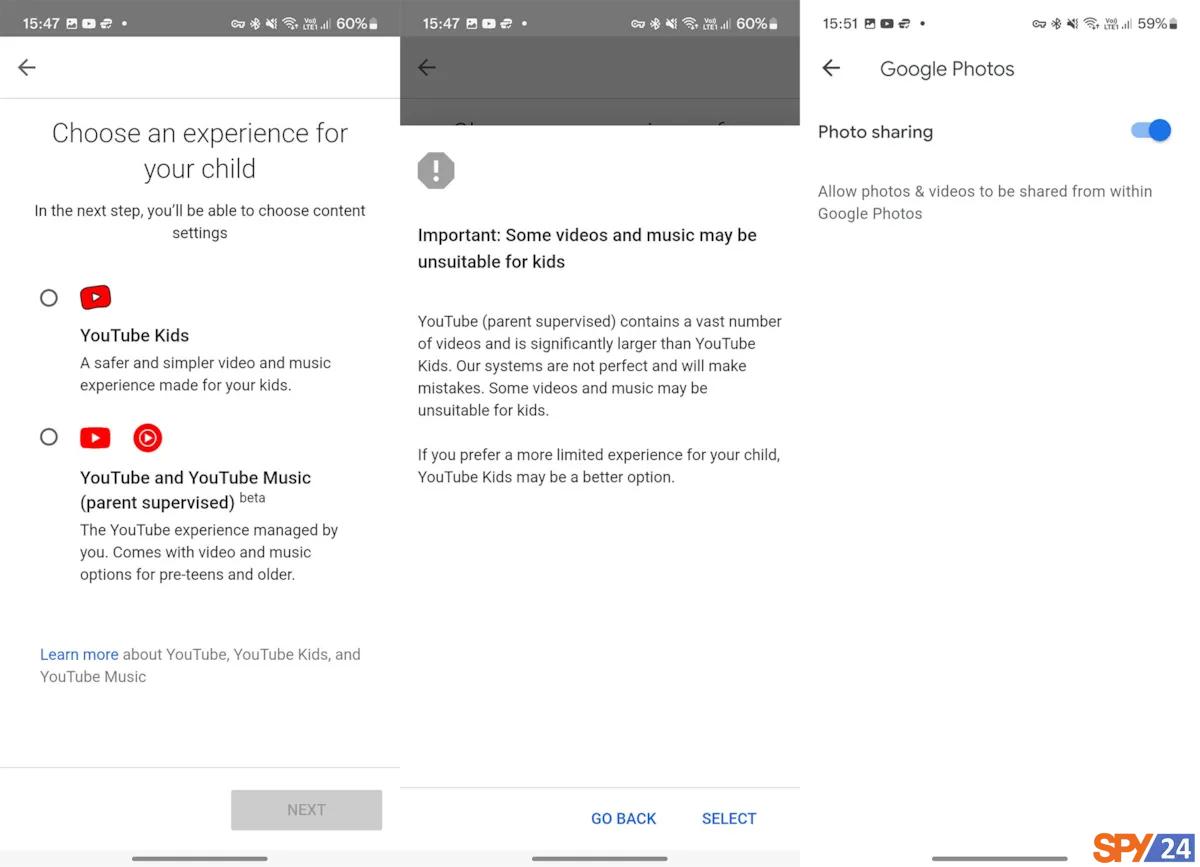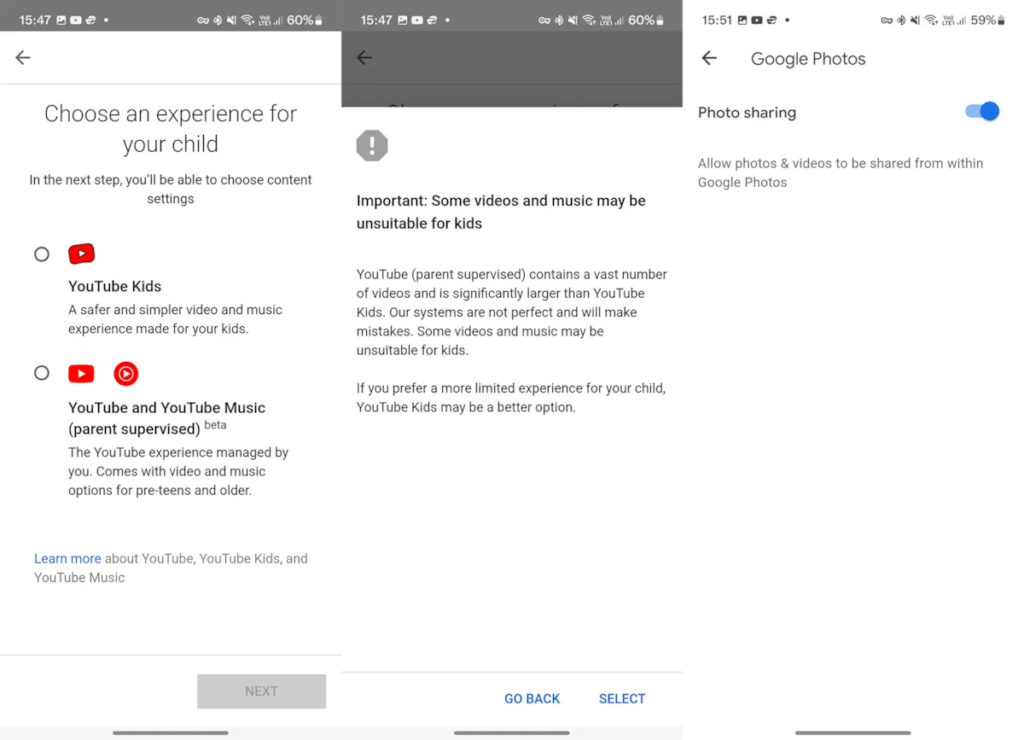 In the second part of the page, which is related to account settings, you can change the following settings:
Account Info: Correct personal information such as name, surname, and date of birth if entered incorrectly, and also change the password or delete the account altogether.
Controls for Signing In: If the child wants to sign in with their email on the device or a website, you can specify whether they need your permission and confirmation or not from this section.
Controls for Third-Party Apps: This option is used to manage access to applications and websites using a Google account without the need for registration. In this case, you can also specify whether permission is required to log in or not.
Location: If you enable See Your Child's Location in this section, you can view your child's location on any device or section that has access to location services.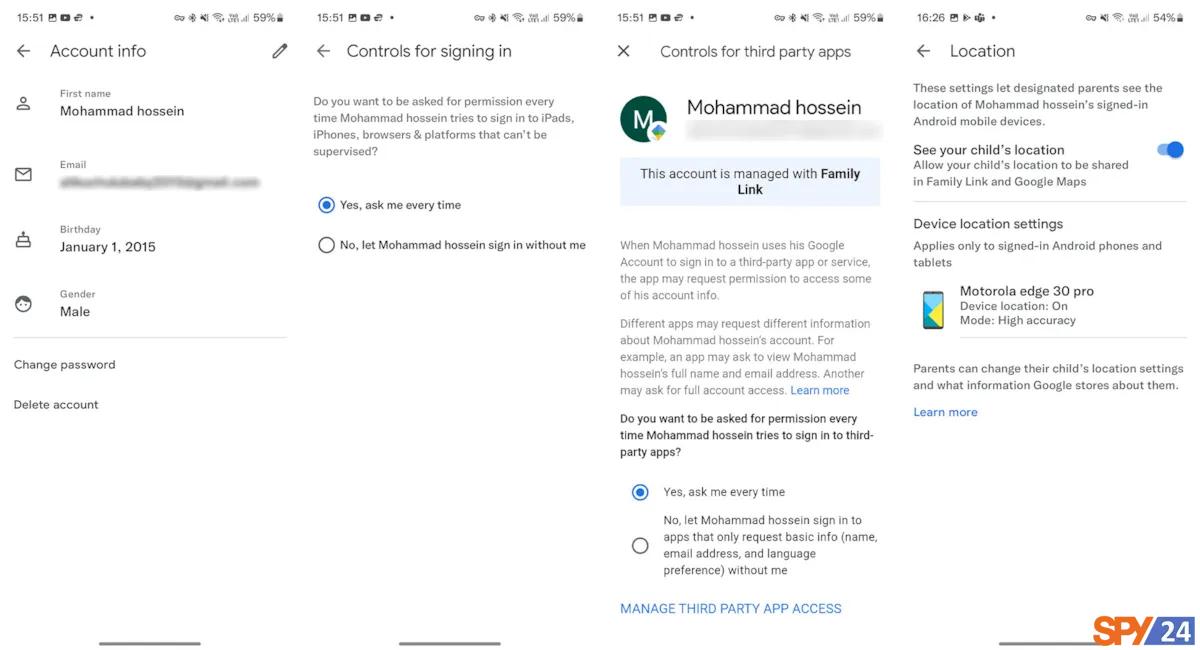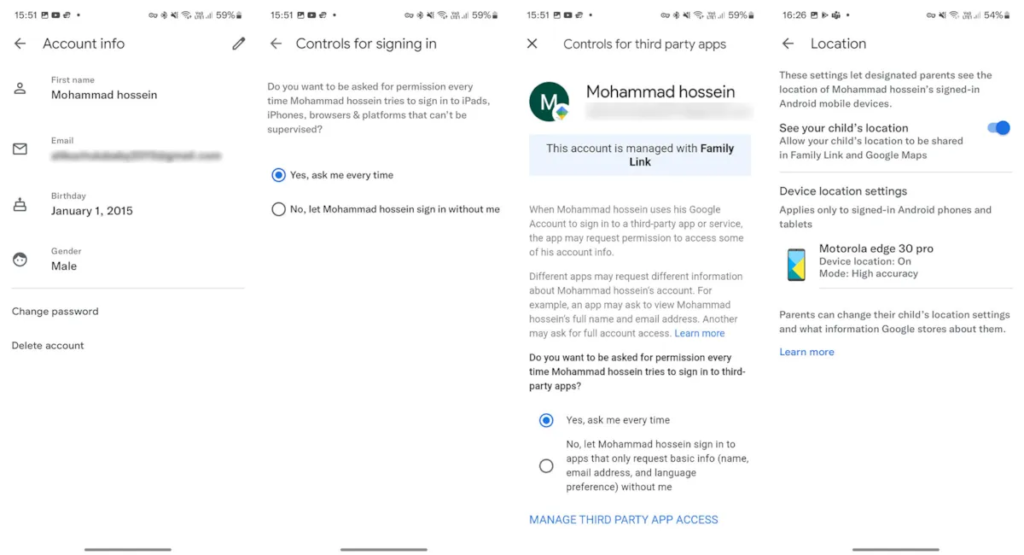 Privacy Settings: This section includes data storage related to the use of services, which is actually your child's privacy settings. If you go to the Account Data Settings section, you can decide on storing your child's activity data in their account: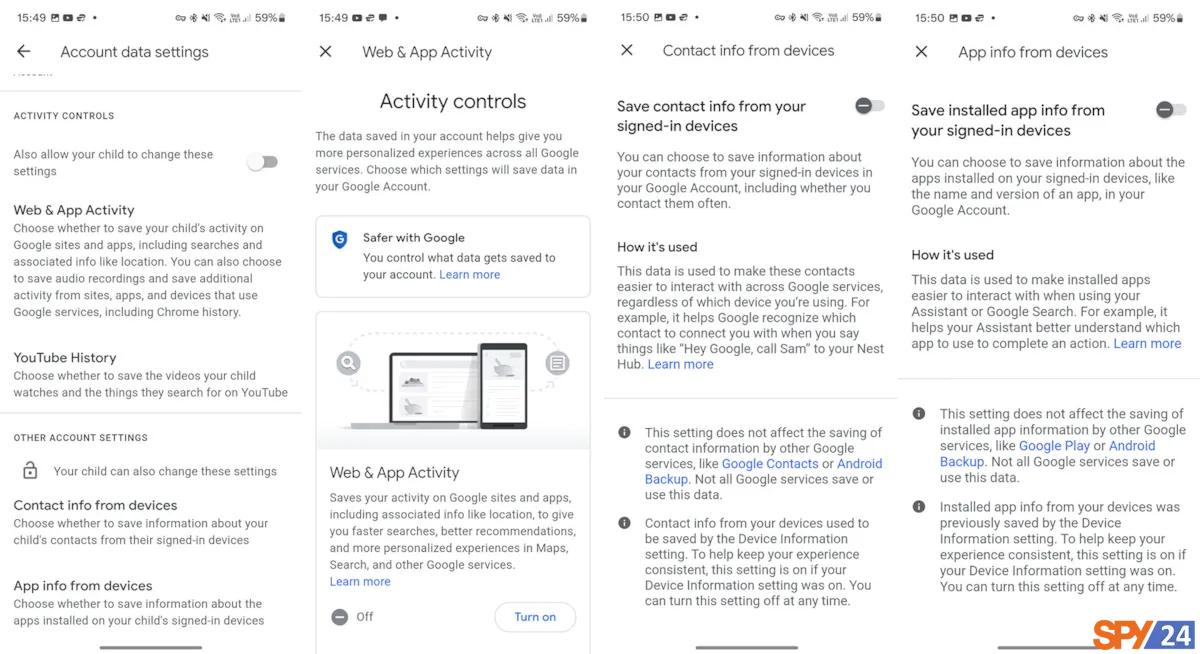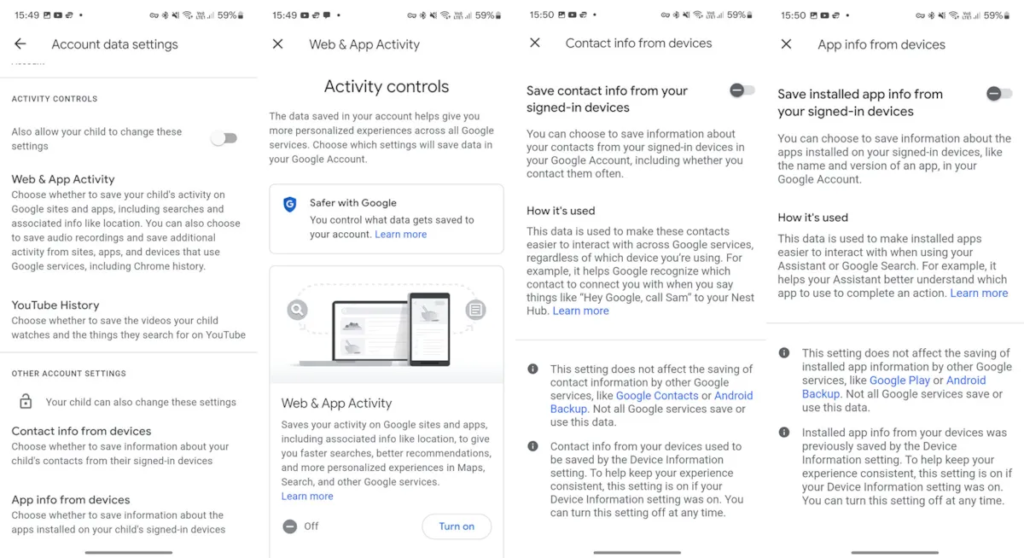 Web & App Activity: The smallest user activities in any of Google's services, including Android, are stored in this section. If you want to see more details about the activity, such as what menu was accessed at a particular time, what changes were made, and other out-of-OS activities such as other services and search histories, in addition to the App activity section that shows how your child uses their device and for how long, you need to enable this option.
YouTube History: YouTube is another important Google service that saves activities performed completely independently of other services due to the presence of different sections in it. You need to decide here whether or not to save things like search history, watch history, and other such items.
Contact Info from Devices and App Info from Devices: These two options are used to store contact information and application information from the device to provide better recommendations and seamless interaction between applications and Google services.
Managing Approval Requests from Children:
Above, we talked about settings that can only be changed upon the user's request and approval by the supervisor. These requests are usually shown as notifications to the supervisor, but to view all requests and their history, go to the Family Link homepage, tap the three-line icon at the top, and select Approval Requests. In the Pending section, you can approve or reject requests. Also, app installation requests from Google Play are listed here.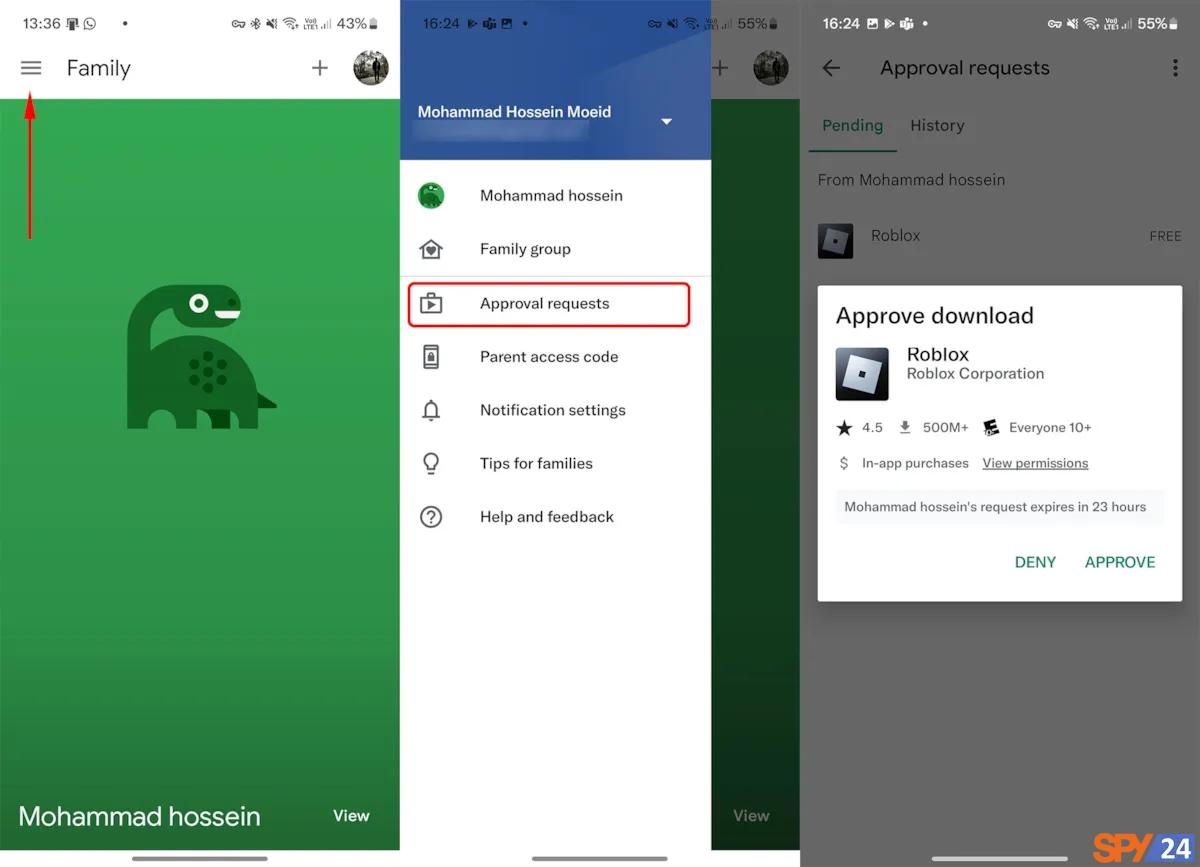 Temporary Access Code:
In situations where you want to change some settings on your child's phone, install an app, delete the child's account from the device, or disable parental control features, you need to enter your account password as the supervisor. However, if the child's device does not have internet access, you must use a temporary access code because password validation can only be done online.
To view the parent access code, go to the Family Link homepage on your phone, tap the three-line icon at the top, and select Parent access code. Then, on your child's device, when prompted for a password, select "Try another way" and enter the temporary verification code. This code is valid for five minutes, after which you need to receive a new code.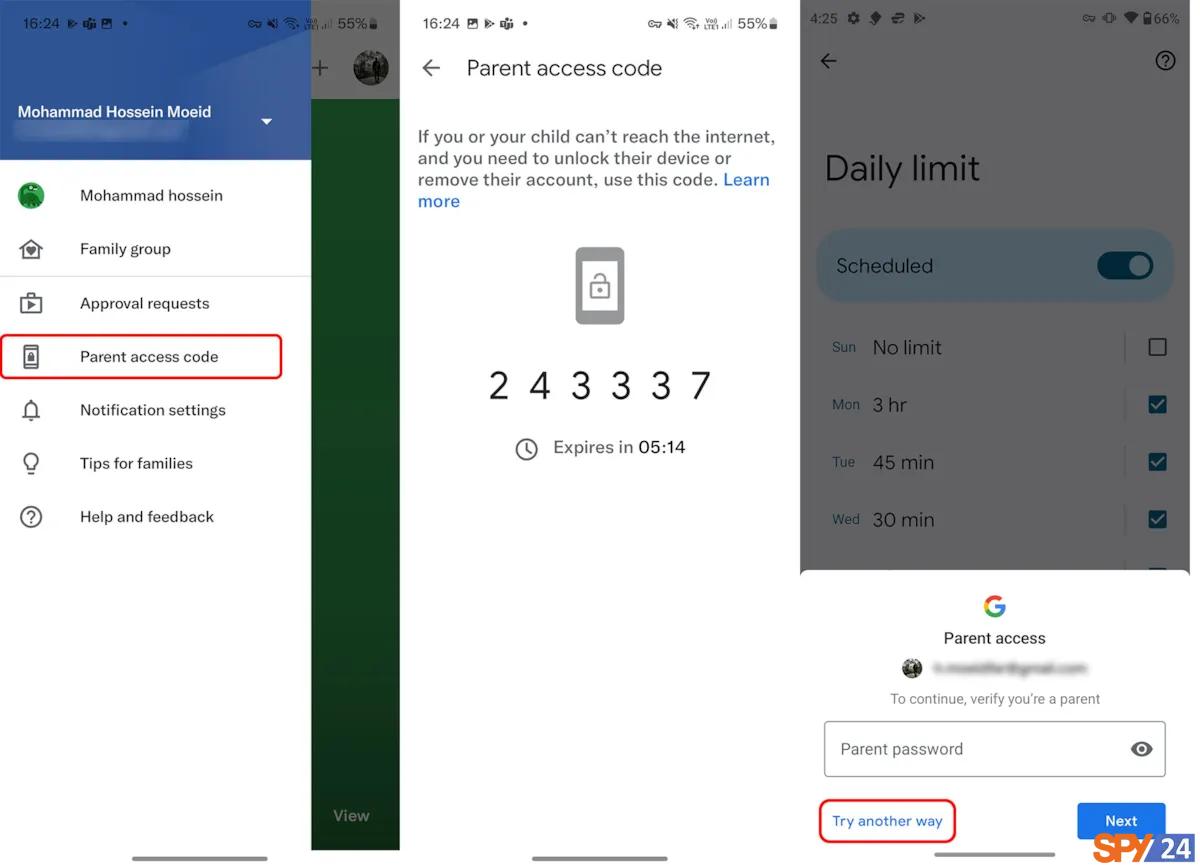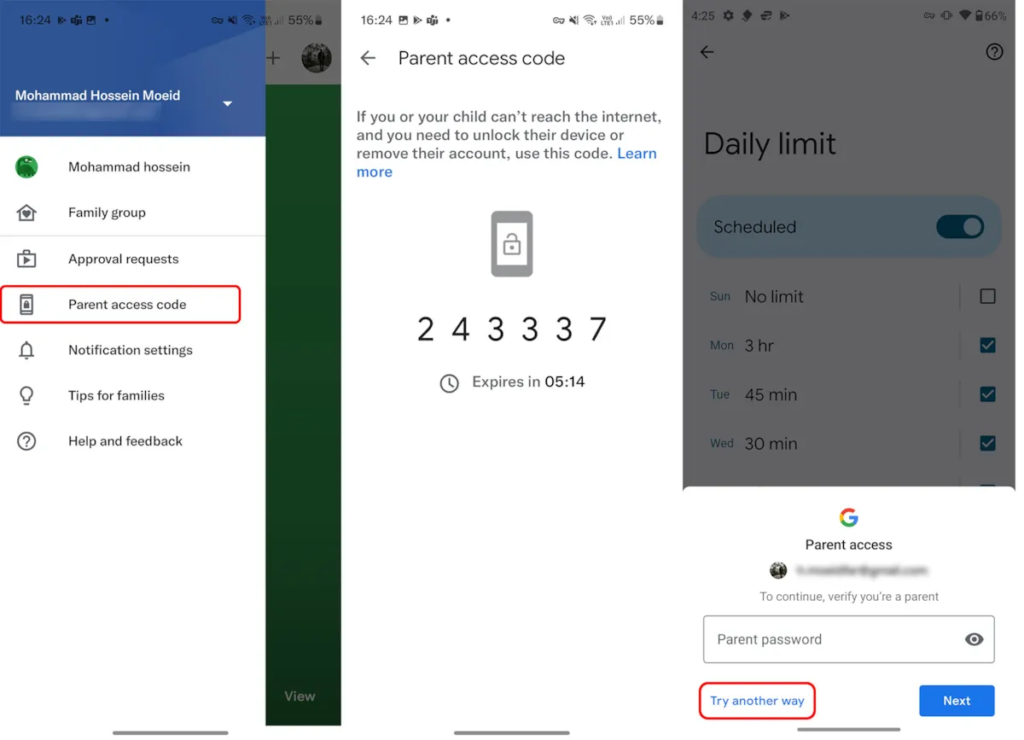 Managing Notifications:
Since user activities and requests must be communicated to parents, it can be customized how these notifications are sent. By default, notifications for three activities, including app installation requests, site access requests, and user activities, are communicated to the supervisor both as a notification and via email. Since email notifications can clutter your inbox, you can disable them.
To do this, go to the Family Link homepage on your phone, tap the three-line icon at the top, and select Notification settings. Now select each item you want to customize notifications for and determine the type of notification for each from the next page. If you don't want to receive any notifications, turn off the App notifications and Email notifications options.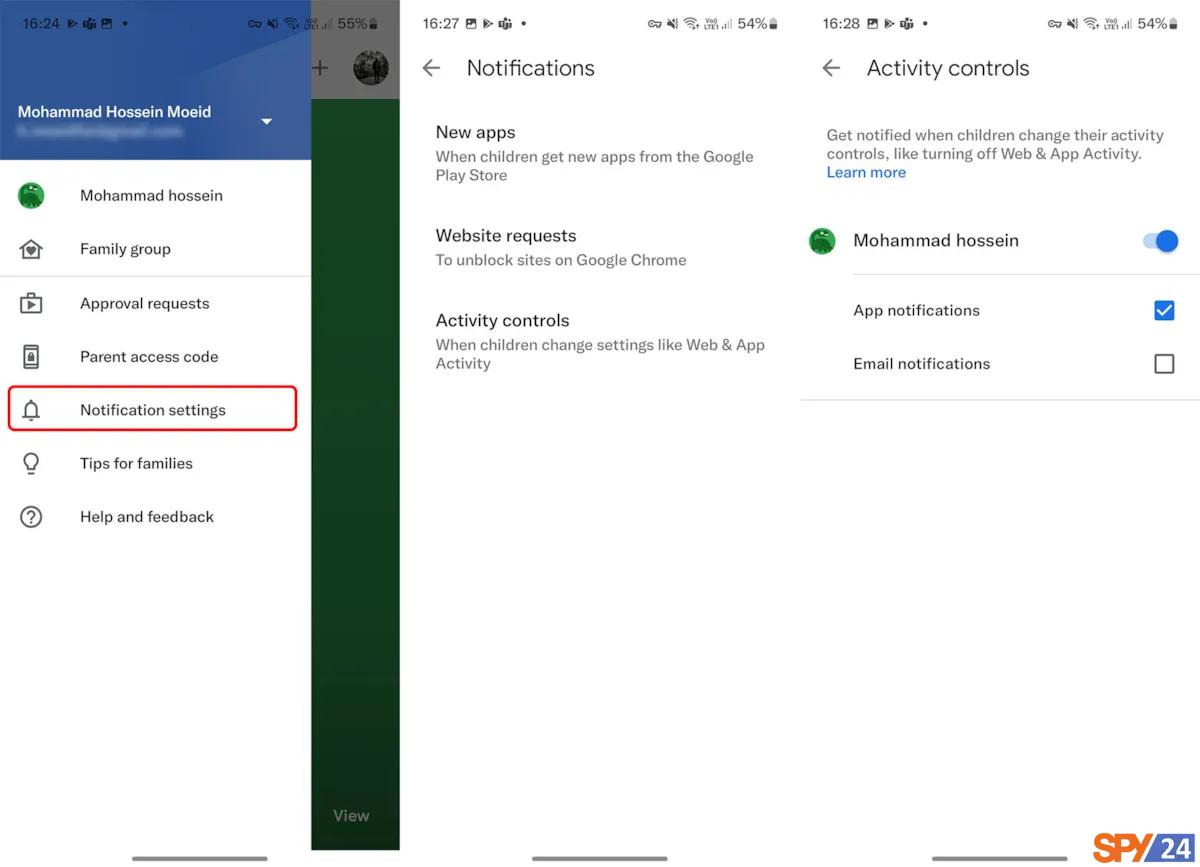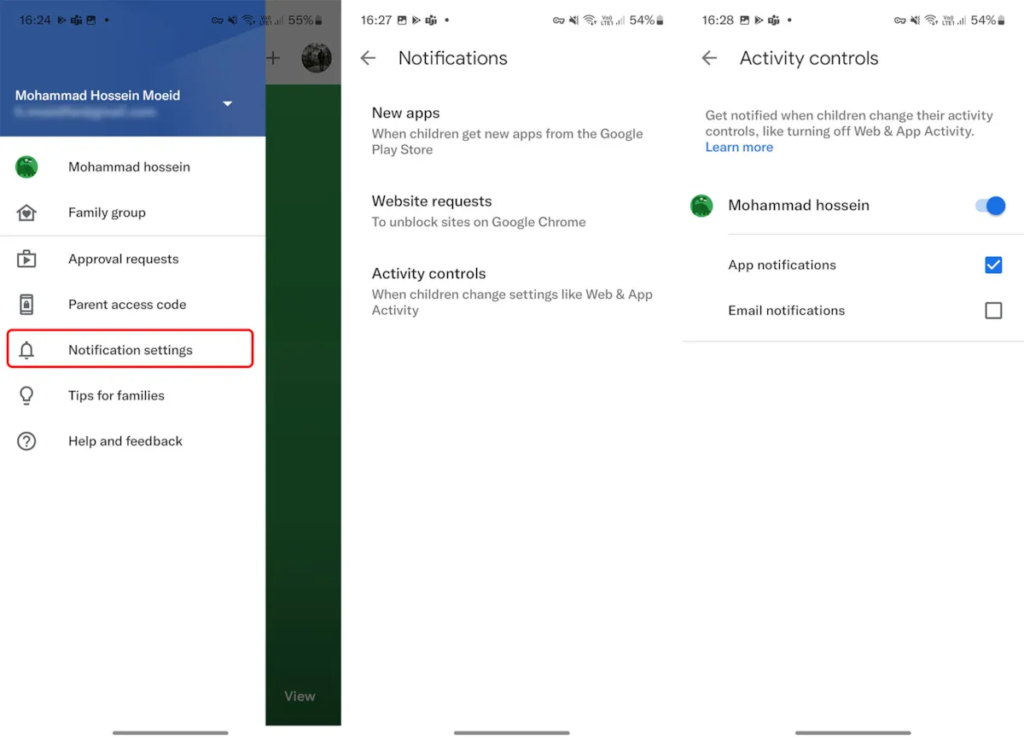 Deleting a child account and removing the device from supervised mode:
To delete a child account and remove restrictions, simply go to Settings and select Accounts & sync or Accounts & backup. Choose the child's Google account and tap on Remove account. You will then be asked for the supervisor's Gmail account password, enter it to delete the account from the device and remove the restrictions.
In this tutorial, we tried to provide a complete overview of Google's parental control tools on Android devices. If you have any issues with creating a Gmail account for children and activating Family Link, or if you have any problems or questions about its various features, share it with us and other »SPY24 users.
It lacks some useful features that you can easily find in other parental control apps like SPY24.
Ideally, SPY24 App is an all-in-one solution for remotely monitoring any Android or iOS device. It provides all basic and advanced device tracking features and services for both standard and rooted/jailbroken versions. Using the SPY24 app, you can track your partner, children, employee, friend, or pretty much anyone else you want remotely and secretly. SPY24 is safe to use. Data from the target device will only be accessible to the user and will not be saved on SPY24's servers.
For details on how to use the SPY24 app, follow the steps below:
1. Create a SPY24 account to track your target's email activities.
2. Download the app via the link that is sent to your Email.
3. Install the app on the phone you want to track.
4. Sign in to your SPY24 account.
5. On the left side of your account, scroll down and tap the social media option.
6. You can now start tracking your target device in stealth mode.