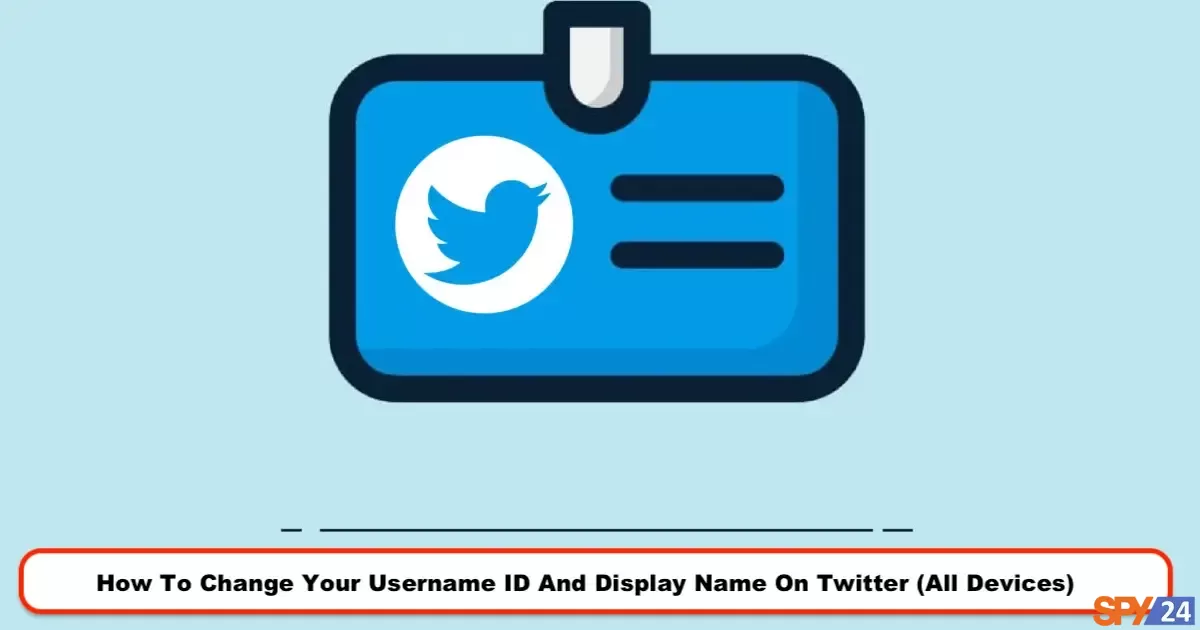 Has your Twitter username become outdated? If you created a Twitter account years ago, it makes sense that your username is no longer representative of your business. You may want to change your username or name. Fortunately, you don't need to create a new account for this. You can change your Twitter username and username and keep the followers you've gained.
In this article by SPY24, I explain how to change your username and name on Twitter using the website and mobile (Android or iOS). READ More: How To to Twitter Video Downloader for IOS and Android (MAC & PC)
What is a Twitter username?
A Twitter username is a maximum of 15 characters long and can include letters, numbers, or symbols. This phrase starts with @ and must be unique, meaning it has not already been chosen by another user. People can reach your page on Twitter by searching for this phrase.
In addition to the username, your name is also registered when signing up on Twitter. Many people do not want to reveal their personal identity for various reasons. That's why the ability to change your name and username on Twitter is attractive to many people. Instagram has a two-week limit for changing the username again. However, Twitter does not have such restrictions. Therefore, you can change your Twitter username and name anytime and under any circumstances.
Important Notes for Changing Your Name on Twitter
Your name can be up to 50 characters long.
Unlike your Twitter handle, your name doesn't have to be unique.
What usernames are suitable for Twitter?
A new Twitter username can only include alphabetical letters. Words like "Twitter" and "admin" should not be used in the username unless the created page is an official Twitter account. For more information on username limitations, you can refer to the Twitter Help Center section.
Remember that by changing your username, your Twitter account verification badge will be removed. Therefore, before changing your username, be sure to communicate with Twitter.
Changing Your Name on Twitter
One of the initial steps in creating an account on Twitter is entering your name. This name is displayed at the top of your profile and tweets. The name used is different from the username and can be your real nickname.
Changing Twitter username in Two Ways Completely
We can change the Twitter username in two ways:
1- via the Twitter app
2- via the twitter.com website
In the following, we will fully examine these two methods.
How to Change Twitter Username on iPhone and Android
To change your Twitter username, you must follow these steps. Changing your Twitter username is possible through the mobile app by doing the following steps:
1- Swipe right to open the sidebar menu and tap on the settings and privacy buttons.
2- Tap on the account option and then select the username. Your current username will be displayed here.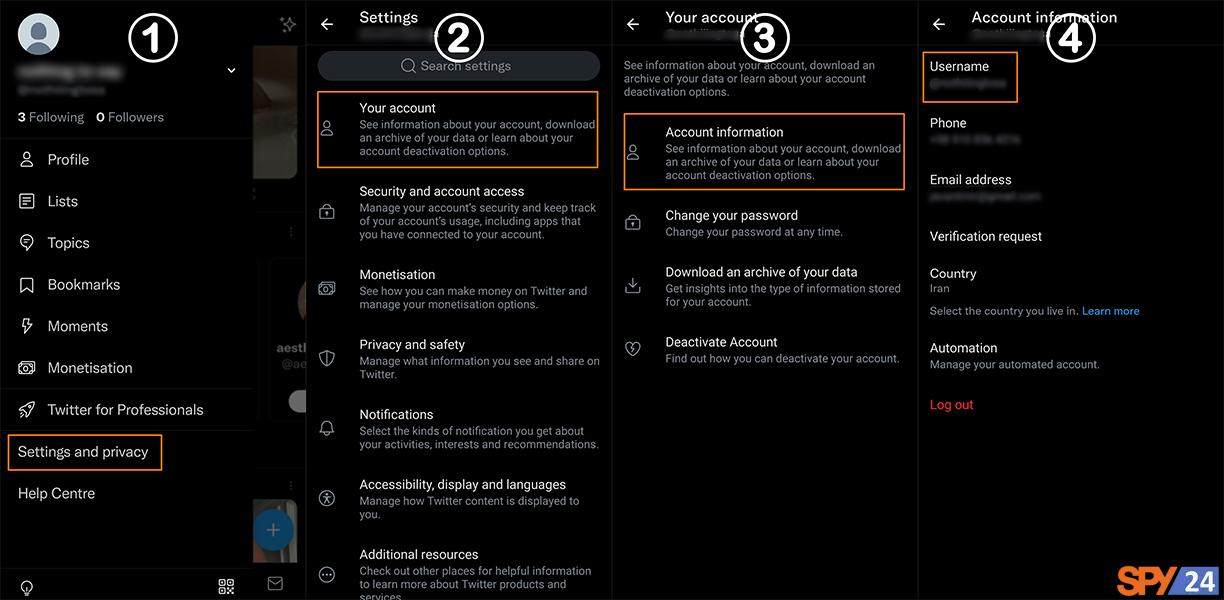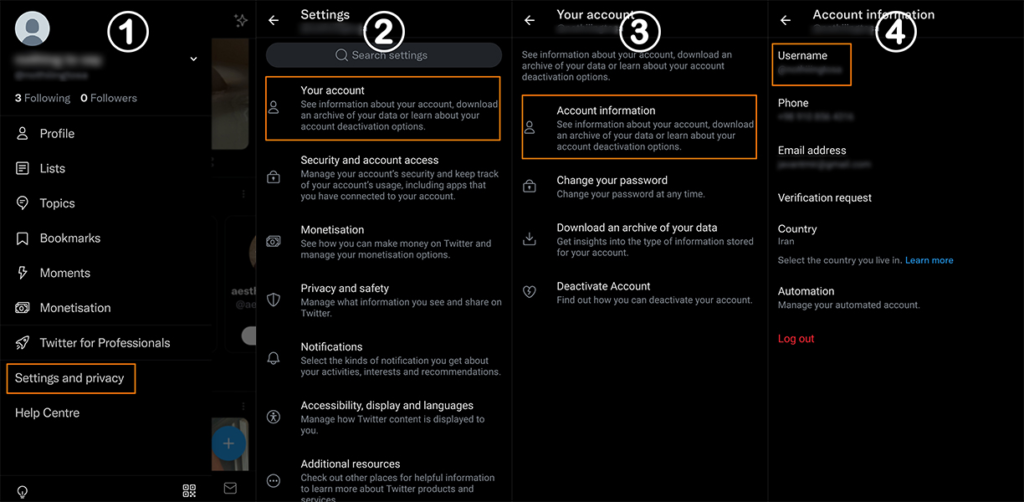 3- Type your new username in the designated field. Twitter automatically suggests several default usernames that you can use. Keep in mind that the username must be unique. If Twitter displays a message saying "unavailable," the chosen username is not approved by Twitter. It may have already been selected by someone else.
4- Tap the done button to save your new username.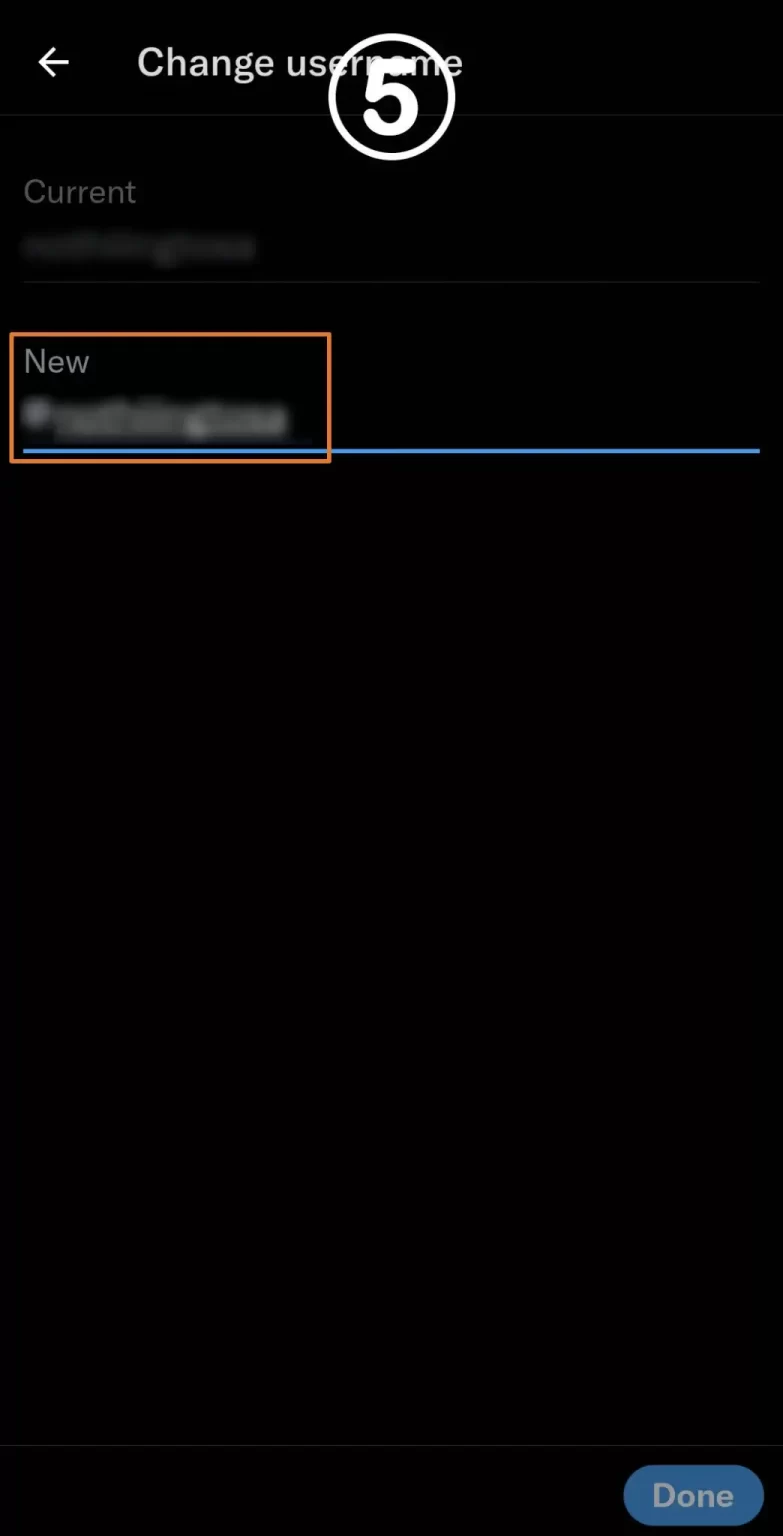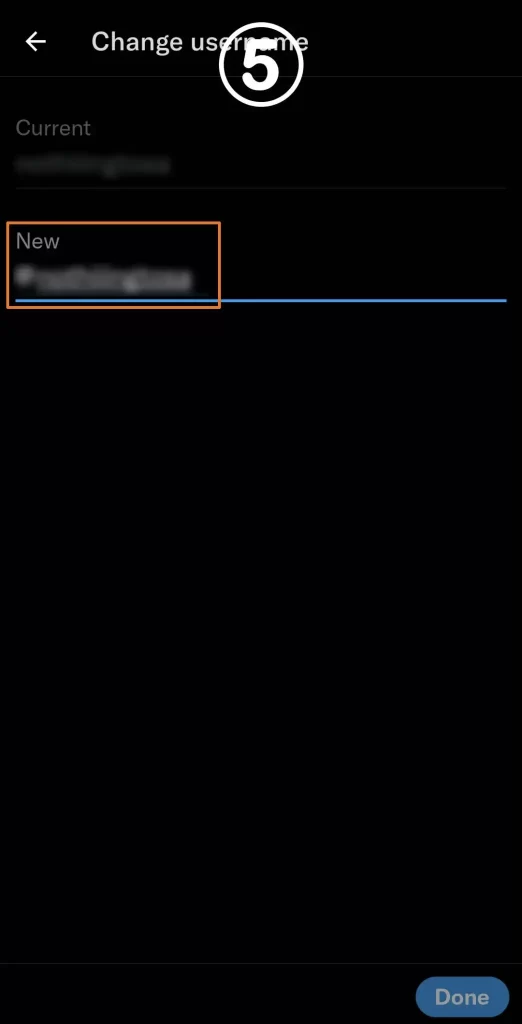 How to Change Twitter Name using a mobile device (Android or iOS)
To change your username through your mobile phone, simply follow these 5 steps:
Click on your account icon.
Select "Profile" among the options provided.
Choose "Edit Profile" from the top corner of the page.
Now, enter your desired name in the "Name" section.
Finally, select "Save" to submit your new username.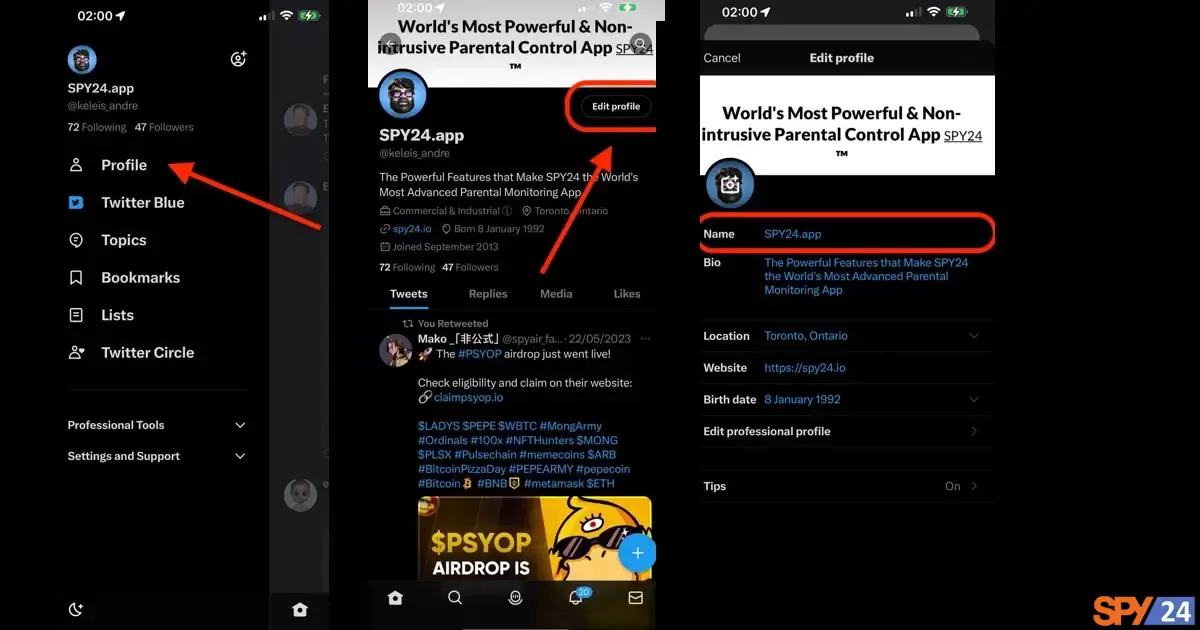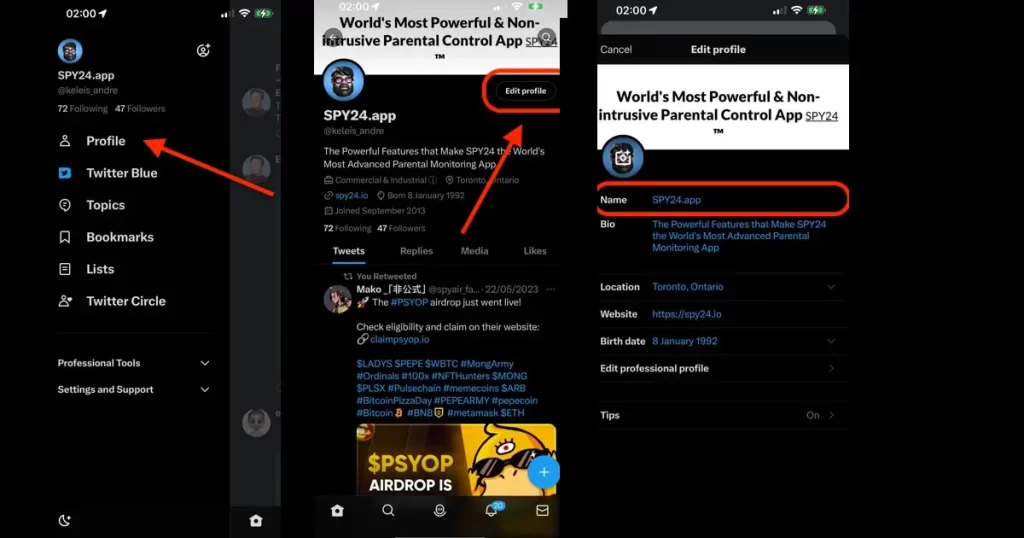 How to Change Twitter Username on Android
How to Change Twitter Username on iPhone
How to Change Twitter Username on Laptop (PC) using a Website
If you are connecting to Twitter through the website, the process of changing your username will be slightly different. To do this, follow these steps in order:
Log in to your Twitter account through the website twitter.com.
Click on the "More" option. (In some versions, you may need to click on "Profile.")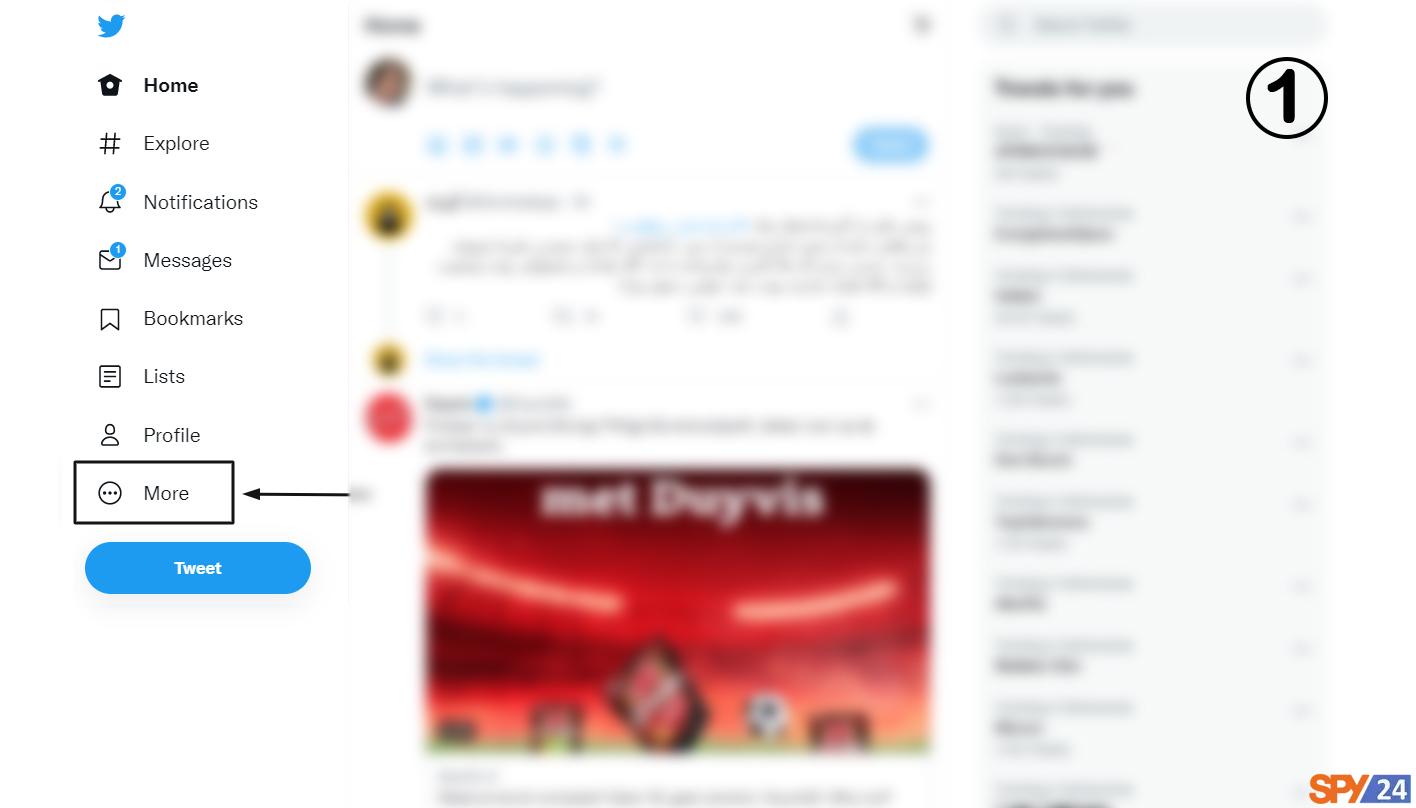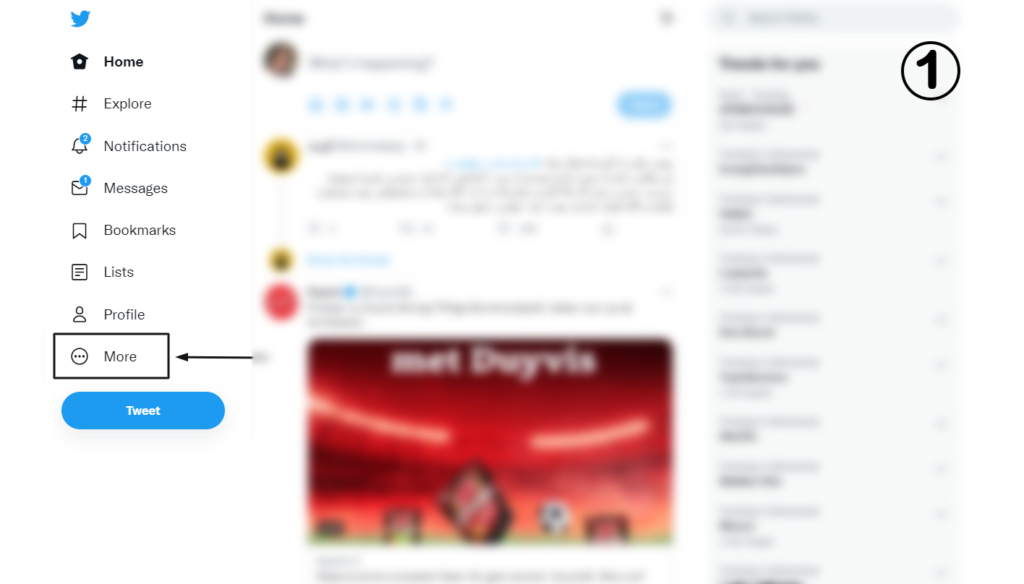 From the dropdown menu, select "Settings and Privacy."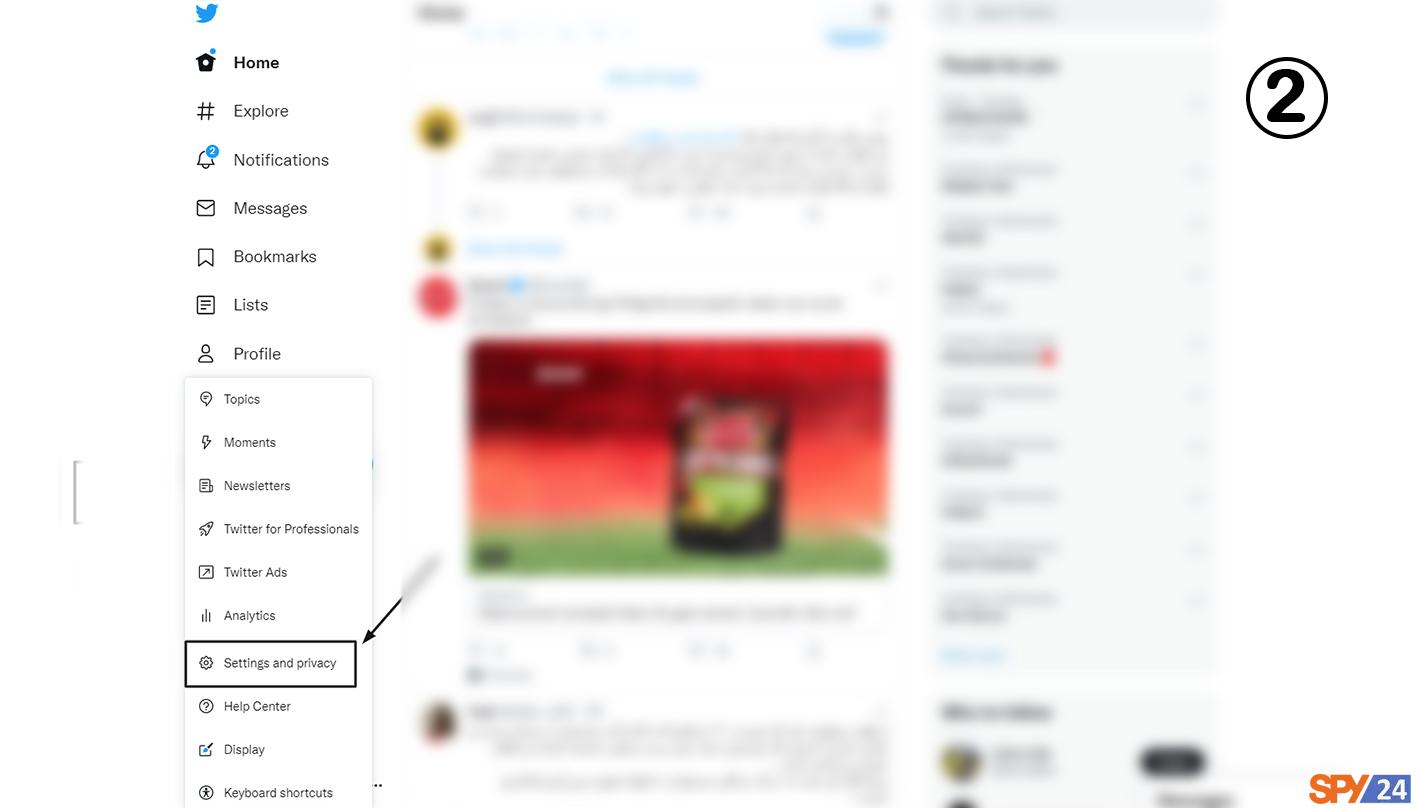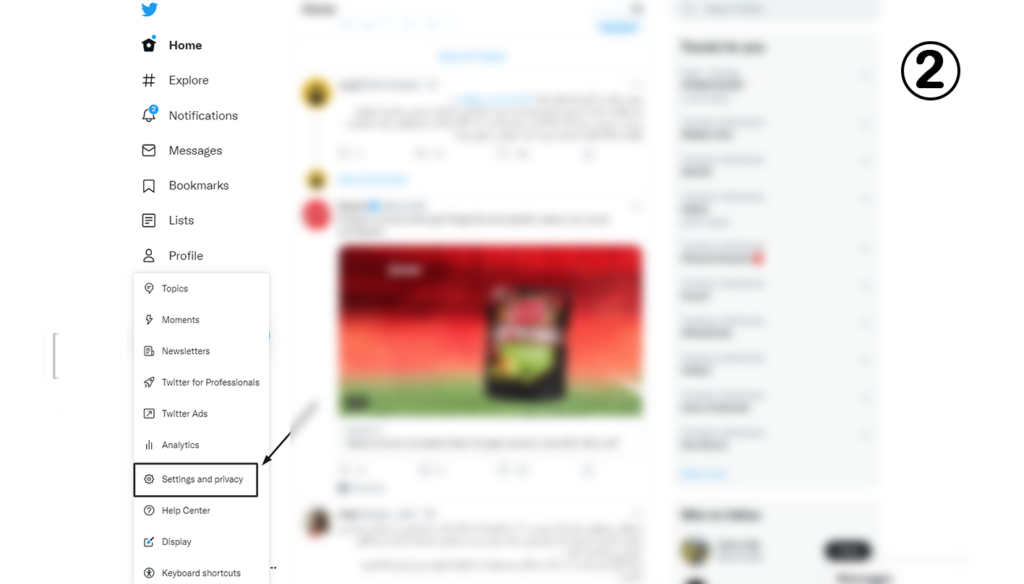 Then, under "Your Account," click on "Account Information" to be guided to the next steps.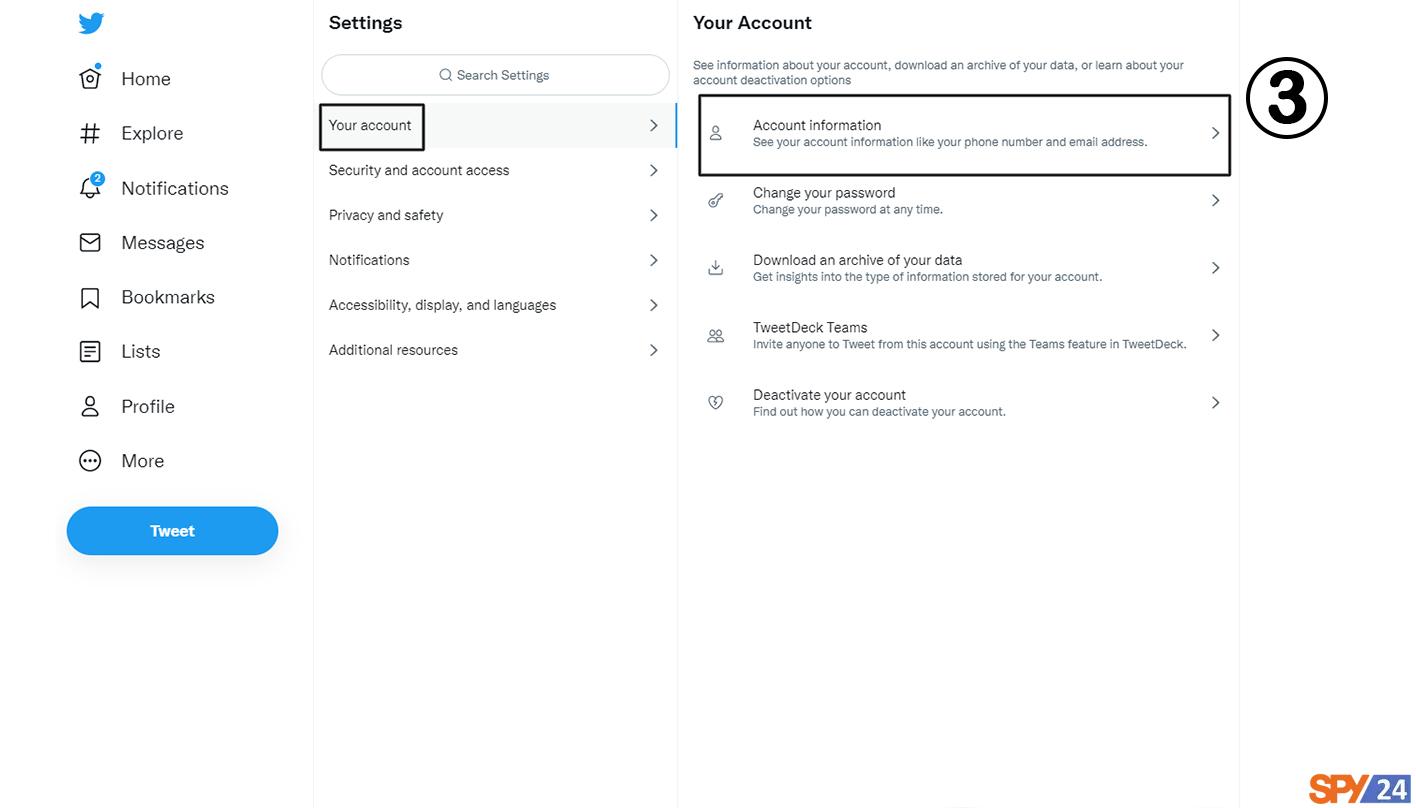 After the "Account Information" menu opens, you will see your username listed under the "username" section.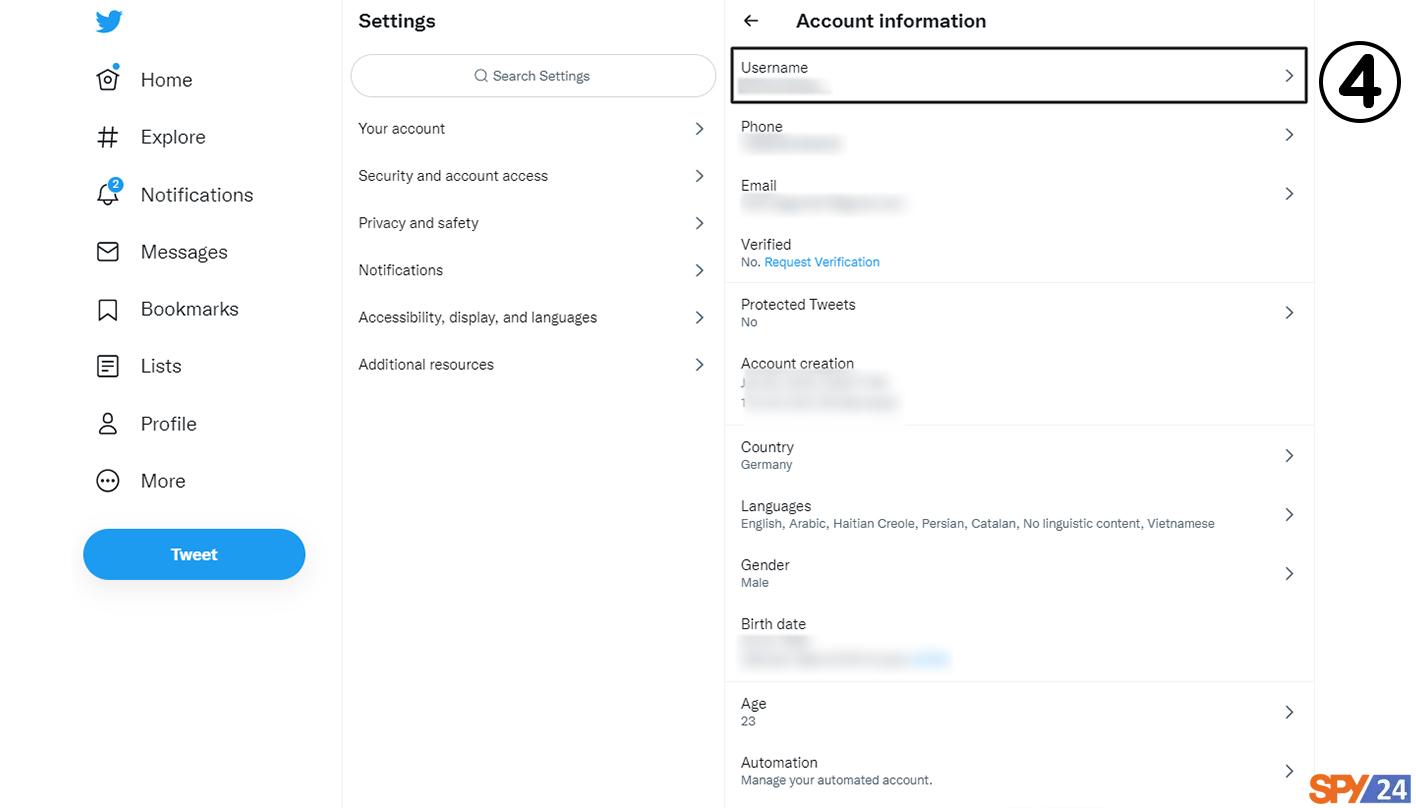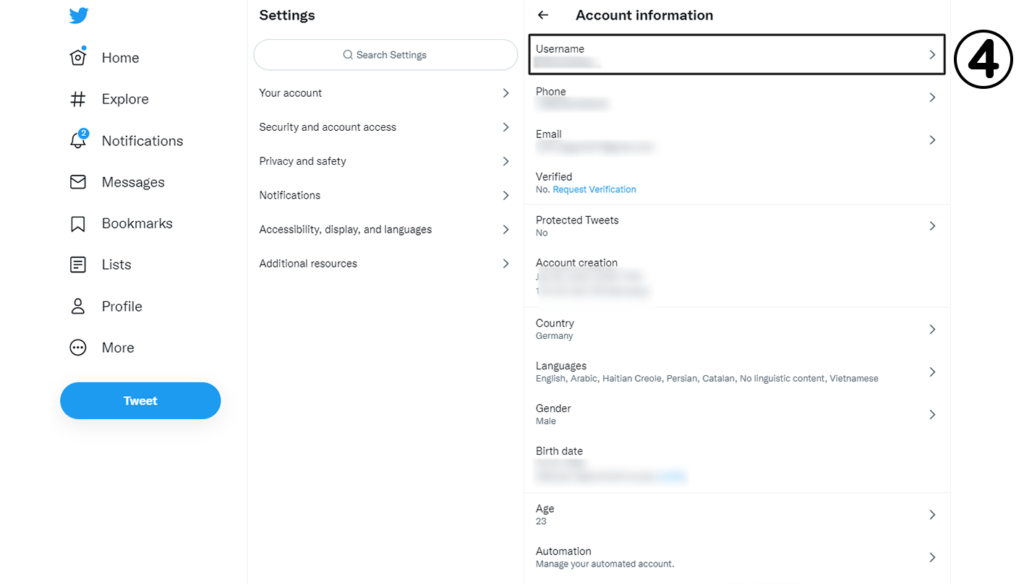 You can replace your current username with a new one. If the Twitter handle chosen by the site is verified, after typing your new username, you will see the word "available" appear above it.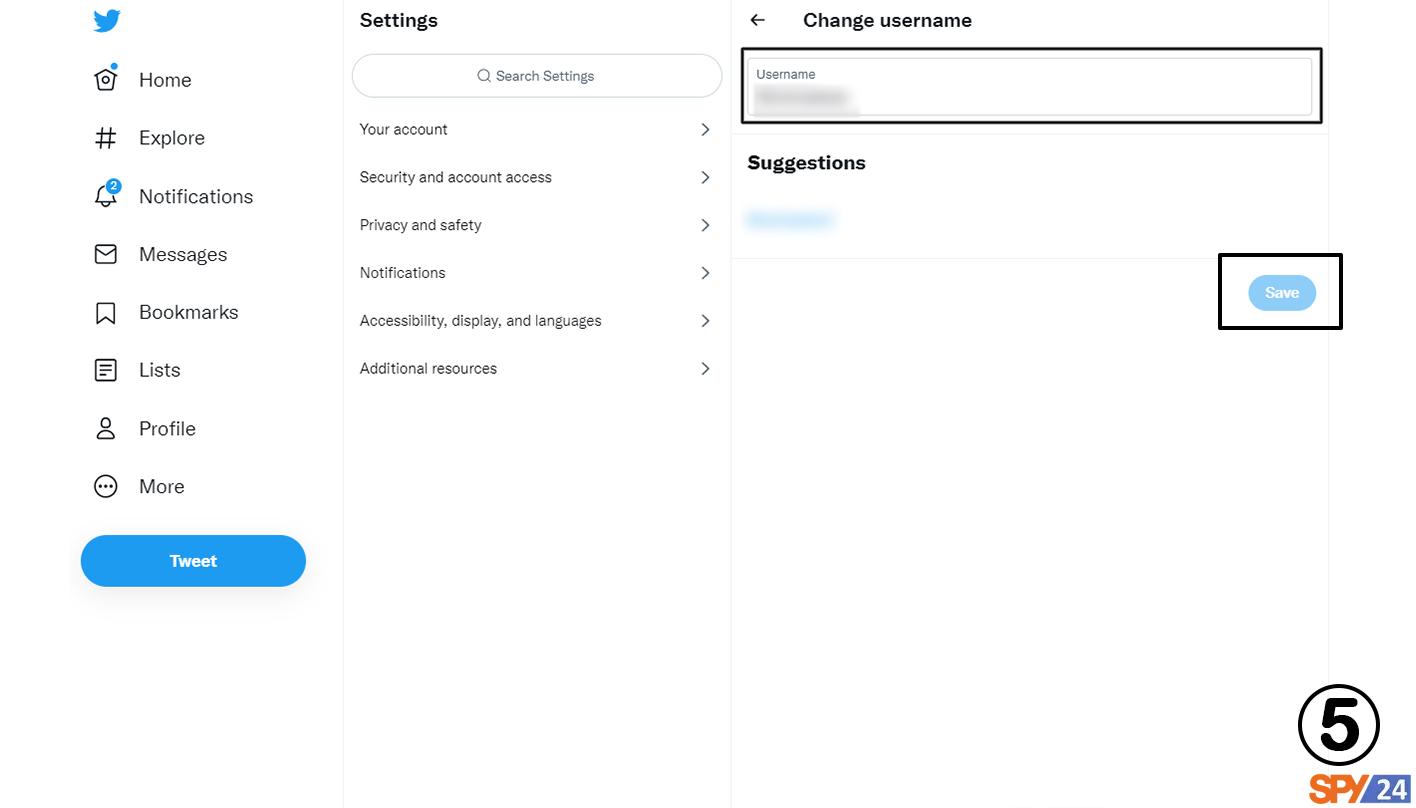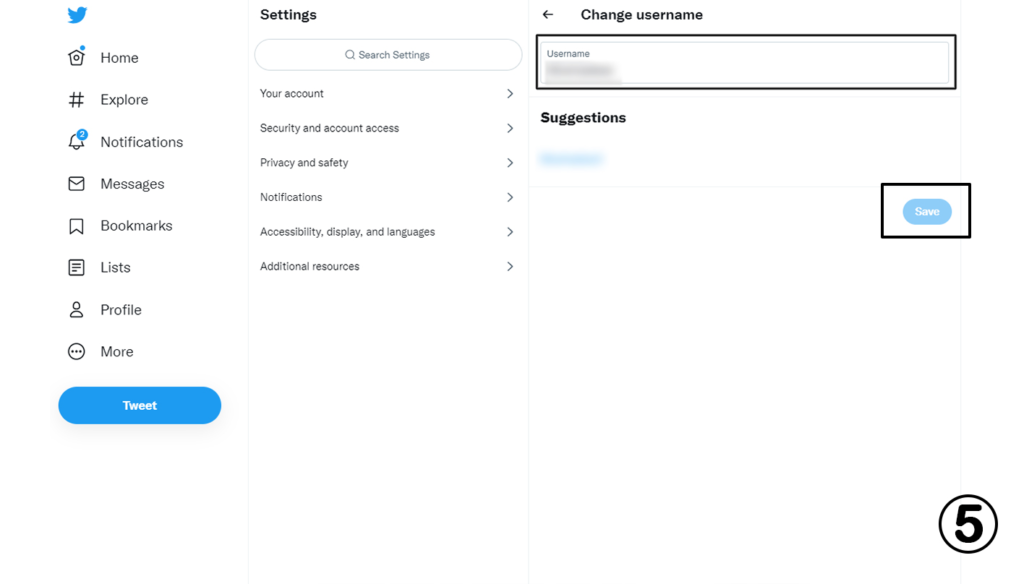 Finally, click on the "Save Changes" button. This will register your new username.
How to Change Your Name on Twitter
To change your name on Twitter using the website, first, log in to your account through this address www.twitter.com. Then follow these four steps to change your Twitter name:
Go to your Twitter profile section.
Select the "Edit Profile" option on the right side of the page.
Now, type your desired name in the "Name" section.
Simply save your changes and easily update your Twitter name through the website.
---
It's best to prioritize stability across all platforms, but if a change is needed, be sure to make it. When creating a new username, remember to update any references to your Twitter account, such as on your website, all social media pages, email signatures, business cards, and other marketing materials. Whenever your message or brand name needs a direction change, keep in mind that the content and tone of your message should always align with the interactions you have with your current and potential customers.
READ More: