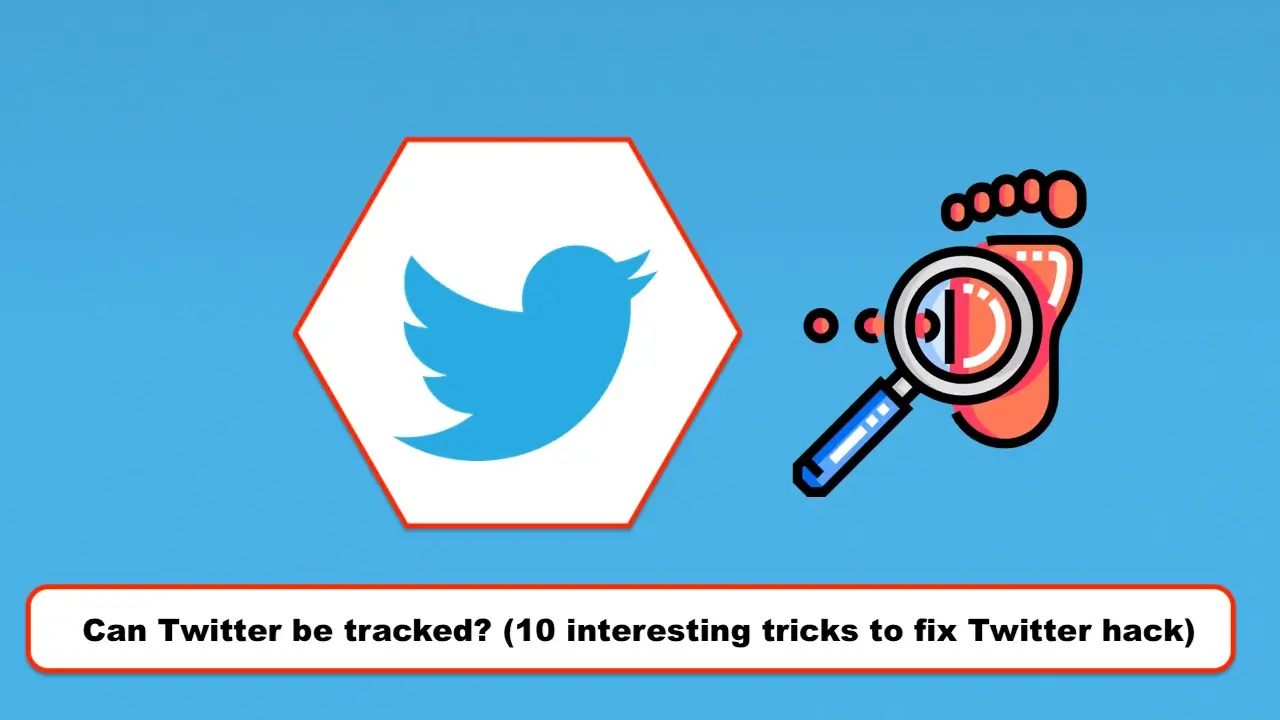 Is it possible to trace a Twitter account? Important tips for securing your account: Sometimes when you log into one of the social networking services like Twitter, you are concerned about being tracked and having your information leaked. 🔎 In this article from SPY24, we answer the question of whether tracking a Twitter account is possible. We talk about Twitter, ways to hack it, solutions to increase security, awareness of hacking, and also how to recover a Twitter account.
In this article, we intend to talk about the leak of phone numbers on Twitter and answer the question "Is Twitter traceable?" and provide 10 ways to prevent hacking Twitter.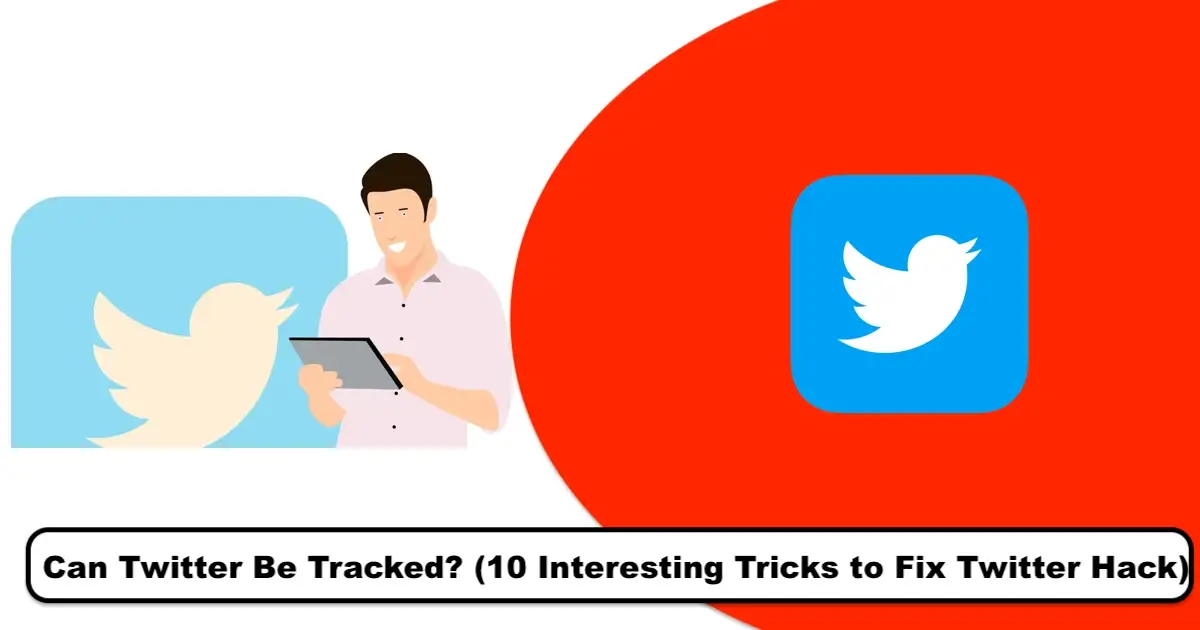 Twitter; Popular but uncertain social network!
Twitter is one of the most popular social networks that many people around the world use and have one or more accounts on. However, Twitter's security has not been very high in recent years, and there have been many reports of hacked Twitter accounts.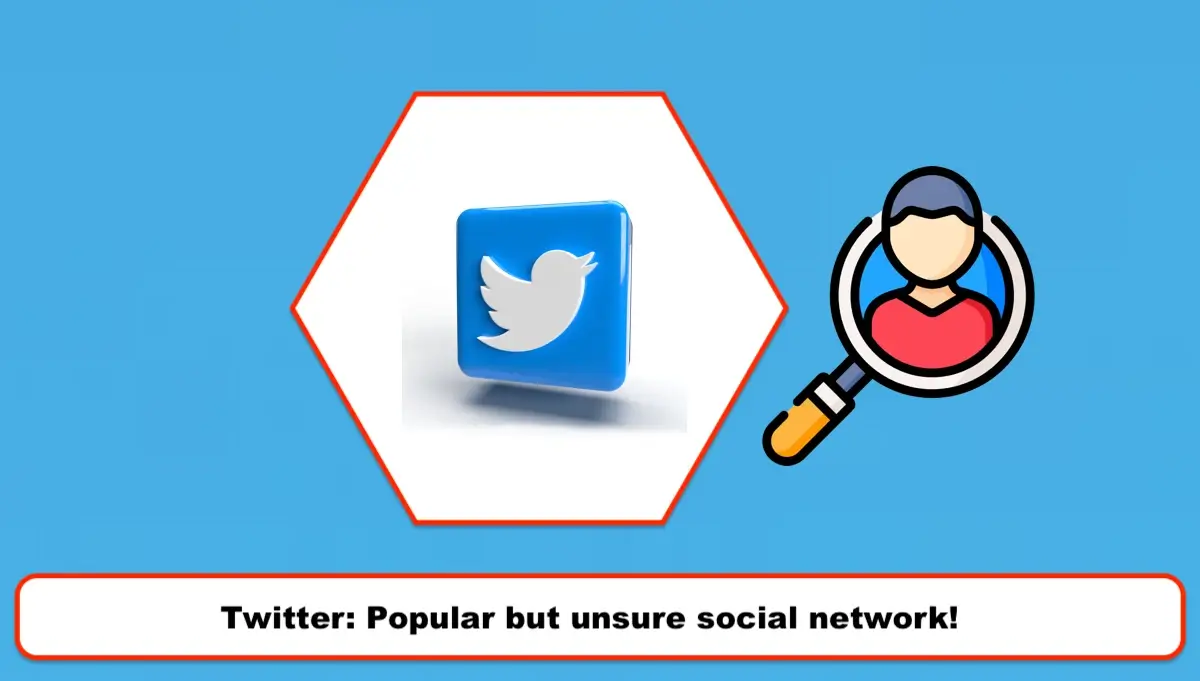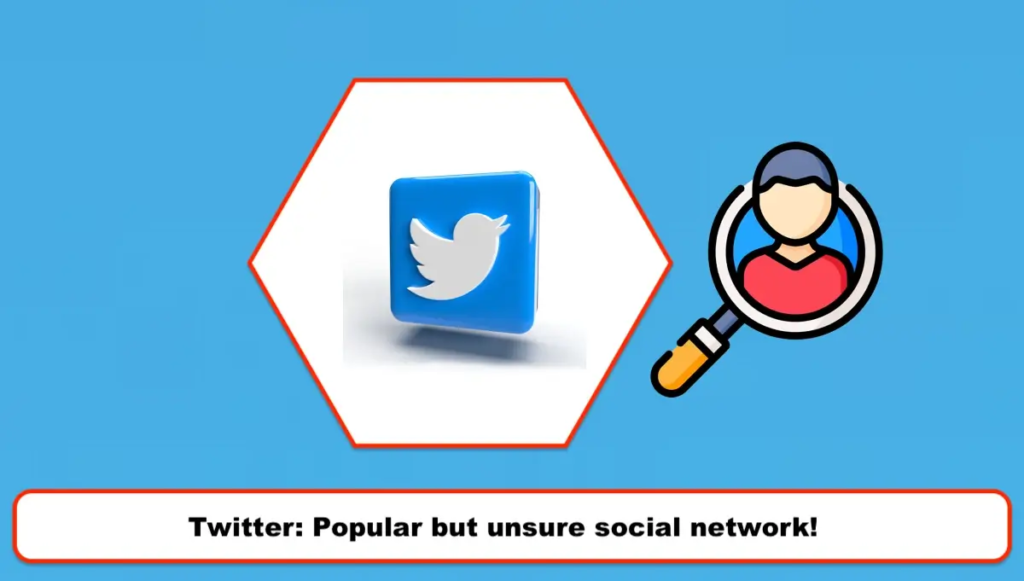 Although Twitter's security team is working daily to improve the security of this social network, unfortunately, there is not much trust in the security of this social network, and sometimes some accounts are hacked. Of course, usually, these incidents happen by the user, but in any case, Twitter's security is less than other messengers or social networks. In the following, we intend to familiarize you with the answer to the question "Can Twitter be traced?" and 10 ways to prevent Twitter hacking.
Can Your Twitter Account Be Traced?
This question of whether Twitter is traceable arose exactly two years ago and a little before Christmas 2020. In December 2019, during a special event, a large number of mobile phone numbers of various Twitter accounts were hacked and leaked.
At the beginning of the story, several government hackers, especially hackers from America, Israel, and Malaysia, requested that the phone numbers be displayed through Twitter, which Twitter strongly opposed. Although, on the other hand, this idea led to the creation of the ability to find Twitter contacts.
After a while, a hacker named Ibrahim Malik was able to automatically create 2 billion phone numbers and leave them on Twitter. He could connect to 17 million mobile phones by exploiting a Twitter security bug and stealing all these numbers.
He did not inform Twitter about this issue for a while and informed the owners by distributing the numbers on WhatsApp, and after a short time, everyone realized that the problem was with Twitter's security.
Twitter also fixed this security bug by the end of December and announced in a statement that account problems had been resolved and officially apologized to everyone for these issues.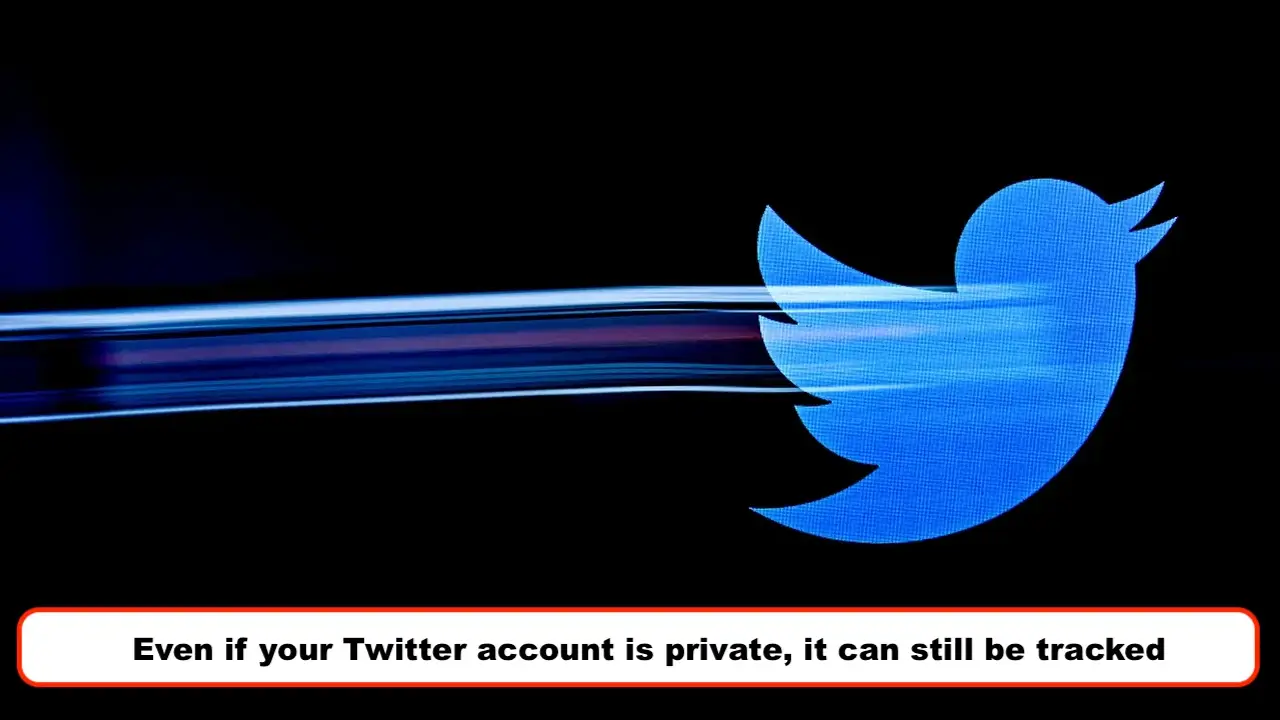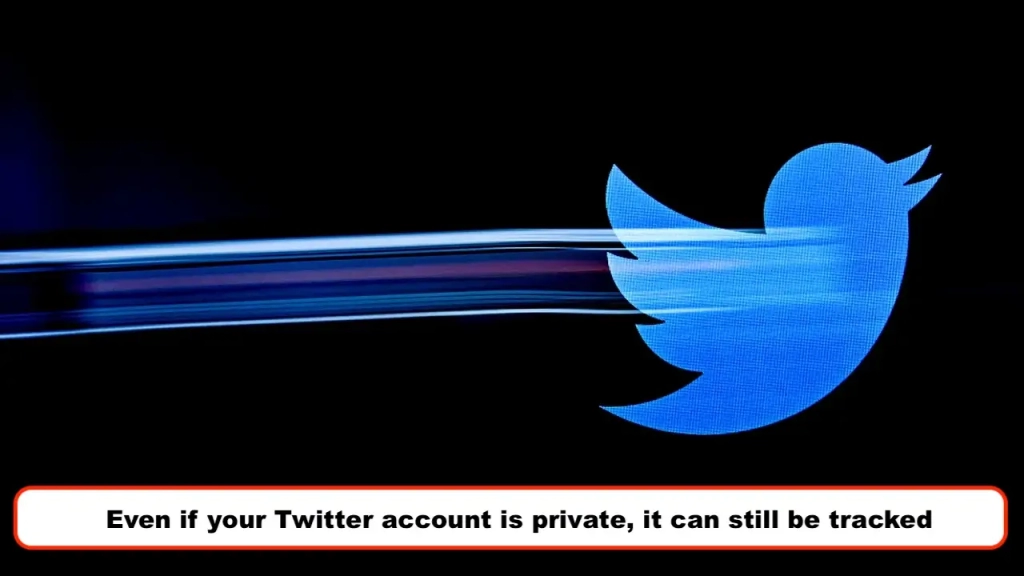 The History of Twitter Hacking
Disclosure of 200 million emails from Twitter users.

https://www.reuters.com/technology/twitter-hacked-200-million-user-email-addresses-leaked-researcher-says-2023-01-05/

The zero-day hack affected 5 million Twitter users, but this hack has affected more than 20 million accounts.

On August 5, 2022, Twitter confirmed that a threat actor used a zero-day vulnerability to harvest a database of user information. Twitter said the vulnerability was fixed in January 2022. Source: Forbes)

https://www.forbes.com/sites/daveywinder/2022/11/29/zero-day-twitter-hack-confirmed-impact-could-exceed-20-million-users-report/

To check the security of the Twitter social network, we briefly examined the history of hacking and information disclosure. Below is a short list of reliable sources of information hacking and information leakage of Twitter users.
What can be seen if an account is tracked?
If someone gains access to your Twitter account and can track it, they can see a few things. These include:
IP address: An IP address is a set of numbers that can indicate the approximate location of your device.
Search history: Twitter keeps track of all your searches and uses this information to show you content that you might be interested in. Therefore, after tracking a Twitter account, your search history can be visible.
Email address and phone number: Since you enter your email and phone number during the registration process, they can be viewed after tracking.
Other devices: When you use another device to connect to your Twitter account, Twitter becomes aware of it.
Direct messages and tweets: Unlike WhatsApp, which uses encryption in its chats, Twitter does not have this feature, and your chats and tweets can be visible after being tracked.
However, there are some things that can keep the above items hidden and make you untraceable. We will examine these in the following.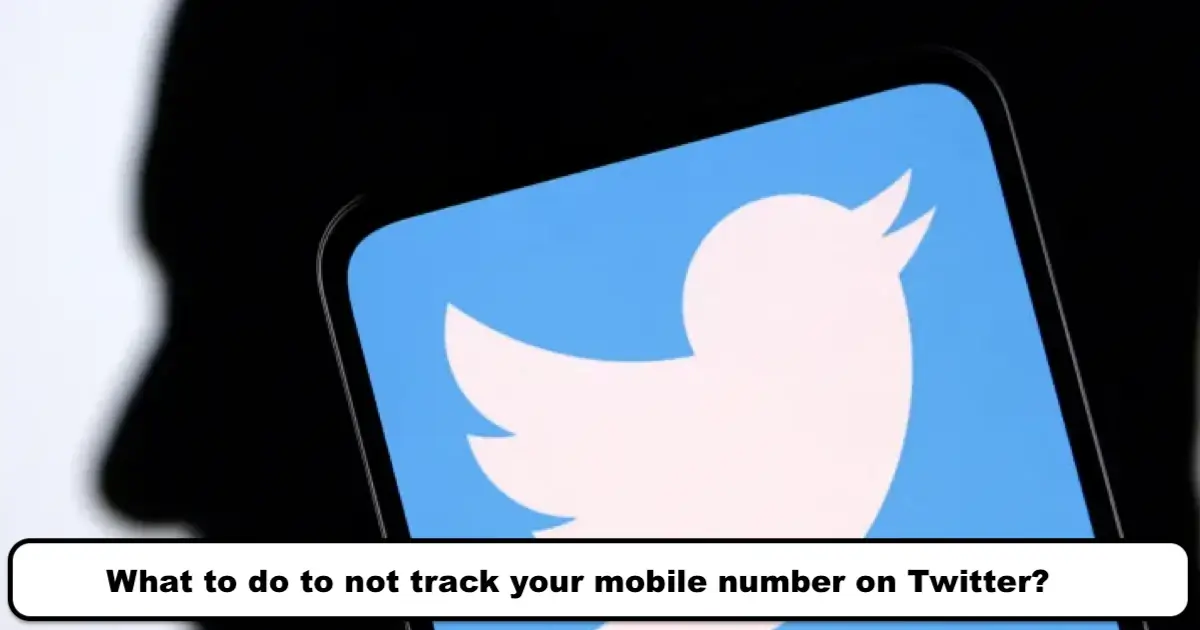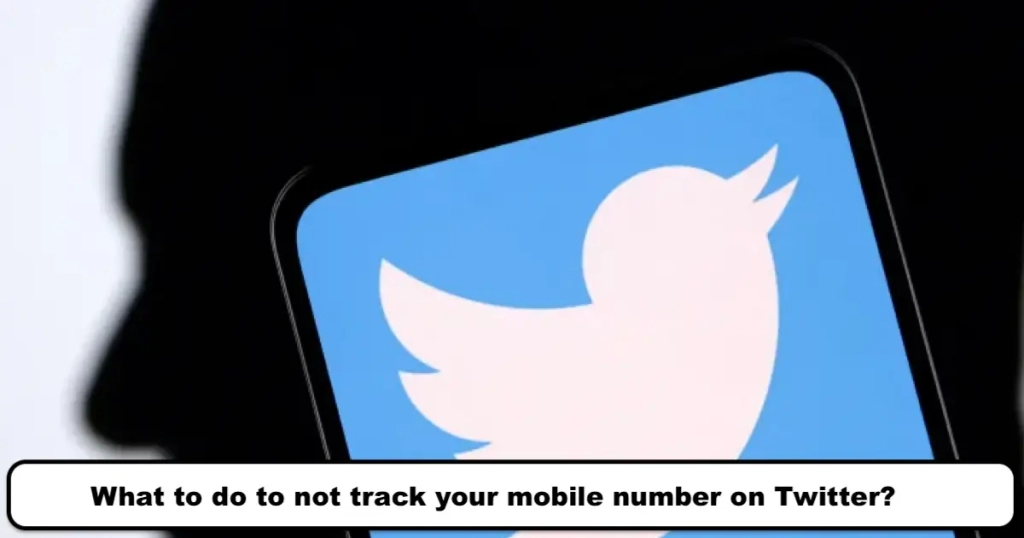 1- Anonymous Twitter usage using secure browsers
If you want to prevent your Twitter account from being tracked as much as possible, you can use secure browsers like Tor. This browser prevents tracking of the Twitter IP address. Just like any other browser, you can use Tor to search any website, only your IP address will remain hidden.
In addition to using a browser, you can also use IP-changing programs to change your IP address.
2- Is Twitter traceable? It is traceable if you use a traceable email
Another factor that can be identified and viewed after tracking your Twitter account is your email. Therefore, you must use an anonymous email. Some of the anonymous email providers are:
Sigaint: Sigaint is one of the anonymous email providers that requires its users to use the Tor browser.
Riseup: This anonymous email provider also offers identity-hiding applications for users to use.
Protonmail: Since Protonmail requires some information such as phone numbers to provide anonymous email, it is better to use an anonymous phone number as well.
3- Anonymous Twitter account with an anonymous phone number
As mentioned, your phone number is visible in tracking your Twitter account. In addition to this, some websites such as Protonmail require a phone number to create an email. Therefore, in addition to the anonymous email, you must also use an anonymous phone number to be anonymous on Twitter. Can also be our other articles, 10 Best Anonymous Texting Apps to Send Messages for Free.
4- Eavesdropping on Twitter by clicking on anonymous links
By following all the above steps, you can create an untraceable account, but those who want to track you may enter through another way. They may become friends with you on Twitter and send you a link. Clicking on the link can lead to your hacking. Therefore, do not click on anonymous links.
5- Create a Twitter account using the Tor browser
After creating an anonymous phone number, email, etc., you can create your Twitter account. To do this, connect to a public Wi-Fi and enter Twitter with the Tor browser. Enter your anonymous email on the site. Then turn on the phone that has the anonymous number on it. Turn on the phone in a public place that is unrelated to your work or life. After that, enter the verification code of the phone number. Click Sign up to create your Twitter account.
After creating an account on Twitter, if you are unfamiliar with using this program, you can read a step-by-step tutorial on how to use Twitter with pictures.
What can we do to prevent our mobile numbers from being tracked on Twitter?
Most incidents of personal information, including phone numbers, being leaked on Twitter are due to people's lack of caution. If you're concerned about the possibility of your phone number being leaked on Twitter, you can increase the security of your account to prevent this from happening.
Twitter's security measures are improving day by day, but accounts are typically hacked through user error and various methods.
As for the question of whether Twitter is traceable, it must be said that you should know various ways to increase Twitter security and activate these features in order to significantly reduce the percentage of your Twitter account being hacked.
These methods are fully explained in the article "How to Improve Twitter Security" and by reading this article, you can learn these methods well. However, below, we provide a brief explanation of 10 effective ways to improve Twitter security.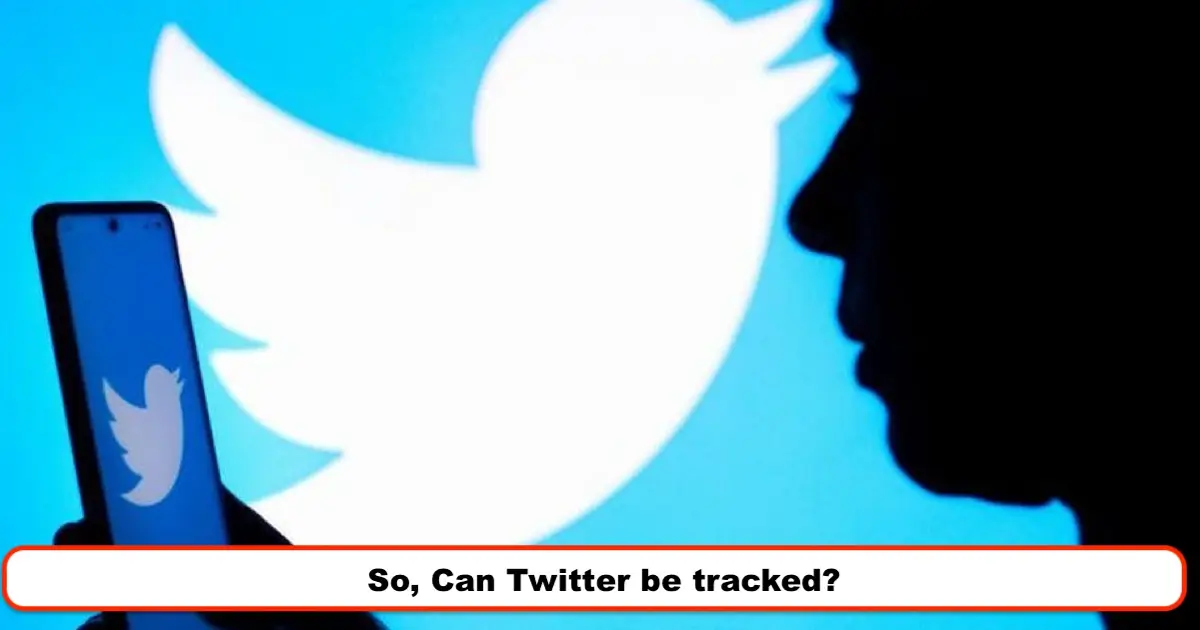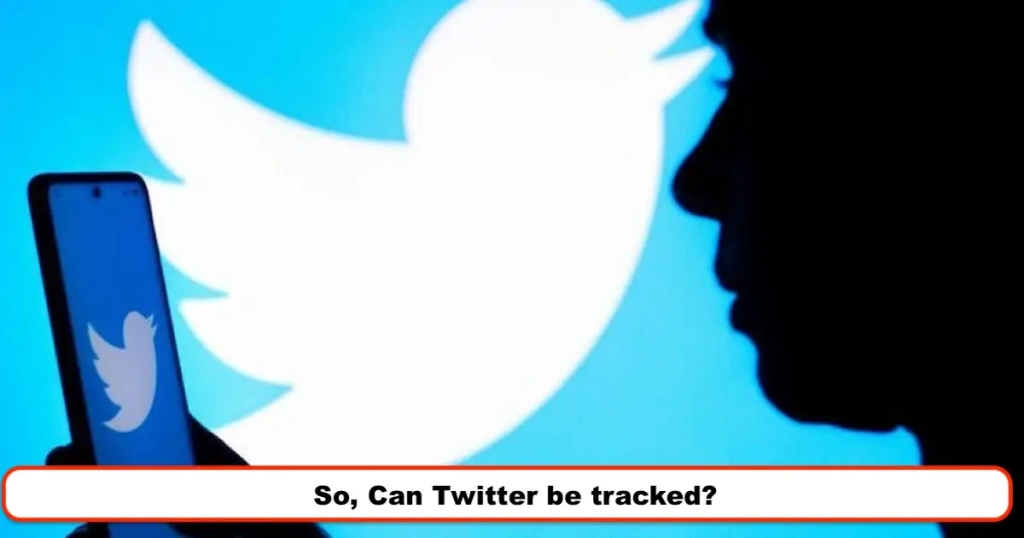 Choose a complex, secure, and hard password for yourself, and do not use the same password for all your accounts
Setting a good password for your account is one of the first and most important ways to increase the security of an account. Since you must enter your phone number to log in to Twitter, you should increase the security of your account with a strong password.
One of the ways to hack any account in the virtual and electronic world is brute force and trying to find out a person's password. Brute force means using a tool, program, or anything else to try to obtain a person's password. These tools test all possible passwords. By setting a strong and complex password, you can prevent this method and avoid getting hacked.
Activate login confirmation and two-factor authentication in your account
Two-factor authentication means that you have to enter a password each time you log in, and at the same time, an email will be sent to you every time you log in. If you did not log in and received an email, you would realize that someone else has logged into your account.
Two-factor authentication exists on all different social networks to help you increase the security of your account.
Activate two-factor authentication for your account.
Do not disclose personal information, phone number, or location in your tweets
The next point is to be careful never to tweet personal information such as email, phone number, or various accounts on Instagram, Telegram, WhatsApp, etc.
It is possible that using this information, they can hack you. Another point about not tweeting personal information and your online location is that even though this way, they can reach you and access you, and they can find you which can be very dangerous.
Be very careful of phishing attacks
Phishing attacks are also one of the dangerous methods of hacking your Twitter or email. In a simple definition of phishing, you are actually entering a fake and fraudulent form, and if you enter your information, the hacker can hack you through your information.
You can fully get acquainted with phishing in the article "Different Phishing Methods." As was mentioned in the question "Is Twitter traceable?" tracking Twitter is possible, so we also suggest preventing phishing; first, do not click on different links easily and always check them. The second point in dealing with phishing is that you should definitely check the Twitter login link and enter the Twitter log in page through secure browsers and search engines.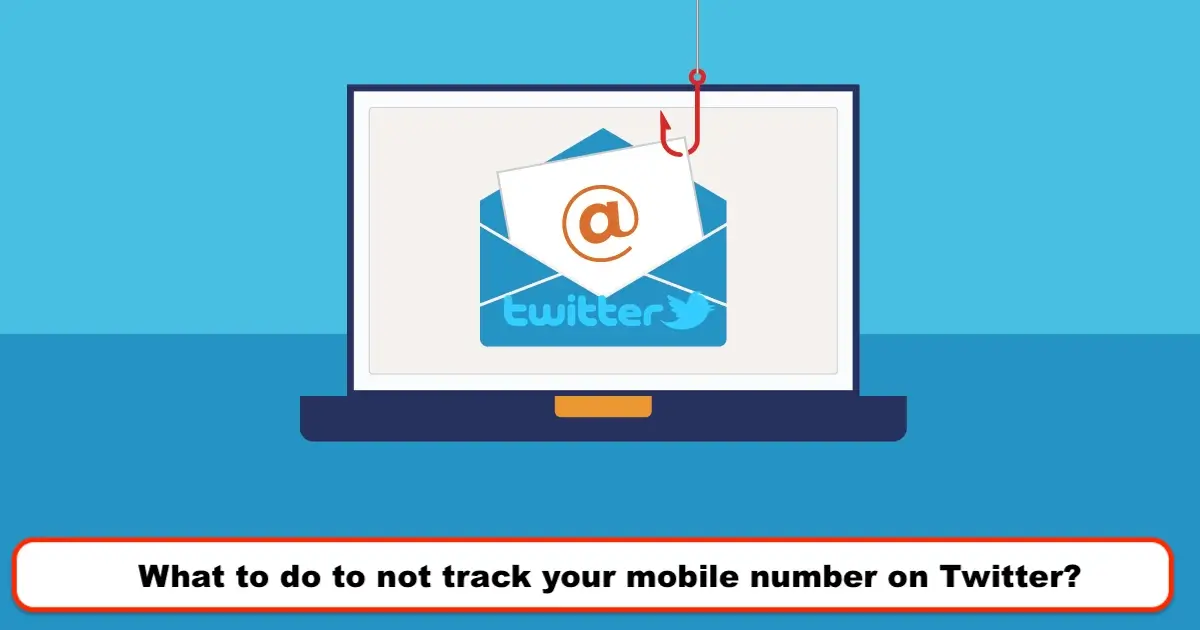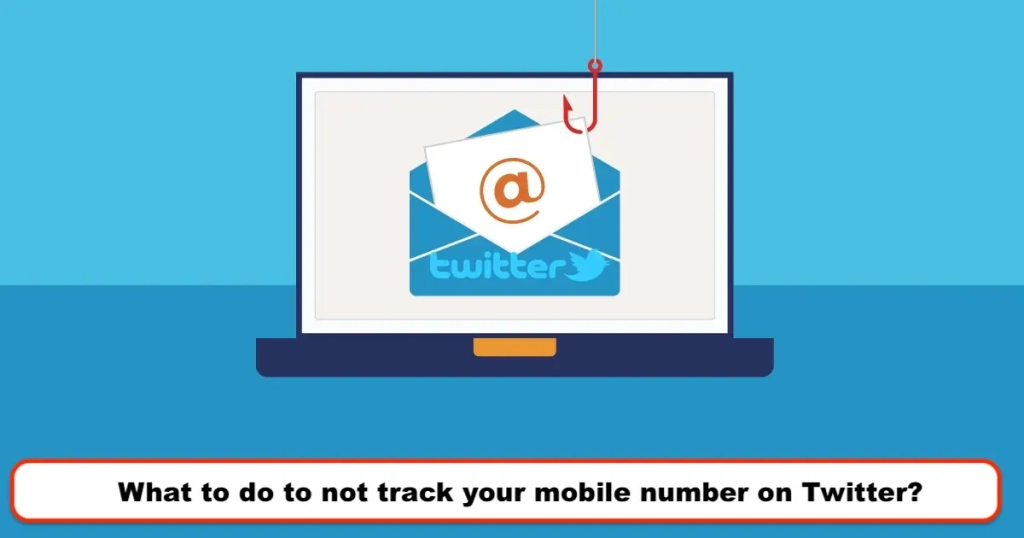 Use software that can help improve your security on Twitter and increase its security
Continuing the question, is Twitter traceable? We have found that it is possible, especially for users. There are some software programs that can increase the security of your Twitter app and account. You can also use these software programs. Some of these software programs include:
Malware Bytes
Spybot Search & Destroy
Lavasoft's Ad-Aware
SUPERAntiSpyware
Kaspersky Virus Removal Tool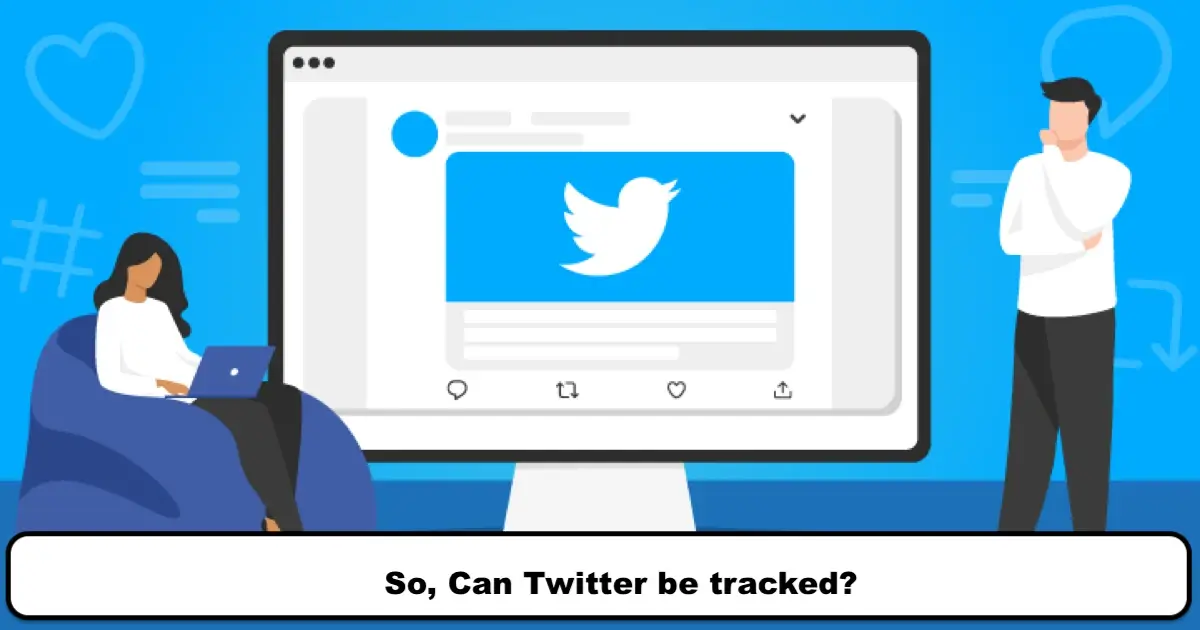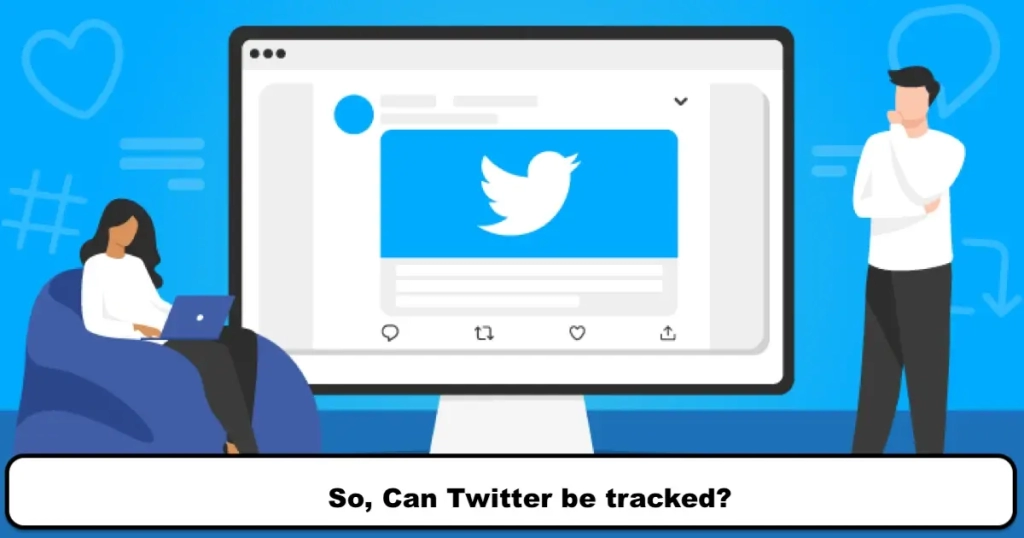 6. Review applications that request access to your contacts or Twitter
The applications installed on your phone may ask for permission from you. You should be suspicious of apps that request access to your contacts or Twitter, and if an app is not secure or reputable, do not give it access and delete the app.
Keep Twitter updated.
Generally, updates for Twitter, Instagram, social networks, and any other system or app can improve the security of Twitter, so it is better to keep your Twitter up-to-date to increase security.
8. Use A VPN To Hide Your IP
For your own security, you can use secure VPN services that change your IP. Most of the time, by changing the IP, we can create more security for our information. There are many VPN services in the world; one can mention the most famous service called Tor. Tor can keep you safe with its layer-by-layer secure network mechanisms.
9: If you want to log in to your account using a browser, use Google Chrome
If you want, or even need, to log into Twitter via the website and browser on your computer, it is best to use Chrome and not save your password. Google Chrome is one of the best browsers for Windows, with a very large number of users, and is the most popular browser in the world. Its high popularity is due to its very high security, which is not easily hacked. Even if it is hacked, if you don't save your password, no one can easily hack you.
10: Log out of your account every time you finish using it
Whether you are working on a computer or using a mobile device, it is better to log out of your account after each use so that if your phone falls into someone else's hands or someone logs into Twitter on your computer, they cannot easily hack you.
Improving Twitter security after creating an account
After creating a Twitter account and logging in, select More to improve Twitter security.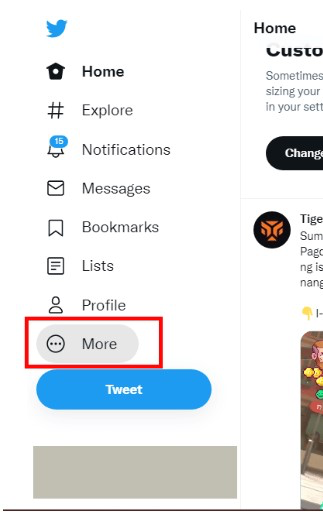 Click on Settings and Privacy.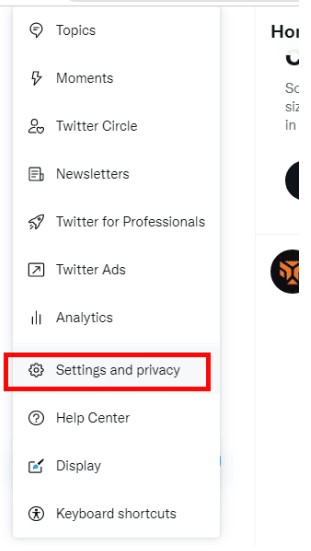 Then select Privacy and Settings, and then Audience and Tagging.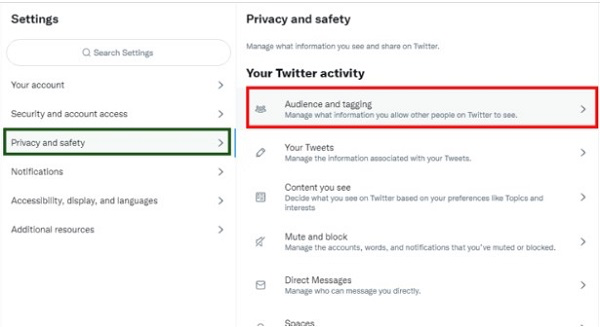 Check Protect your Tweets.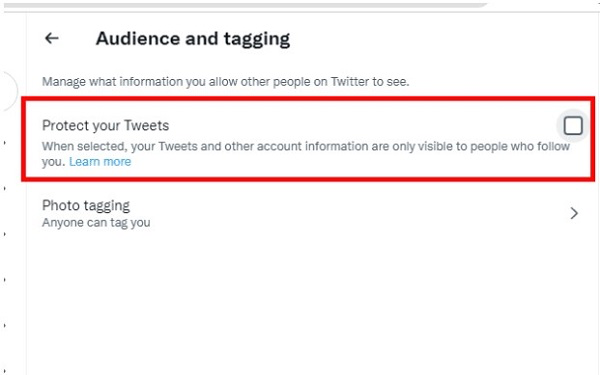 To confirm the changes, click on Protect.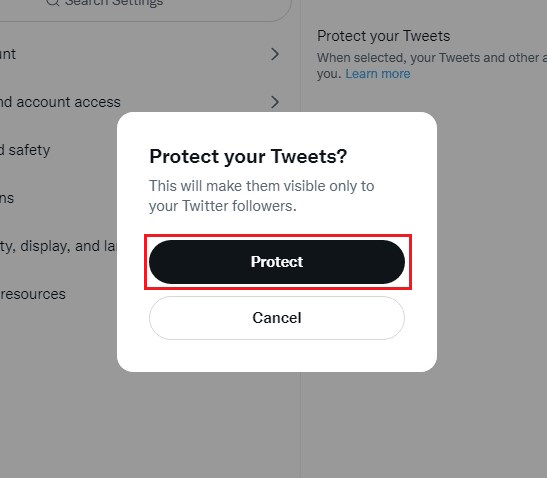 Also, in Settings and Privacy, enable Mark media you Tweet as having material that may be sensitive. This will mark your tweets as sensitive and prevent your account from being suspended.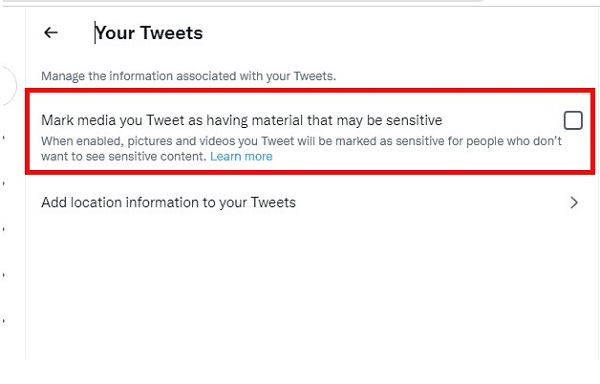 In the Direct Messages tab, enable all three options to increase the security of your private messages.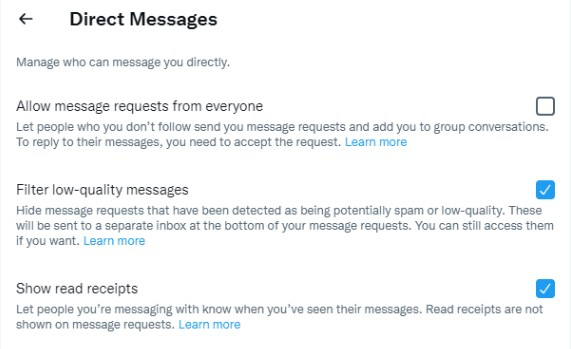 Two-factor authentication protects your Twitter account from hacking. To activate it, go to Settings and Privacy. Click on Security and account access, then click on Security.

Select Two-factor authentication.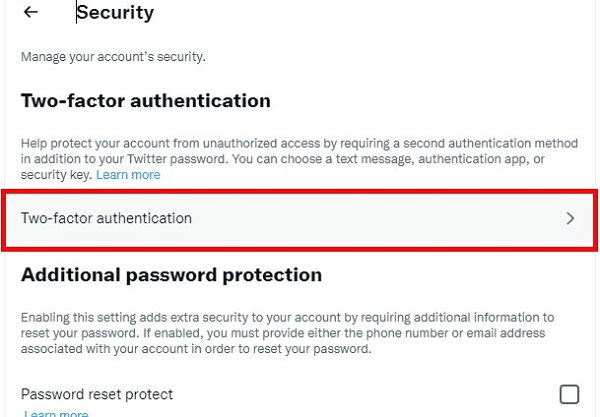 On the page that opens, specify the type of code you want and save it.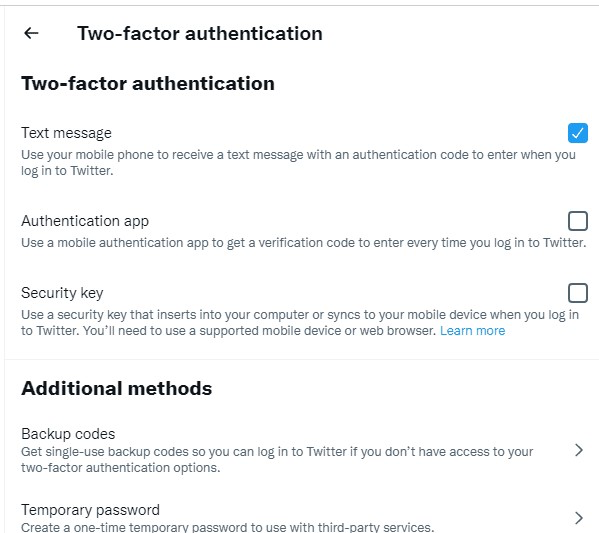 Preventing tracking after creating an account
After following the above steps, you can create an anonymous account, but this is just the beginning. You must remain untraceable while using Twitter. For example, do not share information with strangers or unreliable people, use public Wi-Fi, and do not log into your account from your work or home computer. Also, as mentioned before, do not click on anonymous links. Also, try to speak in a language other than your usual language so that your conversations cannot be analyzed to reveal your identity.
Frequently asked questions
If I don't have a Twitter account, can Twitter still track me?
Yes, even if you don't have a Twitter account, Twitter can still find your information if you use sites that collaborate with Twitter.
Who checks our Twitter account?
Anyone who can hack your Twitter account can access your information and misuse it.
Is Twitter traceable?
Yes, if you do not follow some security precautions, people may be able to track your location or even your phone number through Twitter.
How can we prevent being tracked on Twitter?
By increasing the security of your Twitter account and taking care in the virtual world, you can prevent being tracked.
Does updating Twitter affect traceability?
Yes, many software updates for large applications such as Twitter are usually security updates and are very important.
In this article from SPY24, we wanted to explain a little about Twitter security and the story of leaking numbers on Twitter, ways to increase Twitter security, and answer the question "Is Twitter traceable?