Skype Spy App Monitor Skype Call Logs, Chats & Contacts
SPY24'S Skype Tracking Feature:
Mainly created as a computer software for making and receiving calls from all over the world, Skype has become so popular that right now it has more than 300 million active users. With decent connection considering the application and its features being free, Skype is convenient both for personal and business situations. For it being free to call anyone from anywhere, this application became popular among teenagers and adults all the same. But being a parent, one of the most important things to us is our children's safety. On internet, there are people who have harmful behaviors or harmful intentions. SPY24 is here to help you with yet another new and awesome feature for its phone tracking application. With this feature, you will be able to track and monitor all of your children's online activities on Skype. Or if you're a businessman with secrets to your successful business, SPY24 with its features can help you put an end to the information leaks that you're having among your employees.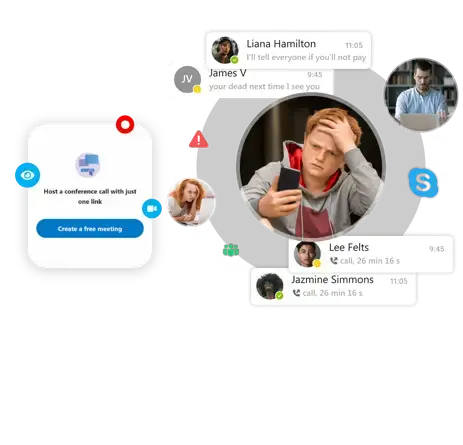 How To Monitor Skype On Android & IPhone Via SPY24?
Watch the tutorial and find out how you can monitor WhatsApp chats, call logs and contacts from an Android or iOS device.
Spy On Skype Messages With Our Skype Tracker Feature
Monitor and Track Skype chat on iPhone, Android. SPY24 Skype Spy is a great skype monitoring software. You can spy on skype to ensure your kids safety and employees honesty.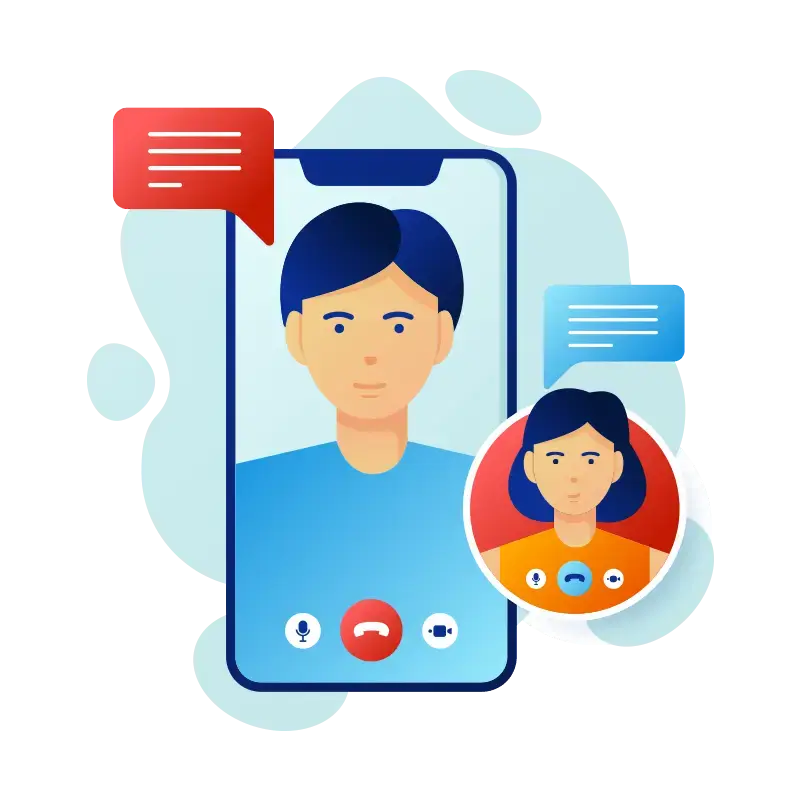 Can SPY24 track conversations on Skype?
SPY24 has different features for different parts of an application that is being tracked. For every conversation on Skype, we first have the other end of the conversation. And now comes forth the contact listing feature of SPY24. This feature gives you a list of all the people that the target is talking to on Skype. This list comes with full detail linked to each one of the contacts including phone numbers and email addresses, any status or information that the contacts themselves have put on their Skype accounts, and even the exact date and time when the target started a conversation with each one of them and much more.
After the other end of the conversation, we have the messages themselves. SPY24 has a text tracking feature and media tracking feature for tracking, saving, and sending all of the messages in a conversation to SPY24's database. These messages include all text messages, videos, photos, audio files, voice recordings, locations, links to other websites, document files, etc. These files that are saved and sent to the database of SPY24 will be having their exact date and time of creation or modification linked to them as well. Do not worry because you will never miss any kind of message that they send or receive in their conversations with others.
What can SPY24 record from Skype?
With SPY24's screen recording, you will be able to see and hear everything they do. This feature will send you a notification and starts a LIVE video sharing the targeted person's phone screen right from the time when they launch Skype until they close it. This LIVE video will have a quality equal to the connections of both the target's phone and your own device. You can change this feature's setting if you ever want its start trigger to be for other applications as well so that you can see what's happening whenever they change applications.
If you ever need just the voice recording of the targeted person while they're on Skype, you can use the voice recording feature that lets SPY24 record all of the voices around the targeted person's phone. This feature can record all of the voices even if the targeted person is not on a call with others. SPY24's voice recording feature can be both a 24/7 LIVE voice recording like the LIVE screen recording feature, or it can be just for the calls and just record the calls made by the targeted person on Skype, save them, and then send them to the SPY24's database so you view and listen to them whenever you want.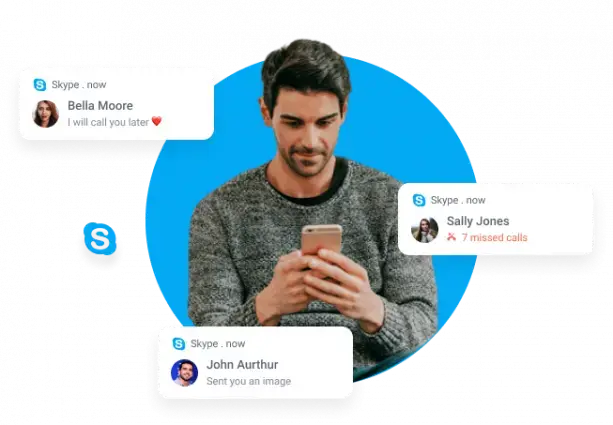 What can you control on Skype using SPY24?
With SPY24, you can control many things ranging from the words they can receive or write to the people they can talk to, from their phone's internet connection to their saved files from Skype's conversations. SPY24's Skype Key Logging feature helps you not only to see all of the words they want to write before they send them, but you can also even control the words that they can say or view in conversations with others. With this feature, you can block the use of some inappropriate words that you think are not suitable for your child's behavior. For the contact listing feature too; not only you will have a full detailed feature of the targeted person's contacts, but you can also even block them from your target's phone so they don't talk to each other on Skype.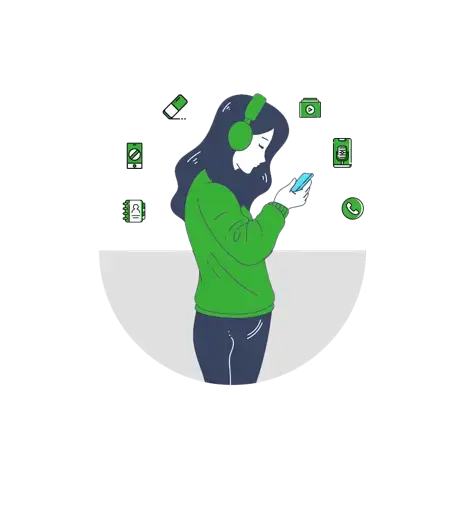 Frequently Asked Questions:
WHAT IS ENTAILED IN SKYPE TRACKING?
Our Skype spying application would come in as an aide in monitoring the Skype chats of your kids and workers. You will be able to read incoming and outgoing conversations, which take place through chats on the target device. It is essential if you are watching your children or employees. Skype spy tools of SPY24 will gather all data for you – content and accurate time of messages, Skype account data of receiver and sender. Thus you will be well-informed day-to-night with our Skype monitoring tool.
What are you worried about? Let us know and we shall give you a definite solution for your problem with spy Skype. Our Skype spying application comes with the following provisions:
Reveals all Skype conversations with the inclusion of contact details, the timing, and when exactly that took time
Get all addresses on Skype tracker
Logging data from Skype can be accessed with the dating and timing
Can monitor all the documents received or sent via SPY24 Skype tracker
The ability to get all this information with or without internet connectivity and the result can be saved on a computer in form of a worksheet
SKYPE MONITORING
Monitor your employee's skype chats and gossip on which they do use company-owned cellphones and monitor their client meetings call logs, and chats with our skype monitoring feature.
You Can Totally Rely On SPY24 – We've Got Your Back
SPY24 won't leave you alone with your subscription, because, for us, your satisfaction is on top of everything else, and with that, we promise to deliver only the best mobile spying app experience that you will never have like it again!
Skype Chats Tracker – Best Skype Monitoring App
SKYPE SPY: Most popular social media on the phone is Skype. It entertains and assists in socializing and eases work, but the intended good use can fall into bad hands. It can either be your kids or workers who might end up using this app wrongly. It's your right as an employer or parent to monitor what is taking place in social media when in use by the mentioned group. This might come in handy when the need comes to stop what can be harmful to your kids or company.
SKYPE MONITORING
Long ago, the Skype service outgrew the reputation of just an audio/video call instrument and turned into a real business tool. In some aspects, this took place due to the reliability and security of this service. However, nothing is perfect. Today, we are happy to introduce SPY24– an advanced phone tracking application helping to spy on someone using Skype. Track your employee's Skype activity, and leave all your doubts behind! a real business tool. In some aspects, this took place due to the reliability and security of this service.
How To Monitor Skype Messages & Calls
Skype is a program that allows any cyberspace user to communicate with friends, relatives, and business partners. To start using this service, you should spend 5 minutes on the program installation. Interestingly, even less time is needed for its cracking. Do you want to know how to perform the latter? If you are willing to use a Skype spy app such as SPY24, follow the instructions given below. Buy SPY24. Can you spy on Skype? If you can't, it's time to take action. And the first thing to do is to choose one of the three subscriber packages designed to satisfy your needs. Stop thinking that tracking someone's phone is too intricate! The advanced Skype monitoring app is so deliberately structured that it can be used by any average PC/smartphone user. After SPY24 purchasing, download the software to the target cell phone and install it. Don't worry! You'll receive emailed instructions on how to install the application when your payment is confirmed. Follow the directions, and you will be able to track someone's Skype totally effortlessly! To start monitoring, you should log into your User Dashboard. Just create a user account and access texting, incoming/outgoing calls, GPS location info, multimedia, or browsing history at will. There is nothing impossible with a Skype spy like SPY24. Try it and say goodbye to all unpleasant surprises.
Skype Monitoring In Detail
Allowing to communicate with any user all over the world, Skype is a very advanced and popular service. Its developers did their best to make it reliable and safe. However, anticipating every aspect of growth is quite a hard thing to do. So, the question "how to spy on Skype" is heard more and more frequently from day to day. In fact, there are several ways to solve the problem, and one of them is the SPY24 Mobile tracking App. Like other Skype spies, the above-mentioned application provides access to the following benefits: View all texting. Is there anything wrong with your child's behavior? Have you noticed that he or she is concealing something from you? This useful Skype spy feature lets you spy on someone with Skype without getting revealed. Just download SPY24 Phone Monitoring software to the target device and be aware of everything that's going on. Track call logs. Can you secretly spy on someone's Skype talks? If not, you probably don't know about the new SPY24 functionality. A new generation application was created to make visible all calling data of your target. All you need is to install the program on his or her device and observe someone's Skype call date, time, duration, as well as browsing history whenever you want. Monitor multimedia files. Are you still unsure of how to spy on Skype? SPY24 lets you exercise it in a trouble-free way. It's over with hidden photo or video content on your kids' smartphones. Just select one of the offered customer packages on our official website, make a payment, install the software, and use it at any time. Becoming a SPY24 user, you won't reverse the course. Unlike the market SPY24, it provides you with highly-accurate information, a 100% confidentiality guarantee, and a low-price offer.