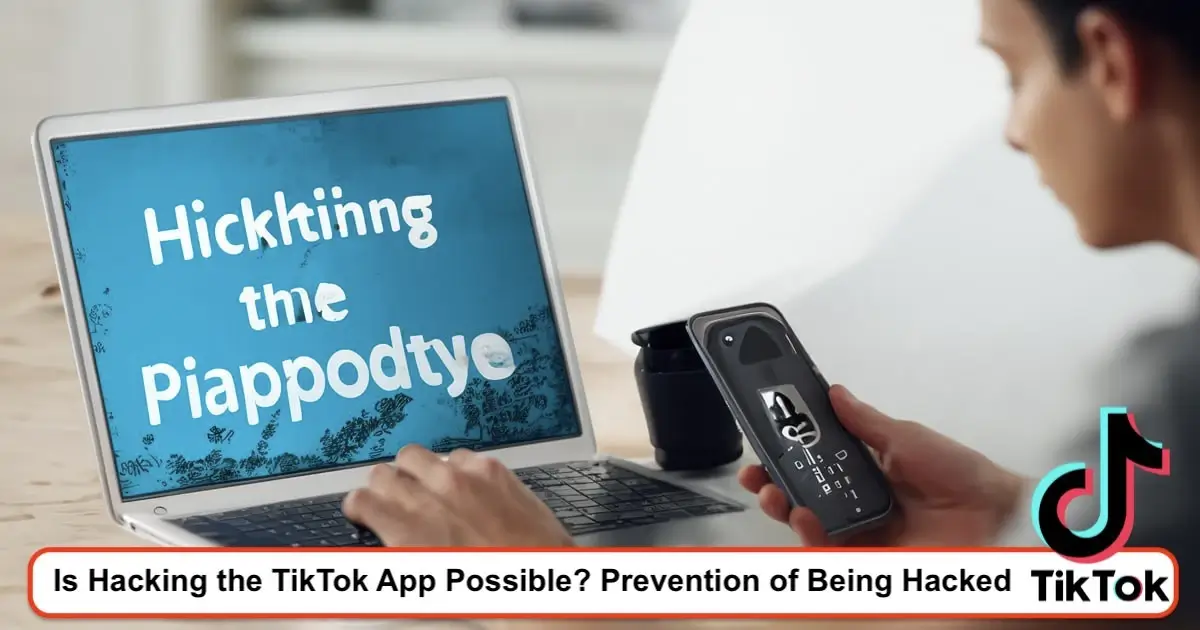 Nowadays, we must strive more than we think to maintain the security of our accounts. To enhance online security, we should store and keep our important account information safe and not allow anyone but ourselves to have access to this information. Also, be careful about the applications you install on your phone and receive messages that contain links, transferring you to other pages. Hacking social networks like Telegram and other popular apps like TikTok is among the main targets of hackers and attackers. These days, with the advancement of technology, hacker attacks are closer to you than you think, and with the slightest negligence, you may fall victim to phishing attacks and many other traps they have set.
Hacking the TikTok App
The famous Chinese app TikTok, which is a video-sharing app, has high-security vulnerabilities. These vulnerabilities allow hackers to hack any account remotely just by knowing the victim's mobile number. Upon hacking a TikTok account, a hacker can perform the following actions:
The hacker can upload any video they want to the victim's TikTok profile.
Delete any kind of video from the victim's TikTok profile.
Convert and change "private" videos to "public" status.
Exposing the victim's personal information, including private addresses such as email addresses.
This attack happens through the insecure text message system that TikTok provides on its website. This text message system has been created by TikTok so that users can receive the video-sharing app's download link by sending a message to their own mobile number. There is a possibility to send a text message to any number by TikTok. However, according to the findings of the Check Point security company, hackers can generate a fake message with a malicious link on behalf of this app. Following this link would transfer control of the user account to the hacker.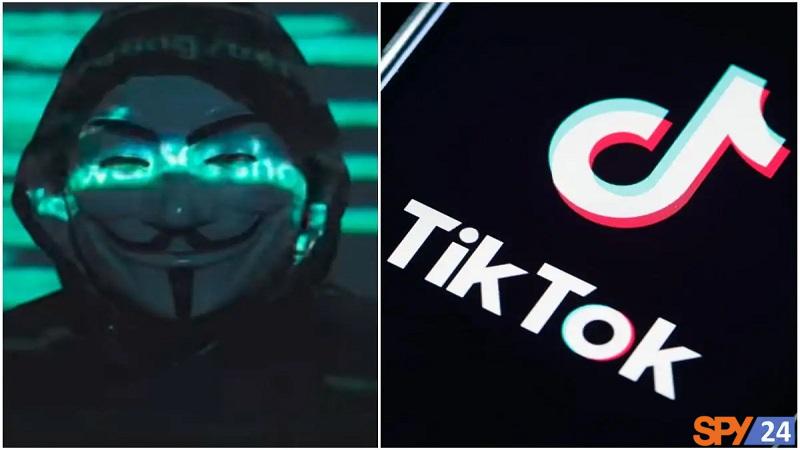 In this kind of attack, like the script injection method through the web portal, as soon as the victim clicks on the link that is sent to them via SMS by the TikTok server, the hacker can execute a JavaScript code instead of the victim. This method can be considered a cross-site request forgery attack, through which the hacker invites the victim to perform an unwanted action. (In this type of attack, a user who has logged into an application is forced to send a request to the vulnerable web application to perform the action they want.)
Researchers on the matter said:
A security flaw in China's TikTok app was found. It lets hackers use text messages to control accounts

Cnbc
We have concluded that if there is no anti-forgery mechanism in place for the request between the web application, it is possible to easily execute JavaScript code and carry out any action on behalf of the victim without their permission.
By rerouting the user to a malicious website, the JavaScript code is executed, and any action can be taken on the TikTok application using the victim's cookies.
If you are not using the latest version of TikTok for your Android and iOS phone available in the official stores, we recommend you to update it as soon as possible and be sure to download and update it from reputable stores like the Apple Store and Google Play.
How is a TikTok account hacked?
There are various methods to hack and gain unauthorized access to social networking services. In fact, hackers are looking for a vulnerability in the services, and as soon as they find one, they start malicious operations against that service or website. The categories of hacker attacks on the social network TikTok can be introduced as follows: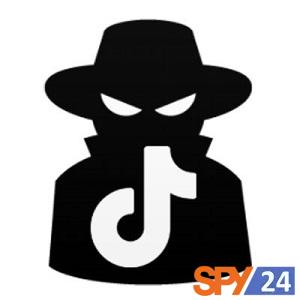 Use of SPY24
Using the HackTok application
Guessing the password
Phishing technique
Using Malware
Using Third-party Software
❗️Hacking TikTok is an illegal act, and this article is pure to raise awareness among readers to protect their TikTok accounts against potential hacker attacks, and accepts no responsibility for the misuse of this information.
Method 1: Use of SPY24
TikTok Monitoring: How to Monitor TikTok Activity? The TikTok monitoring app offers an ideal solution for tracking the TikTok actions of your target user. Discreetly observe the content they share, their usage duration, TikTok notifications, and more.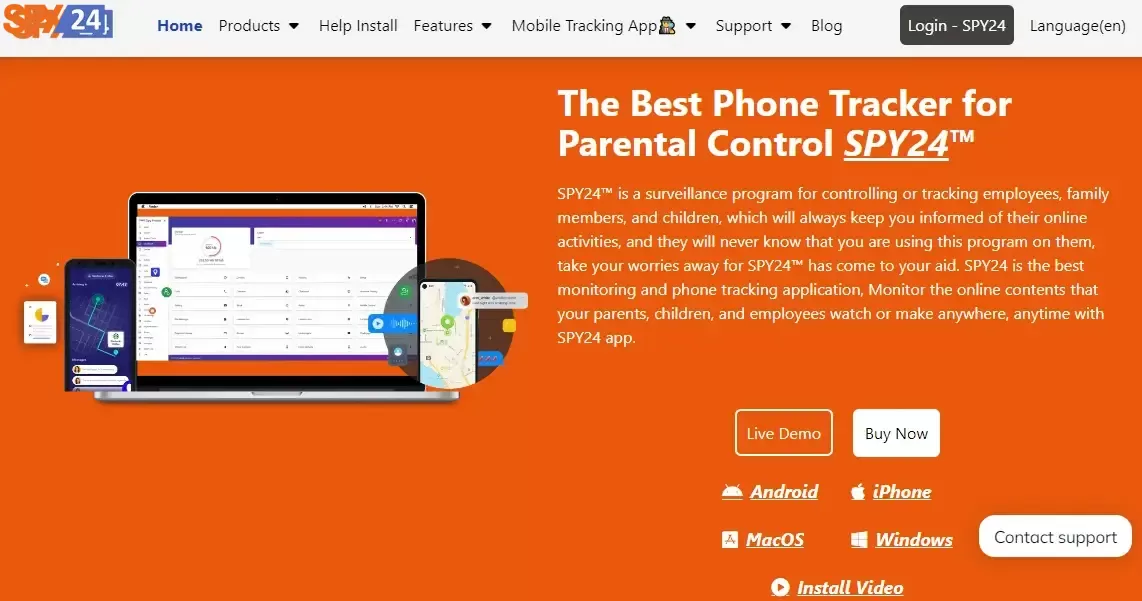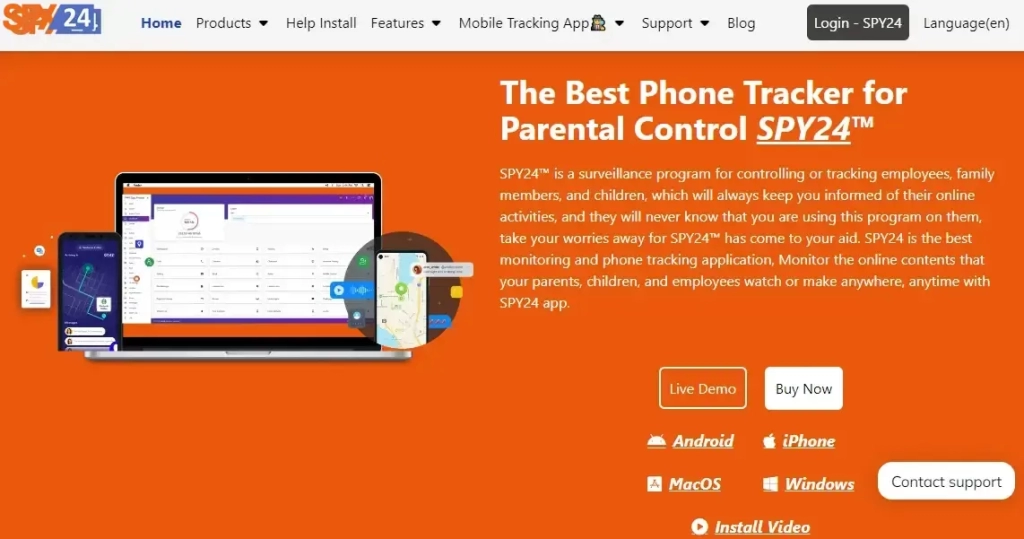 TikTok Monitoring App Features
TikTok is a widely used social media platform with over a billion monthly active users, where people enjoy and share brief videos. If you wish to discover someone's activities on TikTok, SPY24's TikTok monitoring app is precisely what you need. Let's explore its features.
TikTok Message Monitoring
Monitor the messages sent and received by the target user. Track various multimedia, including images, videos, and files, exchanged by the user. Access their chat history, complete with accurate timestamps.
TikTok Content Monitoring
Keep an eye on the type of content your target user shares on TikTok. Also, track the users who like and comment on their posts.
TikTok Notification Monitoring
View all the TikTok notifications received by the user on their target device. This allows you to determine if other users have liked or commented on your target user's post or sent direct messages.
Monitor Time Spent
Users often spend hours on TikTok just browsing. With the TikTok monitoring app, you can track the target user's time spent on the app and the types of videos or clips they view.
How does the TikTok Monitoring App work?
With SPY24's TikTok monitoring app, you can effortlessly track your target user's TikTok activities. Installing SPY24 is straightforward as well. Simply visit the SPY24 website and choose a subscription plan that suits your needs.
You will receive an email containing detailed installation instructions for SPY24. Install SPY24 on the device you want to monitor, and follow these steps:
On your device, navigate to the SPY24 website.
Log in to your account using your valid credentials.
On your dashboard, select the Social Media option from the sidebar on the left side.
Now, choose the TikTok option.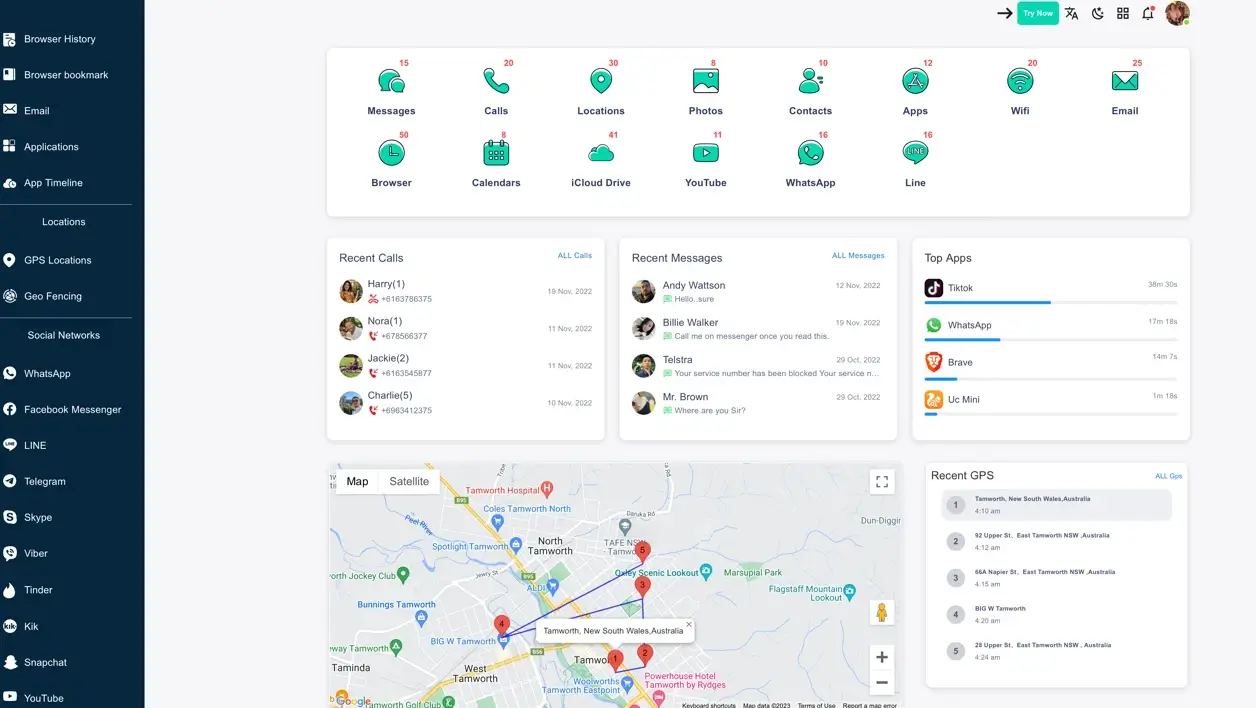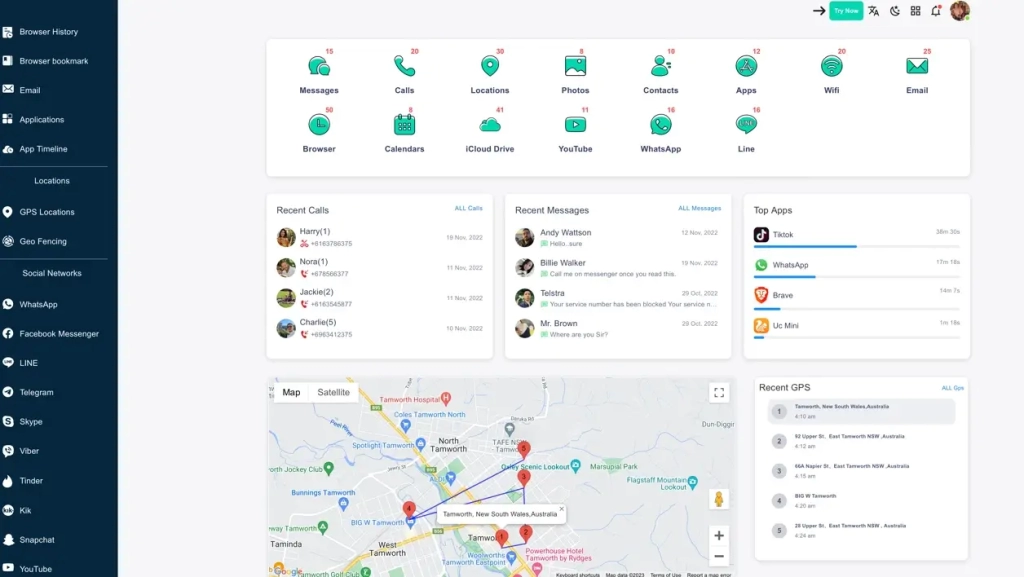 At last, you can monitor the TikTok activities of the target device. SPY24 operates in total stealth mode, allowing you to remotely monitor the user without their knowledge, thanks to the TikTok monitoring app feature.
With the TikTok Monitoring App, what can you accomplish?
Upon installing SPY24's TikTok monitoring app on the target user's device, you will be able to:
Monitor the duration they spend viewing TikTok videos
Observe their direct messages, chat history, shared multimedia, and timestamps
Keep an eye on their TikTok notifications
Track the content posted by the target user, as well as the likes and comments they receive
Is it necessary to root or jailbreak the target device?
No, there is no need to root or jailbreak the target device to utilize the TikTok monitoring app. Simply install the app on the target device, and SPY24 will enable you to remotely monitor the TikTok activities of the target user without their knowledge.
Method 2: Use of HackTok Application
This application is designed to help TikTok users recover lost accounts. They have provided a way to access and retrieve passwords so that users can use it if none of the official TikTok account recovery methods work.
Many social media users today do not take it seriously that storing an email address and login password when registering for an account is important. Often, people forget their email and password after registering and creating an account.
HackTok is a tool designed for these situations, giving users the ability to recover their passwords when needed. The application bypasses the email account entry barrier using a brute-force attack (comprehensive search). The only required information that needs to be given to HackTok to hack a TikTok account password is the username of the concerned person in TikTok. Then HackTok attacks the TikTok login page with thousands of possible passwords per minute with the given username until it finds a successful password for system entry.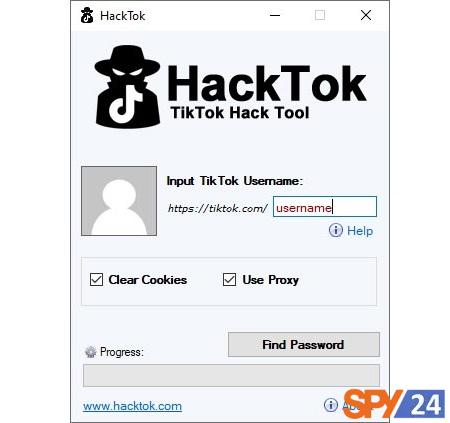 This application is available for all devices and operating systems, including Android, iOS, Windows, and macOS. Although this application is not produced for hacker purposes, many people misuse it. Therefore, you should be careful about the security of your account and use two-factor authentication as much as possible. The details of the HackTok system process are explained on its website, so if you want more information about it, check it out there.
Method 3: Guessing the Password
It may seem a bit unrealistic, but guessing passwords is indeed one of the methods that hackers can use to hack your TikTok account. The reality is that half of internet users use very simple and guessable passwords for their accounts. Often these passwords are related to the user's personal life, such as their name, child, spouse, pet, or date of birth. Therefore, it is recommended to create strong passwords for your accounts using password generators.
Research has shown that common passwords used by internet users for their online accounts include:
123456, 12345, Password, whatever, iloveyou, admin, football, 123456789
As you can see, these passwords are completely guessable and can greatly reduce the security of your account and be easily hacked.
Method 4: Phishing Technique
Among the most popular hacking methods for hackers at all times is phishing. Although it is an old technique, it will be compatible with new technology updates.
What is phishing?
Phishing attacks occur through emails and messages, and victims directly enter their sensitive and confidential information on fake websites that appear exactly like the legitimate websites they intend to use. In this attack, the hacker sends an invalid link to the victim and encourages him to open the link. After the user goes to the intended page and enters his personal information, he will be hacked. The phishing trick is one of the social engineering techniques to deceive users. To carry out a phishing attack, familiarity with HTML, CSS, and PHP programming languages ​​is needed.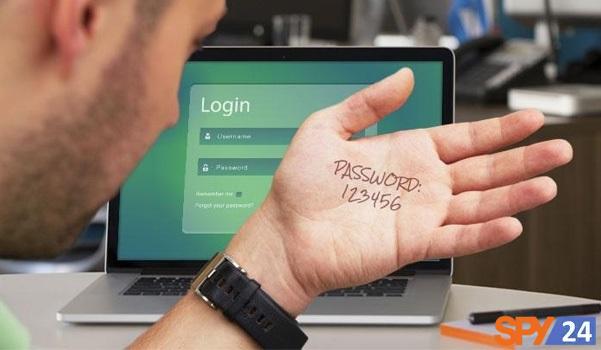 We have previously explained in detail about phishing attacks and also Instagram phishing in a separate article. You can refer to them for more information.
In total, you should always be vigilant and not open any link that is sent to you. Be careful before clicking on it, and only open links that start with HTTPS and whose color is not red.
Method 5: Using Malware
One of the most common methods of attacking social network accounts is using malware. In this method, the hacker tries to inject his intended virus into your mobile phone by creating and distributing a malicious game or application.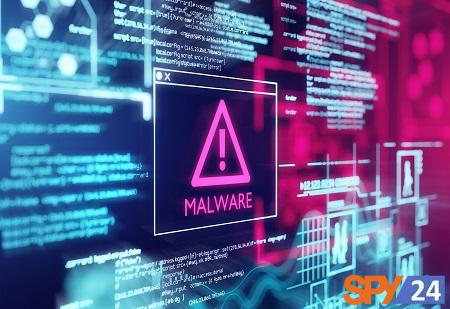 Once the virus enters the phone, all your personal information is available to the hacker. In fact, things like bank accounts, login information to virtual networks, SMS and call history, and many other items are available to the intruder without your knowledge.
Method 6: Using Third-party Software
Nowadays, the use of software to increase likes, views, etc., among users has increased a lot. Most of these programs store your account login information on their servers. In fact, your account may be attacked only a few seconds after using these applications.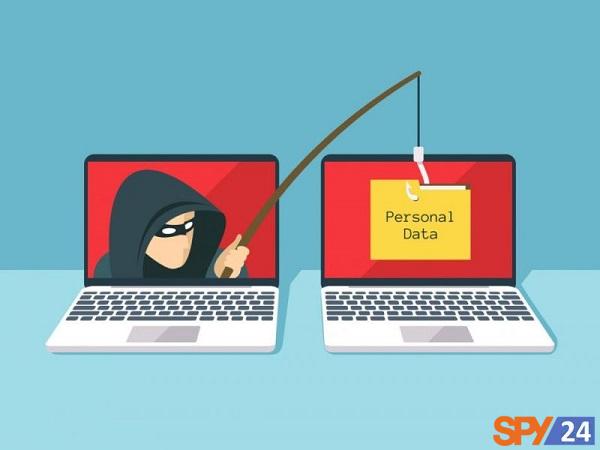 We suggest you not use these applications at all. If you urgently need social network services, you can use services that do not require password collection.
How can we find out if our TikTok account has been hacked?
Usually, after a hacker infiltrates an account, unusual activities begin to occur. Some of the most important signs that your account may have been hacked are as follows:
1. Inability to log in to the account
Usually, after breaching an account, the hacker changes the current account password. In fact, you will no longer be able to log in with your previous password. In this case, you might be able to recover your account using the forgot password option.
2. Change of mobile phone number
Hackers quickly replace your TikTok account phone number with their own to take full control of the account. If your phone number suddenly changed to invalid, it's likely because it has been removed from your account by the attackers.
3. Deletion of videos within the profile
Another action taken by the intruder is the deletion of account videos. They do this to completely erase the identity of the previous account owner. Unfortunately, there is no method to recover the videos, and after retrieving your account, you will need to re-upload them from scratch.
How can we prevent our TikTok account from being hacked?
There are various methods to enhance account security on TikTok. We will discuss some of them:
1. Use a strong password
The first and most important step to increase the security of social media accounts is to use a strong password. As mentioned, a combination of lowercase and uppercase characters along with numbers and special characters can create an appropriate password for you. Also, you can generate a suitable password randomly using this website.
2. Avoid using identical Passwords
Many users use a single password for all subscribed services. For example, their Instagram, Gmail, internet forums, and other social network passwords are the same. In this case, if a hacker manages to breach one of the networks you are a member of, they will be able to hack all your accounts. Therefore, it is better to choose a separate password for each service.
3- Use TikTok's Security Settings
Enabling a two-step login or using the Google Authenticator app can double your account's security. In fact, by activating these options, the hacker, in addition to finding the account password, must also have access to the phone, which will make their task much harder.
Conclusion:
This tutorial is solely created to help TikTok users recover lost accounts and increase security against potential hacker attacks. We will not endorse any illegal activity. Hacking TikTok accounts that do not belong to you is a criminal act and is against the law.