VoIP Call Recording Spy App
Listen to VoIP Calls and Record them
You can remotely listen to your loved ones' VoIP calls and record them without being detected. No matter if you're a concerned mother, an employer, or simply suspicious of your husband's conversations, our VoIP call recording feature gives you the chance to stay informed. You can easily record all the calls on popular apps like WhatsApp, Skype, Viber, or Facebook Messenger. SPY24 is the first non-rooted VoIP recorder app out there. It offers both real-time and scheduled VoIP call recordings on Android and iOS devices. You can listen to the VoIP recordings on your online dashboard or download and save them to your computer or your cloud. So if you're looking for an effective way to monitor someone's VoIP calls, try the one-month free trial of the VoIP call recording feature of SPY24 now!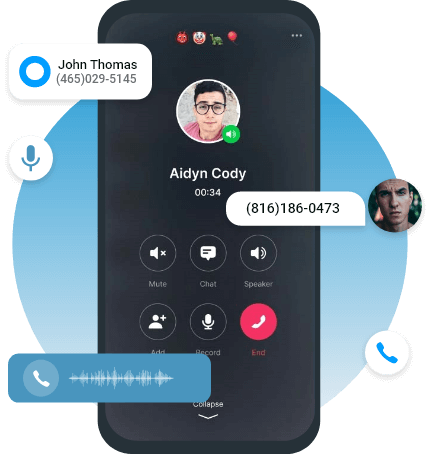 VOIP Call Recording - Record Voice Calls with No Root
Why SPY24 voip call recorder is the most demanding surveillance app in the industry?
What Exactly You Can Do with SPY24 VoIP Call Recorder?
Here is what exactly the VoIP recorder can do: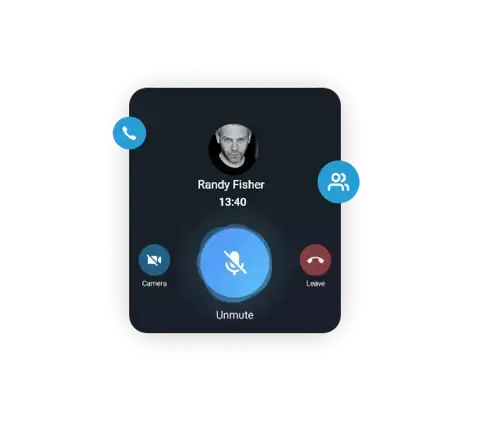 Why Do You Need a VoIP Recorder?
Remember that not all spying apps are malicious. You can take advantage of a VoIP recorder to make sure your loved ones are safe. There are several specific situations in which you can rely on a VoIP recorder.
Parental Control 
A VoIP recorder is a useful monitoring app for parents to keep an eye on their children. As you know, social media and messaging apps let your children easily communicate with strangers or engage in inappropriate relationships without your knowledge. With a VoIP recorder, you can easily monitor their online conversations. This way, you can spot any inappropriate language your kids use or be aware of any stranger in their contacts who you dislike. So if you're a concerned parent, the VoIP recorder of SPY24 can be really helpful for you.
Employee Supervision
If you're an employer and you want to manage your employees' communications, you might have to think of a VoIP recorder. For example, if you want to monitor your remote team's conversations to make sure about their productivity, a VoIP call recording spy app can greatly help you. This app allows you to track your team's conversations and save them so that you can use them in case any issues come out. Moreover, a VoIP recorder can help you monitor your employees' behaviors with other colleagues so that you can solve any problems among them. Preventing any confidential information is also another usage of VoIP recording apps in the workplace. So it's a good idea to install SPY24 on your company-owned devices to ensure productivity and compliance with your policy in work communications.
Catching a Cheating Husband
Last but not least is when you think your husband is cheating on you. A VoIP call recorder can help you catch him in the act. As mentioned earlier, if you install the app on your husband's cell phone, it records all the online conversations that are made via messaging apps. As a result, if your husband uses WhatsApp or IMO to talk to another woman, the VoIP recorder will record their voice, and you can use the recorded file to prove your word. So, if you are not afraid of the consequences, go for the free trial of SPY24 to get the VoIP recorder along with 250+ other monitoring features to catch your cheating husband.
How to Use SPY24 VoIP Call Recording App?
Watch this tutorial to see how easy it is to use the VoIP call recorder of SPY24:
Sign Up
Click the upper right button to log in to your account or create a new one.
Choose the Target Device
Go to your dashboard and choose the target device from the options.
Install the SPY24 app on the Target Device
Gain access to the target phone for a couple of minutes to install SPY24 without rooting.
Start Recording VoIP Calls
You can start recording calls on instant messaging apps like WhatsApp remotely. You can even schedule a recording session.
Listen to the Recorded Calls or Save them
SPY24 sends the recorded calls to your dashboard which is accessible from any browser. You can also download them and save them on your computer or on your cloud.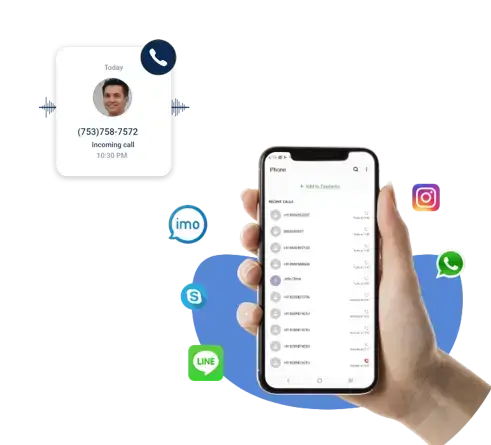 What Apps' Calls Can SPY24 Record?
SPY24 is the only spy app that provides non-rooted VoIP recording on all major social media platforms. Here are some of the online chat apps that are supported:
WhatsApp

Facebook Messenger

Instagram

Telegram

Live

Viber

TikTok

WeChat

Snapchat

Tinder

Skype

IMO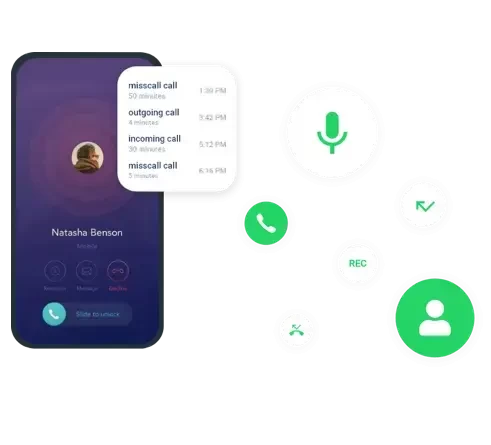 Frequently Asked Questions:
Why Should I Use SPY24 for VoIP Call Recording?
Here is s list of reasons why you have to choose SPY24 for recording VoIP calls:
Compatibility with both Android and iPhone devices

250+ other monitoring features, along with VoIP call recording

24/7 Support

No jailbreaking or rooting required

Easy-to-install

Supporting multiple devices at a time

Diverse pricing packages

Free trial for 30 days

Listening to all the recorded calls on a single dashboard
You Can Totally Rely On SPY24 – We've Got Your Back
SPY24 won't leave you alone with your subscription, because, for us, your satisfaction is on top of everything else, and with that, we promise to deliver only the best mobile spying app experience that you will never have like it again!