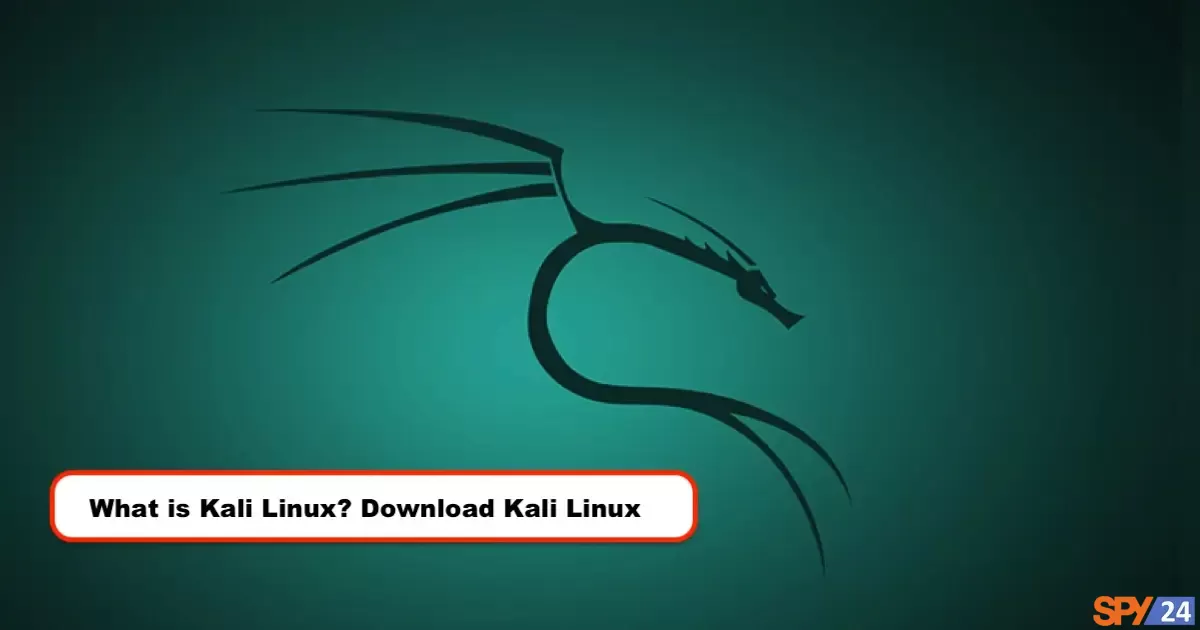 Kali Linux is a Debian-based Linux distribution designed for digital forensics and penetration testing, and it is financially supported by Offensive Security. Stay with SPY24 to review Kali Linux and discuss its advantages of Kali Linux!
Kali Linux Operating System and Its Applications
Today, most people ask what Kali Linux is and why it is used for penetration testing and hacking. Linux is a computer operating system that is known as one of the most popular operating systems because of its abundant features. This operating system has many versions and developments due to its open-source nature, and each version is designed and developed for a specific purpose and application.
One of these versions is a powerful operating system in the field of hacking and security, which is Kali Linux. In this article, we intend to review it.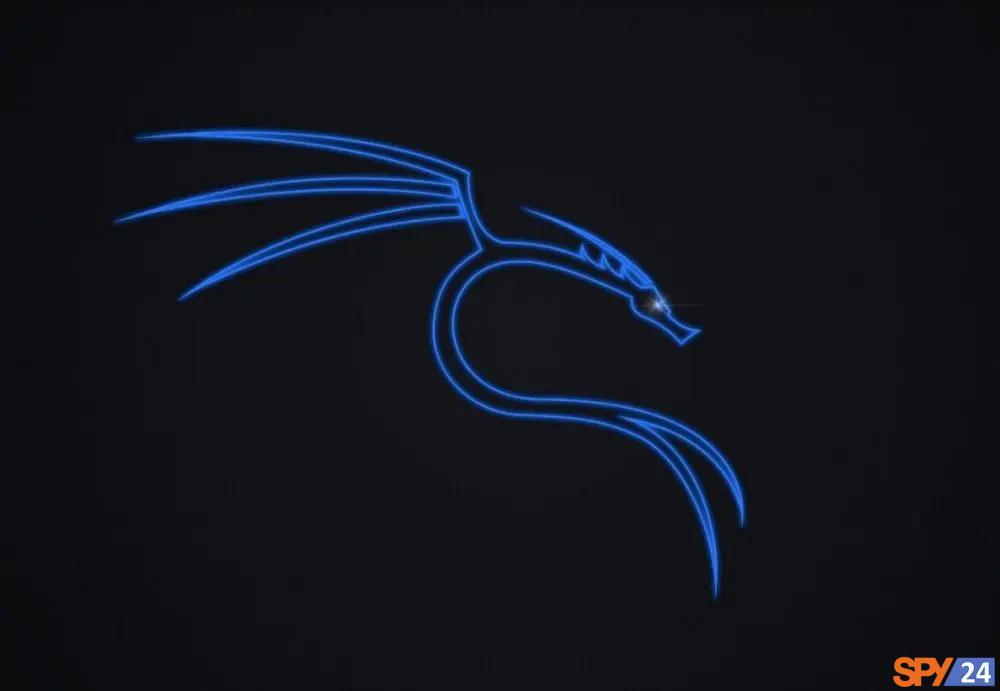 What is Linux?
Linux was initially not an operating system, but rather a kernel for sharing code among programmers until the first version of the Linux operating system was released and made public in 1993.
Perhaps the main reason why Linux can be considered a popular operating system is its freedom and being free. Linux is open-source, meaning that everyone has access to its kernel and can develop it. On the other hand, since Linux is a free operating system, it has a special advantage over macOS and Windows, which cost tens of dollars to obtain.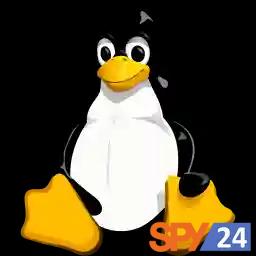 Different distributions of Linux have been provided from 1993 until now, each with its own unique features and developed for a specific purpose. However, it should also be noted that different distributions of Linux do not differ significantly in terms of power, and ultimately, you have to choose which distribution to use based on your needs.
Kali Linux advantages
Kali Linux will be forever free and available without any cost, just like BackTrack.
Over 600 penetration testing tools
After reviewing the tools in BackTrack, repetitive and unusable tools were removed or replaced.
This allows Linux users to easily access backup files, libraries, binaries, etc.
Another feature of Kali is its open-source nature, which allows anyone to modify it according to their needs and preferences.
Support for wireless devices
A series of regular and supported points have been created with the Kali Linux wireless interface, mostly for support for wireless devices and support for it on many hardware and numerous USB devices and other wireless devices.
Custom penetration testing kernel
The development team often needs to evaluate wireless networks, so the latest penetration testing tools are included in our system.
Designed and developed in a secure environment
The Kali team is made up of a small group of trusted individuals dedicated to preventing crime and ensuring security.
Support for multiple languages
Although the Kali penetration tool language is English, they have ensured that Kali Linux includes multilingual support, allowing users to use the tool in their native language.
Hardware Requirements:
Kali Linux requires the following hardware components:
Minimum 20 GB hard disk space for installation, version 2023.1 requires a minimum of 20 GB.
Minimum 2 GB RAM for i386 and AMD64 architectures.
A bootable CD/DVD drive or USB drive.
Minimum Intel Core i3 or AMD E1 processor for good performance.
Recommended hardware specifications for a smooth experience are:
50 GB hard disk space, SSD preferred.
Minimum 2048 MB RAM.
Version history:
The first version was released in March 2013.
With version 2019.4 in November 2019, the default user interface changed from GNOME to Xfce and GNOME is still available.
With version 2020.3 in August 2020, the default shell changed from Bash to ZSH and Bash remains an option.
What is Kali Linux?
So far, more than hundreds of different distributions of Linux have been offered by various individuals and companies, each with its own unique features.
In this article, we will focus more on the Kali Linux operating system compared to other OS like Ubuntu, OpenSUSE, Fedora, and many others.
Kali Linux is a Debian-based distribution of Linux designed and developed with the aim of testing penetration and identifying vulnerabilities in various computer systems.
Prior to Kali Linux, security experts, and hackers used the BackTrack Linux distribution to perform their tests and penetrations. However, with the introduction of Kali Linux, most people migrated to it and in a way, Kali Linux replaced BackTrack.
The Kali Linux operating system includes hundreds of different tools for conducting security tests and penetrations into computer systems, each with high power and unique features.
This powerful operating system has very high penetration capabilities and everyone involved in hacking and security must have a complete understanding of this operating system and its various tools.
In fact, Kali Linux has exceptional tools for hackers to easily penetrate other systems and also for security experts to identify vulnerabilities and attempt to fix them.

Different Tools of Kali Linux:
As mentioned, the Kali Linux operating system has over 600 penetration testing and hacking tools, many of which have been inherited from the BackTrack Linux distribution, while others are completely new or have undergone changes.
Some of these tools have exceptional power in the field of penetration and can easily carry out complex penetrations with very little programming knowledge. In any case, Kali Linux has made these tools available to individuals, and people can take advantage of them using their knowledge.
Features of Kali Linux:
Kali Linux has unique features that we would like to mention in this section, including:
Over 600 penetration testing tools.
Free for everyone.
Open-source.
Compatible with Filesystem FHS.
Wide range of support for wireless devices.
Upgraded kernel.
Secure environment for development.
GPG repositories and packages.
Support for multiple languages.
Customizable settings.
Support for ARMEL and ARMHF.
Why do hackers use Kali Linux?
Kali Linux, formerly known as BackTrack, claims to have focused more on testing tools compared to previous versions and has removed unnecessary tools unlike BackTrack, which had various tools for different purposes. This has made ethical hacking tasks much simpler with the use of Kali Linux.
Is using Kali Linux illegal?
Kali Linux itself is not illegal because it is just an operating system. However, it is a tool for hacking, and when used specifically for hacking, it can be used for illegal purposes. Nevertheless, if you install this distribution for purposes such as learning, teaching, or using it for software or network testing, it is entirely legal since it is licensed and available for download.
Who develops Kali Linux?
Mati Aharoni and Deavon Kearns are the main developers of the Kali Linux distribution. This distribution is considered a rewrite of BackTrack Linux, which was another distribution based on penetration testing. The development of Kali is based on Debian standards, as most of its code is imported from Debian repositories. Development of this distribution began in early March 2012 by a small group of developers. Only a few authorized developers can commit to packages, which is done in a completely protected environment. The first version of Kali Linux was released in 2013, and since then, it has had several major updates. Development of these updates has been carried out by Offensive Security company.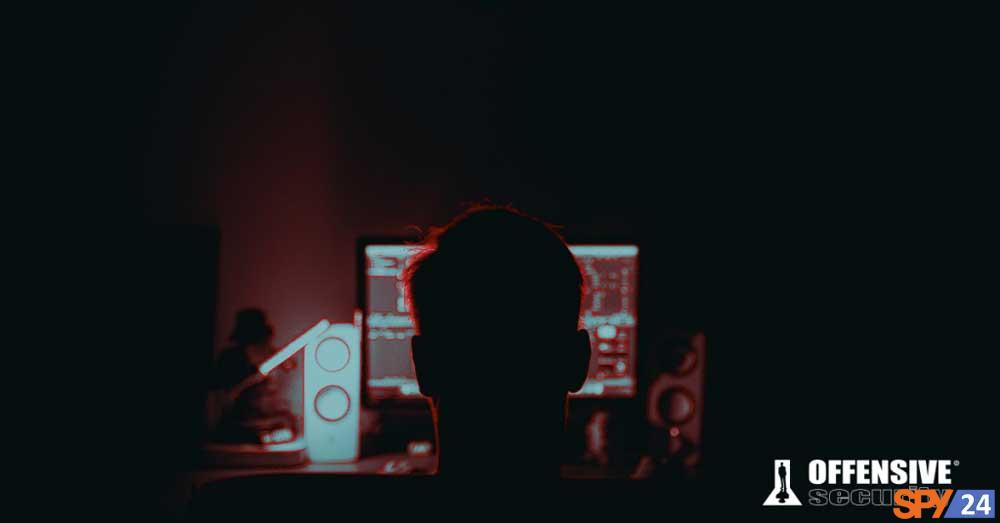 Why should we use Kali Linux?
There are various reasons to justify the use of Kali Linux, some of which are mentioned below:
It's free: Kali Linux has always been free and always will be.
It has a vast array of tools: Kali Linux has over 600 different tools related to penetration testing and security analysis.
It's open-source: Kali Linux is a member of the Linux family and therefore follows the open-source model, which is popular among the public. Its development tree is available on Git and all codes are editable by everyone.
Multilingual support: Although most penetration testing tools are in English, Kali Linux has multilingual support, allowing users to use their native language and making it easier to work with the tools.
Extensive customization: Developers at Offensive Security understand that not everyone agrees with their development model, so they have given advanced users the ability to customize Kali Linux, even up to the kernel level according to their taste.
Ways to install Kali Linux
Kali Linux can be installed on different platforms using various methods:
The first option is to directly install Kali Linux on a PC or laptop using an ISO file.
The second option is to use a virtual machine. Kali Linux supports most virtualization platforms. You can also install Kali Linux on virtual machines using the ISO file for the operating system installation.
Installing on cloud platforms is another option provided by companies such as Amazon and Microsoft which offer Kali Linux on their cloud platform.
Kali Linux can also be used without installation in a Live mode. In this mode, you can load the operating system without installing it using the ISO file and bootable disks.
Another option is to use Kali Linux as an application in Windows. In Windows 10, you can install Kali Linux from the Microsoft Store as a penetration testing application. This application has many penetration testing tools but it is not as complete as the actual operating system.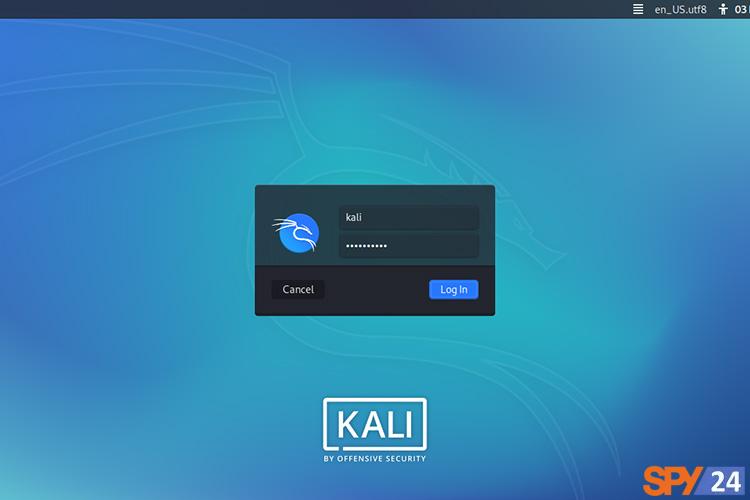 How to work with different sections of Kali Linux
After installing and launching Kali Linux, when you enter the Kali Linux environment, there are different sections that we will discuss below.
In this section, you can see a list of all installed applications and tools. The best way to get familiar with the features of this operating system is to explore the Applications section. To access the Applications section, click on the Applications option in the top left and find your desired category.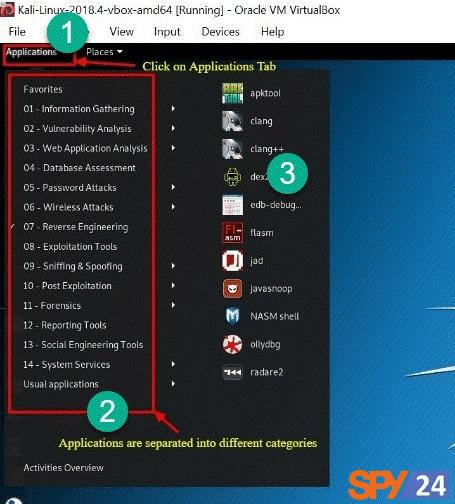 Like other operating systems, the Places section is used to access folders and applications that are frequently used.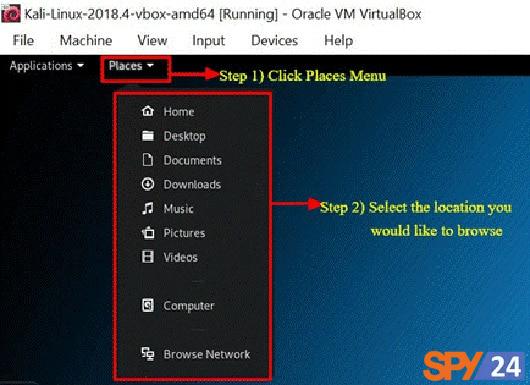 The most important penetration testing and hacking tools in Kali Linux
Aircrack-ng: A tool for sniffing and breaking wireless communication passwords
Burp Suite: A tool for penetrating web-based systems that use the HTTP protocol
Wireshark: A tool for analyzing and dissecting packets in network protocols
Sqlmap: A tool for penetrating through SQL injection attacks
Owasp Zap: A tool for identifying vulnerabilities in web-based applications
Metasploit: An environment for coding and building hacking tools
Nmap: A tool for searching and examining networks and identifying all active nodes in the network
Maltego: A tool for identifying and collecting information before conducting penetration testing
John the Ripper: A tool for cracking passwords
THC Hydra: A tool for conducting brute force attacks.
A more complete categorization of penetration testing tools in Kali Linux
Information Gathering: Includes a set of tools for collecting information
Web Application: Includes a set of tools for web-based application penetration testing
Reporting Tools: Tools for reporting and gathering information
Hardware Hacking: Tools for Android and Arduino hacking
Stress Testing: A set of tools for overloading and testing system load capacity
Reverse Engineering: A set of tools for reverse engineering systems
Sniffing/Spoofing: A set of tools for eavesdropping and identity spoofing attacks
Exploitation Tools: Tools for executing hacking codes, exploits, and penetration
Wireless Attacks: A set of tools for attacking wireless networks and facilities
Password Attacks: Tools for breaking passwords
Vulnerability Analysis: Analyzing system vulnerabilities and gathering information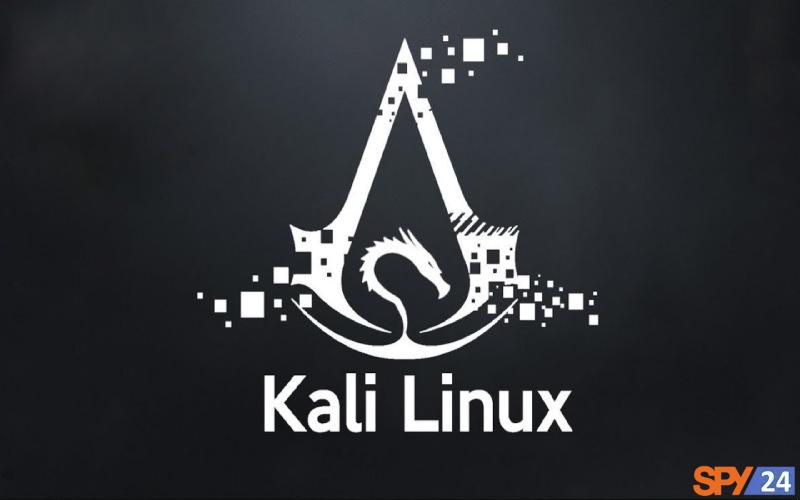 Who uses Kali Linux?
Kali Linux is a unique operating system that is used by both good and bad people. It can be used to discover and fix security weaknesses. The applications of Kali Linux include hacking with Kali Linux and penetration testing with Kali Linux, which are performed by both security experts and hackers. In other words, Kali is like a sharp knife in the toolbox.
Security Managers: Security managers are responsible for protecting organizational data and information.
Network administrators: Network administrators are responsible for network security. With these tools, they can monitor network activity regularly.
Penetration Testers: These professionals focus on examining the environment and security of platforms they have access.
Security officers in large organizations
White-hat hackers
Black-hat hackers
Grey-hat hackers
What is the use of Kali Linux?
As we have explained to you before, the Kali Linux environment provides you with the ability to perform advanced penetration testing and security assessments without any problem. The Kali Linux program can help you in information security processes such as penetration testing, security research, cybercrime, and reverse engineering using its various tools.
Perhaps at this point, you may wonder if using the Kali Linux code is illegal or criminal. The answer is that you only commit a crime when you use this operating system for illegal activities such as hacking and dealing with hackers.
However, if you install this distribution for purposes such as learning or teaching or using it for software or network testing, it is completely legal, as an operating system has a license and is available for download.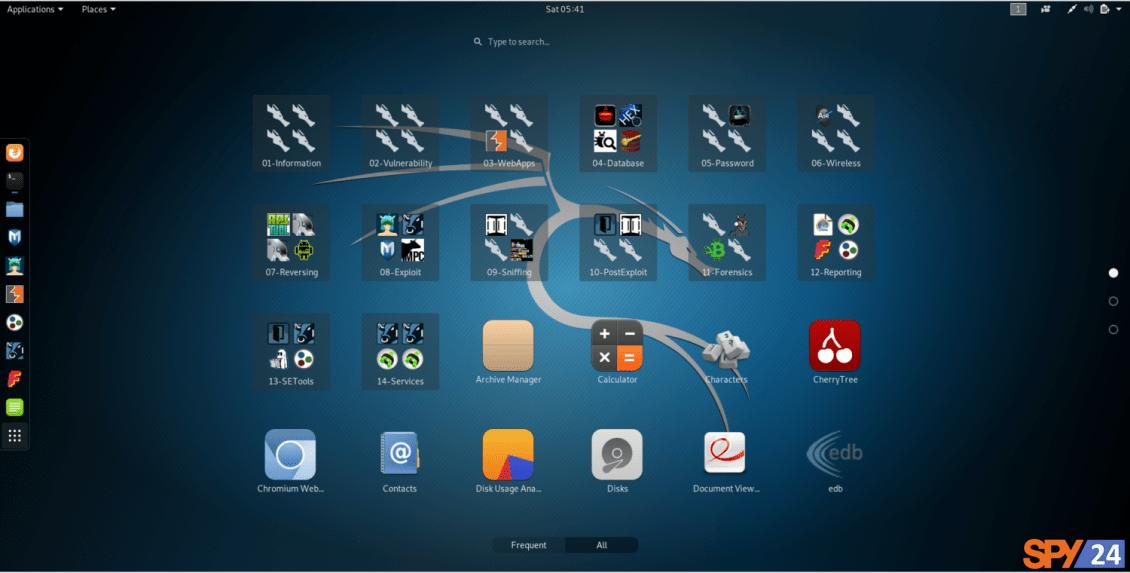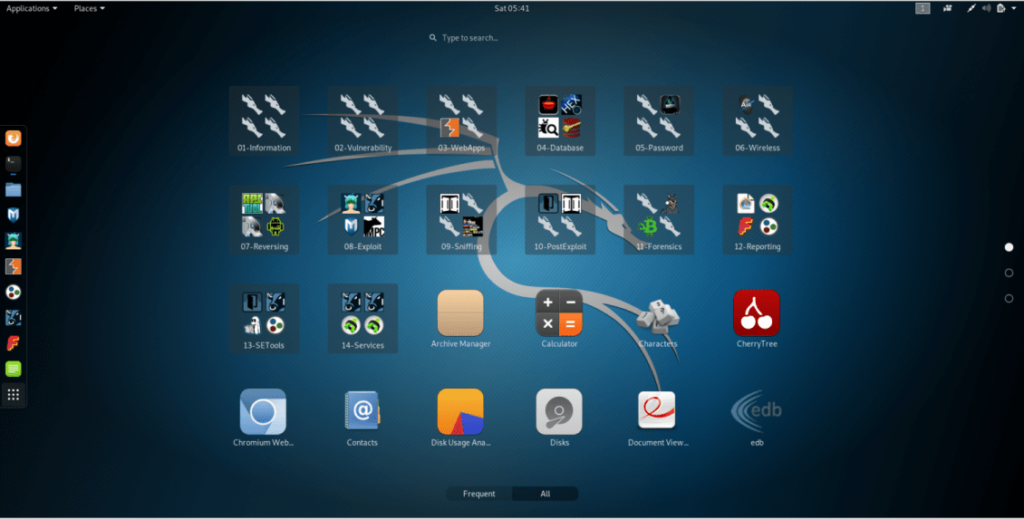 Kali Linux is the strongest hacking and penetration tool
As you have seen, there are various tools available in the Linux operating system to perform hacking and penetration into computer systems, which can be easily learned and used with a little research and study.
Almost it can be said that if we have enough knowledge and necessary tools, we can become a powerful hackers with Kali who can do anything.
Of course, apart from the security knowledge, it should also be noted that in general, hacking others is an unethical issue and even has legal consequences.
However, a security expert or even a web or application developer must have sufficient familiarity with this operating system and its intrusion methods and even use this operating system or similar programs to test the projects they have designed in order to identify their vulnerabilities and take action to fix them.
Update Kali Linux to the latest version
If you already have the Kali Linux operating system on your system, there is no need to download the new version, and you can upgrade the same version to the latest version.
To do this, first, enter the following command in the Linux terminal environment to see your current Kali Linux version:
grep VERSION /etc/os-release


If your version is lower than the latest versions, use the following commands to update your Kali Linux to the latest version:
First, update your repositories with the following command:
echo "deb http://http.kali.org/kali kali-rolling main contrib non-free non-free-firmware" | sudo tee /etc/apt/sources.list
Then enter the following commands to update your Kali Linux to the latest version:
sudo apt update && sudo apt -y full-upgrade

cp -vrbi /etc/skel/. ~/

[ -f /var/run/reboot-required ] && sudo reboot -f
Download Kali Linux 2023.1 iso file
Download – Kali Linux 64 Bit (2023.1) (Recommended by SPY24)
Download – Kali Linux 32 Bit (2023.1) (Recommended by SPY24)
Download Kali Linux 2023.1 VMware iso file
Download – Kali Linux VM 64 Bit 7z
Download – Kali Linux VM 32 Bit 7z
Download Kali Linux 2023.1 VirtualBox iso file
Download – Kali Linux Vbox 64-Bit Ova
Download – Kali Linux Vbox 32-Bit Ova
Download Kali Linux 2023.1 Live iso file
Download – Kali Linux Live 64-Bit
Download – Kali Linux Live 32-Bit
Download Kali Linux 2023.1 NetInstaller iso file
Download – Kali Linux NetInstaller 64-Bit
Download – Kali Linux NetInstaller 32-Bit