Receive Alerts When Spying on Android & iOS
Do you want to get notified of what your kids are doing on their cell phones? SPY24 has a great instant alerting feature that sends you alerts immediately after your kids do a specific action on their cell phones. Whether they use specific words when chatting, or go to specific locations, you'll be instantly updated. This way, you can take suitable measures before something terrible happens. SPY24's instant alerting feature is compatible with all devices and doesn't need rooting or jailbreaking. You just need to install SPY24 on the target device to get updated when your kids do something important. So why wait? You're just a few clicks away from our 1-month free trial to see the difference it makes in your daily life.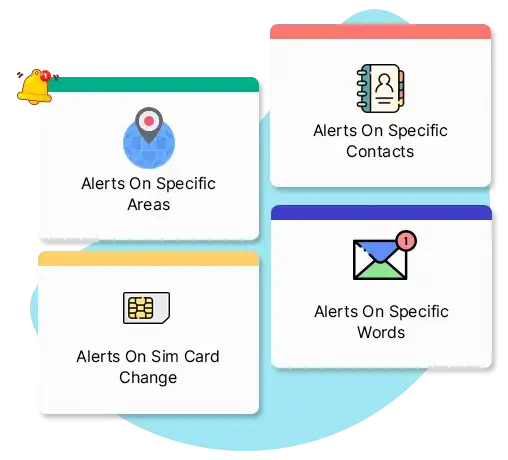 SPY24 Instant Alerts on Android and iPhone?
Learn how to use SPY24 instant alerts on Android and iOS.
What Features Does SPY24's Monitoring Alert Offer?
Here is a list of what you get from the alerting service of SPY24: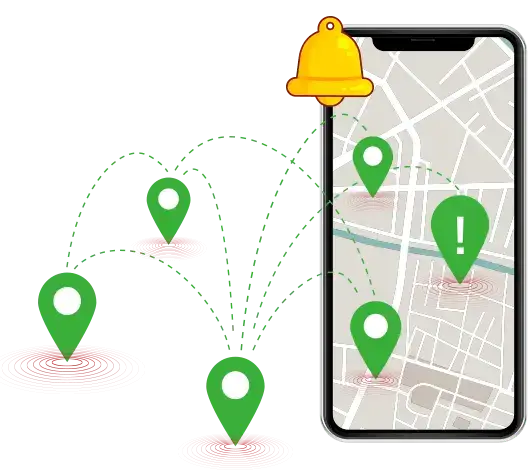 Why Are the Benefits of Setting Alerts on the Target Device?
You might wonder why someone might want to get alerts from other people's cell phones or computers. Overall, this feature can benefit three specific groups as follows:
Parents
One of the most important benefits of instant alerting is parental control. Imagine that you're out and want to know what your children are doing, to whom they're talking, and if they're staying home or going out. You can't constantly call them to get updates, so what can you do? The best way to keep an eye on them is by installing a spy app to get alerts on their activities. SPY24 will send you instant alerts on their location changes, their calls, their internet usage, and also the specific words they use in their texts. So if you want an extra pair of eyes to watch them, you'd better install SPY24 on their phones and add specific items to your watchlist to bring peace of mind to your life.
Employers
If you have a business and want to monitor the activity of your employees, you can use a spy app with an instant alerting feature. If you get notified of every important activity of your employees, you can be sure about their productivity and their compliance with your business policies. For example, if they send or receive emails, you can make sure that all the emails are business-related. You can also get alerts on specific words they use in work-related communications. This way, you can track possible issues and solve problems between employees if there is any misbehavior.
Partners
Don't you want to catch your cheating husband? You can easily get alerts on specific calls on your husband's and figure out if he's talking to another woman. This is the best way of taking instant measures to catch your husband in the act.
So why don't you try our free trial to see if you can catch him when he's cheating on you?
Why Should I Choose SPY24 to Setting Alerts?
There are numerous spying apps that offer instant alerts, but SPY24 is something else. Here is why:
Unlimited Number of Alerts
You can define as many alerts on the device as you want. There is no limit on the number of words you want to track on the target device. This is a great advantage because many tools have limitations.
Variety of Alerts
You can set alerts almost on every act on the target device, from messages to internet usage. SPY24 is the most comprehensive spying app on the market in this regard.
Compatibility with Android, iOS, macOS, and Windows
You can hardly find any other spying tool out there that is compatible with all operating systems. SPY24 is the best option for you because it works well on iOS, macOS, Android, and Windows.
Non-Rooted & Not-Jailbroken
You don't need to root Android devices or jailbreak iOS devices to use SPY24 on them.
Here are some other advantages of using SPY24:
250+ monitoring features 

24/7 Support

Easy installation process

Diverse packages for multiple devices

Free trial for 30 days
Frequently Asked Questions:
How Does SPY24's Instant Alerting Feature Work?
Watch this tutorial to see how you can receive monitoring alerts from your kid's cell phone via SPY24:
Create a Free Account
It takes a few seconds to create an account on SPY24.
Select the Device & Package
On your dashboard, you have to choose the target device from the available options (iOS, macOS, Android, and Windows.) Then, you can buy a package or use the free trial.
Download & Install the App
Try to access your kid's cell phone and install the app. This takes a few minutes and doesn't need any expertise. You can also count on our help if you face any difficulties.
Determine Watchlists
Now, you have to get back to your dashboard and determine the specific alerts you want to receive. You can add your watchlist to receive instant alerts on them.
You Can Totally Rely On SPY24 – We've Got Your Back
SPY24 won't leave you alone with your subscription, because, for us, your satisfaction is on top of everything else, and with that, we promise to deliver only the best mobile spying app experience that you will never have like it again!