SPY24 App – Features Digital Parenting & Employee Monitoring
SPY24 has a tonne of features that will keep you up to date on your friends and business no matter where you are or when. Sort through your kids' cell phone logs or keep track of what your employees are doing on social media without bothering them. With SPY24's dynamic monitoring, it's easy to keep an eye on the mobile phones of people around you.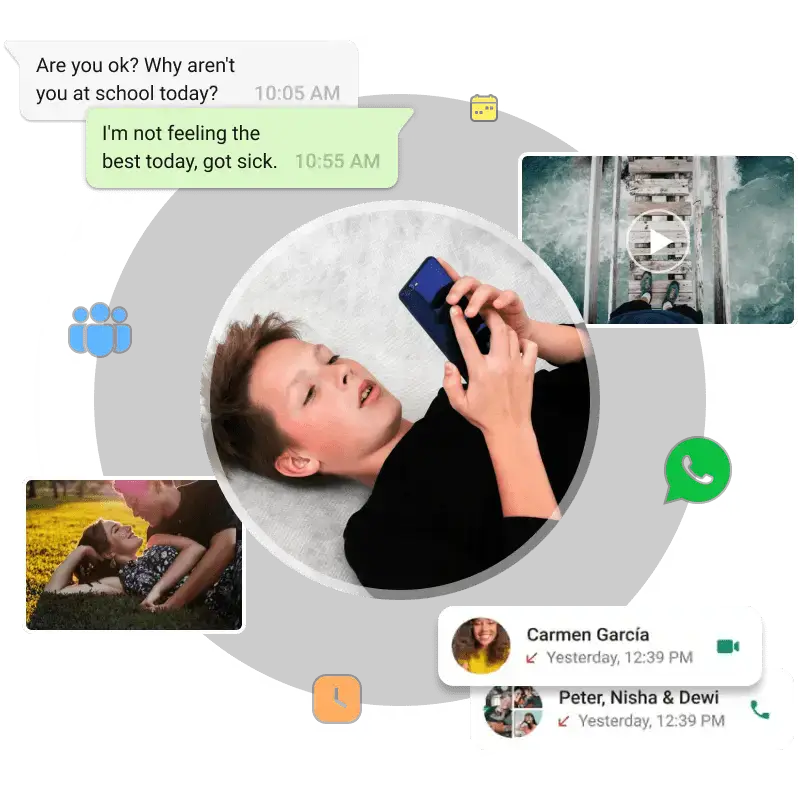 Monitor Phone Calls And Messages
SPY24 lets you know who your employees or kids are talking to via calls or texts. This old-school feature is basic but necessary.
Access Instant Messenger Chats And Multimedia
SPY24 knows the importance of tracking social media of your family or even employees, and that's why it has one of the most extensive instant messaging monitoring. With SPY24, you can read instant messages and even view photos on select IM apps.
Track location of your kids in real-time while they are out with friends or know how your employees like to spend their lunch breaks. SPY24 offers fast tracking with near to 100 percent accurate results.
The Best Way To Monitor Your Cell Phone Or Tablet
Get to know why parental cell phone monitoring is needed and what benefits it has. SPY24 has a huge cache of powerful mobile monitoring features to spy calls, SMS, IM chats, Photos, Locations, and much more. Check our complete list of all features.
Features Of Monitoring App For IPhone / IPad / Android/Windows And MAC
Features of SPY24 Monitoring App for iPhone/iPad/Android enables you to spy on Android or iOS device by recording keystrokes, Calls, SMS, GPS, Website history, social chat history on WhatsApp, Facebook, WeChat, Skype, Hike, IMO, Viber and capturing Screenshots.
Record Phone Calls And Surroundings
SPY24's powerful monitoring lets you automatically record all incoming and outgoing calls and also the phone surroundings.
View Photos, Videos & Calendar Entries
SPY24 gives you access to all photos, videos and calendar entries stored on the monitored devices. Plan ahead of your employees and kids by keeping a watch on their to-do list.
Remotely Control Target Phone/Windows And MAC/Tablet/Hidden Cell Phone Tracker App And Stealth Phone Spy For Android
SPY24 knows how to stay ahead in the smartphone monitoring game with its tons of remote device monitoring features. With SPY24, you only get the best spy app that exists to date.
Don't let anything important to miss out of your sight; SPY24's 24/7 instant alerts save you time by sifting the usual cell phone activity from the unusual.