IPhone Spy App On Spying IOS IPhone Without Jailbreak?
Benefits Of Using SPY24 IPhone Monitoring App
SPY24 is a powerful and intuitive iPhone monitoring app that allows you to keep track of all the activity on your target device in real-time. Whether you're a parent looking to monitor your children's online activity or an employer who needs to keep an eye on your employees' smartphone usage, SPY24 has you covered. Why then wait? Start using iPhone Spy right away to explore its capabilities fully.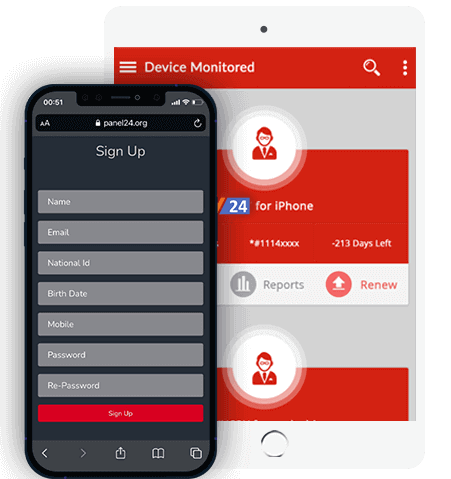 How To Install SPY24 IOS App
Installing SPY24 Mobile Spy on Target iPhone
SPY24 IPhone Monitoring App: What Is It?
The most sophisticated iPhone monitoring and tracking app is SPY24, which lets parents and companies watch their children and staff members using their iPhones. All Apple devices can use SPY24 without any issues, and it operates entirely covertly. Using this iPhone tracking software, employers and parents can:
Jailbreak Or No Jailbreak, We Have Got All Your Spying Needs to be Covered!
Do you need to keep an eye on an iOS device for security or personal reasons? Look no further! Our iOS monitoring app's jailbreak and non-jailbreak options provide users with the best of both worlds. We will examine the distinctions between the two versions in this post and assist you in selecting the one that best meets your requirements.
No Jailbreak IPhone And IPad Edition (Not Changed)
Enjoy unlimited features
Access WhatsApp messages
Effortless location tracking
Compatible with iOS 16
Jailbreak IPhone And IPad Edition
No iPhone Jailbreak is required
No Installation is needed
Complete iCloud access
Compatible with iOS 16
Extensive Social Media Monitoring On All IOS Devices(Instead Of This Part Using Yellow One) Revolutionary Social Media Monitoring For All Apple Devices
On the target devices, SPY24 offers complete monitoring capabilities for eight well-known social media and instant messaging services. You may covertly watch contacts, instant messaging discussions, and even multimedia content exchanged through certain applications with our Jailbreak & Apple Spy versions.
Before You Buy
Please ensure that you completely understand the requirements for using SPY24 for an optimal monitoring experience.
Why Do You Need To Spy On IPhone Using SPY24?
80 per cent of kids regularly use a cell phone without their parents' supervision.
Around 50 percent of children have reported being bullied online, while almost the same number have been involved in cyberbullying.
Only 10 per cent of kids tell their parents that they have been a victim of cyberbullying, and only 1/5 cases of online bullying are reported to law enforcement.
1/5 of teens have shared their nude or semi-nude photos with others online.
Leaving your children alone with their personal phones or iPads could mean losing them to a variety of online risks, like cyberbullying, online predating, and online harassment.
With our iPhone 14 Spy app, you can give your kids a direction about their cell phone use. You can tell them not to share anything with others that they wouldn't want anyone to see.
SPY24's jailbreak iMessage spy can monitor nine different IM and dating apps, including WhatsApp, Line, Skype, Kik, Viber, etc
The Most Reliable App To Monitor IPhone And IPad!
Here's a comparison of the features you'll get with our No Jailbreak Edition and Jailbreak Editions.
| | iPhone No Jailbreak Edition | |
| --- | --- | --- |
| | | |
| | | |
| | | |
| Read All Incoming and Outgoing SMS | | |
| | | |
| WhatsApp + WhatsApp Chats+ Photos | | |
| Viber + Calls+ Chats+ Photos | | |
| Skype + Calls+ Messages + Photos+ Contacts | | |
| Line Messenger + Kik Messenger + Instagram | | |
| iMessage + Email +Read Sent/Received Emails | | |
| View All Contacts +Watchlist Contacts | | |
| Apps +View list of Installed Apps+ Photos | | |
| View All Photos +Watch All Videos | | |
| Internet +View Internet Browsing History | | |
| Location +View Location History+Geo Fencing | | |
| Define Places +Watchlist Places+Other Features | | |
| Installation Required+Web Based Control Panel | | |
| | | |
Best IPhone Spy App – Undetectable Monitoring & Tracking App
Look no farther than SPY24 if you're looking for the most sophisticated and undetectable iPhone surveillance app. It's simple to keep an eye on and track iPhone activity with this clever application.
What Can SPY24'S IPhone Spy Software Do?
SPY24 offers an extensive range of features, surpassing any other spy app for iPhone on the market. With over 150 functions, you can access information on all forms of messaging, including SMS, email, and popular instant messaging applications such as Snapchat, Facebook, Viber, and Skype. Furthermore, SPY24's unique ability to listen to and record live phone calls and phone surroundings, as well as VoIP calls made on apps like Skype, WhatsApp, Viber, and more, sets it apart from any other spy app available.
Why Is SPY24 The Best Spy App For IPhone?
 Take control of your iPhone surveillance by choosing the best spy app on the market. With SPY24's undetectable monitoring capabilities, it's easy to keep a watchful eye on your device. Whether you're looking for advanced monitoring for your iPhone or iPad, SPY24 has got you covered.
Our IPhone Tracking App Has A Quick, Trustworthy, And Simple User Interface.
 With its wide variety of device compatibility, easy setup, and unrivalled mobile spying power, SPY24 earned a coveted spot at the top of the best Apple spy software in 2023. With the help of our Apple spy app, users can watch any iOS device, including the most recent iPhone 13 Pro Max, and iPhone 14, without jailbreaking their device.
The Question Below This Part:
How SPY24 Protects Your Beloved People And Your Business Assets In 3 Steps
You can download the parental control software for iPhone spy and Android Spy PC – MAC through the following links.
More Incentives To Choose SPY24 IPhone Monitoring App
SPY24 provides a fast and reliable iPhone monitoring experience that you can rely on on! It's minimalist and super-easy spying is hard to beat both in terms of pricing and services.
A High-End IPhone Tracking Solution For IOS 16 Is SPY24.
Are you trying to find the best iPhone tracking app? Look no further than SPY24!   You can keep your iPhone safe and secure with the aid of this user-friendly, totally free app that offers a long number of capabilities. In this article, we'll go into more detail about the SPY24 iPhone tracker app for iOS 16 and how it may help you keep a close eye on your iPhone.
With SPY24, you can easily spy on iPhones without jailbreaking them.
Thanks to their sophisticated technology, svelte design, and user-friendly interface, iPhones have recently experienced a meteoric rise in popularity. What if we told you that you could spy on an iPhone without jailbreaking it? Yes, that is accurate. With the cutting-edge iPhone tracker app SPY24 offers for iOS 16, you can track iPhones remotely without using any additional gear or software. Prepare to learn about the benefits and convenience of utilizing SPY24.
SPY24 iPhone Tracker App Free IOS 16
What Are Some Benefits of Using SPY24?
You can keep a careful check on all of the actions on your iOS device by utilizing the SPY24 iOS Spy app. This app can keep an eye on calls, texts, emails, social media posts, and other online activity. Additionally, you may keep track of the installed apps and track the device's position. One of the key benefits of using this app is its stealth mode, which allows you to monitor the device without the user knowing. This means you can monitor your child's device without them knowing, keeping them safe and protected. You can also monitor your employees' devices to ensure they are not using company resources for personal use.
How to Use SPY24
Using SPY24 is easy. Simply log in to your account and navigate to the dashboard. From there, you can access all of the information you want to track. You can also set up notifications and alerts, so you are always informed about the activity on the device.
With more than 1.4 billion active devices globally and holding a 48.1 percent market share in the United States, Apple has secured a safe position on the list of global smartphone brands. However, with every new iOS update, the security keeps getting better, making it even a more challenging task to monitor iPhone devices.
Well, it's a fact that Apple would never like a superlative, third-party app to take the place of their inbuilt screentime or parental controls; nor would they ever want the privacy of their users from getting compromised due to some shady third-party service. However, there are still many mobile spy apps for iPhone that can not only record all online activities, but you can get information about a person's GPS location and other offline activities, too. Be it your kids' digital safety or employees' risky behaviors, iPhone monitoring apps can solve all these elusive apprehensions without reprehensible interrogations. Keep in mind, though, using spyware to track someone's activity requires your recipient's consent.
What Is An IPhone Monitoring App?
iPhone Spy apps have been there since we had easy access to the internet and advanced technological tools. Over these years, they have improved to be better and more sophisticated. We live in a time where businesses are monetizing on what the users are expecting to maximize the profit. An iPhone spyware can give you access to all digital activities of the person you want to monitor. You can use an iPhone spyware secretly on a device and access activities by logging keystrokes, recording chats, accessing call logs and web browsing history, geo-fencing locations, and more. A good iPhone monitoring app for iOS devices can record almost every possible activity that is happening on the target iPhone or iPad discreetly.
How To Spy On An IPhone Without Installing Software?
It is no longer required to have access to someone's iPhone and install spyware to track their digital activities and offline whereabouts. Now it is possible to spy on an iPhone without having physical access to the phone. Many of us typically have believed that spying is only possible by jailbreaking an iPhone through Cydia. Plus, you cannot take the risk when it's someone else's iPhone.
As iCloud is a must-have cloud storage solution for anyone owning an iOS device, this opens for us a way to track an iPhone without having access to it. You don't even have to install an iPhone spy app. Now the question arises: How could you use iCloud to get remote control of the monitored iOS device? Simple! You will be accessing the data stored on their iCloud to spy on their activities. But there is one prerequisite: You will need their iCloud credentials (Apple ID and password) associated with the target phone. That would be easier if the gadget belongs to your child or corporately owned.
What Is SPY24 IPhone Spyware?
SPY24 is the most advanced iPhone monitoring and tracking software that lets you track your children and employees via their iPhones. SPY24 runs smoothly on all Apple devices and works in complete stealth mode. This implies that it runs in the background of the target iOS device, so the person being monitored will never know about it. Besides, this iPhone spying app is so easy to use and set up.
SPY24 for iOS comes in jailbreak iPhone and iPad edition and NoJailbreak iPhone and iPad edition. The latter only requires iCloud credentials. The iCloud spying app supports iOS 16.1.1 and older versions. On the other hand, Jailbreak Edition is compatible with all Jailbroken iOS devices running iOS 6.0 or above (up to 9.0.3) and requires physical access for installation.
Once set up, SPY24 records all information silently that's sent or received on the monitored phone. And it allows you to access this information from any web browser by logging into your SPY24 online account.
How Can SPY24 Help You To Monitor An IPhone Or IPad?
There are many reasons SPY24 can become your ultimate spying tool. This iPhone spy app can be used as a parental control app, employee monitoring app, or a student tracking app. Here is how SPY24 iPhone monitoring can help you:
iPhone Parental Control App for Parents
Kids and smartphones can be a petrifying mix. Whether your kid is using an iPad to play games or your teen is using the iPhone to chat with friends, you have to monitor what they are doing on their devices. Also, you can use a spy app for iPhone to limit their mobile activity and screen time. With this parental monitoring app, you can get remote access to your kid's iPhone. You can track your child's iOS device and set some essentials controls to block access to inappropriate apps or lock the device to manage screen time.
There are many reasons to consider monitoring your kids' iOS devices:
1 in 7 youth internet users have received unwanted sexual solicitations
Online predators target young kids
Kids are getting involved in dangerous online challenges that can cause serious issues like accident, depression, or in worse case death
More than 34 percent of teens have reported some sort of cyberbullying
The Internet can give access to numerous dangerous apps with inappropriate content
You need to know if your kids are lying about their whereabouts
Excessive screen time can cause several health issues like depression, anxiety, eye strain, obesity, and sleep disorders.
iPhone Monitoring App for Employees
SPY24 iOS spy tool can help you to monitor employees to know if they are killing time at work, or if they are using company-owned devices for personal use. You can track almost every move of your employee from a distance with 100 percent accurate results.
SPY24 iPhone monitoring app for employees can help you to:
Ensure workplace productivity – 40 percent of employees who surf the internet during office hours for non-work related activities are less productive
Evaluate the performance of the employees – 70 percent of total traffic to pornography websites are recorded during office hours
Increase customer satisfaction by ensuring that employees are doing their best
Minimize the chances of insider threats, data breaches, and fraud
Lessen the need for micromanaging the staff
iPhone Student Tracking App for Schools
SPY24 student tracking app for iOS devices can help schools to monitor the online activities of their students on school-owned devices in classrooms or computer labs. Student monitoring can help improve class engagement, productivity, and especially the digital safety of kids. Schools can access web browsing history and bookmarks to monitor how students are putting these gadgets to use. To save them from the potential dangers of cyberbullying, phishing, or identity theft, teachers can teach them digital manners by monitoring their online behaviour.
Schools must use internet filters to protect students from getting access to harmful online content
This monitoring app for iOS devices can help schools to do behaviour tracking
Teachers can keep tabs on the whereabouts of kids within school premises
What Do You Need To Know Before Buying The SPY24 IPhone Tracker?
To use the SPY24 iCloud spying app on a device, make sure you have the iCloud credentials of the iPhone, iPad, or iPod you are going to use. It's important to have the iCloud backup of the iPhone enabled.
To use the SPY24 Jailbreak iOS spying app, the target device must be jailbroken and running between iOS 6.0 and iOS 9.0.3. Besides, you will need to manually install this iPhone and iPad monitoring app on the target iOS device using iTunes.
The target iPhone must have internet connectivity.
Some features may work only on non-2FA-based iCloud accounts.
What Makes SPY24 An Ideal Spying App For IPhone?
SPY24 is a powerful iOS monitoring app that enables you to ensure the digital safety of your loved ones. It allows you to track the online behaviour of your students or monitor the workplace productivity of your employees. For whatever reason you choose to use the SPY24 iPhone spy app, you can get an advanced monitoring and tracking experience.
Multiple reasons make SPY24 the ideal spying app to track someone via their iPhones:
The diversity of features:
With our iOS spying app, you can get a bundle of basic and advanced spying features, including
Call History – View call logs of all incoming, outgoing, and missed phone calls with date, time and call duration stamps
View Contacts – Remotely access the contact list of your kids or employees in a sophisticated manner
Watchlist Contacts – Get alerts on call made to/from specific numbers on the monitored iOS device
Text Messages – Read all incoming and outgoing text messages
Watchlist Words for SMS – Get instant alerts when specific words are used in text messages
WhatsApp Chats – Read all chats done using the popular social media platform WhatsApp
Read all iMessages – Read all messages sent/received using iMessage
Watchlist for iMessages – Get instant alerts when specific words are used in iMessage
Appointments and Calendar activities – Get access to appointments and calendar activities saved on the monitored iPhone or iPad
Photos – View all photos stored on the iOS device
Internet – Access browsing history and bookmarks
Location History – View the history of all places visited by the monitored person
Ease of usage
We trying to make it easy for you to track your kids or employees from anywhere. SPY24 offers an intuitive and user-friendly interface that makes sit super easy to track an iPhone anytime. You only have to follow three simple steps to get started:
Step 1: Subscribes to SPY24
Step 2: Download and set up SPY24 on the target iOS device
Step 3: Log in to your SPY24 online dashboard and start monitoring
High compatibility
SPY24 iPhone spy app is compatible with the latest iOS versions:
SPY24 Jailbreak – Works with jailbroken iOS devices (iOS 6. x up to 9.0.2)
SPY24 No-Jailbreak – Works with iOS 16 and above devices
Affordable pricing
Affordable pricing is one major reason why users prefer to use our SPY24 mobile spy app. With basic and premium editions, you can subscribe to any one of the packages based on your preference of features you wish to access.
Valuable after-sale services
SPY24 offers valuable customer service, which is efficient and 24/7 available. Our service agents are always on their feet to assist their customers through any problem they might face with the product. Since customer satisfaction is the ultimate goal and priority of the whole team, the customer support staff is always there to guide the customers without any delay.
Conclusion
In conclusion, all jailbroken iOS devices running iOS 6.0 or higher are compatible with the SPY24 iOS Spy app. Users of this software can keep an eye on all actions taking place on an iOS device, including calls, texts, emails, social media posts, internet activity, location, and installed apps. Using this app, you can keep your child safe and protected and monitor your employees to ensure they are using company resources responsibly.