View Bookmarked Pages & Websites on All Bowsers
SPY24 has made it easy to track the internet behavior of your children and your employers by spying on their bookmarks. Our bookmark spy feature is compatible with all operating systems and can collect data on bookmarked pages on all browsers like Firefox, Chrome, Edge, etc. If you want to see what your target user visits the most on the internet, it's good to take a look at his/her bookmarks. The bookmarked URLs are the most important pages that the target user likes to visit frequently. So SPY24's bookmark monitoring feature can help you spot anything wrong with the internet activities of your kid, your husband, or your employee. You can try our free trial to see if this tool works for you. So why wait? Get started by creating a free account.
How Does SPY24's Bookmark Monitoring Feature Work?
If you want to see how you can track your teen's bookmarked pages via SPY24, watch this tutorial.
What Features Do I Get from SPY24's Bookmark Tracker?
Here are details on what you can do using the bookmark monitoring feature: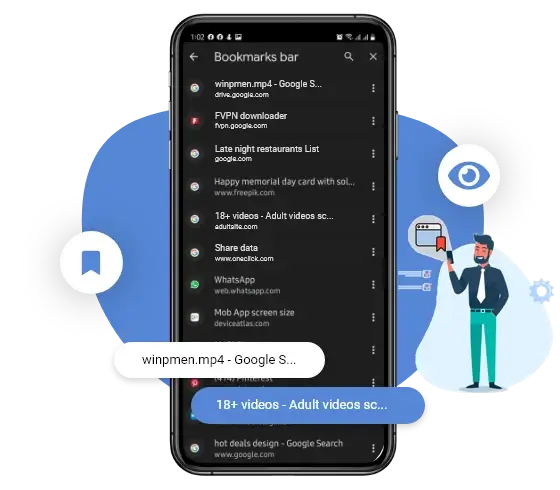 Why Is A Bookmark Spy App Necessary?
There are many situations in which you need to know what your loved ones browse on the internet to prevent them from harmful content. Here are some of the benefits of using a bookmark tracker:
Increase Employee Productivity 
If you track the bookmarks of your company's browsers, you can see what URLs your employees are visiting most frequently. This is a great way to make sure that they're not wasting time browsing irrelevant pages. 
Prevent Pornography
Watching porn content is now one of the biggest concerns of parents. You can't watch your kid's internet activities all the time, so how can you make sure what they're watching? A bookmark tracker app can help you discover any inappropriate page that your kid visits frequently.
Discover the Target User's Interests
Bookmarks are the most popular pages that a user checks frequently or has saved to avoid forgetting. So if you want to know what websites your target user likes the most, a bookmark checker is the best tool for you. For example, if you want to know which sites your husband opens, you can use our bookmark tracker to discover his interests.
Why the Bookmark Tracker of SPY24?
Now, let's see why you have to choose SPY24 for tracking the bookmarks on the target device:
Completely Hidden
SPY24 works in stealth mode and can't be detected by the target user and the antivirus or antispyware. It doesn't appear in the app list and consumes very little battery charge.
Compatible with iOS, Android, Windows, and macOS
You can use SPY24 on all devices with any operating system. No matter if the target device is an Android mobile, an iPhone, a PC with Windows, or a laptop with macOS, you won't have any problem with using SPY24.
Supporting All Browsers
SPY24 doesn't have any limit on the type of browser. You can track all the bookmarks on Firefox, Chrome, Edge, and any other browser in the world.
Easy Installation – No Rooting & Jailbreaking
You just need a few minutes of access to the target device to install the app. It doesn't need rooting or jailbreaking and non-expert users can easily handle it.
Fully Inclusive Packages + 30-Day Free Trial
SPY24 offers diverse packages for different uses. When you buy a plan, you'll get 250+ monitoring features along with the bookmark tracker. Moreover, you have a free trial for 30 days, which is great to become familiar with all functionalities of the app.
Here are some other advantages of SPY24:
24/7 customer service

Supporting different languages

Safe and secure

Unlimited number of bookmarks to track

Supporting multiple devices at a time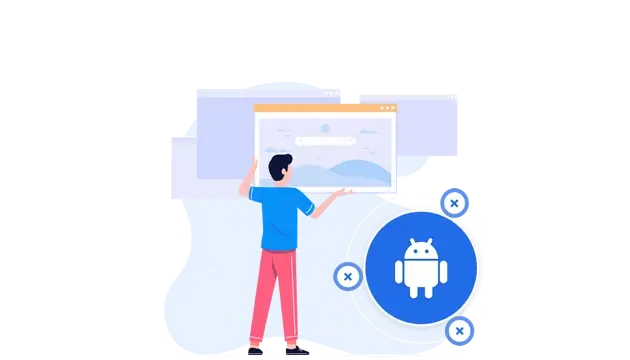 4 Steps to Using Our Bookmark Tracker
Are you convinced? Now, let's see how you have to use the bookmark sy feature. Here is a simple step-by-step guide to using this feature:
Create an Account
The first step is to create an account and get your free dashboard. 
Select Plan & Device
On your dashboard, you can choose your target device and buy a subscription. 
Install the App
You can easily download and install SPY24 on the target device. You just need one-time access to it and it doesn't require rooting or jailbreaking.
Start Tracking Bookmarks
Go back to your dashboard and track the bookmarks on the target device.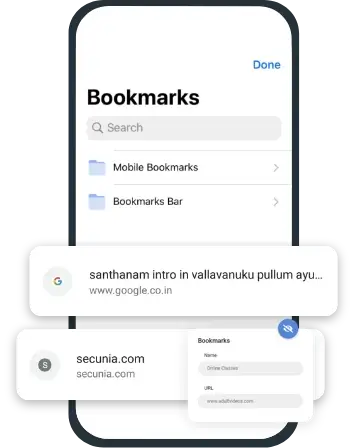 Frequently Asked Questions:
WHY SHOULD I GET A CHANCE TO TRACK BOOKMARKS ON THE TARGETED MOBILE DEVICE?
Our application has made it possible to come over the security of a targeted mobile device and make you able to check out the bookmarked sites of a targeted mobile device. The software will make it possible to:
Have an examination of all web addresses that have been bookmarked on a targeted mobile device
Get a view of all the sites bookmarked on the cell phone
Get to know the exact time and date the site was bookmarked
Have a performance on the timing and day of all the bookmarking activities
Have a look at all the bookmarked data from a targeted cell phone on your PC with or without connectivity in the form of a worksheet by download
You Can Totally Rely On SPY24 – We've Got Your Back
SPY24 won't leave you alone with your subscription, because, for us, your satisfaction is on top of everything else, and with that, we promise to deliver only the best mobile spying app experience that you will never have like it again!