Watch the Browser History of Your Kid's Phone
Do you know that 70% of teens aged between 13 and 17 constantly watch pornographic videos and pictures using the internet? Although the Internet has many benefits, it can also be dangerous, especially for teenagers. If you're a concerned parent and want to prevent your teens from browsing inappropriate websites on the internet, you've come to the right place. You can use SPY24 to keep an eye on their browser history to make sure they're not visiting the wrong websites. Our monitoring app is user-friendly, undetectable, and compatible with all operating systems. Moreover, our internet history tracker is the best tool to make sure your employees are not wasting time and internet traffic by visiting irrelevant sites. Then why don't you try it for free? If you want to check if your kids or your employees do what they promised you, SPY24's internet history tracker is the best choice for you.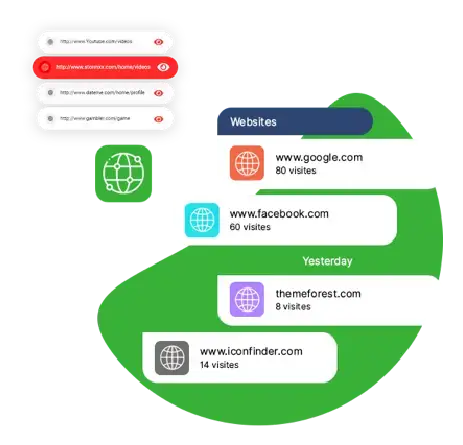 How to Monitor Browsing History Via SPY24?
Watch a tutorial to learn how you can monitor browsing history via SPY24?
What Does The Internet History Tracker of SPY24 Do?
Have an extra pair of eyes on your children's internet activities: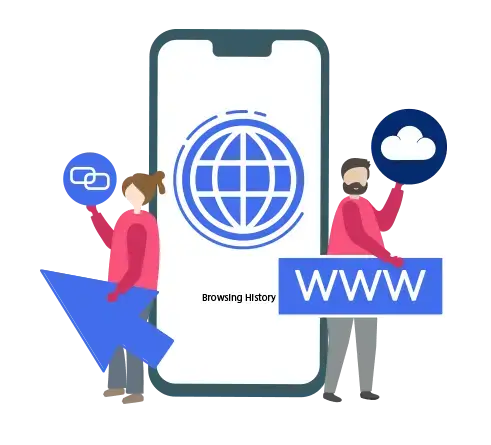 Why Should You Use an Internet History Tracker?
The Internet history tracker can help both families and business owners. Here is how:
Children's Safety 
You must have been familiar with the harmful impacts of the Internet on teenagers. For example, watching pornographic videos and pictures can damage their mental health and school performance. So what to do? Of course, talking to them is the most effective means of stopping them from browsing inappropriate websites. But many times, you can't trust them. In other words, you have to track their behaviors without them knowing. That's why you need to use a parental control app on their cell phones to keep an eye on their online behaviors. An Internet history tracker can help you make sure they're not doing anything wrong when they're online. 
Monitoring Productivity in the Workplace
One of the most important concerns of business owners is their staff's productivity. In fact, they have to make sure that the employees are spending their time on what they've supposed to do. Unfortunately, the internet connection can be a distraction because many employees browse entertaining content during working hours or check their personal messages on social networking sites or via Gmail. So how do you prevent this from happening? You can use an internet history tracker on your company's computers to make sure no one searches for irrelevant words or visits websites that are not related to their jobs. So if you want to ensure the compliance of employees with your business policies, try our internet history tracker.
Tracking Your Partner's Online Activities
Many times you want to know what your partner is searching for on Google. The best means of tracking his online activities is an internet monitoring app. You just need to gain one-time access to the cell phone of your love and install our app. Then, you can track everything to make sure he's not using inappropriate websites.
Why Should You Try SPY24?
Now, you might ask why you have to choose SPY24 for tracking the internet history of your loved ones. Here is why:
It's compatible with Android, iOS, Windows, and macOS.

It offers more than 250 other spying features apart from the internet tracker.

SPY24 has a responsive team of customer support 24/7.

You don't need jailbreaking or rooting to use it.

It's really user-friendly, and you don't need to be an expert to install it.

It supports multiple devices, which is great for companies.

SPY24's pricing packages are really diverse and affordable.

It's free for 30 days.
How to Use SPY24 Internet History Tracker?
Don't worry if you're not tech-savvy. Watch this video to see how easy it is to track the browser history of your kids using SPY24.
Sign Up for Free
With a few clicks, you can create your own account on SPY24.
Pick Your Desired Plan
On your online dashboard, choose the target device among the options available. You can also buy a subscription plan or continue with the free trial.
Install SPY24
Download and install SPY24 on the target device in a minute.
Start Tracking the Internet History
Start tracking your children's browser history without being detected.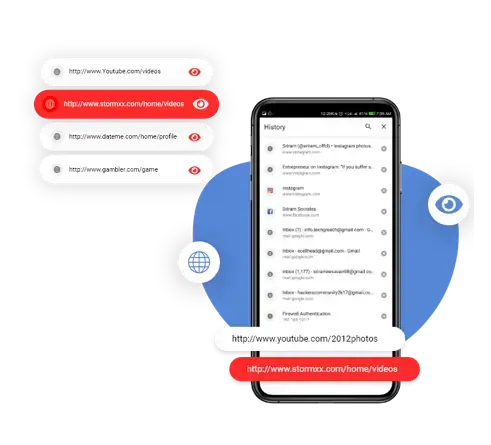 Frequently Asked Questions:
Monitor the past browsing history SPY24
PAST BROWSING ACTIVITIES
In some cases, visited sites may show surprising data concerning your workers and what they are involved in online. You can understand their internet use better. Do they browse the internet instead of working? All this will be in your hands. Your children may also be involving themselves in unwanted sites that may harm their behavior. By checking out their browsing history, you will be on top and able to stop any risk that may be forthcoming.
WHY DO YOU NEED PAST BROWSING ACTIVITY MONITORING?
SPY24 came up with this application to become your most trusted assistance in tracking down the visited sites of a targeted mobile device. This amazing application will enable you to:
Get the full examination of the visited site by the targeted device user
Get an assessment of all online data opened via the targeted device
Make a count on the number of times a certain site was visited
Get the actual timing and day the site was visited
Have all the information on your PC with or without the internet in form of a worksheet by hitting the download
You Can Totally Rely On SPY24 – We've Got Your Back
SPY24 won't leave you alone with your subscription, because, for us, your satisfaction is on top of everything else, and with that, we promise to deliver only the best mobile spying app experience that you will never have like it again!
BROWSING HISTORY
The internet is a vast world many people explore, whether to do online shopping or to connect with friends. However, not all sites on the internet are safe, in fact, many are dangerous. Many users don't know any better and visit mobile sites that look interesting, even if it could put them at risk. As a result, their device could get hacked, their information could be stolen, or they could be robbed of their finances. Our SPY24 web browsing history tracker is the best option to prevent yourself or a loved one from suffering this fate. Below, we discuss the main reasons it's necessary to monitor one's web history.
Reasons To Use SPY24 Web Browsing History Tracker
Protection Against Online Criminals
The number of threats on the internet seems endless! There are hackers, viruses, malware, trojans, identity thieves, and more. Likely, you don't want yourself or a loved one to fall victim to these criminals. Being aware of your loved one's web history will enable you to protect them from dangerous sites.
Know What Your Child Is Doing Online
Besides online criminals, the web poses many risks to children. This includes explicit sites, inappropriate YouTube videos, catfishers, and cyberbullies. Since children, especially teens, want their privacy, The SPY24 Mobile history tracker is the only way to keep an eye on the sites they visit without being invasive.