Read All Sent and Received Gmails
Whether you use your company-owned email service or not, you still need to monitor the Gmail accounts of your employees in the workplace to monitor their activities. SPY24 has an advanced Gmail monitoring feature that is designed to spy on Gmail accounts to gain valuable insights into the target user's activities. With our app, you can read all the details of a Gmail account, including incoming and outgoing emails, attachments, contacts, drafts, and even deleted emails. This is also a great way to get informed if your Gmail account is compromised. Finally, you can monitor your children's Gmail accounts to prevent any inappropriate registration on forbidden websites because Gmail is the most common service for confirmation when you want to register on a site. You can start with our free trial to become familiar with the power of the Gmail monitoring feature of SPY24.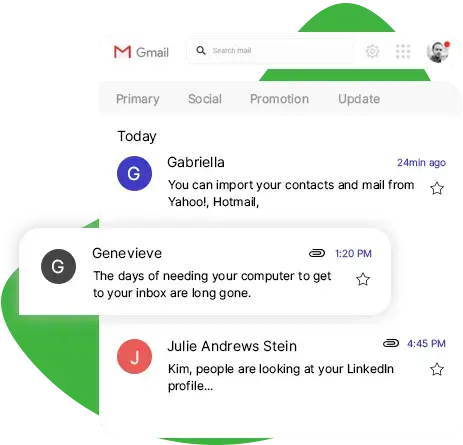 How to Use SPY24 to Keep an Eye on Gmail App?
SPY24 can read all of the emails sent and received through the Gmail app on Android devices. Watch the video to learn how.
What Can You Do Using the Gmail Tracker of SPY24?
Here are what you can track using this feature: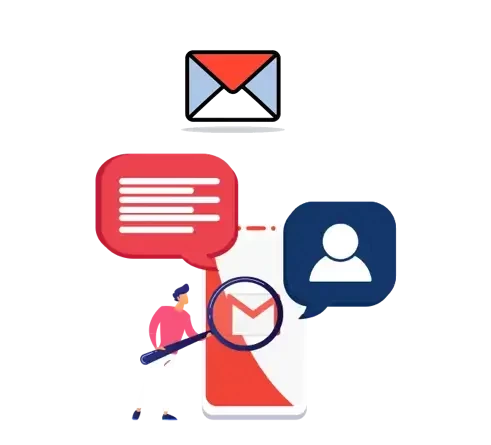 Why Should You Use a Gmail Tracker?
Here are some benefits of using s Gmail tracker for both personal and business applications:
Child Activity 
As you know, many children want their parents to buy a cell phone or a tablet for them. This is very fun but it can bring some dangers to your home. One of the most dangerous things your kids might face is blackmailing. Your kids might share some personal data that can be used as threats by cyber bullies. As many of these threats approach via Gmail, our Gmail tracker can be of great help. Also, if you want to make sure that your kids are not registering on inappropriate websites, you can use a Gmail tracker to see confirmation emails from forbidden sources. You can remotely block any unwanted email and ensure your kids' safety.
Improve Employee Productivity
Replying to emails is one of the most time-sucking tasks in companies. By monitoring the Gmail accounts of your employees, you can make sure that they're using this service productively. Although you might have a business email, many employers might waste their time checking their personal Gmail accounts on company-owned devices. You can prevent this by installing SPY24 and using its Gmail tracker.
Prevent Data Breaches
A Gmail tracker can help you prevent business data breaches. When you use SPY24's Gmail monitoring feature, it will inform you of any suspicious activities, including unwanted access that might lead to data breaches. This can improve your company's security by spotting potential threats in email services.
Check Employees' Behaviors in Communications
One of the most important concerns of employers is how their employees behave with each other in the workplace. Particularly, remote workers who use services like Gmail for communication should be monitored to make sure they're complying with your company's policies. Moreover, in case any potential issues between your employees emerge, you can track the Gmail threat to see the origin of the problem. By installing a Gmail tracker on their devices, even if they delete any messages, you can track it and solve the problem.
How to Use SPY24 to Keep an Eye on Someone's Gmail?
Watch the tutorial to know how SPY24 can track all of the Gmail activities.
Create an Account
You can create an account on SPY24 with just a few clicks.
Select the Target Device and the Plan
On your dashboard, you can choose the target device among the available options, including Android, iOS, macOS, and Windows. Then, you can buy a subscription or continue with the free trial.
Download and Install SPY24
You need one-time access to the target phone or computer to install the app. Fortunately, it's really straightforward and doesn't need expertise.
Start Tracking Gmails
Now, you can get back to your dashboard and start tracking the Gmail activity of the target user.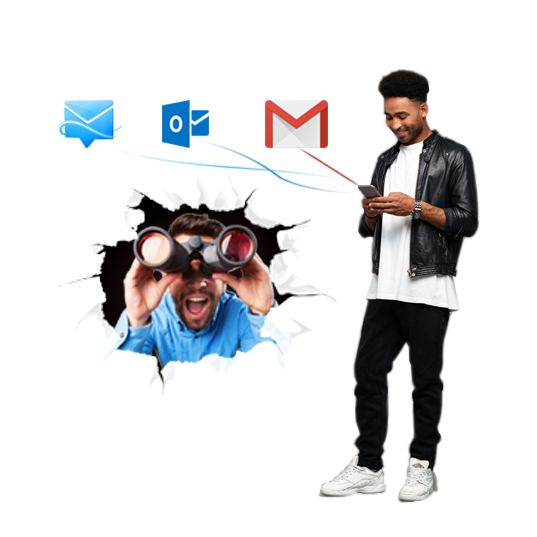 Why Should You Choose SPY24 for Gmail Tracking?
Now, let's review the reasons why you have to choose SPY24 among other Gmail spy apps:
We're offering a 1-month free trial.

Our app is compatible with Android, iOS, Windows, and macOS.

We're offering more than 250 other monitoring features along with the Gmail tracker.

You'll get 24/7 support.

You'll have access to all the data using a single online dashboard.

You don't need to install any extra app to monitor the data.

You don't have to root or jailbreak the target device.

It's completely hidden.

The file size is so small that it is undetectable by the user.

SPY24 consumes the minimum battery charge possible.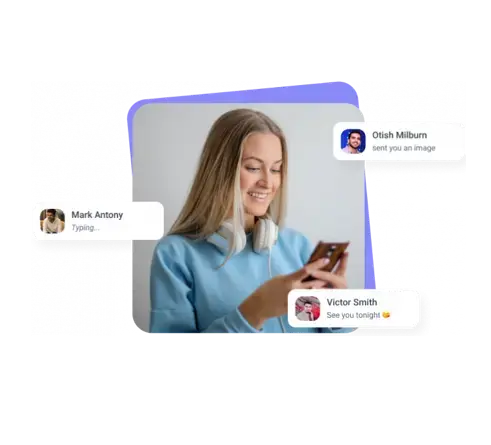 Frequently Asked Questions:
Gmail Tracker and monitoring tool #1 – SPY24 Gmail Spy software
SPY GMAIL:
Making sure that your family and company are in good hands as far as security is concerned as a very vital thing. Moreover, what it takes to attain this is the least important. Getting hold of Google email accounts of workers or kids can be of very great assistance in getting to understand what each group has up their sleeves. It's easy, for example, to understand your employee's behavior if you're able to read their Gmail emails beforehand. Should they be sending vital business info to the competition? Then it would be easy to capture them before the damage is done. When the occasion to do this is at hand, then get our most advanced monitoring software, Gmail Spy, and your job will be half done.
WHAT DOES GMAIL TRACKING ENTAIL?
The software spying solution that we have come up with will greatly help you in achieving your Gmail monitoring activity. The Gmail tracker application has the capability of tracking emails that have been received or sent. The spying software is capable of the following:
Keeping the counting of the Gmail tracker for both incoming and outgoing messages, including draft copies and spam on the targeted mobile phone device
Getting access to music and video folders sent or received via Google mail
Examining all the address books on Google emails plus the history of the owners
Performing timing and daily recording of all Gmail tracker activities of the targeted cell phone
Making you have a look at all the information from the tracking of the Gmail account without connectivity on your computer through a worksheet download
You Can Totally Rely On SPY24 – We've Got Your Back
SPY24 won't leave you alone with your subscription, because, for us, your satisfaction is on top of everything else, and with that, we promise to deliver only the best mobile spying app experience that you will never have like it again!
Email Tracking Application | Best Email Monitoring Software
SPY24 email monitoring feature allows you to view incoming and outgoing emails remotely on your dashboard.
Our App Allows You To:
Read all incoming, outgoing emails.
Indicate the exact time and date of both sent and received messages.
Check email history.
Access the mailbox from your User Dashboard.
Why Is This Feature Useful?
Today, we cannot imagine our lives without the Internet, mobile applications, and emails. However, those tools would look more than strange at least a couple of decades ago. We are used to them, as they come as essential helpers whenever we need to transmission share different data in spite of the distance and time. The Internet brought numerous great tools to us that we use both at home and at work. On the other hand, the global web has turned into a pool of viruses, harmful content, and other things that can be to the detriment of your kids' development or productivity. Although we spend much time in a virtual world featuring online shopping, digital currency, and data transmission, email Spy will protect your business and family in real life. SPY24 email tracker appears to be a good solution to this problem. Would you like to know what type of content your kids send and receive? Would you like to make them steer clear of violence, pornography, and other bad things that may have a negative effect? Would you like to have a reliable email tracker always by your side? In this case, our email tracker app is certainly the right solution. No doubt, SPY24 mobile tracker is the best email tracker you can ever find. A Spy on email has never been more efficient before. Our dedicated specialists managed to develop award-winning email spy software for different needs. You can use it to check the email history of your children or employees. This service will deliver the exact information on data, time, and sender. Moreover, you are free to use your control panel whenever you need to access email spying right from your account. Gmail Spy Application You can get full access to a target device's Gmail account and read all emails any time you like. SPY24 monitoring app allows you to: • Read all emails from the "Inbox" and "Sent" folders. • View starred emails. • See the contact information of the sender/recipient. • Bse all emails from your Control Panel.
Why Monitor WhatsApp Messenger?
Well! The popularity of the social messaging app has penetrated among the masses, but over the years the social networking app putting young children into real danger, and even the employers who have allowed using it on company-owned devices such as cell phones, gadgets, and PCs such as windows and MAC. Therefore, young kids and teens have their cell phones used all day long and are often stalked and bullied online by cyber bullies. So, parents are very insecure about the protection of kids and teens and they want to know to whom kids and teens are talking on the Android devices using installed WhatsApp. However, employers also want to make check on the employee's activities on Whatsapp instant messenger using the company's owned devices to avoid any adventure from the employees or getting involved in something fishy.
How To Monitor WhatsApp Messenger?
All you need to do is to have a WhatsApp monitoring app and you have to have a SPY24 mobile monitoring app that enables you to monitor target cell phone devices and installed WhatsApp messenger. So, you have to subscribe to the SPY24 mobile app having the knowledge of target device OS such as Android. If the user has compatibility with the Android monitoring app then get a subscription and you will receive an email that will contain credentials such as passcode and ID. Furthermore, install the cell phone surveillance app on the target cell phone having access to it, and once a user has installed it successfully then activate it on the phone. Moreover, users have to choose the option before the activation. Either they want to spy on WhatsApp Messenger secretly or not. Choose the best option and activate it on the target mobile phone. Now use the credentials such as passcode and ID and get access to the online control panel of the SPY24 mobile monitoring app for cell phones.
Conclusion:
SPY24 mobile monitoring app is the ultimate and reliable tool for parents and employees to make checks on the kid's and teen and employee's activities on the devices respectively. Parents can protect their children and employers can make a check on the employees to the fullest.