Snapchat Monitoring App Free
SPY24'S Snapchat Tracking Feature:
Everyone loves Snapchat and so do your children. They have a balance of privacy and freedom there. So, they would love to other people as well. With Snapchat being yet another social media, you can find your friends as well as total strangers on Snapchat. This alone makes it hard to rest easy not knowing if your loved ones can get in trouble talking to strangers who might harm them in different ways. For you to be relieved, SPY24 offers you help on monitoring your children while they're on Snapchat. With SPY24, you can see all of their Snapchat conversations and even control some parts of their activities as well. With SPY24 having many amazing and awesome features, you will have eyes and ears in every corner and you will be knowing everything that happens to them. Rest easy knowing that your children and loved ones will not get in trouble and if they do you are there to help theme even if they are not aware of that.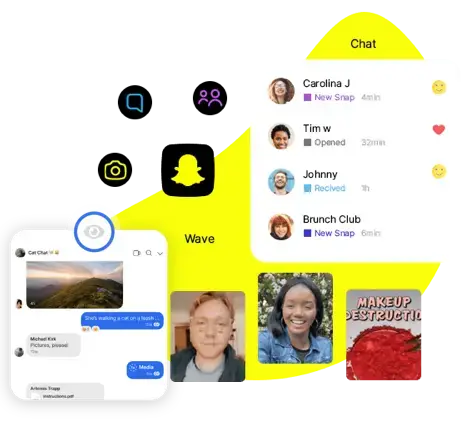 How To Monitor Snapchat On Android & IPhone Via SPY24?
Watch a tutorial to learn how SPY24 not just monitors Snapchat chats and group chats but also all shared photos on the target device.
Check Out All Our Great Monitoring Features!
Discover and learn about SPY24's Snapchat spy app feature. See how you can spy on Snapchat messages in a matter of minutes to protect your loved ones.
How does SPY24 work?
After creating your SPY24 account and having a subscription, you will need to install SPY24 on the target's phone. From that moment, SPY24 starts doing what it's best at. SPY24 will make its icon invisible from the roots of the system so that neither the targeted person nor the scanning applications notice it. Then, SPY24 starts tracking their every online or offline activity. Save them in the SPY24 database where there is security and privacy for every data that is requested and no one else will have access to the information that you requested. After that, you will be able to view, check, monitor those pieces of information, and you can even request for some actions to take place on their phone remotely.
What kinds of data can SPY24 save and keep track of?
With SPY24 you can keep track of all the data that are on the target's conversations with others including videos, photos, audio files, locations, text messages, and even the one-time viewable snaps. You will also have the exact date and time those messages were sent and received as well.
Next to those you will be able to have a list of contacts with the most accurate information and details linked to them including their account names, their potential phone numbers or email addresses, their age, or any other status or detail they've put on their Snapchat accounts, and many more.
You will be able to keep track of their video calls and the snaps they put or see from others with the LIVE screen recording feature that SPY24 has. This amazing feature notifies you whenever the targeted person launches Snapchat and it will start recording their phone's screen until they close Snapchat. In the meantime, you will be watching their phone's screen via this amazing feature as a LIVE video on your SPY24 web account. This feature is controllable and you can put the trigger on any other application as well. So that you can have the LIVE video if they are instantly changing applications while talking.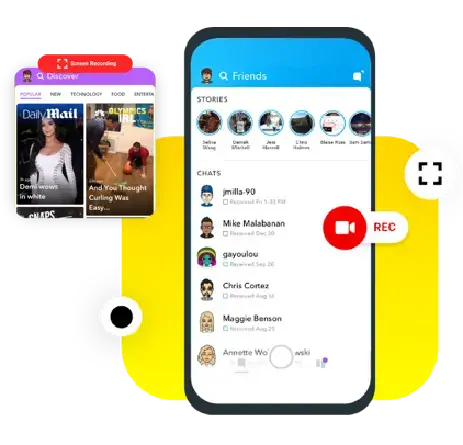 What can you control on the target's phone via SPY24?
SPY24 can give you different features. Some will only be for tracking and saving and sending data and some can be used to change tiny things around the targeted person's phone. For instance, SPY24's key logging feature is used to give you information about every last word that they write on their keyboard and you will be able to see whether they send it or not. This feature can also be used to block some specific words from being written or viewed.
Another example is that via an awesome feature that SPY24 has, you will have a list of all the contacts that the targeted person has on Snapchat. Next to it, you can even block some people from the targeted person's contact list as well. Let's say your children were talking to a stranger on Snapchat. After tracking their conversation and finding out that their intentions are harmful towards your children or your loved ones, you can use this feature to block that person from their contact list and they won't be able to unblock them from any of their IM apps or social media apps on their phone.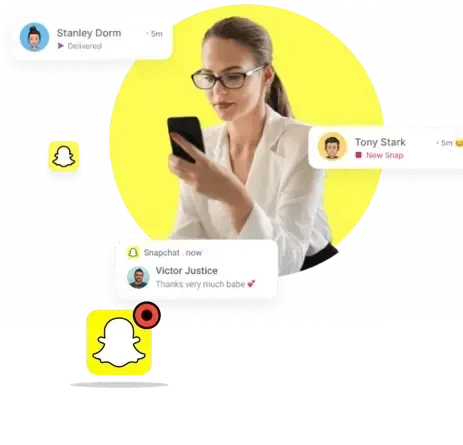 Frequently Asked Questions:
Why Do Parents Need The Snapchat Screen Recorder?
Snapchat is ranked as the second-worst app for mental health.
80% of teenagers use Snapchat daily.
30 and under users spent 40 minutes daily on Snapchat.
Many underage Snapchat users sign up for Snapchat without their parent's consent.
Snapchat risks your underage children to cyberbullying, anxiety, depression, body shaming, and FOMO.
Enjoy a powerful but simple monitoring solution. We've designed our spy app for Android to run flawlessly on all popular devices from Samsung to Huawei, Sony, Xiaomi, and even the iPhone. With a single license, you can use or switch it on any device as many times as you wish.
You Can Totally Rely On SPY24 – We've Got Your Back
SPY24 won't leave you alone with your subscription, because, for us, your satisfaction is on top of everything else, and with that, we promise to deliver only the best mobile spying app experience that you will never have like it again!
How To Monitor Snapchat Using Snapchat Spy Apps: Snapchat is one of the most popular and widely-used apps. This app is extremely popular due to the possibility to share media files like photos and videos which disappear in a certain period of time. Due to its nature, it is popular among adults and the young generation. But there is the other side of this nature. Very often users post things that they shouldn't post. And sometimes there are some reasons to check the Snapchat of another person for safety or protective purposes.
With the development of modern technologies, it became possible to monitor someone's else social media messengers, like the Snapchat app. Using Snapchat monitoring is not always easy, but it still, surmounts obstacles. Some apps give the possibility to monitor Snapchat without rooting.
So, how to view someone`s else snaps and conversations?
The easiest way is to take a phone away and check whatever you want. But actually, this variant is out of date and finally, you can be caught red-handed. The other variant is more reliable and convenient.
First of all, for using Snapchat monitoring you need to gain access to the target phone. Then you need to install our SPY24 Snapchat tracking software to view the snaps and texts of another person. After the installation process, you will get access to the message history, multimedia files, social media apps (Snapchat, Facebook, WhatsApp, and others), and many other things. Choosing a Snapchat tracker, you need to check if the app is compatible with your device and has all features you need
Who Needs To Track On Snapchat?
Today, there is a great range of monitoring programs, and people who want to track one`s devices will be pretty surprised to know about them. Today, spying apps have a set of different functions. Using them you can track: Nowadays, even a small kid has a smartphone and knows how to use it. For example: to send a text, give a call, install an app, or make a photo and share it online.
1. GPS location
2. Sent and received messages
3. Incoming and outgoing calls
4. Internet usage (bookmarks, search history)
5. Instant messengers (Facebook, Snapchat, WhatsApp, etc)
6. Installed apps (as well as blocking them)
7. Multimedia files
To spy on Snapchat, it is needed to install our SPY24 Mobile Tracking software on the target phone. This process is not difficult and will not take much time. You just need to have physical access to the device and a good Internet connection. Every person can use the Snapchat tracker for their own purposes. It can be used for safety purposes, and protection from information leaks, and deception. There are at least 3 cases when you may need it:
1. To monitor your kid`s phone;
2. To be sure your best half is not cheating on you;
3. To be sure that your employee doesn't share confidential information with third parties and doesn't use work phones for personal interests.
How To Spy On Snapchat?
Snapchat is believed to be an app where users can share their photos and videos and in less than 10 seconds all snaps will disappear. This temporary factor makes this app very popular among all users. Is it possible to spy on and track Snapchat? Yes, you can.
There are a lot of tracking apps that provide Snapchat monitoring. The installation process is not time-consuming and you don`t need to be technically savvy to cope with it.
Here is a short guide on Snapchat spy software installation:
1. Create an account With SPY24 Phone Monitoring Solution.
2. Purchase the SPY24 Application.
3. Get physical access to the target cell phone you want to track.
4. Install the monitoring software Monitor the target device from your Dashboard.