The Best Phone Tracker for Parental Control SPY24™
SPY24™ is a surveillance program for controlling or tracking employees, family members, and children, which will always keep you informed of their online activities, and they will never know that you are using this program on them; take your worries away for SPY24™ has come to your aid. SPY24 is the best monitoring and phone tracking application, Monitor the online contents that your parents, children, and employees watch or make anywhere, anytime with SPY24 app.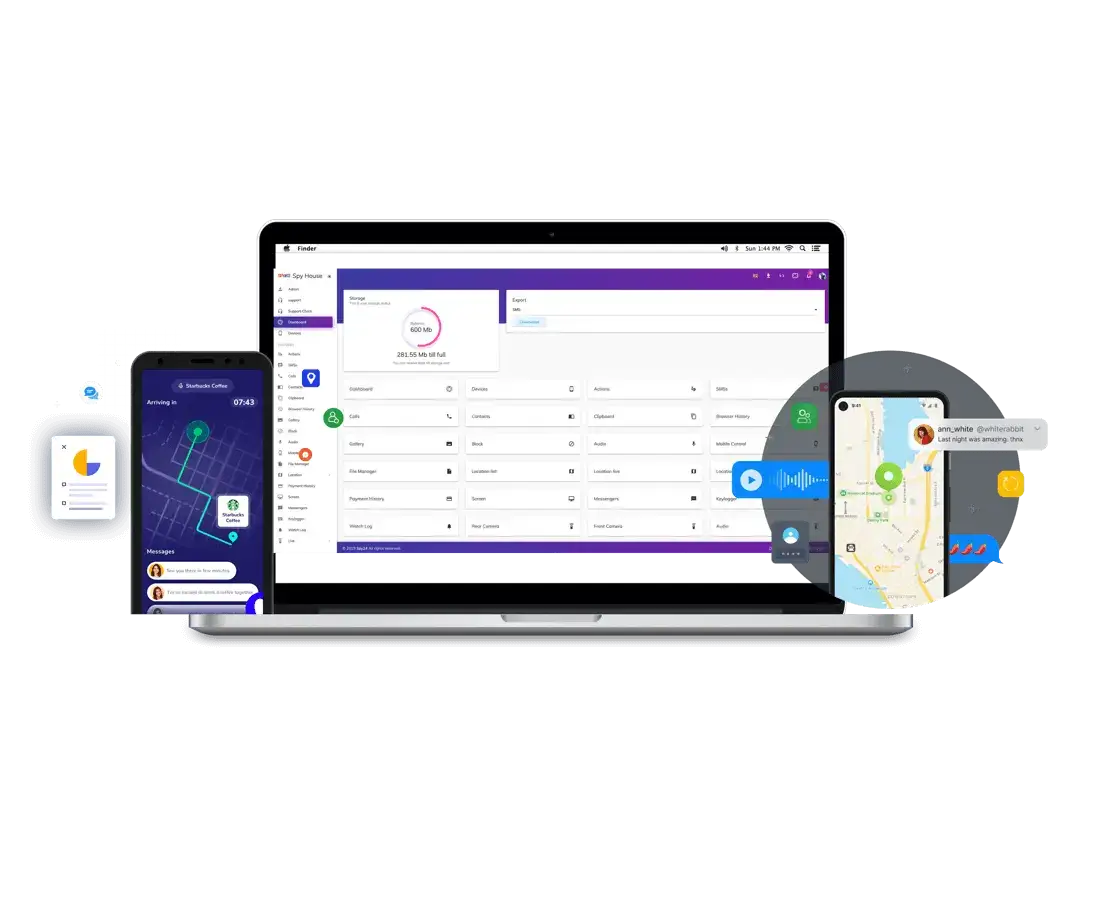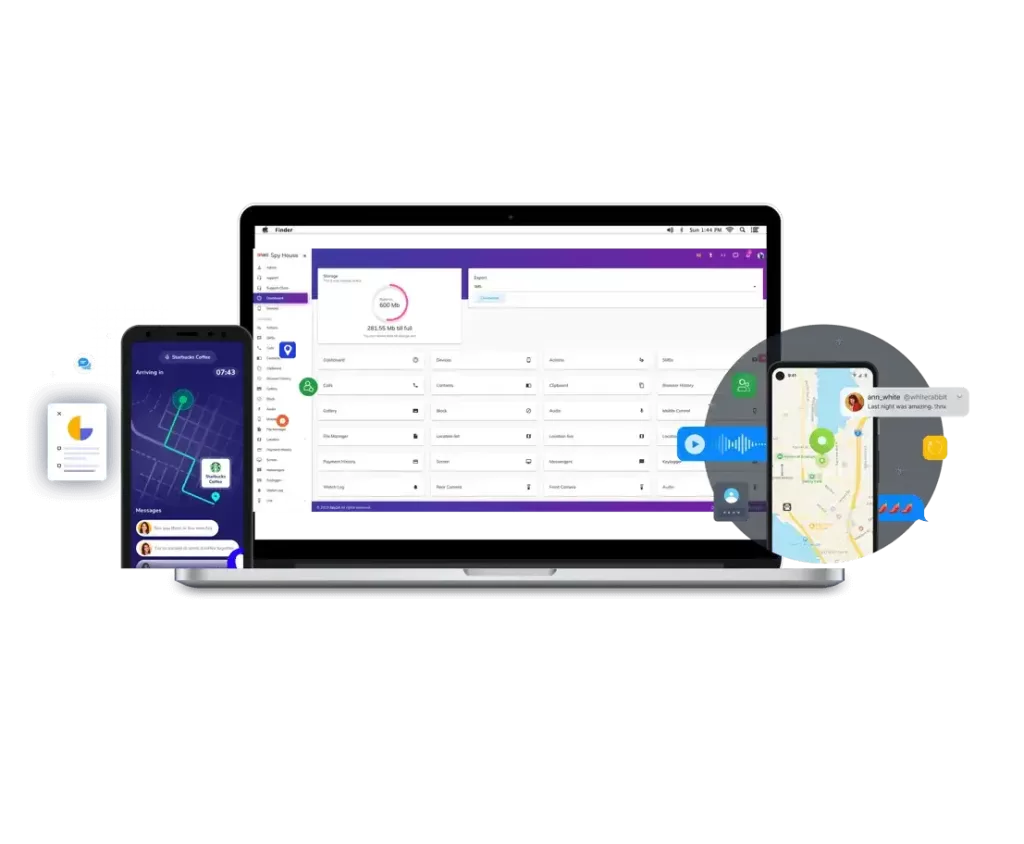 Features: SPY24 the World's Most ​ Advanced Parental Monitoring App
The Best Cell Phone Spying App & PC Monitoring Software In The World
You can use the links below to get the software for iPhone Spying Application & Android Spying Application that lets you keep an eye on your targeted person.
How SPY24 Protects Your Beloved People And Your Business Assets In 3 Steps
You can download the parental control software for iPhone spy and Android spy PC – MAC through the following links.
Why Choose SPY24 Mobile Monitoring App
What Our Satisfied Customers Have To Say About Us
ersonally, I have used other tools before like Mobile spy but I have to say SPY24 is the best among all these. The customer service is very efficient and always ready to answer all the questions and this was my motivation in the first place to subscribe. I would recommend SPY24 at any time. 10/10 for me.
I used another tracking tool called Mobile Spy before, but I think SPY24 is the best one. Their customer service is very helpful and answers all my questions. This is why I chose to use it. I highly recommend using SPY24. Overall, I give it a 10 out of 10 rating.
"I have a business and need to keep track of my trucks. The best feature for me is definitely the GPS. It shows the location and is constantly updating to new locations, making it easy to track my employees. I would definitely recommend using this product if you are trying to keep track of someone or something! Paige
Why SPY24 Is The Best Mobile Tracker
SPY24 has what it takes to be the most trusted parental control and employee monitoring software. It works in complete stealth and works on the targeted device's background so that your targeted device holder never notices it. What's more: SPY24 mobile spying software is so simple to use; even your grandfather can use it with no effort!
You Can Totally Rely On SPY24 – We've Got Your Back
SPY24 won't leave you alone with your subscription, because, for us, your satisfaction is on top of everything else, and with that, we promise to deliver only the best mobile spying app experience that you will never have like it again!
Monitoring Software By SPY24
Monitoring Software by SPY24 Free: Yes
Are you looking for reliable and powerful monitoring software for your business? SPY24 is a monitoring solution that offers a range of features and services to help you keep track of your employees and your data. With SPY24, you can monitor your staff's activities, view system performance, and more, all with the free version. Discover the benefits of SPY24 and see why it's the perfect monitoring solution for your business.
FAQs SPY24
Can I Keep An Eye On My Kid's Phone?
Yes, SPY24 is a monitoring tool that lets you keep track of almost everything on your child's phone. You will also be able to limit how apps or websites work and block calls that you don't want them to have.
What Happens When I Pay For The Subscription?
You will get a confirmation email once your order has been sent and your payment has been approved. If you haven't gotten the email in a couple of minutes, check your Spam folder. If you received the email, click on the link in the email to log in to your Control Panel and open the Installation Wizard, which will help you set up the application.
How Do I Install The SPY24 Application On IOS Devices?
Only if the iPhone has its 2-step authentication turned on, do you have to install the app directly on it. In other cases, SPY24 can get linked to the device through iCloud. If you put the iCloud login information into your Control Panel, the software will automatically connect to the device.
How Do I Install The SPY24 Application On Android Devices?
Use the login information sent to you in the confirmation email to get into your Control Panel, and then follow the instructions in the Installation Wizard. Please keep in mind that Android devices need to be "rooted" to use Premium features on them. If you don't know how rooting works, you can get more information by contacting our support.
Is It Possible To Track A Phone Number From Afar?
No matter what the online articles say, you can't use a phone number to find out where a phone is. Even if you find a way to get information from a phone number, it won't help once the person changes their sim card. But with SPY24, you don't have to think about how to track a person with their cell phone number, because it doesn't need the sim card information to work. So, even if the devices' phone numbers change, you can still use the software to its fullest without having to reinstall anything. Stay up-to-date with SPY24 Hidden Cell Phone Tracker: With the best phone tracking software, you will never have to worry about anything. With the SPY24 tracking app, you can see who your child is talking to on Facebook or WhatsApp, track their GPS routes, or block dangerous websites from afar. One-click will take you to a new level of safety online.
Is SPY24 The Best Tracking App That Stays Hidden?
SPY24 is one of the most well-known phone tracking apps. It has more than 30 monitoring features, such as limiting calls, tracking social media, tracking GPS location, blocking websites, and much more. We also offer multilingual support 24/7, so feel free to get in touch with us at any time.
Does SPY24 Track Cell Phones In Real-Time?
How often the data gets updated depends on how well the targeted device is connected to the Internet and how often you set it to update. The shortest time period, between updates, that you can choose is 5 minutes.
Can I Listen In On A Phone Just By Knowing Its Number?
As we have already said, you can't use someone's phone number to spy on them. To keep track of what they do on their phone, you would have to install tracking software on them.
Can A Person's Phone Get Tracked Without Them Noticing?
You have to ask the user's permission before you can put software on their device. SPY24 does not want the software to be used illegally in any way. But you can monitor someone's device without telling them if it has to do with the safety of your children who are underage.
Is Using SPY24 On Others Legal?
Yes, it is perfectly legal to use software like SPY24 to keep an eye on your kids. But it's up to you to decide if you have the right permission to put it on someone else's device. If you're not sure if this kind of software is legal in your country, you should talk to a lawyer.
Can I Track Phones By IMEI Or Phone Number?
No. Installing monitoring software on the device is the only way to keep track of what the targeted device is doing or where it is.
Monitor Your Family's Online Activity with SPY24
With the rise of technology, it's more important than ever to monitor and protect your family from the dangers of cyberbullying and online predators. SPY24 app is a parental control app that gives parents peace of mind while providing their families with the freedom to explore the internet safely. Let's take a look at how this comprehensive monitoring software works.
How Does SPY24 App Work?
SPY24 app provides you with an all-in-one solution for tracking, monitoring, and controlling your family's online activity. This monitoring software uses advanced algorithms to capture user data, allowing parents to gain insights into their child's digital behavior. Parents can also block inappropriate websites and restrict access to specific apps on mobile devices.
The app also features GPS tracking capabilities so parents can locate their children in real-time and receive notifications when they leave or enter certain areas. Lastly, SPY24 app has a special "Geo-Fencing" feature that will alert parents if their children enter any restricted zones such as unsafe neighborhoods or schools. It's the perfect way for families to stay connected while still maintaining security and privacy on the web.
What Are Some Other Benefits?
Aside from its robust parental control features, SPY24 also offers an array of other helpful benefits. For example, users can use its email monitoring feature to view incoming emails sent to or from their child's device—perfect for catching any suspicious activity right away! Additionally, users can access detailed reports of all text messages sent or received by their child's device—allowing them to keep track of conversations without having to pry into private matters.
Is it possible to track a cell phone for free?
Welcome to SPY24 – the ultimate parental control app for free!
If you're a parent and looking for a reliable and free way to monitor your kids' activities on their mobile phones, then SPY24 is the app for you. It provides parents with powerful monitoring and tracking capabilities so they can be sure of their children's online safety.
SPY24 offers a unique set of features to protect your kids' online privacy and security. With this app, you can track the location of your children's phones, monitor their calls and text messages, block apps and websites, and set time limits and content filters.
For parents with iPhones, SPY24 provides parental controls that are easy to set up and manage. You can block apps, control app usage, restrict access to certain websites, and set time limits and content filters.
For parents with Android phones, SPY24 also offers parental controls that are easy to install and use. You can block apps, restrict access to certain websites, and set time limits and content filters.
If you want to track a cell phone for free, SPY24 can help. This app can track your children's phones and provide you with detailed reports about their activities. You can also set up alerts that notify you when your kids are accessing certain websites or apps, so you can take immediate action.
With SPY24, you can be sure that your kids are safe online. With its powerful parental control features, SPY24 is the ultimate app for keeping your children safe while they use their phones.
Conclusion:
With SPY24 monitoring software, you can ensure that your family is safe online while still enjoying the freedom that comes with using technology responsibly. The app's comprehensive suite of features ensures that you are always in control—whether it be tracking where your children are in real-time or blocking inappropriate websites and apps on mobile devices—this parental control app does it all! So why wait? Try it out today and put your worries at ease!