Call Logs Monitor – Call Logs Spy On IOS – Android
SPY24: The Best Spy Call Tracker
Keeping an eye on your loved ones' activities on their cell phones is inevitable these days. The call logs spying feature of SPY24 is the best means of secretly monitoring the communications of your children or employees. SPY24 gives you the ability to understand who your target user is talking to without being detected. Using this feature, you can easily see the history of call logs to make sure the target user is not contacting the wrong people. So if you want to track everything from missed calls, numbers, dates, and times, you've come to the right place. See the demo or click on the "Buy now" button below to start monitoring call logs on your target device.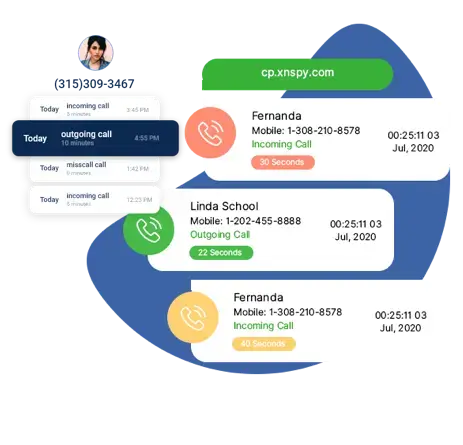 How To Monitor Call Logs Via SPY24?
Watch a tutorial to learn how you can monitor call logs using SPY24.
Monitor Call Logs History & Explore the Details of All Incoming and Outgoing Calls…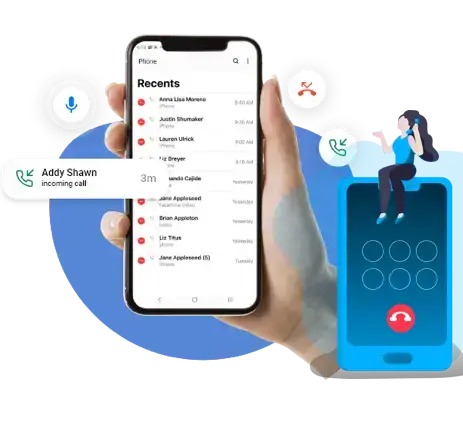 What Is SPY24 Call Log Monitoring?
Using SPY24, you'll get informed about every call made or received on a specific phone. In fact, if you want to check all the details about the names, numbers, times, and dates of all calls, SPY24 is the best option you have. The call logs monitoring feature of SPY24 is so comprehensive and user-friend that you won't need to try any other app. So if you want to keep track of all calls with all the details on the cell phones of your children or your employees, don't go anywhere else. You can easily download and install it on the target cell phone and use it for a month without having to pay.
Block Calls – Monitor Strange Callers On Kid's Cell Phone
A great feature of SPY24 is that you can control or block specific calls on the target device. In other words, you can secretly check if your children are talking with strangers or people you don't like. You can also decide to block the people you don't want your kids to be in touch with to keep them safe. SPY24 informs you of who is calling and then gives you the chance to block the call remotely. This is a great way to protect your kids by letting them know who they can talk to and who they have to avoid talking to forever. SPY24 lets you define approved people and block calls from people you might consider dangerous. If you're worried about suspicious calls on your kids' phones, use SPY24's block calls feature to make sure your loved ones are safe.
VoIP Call Logs Monitoring App
VoIP or Voice over Internet Protocol is another channel that you might have to monitor to make sure about the safety of your children. SPY24 has a great feature for VoIP calls to help you track VoIP call logs on the target device. The VoIP call logs monitoring feature of SPY24 lets you keep an eye on all instant messaging apps that provide voice and video calls on the internet. This is the best means of preventing kids from contacting strangers and talking about sensitive matters via messaging apps. So if you want to recognize what voice calls your kids have made and received via social apps such as Instagram, WhatsApp, Facebook, Telegram, Skype, and IMO, you can rely on SPY24. This feature gives you all the details about the calls and allows you to keep a record of all spoken and unspoken chats on messaging applications. So if you're worried about your kids' conversations over the internet, you have to use the VoIP call logs monitoring feature of SPY24.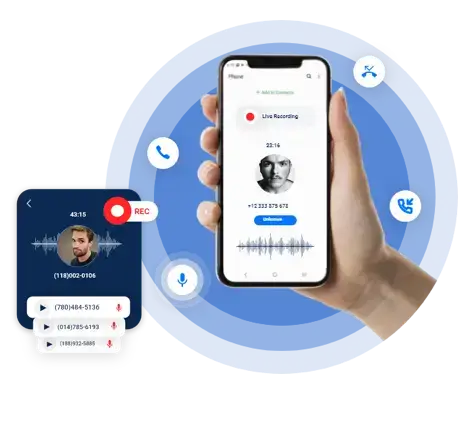 Remote Call Recorder – Live Voice Call Recording
Do you want to have some evidence of your partner's conversations on his phone? The call recording feature of SPY24 is the best option for you to record phone calls on a device remotely and save them to listen to later. This feature gives you the ability to automatically record a live call immediately after the user calls someone or receives a call. SPY24 saves the recorded data from the target device and sends it to your dashboard which is accessible via any web browser. Then, you can also download the information about the recorded calls and listen to the conversations and use them as proof in case you need them.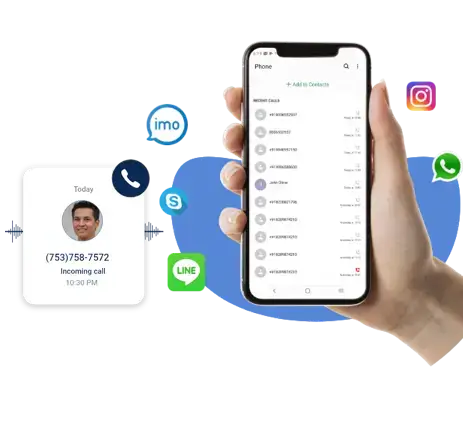 Best Call Log Tracker – Check Cell Phone Call History With SPY24
Why You Should Keep an Eye on the Call Logs of Your Children? 
Tracking call logs on the cell phones of your loved ones can help you in many ways. When it comes to the safety of kids, calls are a reliable source of information about their activities and contacts. If parents can use the call logs monitoring feature, they can be almost sure that their children are not in touch with strangers or anyone that they think is not suitable to be a friend with their kids. In fact, SPY24 lets you determine if your kids are talking to a person you don't like. So SPY24's call logs monitoring feature is the best option to make sure that your kids are in touch with the right people.
Why You Should Keep an Eye on the Call Logs of Your Employees? 
Business owners are always worried about their employees' efficiency and the time they spend on their phones, especially company-owned devices. If you are a business owner, you can make sure that employees are talking to the right customers, not your competitors or even to their friends during working hours. Monitoring call logs at the workplace is the best means of making sure about information leaks in your company. 
SPY24 lets you keep an eye on call logs history to 
See every call that comes in and goes out. 
Use the address book to find out more about a caller. 
View timestamps.
See call lengths.
Check the order of events.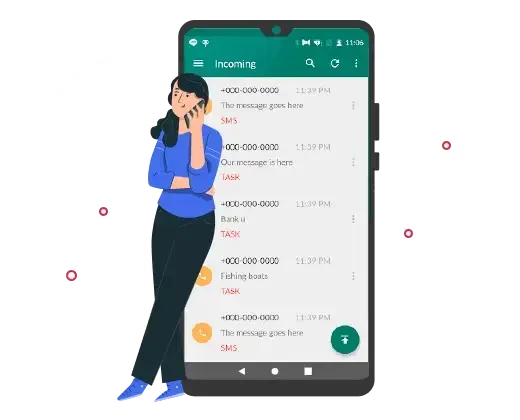 Frequently Asked Questions:
Why Is The Monitoring Call Logs Feature Useful?
This feature makes this possible to avoid a lot of harmful events to your kids by keeping track of their incoming and outgoing calls. With call logs monitoring, the contact's name, call time, and duration will all be available for you to see and make sure everything is OK. When all of your kid's calls are checked by you, the possibility of bullying, cybercrimes, and other dangerous contacts will be minimized. Using this feature, you can learn everything about your top friends by checking the top 10 frequently contacted people. So this is one of the best features for the safety of your children.
Why Use SPY24 To Monitor Call Logs?
Here are some reasons why you have to choose SPY24 for call logs monitoring:
One-month free trial
24/7 customer support
User-friend
No rooting/jailbreaking required
small l file size
Completely secret
Online dashboard to view the result
Diversity in packages
Compatibility with all devices
Affordable premium prices
CALL LOG MONITORING
Check all the Incoming, Outgoing, and Missed calls of the target device with our SPY24 call logs monitoring feature. AddSpy shows all the real-time call log details with the time stamp.
You Can Totally Rely On SPY24 – We've Got Your Back
SPY24 won't leave you alone with your subscription, because, for us, your satisfaction is on top of everything else, and with that, we promise to deliver only the best mobile spying app experience that you will never have like it again!
Call Monitoring | SPY24 Call Logs Tracker | Number Details
It is normal that you might worry about your kids' surroundings or about the calls your employees make because they might talk to representatives of a rival firm. Our task is to dispel your worries by supplying you with a tracker and, thus, quick access to the call history of the target device.
WHAT IS CALL HISTORY MONITORING ABOUT?
Our spying Software will become your loyal assistant tracker in the discreet and permanent tracking of call history on your kid's/employee's phones. Here's what our excellent spying Software tracker can do for you:
Access to our tracker for all incoming/outgoing calls of your minor children or workers
Find out the contact names and numbers.
Review details (names/numbers/emails etc.) of all contacts saved in the calls log.
Monitor the time, duration, and date of all calls on the phone, : incoming, outgoing, or declined.
Review the aggregated data and details about the call history in the most convenient way – on the tracking panel of your personal spying account, at any time and at any place.
The SPY24 Call Recording application can slightly record all the phone calls which people makes in a whole day or from the monitored gadget. One can get all information about the calls made by the device; he/she want to know about the help of the tracking tool. With the help of the hidden call monitoring application, individuals can simply call the records and get to know about the whole conversation, which is done between people. Therefore, users can record all the calls by using the app whether it is an incoming or outgoing call.
People can record the call of the specific contacts if they want to. Otherwise, they can keep the data of all requests conversation, which is made by the person or the one's device, which you are following. The entire records are downloaded on the main dashboard of the application and, the person can get all the information about calls and details like call time, date, and conversation in the section. All they need is a good internet connection for processing the show work. If users want to listen to it later, they can also download all the recordings on their device or mobile phone and hear it whenever they wish.
Call Tracking How To Record Calls Through SPY24 On Device
SPY24's hidden call recording application is considered the best application for the new generation as a call tracking tool, and now people can get all the information about their beloved one's activities on devices more efficiently without letting them know. They can stalk to gather all the data of calls from the device. The users do those phone calls by installing the application on their equipment. Any individual who is willing to know about all the things which are done by their friends or Partner can use the format of a hidden application. The tool will let you know how many calls are made by the monitored devices, and what kind of conversation they had with the person. The tracking tool is highly recommended by users who want to control someone's device properly. The SPY24 application is the next generation of technology, which will help parents to keep their eyes on their children and people on their partners, and so on.
It Helps Parents To Take Care Of Their Children
As technology made it easy, the recent era is the era of digitalization. The new generations are also using smartphones for several uses. Some students are using the gadget for study, and fewer are using the device for fun and entertainment. Now, mobile phones become an essential need for people. There are numerous activities done by the users on their gadgets like phone calls, messaging, video calls, internet surfing, social media, and many more. Among all these activities, there are also some hidden things done by the children on their phone, sometimes which is not suitable for the little ones. By using smartphones now, partners start to cheat on their lovers, and children start lying to their caring parents. It is a very intense situation for both generations. Hence, as a result, many people have started using the hidden recorder application to keep their eyes on the victim. They began to use the Automatic Spy Call Recorder for knowing all the activities done by their beloved ones in a whole day.
Individuals Can Clear Their Doubts
People now start using the Spy recorder for knowing the routine of the person they love or used by parents to take care of their kid's activities, and it is used by the boss to follow their employees as well. They can quickly get the details about the call made by the target in their day, and they can also hear the conversation which is held between the person and the caller. With the help of Spy Call Recorder, people can quickly clear their doubts and live freely. One can use the Spy tool to know about the intention of the victim by accessing their conversation and calls.
Top-Notch Features Of The Spy Call Recorder
The SPY24 Cell Phone tracking app comes up with a top-notch feature, which is useful for individuals who would not know about the routine of their beloved ones they are on phone calls. Spying through the application will give you better and more positive results as well as a mind-blowing experience.
Advantages Of Using The Spy Call Recorder
Numerous benefits are avail to the user of the application. The accessibility of the tool is straightforward and easy. Moreover, people do not need any technical knowledge to use the application. Anyone can run the software and do their stalking with the help of spyware. You can get information about all things which are done by your partner, children, or employee in their whole day. If one is thinking that their partner is cheating on them, then, a person can install the application hidden on their device, and they can find out the truth quickly.
For more, pay attention to the pros of using the SPY24 Mobile Phone Monitoring app.
• It is mainly used by parents to control their children, so they cannot do anything wrong on the internet.
• Spying application also helps in finding out your lost gadget or mobile phone by its tracing feature.
• Nobody can know about the application because it is hidden.
• You can call or chat with our technical support team any time as it is available 24*7 for users.
Call Logs Monitoring Tracker
Not only the call logs, but you can easily check out accurate timings of the calls that are already done by the target. Users of the SPY24 app will find an interface of the dashboard that is really valuable for people. Therefore, you just need to focus on each aspect that will describe everything about it. It will show you –
For more, pay attention to the pros of using the SPY24 Mobile Phone Monitoring app.
• Call Logs.
• Call Duration.
• Timings that will b accurate.
• Phone numbers.
You can also check out the outgoing and incoming directions and many more things that are really needed to be checked by the user. Along with this great option, you can easily pretend like you have done nothing, but this great app will work really quickly and allow people to do anything they want. It is really a fantastic option for you that is really seeking your attention.
Check Out Phone Numbers
There will be a list of the call logs in which you will find the name of the call along with the number, or you take its digits into the phone. You can easily catch the target's phone that how looks attractive to you, so get ready to take advantage today.
Outgoing Or Incoming Calls
Instead of the phone number, you will find the option of the direction of calling, so along with this, you can check out the target's phone that he or she called someone or just pick up the call into the phone. It will prove really valuable for you to get the detail of the call logs via this phone.
Call Duration
The duration of the phone call is really needed to be checked, so we can say that it is really considered the most advanced option for you that will save you time as well. In short, you don't need to fight with the partner to check out his or her phone.
Exact Timing
The time of the calling is really needed to check out, so now you can checkout the accurate timing of the call with each number in the call logs through the application of SPY24 call tracking app, so check it out perfectly. It is very easy along with the great app, which will provide you longer benefits, so get ready for this magic.
Users are able to delete the actions as well in the section of the call logs quickly and easily, so it is considered the most advanced option for you. It would be a really valuable option for you to choose the great option for yourself. Once you decided to enjoy the real benefits of the call logs that are really quite impossible with any other application, you can trust blindly the outcomes of the SPY24 App.
Helpful For Employees
It is really helpful for businessmen to check out who is working and who is not along with the application. It will take a couple of seconds in order to check out everything, which is really easy for people. It will clearly show everything you need which is really fantastic, that is really impossible as well without using this kind of app. It really works, and you can easily check out more about it by visiting different online sources.
Stay Assured To Be A Good Parent
When you are becoming a parent then, you always worry about the kids and the phone that they are already using. Therefore, along with the amazing SPY24 call tracking application, you can easily spy the calls logs of the kid's phone quickly. It will automatically tell you everything about the amazing outcomes that are really amazing, so get ready to start taking its great advantages, which are really unbelievable. Not only this, parents should install the application directly into the kid's phones and be able to check out everything they need in order to put more restrictions on other things.