Live Front & Back Camera Spy App
Hack Someone's Cell Phone Cameras
One of the most advanced spying features offered by SPY24 is hacking a cell phone's rear & front cameras. Using this feature, you'll be able to see everything that's happening around the target cell phone. The live camera spy feature is the best way to monitor your husband's activities when he's away. If you think there is something suspicious but you can't find it on his cell phone, you have to watch his surroundings to make sure he is not doing anything wrong. With our live camera spy feature, you'll have an extra pair of eyes on your kids and can take pictures and videos of their activities without them knowing. So if you're worried about your family members and want to make sure they're not in an inappropriate place, you'd better try the free trial of SPY24's camera spy feature.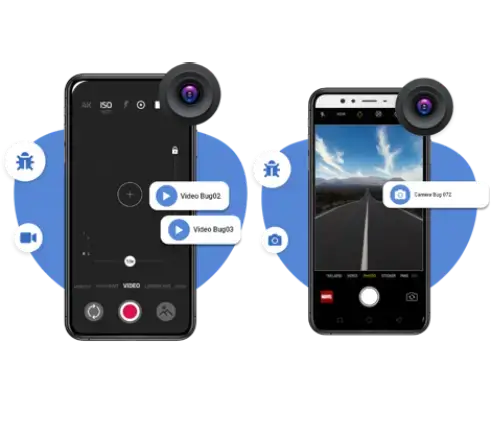 How Does SPY24's Live Camera Spy Feature Work?
Watch this video to learn how to spy on your husband's cameras using SPY24.
What Features Does SPY24's Live Camera Hacking Offer?
Here is a summary of what you can do with our camera bug feature:
Why Do You Need to Hack Someone's Camera?
You might think that spying on someone's activities and recording them is not illegal. Of course, monitoring your kid or your husband is not against the law. So we have to differentiate malicious hacking from controlling our loved ones. Here are some reasons why you need to spy on someone's cameras:
Parental Control 
The most important reason why you need a camera hacking feature is parental control. Although there are many features like call recording, SMS reading, and social media monitoring, you can't be sure what your kid is doing when he or she is out. How to know what they're doing when they're at a party and what they are talking about? That's why you need our live camera recording feature. Using SPY24's camera hacking feature, you'll be able to watch everything that's happening around them. This is a great way to make sure they're not doing any forbidden thing. So why wait? Try our free trial to see the difference it makes in your life.
Catching Your Cheating Partner 
In case you want to make sure what your husband is doing out there and who he is talking to, SPY24's live camera spy feature is the best option for you. If you've tried other ways like checking his chats or call logs and you didn't find suspicious activities, you have to try this one. This is actually the ultimate solution to your doubts because you'll see everything he's doing without him knowing. 
Secretly Monitoring Your Employees' Activities
What if you send your employees to missions or meetings? You have to find a way to monitor their activities. Sometimes you can't trust their words because they might want to hide something. So you'd better use SPY24 on company-owned cell phones or laptops to see everything they're doing on missions and meetings without being detected. This is a great way to protect your investment and ensure compliance with your business culture in the workplace.
Why Should You Choose SPY24's Camera Bug Feature?
We believe that SPY24 is the best option available for spying on someone's camera. Here is why:
Compatibility with Android, iOS, Windows, and macOS
SPY24 is compatible with all operating systems and you can use it on all devices like cell phones, tablets, iPods, and PCs.
Non-Rooted & Non-Jailbroken
Almost all spy apps out there provide their features on rooted Android and jailbroken iOS devices. SPY24, on the other hand, offers monitoring services on non-rooted and non-jailbroken devices.
24/7 Support
SPY24 gives full support at every step of hacking someone's camera, so don't worry if you're not an expert.
Multiple Devices
You can buy a package and use SPY24 on several devices. This is great for businesses or families who have several teens.
30 Days Free Trial
You'll have the chance to use SPY24's camera spying feature for free for 30 days.
Easy Installation Process
You can install SPY24 in a few minutes. You just need to have one-time access to the target cell phone to install it.
All-In-One Dashboard
SPY24 sends all the collected data to your dashboard that's accessible using any web browser. So don't have to install any extra apps to monitor the data.
Quality of Videos & Photos
SPY24 captures videos and photos at the best quality so you can use them later without any problem.
Optimum File Size
SPY24 saves and collects the recorded videos/photos at the optimum file size to prevent consuming too much internet traffic.
Offering 250+ other Spying Features
When you install SPY24, you'll get more than 250 monitoring features apart from camera spying. This is great because you don't need to use other tools for monitoring other activities of your target user.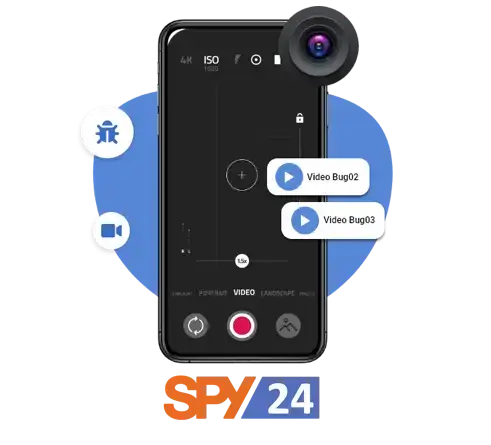 Convinced? Start Spying on Cameras 
Now that you've become familiar with the power of SPY24, you can use its camera spy feature in 4 steps:
Create a Free Account
The first step is creating an account on SPY24. It just takes a few clicks. 
Choose the Device & Plan
On your online dashboard, you'll see several options (iOS, Windows, Android, and macOS) to choose from. After choosing the device, you can buy a plan or continue with the free trial.
Download & Install SPY24
The installation process is super easy. It just takes a few minutes to download and install SPY24 on the target device.
Hack the target Device's Cameras
Now, you're all set! You just need to get back to the dashboard and send recording commands to SPY24 to hack the cameras and record videos.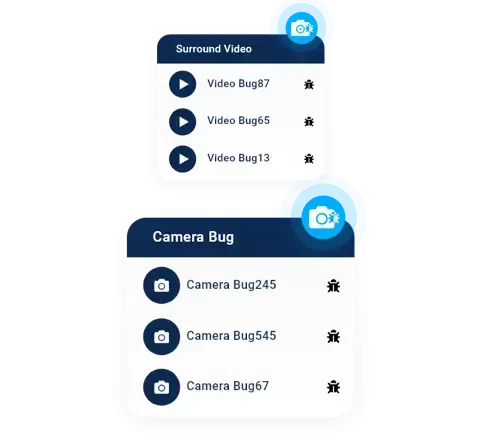 Frequently Asked Questions:
HIDDEN CAMERA CAPTURING
SPY24-Spy Camera Capturing: Capture an Image using the phone's camera with our SPY24 hidden camera feature.
Our unique camera capturing feature lets you take over a target mobile device's camera discretely and remotely, letting you take up photos with the back and front cameras. Once SPY24 has been installed on the device, pictures captured with our SPY24 photo capturing are automatically uploaded to your secure user dashboard for convenient viewing later — and because this feature is unique to SPY24, you won't find it with any other competitor. READ More: Best Phone Remote Spy Camera Apps on Android.
What You Can Do With Our Spy Camera Feature:
There are many benefits to using our spy camera feature. Firstly, it gives you access to information you may not have had before, including, for example, finding out where someone is or collecting information needed for a work matter. Besides this hidden camera capturing has many useful features:
1. Take control of a phone or device's camera anytime from anywhere.
2. Preview any photos before you save them.
3. Download pictures to your PC or your mobile device.
4. Go completely undetected at all times.
5. See where the target is at any given moment
You Can Totally Rely On SPY24 – We've Got Your Back
SPY24 won't leave you alone with your subscription, because, for us, your satisfaction is on top of everything else, and with that, we promise to deliver only the best mobile spying app experience that you will never have like it again!