SPY24: A Premier Signal Messenger Spy App
SPY24'S Signal Tracking Feature:
With Having over 40 million active users, instant connection, user friendly environment and tight security on its users' data, makes Signal instant messaging application one of the most popular applications over many countries including United States, India, and around more than 80 other countries all around the world. This application can be popular in your country and it can even be one of the main IM apps that your children or your other family members use. As a parent, there's always concerns for our children's wellbeing and safety. They might cross roads with people who have harmful and bad behaviors. Luckily SPY24 is here to help us monitor our beloved people and protect them from harmful strangers. SPY24 has many features that come useful for tracking someone's online activities on Signal Messenger as well as many other apps. So, dear parents and employers, you can rest easy knowing with SPY24, neither your beloved people are going to get hurt from others online, nor your secrets to a successful business is going to get leaked by your employees.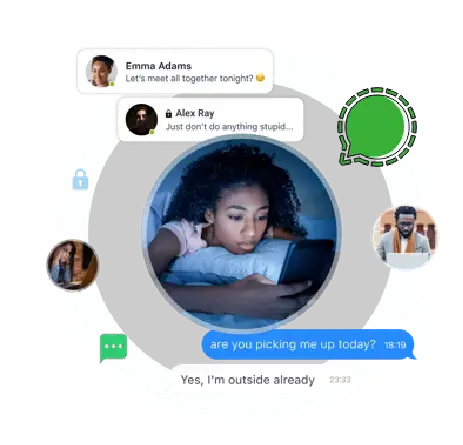 How To Monitor Signal On Android & IOS Devices Via SPY24?
Watch a tutorial to learn how SPY24 not just monitors Signal chats and group chats but also all shared photos on the target device.
Monitor Signal Messages Features:
Learn how to monitor Signal Messages conversations, including chats and pics, without having to look over their shoulder.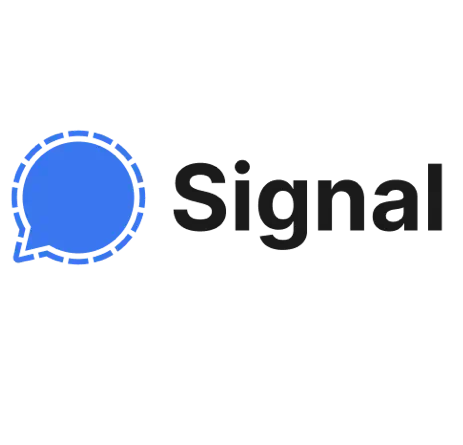 Can I keep track of someone's Signal Messenger chats?
The very main reason for the use of Signal Messenger is the nice, fast, and secure conversations. So, the main reason to try and monitor someone's Signal Messenger is to see what they send and receive in their conversations with others. SPY24 has amazing features that help you monitor people's Signal Messenger chats. With its features, SPY24 keeps track of all of the text messages that the targeted person sends or receives in their conversations with others, saves them as a document type of file, and finally sends them to SPY24's database so you can view them on your SPY24 account. Sometimes, there is more to the conversations than just simple text messages. That is why SPY24 has another feature that keeps track of all of the media in the conversations of the target's Signal Messenger, saves, and sends them to the database for you to view, monitor, and track them. These files include links, photos, audio files like music, videos, GPS coordinates, documents, and all other types of files.
These files will be updated whenever there are new messages on the conversations. You will also have all of types of deleted messages on their conversations too there's only one rule on that. SPY24 can't back up all the deleted messages on the conversations before the installation of SPY24 phone tracking application on the targeted person's phone.
How to track
someone's video calls on the Signal Messenger app?
SPY24 has this feature that notifies you and starts recording the phone screen of the targeted person and sends a LIVE video request to the SPY24 website whenever the target launches their Signal Messenger. This LIVE video is visible and available to you and only you. With this amazing feature, you will be able to see and hear everything that is happening on and around the targeted person's device not to mention with this you can track and monitor all of the video calls made and received on the Signal Messenger of the target person as well. You can change the setting of this awesome feature so that you keep tracking the target even when they change applications while using Signal Messenger.
About the privacy, safety, and security of the pieces of information requested by you, we have to proudly say that SPY24 has strengthened its database from every possible point. This way you can rest easy knowing none of your requested data for tracking like the voice recordings, screen recordings, or other requested pieces of information will get leaked on the internet and sometime after not using SPY24, the data will automatically be deleted. Therefore, nothing will be in our hands after you leave either.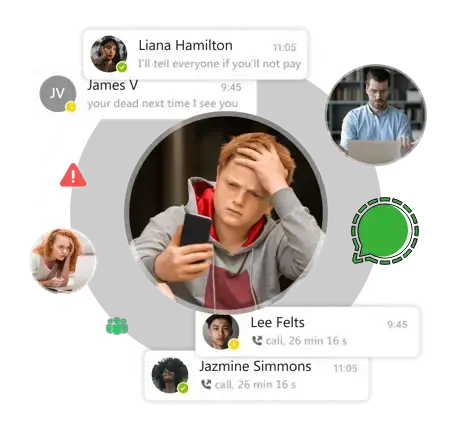 What does SPY24's Contact listing feature for the Signal Messenger app do?
For you to know who they talk to on the Signal Messenger application, you will need the list of people who have the Signal Messenger app and are talking to the targeted person. SPY24 has this feature that gives you a list of those people with full detail about their accounts linked to each and every one of them. These pieces of information are things such as those people's linked phone numbers and email addresses used for creating those accounts, their self-described information on their accounts' pages, the exact date and time stamps for the creation and modification of their accounts, and much more about them.
Not only you can use this amazing and awesome feature to view all those details, but you can also use it to block people that you think do not have the appropriate behavior to interact with your beloved people as well. You can do so from the targeted person's phone so that they don't notice what happened and so you don't get caught either.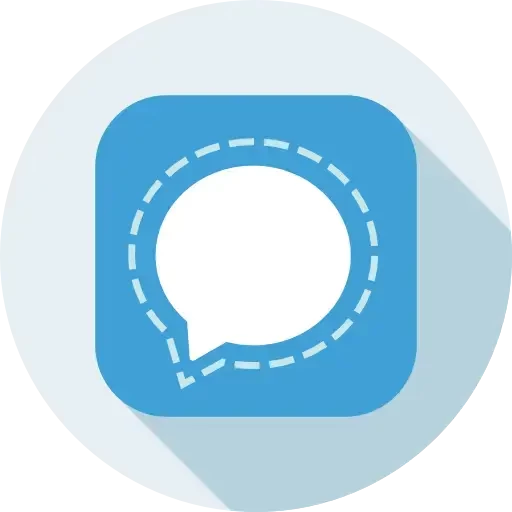 Frequently Asked Questions:
The Necessity Of Parental Control Installation
The signal Spy function helps you to spy on the messages sent and received on signal Spy. Moreover, you can even check all the deleted messages.
This function is beneficial, especially if your teenage kids are using signal Spy. You cannot stop them or ask for their phone directly. They will become offensive and act in a rebellious way. It would be best if you kept an eye on them secretly.
signal Spy Messages You can spy on all the sent and received messages on signal Spy. Moreover, you can check the content of the message and read the chats.
You can check the date and time of each message. However, you can check the details of the sender/receiver. You can check their name as well as their picture.
signal Spy Media You can check the media sent and received on signal Spy. However, you can even check all the deleted messages. You can view the information about the sender/receiver.
Benefits of signal Spy Spy Kids mostly use signal Spy. You need to use this spying function if you want to monitor your kid's activities.
Kids Your kids can be involved in sending provocative pictures to others or asking for such images. It spoils their morale and mentality. It would be best if you guided them.
They can also be harassed and bullied on signal Spy. You can check if they are facing any problems and immediately report them. They can be involved in chatting with strangers.
These strangers can be dangerous. Moreover, they can blackmail your kids.
SPY24 Signal App Monitoring Empowers You To:
monitor highly secured, and end-to-end encrypted social messaging service
Track text messages sent and received and monitor Group chats
Read self-deleted messaging on Signal messenger with tracker app for private messenger
Record & listen to the Signal messenger Voice calls without root
Signal messenger app monitoring is best for setting parental controls on kids
Best monitoring app for monitoring on employees' activity on private messenger
You Can Totally Rely On SPY24 – We've Got Your Back
SPY24 won't leave you alone with your subscription, because, for us, your satisfaction is on top of everything else, and with that, we promise to deliver only the best mobile spying app experience that you will never have like it again!