Monitor All Text Messages Using SMS Tracker
SMS tracker is a useful monitoring feature offered by SPY24 that allows you to read all the text messages on someone's phone. Our text message spy feature can help you with parental control and employee supervision. Not only does it monitor sent, received, and even deleted SMSs, but it also keeps track of all other text messages like social media chats and emails. SPY24 is compatible well with both Android and iPhone devices and doesn't require rooting and jailbreaking for SMS tracking. So if you want to make sure your kids are not typing anything inappropriate on their phones, try the free trial of our text message monitoring features.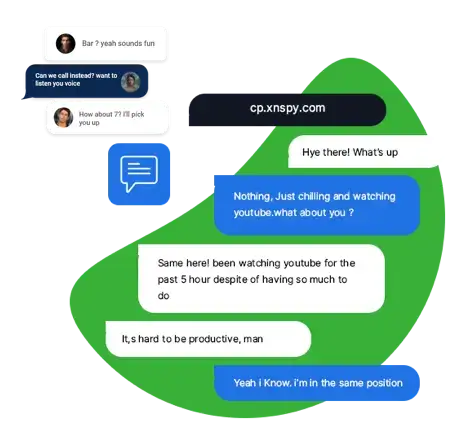 How to Remotely Read Text Messages Off Any Android or iOS Device?
Find out how you could remotely spy on text messages off a monitored device using SPY24.
What Does SPY24 Text Message SPY Feature Do?
Here is a summary of the capabilities of the SPY24 SMS tracker: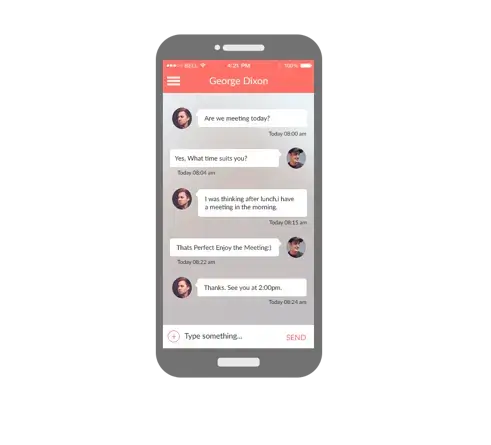 Why Do I Track Someone's Text Messages?
Many people think that all the spying attempts are malicious. But the truth is that sometimes you need to spy on someone to make sure he or she is safe. Here are some important instances of using text message trackers for the safety of our loved ones:
Parents can prevent children from sexting
Have you ever wondered what your kids are typing on their cell phones? As you know, sexting is one of the most common problems of children these days and can severely impact their mental health. Many times parents might ask their kids to show the content of their communications, but older children and teens usually resist doing that. So what to do to make sure they're not doing something wrong? 
SPY24 has a perfect feature for this problem that you can use for free. Our SMS tracker can keep a record of every sent, received, and deleted text message on your kids' cell phones. You can see the content of their messages on your online dashboard without being detected.
Women can catch their cheating husbands.
One of the biggest concerns of women is that their partners might cheat on them. If you want to recognize if he's in contact with another woman, the SPY24 SMS tracker can help you. This feature will let you read out all the texts sent or received by your husband without him knowing. Using SPY24, you'll be informed of every SMS, even if your husband deletes the messages. You can also see the contacts and the exact time and date of sending messages to use as evidence.
Employers can manage their teamwork communications.
Many companies give company-owned cell phones for working communications. Of course, they'll be responsible for every message sent or received via these devices. If you want to keep track of all the communications via your devices, you have to think of a modern monitoring app like SPY24. SMS tracking is just one of the features offered by our app that lets you read out all the text communications on your employee's cell phones.
So don't go anywhere else if you need to keep track of someone's text messages. Try our free trial now to see the power of our SMS Tracker.
How Does SPY24 SMS Tracker Work?
See how to spy on all text messages on someone's phone using SPY24.
With these few steps, you can start tracking all messages on the target phone:
Sign up
Click on the upper right button to create an account.
Select the Target Device
Choose the target device from your online dashboard.
Purchase a Package
You have a one-month free trial. However, if you want to use the app more, you need to buy a package.
Download and Install SPY24 
You just need a few minutes to download and install SPY24 on the target phone.
Start Tracking Messages
Now, you can read out all the text messages from your online dashboard.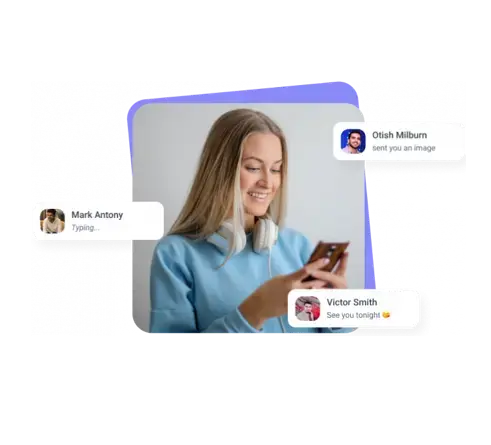 Why Should I Use SPY24 SMS Tracker?
Here are why SPY24 is the best spy app to track text messages:
Compatible with both Android and iPhone devices

Offering more than 250 features along with SMS Tracker

24/7 Support

No jailbreaking and rooting required

Easy-to-install

Ability to track multiple devices at a time

Diverse pricing plans

One month free trial

Viewing all the recorded data via an online dashboard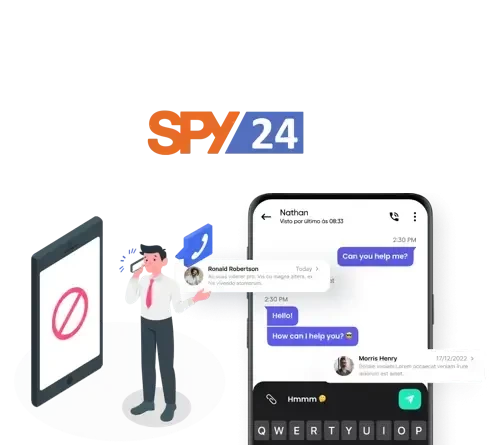 Frequently Asked Questions:
SMS Tracker App #1 – Spy on Text Messages with SPY24
SMS TRACKER
If you become more and more anxious about the time your kids spend sending and reading text messages (SMS) or if you are afraid that employees' SMS may deliver secret data to rivaling businesses, it is the right time to prove or dispel your worries and spy on text messages. We are able to provide you with an SMS tracker solution that will discover what is hidden from you.
WHAT IS SMS MONITORING ABOUT?
Our spying Software will become your trusted aide in monitoring SMS content and logs on your children's/employee's phones. Now you don't need to be on the watch to peep into your child's smartphone SMS messages. SPY24 will give you the possibility to track all SMS messages (both incoming and outgoing) with our SMS tracker, which you may read from any device and any location. Your employees won't hide anything from you since you start using our spying application.
Just let us know about your need, and we will take care of your private and business security. SPY24 SMS tracker can help you perform the following spying tasks:
Display all text messages sent and received on target gadgets in your personal account with our sms tracker
KKeep a record of incoming and outgoing SMS messages sent and keep in touch with the contact's details, e.g., names, nicknames, etc.
Review the aggregated information about SMS quantity and content in the most reasonable way – on the monitoring panel in your personal account, just when it is necessary to you.
View the obtained data on your PC even despite the lack of an Internet connection – just use the download option and obtain information in a spreadsheet format from our SMS tracker.
You Can Totally Rely On SPY24 – We've Got Your Back
SPY24 won't leave you alone with your subscription, because, for us, your satisfaction is on top of everything else, and with that, we promise to deliver only the best mobile spying app experience that you will never have like it again!
SMS

TRACKING

GET INSTANT ACCESS TO EVERY TEXT MESSAGE THAT IS SENT AND RECEIVED, EVEN IF IT HAS BEEN DELETED!

With the SPY24 SMS tracking application, you can spy on text messages and get OLD & DELETED texts and ALL new texts from ANY Android device.

With SPY24 Cell Phone Spy and Tracking Software, data is collected from the target phone (the phone you want to monitor) and uploaded to your Secure Online Dashboard, where you can see it anytime you want. To spy on text messages and all other activity on the target phone, all you have to do is login into your account, and you will see everything just as it appeared on the monitored phone. Data from the target phone can be displayed directly on your own cell phone, tablet, or laptop. You be able to keep constant watch from anywhere, anytime.
Text Messages Monitoring With SMS Tracker Software
Ever wonder who your child is texting? Is it someone you really wish they wouldn't text? Are they ever chatting with a random name like JDU1876? Does all of this make you nervous? Have you wanted to hire your own private investigator to see what your child is doing on their phone? SPY24 hidden SMS tracker app can be your cell phone spy and much, much more! This world is scary enough, and you don't need to worry about your child and their technology on top of everything else. Let SPY24 ease your mind and monitor your child's phone activity for you! SPY24 cell phone mobile monitoring software gives you the capability to monitor every text message, call, social media activity, and a variety of other activities. The text message feature is one of the most popular features this software has to offer. Become your own text message spy and bypass that private investigator with SPY24! Have every text sent and received to and from your child's phone. All this information gets logged into your SPY24 dashboard, giving you a nice, clean way to view all the information collected from the text message feature and more! For SPY24 to gather information, the app will need to be installed on the device you want to monitor. All this information on the SPY24 dashboard is completely secure and private, so you'll be able to monitor your child's phone secretly.
The best thing you can do for your child is to educate them on how to properly use the internet and the dangers that come with using it. Mobile phone monitoring software can be used to check up on them and make sure they're following your guidance. With the SPY24 Cell Phone tracking Software, you can rest assured that you're doing the most you can to make sure that your child is safely using technology.
How SPY24 Can Help Spy On SMS
Remember the straightforward days when you could overhear a conversation by simply being in the next room and lowering the volume on the television? Those simple spy days of listening to one-half of a landline conversation are over. Kids today are more likely to be covert about their activities because of their access to cell phones. Do you ever wonder how you can spy on text messages in today's fast-paced digital world?
People are attached to their cell phones like fish to water. They take them everywhere. They sleep with them. They look at them immediately when waking up. Our work documents can be stored on our phones for easy retrieval. We can Facetime or have Skype calls for business or pleasure. Basically, we couldn't live without our cell phones.
The Social Media Scare
With all this social media activity, it's no wonder that parents continue to worry about their kids' online lives. Inappropriate texts, chats, pictures, and videos continue to surface. Stories in your own social media newsfeed continue to crop up: this young girl met a stranger online and disappeared, this young man posted a nude photo and sent a group message, or a drunk party behavior became a viral video. An Instagram feud grows between two kids. With celebrities and athletes displaying online, kid role models seem to be dwindling, and kids emulate that bad behavior. How can a parent keep pace with their kids' lives to protect them?
The best way to keep track is with a cell phone mobile monitoring software that can track text messages, especially if teenagers' online hangouts are ever-changing. And it's inevitable: as soon as a parent catches on to one social media site, the kids have moved on to another.
How Does It Work?
A product like SPY24 App can retrieve all text messages on a target phone: new, old, and even deleted ones. Once you download the SPY24 text messages monitoring software, you'll get instant access to the information you want most within minutes! You'll also get a unique control panel where you can not only view all photos and videos but you'll also have access to all texts and social media activity as well.
Why Spying On Text Messages Is Important?
According to a recent Nielsen survey on mashable.com, the average teen sends almost 3500 texts per month, and the largest amount of texts fall into the 13-17 age range:
"The number of texts being sent is on the rise, especially among teenagers aged 13 to 17. According to Nielsen, the average teenager now sends 3,339 texts per month. There's more, though: teen females send an incredible 4,050 texts per month, while teen males send an average of 2,539 texts. Teens are sending 8% more texts than they were this time last year. Other age groups don't even come close, either; the average 18- to 24-year-old sends 'only' 1,630 texts per month. The average only drops with other age groups. However, in every age bracket, the number of texts sent has increased when compared to last year. Texting is a more important means of communication than ever."
And if you need any more proof that a cell phone spy app to spy on text messages is necessary, you only have to watch the news to see the recent horrific school shootings and cyberbullying incidents. Now, parents can view their child's texts to see WHO they're texting, WHAT pictures they're sharing, and WHERE they plan on going. Some people may call it invasive. Others view it as a modern way to prevent a life-altering mistake or stop bad behavior in its tracks.
– Remote Access
Another outstanding feature of SPY24 is that you can monitor the target phone from anywhere, on any device. Going on vacation and want to make sure that party your daughter planned doesn't happen? Just access your user control panel from your own cell phone, tablet, or computer. This modern and outstanding software allows you to keep tabs across the country, across the world, or just across the street.
– Protecting
Your Business Spying on text messages can also protect your business by allowing a business owner to keep tabs on employees on and off-site. If you issue company-owned cell phones, a cell phone monitoring software like SPY24 allows you to follow an employee and ensure that your hard-earned work hours are not going to waste. Companies such as Movers, delivery services, realtors, contractors, and much more, can benefit from SPY24's robust monitoring features.