GPS Location Tracking Spy App
See Your Kids' Live GPS Location on a Map
If you're concerned about your kids' safety and want to keep track of their location at all times, you've come to the right place. SPY24 is the most advanced location-tracking app in the market that is compatible with both Android and iOS devices. With our GPS location monitoring feature, you'll get instant alerts on your kids' real-time location. Moreover, you can track the history of the locations they've visited on an interactive map. SPY24 also allows you to secretly track your company-owned mobiles when your employees are on a mission. So why waste time? Sign up for our 1-month free trial now to check the location of your loved ones and experience peace of mind in your life and business.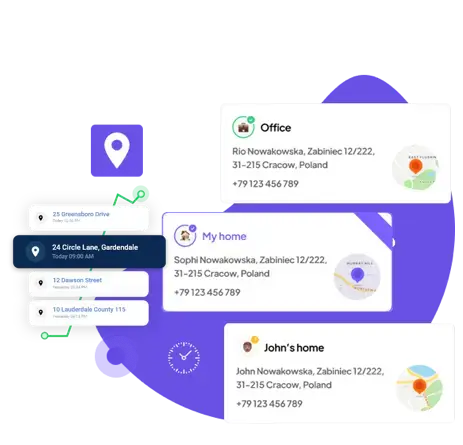 How SPY24 Location tracking works?
Find out how SPY24 tracks location of the monitored user and what other location-tracking features you can access.
What Can the GPS Location Tracker of SPY24 Do?
Using our GPS location monitoring feature, you can get useful insights into the target device, including: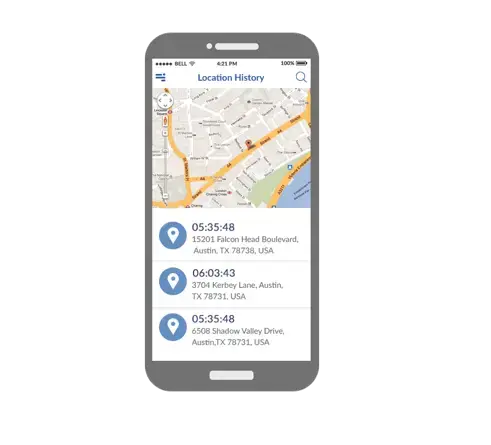 What Are the Benefits of Using a GPS Location Tracker?
You might think that tracking someone's location is an act of malicious hacking. However, there are situations in which you have to keep track of the whereabouts of your loved ones to make sure they're safe. Here are some examples:
Kids' Safety
A GPS location tracker can greatly help parents control their kids when they're out. For example, you can track the routes and the speed of your teens when they're driving. Also, you can make sure they're not going anywhere dangerous. Our GPS location tracker has the ability to define No-Go zones for geofencing. Whenever your kids cross forbidden areas, you'll get alerts. Apart from location tracking that is offered by some SoS apps, SPY24 offers many other monitoring features, making it the best option for parents.
Employee Monitoring
Imagine that your employees are on a mission out of the office. How do you make sure that they're in the exact place they're supposed to be? A GPS location spy app can help you track their location in real-time. Of course, you have to give them company-owned devices because it's illegal to install a monitoring app on someone's phone without their permission. So if you want to track the location of your employees without them knowing, SPY24's location tracker is your best choice.
Tracking Your Partner's Relationships
If you think that your partner is in love with another woman, you can use a GPS location tracker to know where he goes every day. This way, he can't lie to you because you have a proof for your words! So try the free trial of SPY24 to see if he's honest with you. The good news is that SPY24 offers 250+ monitoring tools such as social media monitoring that help you catch your cheating partner.
Personal Use
Although there are many apps that can give you detailed info about your activities like the distance you walk or run, GPS location trackers can also be used in this regard. In fact, a location tracker can be used as a fitness and health application to remind you of the amount of distance you walked during your workouts.
Find Stolen/Lost Devices
If you have a GPS tracker on your cell phone, you don't need to be worried about your phone when it's lost or stolen. You can easily find it via your online dashboard.
Why Is SPY24 the Best GPS Location Tracker?
Here are the reasons why you have to choose SPY24 for tracking the GPS location:
SPY24 offers both premium and freemium versions.

It is compatible with all operating systems.

It offers 24/7 responsive customer service.

It doesn't need to install another app for monitoring the GPS location.

You'll get 250+ other spying features apart from location tracking.

You don't need to root or jailbreak the target device.

It's completely hidden.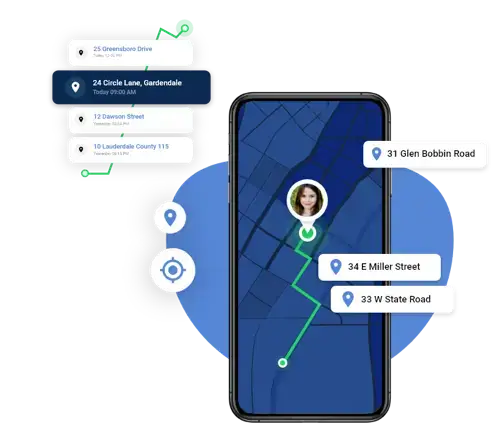 How Does SPY24 GPS Location Tracker Work?
Watch the tutorial to see how easily you can track someone's GPS location using SPY24.
Create Your Free Account
Tap the upper right button to log in or sign up on SPY24.
Choose the Target Device and a Plan
You'll be redirected to your online dashboard where you can choose the target device and your plan. Of course, you have a 1-month free trial to check the quality of our spying features.
Install SPY24
Now, you have to gain access to the target device for a few minutes to install the app.
Start Tracking the GPS Location
It's done! You can now start tracking the GPS location of the device using your dashboard.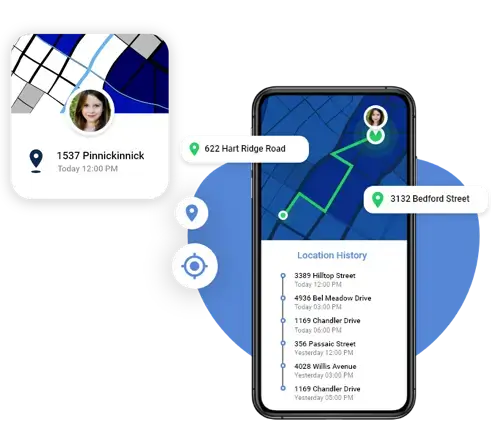 TRACK PHONE LOCATION
Learning the truth about your kids or hired workers' activities and chats is only a part of the solution; the second half is to track cell phone locations where they are right now or what places they currently move to. If you need to know it any moment to avert some kind of threat from your close people or to prevent your company staff from breaching corporate policy, it is high time to look closer at our application GPS phone tracker.
WHAT IS MOBILE LOCATION TRACKER ALL ABOUT?
Do you need to find out the current location of your children or employees with pinpoint accuracy? Do you need to know how to track mobile locations? SPY24 GPS tracker can easily do that for you. Do you want to know the exact places, which were visited by the one you are spying on? The GPS cell phone tracker with precise locations will be shown in your personal control panel. You can't even imagine how easy and effective SPY24 is when it comes to the GPS locating issue. Now you can track mobile phone locations easily!
The app is purposefully crafted to match your need in good GPS spying tool, and while employing it you can with our phone GPS tracker:
Monitor with high precision their locations on a clear city map and know the places which they like the most
Define "red line" segments on the offered map and receive signals when users of monitored devices trespass the limits of those segments
Review the information without obligatory access to GPS data network mobile GPS tracking
View the obtained data on your desktop independently of Internet access availability – just transform it into a spreadsheet and store it on your desktop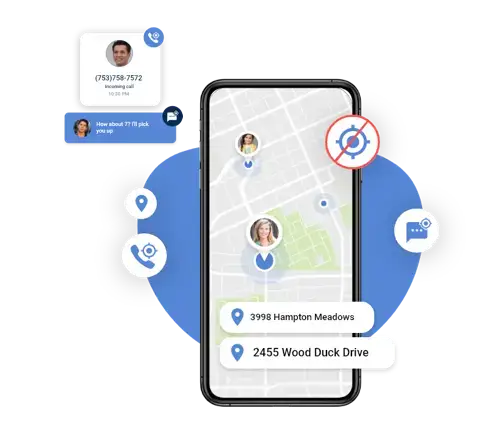 Frequently Asked Questions:
GPS Phone Tracking Software SPY24
LOCATION HISTORY TRACKER
The routes your children or employees sometimes follow may differ from what you expect them to follow, and the whole history of their movement around the city or district can tell you a lot. So be ready to monitor the location history of your dearest ones or employees any moment you may need it.
WHY IS MONITORING OF LOCATION HISTORY IMPORTANT?
The application is specifically crafted and fine-tuned in order to meet your need for good location-detecting tool, and while using it, you can:
Monitor with high precision the whole travel route of a target gadget with accurate time reference
Review the information without obligatory access to the GPS data network
Store and look through the obtained data on your desktop independently of Internet access availability – convert it into a spreadsheet and store it on your PC
You Can Totally Rely On SPY24 – We've Got Your Back
SPY24 won't leave you alone with your subscription, because, for us, your satisfaction is on top of everything else, and with that, we promise to deliver only the best mobile spying app experience that you will never have like it again!
Live Location Tracker | Monitor Real-Time Location History
Track the real-time Location and location history of your field employees or kids with the SPY24 Live location tracking app. Our app shows real-time GPS location with 99% accuracy and exact location result
Family GPS Tracker To "Hold" The Position
Would you like to be always aware of where your friends and family members are without interfering with their private lives? SPY24 Live location GPS tracker is the ideal solution! All you need is to download our phone monitoring tool and start monitoring from your phone or PC. From this moment, you can track the location of your circle in real time, create favorite zones as well as find lost or stolen phones directly from the dashboard without leaving your apartment.
Real-Time GPS Tracking Facilities
We boast a team of inventive and passionate developers who deal with the latest mobile technologies. This time they have come up with an updated version of our Android monitoring application to enable fast and precise real-time GPS tracking. Once you have decided who is in your private circle, you are free to monitor your employee's or kid's activities in real-time, or you can also monitor their location history. Moreover, you will always be aware of how successful your family members are when making it safely to their destination. Our award-winning Location tracking app has some extra features to make you pleased. Facebook monitoring, WhatsApp monitoring, call recording, mic recording, and many more features are one of them.
Find Stolen Devices Using GPS Tracker App
Save your time and money with the help of our SPY24 tracker app and locate the stolen or lost device without any effort. All you need is to open your dashboard > location tab and observe the current location of the device if it is connected to the internet. Our GPS tracker supports all major Android mobile platforms. It will find any device in spite of the OS. You will quickly find the right direction and build the route to find a cell phone.
Advanced Technologies
We implemented some of the latest GPS technologies to deliver the exact and most accurate location right to your smartphone. Our mission is to bring maximum accuracy and efficiency when opting for real-time tracking facility.
View Location History On Your Dashboard
SPY24 location tracker app tracks the location of the target phone or tablet on its way absolutely invisibly and undetectable.
View the entire travel routes of your children or your employees and know exactly where and when they have been. You will be able to find your lost phone if you ever lose it because the application will constantly send information on the current location of the device. Even if your phone has been stolen, you will be able to locate your stolen phone and get it back. If your children are lying about where they are going or where they have been or your employees are using company cars without authorization, you will be able to confront them with details and put an end to all of this cheating.