Keyloggers For IPhones And IOS Devices
Keylogger IPhone App Feature:
A keylogger app is a kind of spyware that lets you keep track of every keystroke on a device. If you install keylogging or other spy apps or software on an iPhone device, you can see all the pressed keys on it. Therefore, all the keystrokes, usernames, passwords, text messages, numbers, contact names, notes, and any other texts on the target device can be read. SPY24 has the best keylogger for iPhone devices, helping you with tracking an iPhone device's keystrokes without a jailbreak solution. With the keylogging spy feature of SPY24, you'll be able to see every email, SMS, social media chat, and all the credentials on a target iPhone device. So if you want a keylogger for iPhone, you can easily log in to use a one-month free trial of SPY24.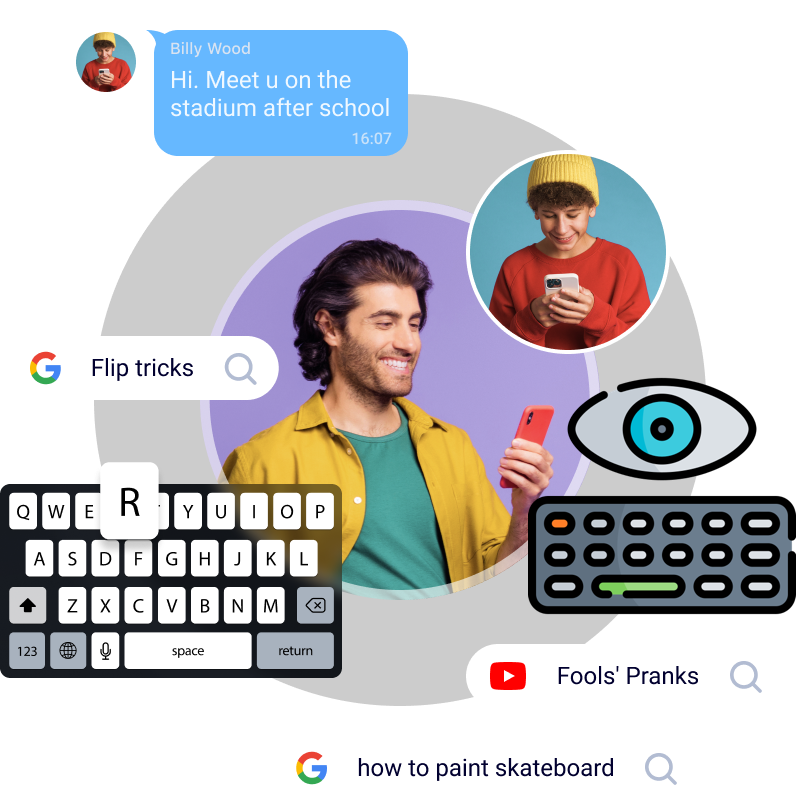 How To Track Keystrokes On IPhone Via SPY24?
Here is a tutorial to learn how to monitor keystrokes using SPY24.
Best Keylogger For IPhone
Here is a list of what you can see on an iPhone device using the best keylogger: SPY24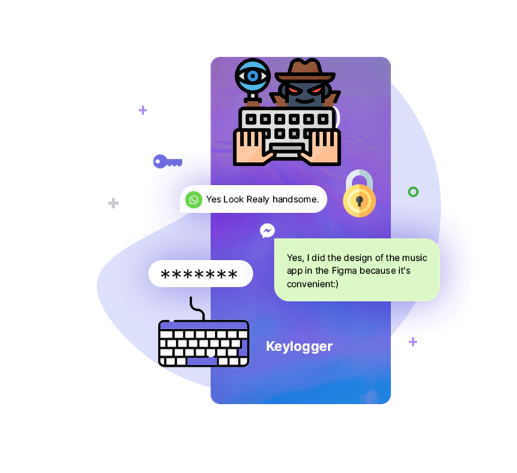 Why Using An iPhone Keylogger?
Many times you might have to spy on your family members' iPhones for a variety of reasons. For instance, you should know whether your children are sexting when they send SMS to their friends. As another example, if you're a business owner, you have to be worried about workers' behaviors. Therefore, you might need to know their usernames and passwords on company-owned devices to track some of their activities. So now the question is, what is the easiest way to do that?
SPY24 offers an affordable solution for these circumstances. SPY24 has the best keylogger for iPhone that lets you track all the pressed keys on a device so that you can understand many of the user's activities on the target iOS device. Although there are many other spying features out there, the keylogger feature is the simplest and most-effective means of monitoring important cell phone activities. With an iPhone keystroke logger, you can read out all of the characters that were input, including login data, social media texts, SMSs, notes, and any other written content on the target device. That's why many people search for the best keyloggers for iPhone mobiles.
Overall, a keylogger is great for two special purposes:
Parental Supervision
You should prevent your children from posting information such as passwords or texting improperly material. Using the keylogging feature of SPY24, you'll be notified of every written word on both Android your iPhone devices to make sure everything is OK.
Employee Activity Control
Confidentiality of business data is of great importance, and you need to make sure that the data cannot be shared with your rivals by your staff. They also might use company-owned devices to call logs and text their friends during working hours, wasting your investments. As a result, you'll need the keylogger apps to keep an eye on their activities. If you install the iPhone keylogger of SPY24 on the devices you give the employees, you'll be able to see all the typed characters on their devices. This way, you can prevent many issues in the workplace.
Advantages Of Using A Keylogger Tracking App
Differentiate Between Productivity And Idleness:
If the performance of your organization is going down by the day, you have the right to feel concerned. Going one step further, you could indicate your concern by going after the culprit whose performance is deteriorating that of the whole organization. In order to do that, there is no better tool than SPY24 Keylogger Software. For example, it is quite plausible that many of the employees who have developed a positive reputation in your eyes are spending their time watching videos and browsing Social Media links. Thus, by knowing their browsing web history beforehand, you'll be in a position to penalize their bad behavior in a more authoritative way. Thus you can increase your employees' productivity by knowing what they are doing and how to tackle work more efficiently.
Hidden Keylogger Monitoring
With all of the latest features in spying technology, SPY24 can discreetly track and monitor every action performed on the target device, from incoming and outgoing calls, phone calls, messages, the GPS location to spy on conversations on messaging apps like WhatsApp, Facebook Messenger, Viber and even more. User-friendly and with our support team available 24/7, SPY24 is the ideal choice to keep your business productive and your children safe. Considering a situation in which you're the employer, the SPY24 Keylogger software App gives you the authority to keep a check on your employees. Many times we witness that employees apply to other job positions from their office-owned mobiles. In this way, they are simply ditching the confidence that their employer enshrined in them at the time of hiring.
Thus, if you are an employer and want to save yourself from this kind of brain drain, there is no better option than to use our Keylogging tracking app. Many of them come for free, with the more advanced ones coming at a price.
Maintaining A Check On Your Children
For a person whose job requires extensive traveling, it is natural that he might not see the daily activities of his/her children. While in the previous decade, it was difficult to track down the activities of a child because they played outdoors, Smartphones have solved this problem as children spend most of their time on social media apps. Thus, if you only know what kind of activities your children are engaging themselves in while being on the Internet, it would be relatively easier for you to effortlessly track down their habits. After tracking their habits, such as their browser history, through SPY24 Spy App, it would be much easier for you to prevent them from being engaged in harmful activities on the Internet. Moreover, if you have wanted to know how long your kids spend on the Internet, SPY24 can come to your rescue. Besides, it works in an incognito mode so that your children won't be alerted by the presence of the Keylogger Spy App on their computers. Most of the Keylogger software has no presence on iOS devices. Also, for a person who is primarily unaware of the presence of Keylogger Software on his/her Smartphone, it is virtually impossible to uninstall this software since it does not feature even on the Application lists. Thus, barring a catastrophe or an unforeseeable circumstance, your children won't have a hint that their activities are being monitored.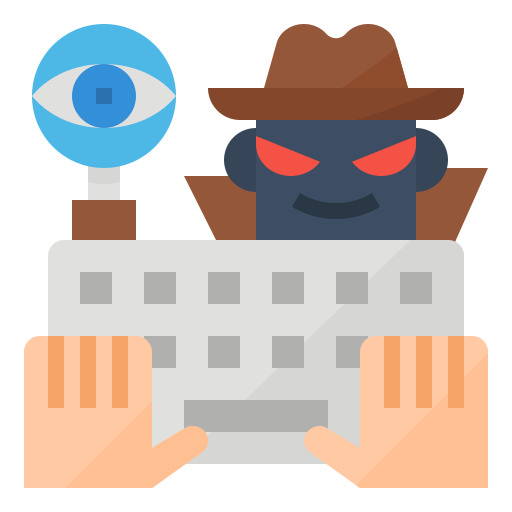 The Best IPhone Keylogger App Free – SPY24
Here is a summary of why you have to choose SPY24 to spy on keystrokes on your iPhone among the best iPhone keyloggers:
Tracking all the written content on iPhone
Compatibility with Windows, Android, and MacOS, along with iPhone
Offering 30+ more monitoring features, apart from the keylogger feature
Tracking several devices using one control panel
1-month free trial
24/7 support
Small file size
Easy to install
User-friendly interface
No need to jailbreak iPhone
Completely undetectable
Diverse pricing packages
Supported all devices which run on iOS version: iOS 9.0 – iOS 16
Jailbroken iOS devices: iOS 6.0 – iOS 15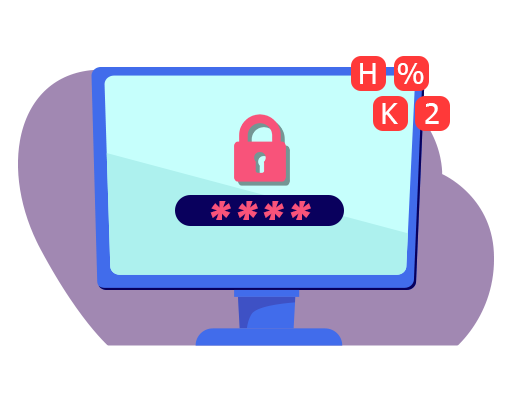 Frequently Asked Questions:
KEYLOGGER MONITORING
Keep an eye on every key your kid is using while texting with some unknown numbers or a person with our keylogger monitoring feature. It shows you all the keys pressed at the time of chatting or searching for something.
Our iOS keylogger app icon is magical in how it functions; keylogger for iPhone enables you to read all those messages on a targeted mobile phone device remotely. This includes those messages media files that have been deleted and draft folders. If you need a highly functioning security app, then you need to get yourself a keylogger app for your iPhone.
WHY IS THE CHANCE TO MAKE USE OF OUR IPhone KEYLOGGER IMPORTANT?
Keylogger iPhone is made specifically for all your needs in mind. It has basic features that will come in handy when it comes to defeating the secured walls of a targeted mobile phone device to track down all their messages, including those that have been erased or in draft folders.
So, if you ever need to find some particular word phrases or messages, or any other text data typed on the target device, SPY24's iPhone keylogger spy feature will be just the right thing to use. You can get access to all collected data in your personal control panel from any device you want just by logging into your SPY24 spying account.
Keylogger for iPhone will be advantageous to you by:
Tracing all keyboard strokes made by the targeted iPhone user
Getting on all entries made and erased from the browser history in the find field
Getting you all the viewed information gotten through the app on your PC with or without internet connectivity through a worksheet download
SPY ON ANY MOBILE PHONE 

RIGHT NOW!
SPY24 is powerful tracking software that allows you to track all mobile device activities and control them remotely
You Can Totally Rely On SPY24 – We've Got Your Back
SPY24 won't leave you alone with your subscription, because, for us, your satisfaction is on top of everything else, and with that, we promise to deliver only the best mobile spying app experience that you will never have like it again!