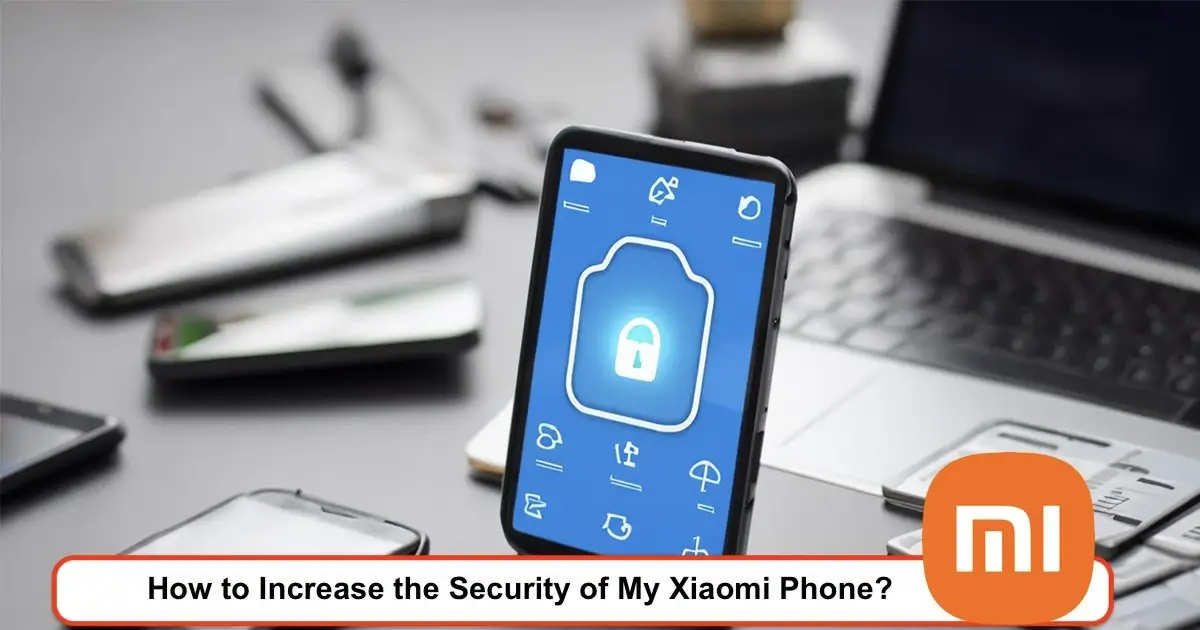 What methods are there to enhance and create security for Xiaomi phones? Millions of users use their mobile phones daily to carry out their daily activities. For this reason, our mobile phones store a vast amount of personal data. Sensitive information that, in the worst case, could end up in the wrong hands. Android phones are prevalent worldwide. In fact, it is considered the most popular operating system, making it a primary target for attackers. If your mobile phone is vulnerable, your privacy may be at risk.
READ More: How to Take Backup from Xiaomi Phones.
How can we increase our mobile phone security?
Given all the private information on mobile phones, many users are concerned about maximizing protective measures to back up their personal information. However, it's worth noting that a high percentage of people still neglect this. Ransomware, identity theft, fraud, bank information, or password theft are just some of the mishaps that an unprotected mobile phone may encounter. Therefore, enhancing mobile phone security is essential. So, we intend to tell you several points to improve security on Xiaomi.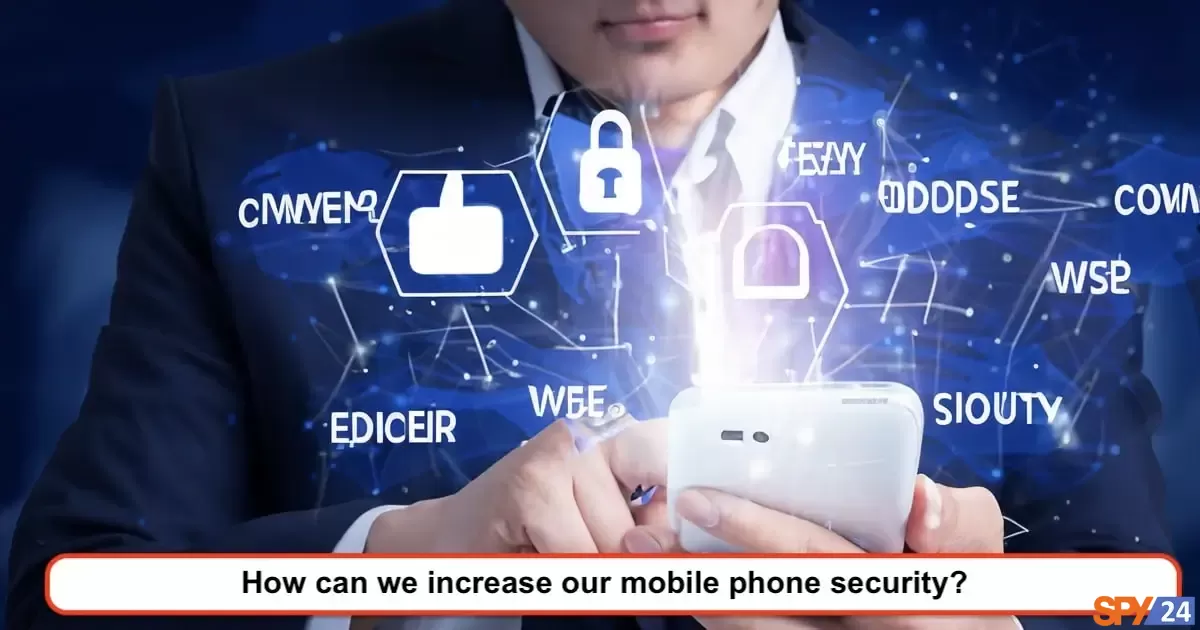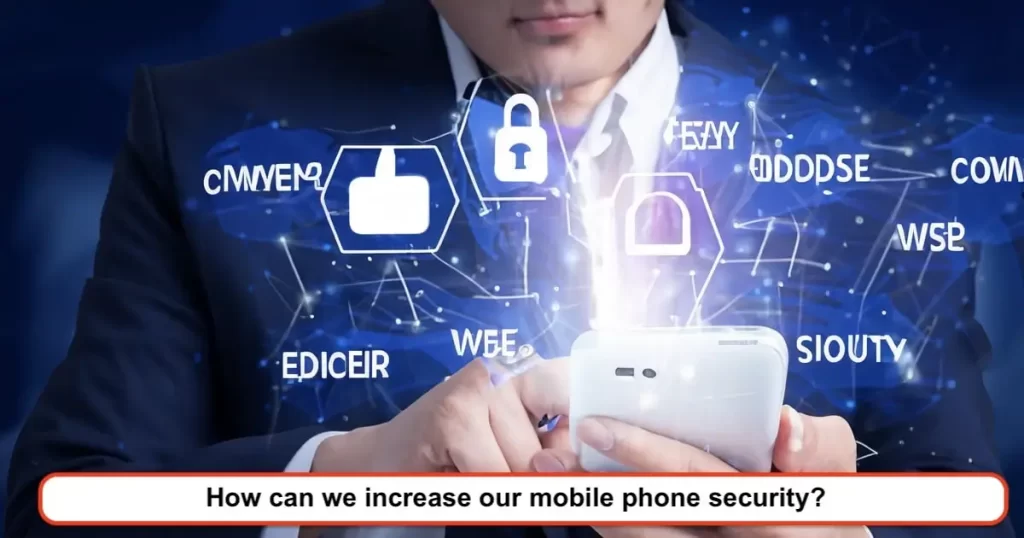 What are the most common vulnerabilities, and how to prevent them?
Users assume that their devices are protected with default settings or that an attacker would not be interested in the information they hold. However, everyone is exposed to cyber attacks at any time. As we mentioned, mobile phones have their own specific security settings. In this case, the main protective measures for phones with the Android operating system are as follows: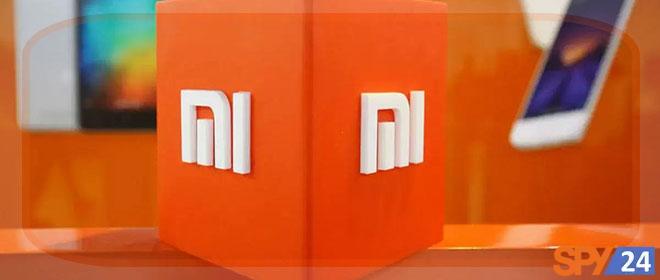 1- Sequential Updates for enhancing Xiaomi phone security
Xiaomi phones use the Android operating system, and with each new version, you can update them; these updates, because they might provide solutions for bugs in previous versions, significantly increase the security of your Xiaomi phone. So take this matter seriously and update your phone with each new update that arrives.
2- Google Security Settings
The Android operating system benefits from Google Play services, so it also benefits from its protective methods. The user receives warning notifications against unauthorized access attempts. Furthermore, it allows you to block the device that has tried to log into your account.
3- Access limitation
Today, mobile phones have security measures such as strong numerical passwords, fingerprint recognition, face recognition, pin, or pattern tracking. Observing each of these or a combination of them is essential.
Fortunately, there are many other alternatives to prevent malicious apps and make access more difficult for third parties. In the next step, we intend to give some recommendations to maximize the security of your smartphone.
4- Faster phone unlocking with fingerprint for enhanced security
The fingerprint sensor is a feature that has been added to smartphones for a long time, and almost all phones, except those that only have Face ID, support it. To enhance the security and speed of using the fingerprint sensor, you should set a specific finger twice for your sensor to be more comfortable with its speed and accuracy.
The setting is such that you go into the 'Passwords and Security' from the 'Settings' section, and by selecting 'Fingerprint Unlock,' click on 'Add Fingerprint' and add the same previous finger.
5- Access to Mi Account and Mi Cloud
When you log into your Xiaomi account on your phone or use the Mi Cloud service, everything on your phone syncs with these accounts. After synchronization, you can back up from them and save the phone's data on your account. By syncing your phone, you can rest assured about your data, and if something happens to your phone, your information and data will not be lost.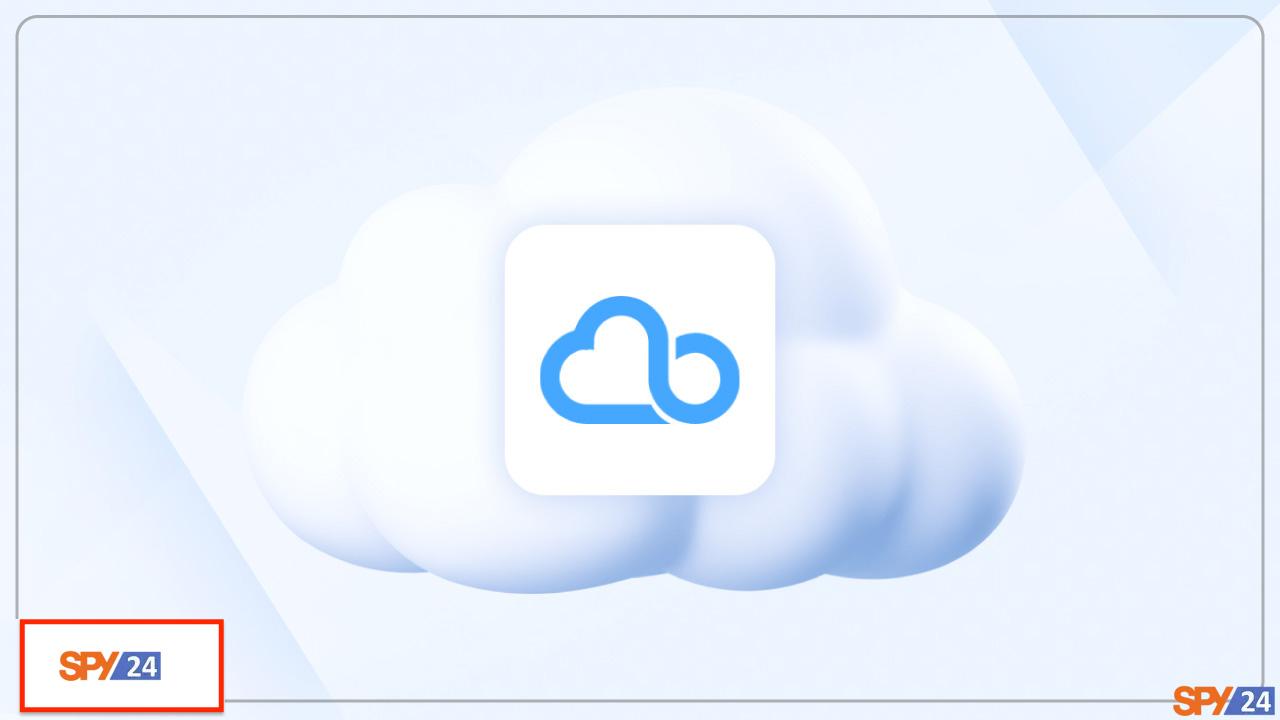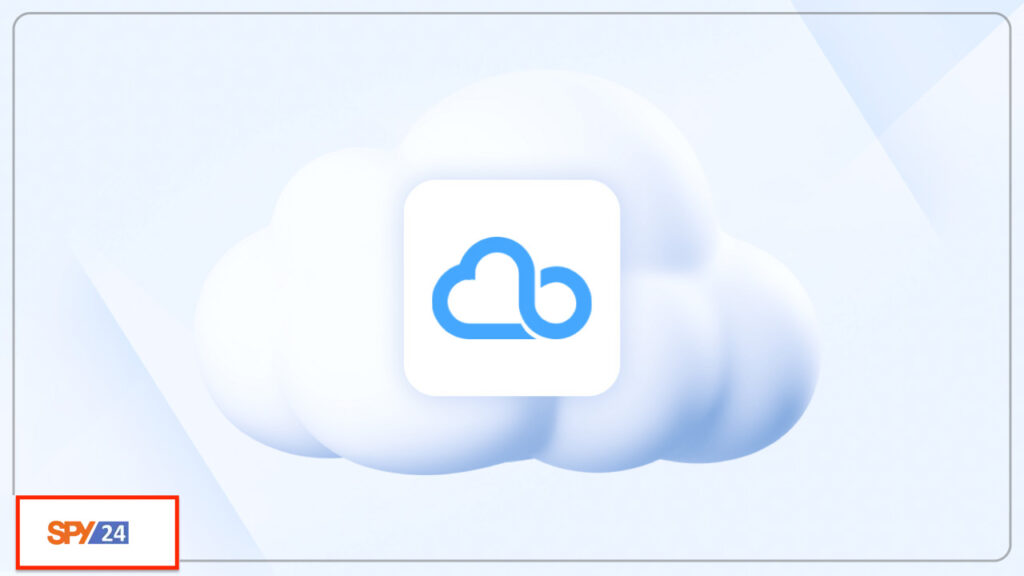 6- Turn off notifications to increase security
When a notification comes to your phone, anyone who sees your phone can see it. So that only you can see it after unlocking. You can swipe it to the left when you receive a notification, easily enter the notification settings from there, and by removing the tick from "Show Notification," you can turn it off.
7- Setting up a backup space for more security
Xiaomi phones have a separate space called "Second Space" that distinguishes them from other phones; it is highly recommended to use this space when the phone is not available. By activating this option, you can create a secondary private space for your phone that, when entering the password for that space, you will face that page instead of the main page.
To set these settings, you need to enter the Xiaomi Security application, select the "Second Space" option from there, and press the "Turn on Second Space" option. In the next step, you can determine the way to enter the secondary space through the fingerprint or specific password.
After setting the password, press the "Set Now" button and enter the secondary space. You can set access restrictions for this space, and when someone forces you to give them your phone password, using this secondary password prevent others' access to the main contents of your phone.
8- Disconnect the user experience program and data collection to enhance Xiaomi's security.
If this option is enabled, Xiaomi can use your data to improve its future services. To disable it, you can select the "Password and Security" option from your phone's settings, enter Privacy, and easily disable the "Enroll in User Experience Program" option.
9- Always keep access blocked
No matter where you are, it's essential to always lock your Xiaomi phone. Use a pattern and password for dual security. Try to create a relatively detailed pattern, but not so complicated that you forget it. It is also recommended to use a six-digit security PIN to enhance protection for your mobile phone, as the most common passwords at risk are four-digit ones. To configure a password, pattern, or PIN on Xiaomi, Redmi, or POCO, you just need to go to the following path:
Settings > Passwords and Security > Password
10- Download apps from the official store
Many users turn to other websites when they can't find a specific app. However, downloading an app on the internet can pose a risk to your privacy. If you enter an untrustworthy portal, the downloaded software is likely to be malware-infected (Malware is a malicious program that can steal your information and put the phone's security at risk).
For this reason, it's recommended to download apps only from the Google Play store. The Android store is responsible for reviewing all its apps to determine which ones could be harmful to remove them from its list. Another recommended option when you want to download new software is to enter the security settings of your device. Untick the option "Allow downloads from unknown sources." This way, you will ensure that you download trustworthy applications.
11- Be aware of app permissions
Mobile apps typically request permissions for access to WiFi connection, contact list, text messages, calls, internal storage, etc. However, you must make sure that your apps are not requesting permissions they should not be asking for. For example, if you have downloaded a photo editor from an unofficial source and it is asking for access to your Xiaomi messages or your call log, it's time to be suspicious. Android and MIUI users can remove permissions from app settings by going to the following path:
Settings > Applications > Permissions > Permission Manager
12- Don't save Passwords on your mobile
The best option will always be to memorize complex passwords. To do this, you can use a password manager. In some cases, users choose to save their passwords in the browser or even write them down in a notebook. Indeed, they do this to speed up web browsing or to access their accounts more easily. However, in case of theft or loss of a mobile phone, anyone will have access to your profiles, such as social networks, online stores, and bank accounts. For this reason, it's recommended not to save passwords on your mobile. If you feel the need to do so, download a password manager to protect your passwords with a master key.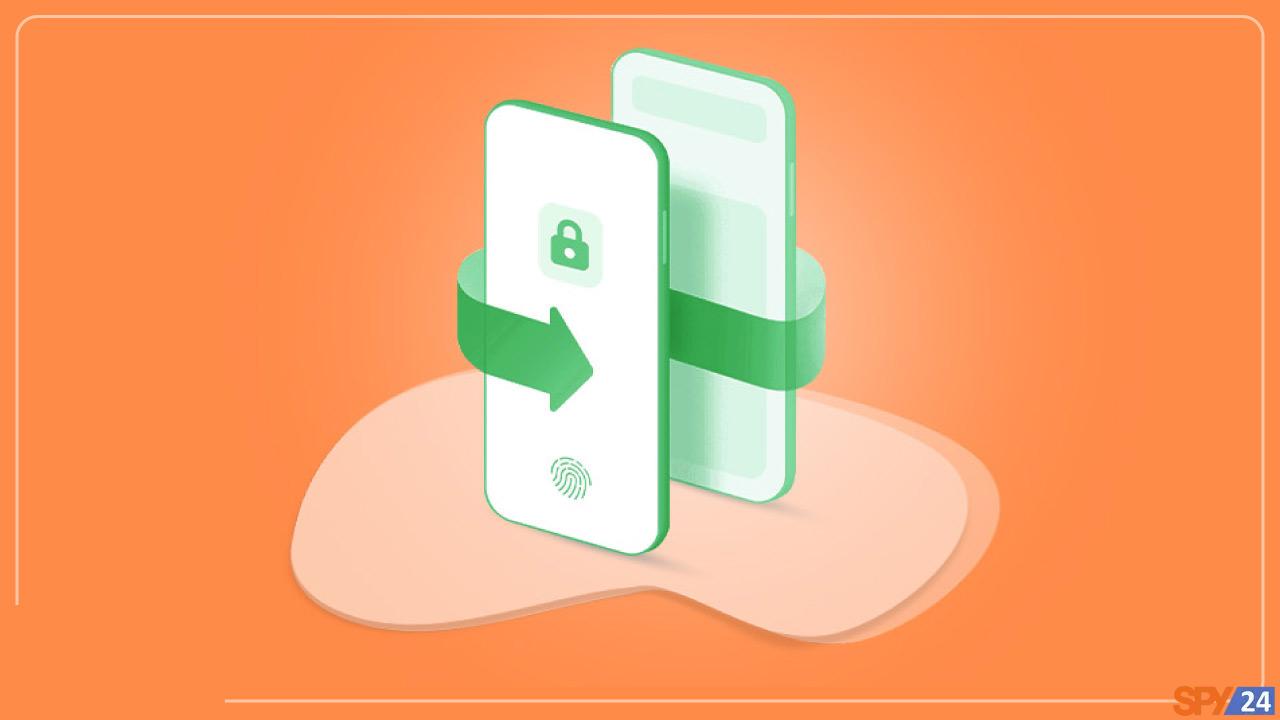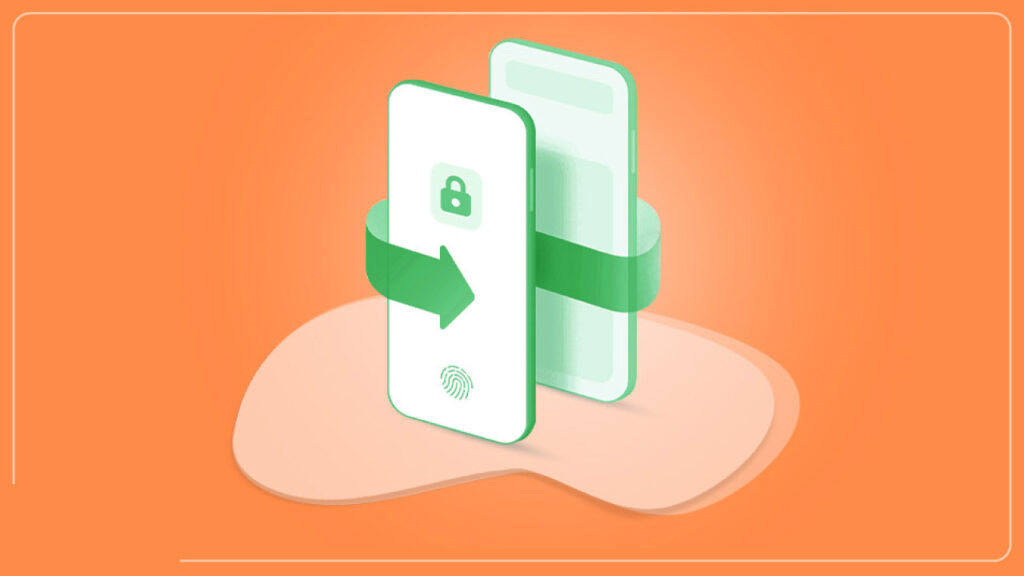 Theft or loss is not the only misfortune a mobile phone can face. Damage to the mobile's hardware or software can also be harmful. Especially when the phone is in "brick" mode, meaning the touchscreen or physical buttons of the phone do not work. Backup versions allow you to protect your information so you can send it to another device or your computer. With Google Drive, you can save photos, videos, messages, browser data, apps, contacts, and other things in cloud storage. If you want to make a backup of your Xiaomi, Redmi, or POCO, you can do it in the following way:
Settings > About phone > Backup and restore
13- Regular Backup
Theft or loss is not the only trouble a mobile phone can encounter. Damage to the hardware or software of the mobile can also be detrimental. Particularly when the phone is in a "bricked" state, meaning the touch screen or the physical buttons of the phone do not work. Backup copies allow you to protect your information so that you can transfer it to another device or your computer. With Google Drive, you can store photos, videos, messages, browser data, apps, contacts, and other items in cloud storage. If you want to back up your Xiaomi, Redmi, or POCO, you can do so in the following way:
Settings> About phone> Backup and restore
Once we enter, we can create a backup of Xiaomi on the mobile itself, a computer, or in the Xiaomi Cloud.
14- Avoid Public WiFi Networks as Much as Possible
One of the main places you can be attacked is through a public WiFi network. Public networks do not encrypt user data and expose you to potential hacking. Connecting to a public network has a very high risk. Anyone can easily carry out a MITM (Man In The Middle) attack. Attackers can track the signal, act as a mediator (MITM), and gain access to the device. That's why we advise you to turn off the WiFi signal when you leave home.
15- Use VPN Connection
VPN is an abbreviation for Virtual Private Network. It's an application that encrypts and protects user data while browsing the internet. Using a VPN is ideal when you want to use a public WiFi network. There are several VPN apps, each offering different benefits. You can check the Google Play store to find one that suits your needs.
16- Activate Device Location
If your mobile phone has been stolen or you have lost it, having an active location gives you the ability to find the phone's location in real-time. It also gives you options to remotely lock or delete all data so that it does not fall into the wrong hands. If you lose or have your Xiaomi phone stolen, you can find it. To do this, you can log into your Xiaomi account, click on Mi Cloud, and activate the 'Find' option to find the phone's location via a map. Different mobile brands, like Xiaomi or Samsung, have location services. Similarly, Google also has this option for device location.
17- Don't store sensitive information on your mobile phone
This is probably one of the most crucial recommendations. If you don't have any sensitive information on your Android device, you don't need to worry about potential attacks or data leaks. Store banking details, passwords, personal information, addresses, and other such things in safer places.
Other tips to keep your Xiaomi phone more secure
Xiaomi collects user data and provides recommendations through most of its own apps on MIUI. If you have a Xiaomi smartphone, fortunately, you have the option to stop these apps from delivering ads and collecting your information. Here is a quick guide on how to stop data collection and remove ads on Xiaomi phones with the MIUI user interface.
How to disable recommendations and advertisements?
To start with, MIUI comes preloaded with a multitude of apps such as Mi Browser, Themes, Security, and others that not only serve recommendations and ads but also collect your usage data to personalize ads or, in their words, improve the user experience, which is enabled by default for all apps. To disable them, you need to check the settings for each app individually.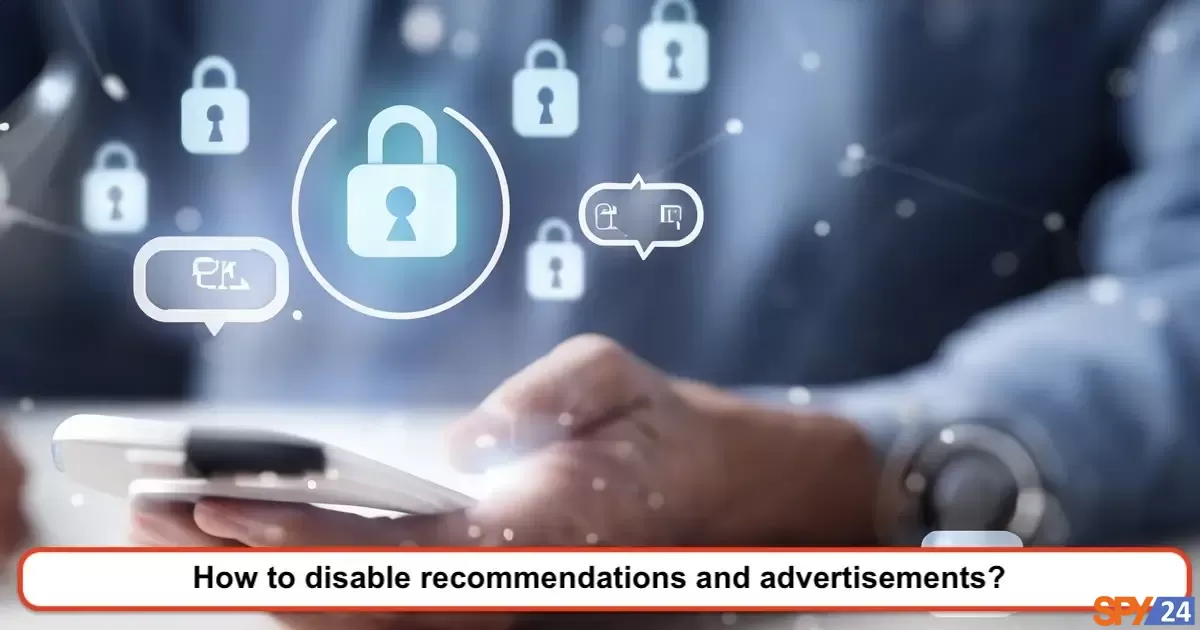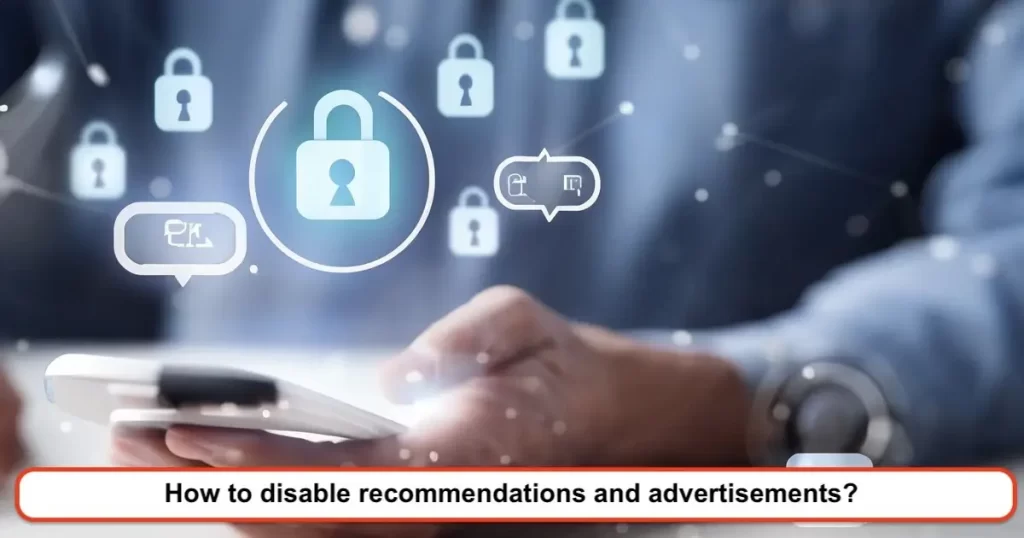 Now, before we start, bear in mind that disabling "recommendations" means stopping ads and spam notifications, while disabling the key that is supposed to "collect your usage data" means you stop data collection.
Disable MIUI System Ads
Go to Settings > Additional Settings on your Xiaomi phone.
Then click on Authorization & Revocation and disable the "MSA" key, i.e., MIUI system ads.
You are now asked to wait for 10 seconds to be able to tap on Revoke.
If it says "could not revoke an authorization," try it again until it is disabled. Note that you need an active internet connection, i.e., you cannot disable MSA in offline mode.
Disable Advertising Services and Collection of Usage Data on the Phone
Now go back to Additional Settings, and click on Privacy.
Untick the options for User Experience Program and Send diagnostic data automatically.
In addition to this, click on Ad Services and disable Personalized ad recommendations.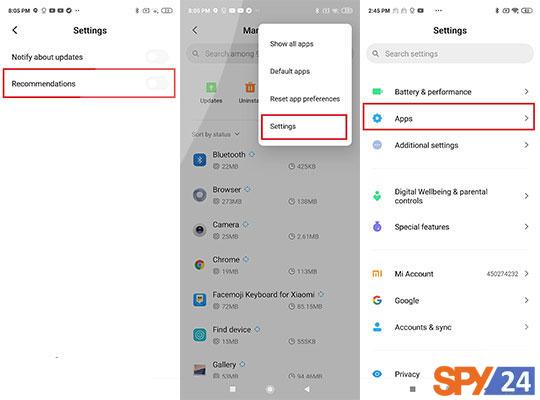 Turn off recommendations
Open Settings.
Go to Apps > Manage Apps.
Click on the three dots in the upper right corner and select settings.
Disable the Recommendations option.
Remove advertisements and data collection in MIUI apps
While the above steps disable most native ads, you still need to separately disable ad usage and data settings in each app. This ensures you won't receive any spam notifications or app recommendations on your Xiaomi phone. Below, we have provided a step-by-step guide to disabling ads in preloaded apps on MIUI.
1- Mi Security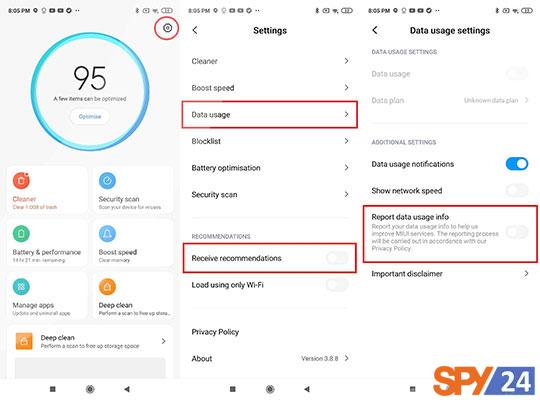 Open the Security app on your phone. Click on the settings icon in the top right corner.
Here, disable Receive recommendations.
Now go back to the main settings and click on Data Usage.
Here, disable the Report data usage info option.
2- Mi Browser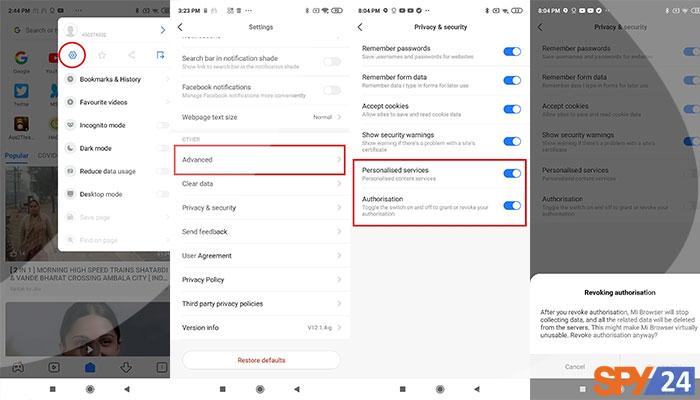 Open the Mi Browser app on your phone. Click on the designated menu in the picture in the upper right corner and select settings.
Go to the Advanced menu and disable the Show Ads option.
Now return to the main settings page and click on Security & Privacy. Disable the Personalized Services option.
If you're not using the Mi Browser at all, click on Revoke Authorization. This stops the browser until you permit it again. You can also set Chrome as the default browser in MIUI.
3- Themes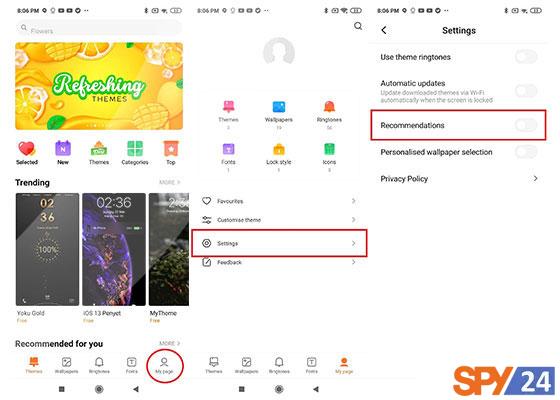 Open the Themes app on your mobile phone.
Click on My Page in the lower right corner.
Now tap on Settings and turn off Recommendations.
4- Music Player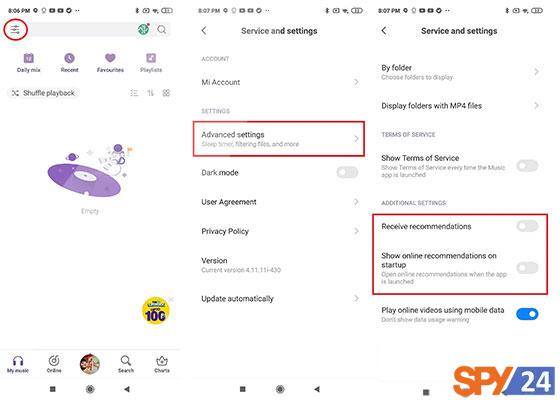 Open Xiaomi's Music on your phone.
Click on the designated menu in the upper left corner and select settings.
Click on Advanced Settings.
Scroll down and turn off Receive Recommendations and Show online recommendations on startup.
5- Cleaner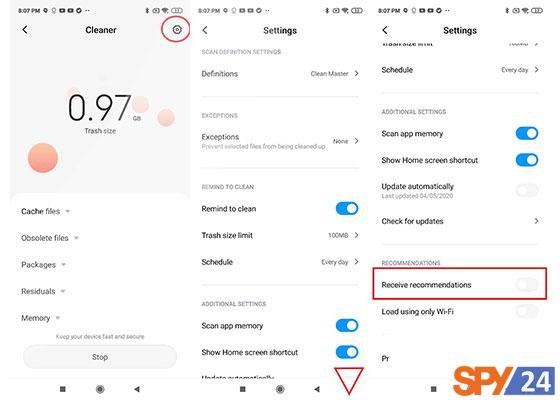 Open the Cleaner app on your phone.
Go to the app's settings.
Turn off Receive Recommendations.
Note that after automatic updates of the app, recommendations are activated again. Therefore, make sure to disable the auto-update option in the settings.
6- File Manager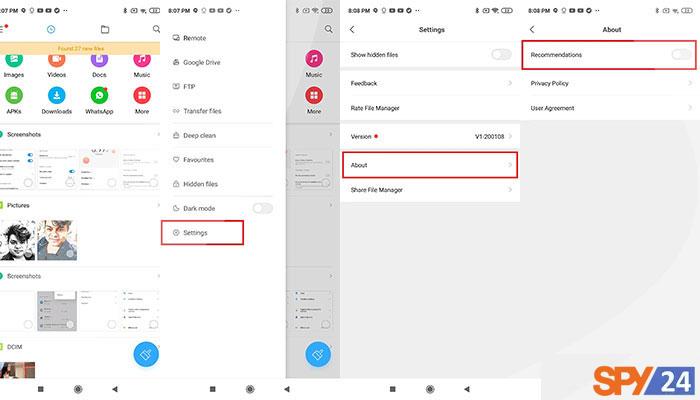 Open the File Manager app on your phone.
Tap on the designated menu in the image at the top left and select settings.
Click on About. Here, disable Recommendations.
7- Mi Downloads
Open the Downloads app. You will find it in the Tools folder.
Tap on the three-dot menu in the upper right corner.
Disable the Show recommended content option.
8- Mi Video
The Mi Video app, which is used to play videos in your phone's gallery, often shows recommendations for online videos at the end of playback. To disable this, follow the steps below.
Open the Mi Video app on your phone.
Click on Profile and tap on Settings.
On the next page, disable Online recommendations and Personalized recommendations.
Disable homepage advertisements in MIUI
In MIUI, swiping left on the homepage shows a guide page that displays app recommendations. To turn it off, open Settings > Home Screen and disable App Vault. You can also disable "Swipe up on Home Screen to Open Search" to avoid annoying Mi browser pop-ups if you switch to other browsers.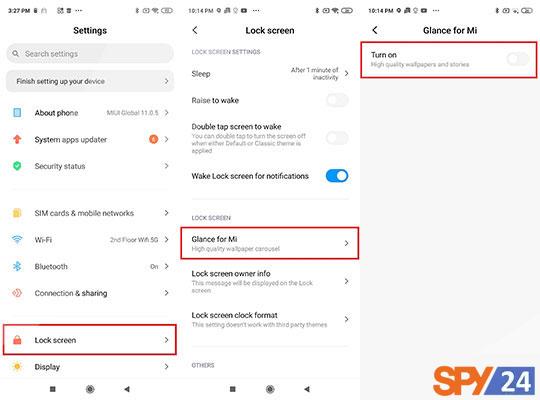 Conclusion:
In this article, we have explained what you need to do to maintain the security of your Xiaomi phone and your information. Also, we provided a detailed guide on how to stop the data collection of your mobile phone and remove ads on Xiaomi phones to have an ad-free experience. By following the above steps, you will have a much cleaner and clutter-free experience on your Xiaomi phone. However, if you still see some apps that send spam notifications, the only thing you need to do is to press the notification for a long time and disable notifications for that app using the designated switch. READ More: How to Fix Missing Xiaomi Fingerprint Option and How to Take a Screenshot on Xiaomi Phone?
Frequently Asked Questions about Xiaomi Phone Security
What is the best app to improve Xiaomi phone security?
There is no need for a specific app to improve the security of Xiaomi phones; however, it is better to replace Xiaomi's default apps with those provided by Google.
How can we improve Xiaomi phone security?
By replacing Xiaomi apps with reputable apps, preventing user data collection, and updating your device's operating system, you can greatly improve the security of Xiaomi phones.
Is Xiaomi phone security low?
Xiaomi is not well-known for its user data collection, and there are many concerns about misuse of data stored on servers.
Is Xiaomi secure?
Xiaomi phones have a high level of security which can be further enhanced by using a series of tricks.
How do I activate Second Space on my Xiaomi phone?
Xiaomi phones have a high level of security, which can be further enhanced by using a series of tricks, including activating the Second Space.