SPY24 Telegram Tracking: Keep Track of Any Conversation, Anywhere, Anytime
SPY24'S Telegram Tracking Feature:
Telegram is one of the most popular Instant messaging applications with millions of active users and just like other apps, even Telegram can't realize the behavior of its users right when they start making an account. Therefore, people you can come across in Telegram can be having good or harmful behavior. Telegram has one of the strongest securities among all the instant messaging apps. Therefore, all communication in the messenger is encrypted and they won't be easily viewable for others who are not part of the ends of the conversations. Well luckily, SPY24 offers you everything you may need to find out whatever is happening in those conversations in mind, wherever and whenever it's happening. With SPY24, ensure the safety of your loved ones, or your business and see everything that is happening on the Telegram of your loved ones, or your employees who are responsible for parts of your business.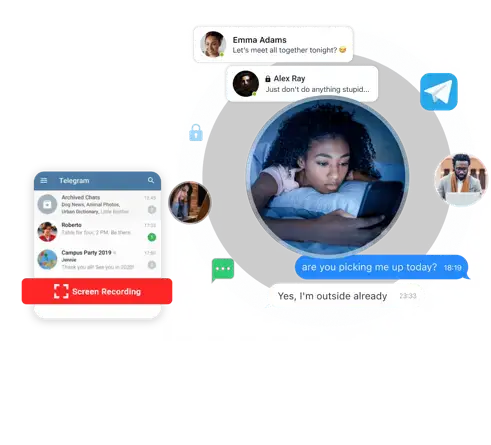 How Does SPY24 Spy On Telegram Messages?
In a word, seamlessly! The process is somewhat straightforward
SPY24 Telegram Tracking Feature
SPY24 telegram messengers monitoring software allows users to spy on telegram messenger and track all the audio messages, text messages, video, and photos.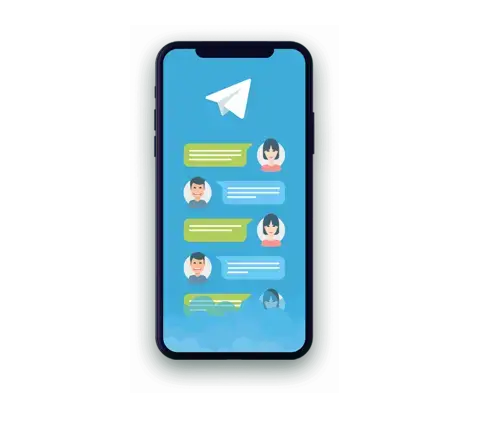 What Will You Be Able to Do When You Install SPY24 Phone Tracker?
Because SPY24 is a phone tracking application, you will be able to use it to track the targeted person's online activities other than only their activity on Telegram. You can see SPY24's other capabilities in the "Features" tab. For the SPY24 Telegram Tracking feature, you will be able to keep track of all of the targeted persons' contacts who also have Telegram, all types of different messages that the target can see on their Telegram account, you can have voice recordings from all of their calls, keep track of their locations, or even monitor them LIVE by the screen recording feature. You won't be spotted and none of your tracking data will be leaked either. So, rest easy knowing you can keep track of your loved ones' online activities and your employees' activities who have your business's data.
How to Track Telegram Messages?
Because of Telegram's tight security on the conversations' information, it won't be easy to keep track of someone's Telegram conversations; but it won't be that hard if you have a Telegram tracker. With SPY24, you can keep track of your loved ones' messages in different conversations no matter if they sent it or they received it. Not only you can do that, but you will be able to monitor any other type of file that is sent in the conversations. These files can include documents, images, videos, audio, compressed, or even software files. You will have all of their messages with the exact date and timestamps as well.
The only thing you need to do is to install the SPY24 app on the targeted person's phone and you're ready to monitor all of the messages on Telegram from the dashboard of your account.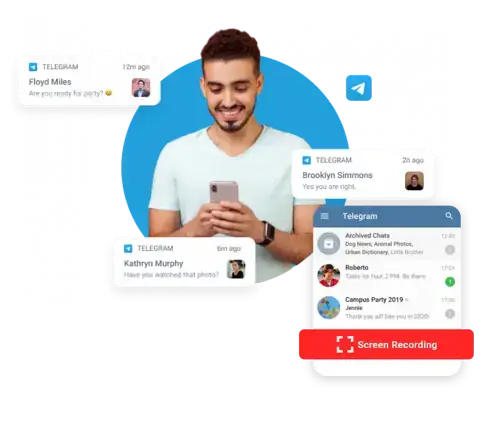 Can I Keep Track of Target's Telegram Voice Calls?
One of the main reasons that people love this IM application is because of its security and ease of texting and the quality of its voice calls. Still, because of Telegram's security, it'll be hard without an app. But with SPY24, you will be able to easily listen to the recordings of the targeted person's voice calls in Telegram. Next to those, SPY24 has this feature that can record the person's voice LIVE when they are just using the application and not even being on a call.
You shall not be worried about being spotted tracking by the targeted person either. SPY24 has a stealth feature for these situations. What this feature does is basically make its icon hidden on the target's phone so they won't notice anything suspicious happening.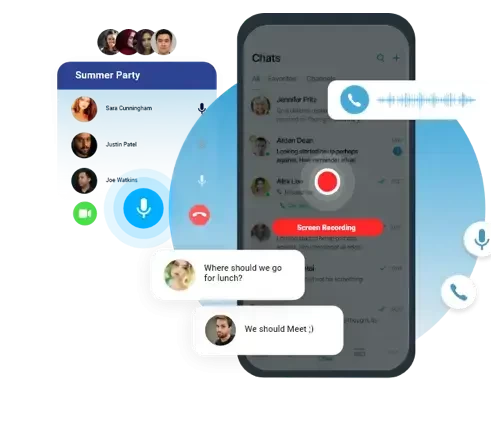 Frequently Asked Questions:
How To Monitor On Android Phones Without Rooting
A step-by-step guide on how to spy Android phones or tablet pcs with SPY24.
Or learn how to monitor iPhone or iPad alternatively.
SPY24 helps you watch over your kids and protect them from pornography, online predators, cyberbullying, and other threats. You will be able to monitor and store call logs, messages, social activities, and more.
Part One: What Do You Need to Start Monitoring An Android Phone?
A Premium Account: Used to access the control panel and use all features.
Access to the Target Phone: Can legally use the target Android device.
Monitoring App: Should be installed and activated on the target Android phone.
Control Panel App: Optional if you prefer to view monitored data using the app.
Spy on Telegram messages with our Telegram Spy App feature
Track Telegram Text Chat Messages and Voice Calls Get your hands on Telegram voice messages to secure your teens from social media evils and scrutinize your employee's activities on the company's owned devices.
You Can Totally Rely On SPY24 – We've Got Your Back
SPY24 won't leave you alone with your subscription, because, for us, your satisfaction is on top of everything else, and with that, we promise to deliver only the best mobile spying app experience that you will never have like it again!
TELEGRAM CHATS MONITORING
Telegram Tracking: SPY24 enables the users to monitor the activities performed by the suspect on the social media platform. The tracking platform gains access to the suspect activities such as tracking of telegram posts, messages send and receive, photos exchanged and documents shared. With constantly improving, the sites now offer their user additional and special features that let them track the telegram account at their fingertip. All the cloud messages and chats conveyed can be easily accessed by anyone with the help of tracking apps that are available easily. They do not take too much to install and works absolutely as per client requirement without leaving or missing out on any information about the suspect. It will also let you know the exact time, data and content of the message they are being conveyed between the two users….
Nowadays teenagers chat more than talk face to face. We all know it, and we may disagree this is good, but this is specific to this generation and with so many social apps on the market, less free time and so many things to do we all start to socialize more online than offline. One of the chats used more and more is Telegram and if you see it on your child's smartphone probably you'll want a Telegram Phone Monitoring spy application as well.
What Is Telegram And Why Does Its Popularity Increase?
Telegram is a messaging app focusing on high speed and security and of course free. The Telegram app was developed by the Russian VK app developers but its popularity is increasing really fast daily. So, why Telegram and not another messaging app you'd ask, right? Well, the challenge as the developers present it was to make a more secure chat app than Whatsapp or Facebook Messenger – probably the most popular messaging apps and probably the most searched Whatsapp spy and Facebook spy solutions on the market. Telegram is presented as very secure and its secret messenger is encrypted from both ends.
Except for messages, there is another feature – Channels – a form of one-way messaging. What does it mean? Your child can follow any channel available on the platform and create its own to be followed by strangers as on Instagram. Except these, Telegram has a variety of stickers and of course call and video call options.
Why Use A Telegram Spy Application?
Telegram has achieved extreme popularity among the young generation and teens due to its high level of privacy and secret chat feature. Using our parental control app, you can monitor your kid's chat activity which helps you stay ahead of harmful situations. You should have full control over Telegram activities to prevent unwanted things. Our parental control app has a comprehensive system to avoid such dangerous chats.
A Telegram monitoring Spy application will help you to know exactly what your child is doing on the app, and much more. Nowadays online bullying is increasing, internet may be a good source of information but also a dump full of pornographic and gaming content or even drugs related information. By using Telegram spy software you'll know if your child is at risk in order to prevent future disasters, you could identify if your child is bullied by other teens or even approached by suspicious strangers. Teens aren't very sociable and open with their parents, so the best solution is to use a reliable Telegram spy tool if the good old talk doesn't help.
What Telegram Monitoring Application To Use?
SPY24 Mobile Monitoring Application is probably the best spy app on the market at the moment. It is more than a Telegram spy application. It is the entire solution for a parental control app. Why SPY24 Phone Tracking Application you'd ask? Well, first of all, it has it all: Telegram tracking, Whatsapp Monitoring feature, Facebook Monitoring, Snapchat Mobile tracking, Instagram spy tool, and many other social apps, you name it! Of course, except for these social apps, there are standard features such as sms messages, gallery monitoring tools, browsers and of course call recording and surroundings. You'll know where is your child when whom and what he/she is talking about, and what website is looking on and you'll be able to block any website, keyword, app or even contact. Still not sure?
SPY24 is one of the best android monitoring apps which always improves and add new New features. We provide our customers 24*7 technical support to help them further.
In conclusion, SPY24 phone Monitoring software is more than just a Telegram tracking app. Protect your child's present to protect his/her future and to be more peaceful in parenting a teenager!