Email Spy Software for PC & Mac and Android & IOS
Track Your Employees' Emails
Did you know that you can easily track all the sent and received emails of your employees or your family members? No matter if you're a concerned mother or an employer, SPY24's email monitoring feature is the best way to stay informed about what's happening around you. Our brand-new email spy software can be installed on Android, iOS, macOS, and Windows without having to root or jailbreak them. With this email tracking service, you can monitor inbox, outbox, drafts, attachments, deleted messages, and contacts on the target email address without being detected. It comes with a 1-month free trial, and you can use it on multiple devices at a time. So why wait? Sign up for our free trial today and check if it can help you in your daily routine. Then, you can buy a subscription to continue your email monitoring journey.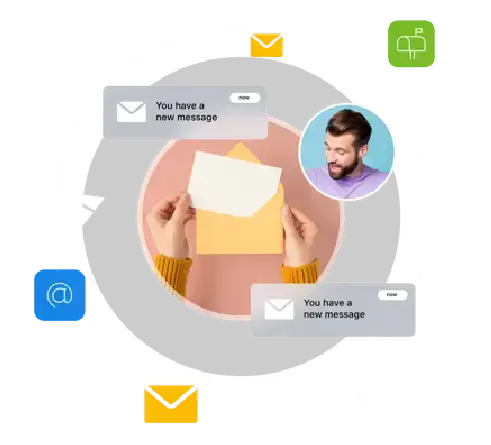 How to Monitor Email App Using SPY24?
SPY24 can monitor all the emails from the Gmail App on Android devices. Watch the tutorial to find out how.
What Features Does the Email Tracker of SPY24 Offer?
Here are what you can do using this spy app: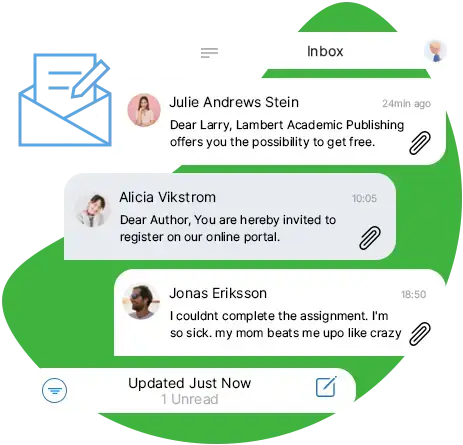 Why Do You Need An Email Tracker?
Tracking someone's email might be useful for both businesses and individuals. Here are some reasons for email tracking:
For Business Monitoring
If you own a business and you want to keep an eye on your employees, email tracking is one of the best methods. Some of the advantages of email tracking for employers are listed below:
Controlling Employees' Communications

: By email tracking, you can make sure about your employees' behavior in communications. This way, you can recognize if any problems emerge among them.

Monitoring Employee Productivity

: Emails might take a great portion of your employees' time. To prevent time-wasting activities, make sure that employees don't answer personal emails. You can use an Email tracker.

Protecting Sensitive Company Information

: You can prevent your business data from being shared outside of your company by using an email tracker. This way, you'll know who is responsible for data breaches.

Detecting Cyber Threats

: Email tracking is a great way to prevent any security problems such as phishing and malware attacks.
For Parental Control & Personal Security
Email tracking has some benefits in terms of parental control and personal security. Here are some of them:
Monitor Your Child's Registrations

: As you know, many of the sites get your email address for confirmation when you want to create an account. To monitor your child's internet activity and make sure he or she is not using inappropriate services, you can use an email tracker. 

Family Members' Communications

: You can make sure that your family members are not engaging in inappropriate behaviors or communicating with strangers.

Personal Email Status Tracking

: Using an email tracker, you can keep track of your own email status and make sure that your messages have been read by the recipients.
Personal Security: An email tracker can help you to make sure no one is anonymously reading your emails. It can also help you detect cyber threats such as phishing.
Why Should You Choose SPY24's Email Tracker?
Now that you know the benefits of having an email tracker let's see why you have to choose our spy software:
SPY24 offers a 1-month free trial.

It has good compatibility with Android, iOS, Windows, and macOS.

It has 24/7 support.

Providing a single dashboard to access all the data via any browser.

SPY24 has 250+ other monitoring features, along with the email tracker.

It doesn't need to root or jailbreak the target device to be installed.

It's completely undetectable.

SPY24's file size is so small compared with other tools.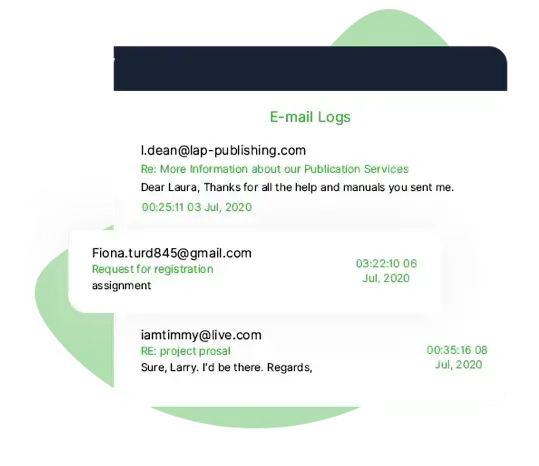 How Does SPY24 Email Tracker Work?
Watch the video to learn how SPY24 can monitor everything on an email address.
Sign Up for Free
You're just a few clicks away from having your own dashboard on SPY24.
Choose Your Plan and the Target Device
SPY24 offers a variety of packages for different operating systems. On your online dashboard, you can easily choose your device and the plan.
Install SPY24 without Rooting or Jailbreaking
You just need a few minutes of physical access to the target device to install the app. It's completely easy, and no expertise is required.
Start Monitoring Emails via Your Online Dashboard
You're all set. You can now monitor all the email details on your dashboard.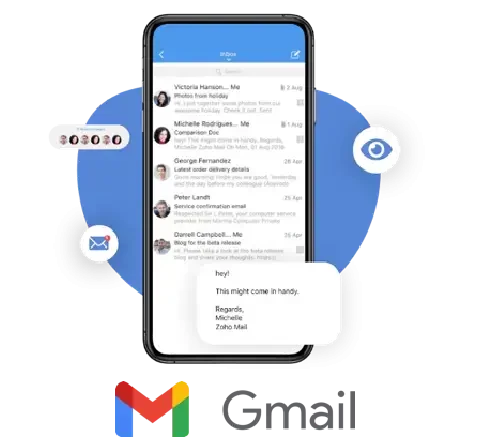 Frequently Asked Questions:
Email Tracker #1 – SPY24 email spy software
SPY EMAIL
When it comes to the security of those that are dear to you or your business, then there is no compromise on how far you can go. Electronic mail can be a very challenging source when it comes to the security of your children or company. Ensure that you do not get a headache due to this by getting the necessary email spy application that will keep you on the knowledge.
WHAT DOES ELECTRONIC MAIL MONITORING ENTAIL?
Our email spying application will provide you with an enabling ability to overcome the challenge of reading these emails through various skillfully designed apps on the target device. After the installation of SPY24, you will get unlimited access to all received and sent emails, recipients' info, and the full content of the letters. Have you ever imagined that spying and reading someone's emails could be that easy?! This tracking application is going to exceed all your expectations.
Your tracking power will be able to cover the following:
The account of all emails received in all folders (including spam folders) of the target mobile device
Get access to all music and video files either received or sent
Examination of all email address books and the data saved in the contacts (with inclusion of private information)
Timing and day tracking report on all emails
Viewing the gotten information without connectivity by hitting on the download, and it is brought to you in a form of a worksheet
You Can Totally Rely On SPY24 – We've Got Your Back
SPY24 won't leave you alone with your subscription, because, for us, your satisfaction is on top of everything else, and with that, we promise to deliver only the best mobile spying app experience that you will never have like it again!