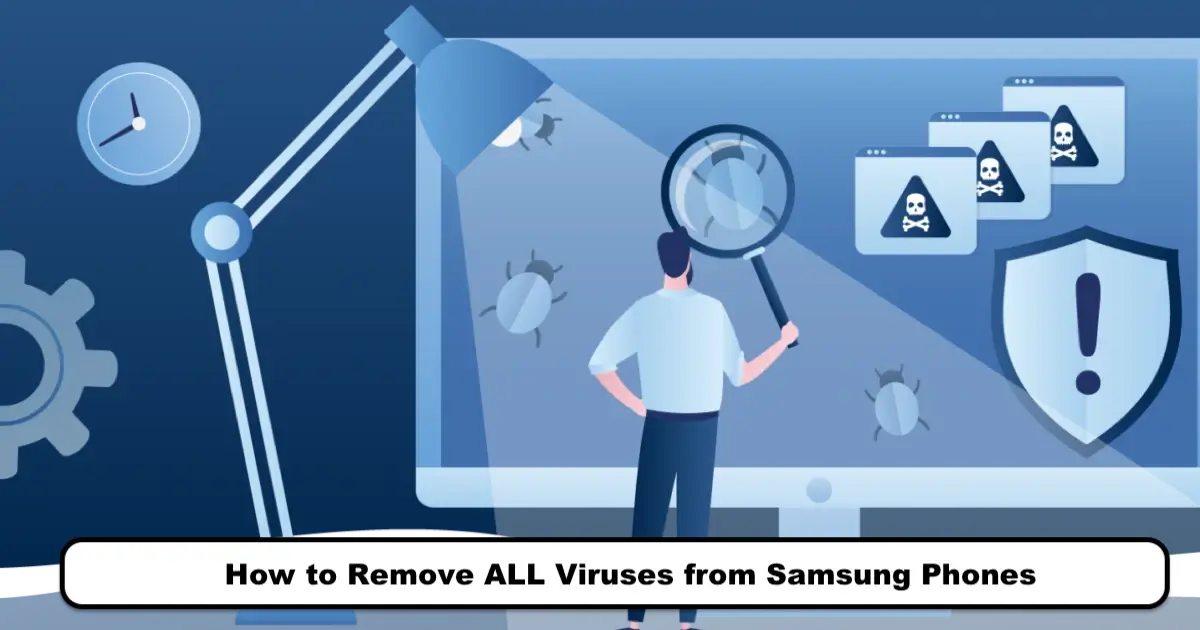 It is possible for your Samsung phone to get infected with a virus, but there is no need to worry because removing a virus from a Samsung phone is easily possible. Stay with us. If you are using a Samsung phone and it has been infected by a virus, you need to solve your problem by following the instructions for removing an Android virus from a Samsung phone. Samsung virus removal is not difficult, and there are methods for detecting viruses on Samsung phones that you can use. Furthermore, in this article, we will talk about the reasons why Samsung phones get infected with viruses and how to remove viruses from Samsung phones. You can perform Samsung virus removal using the methods mentioned below. Read this article: How to Remove a Hacker from My Samsung Phone.
Samsung Phone Virus Removal
Getting a virus on your phone can cause problems, but there is no need to worry as there are ways to solve this issue.
The instructions for removing an Android virus from a Samsung phone are provided below. If you want to detect viruses on your Samsung phone, stay with us to become familiar with the available solutions for removing viruses from a Samsung phone.
Signs of a Samsung Phone Viruses
Disruptions in the phone's performance are the most important signs of malware and virus infiltration into the Android operating system. Therefore, if you notice any of the following symptoms, there is a possibility that your phone has been infected with a virus: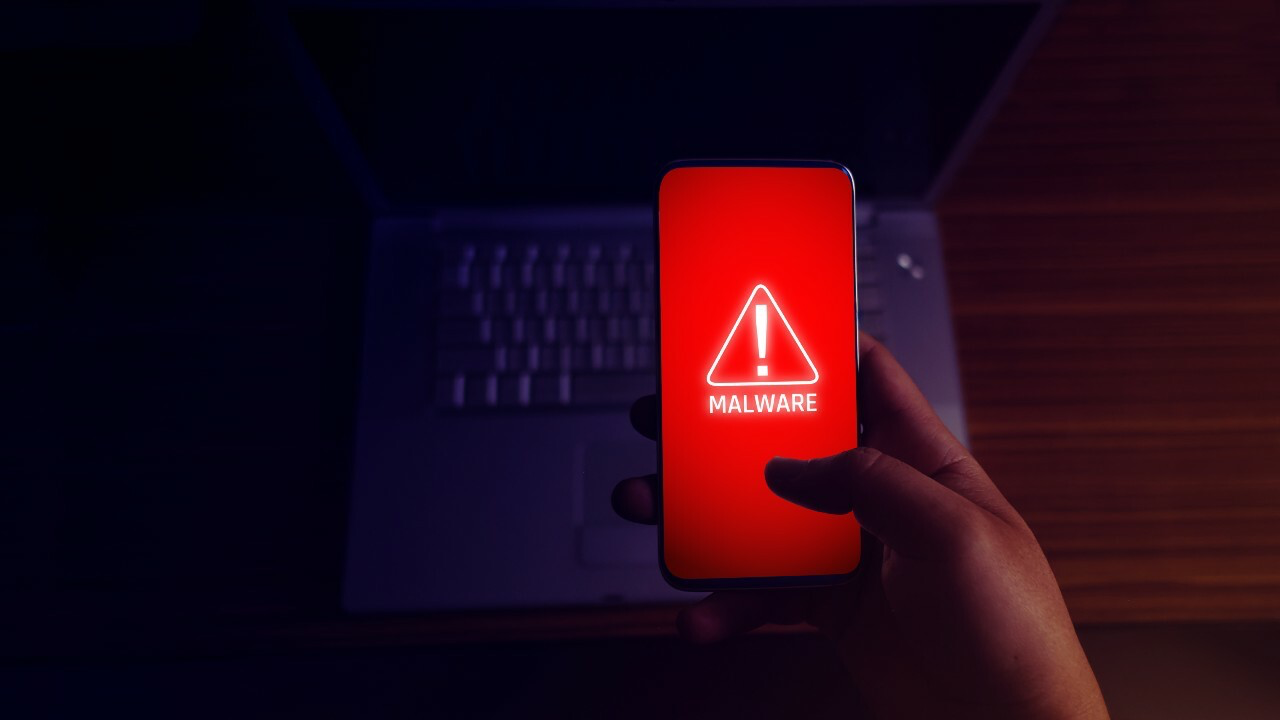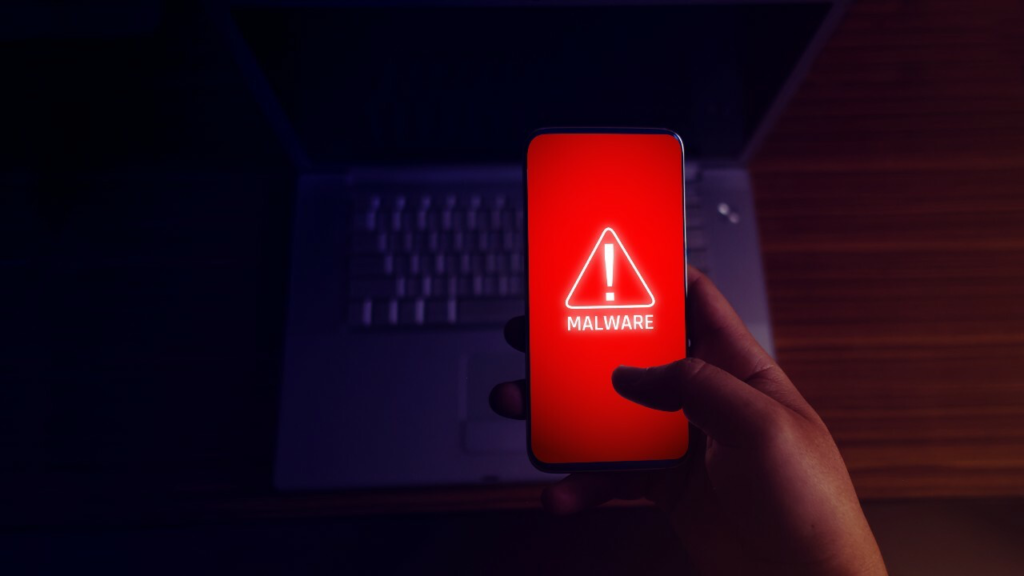 Slowness when moving through menus or opening applications
Continuous hanging and excessive application usage
An extended restart time for the device
Automatic opening of apps
Automatic installation of unknown apps
Unusually high heat emitted by the phone
Increased battery usage by the phone
Unusually high internet usage by the phone
Display of pop-up ads even when the phone browser is closed
Unexpected disconnection during calls
Resetting of Wi-Fi and Bluetooth on the device
Of course, the above-mentioned problems may arise due to reasons other than virus infiltration. For this reason, before moving on to virus removal methods, you should make sure that your device is infected with a virus.
Installing Antivirus App
One of the ways to remove a virus from a Samsung phone is to use antivirus software. You can install antivirus software on your phone from the beginning to prevent your phone from being infected with a virus. However, if you have thought about installing antivirus software after your phone has been infected, there is still no need to worry, and you can easily install suitable antivirus software and remove the virus from your Samsung phone.
The important point here is to find suitable antivirus software that can perform its tasks well. Below are some antivirus software programs that have good performance and can be used:
Ahnlab v3 Mobile Security
AVG Mobile Antivirus
F-Secure Mobile Security
Avast Mobile Security
ESET Mobile Security & Antivirus
Bitdefender Mobile Security & Antivirus
Almost all Samsung phone viruses appear due to the installation of malicious software. By using Samsung phone antivirus software, you can remove viruses from your Samsung phone. After downloading and installing the antivirus software, run it and hit scan to automatically scan and remove viruses from your Samsung phone.
Using Samsung Antivirus
You may wonder if your Samsung phone has antivirus software installed by default. Samsung released Smart Manager in 2015, and some people believe that the best antivirus for Samsung phones is this default feature of the phone. This feature helps users scan and optimize their smartphones in four areas:
Battery
Memory
RAM
Security
Smart Manager automatically and regularly scans for malicious software and provides an anti-malware solution in collaboration with Intel Security as Samsung's antivirus software. You can also perform a temporary scan at any time by following the steps below:
Tap on Apps.
Select Smart Manager.
Tap on Security.
The last time your device was scanned will be visible in the top right corner.
To rescan, tap on SCAN NOW.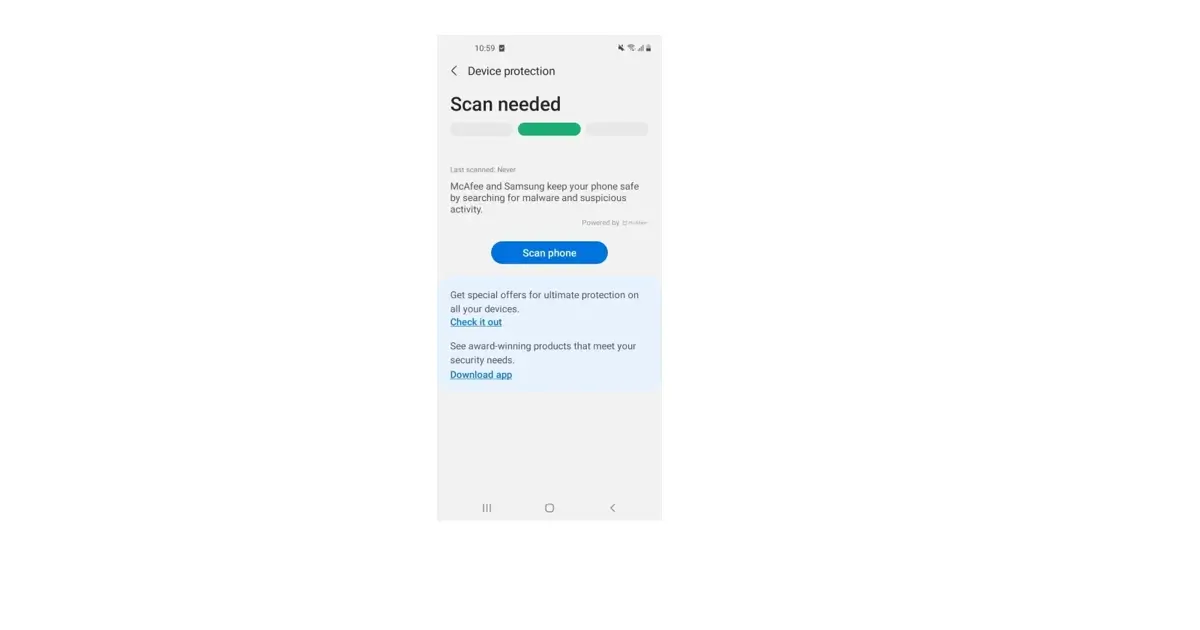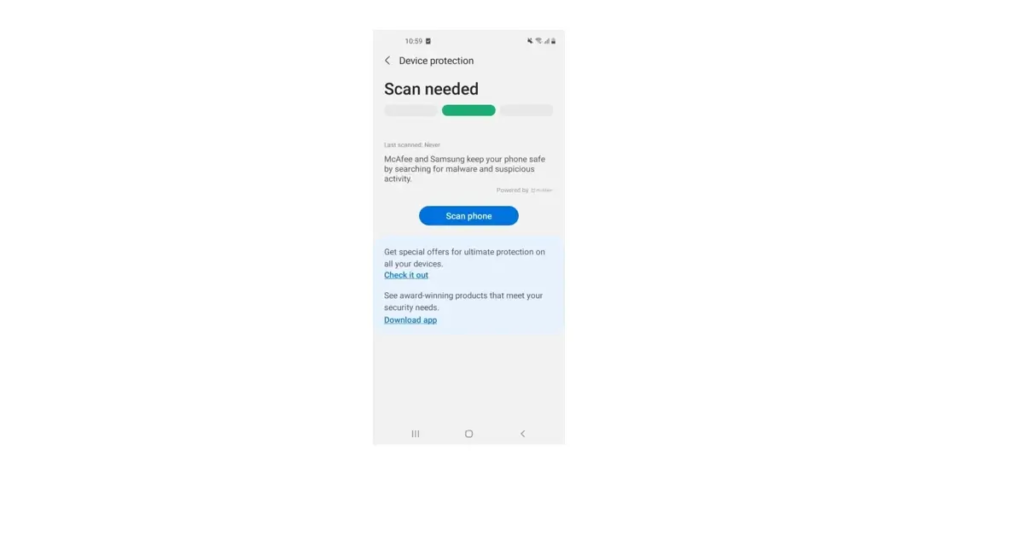 It should be noted that this method can be considered Samsung's approved antivirus. Generally, even if you have not noticed any suspicious activity on your phone, it is not a bad idea to use this method every once in a while.
Removing Samsung Phone Virus in Safe Mode
Some malicious software cannot be removed from the phone using common methods. To get rid of such programs and also the Samsung phone virus, you must first run your phone in safe mode. By running the phone in this mode, all installed software and viruses will be temporarily disabled.
Only the default software of the phone can be run, and the Safe Mode sign will appear in the bottom left corner of your phone's screen. You can use this mode to remove viruses from your Samsung phone. To do this, follow the steps below:
Turn on your Samsung phone.
Then press and hold the phone's power button for a few seconds.
Touch the Power Off option among the options that appear for a few seconds to display a message.
Now, tap OK to enter safe mode.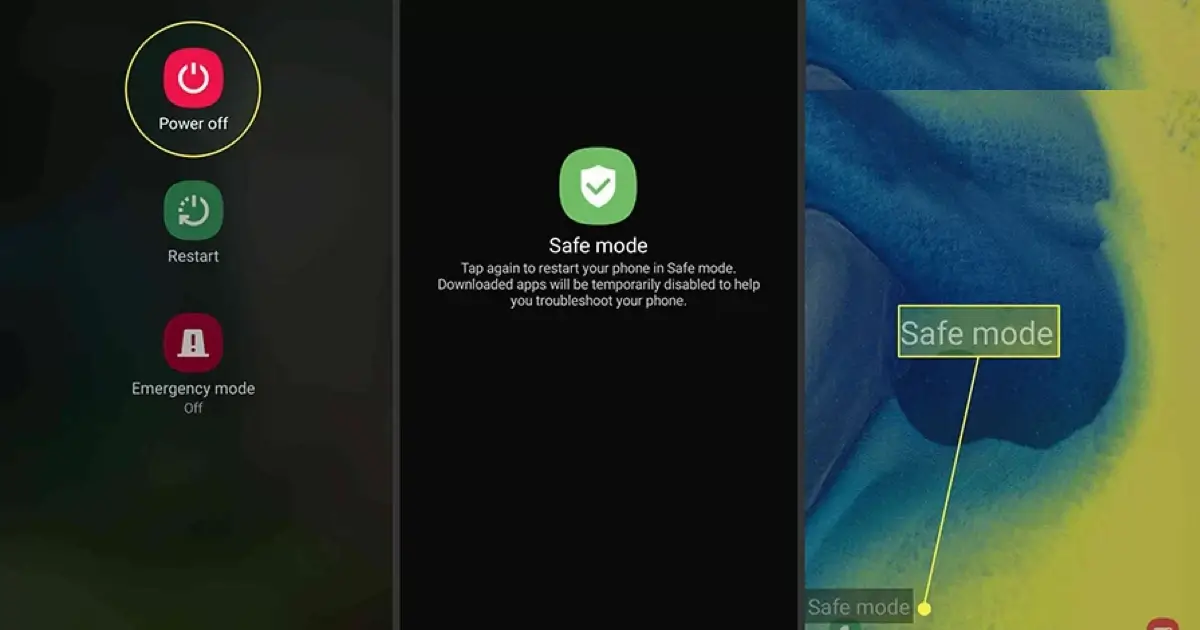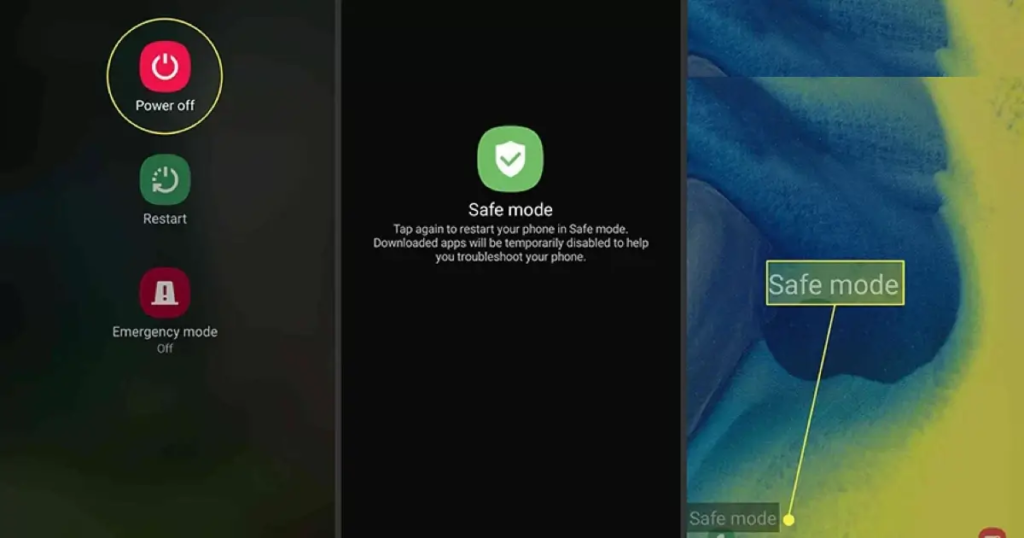 Then go to the settings section and then the phone's applications, open the installed software that you think is infected with a virus, and select the Uninstall option to remove it.
To exit safe mode, simply restart your device! You can also swipe down the notification bar on your phone and tap on the Safe mode enabled option to open a new window.
In this window, select OK to restart the phone and exit safe mode. If you follow the previous steps correctly, there will be no more traces of malware or problems caused by them.
Clear Browser Cache
Phone viruses are becoming more complex day by day, but many of them are still relatively simple and only work through your browser. This means that if you clear your internet cache memory, you have a relatively good chance of getting rid of the virus. Remember that to remove the phone virus using this method, you must do it on all the browsers you use.
Delete Your Downloaded Files
Another option is to try this method before resorting to more drastic solutions, which is to go to your downloaded files (note that we're not referring to apps on the home screen, but rather the installation files) and delete them. This method can be helpful.
Removing Samsung Phone Virus with Factory Reset
Many times, removing the Samsung phone virus is done with a factory reset. The factory reset causes your phone to return to its default factory settings, and by deleting the malicious programs, it will help remove the virus from your Samsung phone.
It's worth noting that with a factory reset, all your phone's information, including photos, videos, contacts, messages, and installed software, will be deleted. Therefore, be sure to back up your phone before doing this.
Removing Samsung Phone Virus with Computer
If the internal or external memory of your Samsung phone is infected with a virus, you can remove the virus by connecting your phone to your computer or laptop. To do this, first connect your phone to the computer using a cable.
Now a drive related to your phone's memory will be created in the This PC section of Windows 10 (My Computer in Windows 8 and 7). Right-click on it and use the antivirus installed on your computer to remove the virus.
Another method to remove the Samsung phone virus from a computer is to disconnect the infected external memory card from the phone and connect it to the computer using a card reader. Then scan the memory card using an antivirus program.
How to prevent your Samsung phone from getting infected with a virus?
Before looking for ways to remove the virus from your phone, it's better to prevent it from getting infected in the first place to avoid its entry and activation on your device. Prevention is always better than cure!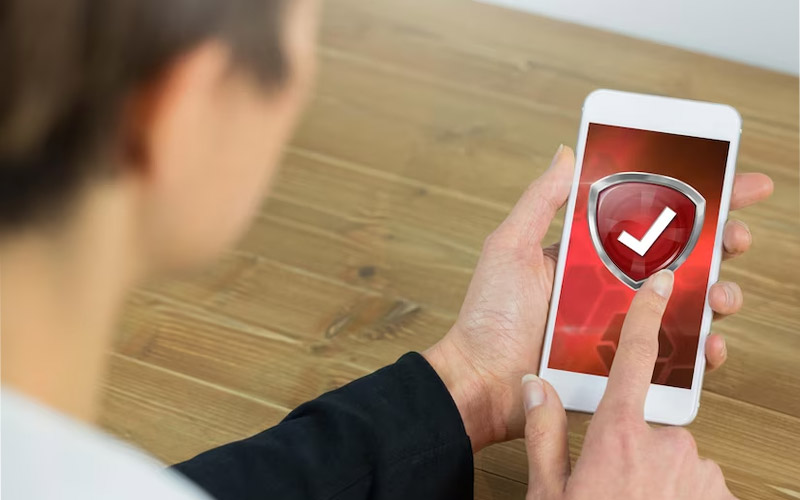 Instead of removing the phone virus, it's better to look for ways to prevent your phone from getting infected. The following are some of the most important and effective measures to prevent this:
Not downloading apps from unreliable sources
It is recommended to always download Android apps only from Google Play Store, as 99% of the apps in this source have been thoroughly evaluated and are under control regarding malware, viruses, and malicious codes. Typically, malware and viruses that exist on Android devices are activated through apps downloaded from sources other than Google Play Store.
When installing an app via Google Play Store, be sure to check its permissions. A malicious app may have strange permissions! For example, a malicious video player may request access to your contact list, which is not reasonable and can definitely indicate the malicious nature of the app.
Installing reputable antivirus software
Having an Android antivirus installed on your phone is not always necessary, but it is certainly better than not having one. So, install a good and quality antivirus on your phone that can detect malicious apps.
Not downloading clone apps
You may have experienced searching for a specific app and finding similar versions with relatively similar icons! If you face such conditions, most likely, the similar or cloned app you see is malicious and harmful.
So, always pay attention to the developer's name of the app you are downloading, and do not mistakenly download the cloned version instead of the original one. Google Play Store prevents 99% of this issue, but you must be careful about the remaining 1%.
Updating the phone's operating system
Update your Android phone's operating system to the latest available version. Most updates released for Android include security layers added to the device that can prevent the activity of malicious codes and viruses and, in a way, remove the phone's virus.
If you pay attention to the above measures, undoubtedly, no problem will happen to your Samsung phone due to viruses, and your device never gets infected with a virus, and later, you don't need to remove the phone virus.
Suitable antivirus for Samsung phones
One of the Best antivirus apps for Samsung mobile phones is McAfee antivirus, which provides high security against malware. This antivirus includes tools to protect users' privacy, lock apps, scan Wi-Fi, and anti-theft features. The simple user interface of McAfee provides easy access to various features and capabilities of this phone's antivirus cache. Also, McAfee works well on the phone with maximum impact on system performance.
One of the features of McAfee antivirus is finding the location of Samsung phones remotely after theft or loss. Additionally, this application is very lightweight and has minimal impact on the device's battery life. Bitdefender demonstrates high resistance against the latest malware with daily security updates. It also offers a VPN to secure phone activities online.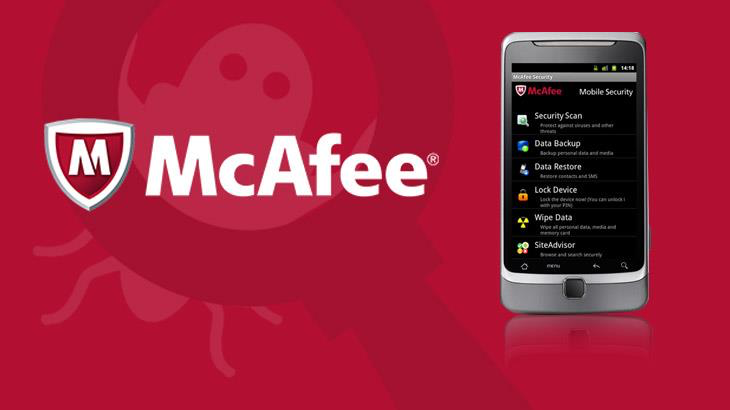 The features of McAfee antivirus for Android antivirus are as follows:
★ Anti-theft and security features of McAfee antivirus for Android
✤ Pairing your Android Wear: Preventing loss, protecting Wi-Fi and malware, and efficiency
✤ S.O.S: Save the last location of your device before the battery runs out
✤ Device lock: Prevent misuse of the phone and personal information by remotely locking it
✤ Remote data erase: Delete selected data or return it to factory settings
✤ Backup and recovery of data: Back up contacts and SMS, then restore your information to a new device
✤ Isolation protection: Prevent Apps from being deleted on your tablet or phone by thieves
✤ And…
★ Privacy protection features of McAfee antivirus for Android
✤ Multi-user app profile: Control what other people see on your device's apps
✤ App Lock: Lock applications with sensitive content to protect your privacy
✤ Application Protection: Identify applications that may compromise your personal information
✤ Call blocker and SMS filter: Block unwanted calls, numbers, and texts
Call and SMS blockers and SMS recovery are not available for devices running Android 4.4 (KitKat) or higher.
Optimizing the performance of McAfee antivirus for Android
✤ Widget: Stay up to date with your security status and solve problems with just one touch
✤ Battery optimizer: Accurately estimate remaining battery life and help your device last longer
✤ Memory cleaner: Free up memory (RAM) from unwanted background apps, speed up your device, and save power
✤ Storage cleaner: Delete unwanted files and applications to free up storage space
✤ Data usage tracking: Set data limits and monitor usage
✤ And…
★ Antivirus, web protection, and McAfee antivirus features for Android
✤ Antivirus: Scan for malicious file codes, SMS, SD card, internet downloads, and applications. Instantly detect malware software
✤ Secure web browsing: Block access to dangerous sites from texts, emails, QR codes, and social networks
✤ Wi-Fi security: Protect against ARP spoofing attacks and insecure Wi-Fi networks
✤ And…
How to install McAfee Mobile Security antivirus
To install McAfee Mobile Security for Android antivirus, follow these steps:
Search for the McAfee Mobile Security app.
Click Install. Wait for the installation to complete.
Open the McAfee Mobile Security app.
Read the agreement.
Click Accept and Start Protection.
Wait for the complete setup process.
Activating McAfee Mobile Security Antivirus
To activate McAfee Mobile Security for Android antivirus, follow these steps:
Open the McAfee Mobile Security app.
Click on the User icon in the upper right corner.
Click Got an activation code.
Enter your McAfee license activation code. Wait for the activation to complete.
Create a six-digit PIN and confirm it.
Click the orange circle in the upper right corner.
Select Set your security question.
Enter the six-digit PIN you created.
a) Choose two questions.
b) Provide two correct answers.
c) Click Save.
Click Activate Uninstall Protection.
Click Activate.
Click Finish.
This completes the installation and activation of McAfee Mobile Security antivirus for Android.
In this article, which was about how to remove the Android virus from Samsung phones, we discussed the reasons for the phone's Viruses and solutions for detecting a virus on Samsung phones. If you have encountered a virus problem with your Samsung phone, removing the Samsung phone virus is easily possible.
Frequently Asked Questions:
How is it possible to remove viruses from a Samsung phone?
In this article, we talked about removing viruses from a Samsung phone. First, it's better to be careful so that our phone does not get infected with a virus, but if it becomes infected, there is no need to worry and we can solve this problem by removing the virus from our phone. There are solutions for removing viruses from Samsung phones that have been discussed here. By reading this article, you can obtain the necessary information about the available solutions and take action to solve your phone's problem and remove the virus based on the mentioned methods.