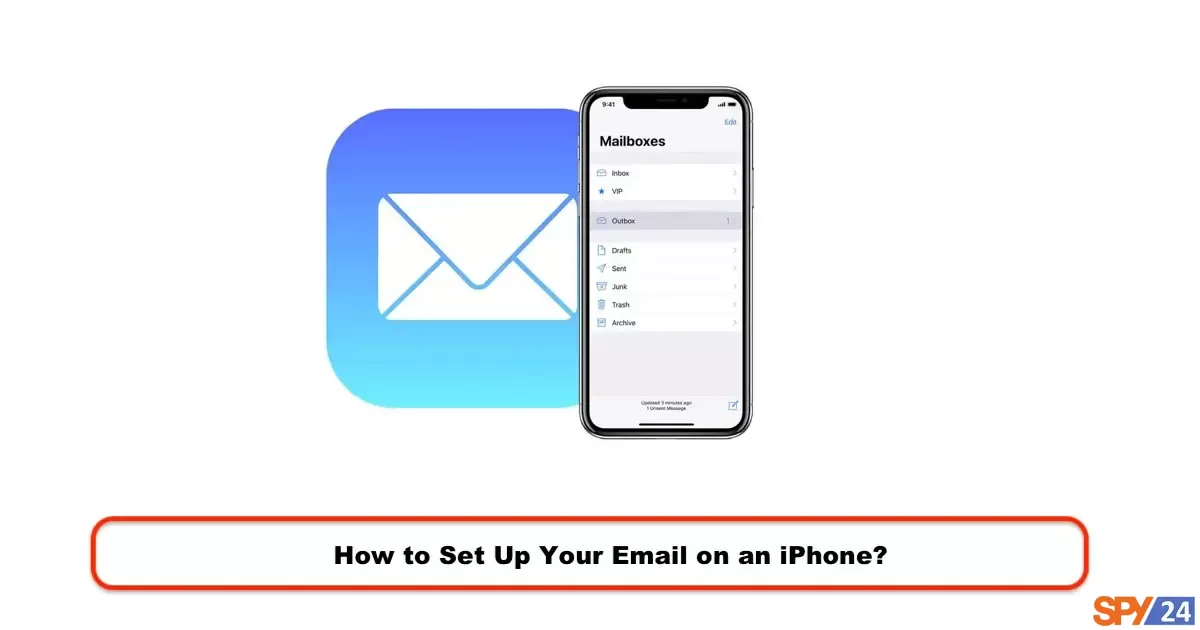 With a few clicks, you can directly add your email to your iPhone. Apple has added the ability to add the most popular emails to its devices. You can easily add the following emails (any or all of them) to your iPhone Mail app, provided you have your email username and password. The following emails are available by default in your iPhone/iPad/iPod settings, but you can also add emails other than these to your device's email settings. READ More: How to Check If Your Gmail Account Has Been Hacked?
iCloud
Microsoft Exchange
Google Mail
Yahoo!
AOL
Outlook
Domain email
How to Add Emails (Gmail, Yahoo, AOL, Outlook, etc)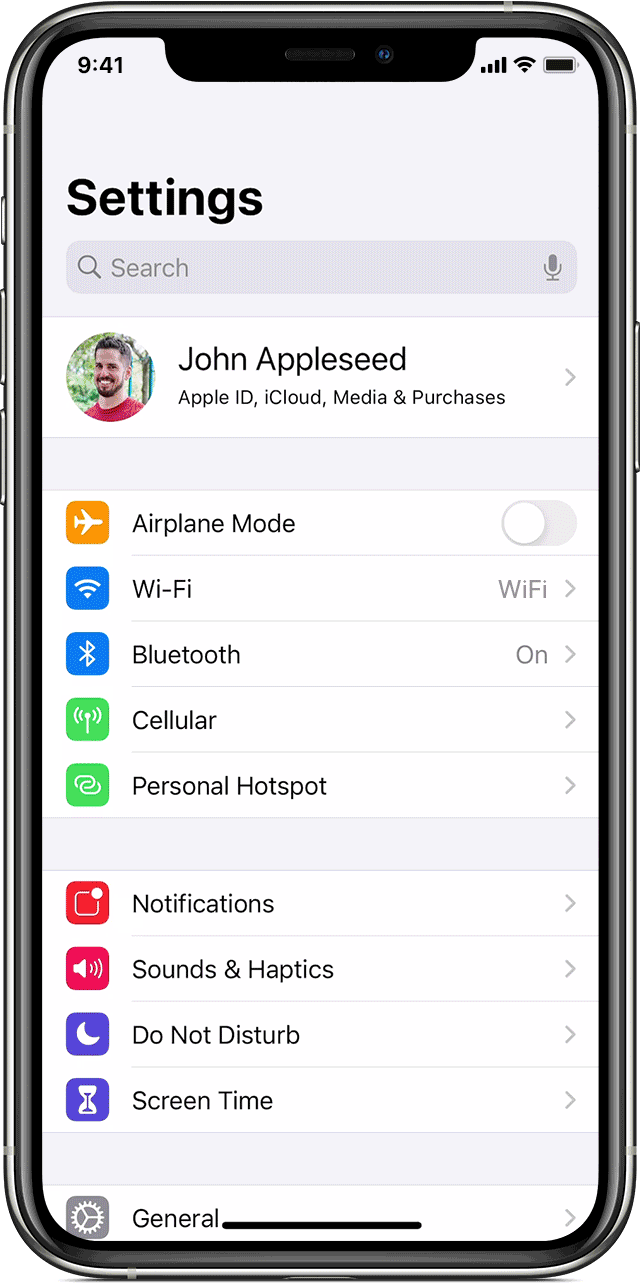 Go to Settings on your iPhone and select Mail.
Select Accounts.
In this section, select Add Account.
In this section, you will see the names of email services. Choose the required option. For example, if you want to add Gmail, select Google. If you do not see the name of your email provider in this section, refer to the manual account setup section in this article.
By selecting the desired service, a page will be displayed to enter your email and password. Enter your information in this section.
After entering your information, select Next and wait for your account to be verified.
Select the information you want to be used from your email account, such as contacts or calendars.
Tap Save.
This action connects you to your email account, so messages are downloaded to your iPhone in the Mail app, and you can send your messages via Mail with your email account.
How to Add Another Email Domain+ Email Edge to iPhone?
1- First, go to the "Settings" section and select "Mail."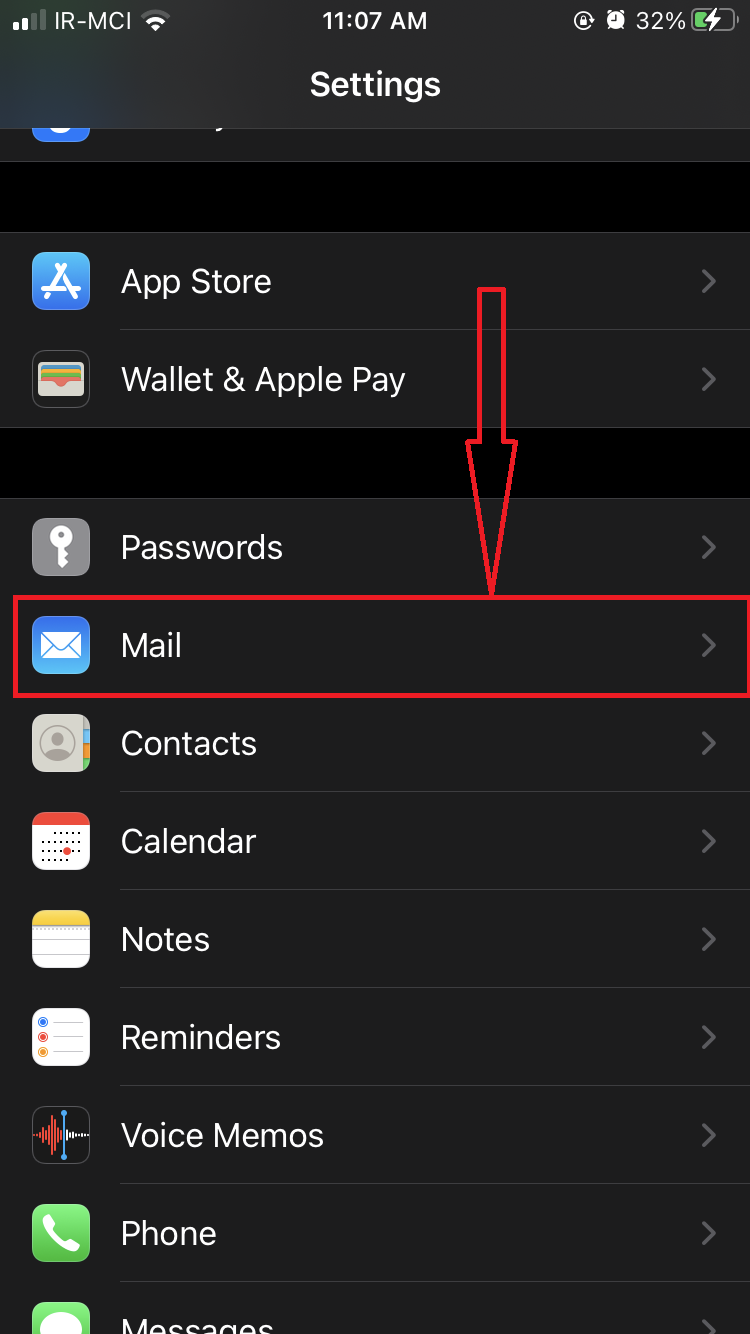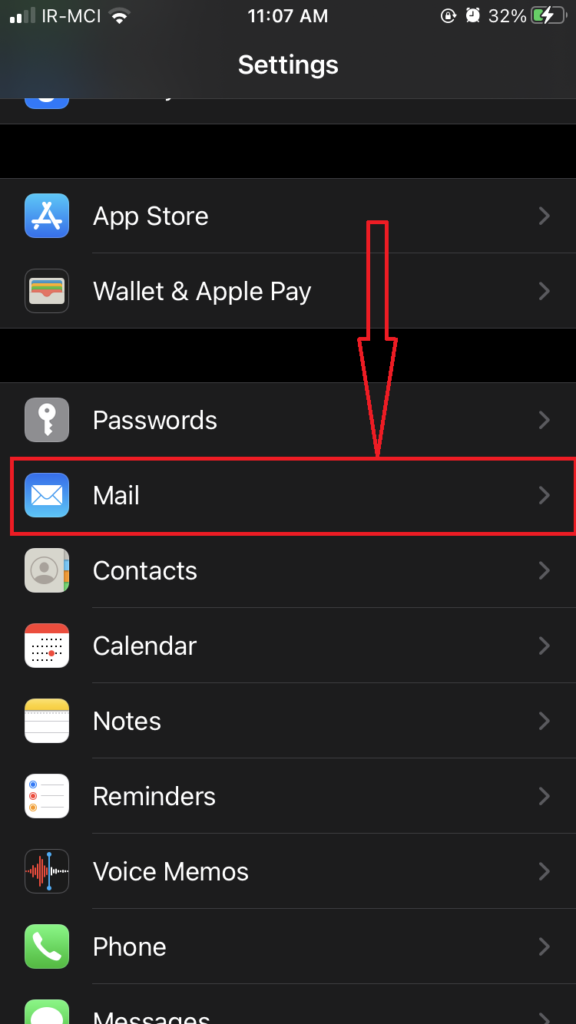 2- Then click on "Accounts."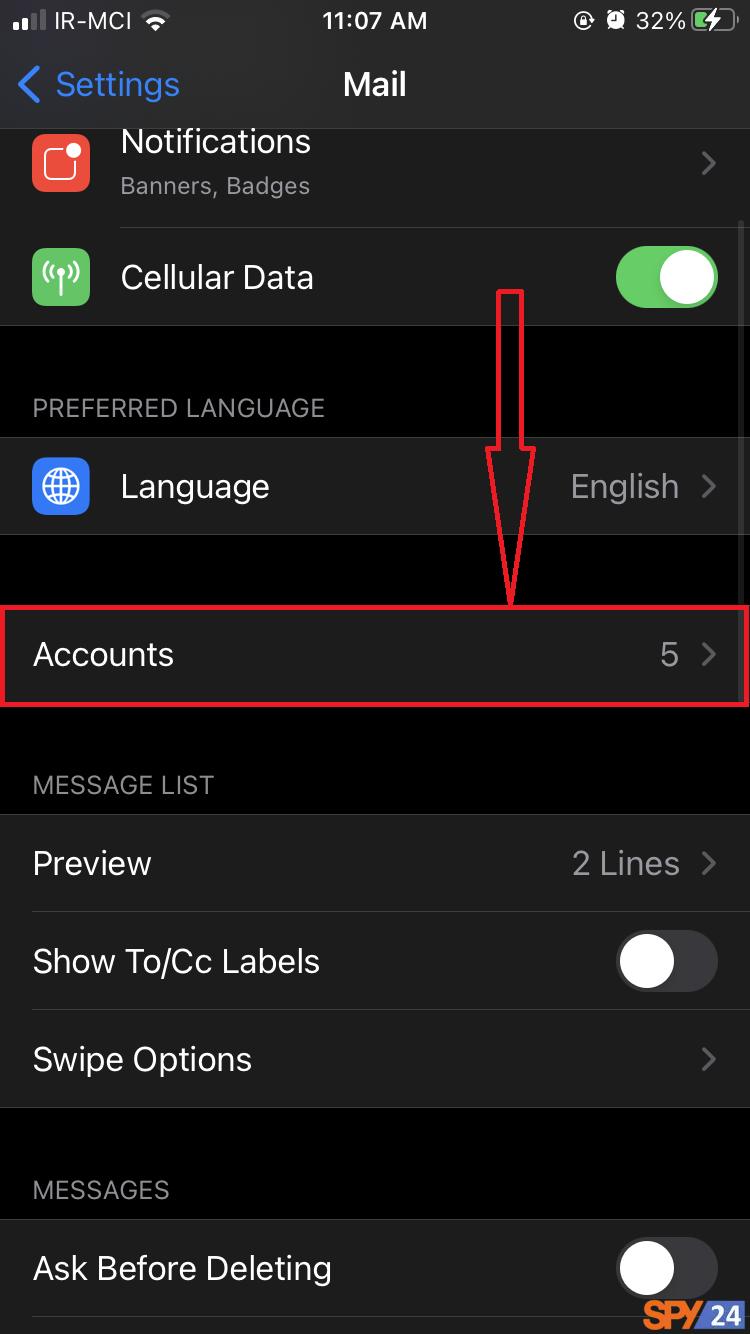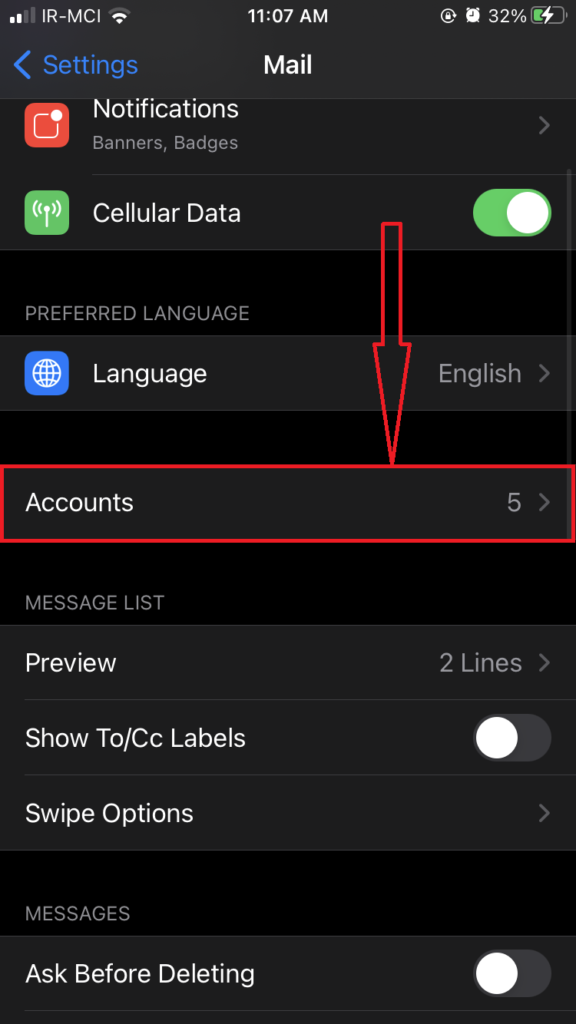 On this page, select "Add Account" to enter a new email address.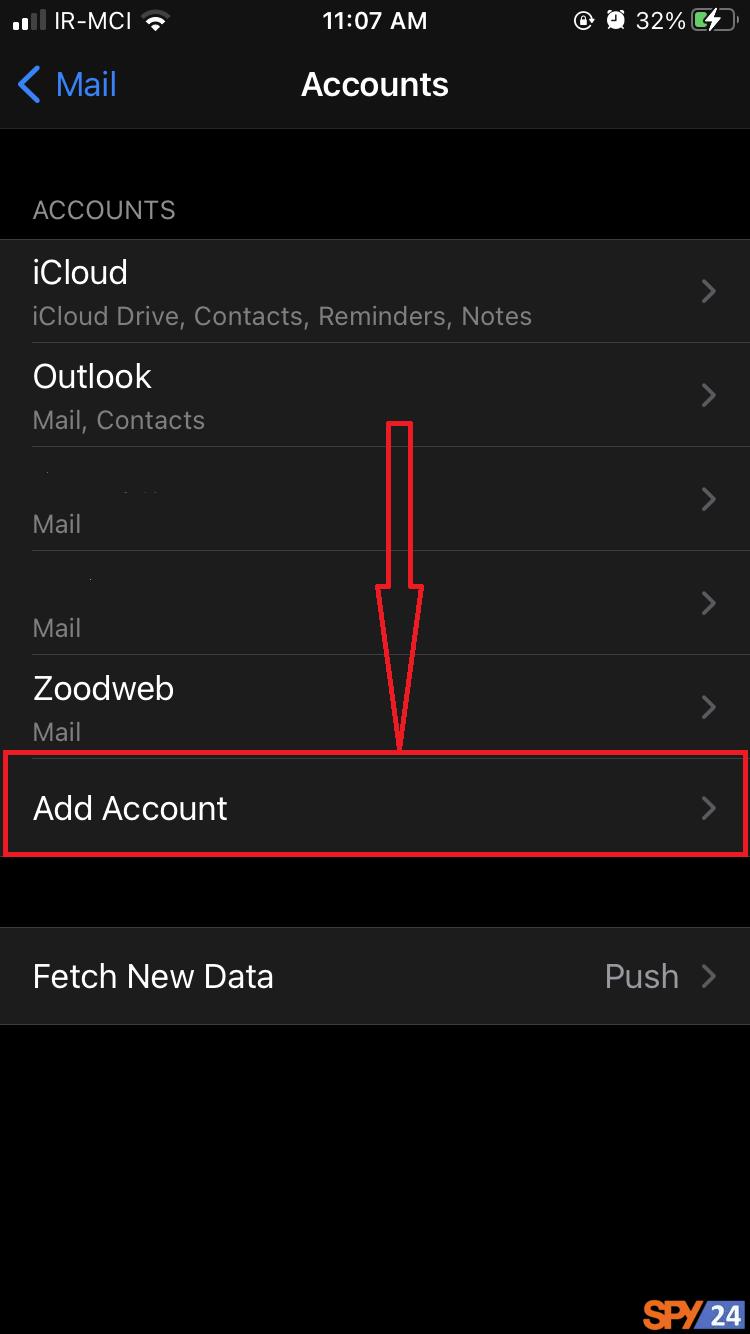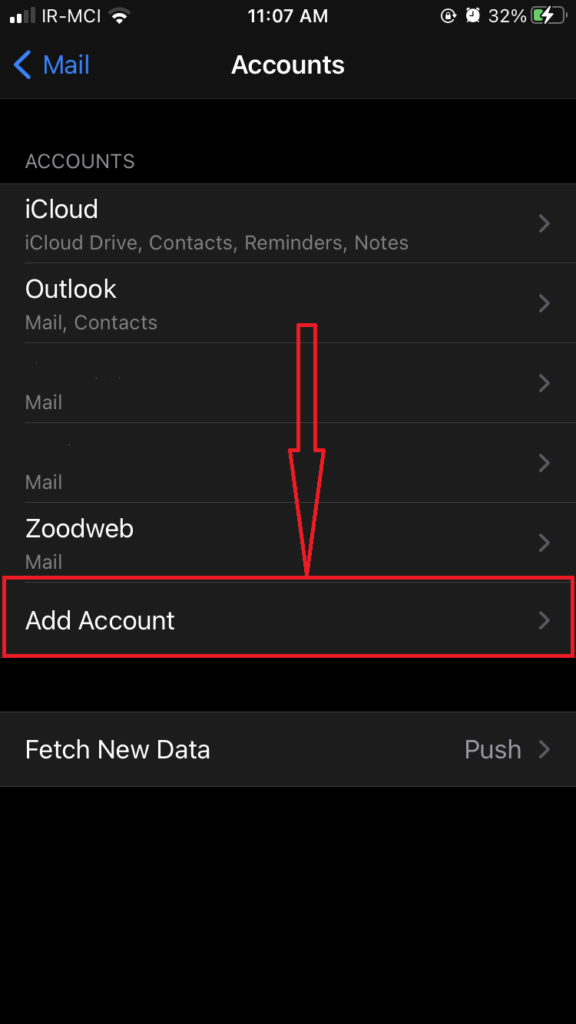 4- Now click on "Other."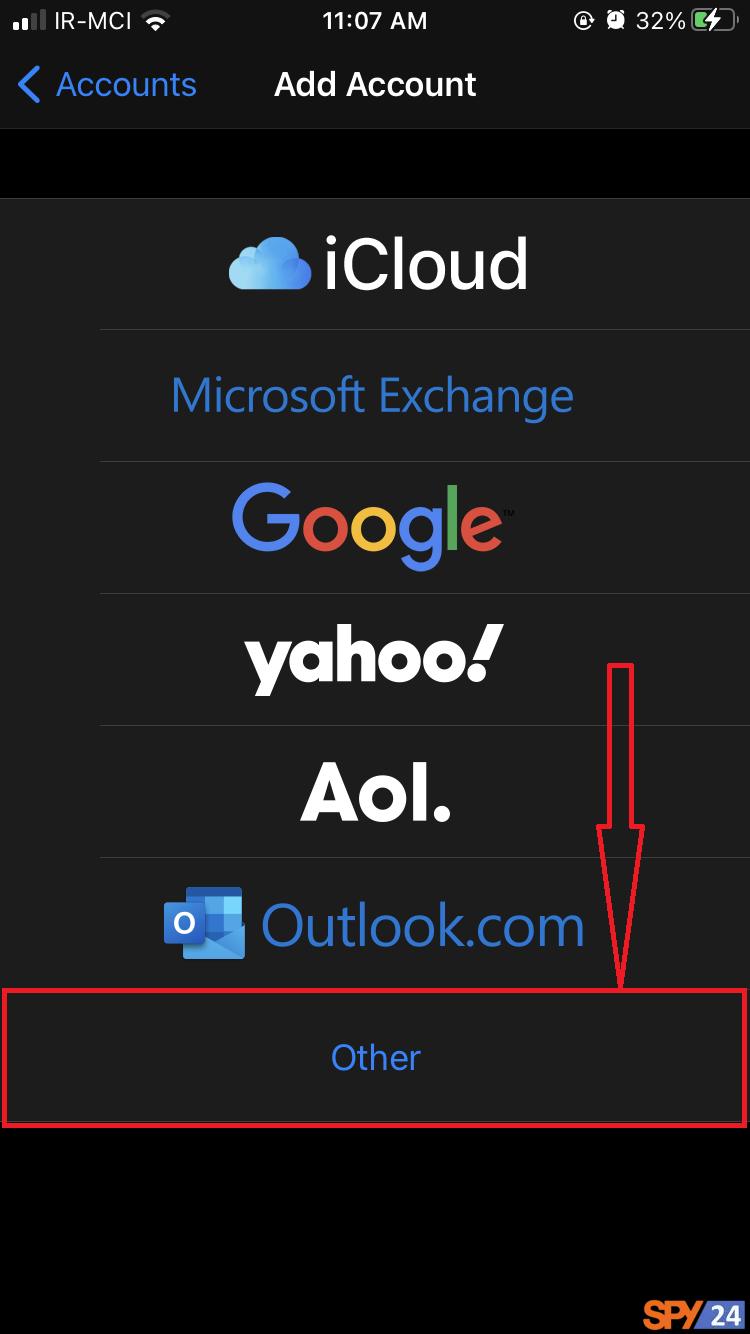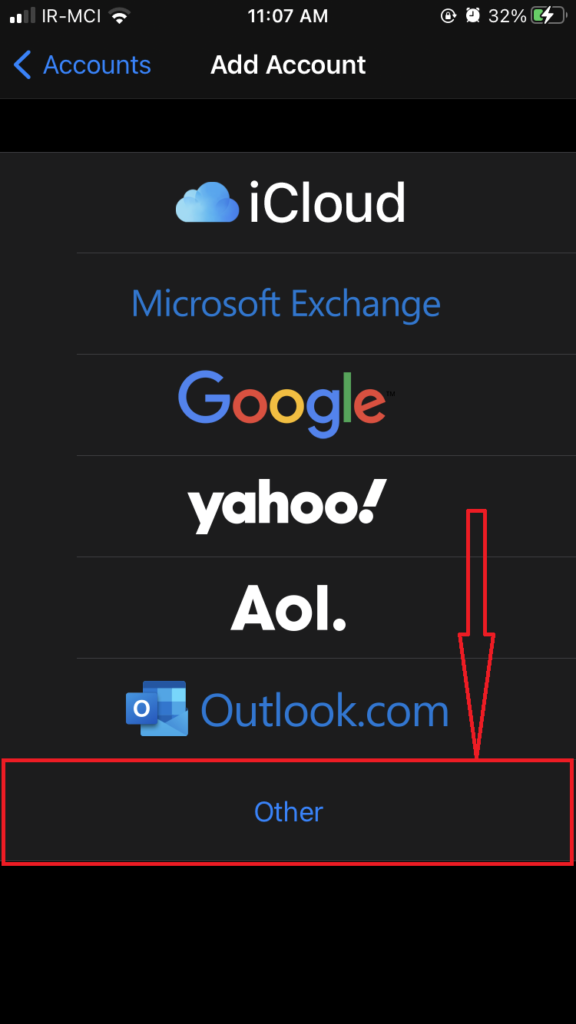 5- Then, to create an email, click on "Add Mail Account."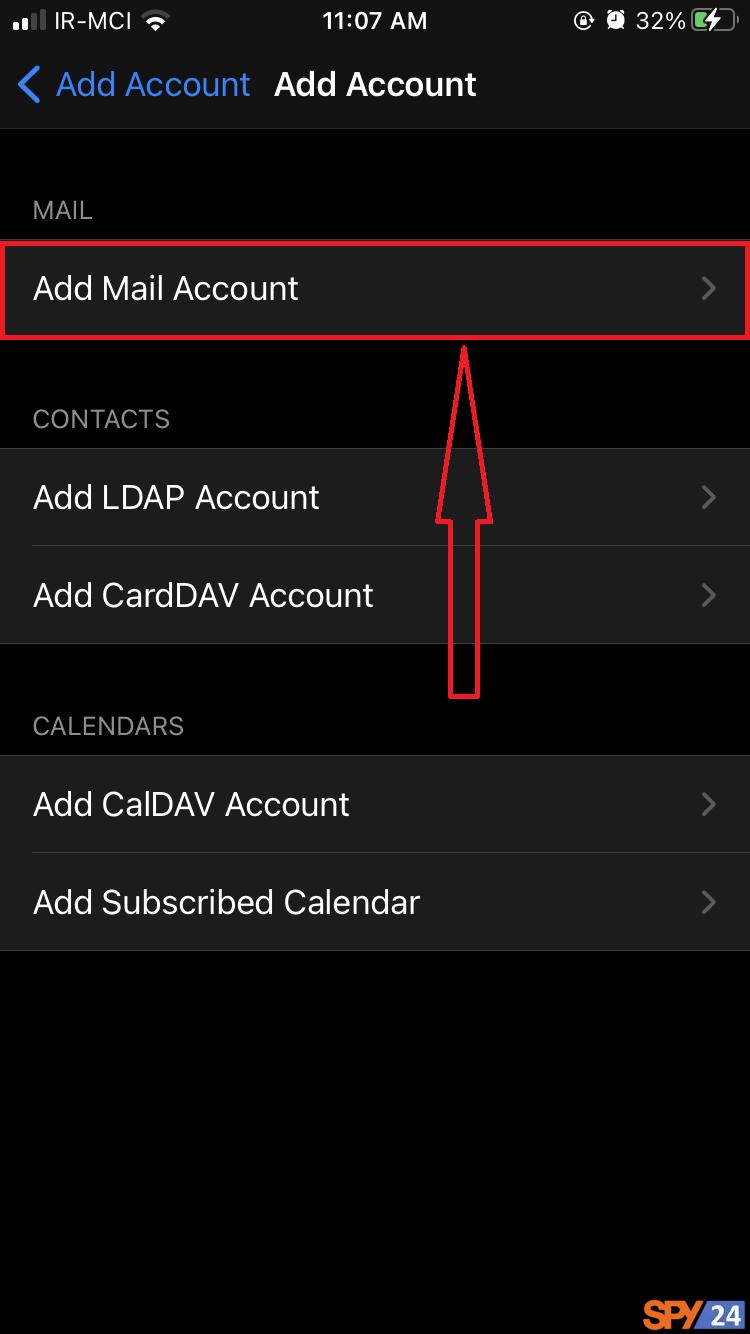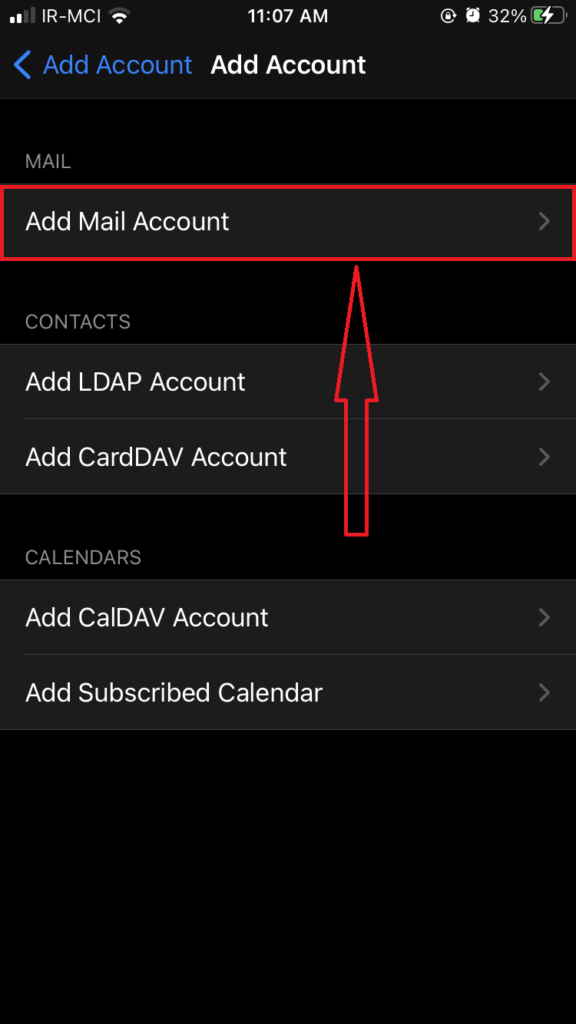 6- In this section, you need to enter the information related to the desired email.
Name: Enter the name you want in this section.
Email: Enter the desired email address.
Password: Enter the password for the email.
Description: This part is optional; you can enter a description of the email.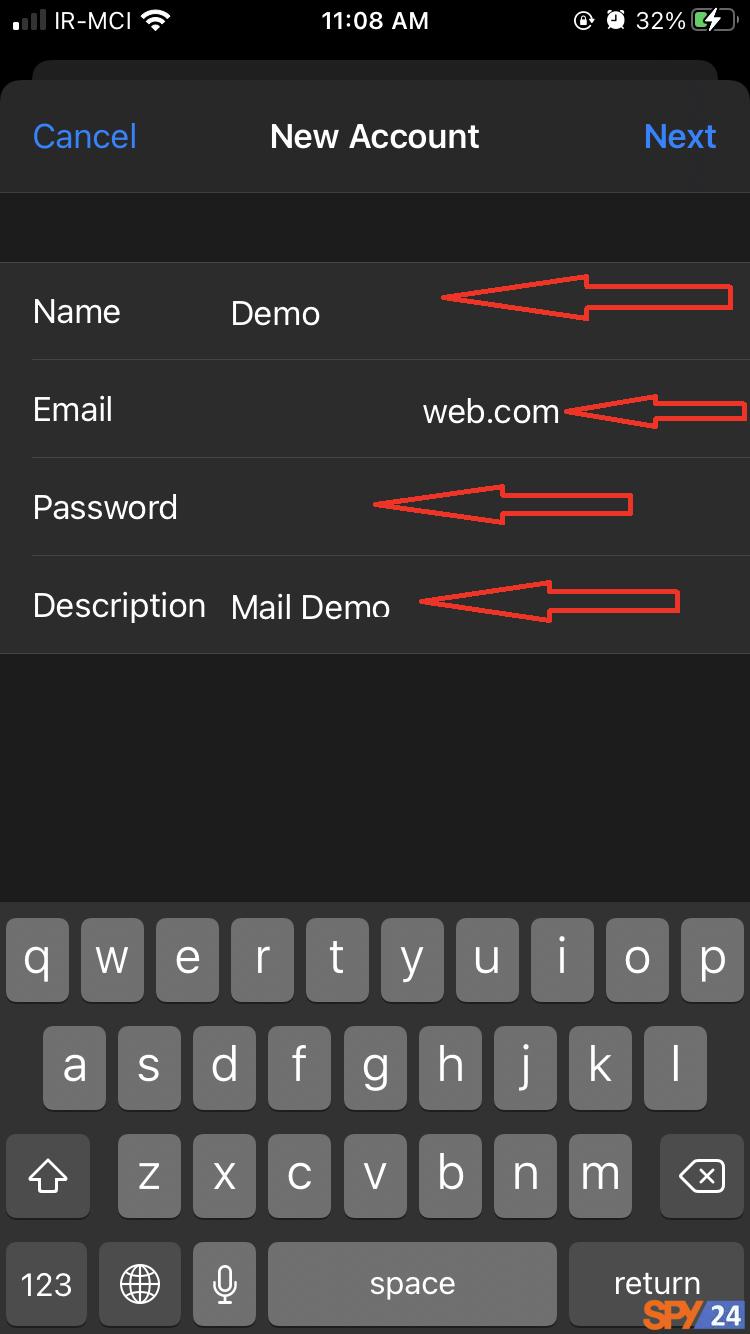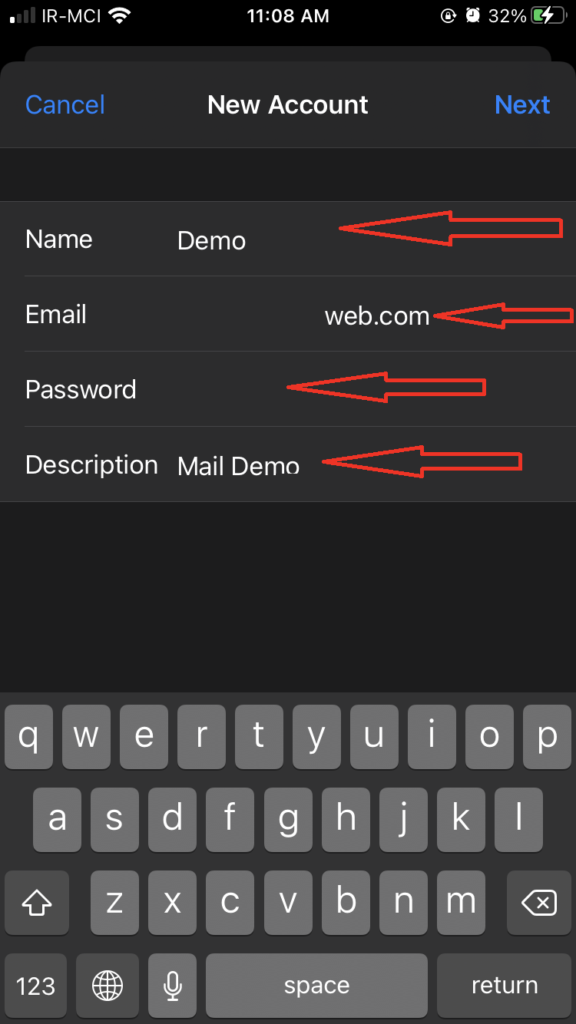 7- Finally, you must choose one of the POP or IMAP options. In this tutorial, we will choose POP. Then at the bottom of the page, you must set the INCOMING MAIL SERVER and OUTGOING MAIL SERVER sections.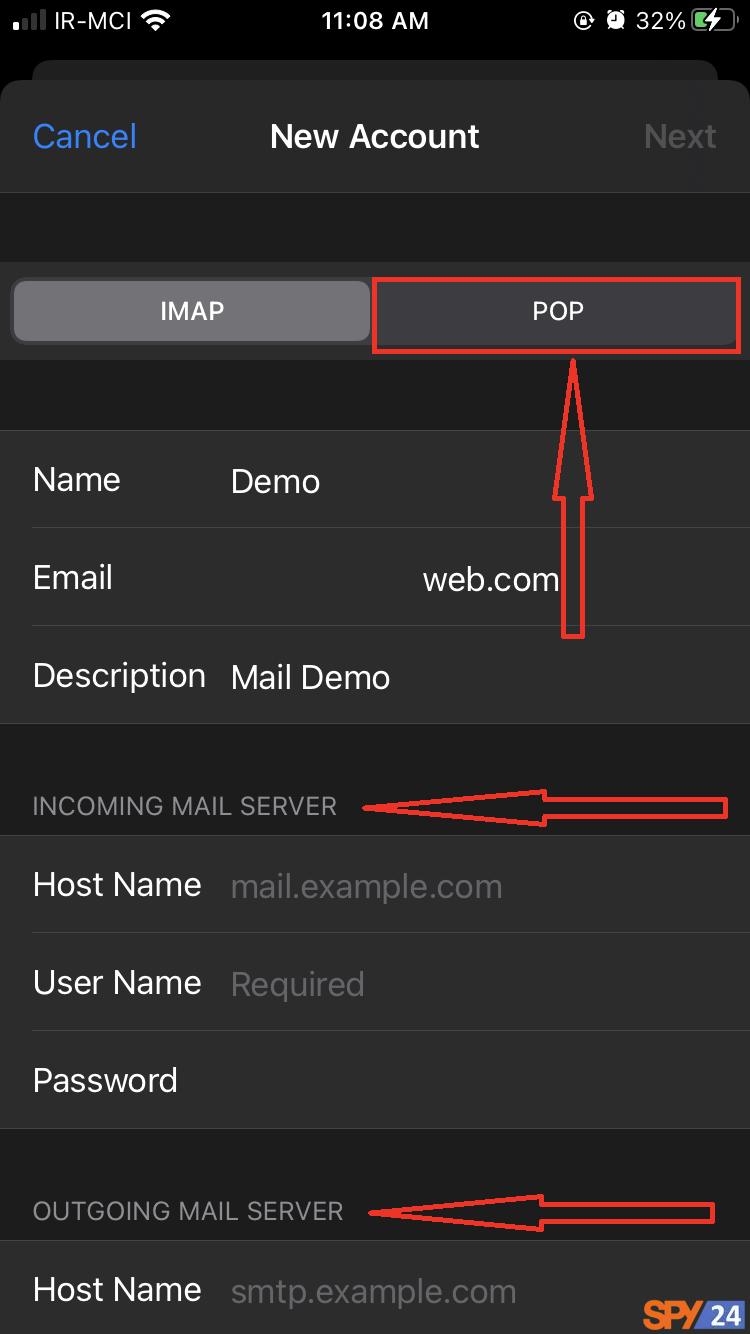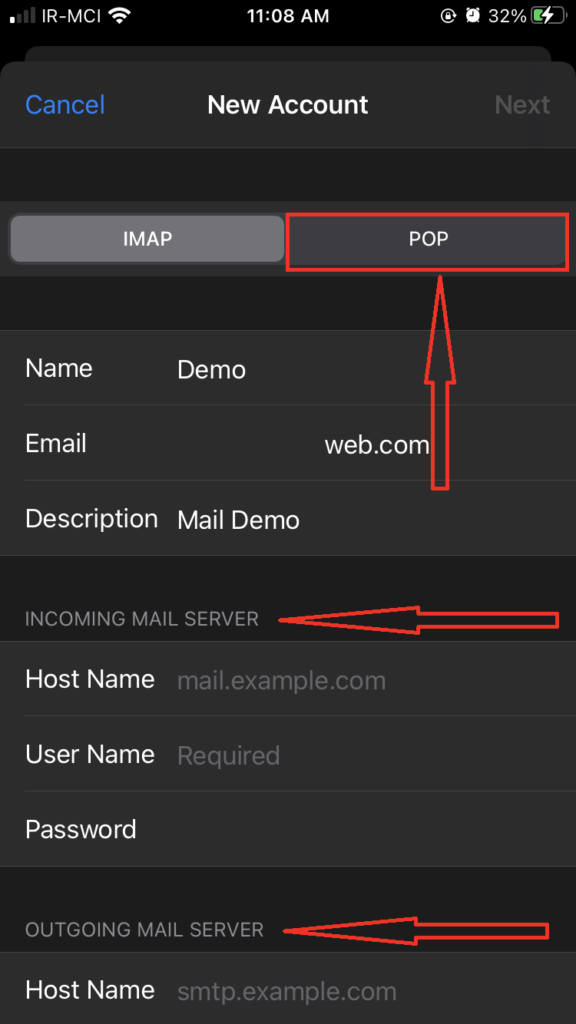 The difference between IMAP and POP protocols is in the type of receiving email. If you choose IMAP, the email will be received and sent in two copies; one copy remains in the main webmail server and one copy is saved on your device and is not deleted from the server. In POP, the mail is received directly from the webmail server and only remains on your device and will be deleted from the webmail server. If you choose IMAP, there is a possibility that your web space will become full, so you need to check your email space regularly.
8- In the Incoming and Outgoing sections, you need to enter the email settings, which are as follows:
If you encounter an error, you should ask the hosting company that provided the email service for assistance, as their settings may be different.
We provide both sections below. Finally, click on "Save."
Host Name: You must enter it as mail.yourdomain. Instead of your domain, enter the name of your website. In our example, we used mail.domain.
User Name: Re-enter your email address.
Password: Re-enter the password for the email.
Server Port: Make sure that port 587 is set in the Server Port field in the Outgoing Mail Server section, and finally, click on the Done option to save the settings applied.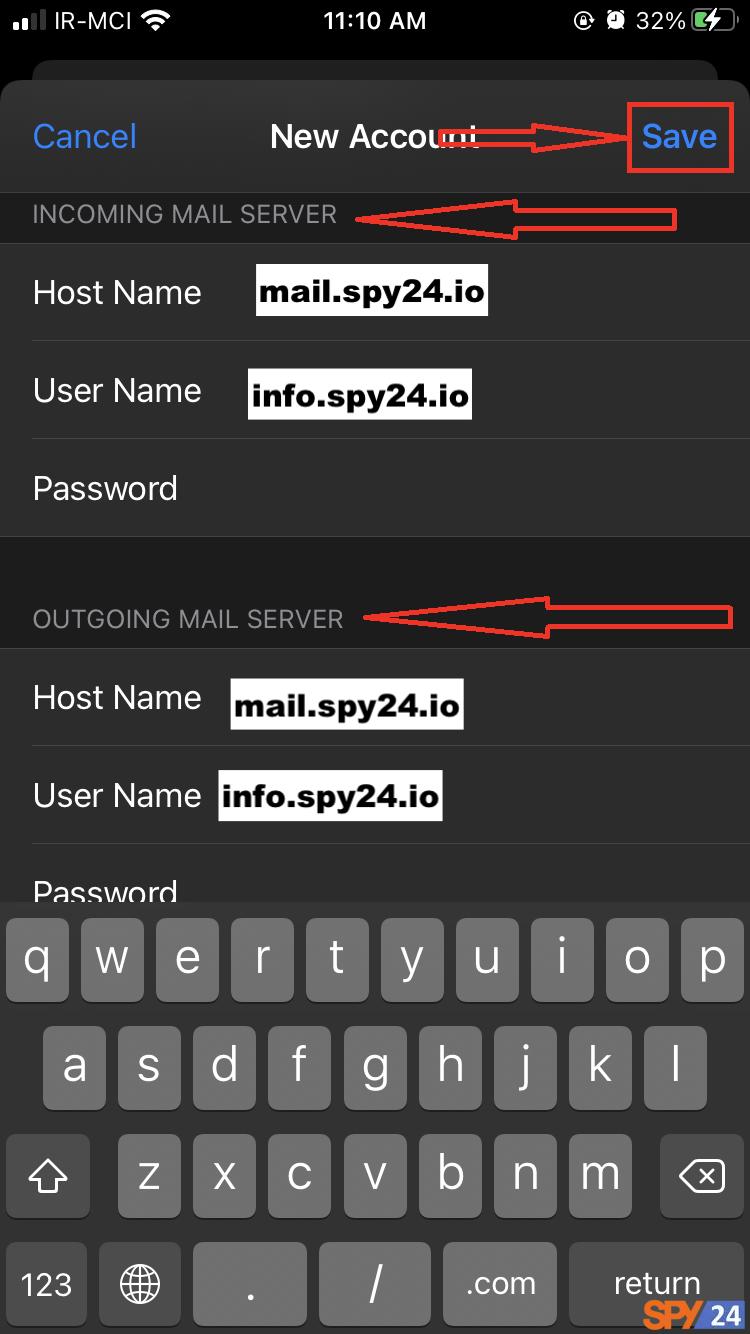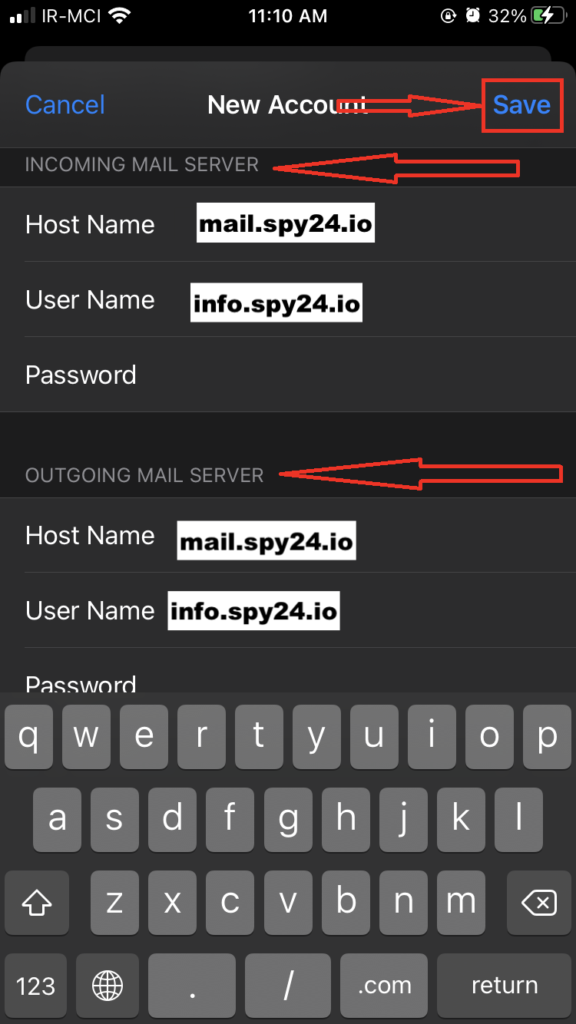 How to Add Gmail to Your iPhone
To add your Gmail account to your iPhone and access your email in the Mail app, first open the Settings app on your iPhone.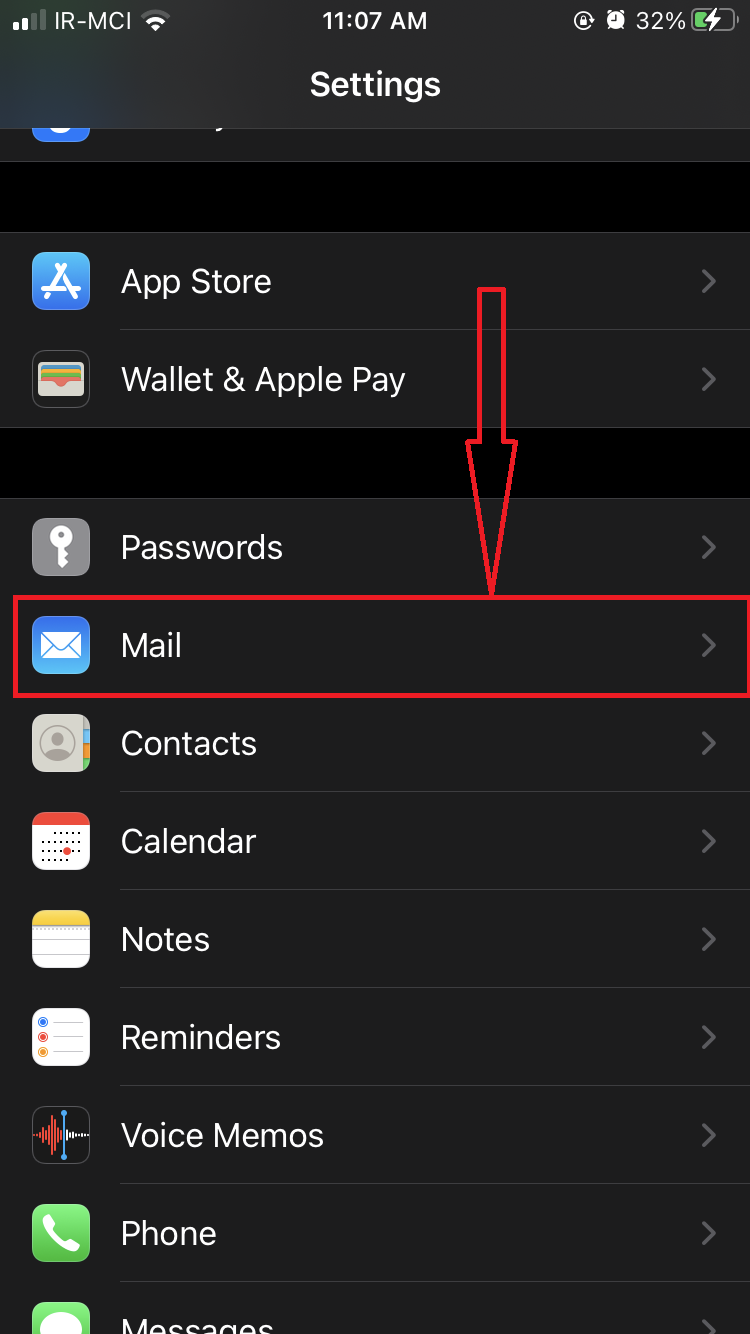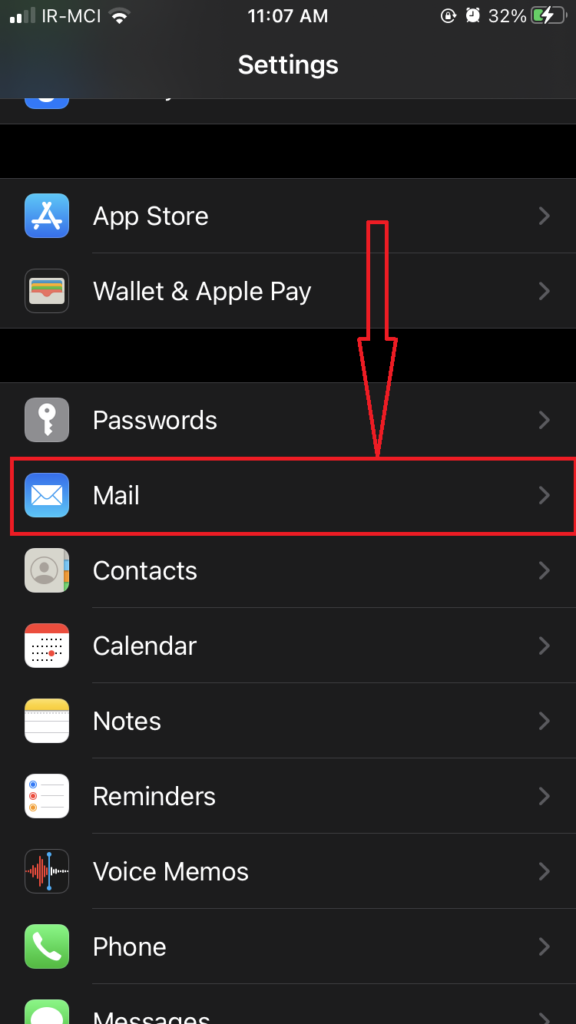 In the Settings menu, scroll down a bit and tap on the "Accounts" menu.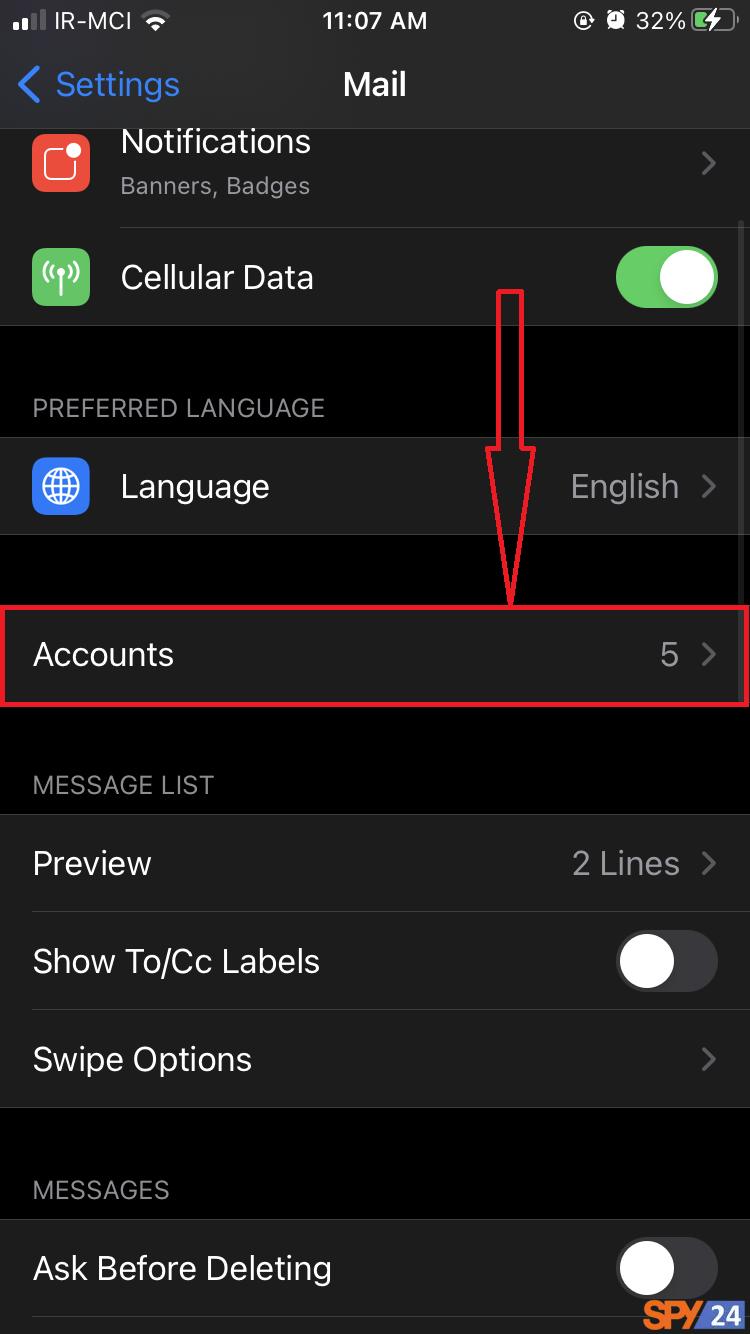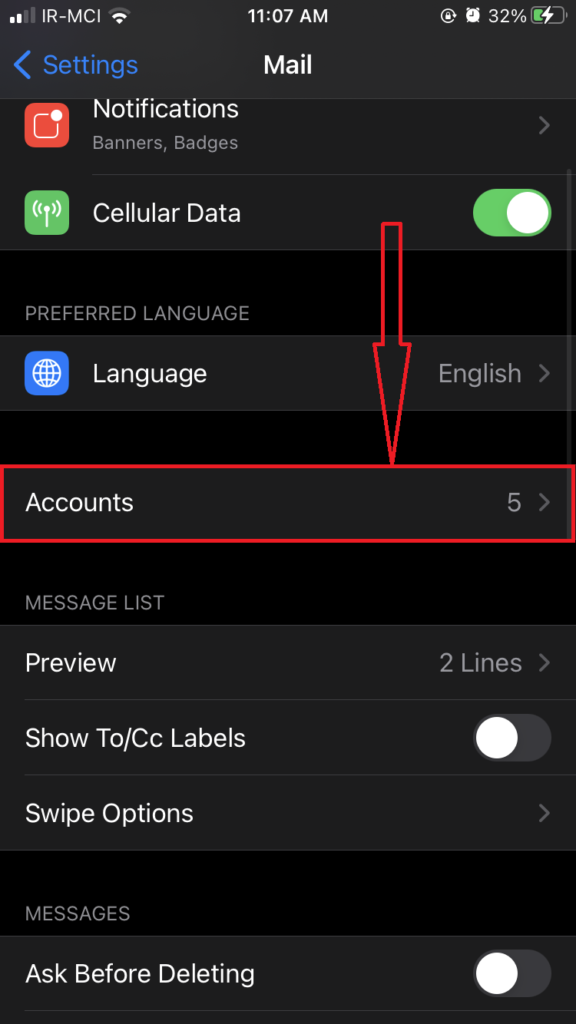 On this page, select "Add Account" to enter a new email address.
On the "Mail" page, select "Add Account."
On the "Add Account" page, you will see various services that you can use for your user accounts. To use Gmail, tap on "Google."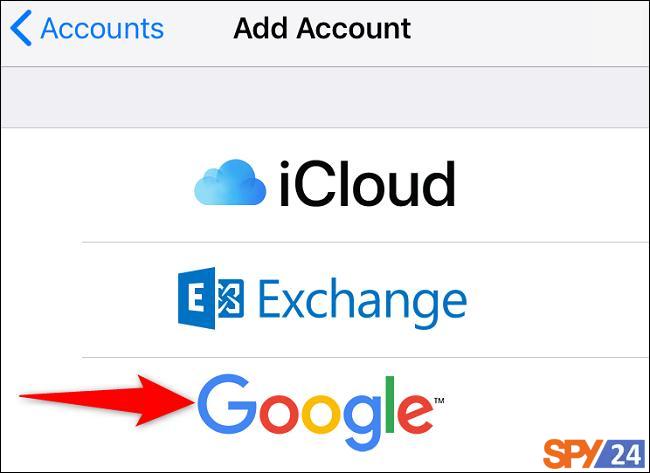 At this point, you will see the Gmail login page. Enter your Gmail address in this section and tap "Next."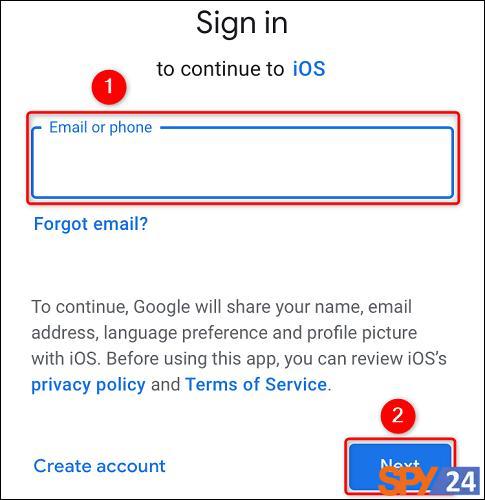 Then enter your Gmail account password and tap "Next."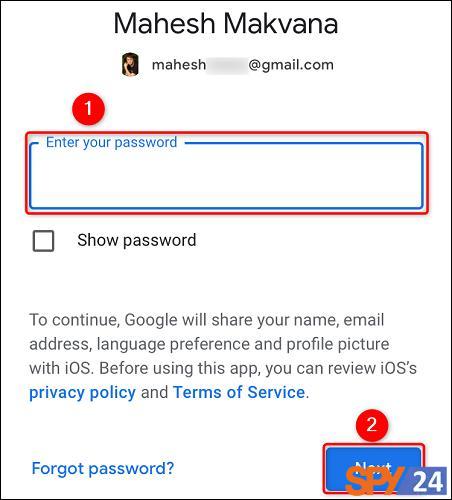 If you use two-step verification for your Gmail account, use your preferred method to verify your identity and sign in to your account.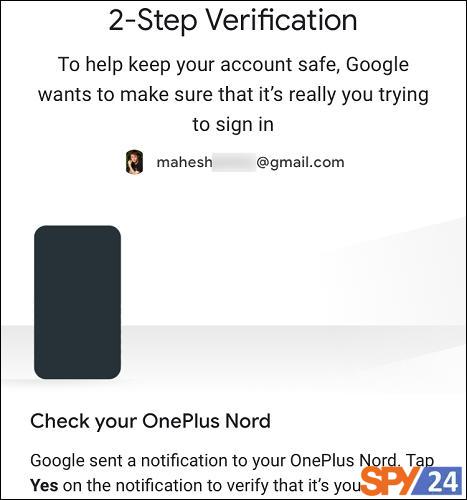 At this point, Gmail asks if you want to allow your iPhone to access your emails or not. To give access to your device, tap "Allow."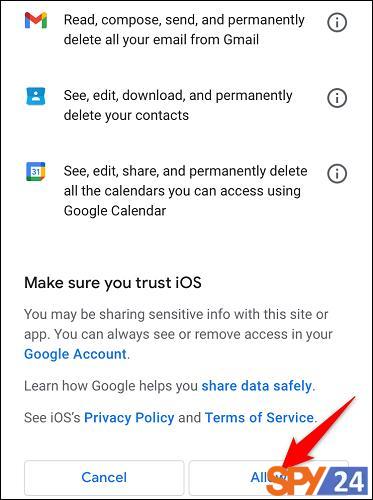 On the page that opens, enable the "Mail" option, then tap "Save" at the top right corner of the page.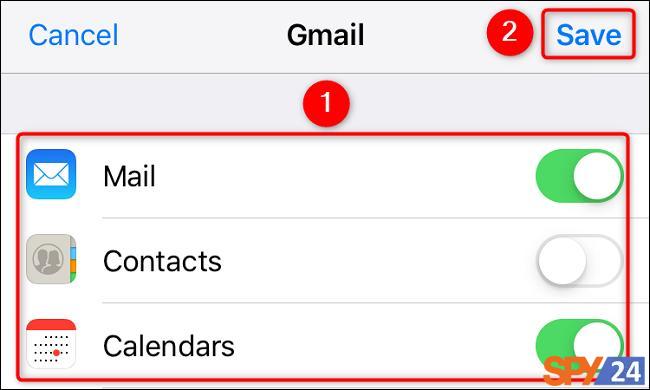 If you also want to sync your Gmail contacts, calendar, and notes with your iPhone, you can also enable the options related to these items.
Now your Gmail account has been successfully added to your iPhone, and you can access it using the Mail app.
Adding a Gmail account to iPhone using the official Gmail app:
If you want to use the official Gmail app to access your emails, there is no need to worry. In this section, we will explain how to use Gmail within the Gmail app.
To do this, start by downloading and installing the Gmail app on your iPhone. If you already have this app installed on your iPhone, you can skip this step.
Open the Gmail app and then tap on the "Sign In" option.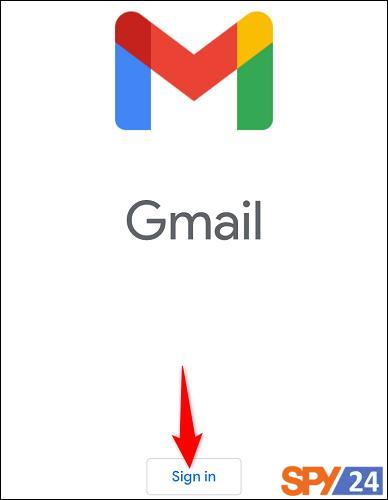 On the "Add Account" page, tap on the "Google" option.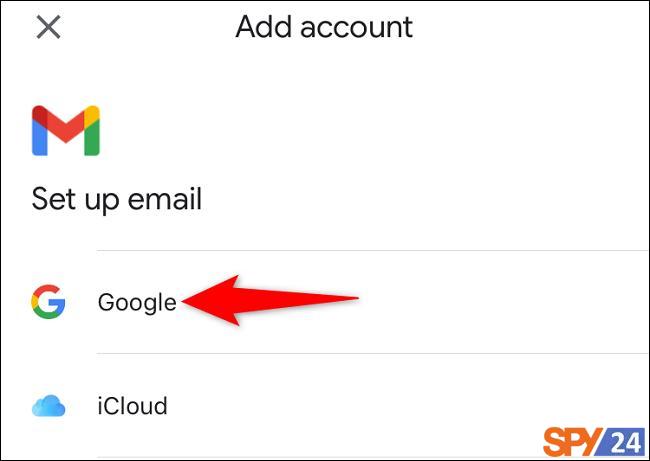 In the prompt that appears, select "Continue."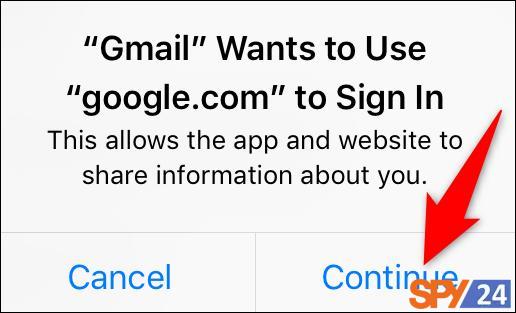 Now, the login page will be displayed. Here, enter your Gmail address and then tap on the "Next" button.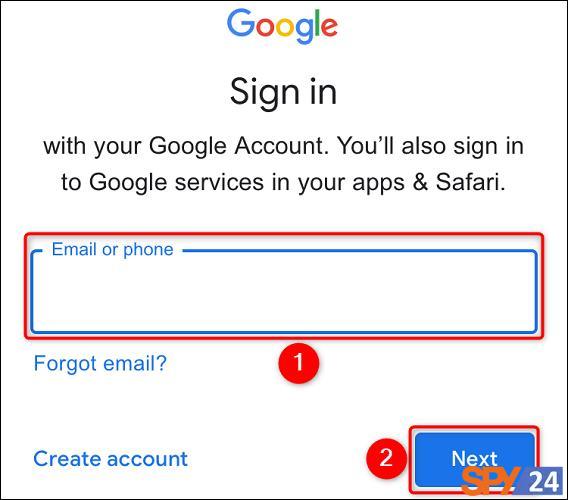 Enter your account password and then tap on "Next."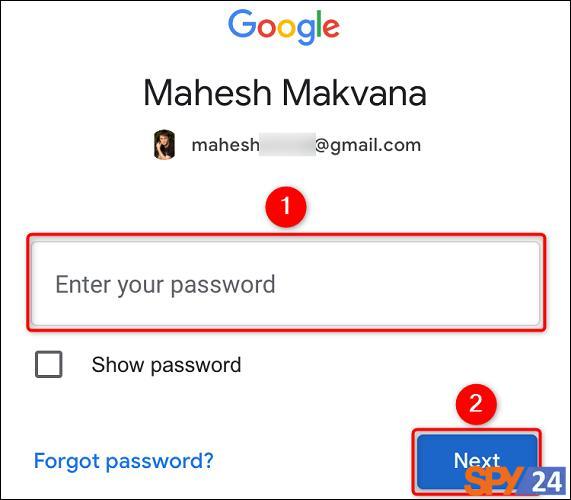 Note: If you have forgotten your password, select the "Forgot email?" option and use the Gmail password recovery options.
Just like before, if you are using two-factor authentication for your Gmail account, authenticate yourself using your preferred method and sign in to your account.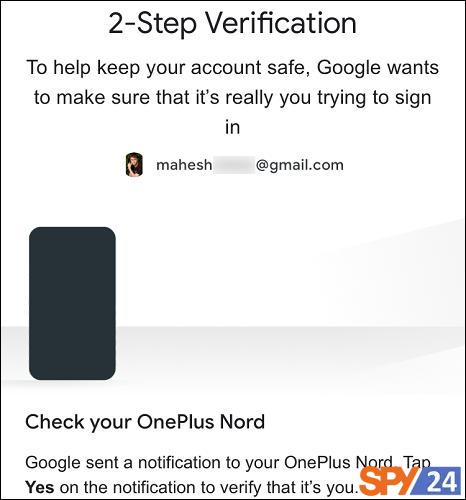 Now, your email account has been successfully integrated and added, and you can easily access all of your emails using the Gmail app.
How to change the email Preview length on iPhone:
If you receive a lot of emails, you may want to control the amount of message that is displayed as a preview in the Mail app. Longer previews allow you to understand what the email is about without opening it, while shorter previews allow you to see more messages at once.
1- First, go to "Settings" and then select "Mail."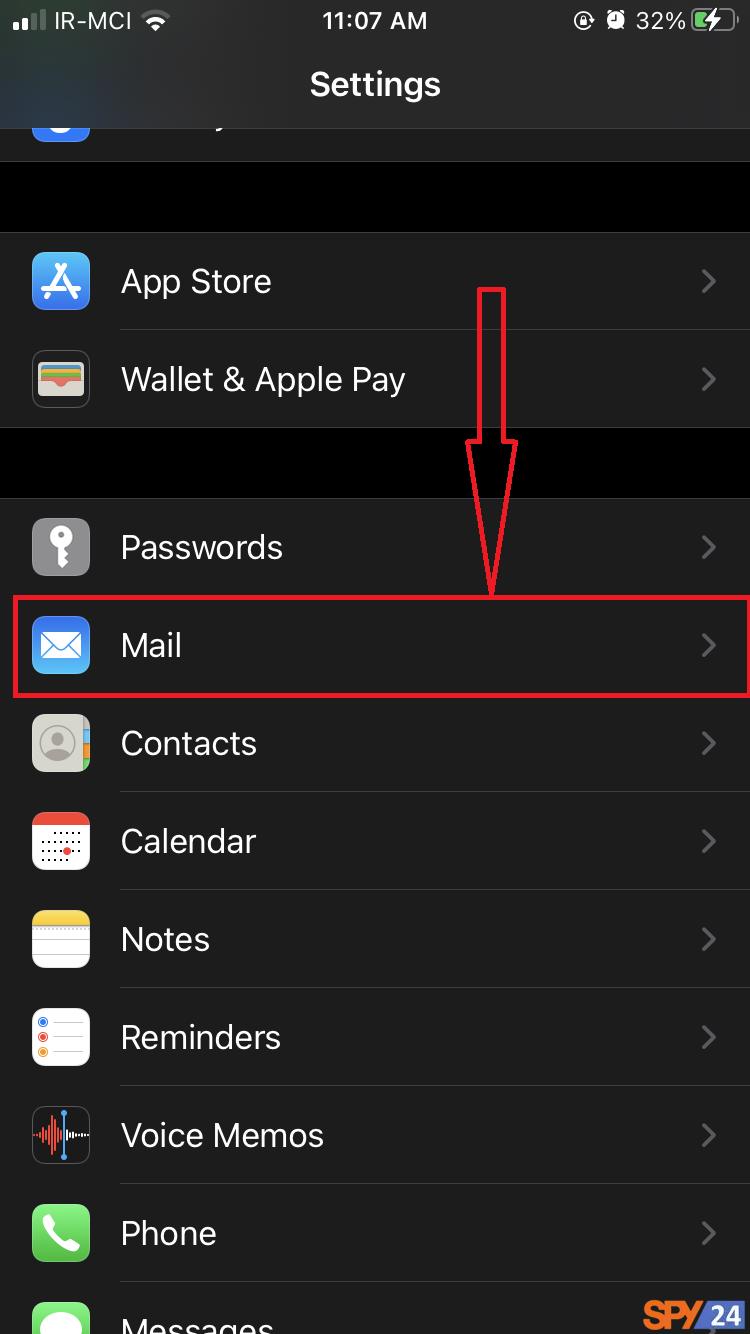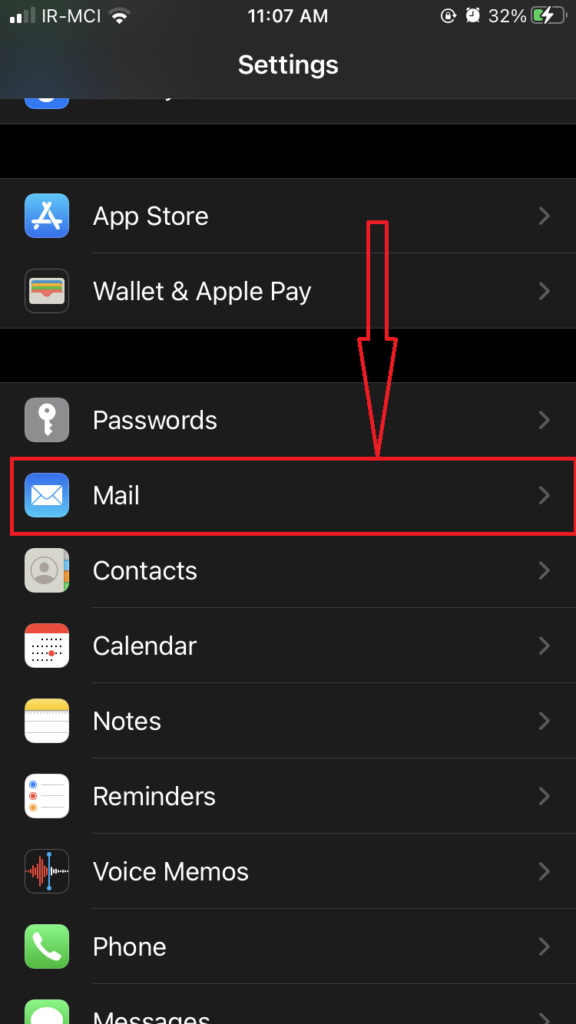 Select "Preview" from the bottom of the page.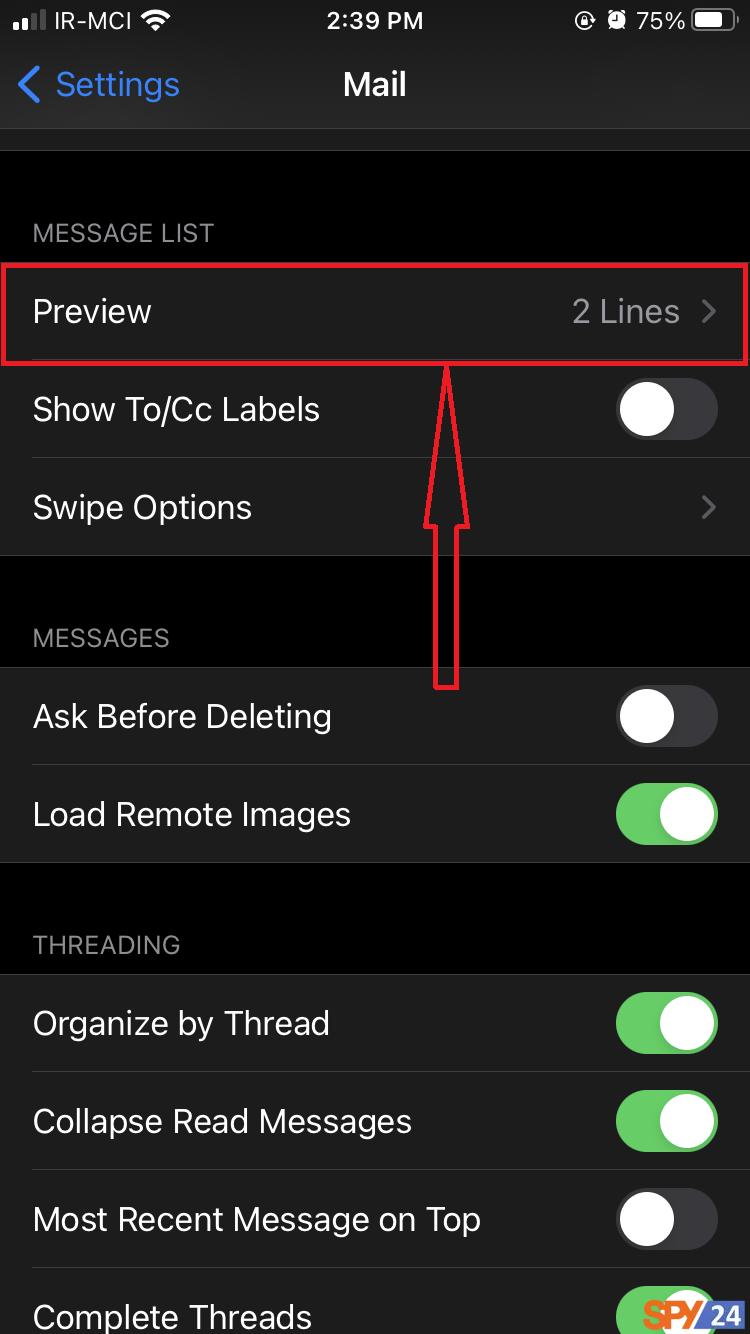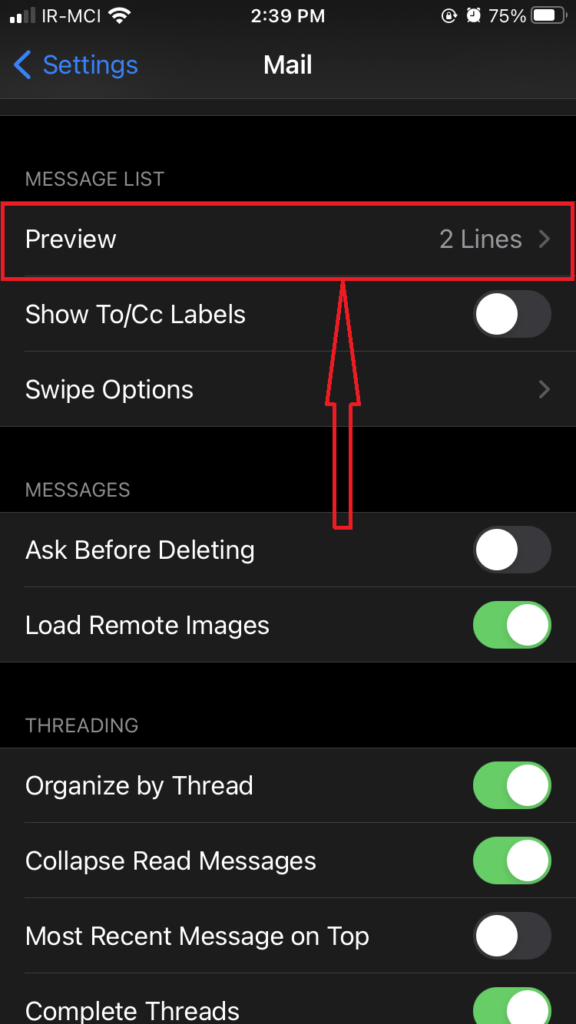 Finally, choose the number of lines you want to display. The options range from None (meaning zero) to five lines.