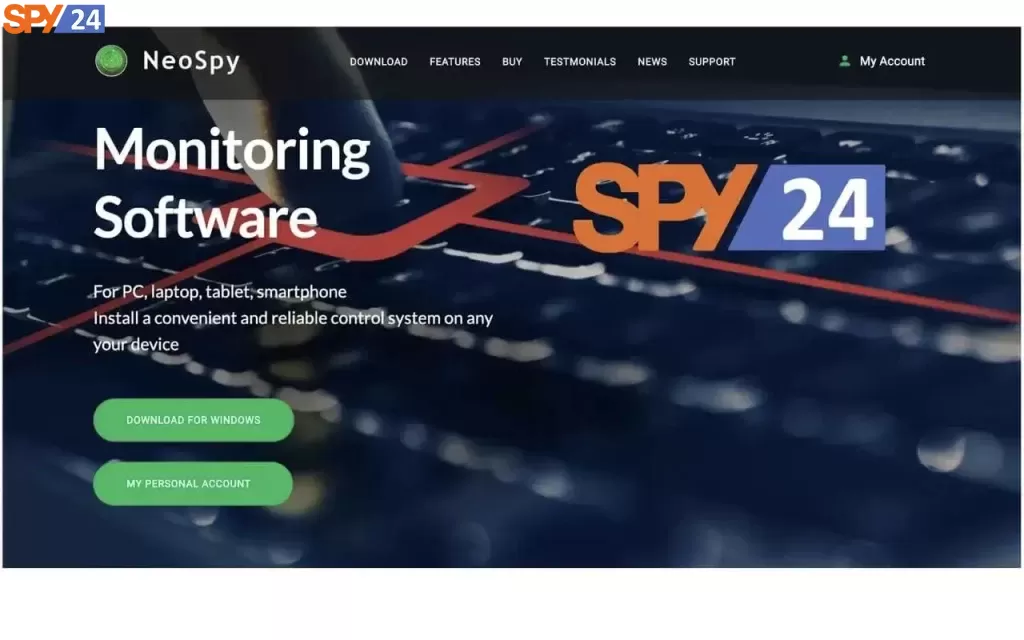 As you know, not all hackers are malicious. Many times parents or even employers want to keep track of someone's phone or computer to stop them from doing the wrong things. For example, if you want to make sure that your children are communicating with the right people or watching the right content on the internet, you have to track their activities on their phones or computers. But how?
Fortunately, there are lots of tools for this purpose, and we're going to introduce one of them. In this article, you'll become familiar with all the features of NeoSpy to decide whether it's a good choice for your requirements. In the end, we'll compare SPY24 with NeoSpy to help you choose the best spy app for phones and computers.
Platform:
| | |
| --- | --- |
| Android and IOS | No |
| Windows | Yes |
| Website:  | https:// neospy .net/ |
| Domain Age: | 2007-03-12 |

What Is NeoSpy App?
NeoSpy is one of the most advanced spy apps for monitoring someone's phone or computer remotely. Using NeoSpy, you can easily monitor many activities on PCs, laptops, tablets, and Android smartphones. Although it doesn't support iPhone devices, it's still one of the best options available out there.
It's best to figure out what your kids are doing when working with their computers and phones. The parental control features of the app are exceptional, and you can monitor many activities without being detected. Also, if you are not sure about your employees' activities and want to know if they're performing well, you can rely on this software.
In sum, NeoSpy is a piece of software for tracking and monitoring all activities on a device.  After a simple installation process, you'll find so much data on the target device's activities, and therefore, it's well worth considering in your home and workplace.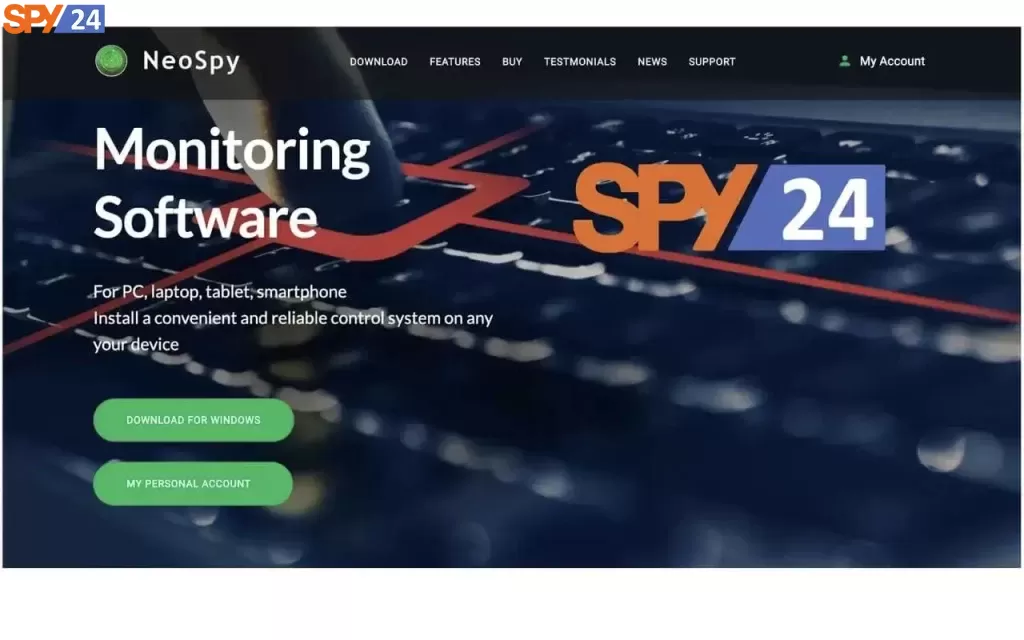 How Does NeoSpy Work?
You can easily download NeoSpy for Windows and Android devices from its website. You can go to the download page and see additional mirrors and revision history there.
Then, you can install and run the program in two ways
As an administrator: You get access to the program's control panel, which is advised when you are the sole user
In a secret mode: for sharing it with other users.
Even for novice users, NeoSpy is easy to install and use, and the interface is intuitive. NeoSpy does not show up in the taskbar, explorer, or task manager after installation. 
The good news is that NeoSpy does not show additional advertising or affiliate software that is common in other apps. This means that when you install the app, you will not see unsolicited ads and content. Also, the start page will not alter, and suspicious web pages will not appear in your browsers.
Configuration
In addition, NeoSpy is invisible from the system tray region and the Windows Task Manager because it works in stealth mode. You can fully configure the program and all of its tools. For example, you can decide.
How often should automatic screenshots be taken?
Whether to register software installations and visited websites or not.
When to begin and finish monitoring tasks.
NeoSpy can also be password-protected, making it much safer to use. Finally, you can uninstall NeoSpy from your system whenever you think you don't need it. This is really straightforward. You just need to open the "Settings" menu in the software panel and then click on the "Uninstall program" option.
NeoSpy of Features:
Now, let's take a closer look at the key features of NeoSpy: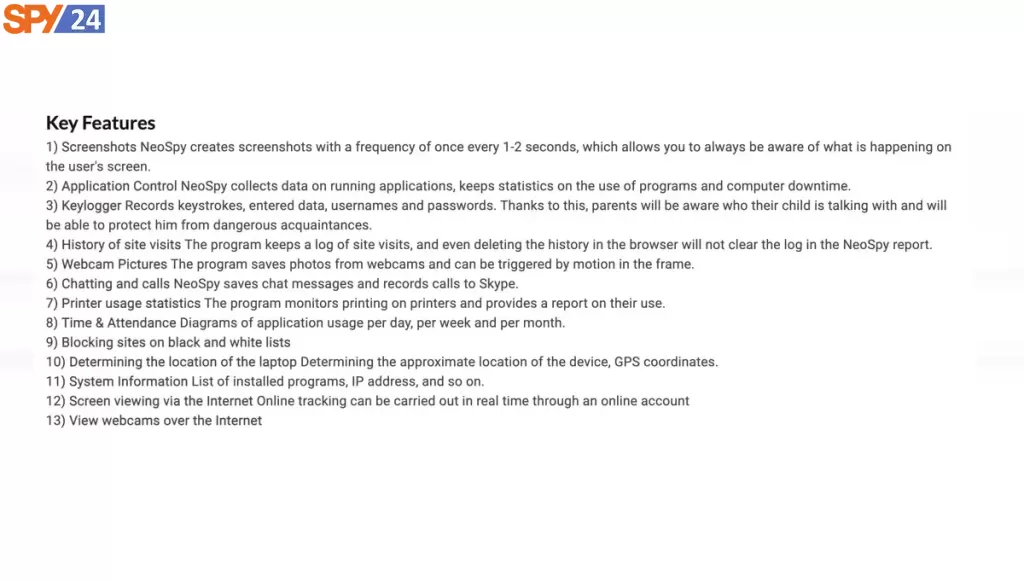 Computer Tracking
Here are the key features of the NeoSpy app on computers:
Screenshots
NeoSpy takes pictures at a rate of once every 1-2 seconds, giving you constant awareness of what is happening on the user's computer.
NeoSpy tracks programs that are being used as well as the computer downtime. So you can easily collect data on running applications.
Keystrokes, data entries, usernames, and passwords can all be recorded by NeoSpy. This way, parents will be able to keep their kids safe from harmful friends since they'll know who they are communicating with and what they are texting.
Deleting your history in the browser will not delete the NeoSpy report's record of site visits, and you cannot log out of the program.
The software can be triggered by movement in the frame and saves photos from webcams.
NeoSpy saves all the chat messages. Also, it records calls made using Skype.
The software keeps track of printing on printers and reports it.
NeoSpy shows you the changes in using applications per day, per week, and per month.
You can easily create lists of black websites and white websites.
GPS coordinates are used to determine the device's approximate position.
System Information
List of installed programs, IP address, and so on.
Screen Viewing via the Internet
You can easily monitor internet activities using NeoSpy.
Last but not least, you can easily track webcams on the Internet.
Phone Monitoring
NeoSpy is a basic yet effective Android spying tool. The good news is that NeoSpy does not appear in the standard list of applications after installation, and it does not send you notifications even in the freemium version.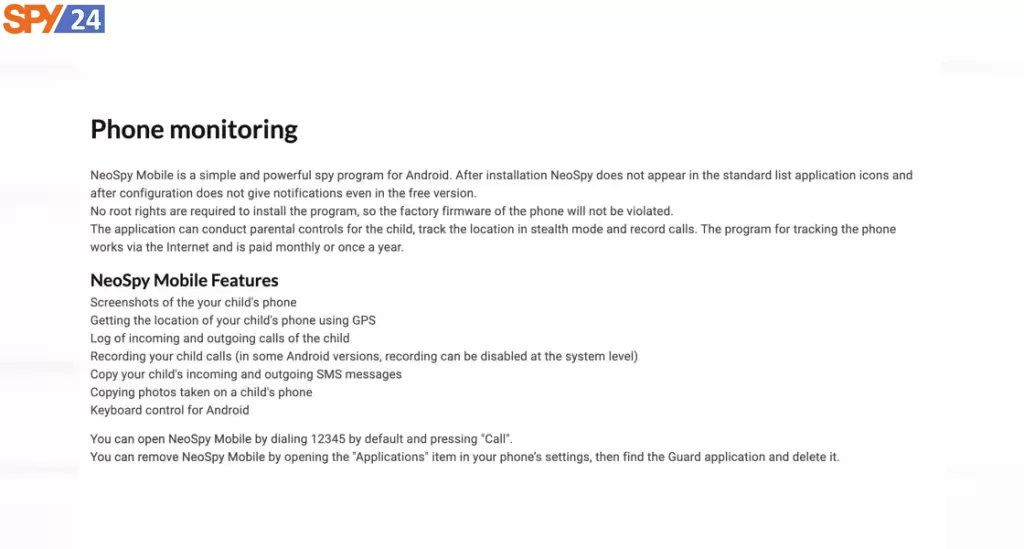 Another important matter is that the program will not destroy the phone's factory firmware since no rooting is needed to install NeoSpy.
In stealth mode, the application can manage parental controls for the kids, record calls, and monitor the location of the target device. 
Let's review its key features on Android:
NeoSpy gives you screenshots of your kid's Android phone.
You will get the location of your kid's Android phone using the GPS feature.
You can track all the logs of incoming and outgoing calls of the target device.
Recording your kid's phone calls is now possible using NeoSpy. (Remember that in some Android versions, this can be disabled at the system level.)
Save all of your kid's texting on their device.
You can easily copy the photos that have been taken on the target phone.
You'll have keyboard control on the target Android device.
Also, by default, dialing 12345 will connect you to NeoSpy Mobile on the target Android device, and pressing "Call" will initiate the call.
NeoSpy Cost
You have to buy a subscription for an online account on NeoSpy. To buy an online subscription, you have to register and create your personal account on the website.
After creating the account, you can buy a subscription according to your requirements. Also, before you decide to buy a license, you can test the demo version for as long as you want.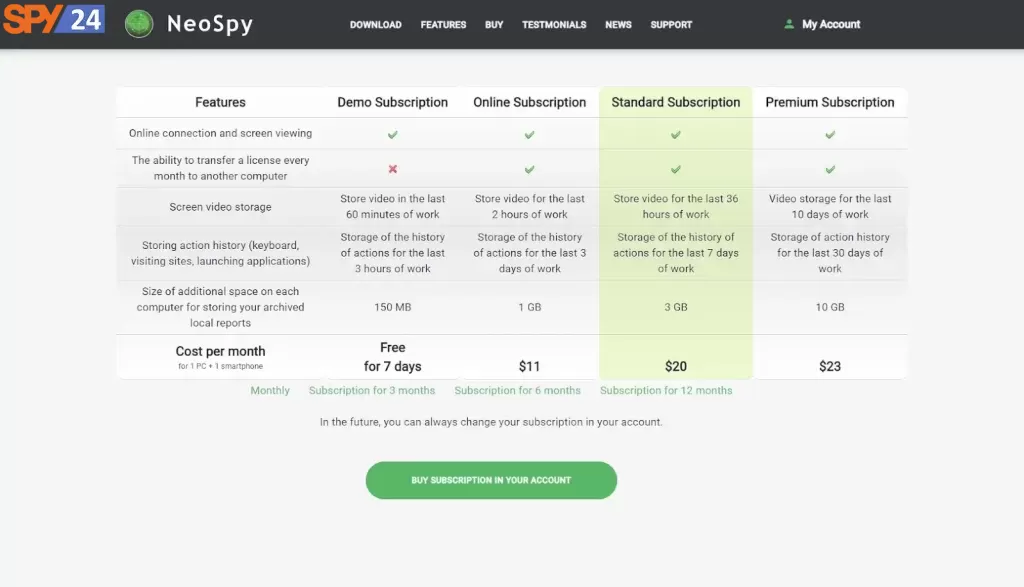 There are 4 types of subscriptions on NeoSpy:
Demo Subscription
This is the free version f the tool and is available for 7 days. In this plan, you have the following features:
Storing videos in the last 60 minutes of the work session
Storing the history of activities for the last 3 hours of work
50 MB: additional space on the computer for archived reports
Online Subscription
This plan costs $11 USD per month, and you can purchase it for 6 months and get the following features:
Storing videos for the last 2 hours of the work session
Storing the history of activities for the last 3 days of work
1 GB: additional space on the computer for archived reports
Standard Subscription
This plan costs $20 USD per month, and you can purchase it for 12 months and get the following features:
Storing videos for the last 36 hours of the work session
Storing the history of activities for the last 7 days of work
3 GB: additional space on the computer for archived reports
Premium Subscription
This plan costs $23 USD per month, and you can purchase it without limitation and get the following features:
Video storing for the last 10 days of the work session
Storing the activities for the last 30 days of work
10 GB: additional space on the computer for archived reports
Remember that after purchasing, you can change your plan whenever you want.
NeoSpy Customer Services and Reviews
For support, NeoSpy offers email and Skype, but there is no online communication for customers.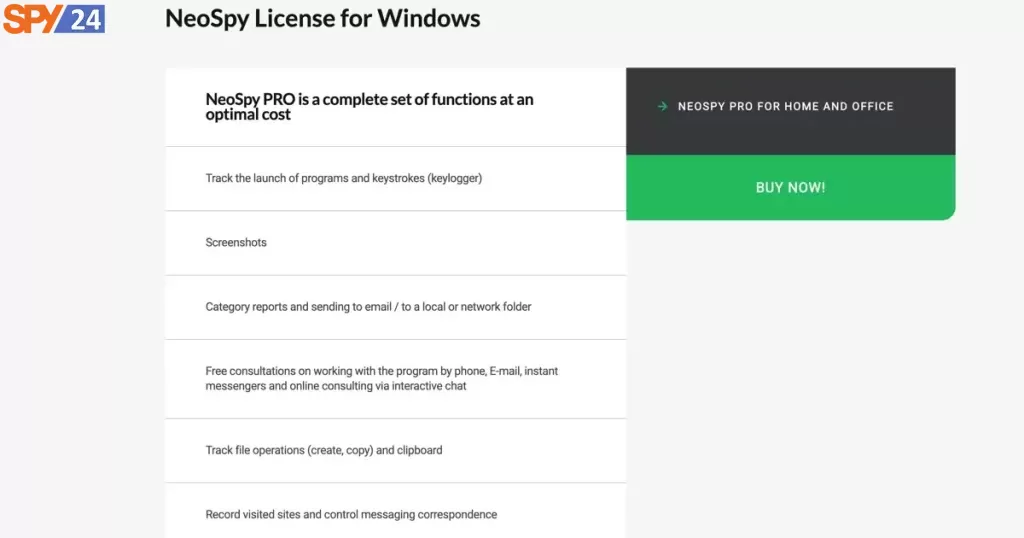 Here are some real customer reviews:
SPY24 vs. NeoSpy: Which One Is Better?
Now that you've become familiar with NeoSpy, it's time to introduce the features of SPY24 to understand why it's much better than NeoSpy.
SPY24 App Features
Here is a summary of SPY24's features:

Location Tracking: Location-tracking features of SPY24 are exceptional. You can define geofencing zones to prevent your target user from going there.
Calls and Contacts: There is nothing about calls and contacts on the target device that you can't monitor using SPY24.
SMS Tracking: All the incoming and outcoming SMSs and even deleted messages can be monitored using SPY24.
Social Media Monitoring: Almost every social media activity on major apps like Facebook, Instagram, Snapchat, WhatsApp, and Viber can be tracked.
Accessing Saved Media: All the pictures and videos can be viewed by SPY24.
Keylogger: You can see every keystroke on the target phone. 
Browsing History: SPY24 will show the detailed history of internet browsing on the target device and the websites the user has visited with timestamps. 
Recording Calls and Surroundings: YOu can easily record everything from calls and surroundings of the target device.
SPY24 App Cost
Here are the plans for SPY24:
Android Packages 
Windows Packages
MAC Packages
As you can see, the plans of SPY24 are much more diverse than NeoSpy.
SPY24 App Pros and Cons
Finally, let's take a look at the advantages and disadvantages of SPY24:
Pros:
Completely compatible with all devices.
Providing all the spying features (250+), you need in a single dashboard.
Accessing the data using a web browser.
No jailbreaking or rooting.
Cons:
Tracking several devices can be expensive.
One-time access is required.
Conclusion
NeoSpy is one of the best spy apps available on the market. It has many advantages, including an easy-to-use interface, stealth mode, and a small-size file. Of course, it has some drawbacks, such as compatibility with iOS devices and the lack of a comprehensive social media monitoring feature. So it's recommended to go for a perfect app to have all the abilities in one place. SPY24 App is the best option for both parents and employers because it provides you with all the monitoring features you might want from a spy app. We hope you find this article in SPY24 useful! You can also read our other articles, such as the best free phone tracker app without permission for android.
FAQs
Here are several common questions users ask about spy apps, especially NeoSpy.
Is NeoSpy safe?
Yes. NeoSpy is one of the safest spy apps on the market.
Is NeoSpy legal?
Yes. You can use NeoSpy on your devices and your family members' computers or Android phones. So it doesn't violate any laws.
Is NeoSpy available for all devices?
No. Unfortunately, NeoSpy is only available for Windows and Android devices. If you're looking for a spy app that works on iPhone, you'd better go for SPY24.
Why do you need a local license on NeoSpy?
To view NeoSpy's reports on a computer or laptop, you'll need a local license. You can always use the software on a local or network computer if you have access to it after purchasing a local license. You can send reports to a variety of destinations, including your email and FTP servers.
Is it necessary to buy both a local license and an online subscription on NeoSpy?
No, you do not need to buy an online subscription if you have physical access to a computer and want to view reports collected every day on a computer once a day. As a result, you cannot acquire a local license and must instead link the application to your account and use it exclusively online, observe the display, and view information about user activities.