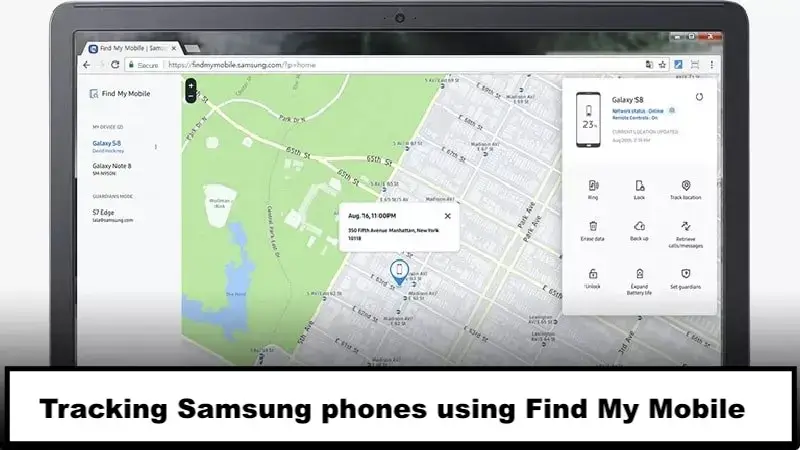 One of the worst things that unfortunately may happen to users is losing or having their mobile phone stolen. Mobile phones are not only expensive, but they also typically contain a lot of personal information, and it is clear that losing them will worry anyone.
This has led reputable brands such as Samsung to provide solutions that enable their users to track their Samsung phones. Of course, these solutions require some initial setup. Therefore, it is very important to immediately set up the "Find My Phone" feature on your Samsung phone after purchasing it so that you can use Samsung's solutions if necessary.
In this article, we will go through the settings related to using Find My Phone on Samsung phones step by step and review how to track phones using this feature.
Tutorial on Settings and Usage of Find My Mobile on Samsung Phones
Find My Mobile is a feature exclusive to Samsung phones. For other Android and iPhone devices, you need to activate the Find My app on your mobile.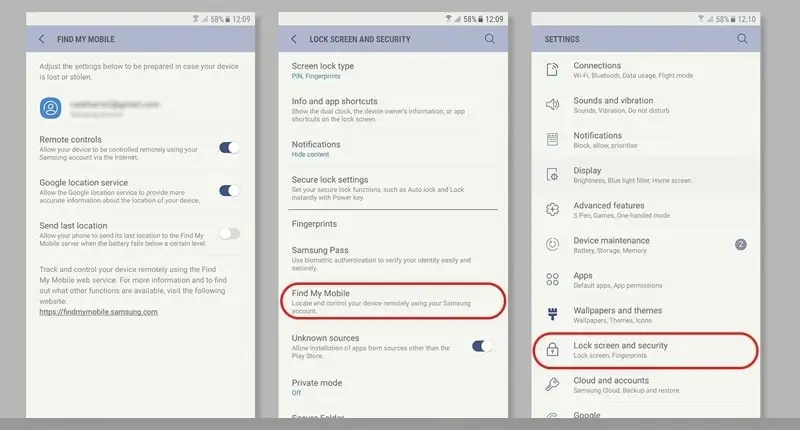 The first step to enable this feature on your Samsung phone is to create a Samsung account or log in to an existing account. Usually, after logging in, the phone tracking feature will be automatically enabled, but it is better to ensure this.
To do this, go to the settings of your phone and open the Biometrics and Security option.
Then, on the page that appears in front of you, tap on the Find My Mobile option and enable it. With this, you can visit the Samsung website and remotely manage your phone after logging in to your account when necessary. After enabling this feature, you will also be presented with other different options, which we will discuss in more detail below:
This option can be very useful if you forget your Samsung phone password. By enabling this option, you can enter the phone remotely through other systems or even your laptop and remove your previous password, in other words, break the phone lock. Because of its usefulness, we recommend that you enable it, as it is almost the only way to unlock your phone without losing your data.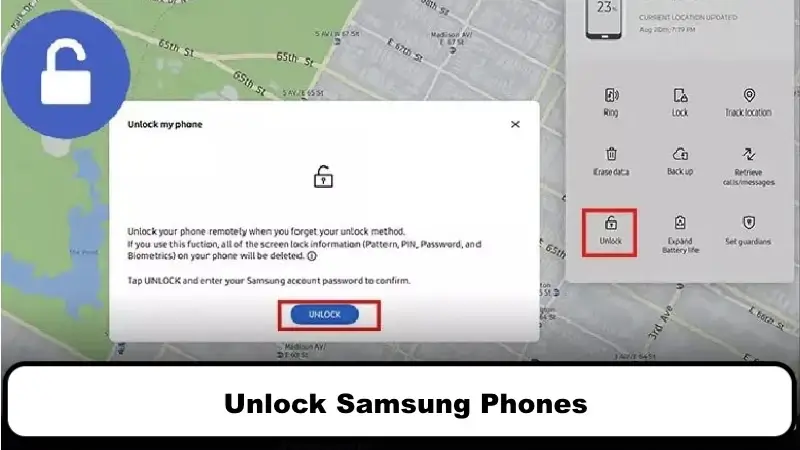 If this option is enabled, as soon as the battery of your Samsung mobile phone drops below 5%, the phone's location will be stored in Samsung servers. This will be done automatically, but the phone's GPS must always be on. This way, you can track your turned-off Samsung phone and be informed of its last location whenever you need it.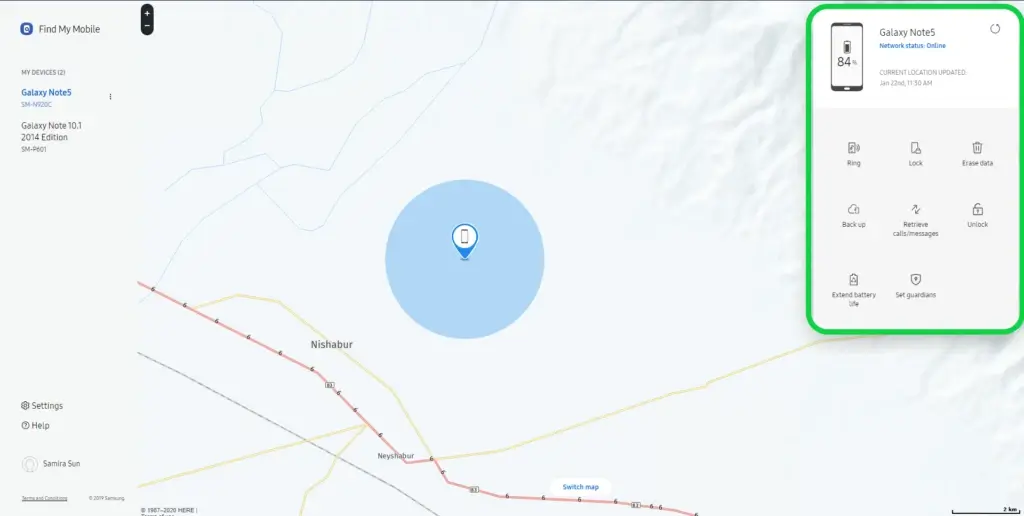 This option is useful when you need to track your phone when it is turned off, provided that there are Samsung devices around you that have this feature enabled. This option can be used not only to track your phone when it is turned off but also to find other Samsung devices when they are turned off.
It is good to know that you can set a password for your location information. Just touch the Offline Finding option, and a new page will open. You need to enable the "Encrypt offline location" option on that page. By doing so, others cannot track your mobile location without your permission.
How to track a Samsung phone whether it's turned off or on
After completing the above settings, you need to continue the steps through another device, preferably a laptop or personal computer. In fact, to access your Samsung account, you need to pass two-factor authentication to establish a connection between your phone and your account.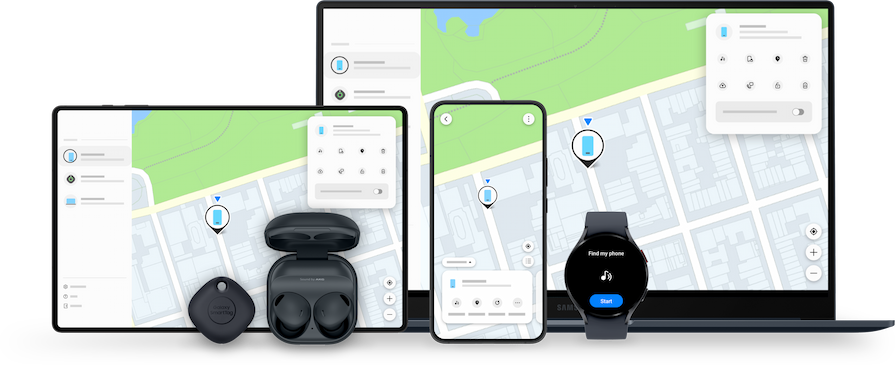 For this reason, it is better to immediately complete the authentication steps on your phone after performing the above settings. This can be done even when your phone is lost or stolen. You can burn your SIM card by visiting your mobile service centers, getting a new SIM card, and then receiving the authentication SMS message from the website by inserting the new SIM card into a mobile phone.
To track your phone, follow these steps:
Go to findmymobile.samsung.com.
After entering this site, a login window will automatically open. Otherwise, click on the sign-in button.
In the window that opens in front of you, enter the email and password of your Samsung account, and click on the sign-in button.
At this point, an alert appears on your phone indicating that someone is attempting to log into your account from another device. You must select Yes to grant permission.
After completing this process, a verification code will be displayed to you. You must enter this code on your system in the Verification code section.
Please note that you should also check the box for the option "Skip two-step verification on this device next time" to avoid being prompted for a verification code in the future.
After completing this step, a verification code will be displayed to you. You should enter this code on your system in the Verification Code section. Be sure to also enable the checkbox for the Skip two-step verification on this device next time option so that you will not be asked for the verification code again in the future.
Note that if you have a Gmail account, you can continue to verify your identity by selecting the Sign in with Google option. You can also skip the steps using the Sign in with QR code option. After selecting this option, a QR code will be displayed to you, which you should scan with your camera then select the Open link option and complete the remaining steps on your phone by selecting the Sign in and then OK options.
Once you have logged into your account, the servers will start to locate your desired Samsung phone, and eventually show your location on the map. This process may take a few minutes. Note that if no map is displayed to you at this stage, it is likely due to the identification of your IP and the list of sanctioned countries in the world. To solve this problem, you should tap the Switch map option at the bottom of the page and change the type of map provider. You can now see the location of your Samsung phone on the map, as shown in the image.
In addition to the location of your phone
In addition to the location of your phone, other information is also displayed on this page. On the left-hand side, all the devices that are connected to this account are visible. If you click on any of them, you can see their location on the map.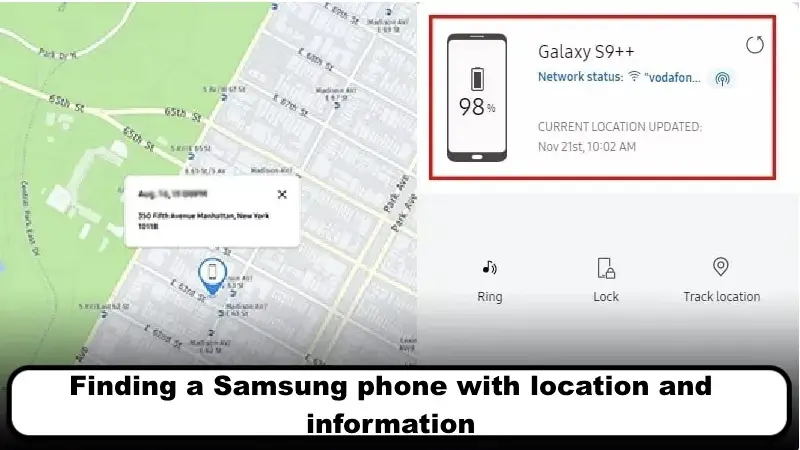 Don't forget that tracking a Samsung phone with its serial number is not possible. However, since knowing this number is essential for registering the phone in the theft reporting system, you probably need it. You can access your phone's serial number from this page by clicking on the three-dot option next to the phone name.
In the right-hand section of the map, you will have access to more information and options. In the top section, you can see if your phone is offline or online, and even the name of the Wi-Fi network it is connected to. If your phone is receiving mobile data, it can be detected in this section.
Battery charge level, time, and location detection are other pieces of information that will be displayed to you in this section. Note that this information does not update automatically because doing so will drain the phone's battery faster. So, if necessary, click on the upward arrow on the top right to update this information.
Remote management of Samsung phone
To manage your phone remotely, you need to go to the options on the right-hand side. We will explain each of these options below: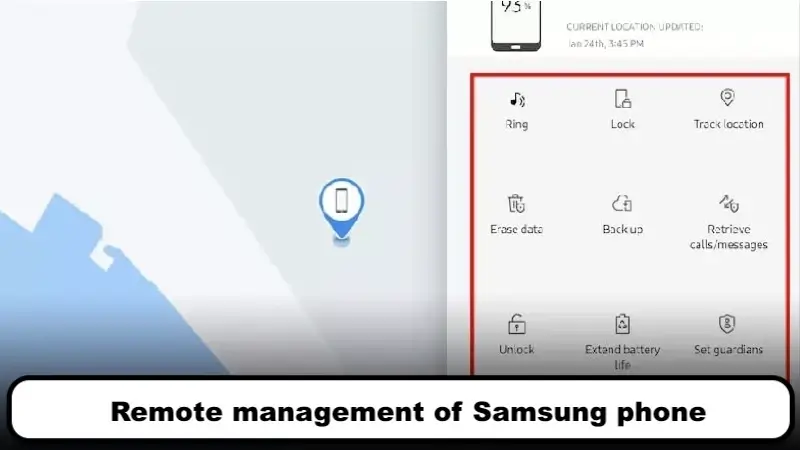 Ring: This option is useful when your phone is lost in silent or vibrate mode at home or in a specific place. By selecting this option, the phone rings with the highest possible sound for one minute, and you can easily find it.
Lock: If you select this option, you can first check if your phone is locked or unlocked. Additionally, if your phone is unlocked, you can define a 4 to 8-digit password for it and lock it again using this remote method. To do this, click on the Lock option, and then Next.
In the next step, to track your Samsung phone with Find My Mobile, you need to enter a phone number so that the finder can contact you through it. Then you can write a short message for the finder to read and communicate with you more quickly and effectively. Finally, you need to click on the Lock option again.
Tracking Location: If you select this option, your phone's location will be tracked automatically every 15 minutes. In addition, all locations will be recorded on a map with information such as time and date. These locations will be connected to each other by a line, which can help you predict the movement path of a lost or stolen phone. It's interesting to note that all of these recorded locations are saved on this website for up to 7 days before taking further action to track your Samsung phone again, and every time you choose this option, you can see all the records.
Erase Data: We all have personal, banking, and other sensitive information on our mobile phones that are all important. This option helps you remotely erase your phone's data in situations where you no longer have access to your phone and have ensured that it has been stolen. By selecting this option, your phone will be factory reset and all its information will be erased.
Backup: Another useful option that you can use after tracking your Samsung phone with Find My Mobile is backup. With this option, you can take a copy and backup of your important information on your phone before erasing it. Keep in mind that this information only includes text messages, calls, contacts, applications, and settings, and unfortunately, photos and videos are not backed up with this option.
Retrieve calls/messages: This option can have vital applications for many users; because with its help, they can find out about the last 50 calls and messages on their phone. These include received and sent calls and messages, which will be available to you in the form of a file.
Extend battery life: If you cannot find your phone before the battery runs out and it turns off, your job will become much harder. By activating this option, you can remotely set your phone to Maximum Power Saving mode to preserve your phone's battery for a longer period by deactivating additional options and closing background applications.
Guardian mode: If you have very limited time, you can hit this option instead of selecting each option individually above. By selecting this option, automatically and simultaneously:
Emergency mode is activated on the phone;
The phone's location is sent to important contacts;
The processor speed of the phone is set to the lowest possible mode to preserve battery charge for a longer period;
The phone rings for one minute;
And many of the phone's settings and features are disabled to preserve battery charge.
Unlock: This refers to the action of unlocking the phone's lock screen to gain access to the phone's features and functions.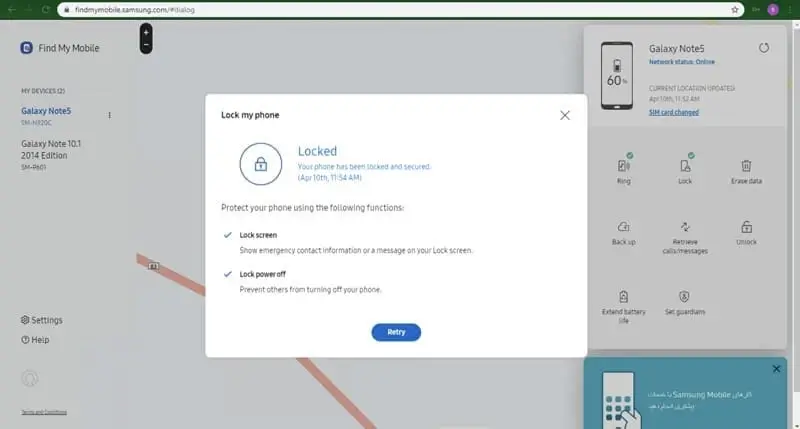 This last option can be like an angel to rescue you when you forget your password. By selecting this option, you can erase the password of your phone without losing your data and access your phone. However, keep in mind that your phone must be connected to the internet and you must have access to your user account information.
Tracking Samsung phone with serial number:
Many users hope to find their phone just by having the serial number. With the serial number, you can only go to the police department. However, there are also software programs on the internet that apparently allow you to track your mobile phone via its serial number. One of these programs is IMEI Tracker, which has been useful for some users.
Locating Samsung phone at a glance:
To locate your phone in case of loss or theft, you must first make some settings on your phone. Then, log into your user account with another system and not only track your Samsung phone but also manage it remotely. We have fully explained the steps in this article. If you encounter any problems with any of these steps, ask your questions in the comments section. If you have managed to find your phone with these tutorials, please let us know the good news. You can also read our other articles, such as the Best Phone Tracker Apps Without Permission.