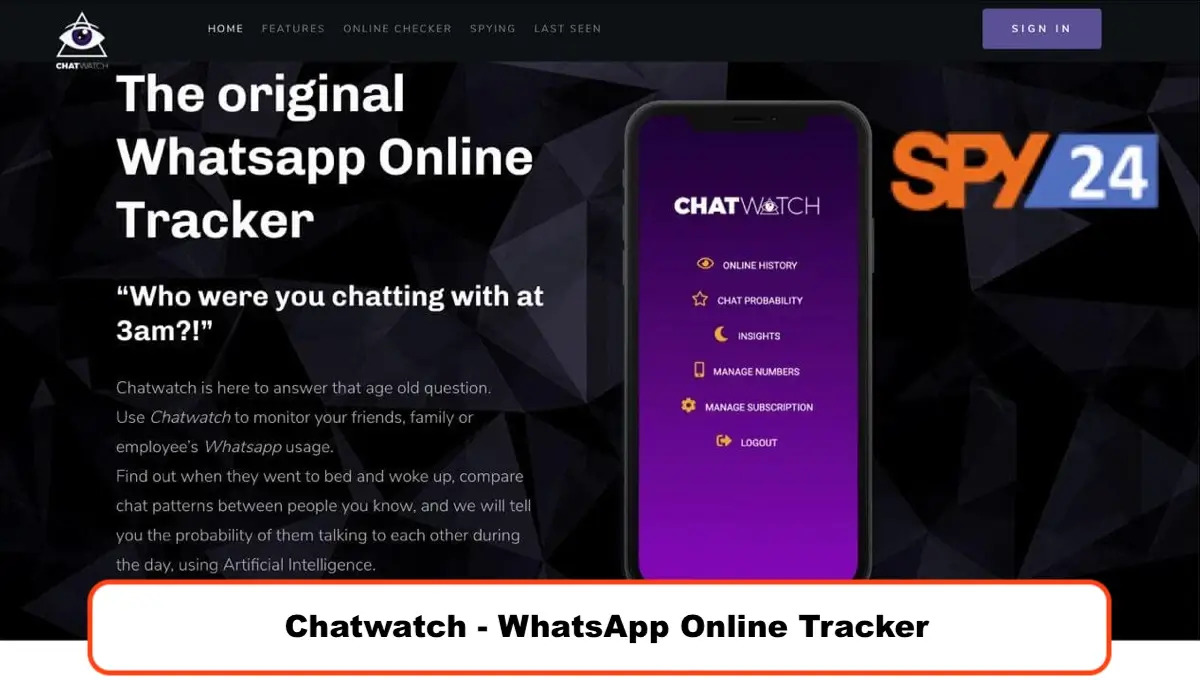 Is there a free way to track friend activity on WhatsApp? As you know, WA is one of the most popular online messaging apps around the world because it is not only user-friendly but also fast; you can send your photos, videos, and text as quickly as possible. Although WhatsApp is a helpful app, it might have some drawbacks. There is a possibility that your children will start to use it for communicating with strangers, so they might be a victim of online predators and cyberbullying. Furthermore, many employees might be engaged in WhatsApp for personal use during working hours.
The best way to monitor your loved one or your employees is to track their online activity with spying apps, so you can be sure they are safe, and employees are not distracted from their responsibilities while they are supposed to work. No matter where they are, as long as they are connected to the Internet, you can keep monitoring them remotely. 
WhatsApp tracking app lets you track your contacts' WhatsApp activities, including their Last seen, even if they have switched off!
There are several apps available in the market, which makes it difficult to choose one monitoring app. In this article, you will read about two whats app online trackers applications, the Chatwatch and the SPY24. Keep reading till the end to gain enough information to choose the best one.
WhatsApp Buit-In Tracking Features: Last Seen & Online Status
"Last seen" is a great feature on WA that indicates the last time a user has seen WhatsApp. As per the privacy settings of the platform, every user has the chance to determine who can see his/her last seen and online status.
To set this feature, go to the setting 🔜 privacy🔜 Last seen and online; in the section of who can see my last seen, choose one of the below settings:
Everyone

Your contact

Your contact except

Nobody
And in the section Who can see when I'm online, you can choose Everyone and the same as last seen.
All privacy settings have pros and cons; if your contact switches WhatsApp Last seen off, you will not be able to see how many times they have been online unless you use a WhatsApp tracker app.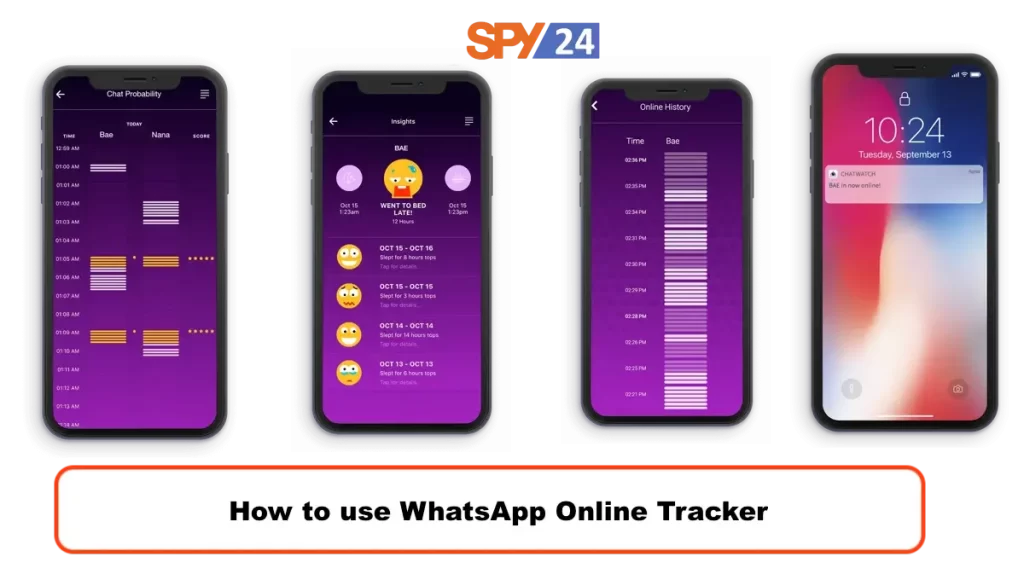 What Does A WhatsApp Online Tracker Do?
Security is the most priority for WhatsApp, so It is difficult to hack others' WhatsApp. WhatsApp online trackers are designed to track the WhatsApp activities of people. These trackers are operating in the background, so no one understands you are tracking them because they can not see it on the targeted phone's home screen. The greatest thing about them is that antivirus or firewalls can not detect them. Although they are running in the background, they drain the battery as they collect data all time. However, Some of the apps are developed to use minimal battery power so the user of the targeted phone would not get suspicious.
Many WhatsApp tracker apps claim that they can track this secure app, but it seems that it is quite challenging, and users need professional assistance. Following, we will show you the best WhatsApp online tracker, and then we will talk about the Chatwatch in detail.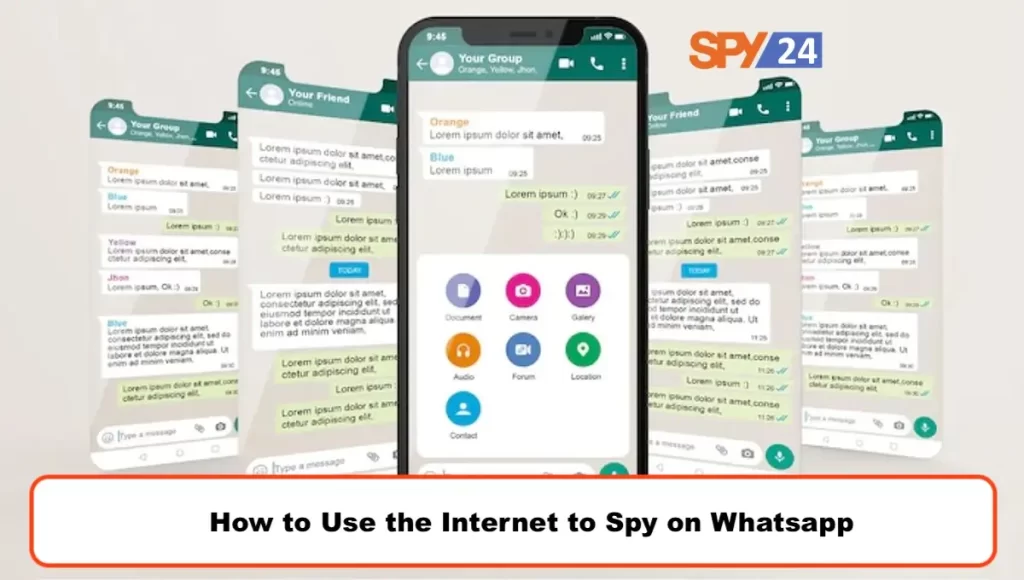 Best WhatsApp Online Tracker
You can see the best Whatsapp tracker below table:
| Best Android WhatsApp | Best iPhone WhatsApp |
| --- | --- |
| Android: | iOS: |
| ChatWatch. | WaLog. |
| WaStat WhatsApp Tracker. | Whatster Screen Time Tracker. |
| ChatTrack Online Tracker. | OnlineNotify. |
What Is Chatwatch? 
Chatwatch is an original WhatsApp tracker app and a high-tech spy tool for Whatsapp, A company is located in Mexico, and the Official  Website is https://chatwatch.net/. This app helps you track your contact activity on WhatsApp. It is mostly Used to monitor friends, family members, or employees' Whatsapp usage and compare chat patterns. The great thing about Chatwatch is that if the targeted contacts have hidden Last Seen, you can still see the time they were online and when they got logged off, and also Chatwatch will let you know how much time your contacts have been chatting with each other. Furthermore, the artificial intelligence will tell you the time they went to bed and at a specific time how many of your contacts have talked to each other.
All information will be gathered then advanced algorithms will give you a simple report which is easy to read and understand. You can go to your Whatsapp account on your computer and start spying on both Android and iOS. It is not only safe but also efficient.

Features of Chatwatch
The Chatwatch offers several impressive features as below:
Notifications: This feature will let you know notifications when someone is online chat on Whatsapp. If they have not answered you back, you know whether they are online or not.
Online History: This online history will help you see how much time they spend chatting online notifications or on Whatsapp. You could see the last seen and also time they were online.
Chat Probability: you could choose two of your contacts chatting, and the Chatwatch can tell you the conversation and chat probability if they were online at the same time by comparing the time they were chatting online.
Insights: profile tracker for your friends check Whatsapp can check the time they get in or get out of Whatsapp and also how much time they spend for chat, and also how many times during the day they connect. So you will be informed if your children are awake at midnight.
For security, the website is scanned regularly to make your visit safe. Children under the age of 13 are not allowed to purchase the product. The Children's Online Privacy Protection Act (COPPA) makes parents control kids. The support team answers you via Email if you have any questions. Customers can use it at no cost for three days.
Chatwatch is not as popular as other apps due to its high price of it. For tracking two contacts, you need to pay 6.50BRL for just one week.
Chatwatch Download Android & iPhone
ChatWatch: Text from Watch on the App Store
Chat Track: Online Tracker – Apps on Google Play
Chatwatch – the original WhatsApp tracker Online status tracker and last seen conversation probability between contacts. Use the Chatwatch WhatsApp tracker to monitor the WhatsApp usage of your friends, family, or employee's Whatsapp usage patterns. Chatwatch is here to answer that age-old question. Use Chatwatch to monitor WhatsApp usage patterns of your friends, family, or employee's WhatsApp usage.
Why Do You Need the Services of Chatwatch?
There are various reasons why you might need this app. Parents might want to know who is the person to whom their teen is sending a text. Employers want to know why their employees are spending too much time on WhatsApp during working hours.
The new app also has security controls that do not let anyone hack it. Chatwatch claims that it can provide you with reports containing all information without sharing your data with a third party.
Start Your 3-Day Free Trial Chatwatch
Weekly: 3.99 USD/ we

Monthly:11.99 USD / mo

Yearly: 89.99 USD / ye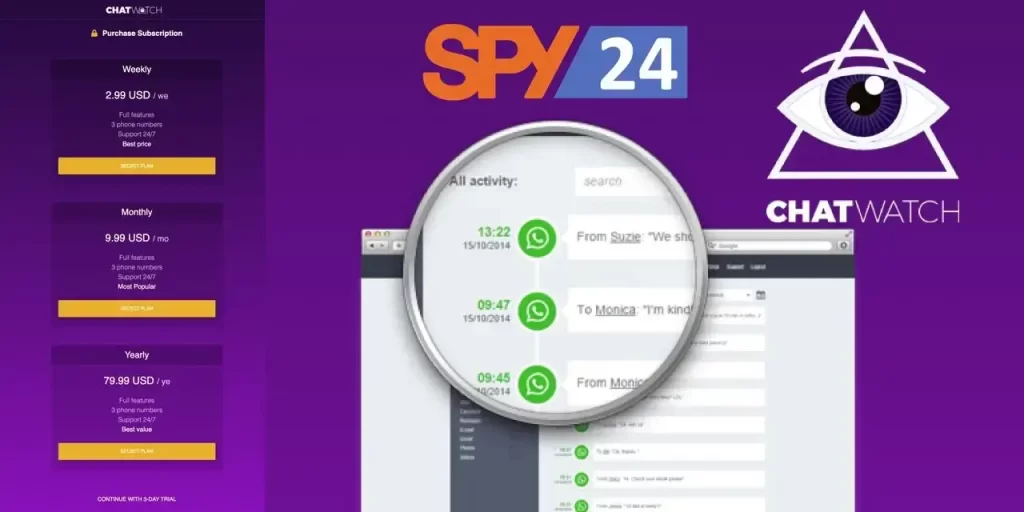 How Does Chatwatch Work?
The app claims that it is based on artificial intelligence and collects all data, and uses the algorithm to predict future behavior. 
ChatWatch data are built based on contacts' online or offline activities. No matter whether they hide the contact or not. The app is constantly tracking so the program can tell you about the chatting habits of your contacts and also their sleeping pattern.
Download the app, it is only 19.3 MB, and it is compatible with Android, iPhone( iOS 11.0 or later), iPod touch(iOS 11.0 or later), Mac 11.0 or later, and a Mac with an Apple M1 chip or later. It is easy to work with, you just need to enter the WhatsApp number of the target user on ChatWatch. Depending on your subscription, you can track the chats of more than two WhatsApp numbers.
Free Whatsapp Online Checker Tracker (Chatwatch Android and IOS)
A Whatsapp Online Checker is a tool or app that allows users to monitor the online status of their WhatsApp contacts. These tools work by constantly checking the online status of a contact and alerting the user when the contact comes online.
Features: Chatwatch Whatsapp tracker
Online History

text messages

WhatsApp data

Online History for your contact
This app uses WhatsApp data to let users spy on friend activity of their friends. Chatwatch can provide users with information about the online activity of their WhatsApp contacts. You can enter the WhatsApp number of the person you want to monitor on ChatWatch to view their online and offline times. Depending on your subscription, ChatWatch can track two or more WhatsApp numbers. It offers instant push notifications when the target user comes online or logs in late at night. It also provides a detailed Comprehensive timeline to accurately track online activity and last seen times. Additionally, it can predict the possibility of two of your contacts chatting with each other based on their online activity and coincidences.
The Benefits of Using Chatwatch
Whatsapp trackers have several benefits. First and foremost, parents can track teenagers who are spending most of their time chatting so they can protect them from online predators and scammers. Employers can check the employer's own chat list to be updated about the latest transactions, and last but not least, family members and friends can monitor their loved ones if they are acting suspiciously. There is nothing worse than the feeling of being betrayed; Chatwatch will help you to figure out the truth by letting you track your online status.
All in all, the advanced algorithms of this monitoring app will help you to figure out your contact behavior pattern so you could predict their action in the future. 
A new app called "Chatwatch lets users creepily spy" allows users to creepily spy on their friends on WhatsApp. This app can tell people how often their friends use WhatsApp and even estimate what time they go to bed every day, as reported by Lifehacker.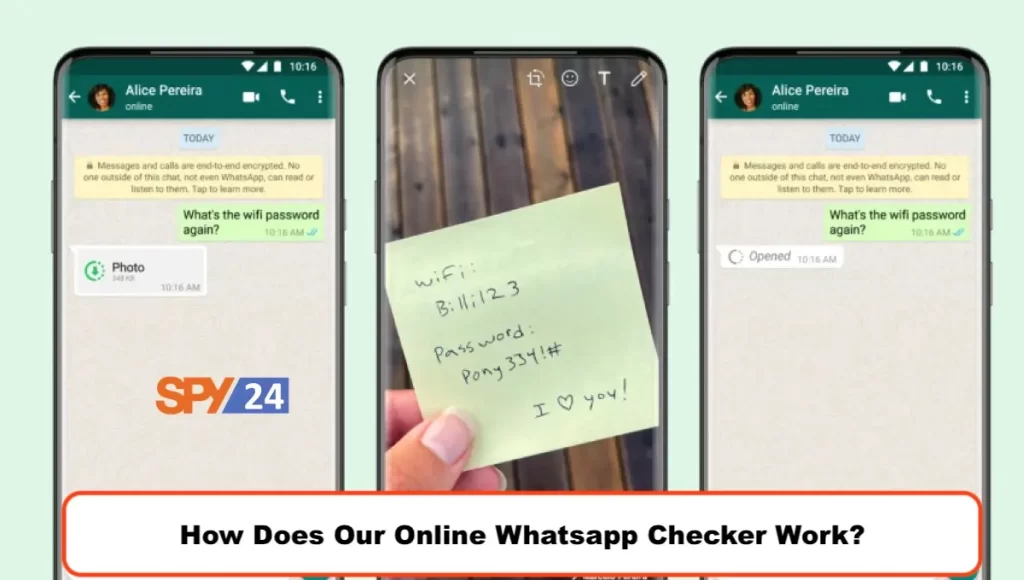 Is Chatwatch.Net A Scam Or Legit?
According to the reviews on https://www.scamadviser.com/check-website/chatwatch.net, they can not be sure if it is legal or illegal.
Scamadviser rates every website by considering different factors, including the location of the server, an SSL certificate, the owner of the domain, and other sources, and they could not give a high rate to the website. They describe the positive and negative points of this website below:
Positive points: SSLD certificate is valid, the website has been working for several years, the safety of the website is confirmed by DNS filter, and no malware or phishing activities have been found with a flash start.
Negative point: Not a lot of Visitors see the website, and the visitors on the Scamadviser voted Chatwatch for fraud.
ChatWatch vs SPY24: Which One Is a Better WA Tracker?
SPY24 App is one of the popular spy mobile apps with many attributes that will help you be informed of your kid's activity on the Internet which would help you to make the best decision and act at the right time. SPY 24 offers customers 30-day trials, which will help them analyze different features to purchase the best one you appeal to. You can buy it on Android, iPhone, MacOS, and Windows. Following, we will read about the fantastic feature of SPY24, the Whatsapp activity tracking.
Whatsapp Tracking
The greatest feature of SPY24  is social media tracking because social media can negatively affect us physically or emotionally by distracting us or disrupting our sleep, exposing us to bullying, rumors spreading, unrealistic views of other people's lives, and peer pressure. 
So in this age, we need to be cautious when we are using social media to avoid physical disorders or any probable dangers and also the depression that happens when we are comparing our life to others on these media.
The WA tracking feature of SPY24 would let Parents track their children's activity on WhatsApp, as children are spending most of their time on this platform. They can monitor calls, voices, and notes without roots, and if children have switched their Last seen feature off, parents can still track how much time their kids are online, and also when they go to bed, and what time they get up in the morning. As many teenagers stay up all night chatting with their friends via WA, using SPY24 will help parents to be informed of their teen's unhealthy habits, besides it would help employers track their staff's WhatsApp activities during working hours. Finally, it can be useful for tracking teenagers and friends who are acting suspiciously. It has the latest compatibility with iOS and Android operating systems. This application has several monitoring features. FoneWatcher tracks real-time location and exports it. It also manages app activities, including other social media applications. It monitors iCloud for iOS users. This application syncs, exports, and downloads data from iCloud, all with top-level encryption.
How Does Whatsapp Tracker SPY24 Work?
Depending on the operating system of your smartphone, follow the step to start tracking:
Free Whatsapp Tracker App on Android
Here are the steps you need to take the location of those who have an Android smartphone using the SPY24 app: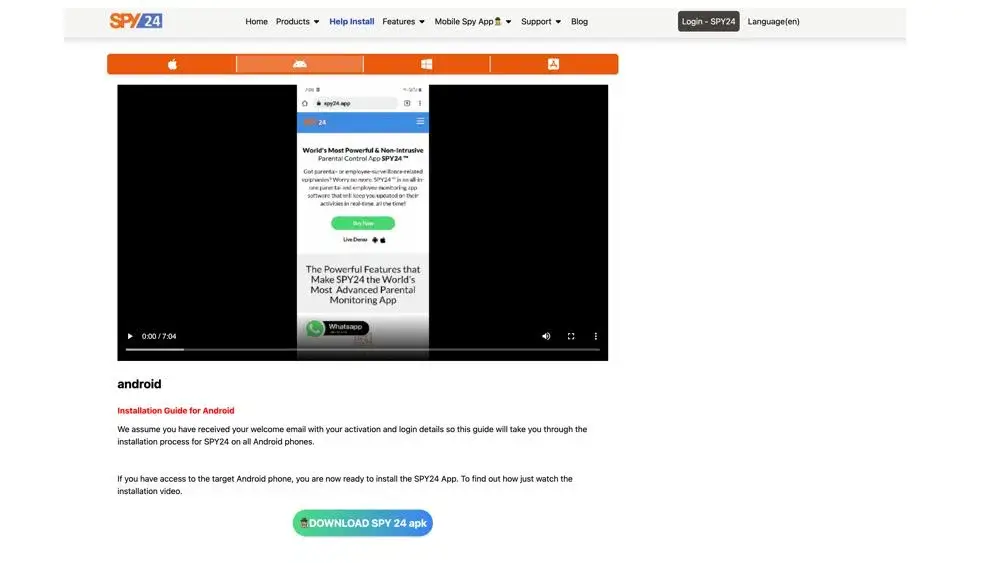 Step 1: Visit the official website, www.SPY24.io
Step 2: Choose the language you want and create an account by entering your Email and password.
Step 3: Download the SPY24 app.
Step 4:  Open the app, and give access to what the app wants you by pressing Allow button. 
Step 5: Press Install the app and wait till the installation is completed.
Step 6: Enter the email you have created an account with and log in.
Step 7: you will see various features there on the SPY24 Dashboard.
Free Whatsapp Tracker App On iPhone
Follow the below steps If you're the targeted  phone is iPhone and you want to use SPY24:
Step 1: Visit the official website, www.SPY24.io
Step 2: Choose the language you want and create an account by entering your Email and password.
Step 3: Subscribe to the IOS device.
Step 4: verify iPhone's iCloud credentials with SPY24.
Step 4: Start monitoring through the dashboard.
Price List SPY24
The following table shows various packages that SPY24 offers:
| Android Packages: | Windows Packages: | macOS Packages: | iPhone Packages: |
| --- | --- | --- | --- |
| 1 month – $0 | 1 month – $25 for | Column 3 Value | 1 month – $0 |
| 3 months – $50 | 3 months – $46 | 3 months – $46 | 3 months – $50 |
| 6 months – $76 | 6 months – $60 | 6 months – $60 | 6 months – $76 |
| 12 months – $120 | 24 hours – $0 | 24 hours – $0 | 12 months – $120 |
Conclusion
In conclusion, We recommend you use the SPY24 whats app tracker as the company offers a 30-day free trial,  while the Chatwatch offers only a 2-day free trial. Furthermore, The SPY24  supporting team is available 24/7. Plus, you can visit the web version of the website in multiple languages, so there is no better app than SPY24 to track the last seen, chats, calls, and audio messages on WhatsApp. We have the utmost confidence that this post in SPY24 will prove to be of assistance to you. You might also find some of our other articles, such as the one on the Best WhatsApp spying apps Free to be of interest to readers.
FAQs
How can I track someone online on WhatsApp for free?
WhatsApp trackers are free tracker apps you can use to monitor others' online activity on WhatsApp. However, you cannot track WhatsApp calls. The end-to-end encryption of your WhatsApp call prevents it from being recorded. So tracking your conversations which are exchanged in code, is difficult.
Using the tracking app is legal or not?
As we mentioned before, spy apps are designed to monitor kids' and employees' activities. Accessing the content of others' cell phones without their consent is a crime. The punishment would be different depending on your country's law. Also, there is a list of activities that are considered crimes. Data Protection and Privacy Legislation Worldwide.
What will be the future of the Whatsapp trackers app?
It was common to spy on the message of your children some years ago, but now it is common to monitor your employees as the pandemic makes the organization work remotely, and this will be getting more complex and more common.
Can I track deleted messages on WhatsApp?
Every Email and chat message has codes. If you get the codes, you can monitor them. Using SPY24, you can see all the WhatsApp messages, including deleted chats.
Can I track a WhatsApp message location?
No, you can not track location from the message sent on WhatsApp.
How much does Chatwatch cost?
The Chatwatch Pricing of this plan is 11.99 USD per month.