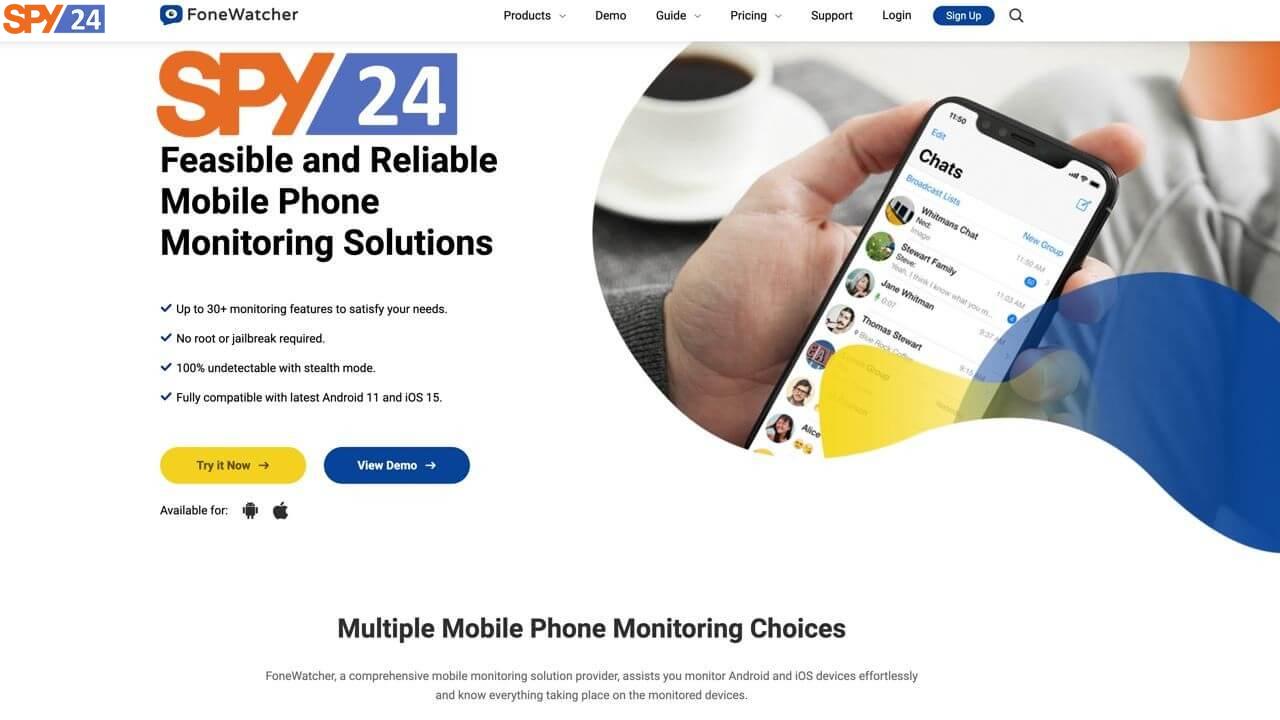 The Internet has transformed our life and communication. More people are using social platforms for their daily conversations. It seems that COVID Changed the World of Work and education and taught many people that working and studying do not have to be the way it was, so more people are studying online, and many companies are hiring remote workers. As online activities become more than past, we should be worried about our safety on the Internet.
 Although smartphones are versatile tools that have an essential role in our lives and have solved our problems, at the same time, they have caused new problems, businesses are working worldwide, so it is getting difficult to monitor their employees. The digital world is getting more engaging every day, and children spend more time than ever on social media, So parents are sensitive about their children's online activity. Thanks to the developers, spy apps are helping us to find the solution to those problems. These apps enable us to monitor every online activity of people with only some clicks. Spy apps are easy to install and easy to use. No special knowledge is needed to use them.
 In this review, we will look at the froneWatcher Review App to see how we can install it and also review the advanced features of this app.
Platform:
| | |
| --- | --- |
| Android | Yes |
| iOS(iPhone/iPad) | Yes |
| Website:  | https://www. fonewatcher .com/ |
| Domain Age: | 2020-03-12 |
FoneWatcher Review
FoneMonitor is an advanced monitoring app for both Android and iPhone with more than thirty features without the need for jailbreaking, and It is completely hidden. You just need to install it on your kids or employees' cell phones and start tracking them remotely. No matter where they are, you only need a connection to the Internet. Let's see how you can install it on the targeted cellphone.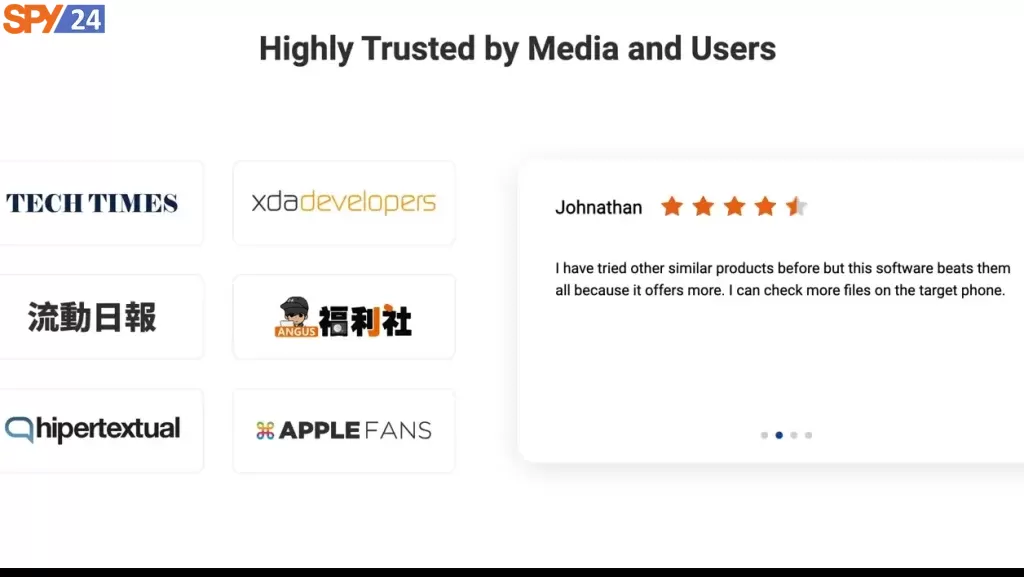 Fonewatcher Setup And Installation
To install this app, you should take a few simple steps.
Step 1: sign up with your Email account on the official website of FoneMonitor.(www.fonewatcher.com)
Step 2: Purchase the license
Step 3: Download  and Install the application on the targeted device
Step4: complete the setup
Step 5: Start monitoring the dashboard. On the left side of the control panel, you can see different features.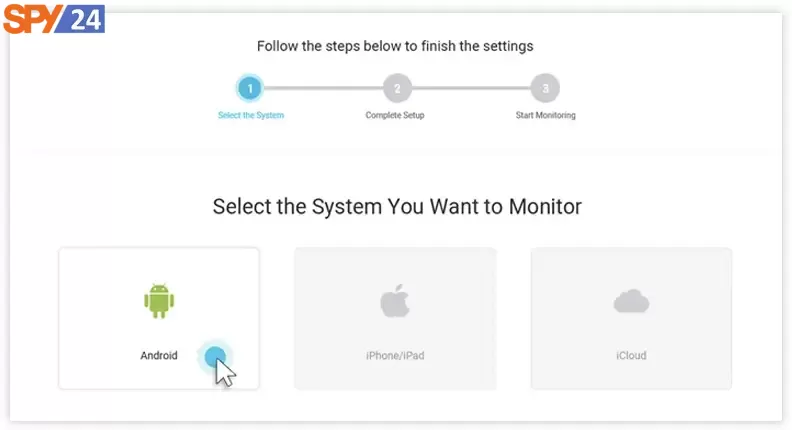 Main Features: FoneWatcher
1-Dashboard
One of the most functional options of FoneMonitor is its dashboard which gives you the ability to control everything much more efficiently.
You can find out the below information at one glance and choose the option you want to monitor.
Device Name, Expiration Date, Auto-Renewal, Device Model, Device OS Version, Plan
Device Status shows the status of the device at the moment so you could see whether it is being used or is locked.
GPS will send you the exact location of the targeted phone.
Battery Level can help parents check if their kid's battery is running out.
WiFi lets you know the phone's wifi network.
Top calls give you the exact time, duration, and the person's name and number of anyone who called.
Top messages show not only the contents of the texts but also the time, and date.
The last known location will let you know where someone was connected to the Internet for the last time.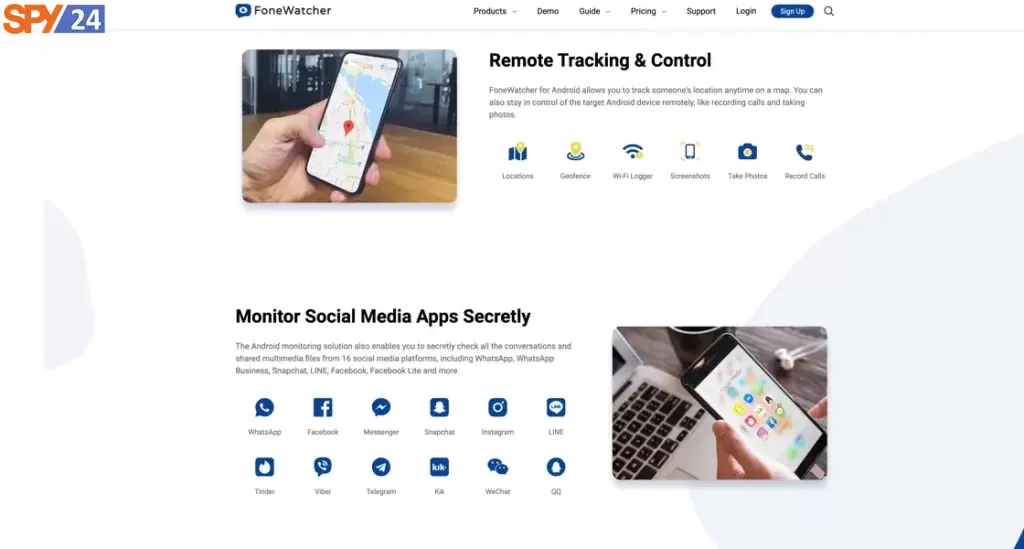 Tracking Apps
This feature will inform you about the Name, Version, Size, Installed Date, Today's Frequency, and Today's Screen Time.
Tracking Calls, Contacts, And Messages
Call Logs is another important tracking feature of  FoneMonitor that shows you the  Name, Phone Number, Type (incoming, outgoing canceled call), Duration, and Date.
Location Tracking 
This helpful function will give you enough data to track someone's location in detail, including the Address, Longitude, Latitude, Time, and Map View; you also can marl a specific location and then set the geofence around it.
Tracking Photos And Videos
You will have access to all photo and video folders. Via a WiFi connection, you could upload photos.
Remote controlling:
This new feature will let you take photos and screenshots and also will let you record calls. The recording call option will give you the ability to download the audio and also will give you details information including, Name, Phone Number, Type Start Time, Duration, Audio, and Download. Please consider that screenshot is only made for Android phones.
Data Syncing & Protection:
All the user data is encrypted, so they can be sure about safety and security.
Social media tracking
One of the most important features of the spy app is the ability to monitor social media. FoneMonitor will let you track all messages, photos, videos, voices, documents, and calls on social media such as WhatsApp, Facebook, Messenger, Snapchat, Instagram, LINE, Tinder, Viber, Telegram, Kik, WeChat, and QQ.
FoneWatcher App
FoneWatcher for Android
Sign Up & Install
Scan The Backup Data
Start Monitoring
FoneWatcher for iCloud
Create An Account
Verify iCloud Credentials
 Start Monitoring
FoneWatcher for iCloud gives you the ability to track someone's real-time location, enables you to achieve online remote monitoring, and gives you access to iCloud Drive files.
FoneWatcher for iOS
Sign Up & Install
Scan The Backup Data
 Start Monitoring
The FoneWatcher iPhone monitoring app will let you monitor Social Media Apps, Phone Files & Voice Memos, besides it gives you the ability to track SMS & Call Logs and View Safari History & Bookmarks.
FoneWatcher for WhatsApp
WhatsApp is one of the most popular social media in the world. Parents can monitor their children's online activity so they can be sure that they are not victims of cyberbullying or any digital threat. By installing FoneWatcher for WhatsApp, you could monitor Photos, Videos, Voices, and Documents (PDF/DOC/Excel/TXT/PPT/Etc) and read Messages. Furthermore, you could track WhatsApp Calls and  View WhatsApp Status .last not least, and you could record WhatsApp Calls.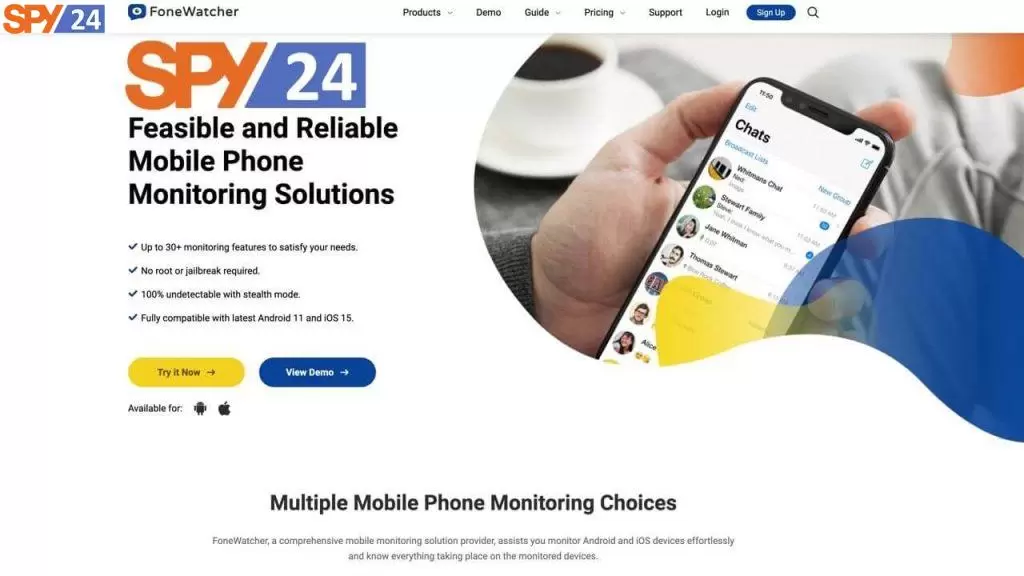 All of these features would let parents monitor all online activities of their teens and be sure that they are safe.
Pros:
It is available for both Android and iOS devices
User-friendly dashboard, you can access GPS, Last known location, Battery Level, and Top messages easily.
Refund policy if the app is not operating on your device within 7 days and the technical support team could not solve the problem.
Cons:
A few social media tracking is available; for example, you can not monitor youtube.
In this part, we looked at the features of the FoneMonitor app; now, let's check the app's price.
FoneWatcher Price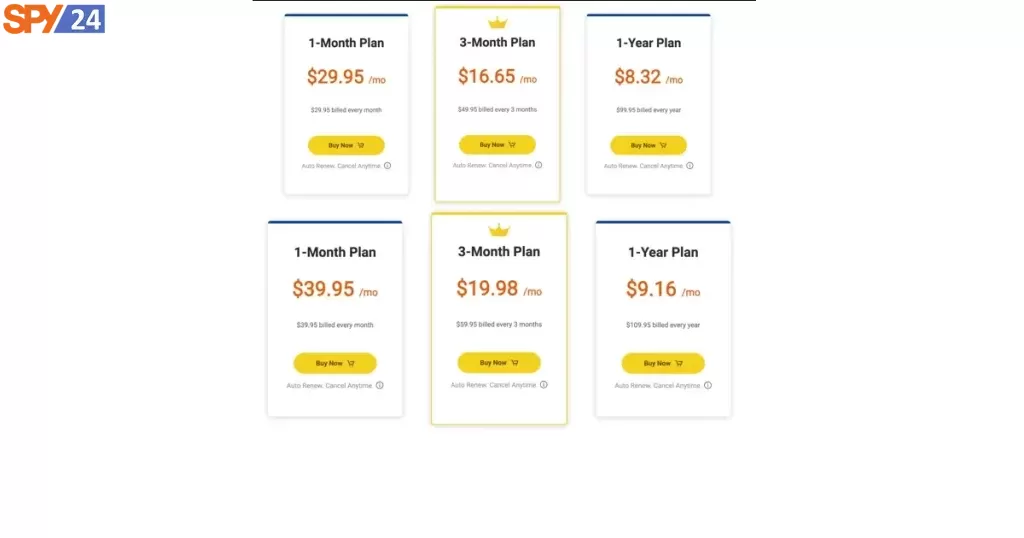 FoneWatcher for WhatsApp 
1-Month Plan
$19.95 /mo
$19.95 billed every month
3-Month Plan
$13.32 /mo
$39.95 billed every 3 months
1-Year Plan
$7.50 /mo
$89.95 billed every year
FoneWatcher for iCloud 
1-Month Plan
$29.95 /mo
$29.95 billed every month
3-Month Plan
$16.65 /mo
$49.95 billed every 3 months
1-Year Plan
$8.32 /mo
$99.95 billed every year
FoneWatcher for iOS 
1-Month Plan
$39.95 /mo
$39.95 billed every month
3-Month Plan
$19.98 /mo
$59.95 billed every 3 months
1-Year Plan
$9.16 /mo
$109.95 billed every year
FoneWatcher for Android 
1-Month Plan
$29.95 /mo
$29.95 billed every month
3-Month Plan
$16.65 /mo
$49.95 billed every 3 months
1-Year Plan
$8.32 /mo
$99.95 billed every year
Do I need a Fonewatcher?
Yes, you do. In the following condition using Fonewatcher would be beneficial. If you have children and you are worried about their relationship on social media and also the time they are spending on the Internet, you would probably need one. If You Run a business with many staffs and you need to monitor them. If you are a nurse and worried about your patient, you can check them remotely and be sure of their safety.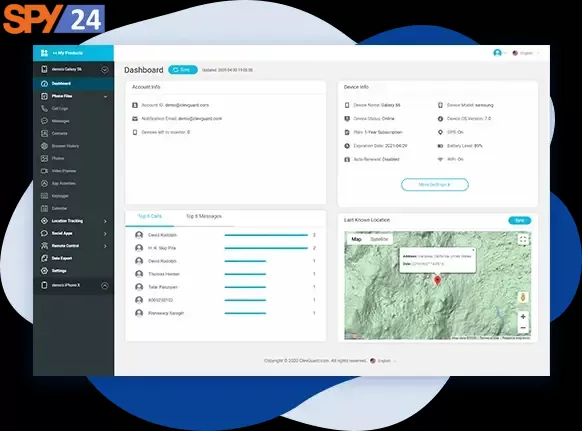 SPY24 App VS Fonewatcher 
You read about the FoneWatcher App, and now we will look at some of the most important features of SPY24, which is the best spying app for controlling your family member and also your employers.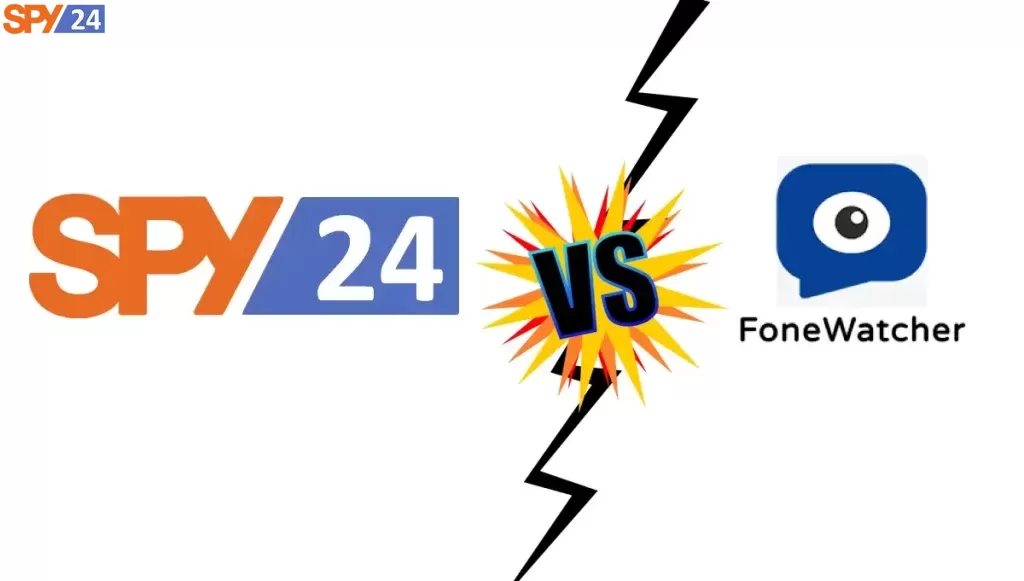 SPY24 App Features
Monitoring calls and Text message
One of the best features of SPY24  is monitoring calls and messages, which provides you with enough information about Incoming and outcoming calls, Calls Durations, and Contact lists. Parents can know who are their children's friends and how much time they are spending with them. 
Nurses and caregivers would be able to know who their patients are talking to and block them if needed. Businesses can check their employee's calls during working hours.
Location Tracking
Monitoring the location of people would be a great feature of this app. Parents can stay calm by knowing where their children are. Nurses are aware of the location of their patients, so they can reach them as soon as possible. Employees are informed of their employee's location during working hours.
Social media tracking
Monitoring social media is the other useful feature of this app. Parents can monitor their children's activity on social media, as teenagers are glued to their phones, so they can be sure who they are connecting with and protect them from any possible digital threat. Caregivers can check their patient's health according to social media activity. SPY24 offers accessibility to most social media such as TikTok, Instagram, Twitter, Facebook, WhatsApp, Telegram, and Skype. 
Programs Controlling
Another essential feature of SPY24 is the ability to control programs. Parents can check the programs have been installed on their kid's mobile. Nurses can install some health apps for their patients remotely. Employers can install necessary programs on their employee's cellphones. 
Monitoring Multimedia
 All videos, photos, and downloads can be monitored by SPY24, which will help Parents to check what movies their teenagers are watching and protect them from any probable danger or threat. 
Monitoring web browsing and bookmarks
Web browsing will help Parents to gain information about their children's hobbies and interests and check if they are spending time on harmful websites so they could protect them. Employers to check their staff activity on the intent.  
SPY24 App Pors cons
SPY24 has many features, as mentioned above. Let's take a look at the most important advantages and also disadvantages of this popular App :
Pros:
• The app offers its customer a 30-day free trial.
• The app has  the strong database
• The app has easy installation 
• The app gives you access to lots of social media
Cons:
• A full subscription is needed to monitor social media
SPY24 App Price
There are different packages that SPY24 offers.
Android Packages 
1 month (31 Days) for free – $0 
3 months (93 Days) for $50
6 months (180 Days) for $76
Daily 45 (45 Days) for $5
12 months (360 Days) for $120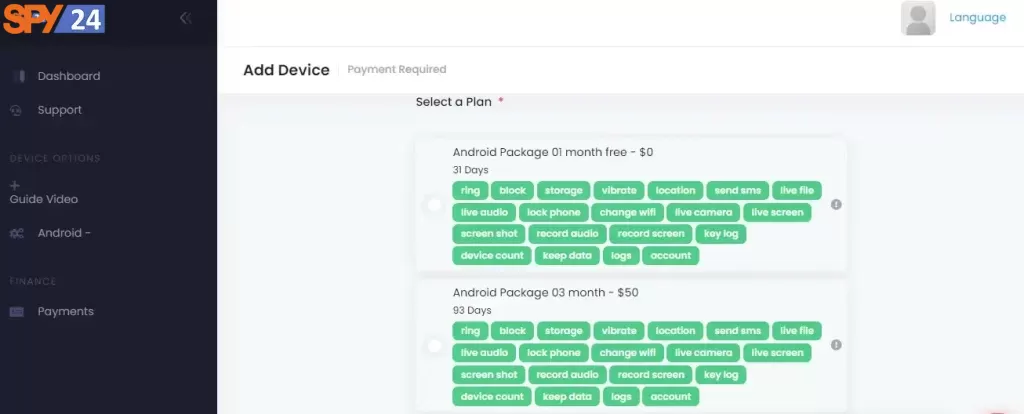 Windows Packages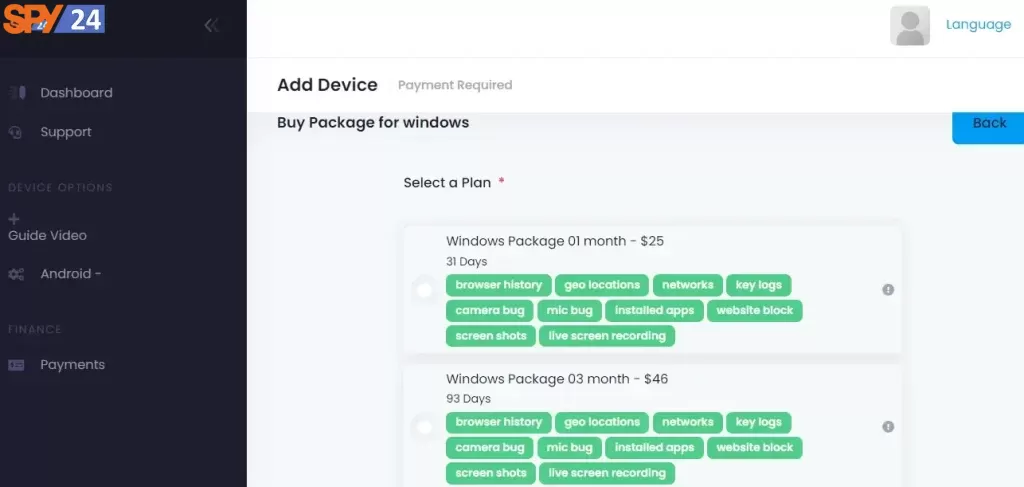 MAC Packages

---
Conclusion
As there are many spying apps available, the best decision for picking one would be the app with the most functional features. SPY24 lets you do more social media monitoring than FoneWatcher. Furthermore,  SPY24 offers a month's trial that gives customers enough time to check various features of this high-tech app. So what are you looking for? Let's try SPY24 for free. We hope you find this article in SPY24 useful! You can also read our other articles, such as the free phone number tracker without permission.
FAQs
What Android devices are compatible with the FoneWatcher Android monitoring app?
FoneWatcher for Android is available for all Android devices running Android 4.0 – Android 13.
How to disable monitoring apps on my device?
By dialing the below numbers
Dial ##21#  or  Dial ##61#
How can I protect my phone from spying apps?
Avoid giving your phone to a stranger as it takes 5 minutes to install it, and also Avoid connecting to a public WiFi.
Do I need to root my phone when I use FoneWatcher?
No, you do not. It does not require you to root your phone before gaining access.
Is tracking apps legal or not?
Spying apps are designed for monitoring kids and employees. There is no law to consider this app illegal. For more information, you could ask legal counsel about it, and also, there is a list of activities that are considered crimes Data Protection and Privacy Legislation Worldwide.
How can I monitor my phone when it is off?
You can not monitor when the phone is off. Remember that the phone should be on and connected to the internet to track the phone.