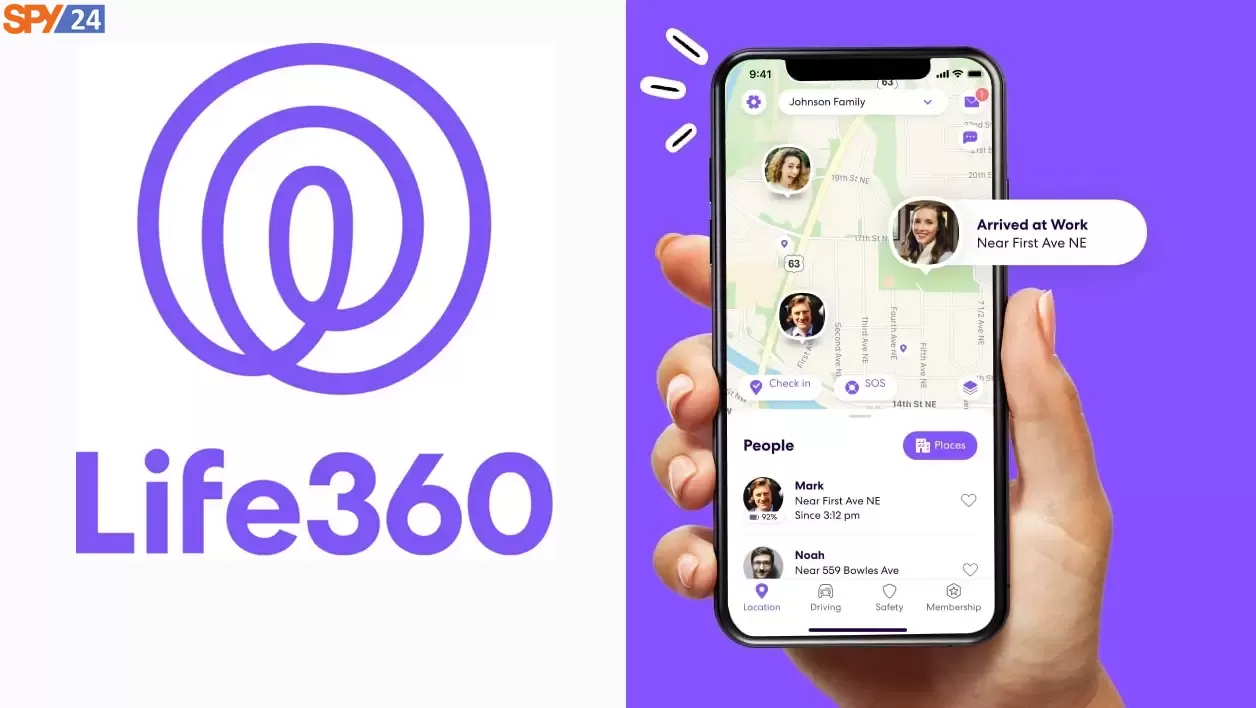 A Life360 App review is what you need if you usually get worried about your family members when they're out. As you know, parents always want to check where their children are, especially if they're driving. This is sometimes annoying because you can't constantly call them and expect them to answer.
So the question is how you can check their safety and make sure they're going where they were supposed to. The answer is a family-oriented app called Life360, which is specifically designed to solve this problem.
If you want to check whether this app is what you want, you'd better read the following Life360 App review. Here we have gathered a complete review of the app, mentioning all the pros and cons according to their customers' reviews.
| | |
| --- | --- |
| Android | Yes |
| iOS(iPhone/iPad) | Yes |
| Website:  |  life360 .com |
| Domain Age: | 2002-01-12 |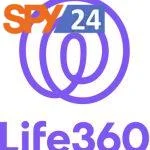 What Is Life360?
Life360 is a great family-oriented social networking app that was launched in 2008. The app has been designed to help your family stay connected and safe.
Location-based services, which include sharing the location and notifications, are provided to consumers all around the world by this San Francisco-based IT firm.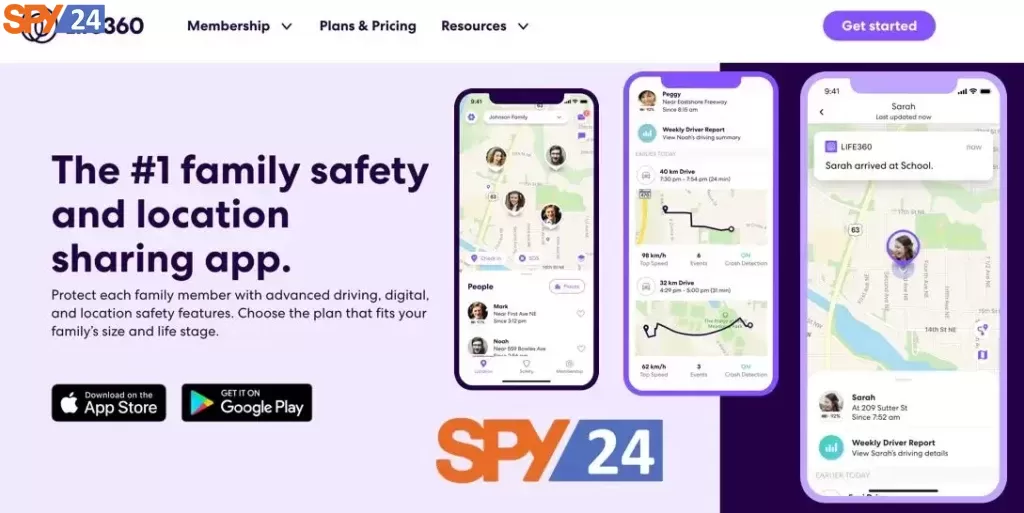 In fact, Life360 can be used to track your family members, define geo-fence areas, and receive notifications if they need help.
Also, Life360 offers driving analysis, integration with cars, monitoring services for assigned drivers, reporting, crash detection, and, more importantly, emergency response.
Life360 App Review
As mentioned earlier, Life360 is designed specifically to track your family's location and ensure they're safe when they're walking, driving, or online.
So it's not a complete parental control app like SPY24. However, regarding location safety and geo-fencing, it can be considered a great app.
To make it clear, let's review the app to see what it's offering. 
Life360 Review: Safety on the Road
You always have to trust and also fear when giving your children the car keys. Fortunately, there are great features on Life360 that make this easy.
The Driving Safety feature of Life360 offers crash detection, emergency dispatch, and roadside assistance options to help you with stress.
If you are in a car accident that occurs at over 25 miles per hour, Life360 will notify your Circle and transmit your whereabouts.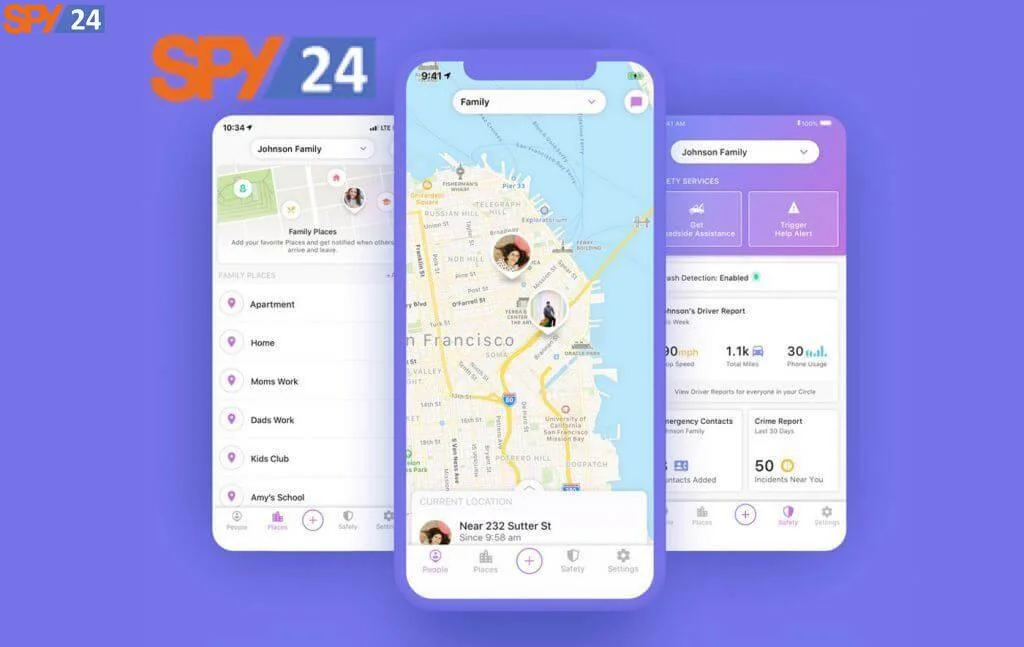 To hold them accountable and teach them better habits, you'll be able to see a summary of your family's driving (where they went and for how long) as well as individual driver reports.
Remember that only members of the Gold (5-mile free towing) or Platinum (50-mile free towing) plans may get roadside assistance. The different Life360 plans will be discussed later in this article.
Life360 Review: Digital Safety 
If you're going to keep an eye on your physical safety, it's a good idea to pay attention to the Digital Safety feature of Life360. This function protects you from identity theft and notifies you if a data breach has occurred.
Monitoring your credit is also good because it helps you detect and stop credit fraud. Life360 will reimburse Gold and Platinum members $25K and $1M if someone takes something.
Life360 Review: Emergency Assistance
Bad days are a part of life, but how we cope with them determines the difference. Life360 offers several emergency assistance features, including.
Stolen phone protection: which is $250 for Gold members and $500 for Platinum members.
Roadside assistance and free towing: up to 5 miles for Gold members and up to 50 miles for Platinum members.
With this app, you can also send SOS signals to your Circle, contact an ambulance if necessary, and learn about natural disasters, disease outbreaks, and active shootings.
You'll also have access to a nurse helpline that will provide medical, dental, and pharmacy referrals with this feature. It's available 24/7.
In addition to getting an emergency evacuation, the Emergency Assistance feature allows you to stay in contact with your family while in the hospital.
Before and during your trip, taking a vacation is less stressful, thanks to local health reports, visa requirements, and translators.
Life360 Membership, Plans & Pricing Review
You have the opportunity to pick from 3 distinct plans when you join the program, each of which costs a distinct quantity each month or year.
Here is a review of these three plans so that you can choose the best one according to your needs.
Free Membership
As it comes from the name, this plan is free, but you should know that the services you get from this plan are limited.
Here is what you get when registering for Free Membership on Life360:
Location Safety
2 days of Location History
2 Places with Unlimited Alerts
Driving Safety
Digital Safety
As you see, you just have 2 days of location history service. So if you want to have a longer service, you have to go for the next level of membership on Life360.
The Gold Membership: $14.99/month or $99.99/year
This is the most popular plan on Life360, and it is recommended to register for this one. You just need to pay $14.99 per month or $99.99 per year to get a wide range of features on the Life360 app.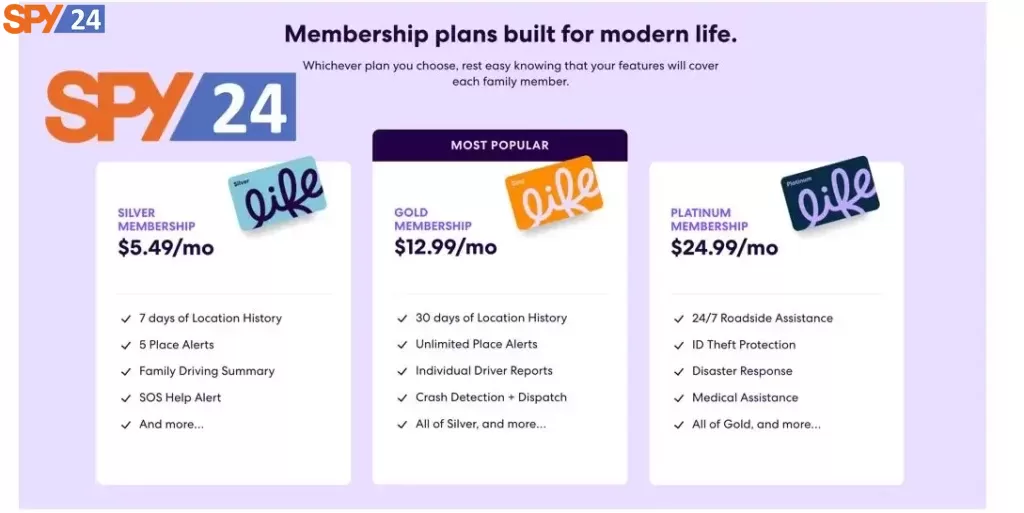 Here is a summary of the features of the Gold plan on Life360:
Location Safety
30 days of Location History
Driving Safety
Individual Driver Reports
Digital Safety
$25k Stolen Funds Reimbursement
Emergency Assistance
$250 in Stolen Phone Protection
As you see, the Gold plan has many things to offer.
The Platinum Membership: $24.99/month or $199.99/year
This is the complete version of Life360 and, of course, the most expensive one. Here is what you get when registering for this plan:
Location Safety
30 days of Location History
Driving Safety
Individual Driver Reports
Digital Safety
$1M Stolen Funds Reimbursement
Emergency Assistance
$500 in Stolen Phone Protection
As you see, in the membership plan, you'll get 4 extra features compared with the Gold plan. These 4 features are Credit Monitoring, Disaster Response, Medical Assistance, and Travel Support. Also, the amount of some services is higher, such as the stolen funds.
According to its website, the Free and Gold membership plans are only available in the U.S. and Canada.
International users can only sign up for the Premium plan. Last but not least, you have to know that sales tax may be added in certain locales.
Life360 Reviews: What Do Customers Think?
Here is a summary of the customers' ratings of Life360 on 2 review websites:
Sitejabber: 1.9 with 496 reviews
TrustPilot: 2.6 with 38 reviews
As you see, the rating of Life360 is not as good as we expect. It's good to see what the customers say to know the pros and cons of this tool.
Life360 Pros and Cons
Here are some advantages and disadvantages of Life360, according to its customers:
Life360 Advantages
The most important benefits of this app mentioned by their customers are
It's a comprehensive location-tracking app for family members with all the tracking features you need in this regard.
It provides monitoring features for driving habits, which is good for teaching teens. 
It has the ability to customize alerts as per the customers' needs.
The app has a good navigation feature, making the trips so easy.
It offers a battery status monitoring feature.
Life360 Disadvantages
Here are the most important drawbacks of Life360 according to what its customers say:
It just offers location tracking, and there are no other monitoring features like social media monitoring, call tracking, etc.
The app is only compatible with phones, but you can't use it on tablets.
There are also compatibility problems with some older versions of iOS.
The customer support team is not so responsive.
How Does Life360 Work?
You'll need to install the Life360 app on each family member's phone in order for them to join your private Circle and have their movements and driving statistics tracked. Via GPS, Life360 records the movements of the new family members' phones.
As a result, you may track the whereabouts of your family members in real-time even if the Life360 app is not open on their phones.
You may create alerts that will notify you only when necessary. You'll get alerts set up for them once they reach the destinations.
You may also get driving information to protect your loved one on the road. You can also keep track of the whereabouts of the newly added relatives by reviewing their history.
Life360 Download for Android and iPhone Free
Life360: Find Family & Friends on the App Store
Life360: Find Family & Friends – Apps on Google Play
---
SPY24 App VS Life360
As mentioned earlier, Life360 doesn't offer monitoring features other than location tracking and driving safety.
So you'll need to install another app for other monitoring requirements, which is not a good decision. It would be easier for you to install an app that has all features in one place. The best option available out there is SPY24.
Let's review the features of this app and figure out why it's better than Life360.
SPY24 App Features:
Here is a summary of SPY's features:
Location Tracking and Geo-Fencing

Using SPY24, you'll have the following features related to the location of target phones:
Tracking the device's GPS location
Getting the target phone's location in real-time
Watching and monitoring the location of the target phone on a map
Viewing the GPS location of the target device via Google maps
Stealth mode when tracking the device's location
Saving the tracked location data on a single remote dashboard
Defining No-Zone areas using the geo-fencing feature
Keylogger
Every keystroke entered on the phone device can be captured by keylogging software on SPY24.

Text chat and messenger data may be captured and stored. Without them knowing, it unlocks passwords and emails key logins to your online web control panel.
Social Media Tracking 
SPY24 offers the best social media tracking features among monitoring apps. Here are the social media platforms' tracking options that this app offers:

Ambient Recording – Voice and Video

Take control of all behind-the-wall conversations with the SPY24 ambient listening spy app, which records and listens to their surroundings, whether they're your children at a slumber party or your employees in a keynote meeting.
It's a fantastic cell phone monitoring application. The phone microphone is controlled by secret call recorder software. It also transfers data to a web control panel and records the target's live phone calls. You can also remotely record live video from the surrounding areas of the target phone.
Email Tracking

Using SPY24, you can track all the activities of the target phone on email service providers, such as Gmail.
Tracking Installed app and App Blocking
SPY24 is the best app tracking tool on the market. You can easily track all the installed apps on the target phone.

This is great for parents because they can be sure that their kids don't use any harmful applications. Also, this app lets you block any apps that have been installed on their phone without your permission.
As you see, SPY24 features are by far better than Life360. Of course, there are other factors you have to look at to be able to make a fair comparison. One of the most important items is the cost.
SPY24 App Cost
Here is the list of plans SPY24 offers:
SPY24 Pricing and Plans for Android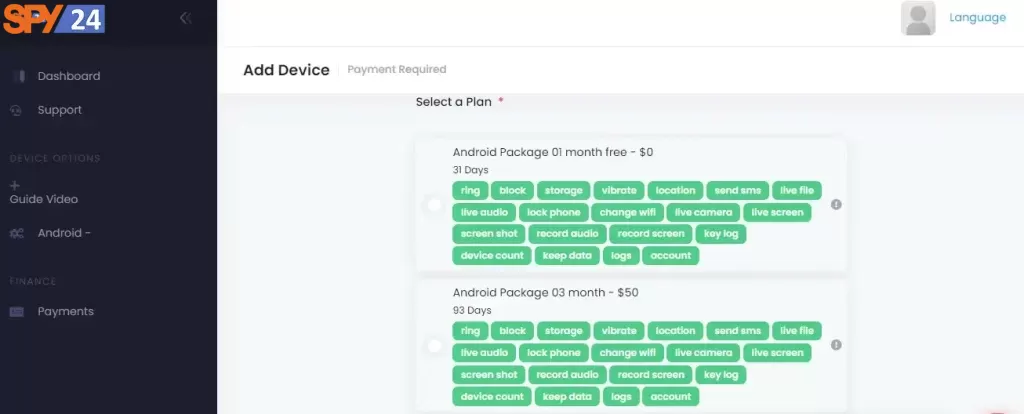 SPY24 Pricing and Plans for Windows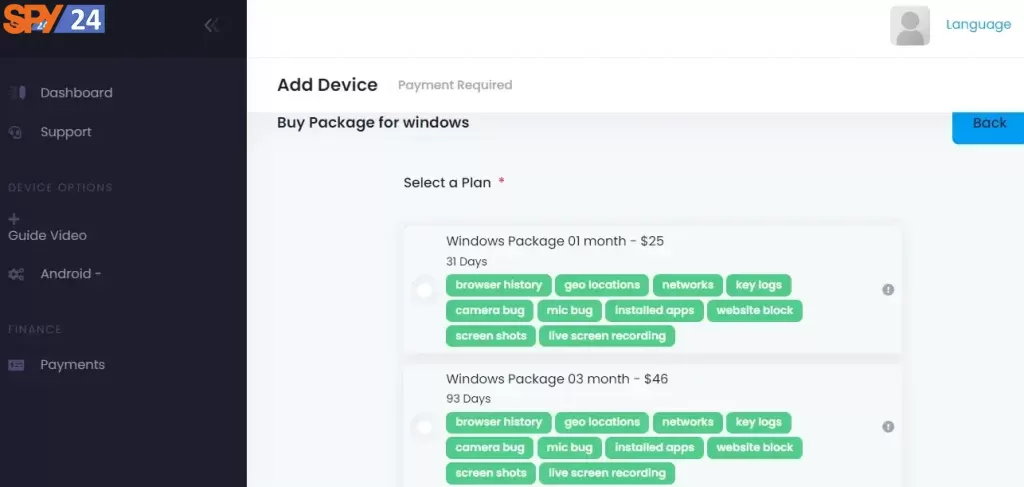 SPY24 Pricing and Plans for MAC

As you can observe, SPY24 offers diverse plans and pricing, and therefore, it can be a better choice compared to Life360.
Conclusion
Life360 is a great option in the realm of location-tracking and driving safety apps. However, it doesn't offer any other kinds of monitoring, tracking, and parental control features. Therefore, many users try to use another app to be able to have all these options in one place. The best Life360 alternative on the market is SPY24. It offers a wide range of features, including tracking of texts, calls, location, voice, video, picture, calendar, app, and many other options. So don't waste your time looking for an alternative to Life360, and make your decision now. is spy24. We hope you find this article in SPY24 useful! You can also read our other articles, such as the 10 best parental control apps for Android and iPhone 2023.
FAQs
Here are several common questions users ask about Life360.
Who Is Life360 For?
Chris Hulls and Kailash Ram launched Life360 in 2008. They're still in charge of the company.
Is Life360 a Parental Control App?
NO. It's not a complete parental control tool, but in terms of location safety, it offers good services that can be of use to parents who are worried about their kids' location.
Is Life360 Legit?
Life360 isn't a scam and is absolutely safe to use, considering all of the facts mentioned above. You may want to look into other family tracing apps that are accessible on the market if you are concerned about privacy concerns.
Is Life360 Worth It?
It's a bit expensive, but considering the services it offers, we can say that it's worth it.
Where Can I Buy Life360?
You can easily get started on their membership plans on their websites from the Plans and Pricing page.
What Are the Best Life360 Alternatives?
In terms of location safety, OwnTracks or GeoZilla might be good alternatives. However, if you need a complete monitoring app to be able to track every move of your family members, including their location history, you'd better go for SPY24.
Do Life360 Membership Plans Cover Everyone in my Family?
Yes! Life360 features and benefits in all plans cover all the family members in your Circle.
Does Life360 offer a free trial? And what does it include?
Yes. A 7-day free trial is included with all Life360 membership plans. All membership benefits are available for free during the trial period, with the exception of Roadside Assistance in Gold and Platinum memberships. The membership plan is automatically renewed after the free trial. There is no obligation, and you can terminate at any time.