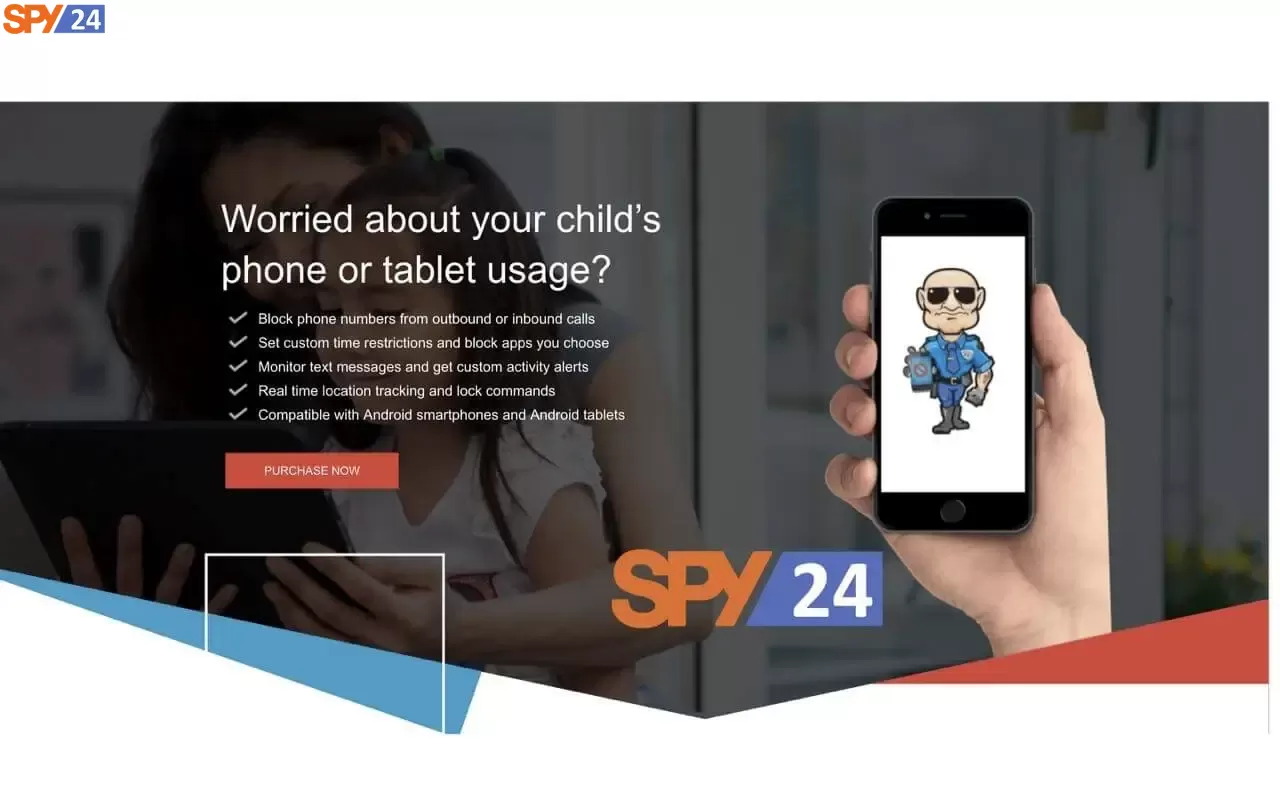 We now live in a digital age which brings on great responsible to parents and businesses that utilize technology on a regular basis. If you feel as if you lost control of knowing what your child or employee is doing on their mobile devices when you are not looking, then PhoneSheriff is the all-in-one solution that will help you regain control and become the master of your company or family's digital world. With plenty of social media platforms and different avenues for employees or children to waste their time, it's critical that you know what's going on. Let's take a closer look at what PhoneSheriff is about and how it can change your perception of the digital world forever.
PLEASE READ: The former owner of this site has indefinitely stopped selling the PhoneSheriff product. Are you worried about a youngster or employee and want to keep an eye on them? This other option is highly suggested by us.
| | |
| --- | --- |
| Android | Yes |
| iOS(iPhone/iPad) | Yes |
| Website:  | phonesheriff .com |
| Domain Age: | 2011-03-02 |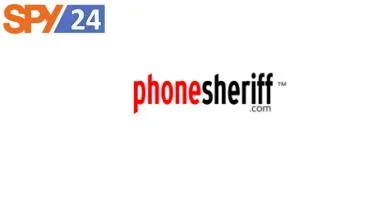 What is the Phonesheriff app?
Are you worrying about your child's or employee's usage of mobile phones and tablets? Phone Sheriff will help you to monitor their activities. Our children tend to abuse the usage of their gadgets when they know that their parents are not doing anything about it. It is the same with the employees. There are times when employees forget to use their gadgets properly even if they are in the office. There are companies that are giving their employees phones to use as long it is about their job. However, if the employee is working in the field, there is no way for the employer to monitor the worker's activity on the company's cell phone. This may affect the productivity of the employee when they are under minimal supervision.
Phone Sheriff is the next generation's mobile spyware that can be used on cell phones and tablets. It has the ability to filter, block, and track the activities of your target device. This software is ideal for you and especially if you are a parent who wants to control your child's activity. After you set up the software on your target device, all you have to do is to set up the restrictions for phone numbers, websites, and even the time limit for usage. This software can record cell phone activity in text messages, call logs, and most especially GPS locations. This GPS location helps you to locate the physical location of the mobile phone. This is best used when your child is missing and you can locate them using the software. You can view all the logs in a control panel on your account.
Using the internet capabilities of the phone or your tablet, the activities of the target device will be recorded in the Phone Sheriff account. You can review all the activity logs by logging in to your secured account on the website, and this website is designed with simplicity for users can navigate within the account easily.
While this program helps parents, it is best for employers as well. This software will let the employers track down the activity of the employees when they are working without the presence of their superior. There are cases when employees are only using the phone for recreation, letting them decreases their capacity to work at their best.
Businesses nowadays are purely relying on online transactions and internet communications. Almost 70% of businesses operate on the Internet rather than meeting with customer's face to face. The employees also do the same thing with the company client, but one disadvantage of the phone sheriff is that employees may tend to abuse the internet in the office.
They may use their mobile phones or tablets to access their social media account instead of working with the client. Facebook and Twitter can be a big distraction for employees because these accounts may tune in to their favorite activities and they can even communicate with friends and families. The worst case of all is that it can be a means to send private information about the company that may result in the company's negative reputation.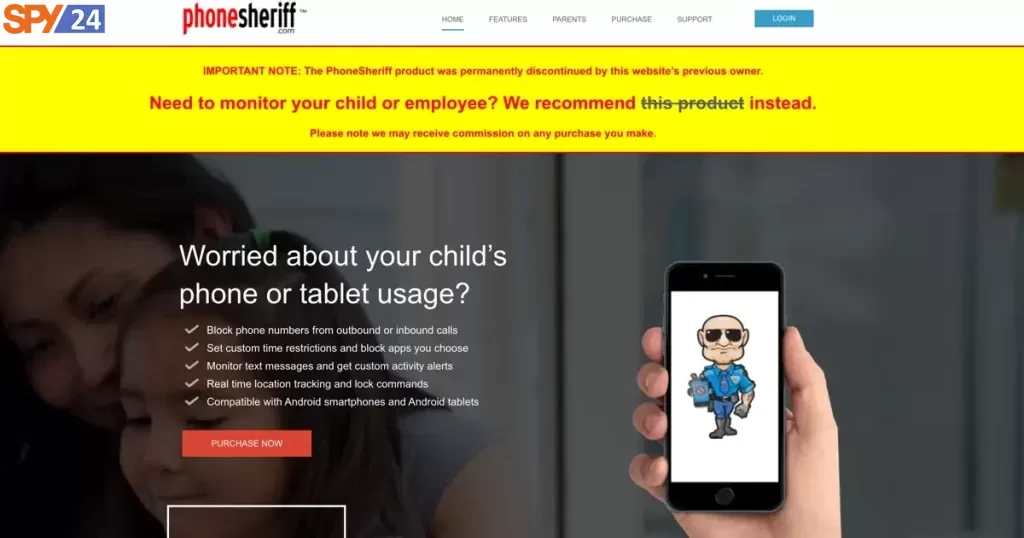 Why should parents use the Phonesheriff app?
A sudden necessity for parental control applications gives way to the born of Phone Sheriff. Due to the growing demand of parents who wants to monitor their child in using the internet, spyware in the market boost. Today, cell phones are advanced and each of them has the ability to connect to the internet. People who are using the internet would agree that it is a powerful tool that can bring good effects and at the same time danger to people. The internet can be used in advanced learning, and many kids use this internet as an advantage in their studies. However, there are certain points where the internet can be very dangerous for children. For example, a social networking site like Facebook is the most popular hub for every kind of individual. Kids go to this site and can mingle with people they do not know by chatting with them. The simple act of sharing and posting ideas can bring harm to your kids. Do you want to know why? Because if your child posts something about themselves, their whereabouts, and posts photos of themselves, predators online may take this as an opportunity to victimize your child.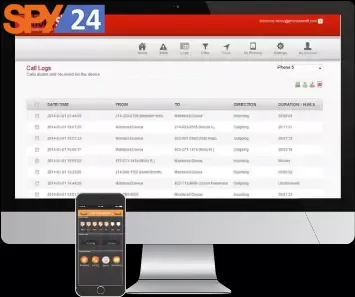 Parents need to understand that these online predators can do so many things to their innocent children. According to statistics, almost 70% of minors have been offended by these individuals. They may encounter sex offenders and may experience online molestation using these networking sites. We all know that teenagers are not yet responsible enough to know how to handle situations like this. As a concerned parent, you need to protect them using mobile software like Phone Sheriff. It is not only mobile phones this software can monitor, but also tablets, which are very into teenagers.
Through the help of Phone Sheriff, you will be able to monitor everything your child is doing on the phone. Here are some of the reasons why you need to have this program.
For Emergency – this software is so much capable of locating the target device in real-time. Parents can track their child's whereabouts using the GPS locator of the mobile phone.
Limit and Restrict Internet Usage – If you are worrying about your child's addiction to their gadgets, and you feel like their studies are affected, this software can help you to restrict their usage. You can utilize the software's blocking features to restrict websites on your target device. You may also block certain functions of the phone itself like connecting to the internet using WI-FI.
URL Tracking – this feature will give you the ability to track your child's visited website, and if you found out that they are entering websites not good for them, you can totally block the URL and they cannot enter that website again.
SMS monitoring – Phone Sheriff will allow you to record all incoming and outgoing messages on your child's phone. This way, you will see the phone number they are communicating with, and if you feel like it will bring them harm, you can totally block that certain phone number.
How to Install on PhoneSheriff?
Here are a few easy steps to install and set up the PhoneSheriff.
The PhoneSheriff is the most effective parental monitor software that can be very easy to use, install, and set up on your mobile device. If you want to use this software, first of all, you need to download the monitoring software and install it on your device by following the proper procedure. After installation, you should know how to adjust the settings on your device and start to control your child's mobile phone. Once you log in to the view logs, PhoneSheriff will help you to monitor all the activities that are transferred to your parental control account. During your leisure time, you can log in to your account and visit the login page at any time in order to view the details.
How to Install PhoneSheriff on iPhone?
Downloading and installing PhoneSheriff is really easy. To download and install this iPhone monitoring software, the step-by-step guide is as follows:
Click here to visit PhoneSheriff official website "http://www.phonesheriff.com/" and click on the "Buy Now" tab.
Now, choose an appropriate billing method and fill in the necessary details in the billing section.
Agree to the terms and conditions and place the order for confirmation.
Once the order is confirmed, you'll receive an email with a download link. Click on the download link by using your computer to get the software downloaded.
As the download process completes, click on the setup file to install PhoneSheriff. Follow the instructions of the installation wizard to complete the installation process.
Now, enable iCloud on the targeted Apple device by accessing settings > iCloud.
Tap the Backup menu on the iCloud screen and choose the "Backup Now" command to perform a backup (an internet connection will be required).
Open the PhoneSheriff program on your computer and register your product by providing your email address and the registration number provided to you in the welcome email.
Enter your Apple ID and password and agree to the terms and conditions to login to the interface.
Select the Apple device you want to monitor from the drop-down menu and use the menu on the left side of the interface to check the monitored data of the targeted device.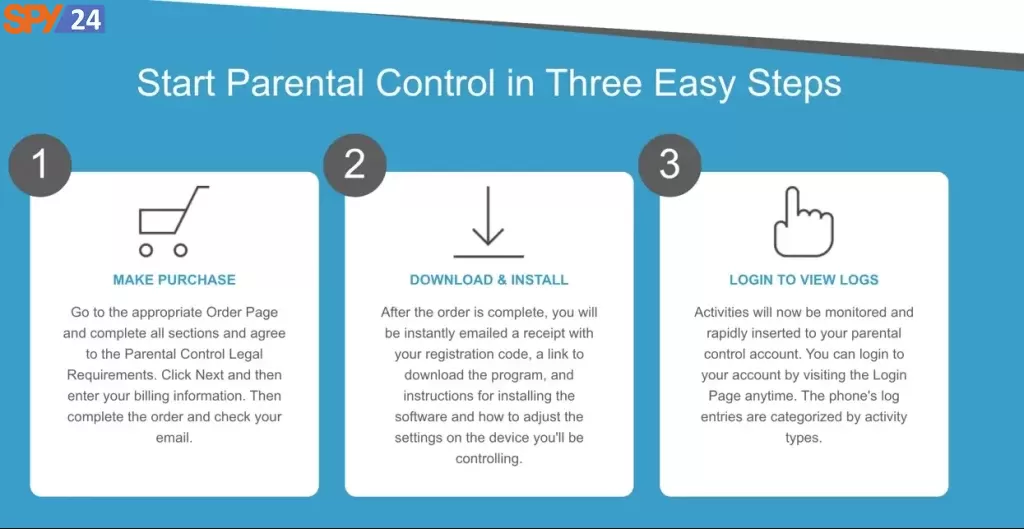 Follow the steps before downloading the app on your child's device:
Step 1:  Go to the Setting.
Step 2:  Go to the Security.
Step 3: Turn on an unknown source.
Step 4: Download the app from the link provided in the email.
Follow the steps to set up and use the Phonesheriff:
Step 1: Create an account.
Step 2: Install the application on your child's device.
Step 3: Log into your account.
Step 4: Click Add a License; copy and paste your registration code. To use 7 days trial, you can go to the registration page and register your account.
Step 5:Go to the control panel and start monitoring
Please notice that The first logs show up after one hour, and consider that there is an option to turn the device notifications on that makes your children informed of being monitored. By turning it off, you can monitor them secretly. To remove the app, go to the setting, enter the password, and tap uninstall.
What are the features of PhoneSheriff?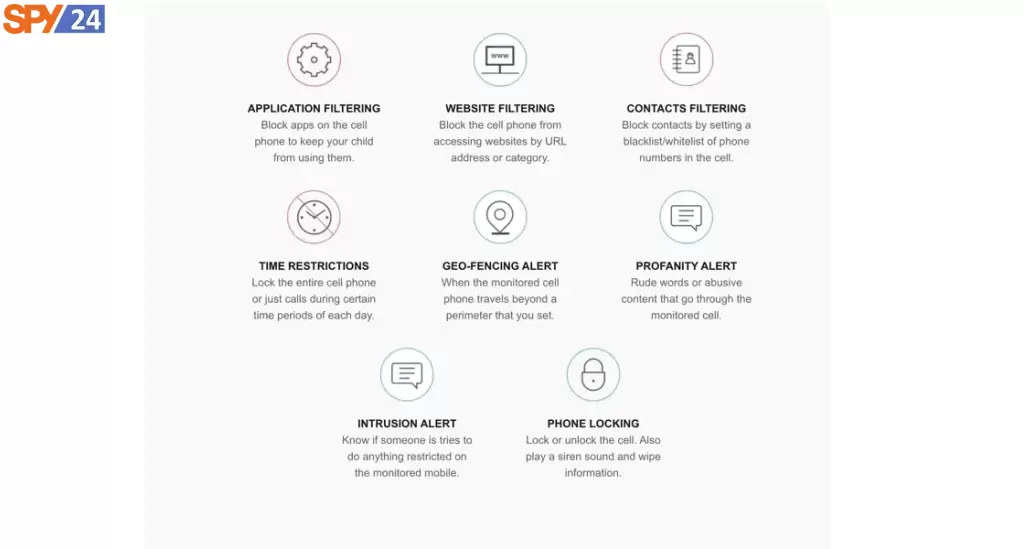 Phone Sheriff is undeniably one of the most popular and budget-friendly spyware on the market. It has all the basic features of parental monitoring software that are best for parents who are having a problem with their children. We will discuss the amazing logging features of the software.
Monitor messages – using the software, you will be able to learn about your target device's text message activity. It can record all of the incoming and outgoing SMS of the device. You can even view deleted messages.
Monitor iMessages – iMessages is an application on iPhone, where you can send free messages on the same model of phone. Before, it is impossible to monitor users of the iPhone, but with the revolutionary features of this software, it can work with iPhone secretly.
Track Call History – All of the incoming and outgoing calls of the phone will be recorded and you will be able to review who called on the target device.
Monitor URL visited – URL is the address of the website. With the help of this software, you will be able to know what are websites visited by your child or your employee. You will now know if your child is visiting inappropriate websites for their age.
GPS tracking – with the use of this system, you will be able to know the exact location of the target device. In this case, you will be able to know where your employee and child are going when they are out of your site.
Photo and Video Logs – Before, spyware was not able to track the photos of the target phone. Phone Sheriff will give you even the videos taken from the target device. Once a photo was saved on the device, it will be sent to your account and it will collect all of the photos and videos taken. This will let you know if there are malicious photos and videos taken on the device.
Review emails – You will be able to see all the emails sent on the target device. Once they are connected to the internet, incoming and outgoing emails will be sent to your account to review. You will be notified if there are new logs uploaded to the account.
See all Apps installed – most children love to download applications. Using Phone Sheriff, you can now review the applications they are downloading on their device. You will definitely know what the applications they are using.
Notes Logs – all the events that are logged on the note will be sending your account. You will be able to know what is even inputted on their phone.
Calendar logs – Phone Sheriff will let you track the events inputted on the device. If they are scheduled to do something, or if they are scheduled for a meeting, you will see it and review all the inputted events.
What is PhoneSheriff's compatibility with different operating systems?
Phone Sheriff Mobile Compatibility
If you are going to purchase the most trusted mobile spyware in the market, you should also consider your phone's compatibility with the software, and one of the best is phone sheriff. Nevertheless, it is designed to be compatible with a wide array of cell phone Operating Systems. An operating System or OS is a collection of software that manages any device hardware resource and can provide common services for the device.
Phone Sheriff is compatible with 5 major operating systems in the market: iPhone, Windows Mobile 6. x, Symbian OS 9. x, Android, and Blackberry. It is also compatible with Apple Tablets and Android Tablets. This will let you know if your device is compatible with the software. There may be phones that carry a different name, but has a compatible OS with the software.
Please be noted that when you are talking about compatibility, it is not the brand of the phone that is important, what is most important is the firmware or OS of your device. I will list down some of the compatible OS for Phone Sheriff.
Phone Sheriff is perfect for parental monitoring using Android phones and tablets. The version of this Android will give you the ability to monitor text messages, calls, browsing activity on the internet, and most especially GPS location. It can implement filters on the device like blocking phone numbers, time restrictions, and blacklisting certain applications. It is mostly compatible with most of the Android devices. This software is compatible with Android OS version 2.1 to Android OS version 9.
Blackberry OS Requirements
This software is compatible with most of the Blackberry Brand models. The Blackberry monitoring software will let you upload logs by using the internet. You do not need a computer to have the software installed on the phone; you just need the internet connection on your mobile. The software is compatible with BlackBerry OS version 4 to BlackBerry OS version 7.1.0.
Phone Sheriff is the leading parental monitoring software for iPhone. For users of iPhone, you need to monitor your child's activity, but you do not need to worry about compatibility, this software is compatible with your device, and you can let the software do the job for you. Did you know that this is the first software that is compatible with Apple's precious iPhone series? This software is compatible with iPhone OS version 3.1.3 up to 6.1.2 for all iPhone models 3G, 3GS, iPhone5, iPhone 6S, and the latest iPhone 8. Please take note that the only requirement is to make sure that it is jailbroken prior to installing the software. You may also check their website about the additional requirements for jailbreaking.
Windows Mobile OS Requirements
This software is compatible with any smartphone running on Windows OS version 6. x. Just in case you do not see your phone's version in the bracket, any Windows Mobile 6. x smartphone that has internet connectivity will be compatible with this software.
Phone Sheriff is compatible with Symbian OS 9. x, it has the ability to monitor all the phone activity, and you can create filters for your child's phone.
These are major OS compatible for most of the mobile phones in the market. If you cannot find the version of your phone on the list, you may visit the phone sheriff website for more OS compatibility requirements.
How much does PhoneSheriff cost?
Let's take a look at the costs of this app. Please notice that each license allows you to use Phonesheriff on up to three devices.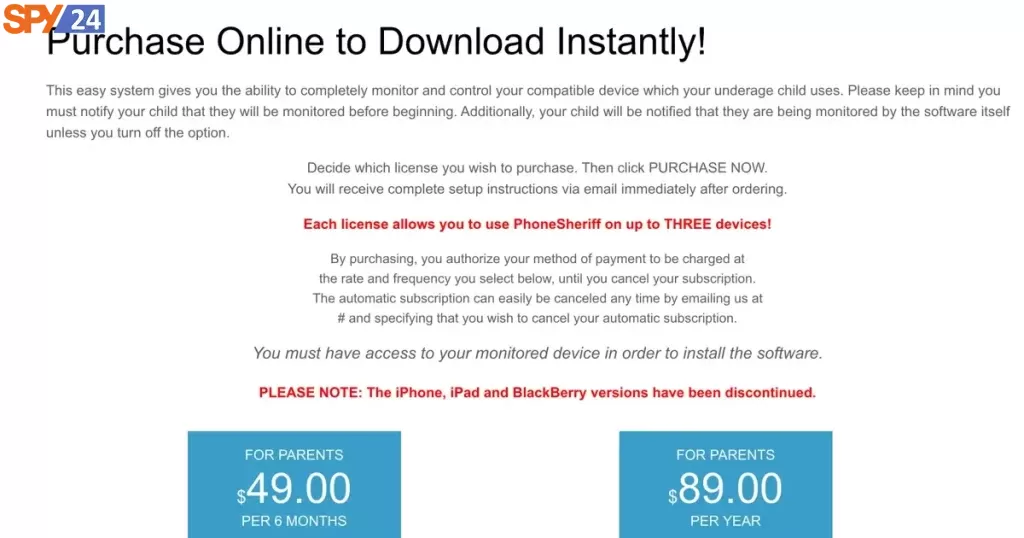 You can find the Phonesheriff costs below:
You can pay via credit cards(Most Maestro, Visa, Discover / Novus, Diners Club, JCB) and American Express cards, or you can use online Payment methods (PayPal and Giropay)
What Are the Pros and Cons of Phonesheriff?
Here is a list of pros and cons of using PhoneSheriff:
Pros:
Monitoring capabilities: PhoneSheriff allows you to monitor calls, text messages, and multimedia messages (MMS) on the target device. You can view contacts, call history, and message content easily.
GPS location tracking: The software provides real-time GPS location tracking and geofencing, enabling you to set up boundaries and receive notifications when the device enters or exits these areas.
Usage restrictions: PhoneSheriff allows you to set up time-based restrictions on phone usage, application usage, and website browsing. This can be helpful for parents who want to limit their child's screen time and exposure to inappropriate content.
Remote control: You can remotely lock or wipe the target device in case of theft or loss, ensuring that your personal information remains secure.
Alerts and notifications: The software allows you to set up keyword alerts and notifications for specific events, such as when a particular contact is called, a restricted app is used, or a restricted website is visited.
Cons:
Privacy concerns: Monitoring someone's activities without their knowledge or consent raises ethical and privacy concerns. It's important to have a conversation with the person being monitored, whether they are your child or employee, to ensure they understand the reasons for the monitoring and are comfortable with it.
Cost: PhoneSheriff was a paid service, which could be a downside for some users.
No longer available: As mentioned earlier, PhoneSheriff is no longer being sold, so it's not an option for anyone looking for monitoring software.
Potential for misuse: Like any monitoring tool, PhoneSheriff could potentially be misused by individuals with malicious intent, which could lead to unwanted consequences.
PhoneSherrif vs. SPY24 app
SPY24 app offers several features that you should know about .below you can find the most significant one.
SPY24 Features to Monitor Smartphones and Tablets
SPY24 is software that allows you to monitor smartphones and tablets in real time. They use a unique system that is installed inside a smartphone or tablet that would start at every boot of the phone to be used to save and blocks some of the activities for your children or employees. There are a lot of features inside this application itself that could be useful for you as a parent or when you are managing a company to be used for your employee's tablets or phones. If you are worried that they might be doing some activities that they are not supposed to, maybe you want to look at some of the features it has to offer and they might be able to help you with your worries.
Some of the features SPY24 has include call history, anti-abduction mode, messenger logs, monitoring SMS, panic alert, tracking GPS location, viewing multimedia files, website visited, real-time tracking, instant alert, and notifications, viewing contact and calendars activities, getting logs emailed, mobile data usage, phone time restriction, remote uninstall, multiple device management and free archive application. A lot of these features could be really helpful for you in monitoring your children's or employee's activities especially if you are suspecting that they are abusing the privileges of texting, calling, or browsing on their smartphones or tablets.
In call history, you could see in real-time all the numbers that are dialed and received by your children's or employee's phones complete with date and time. This could help you keep track of who you want your children or employees to talk too etc. In the anti-abduction mode used in SPY24, the application would remotely trace the GPS location and send them to the web panel. It would also monitor all the SMS that are sent and received complete with date and time for you to monitor if they are talking to people that they are not supposed to be talking to.
Most of the data that are collected by SPY24 such as messenger logs from WhatsApp, iMessage, and Blackberry Messenger would be saved and sent through to the web panel for you to monitor and check. All the websites visited on smartphones or tablets would also be saved and sent to the online control panel. This could be very helpful in the prevention of pornography going into your children's or employee's phones and tablets. Panic Alert could be very useful in times of danger too; this feature will let your child/employee quickly contact you during trouble. The S.O.S button will show the notification area of their device along with their GPS location so you to know where to find them.
You would be able to monitor their GPS location by using SPY24 application, also location histories at intervals that are already set, along with setting perimeters for your children's phone and you would be notified when their diving interval, add new time and usage restrictions, back-up all the data and schedule email reports from the online control panel. By using this remote setting, you basically could be setting the application up from just about anywhere you want to. You would most definitely find being able to change the setting remotely would save you so much hassle, time and be very helpful for you, your family or your business.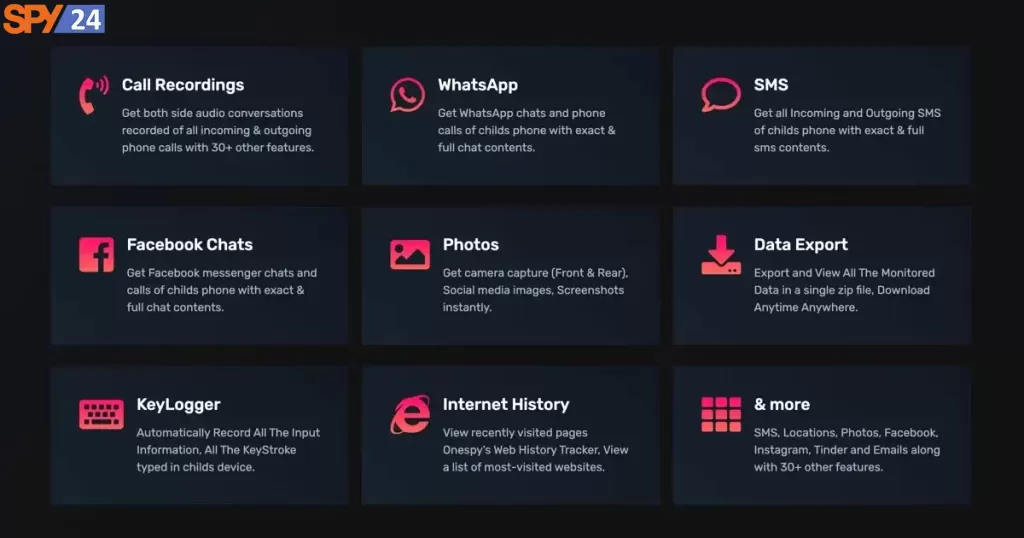 Conclusion
When you want to take back control over cyberspace and know exactly what your children or employees are doing, then nothing beats the awesome power of PhonesSheriff. Every feature mentioned here is monitored and reported to you in real time. That means that all data is streamed live right to your control panel. If you are ready to take back monitoring without blatantly interfering with the privacy of your employees or underage child, the PhoneSheriff is a must-have! You can also read our other articles, such as the best Phone Tracker Apps.
FAQs
Who can be monitored by Phonesheriff?
Phonesheriff is a trusted mobile software that may help you to monitor employee activity on a company-issued phone or tablet. In addition, for your family's security, this mobile monitoring software is very helpful for you, and can also be used to monitor the activities of your underage child on their smartphone or tablet. There are many functions that you can get from this mobile monitoring software for your monitoring activities. This mobile monitoring software records many things such as all call information, texts, the website opened, photos, contacts, see location real-time, and much more. if you need more information about the feature you can directly go to this mobile monitoring software official website.
How do I install and remove Phonesheriff?
Accessing the device in at least 15 minutes is required if you want to install Phonesheriff. Things that you have to notice, in installing process you need to get connected by internet access since it will be required to upload device activities. After the installation process, you will receive a welcome email on your registered email ID which contains login details, login link, and registration key(s) purchased. Note, if you want to install this software on your iPhone, you need to jailbreak your iPhone device first. On the other hand, if you want to remove it, you can directly remove it from the monitored device and remotely from the online control panel too. For your additional information, this software is compatible with all major mobile operating systems such as Android, Blackberry, and iPhone.
After registering and creating my account
For those who have not yet bought and added a Phonesheriff license(s), you can buy it through the online control panel. You can click on Login then purchase and finally add license. Add the license bought and click on submit to verify. Then, you can type the build URL in the device browser and install this mobile monitoring software. For your additional information, the registration process for this mobile monitoring software can also be done after downloading this software.
The possibility of account switching from one device to another device
Switching your license from one device to another is possible to be conducted. In addition, it is very easy to switch your license of monitoring one device to another. The thing that you have to do is just remove Phonesheriff from your old device and install it onto your new device. The last thing that you can do is by verifying the new device from the online control panel to be monitored. For your additional information, you can also switch from an old SIM card to a new SIM card. But, while using the new one, you have to make sure to use the new mobile number while sending the SMS commands.
Can I Install PhoneSheriff Remotely?
No, you have to install PhoneSheriff Investigator manually on your PC. The software uses your iCloud account to monitor the targeted Apple device, so after the installation, you just need to enable the cloud storage and backup option in the Apple device to view its logs.
How Many Phones Can I Monitor at Once?
You can monitor as many devices as you want by using PhoneSheriff. The interface of the software allows you to select any Apple device from the drop-down menu and view its activities. The software can be installed on one computer with the purchase of one license.
Is It Completely Hidden?
According to the policy of PhoneSheriff.com, the software can only be used for a device that the user owns. Also, it is necessary for the user to inform the monitored child that his backups may be reviewed. So, according to these policy statements, this parental control software is not hidden.
Does Phonesheriff monitor Snapchat?
PhoneSheriff can monitor Snapchat (Rooted Android only),iMessage messages, and WhatsApp (iPhone and Rooted Android).
How secure is the order process?
All order pages use the latest secured technology certified by Thawte and ScanAlert to ensure 100% Secure and Confidential buying. The order pages are tested daily and certified HACKER SAFE by ScanAlert. A logo will appear on each order page to ensure that it is secured.
What is your refund policy?
We serve our customers to their fullest satisfaction. But if in the rare case, thorough troubleshooting does not resolve your problem, then we will refund the full purchase price to our customers.
Do you provide technical support?
Yes. After your purchase, you will receive a premium software product with step-by-step instructions, updates for life, and online technical support for life. In the rare case of a problem, our support team will give you step-by-step instructions to correct your issue. 100% Guaranteed
How will I get the software?
After purchasing, you will be delivered the software download link on your email ID, immediately after completing all formalities. You can then download your software with the help of a link provided in your delivery email and read instructions for a quick installation process.
How do I cancel my subscription?
Just contact us to let us know you wish to cancel. Your automatic billing will be canceled. Your account will remain active until the end of the period you purchased. At that time you would need to remove the software from your phone or tablet as it will no longer function.
Do you provide software updates?
Yes. As long as you are a PhoneSheriff subscriber you will receive the latest upgrades to the software free of charge.
Is there a trial version available?
As of now, no trial version for PhoneSheriff is available except for Android. But it will be available for other mobile platforms very soon.
How will I see the activities of the device?
You can see all your child's activities, and control and monitor them by logging in to your online control panel.