JJSPY Reviews 2023: JJSPY is an app that provides parents and employers with a cell phone tracking solution to protect their children and supervise their employees. It enables parents to safeguard their children from online threats, while employers can monitor their employees' movements, biometric readings, and internal texts.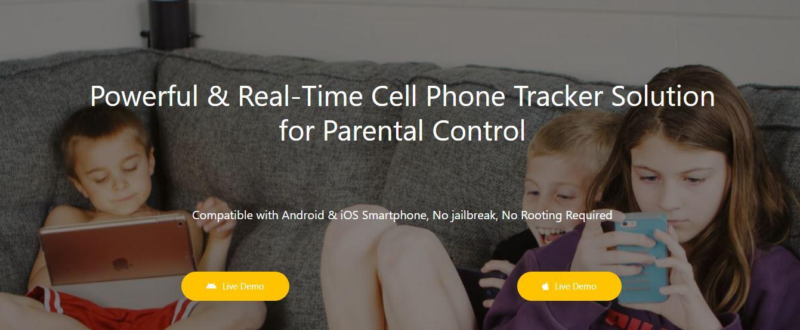 The app is compatible with both Android and iPhone devices and does not require jailbreaking or rooting. JJSPY provides various tools, including call and text information, real-time location tracking, and WhatsApp activity details. These features are designed to provide users with an affordable and secure monitoring experience, with simple installation and guaranteed data transmission privacy protection.
| Feature | Description |
| --- | --- |
| App Name | JJSPY |
| Compatibility | Compatible with Android & iOS Smartphones |
| No Jailbreak Required | Yes |
| No Rooting Required | Yes |
| Live Demo | Yes |
| Free Trial | No |
| Physical Access | Required for Android |
| iCloud Login | Required for iPhone |
| Refund Policy | Subject to this Refund Policy, you may be entitled to receive a refund within 7 days from the day of your purchase, as long as your reasons do not contradict the Refund Policy conditions |
| Trustpilot Rating | 2.4/5 |
| Stealth Mode | Yes |
| Website: | jjspy.com |
| Domain Age: | |
Get to Know JJSPY: Features and Capabilities
JJSPY has a variety of features that makes it a powerful mobile monitoring app. Some of the main features of the app are:
Call log
JJSPY allows you to monitor call logs on a phone or tablet easily. You can check the call logs of your children or employees to see who they are in contact with.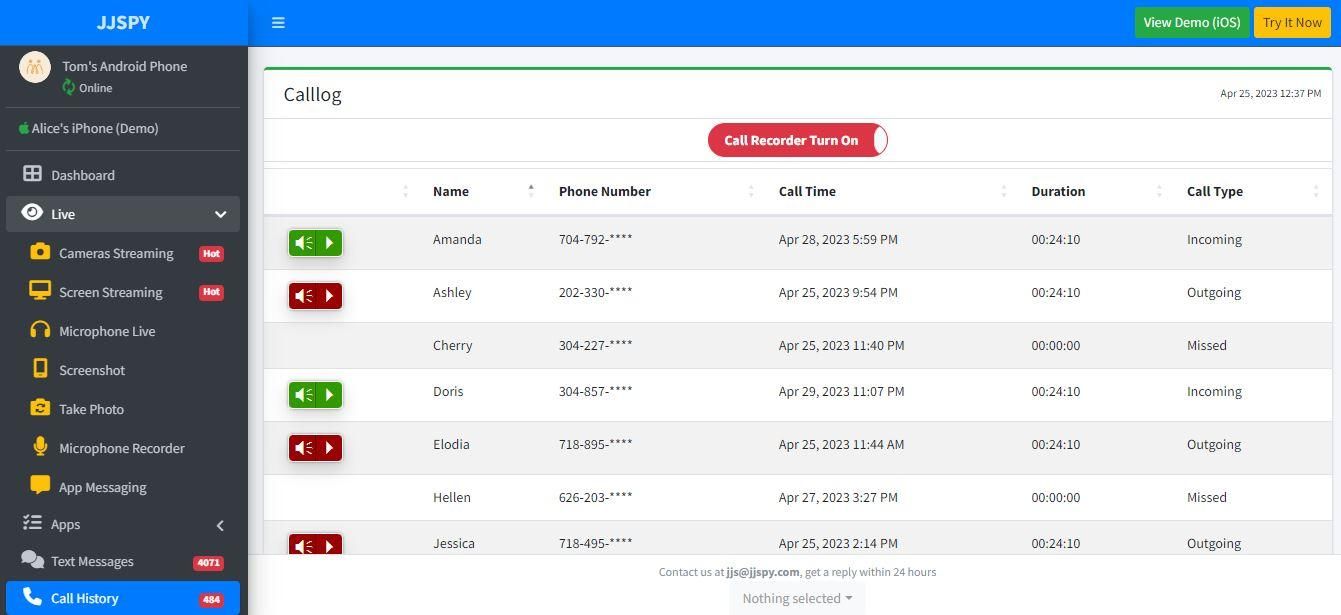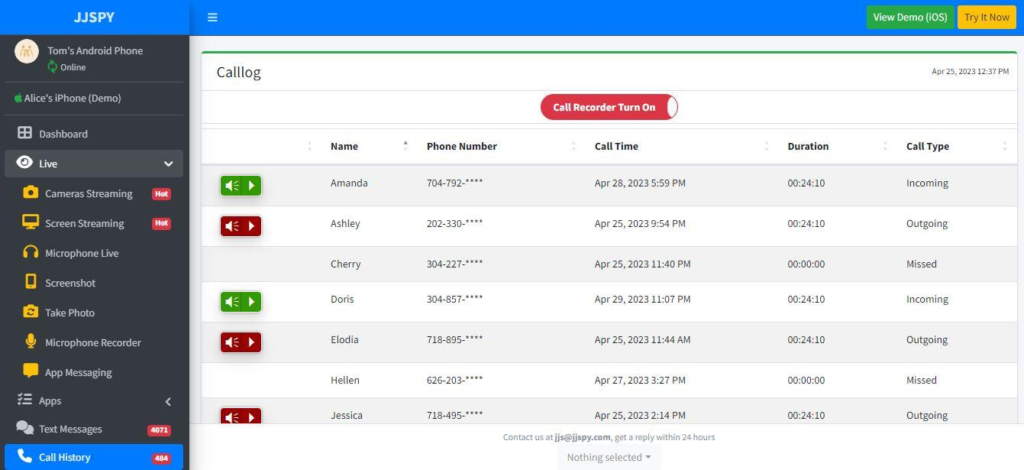 Location
With JJSPY, you can track the mobile device of your child or employee, so you always know their whereabouts. You can get their exact location and a log of everywhere they've been on the control panel.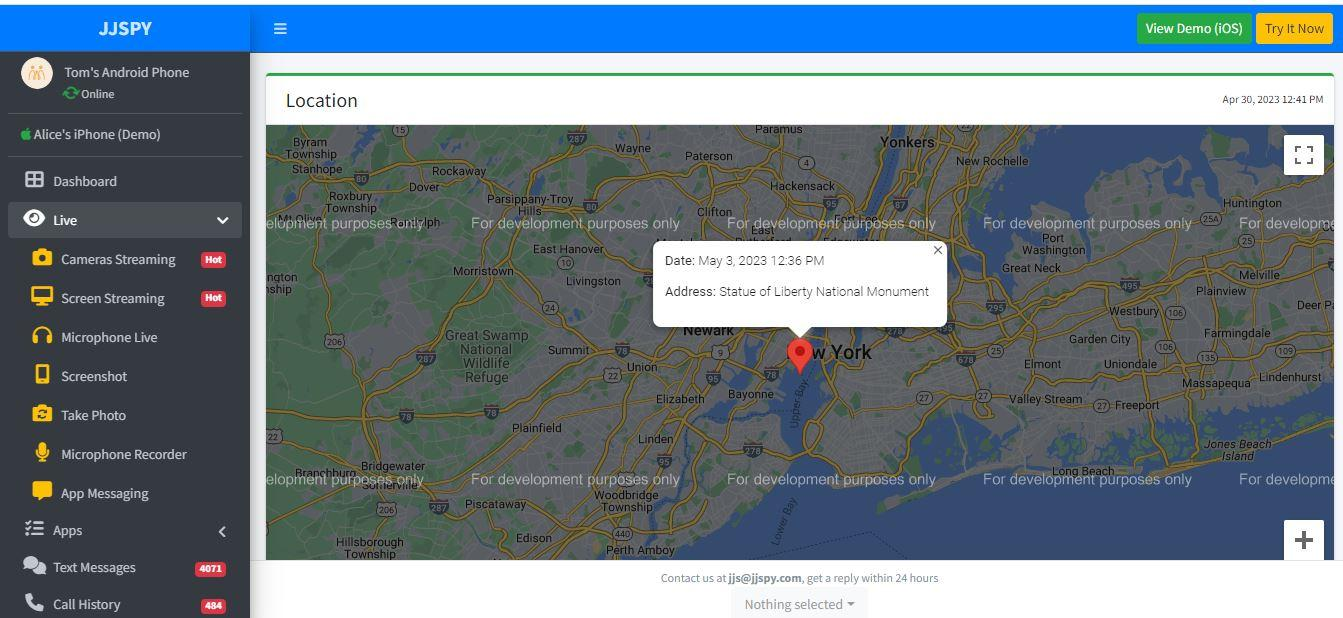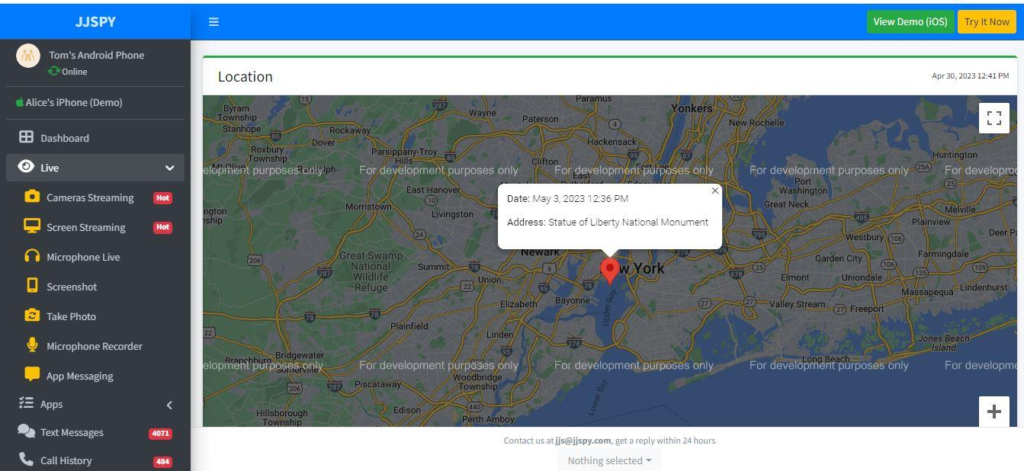 Live Cameras
JJSPY can activate the microphone and camera on your device to spy on your surroundings. You can view the surrounding activities of your teen's cell phone.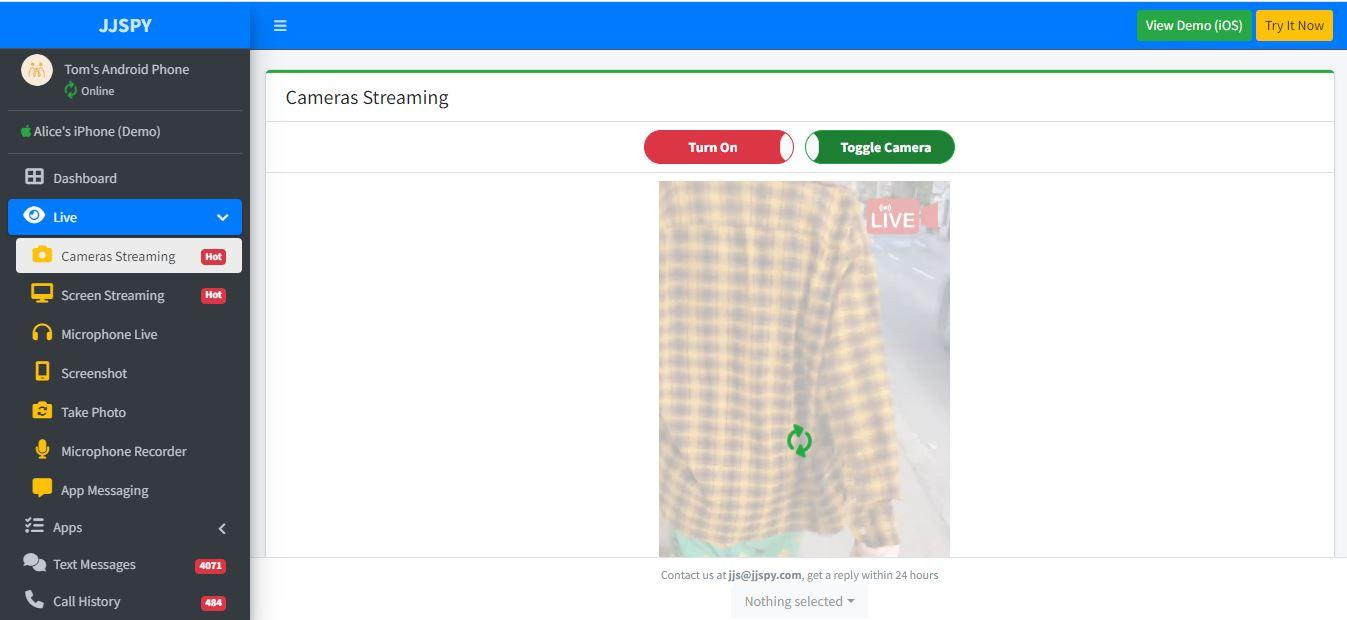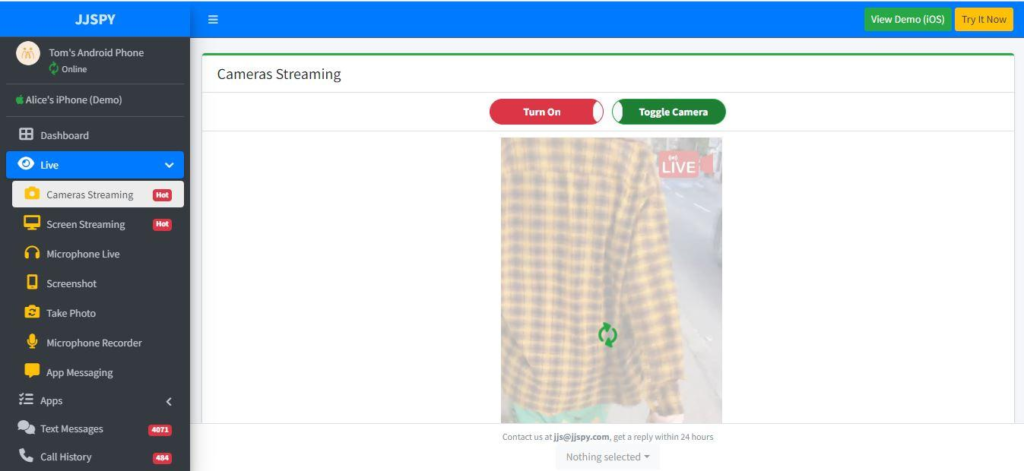 Live Screen
You can use the live control panel to view the phone's screen in real-time.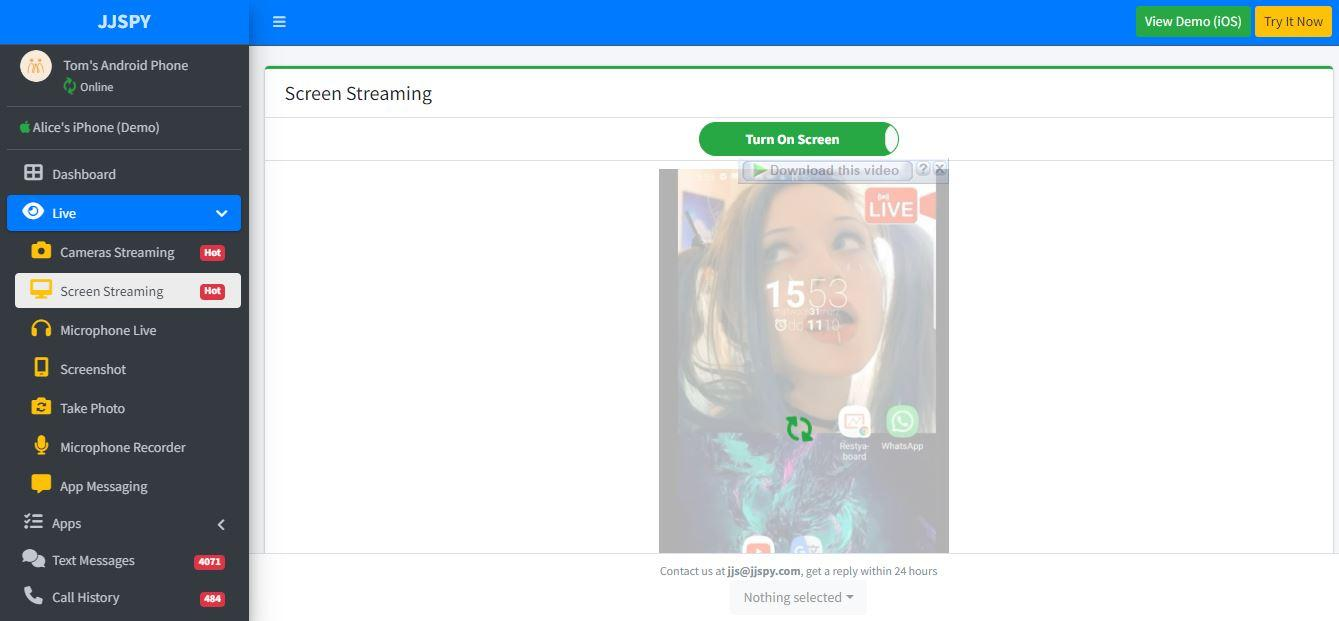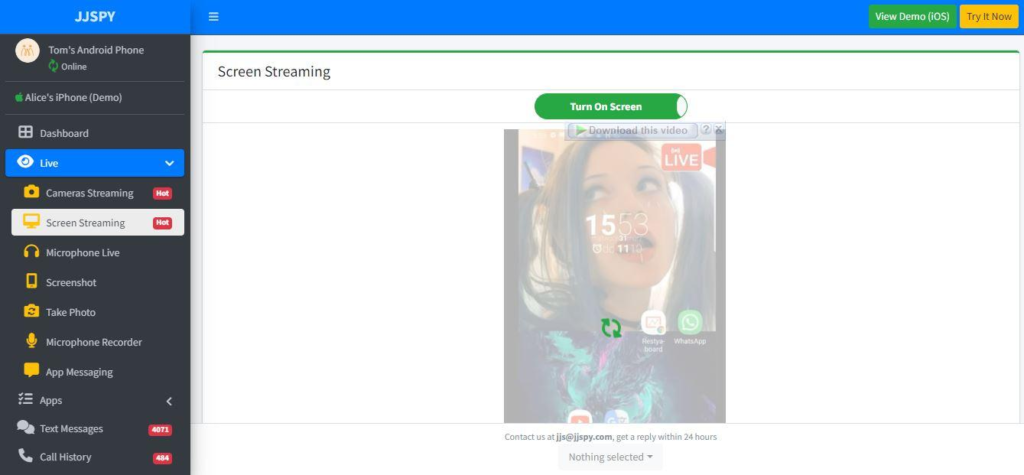 Text Messages
JJSPY provides a reliable solution for parents to monitor text messages on their child's cell phone, making it easier to keep track of their online activity.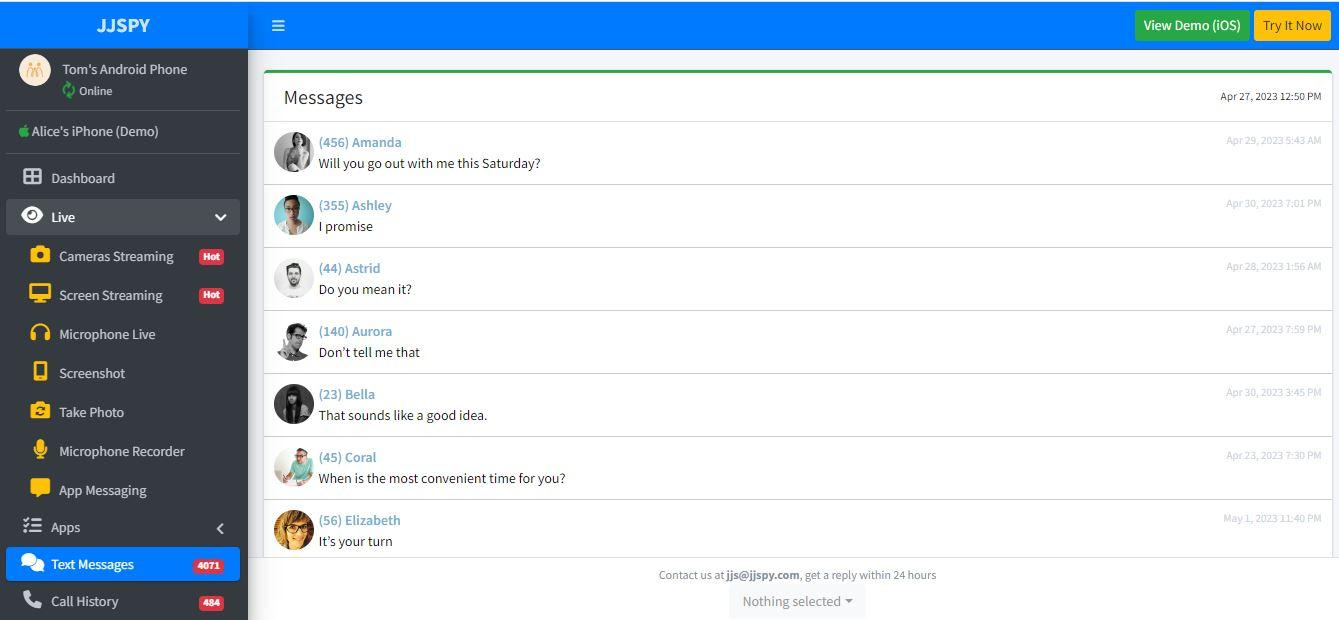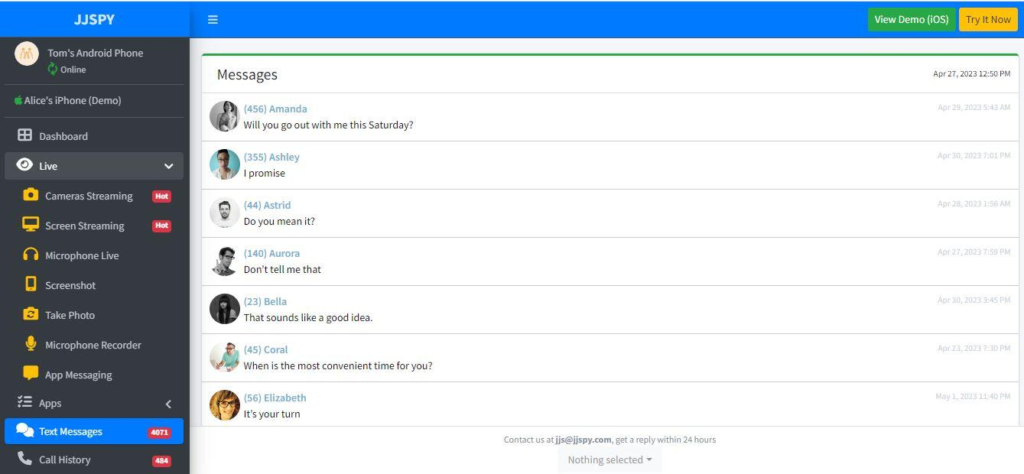 IM Messages
JJSPY can capture all the most popular instant messaging apps, allowing parents to monitor their child's communication on messaging platforms.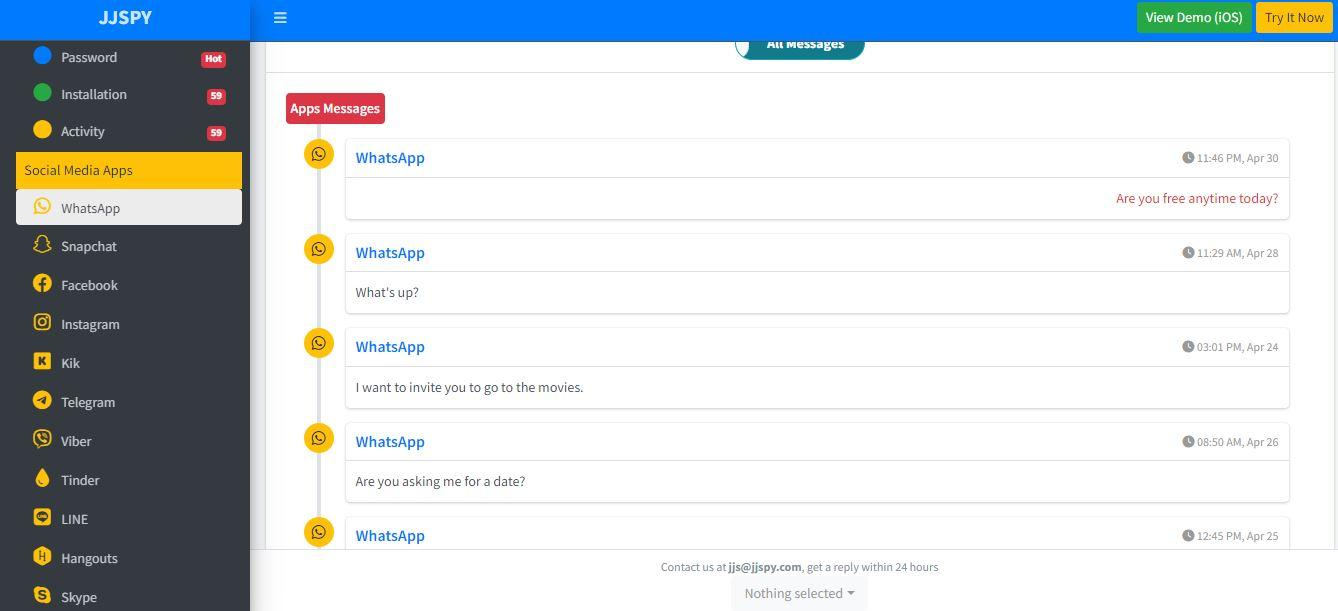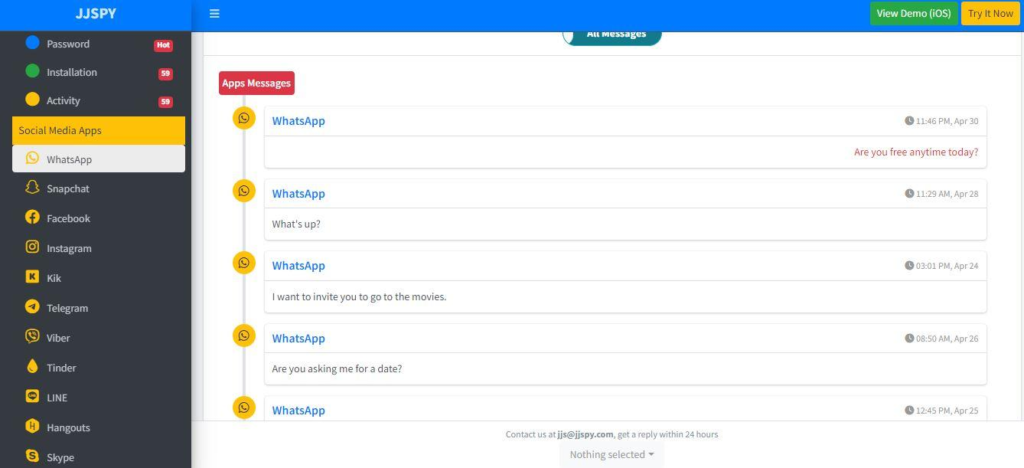 More Powerful and Exclusive Features
Photos and Images: Access and download all the photos saved on the monitored device's internal and external SD.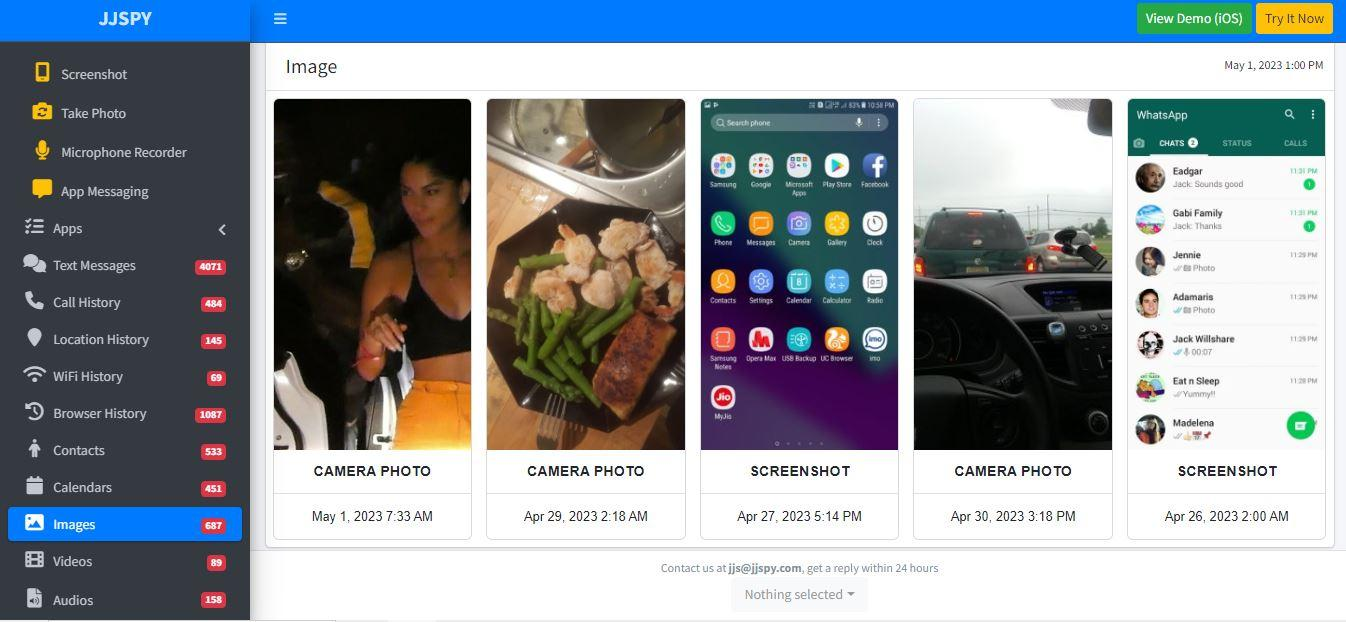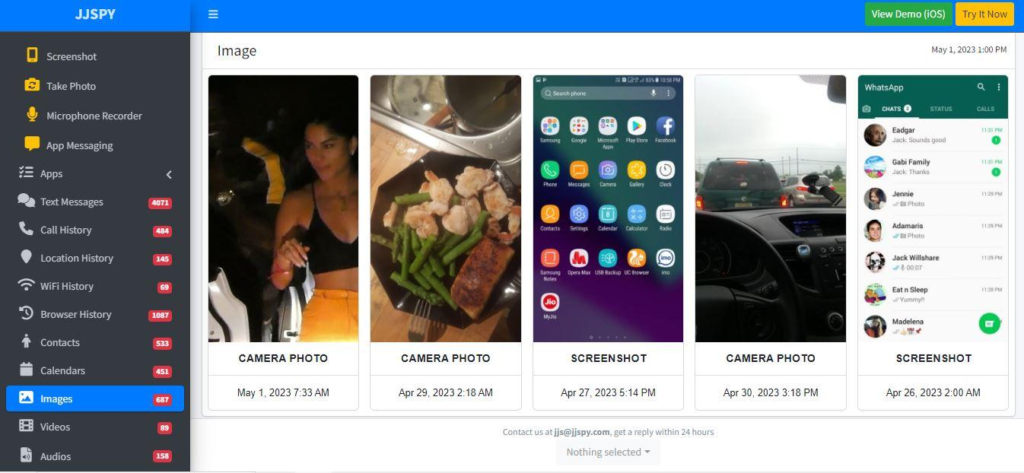 Browser History
Know what your child is doing online and view their internet activity to make sure they are not accessing harmful content.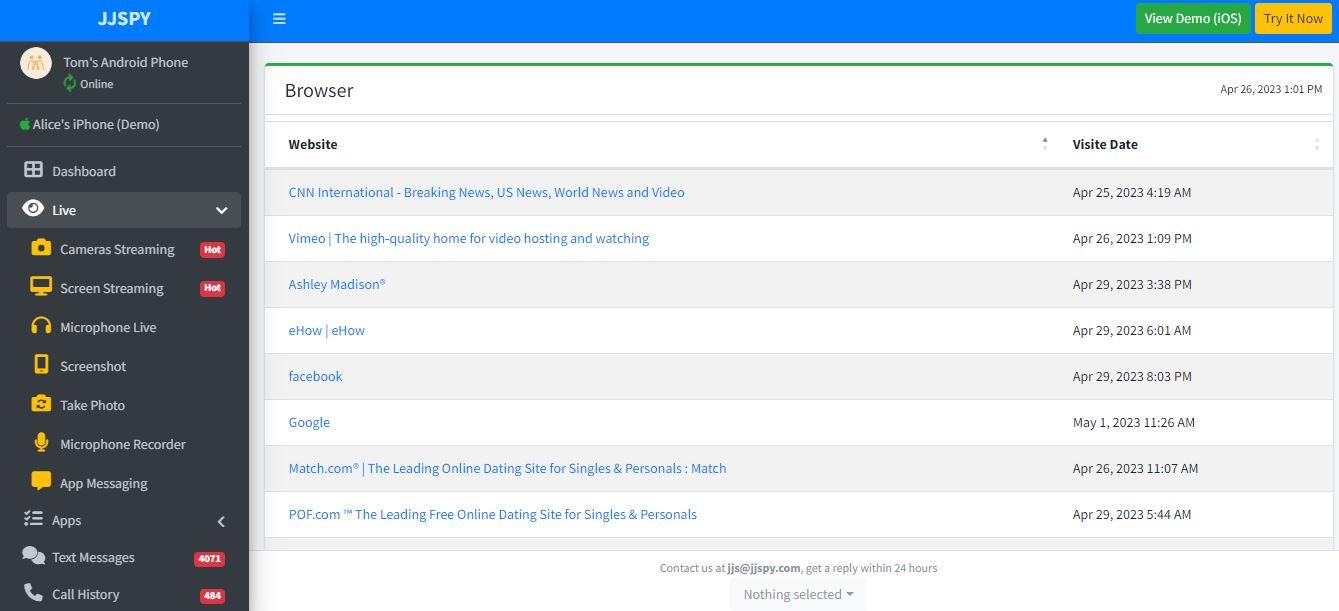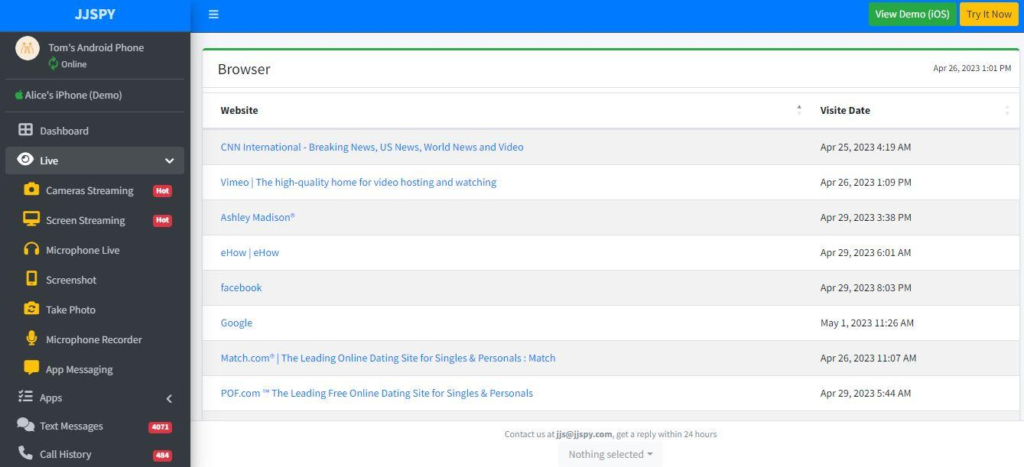 Calendar Entries
Monitor the phone's location from anywhere with TrackMyFone's GPS tracking.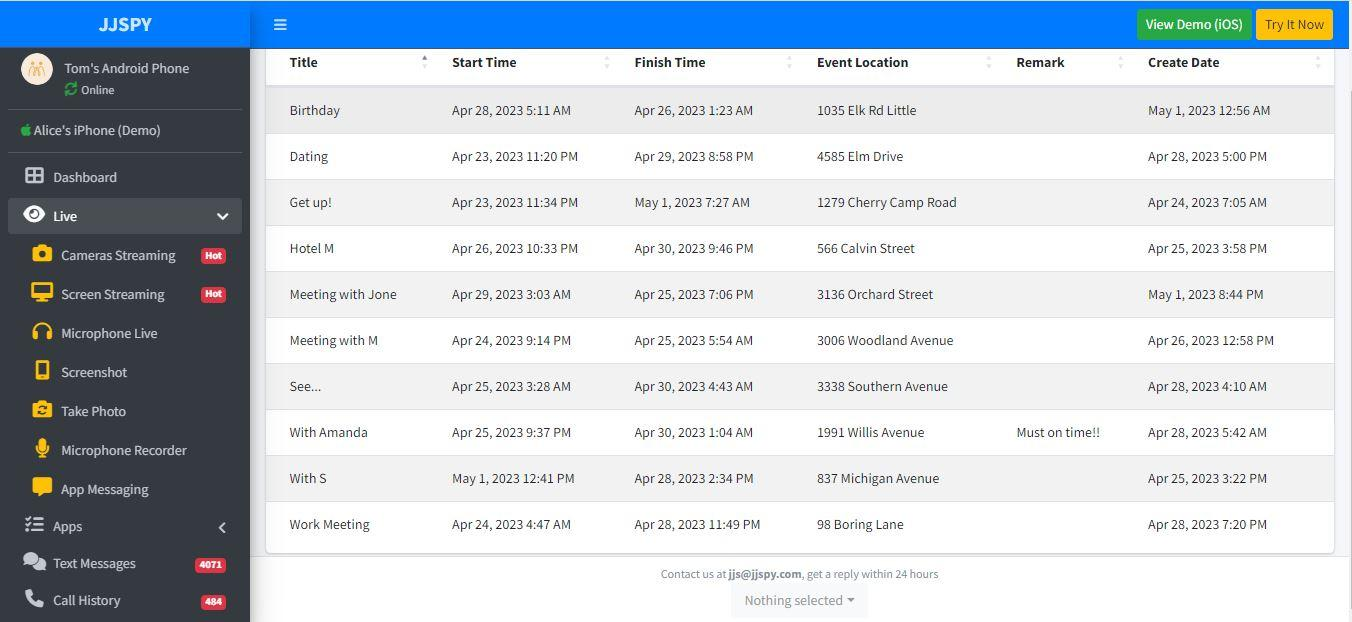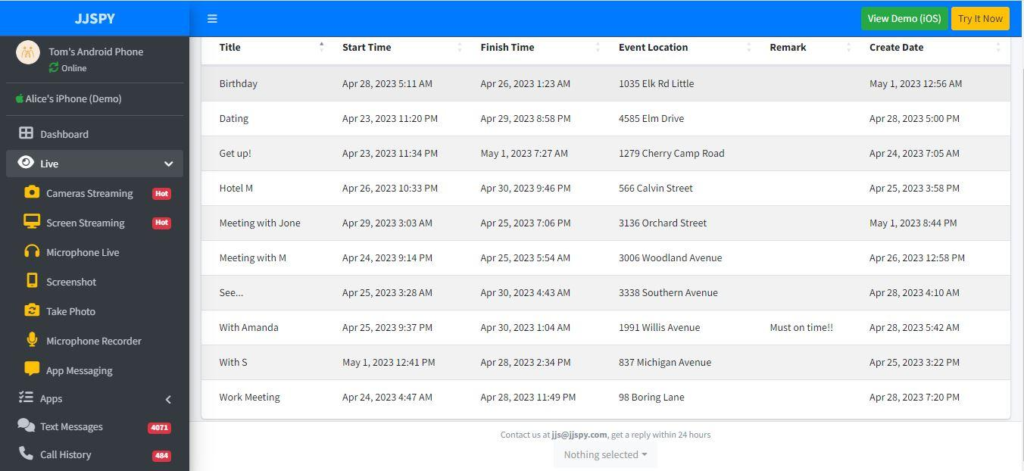 Keylogger
Android keylogger lets you see everything that's typed on the phone's keyboard. Discover search terms, notes, passwords, and more.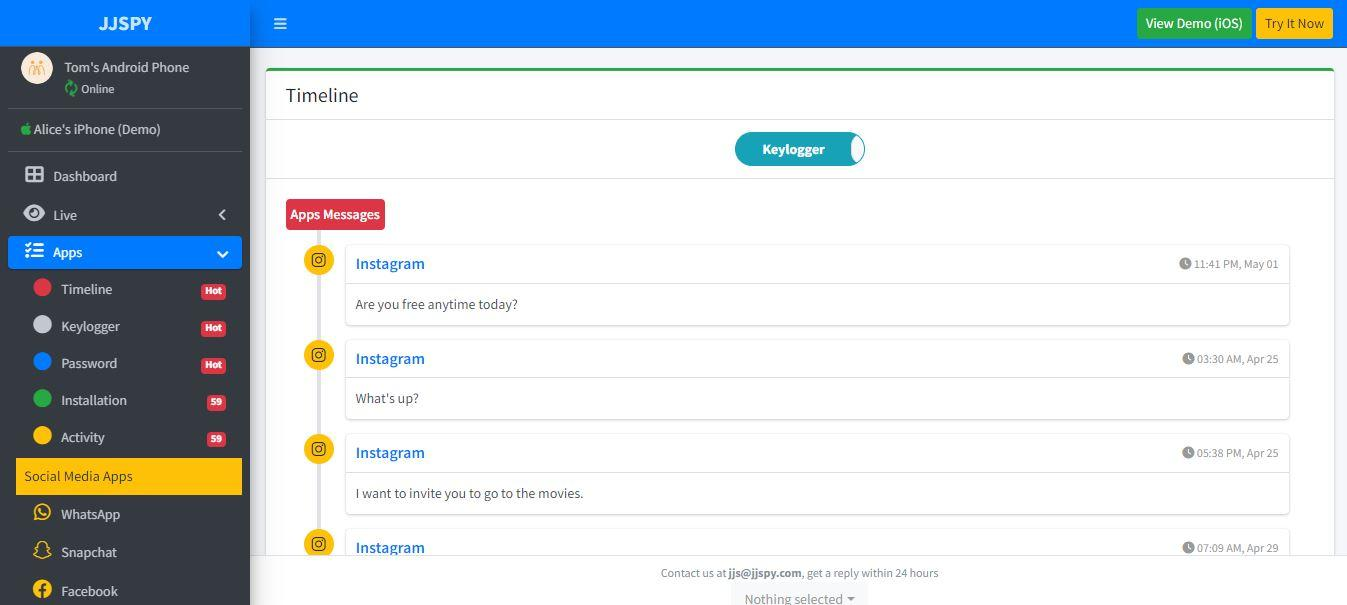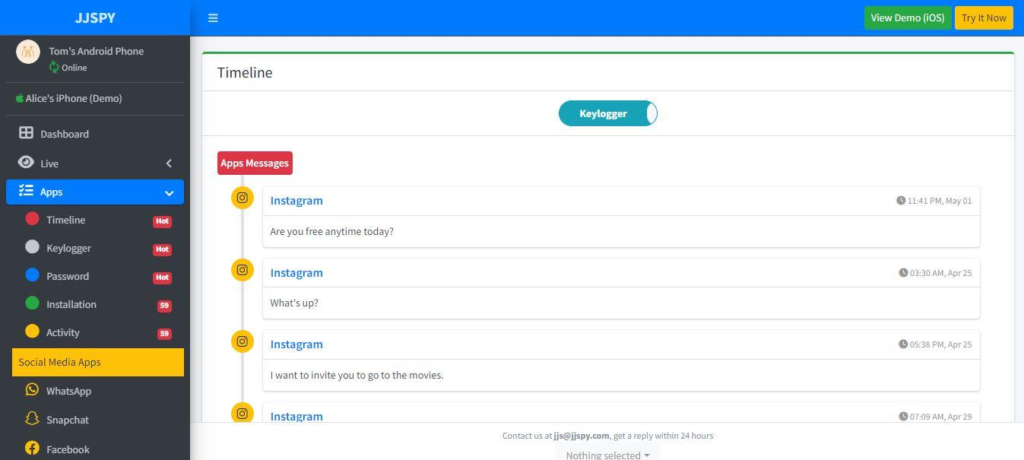 Videos and Audios
Watch videos from the monitored device and even download them to offsite storage. Listening to recorded audio from the monitored device and even downloading them to offsite storage.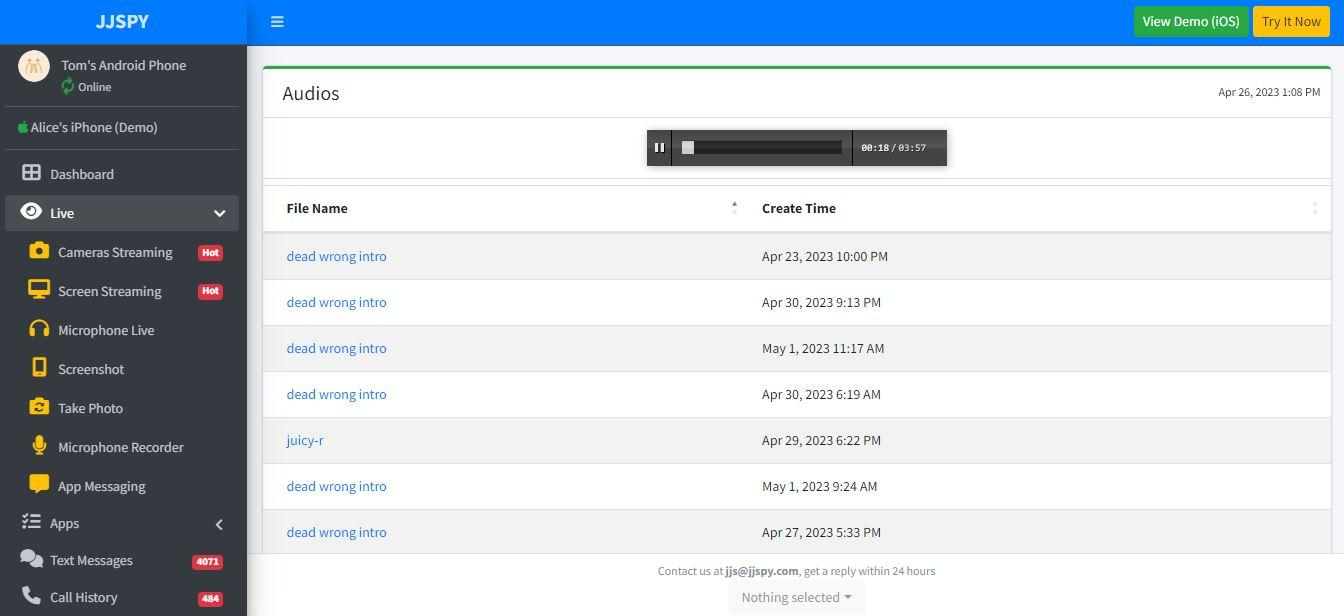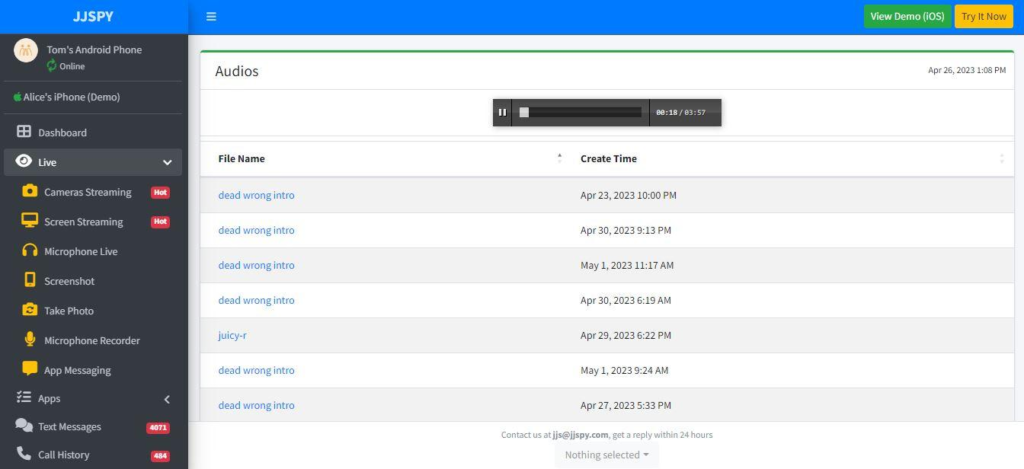 Apps List all installed apps, installation date, and other details. View usage history, including launches, closures, and installations. It graphically shows the usage of every app every day.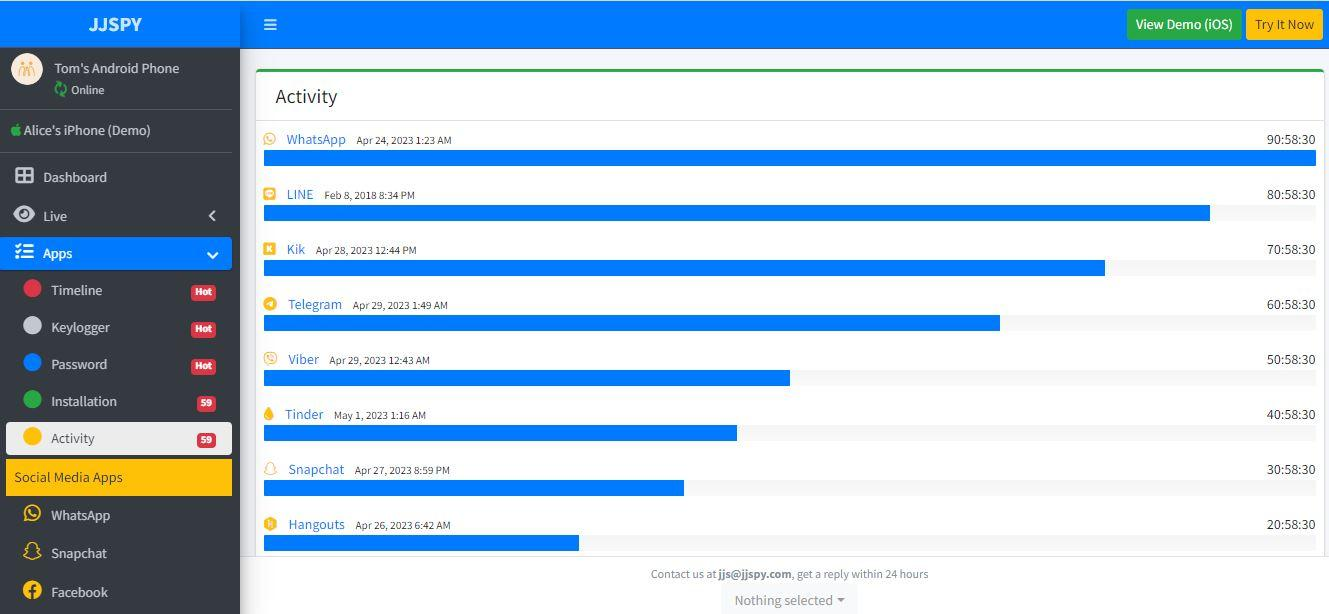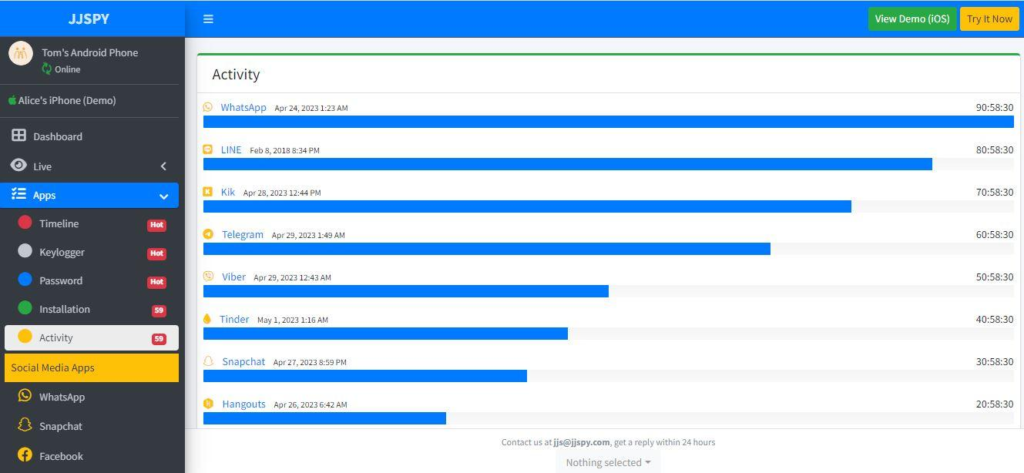 JJSPY Compatibility: Works with Both Android and iOS Devices
JJSPY is a versatile tracking app that works with both Android and iOS devices, providing users with greater flexibility when it comes to monitoring their children or employees. The app does not require any jailbreaking for iPhones or rooting for Android devices, which makes it easy to install without compromising the device's security.
JJSPY Pros and Cons
Pros:
Compatible with Android and iOS devices: JJSPY can be installed on both Android and iOS devices, making it a versatile app for monitoring smartphones and tablets.
Real-time tracking: The app provides real-time tracking of the target device, allowing you to know the location and movements of your child or employee.
Doesn't need jailbreaking or rooting: JJSPY doesn't require you to jailbreak or root the target device, which can be risky and void the device's warranty.
Easy 5 minutes JJSPY installation: The installation process is straightforward and can be completed within five minutes, making it easy for even non-technical users to set up the app.
Can take photos remotely: JJSPY allows you to remotely take photos using the target device's camera, providing an additional layer of monitoring.
Cons:
Lack some advanced features like geofencing: JJSPY doesn't offer advanced features like geofencing, which allows you to set up a virtual boundary around a location and receive alerts when the target device enters or leaves the boundary.
Not available for desktop: The app is only available for smartphones and tablets and doesn't support desktop monitoring.
Limited features for iOS devices: JJSPY offers fewer features for iOS devices compared to Android devices due to Apple's restrictions on app development.
Comparatively expensive: JJSPY's pricing plans are relatively expensive compared to some of its competitors in the market.
Review of JJSPY Customer Support
JJSPY has received negative feedback for its customer support. Many customers have reported that the service is unsatisfactory, and when they ask for clarification, the representatives give excuses instead of resolving the issues. Additionally, there have been complaints about the officials' lack of accountability, as they refuse to admit when the tool has made an error, claiming that their product is infallible.
How to Install JJSPY?
Step 1: Register an Account
Go to the official website of JJSPY and purchase the app for the target device. Before it, you have to sign up by providing your email address.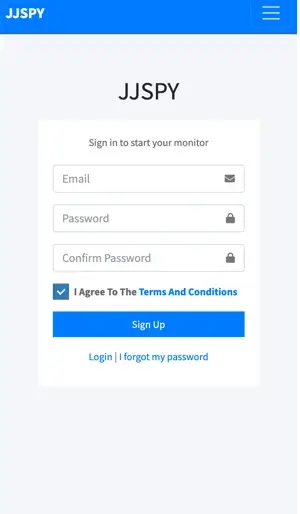 Step 2: Set up the Tool
Follow the instructions provided in the email and install the JJSPY apk file on the target device. You will be provided a link through which you can easily perform the task.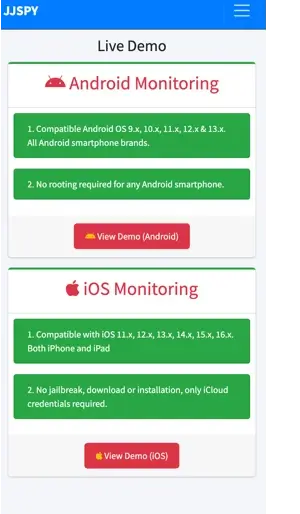 Step 3: Access Online Dashboard
After installing the application on the target device through the JJSPY control panel login, you can easily monitor and track all the digital activities of your kids or employees, or any other person.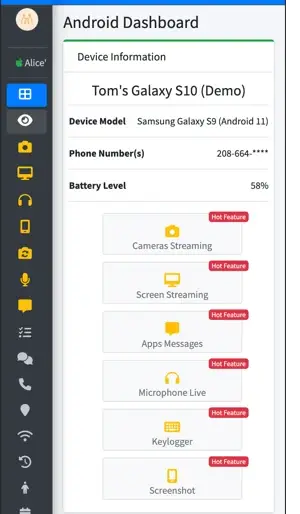 JJSPY offers a straightforward and easy way to get and install the JJSPY apk file on target devices. It will take only 5 minutes to complete the whole process, and after that, via my JJSPY login monitor everything.
How Much Does JJSPY Cost?
| JJSPY Pricing | For Android | For iOS |
| --- | --- | --- |
| 1-month plan | $39.99 | $39.99 |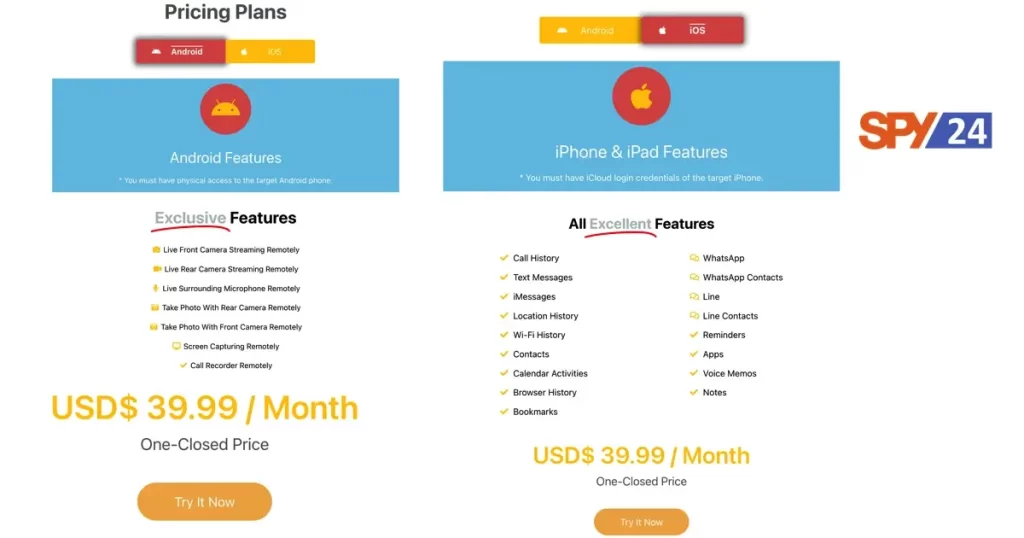 Why is SPY24 the Better Option than JJSPY?
If you want to monitor your kids or loved ones, SPY24 offers several benefits over JJSPY. Here are some reasons why: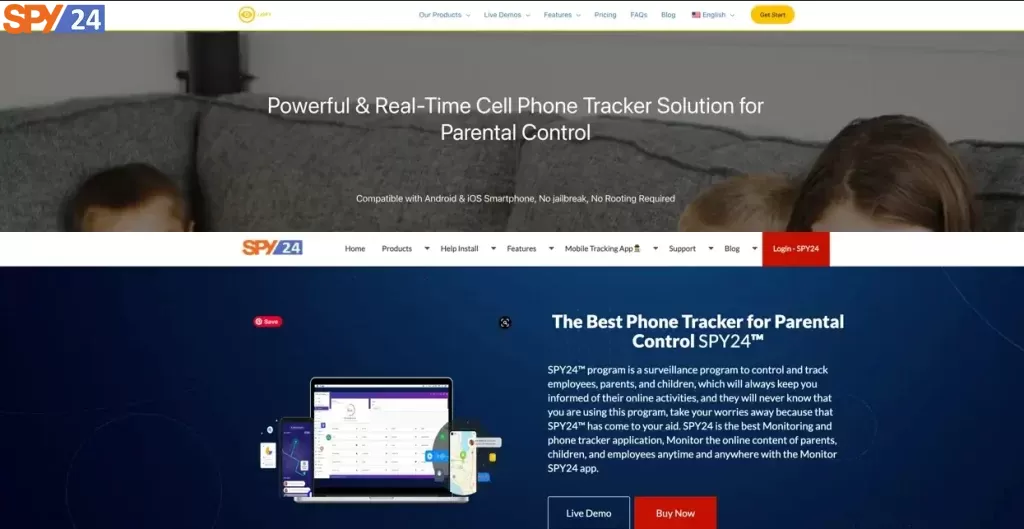 More Compatibility and Comprehensive Monitoring Features for iOS Devices than JJSPY
Spy24 is a versatile monitoring tool that is compatible with a wide range of devices, including Android, iPhone, iPad, Tablet, Mac, and Windows. One of the most significant advantages of using Spy24 over JJSPY is its more comprehensive monitoring features for iOS devices. While JJSPY is compatible with iOS, it has limited monitoring capabilities, such as the inability to monitor videos, and photos, or use the sim card tracker and Keylogger feature on target iOS devices. In contrast, Spy24 offers all these features and more, making it a more comprehensive option for monitoring iOS devices. With Spy24, you can have complete peace of mind knowing that you can monitor all digital activities of your kids, family, or anyone you want to keep an eye on.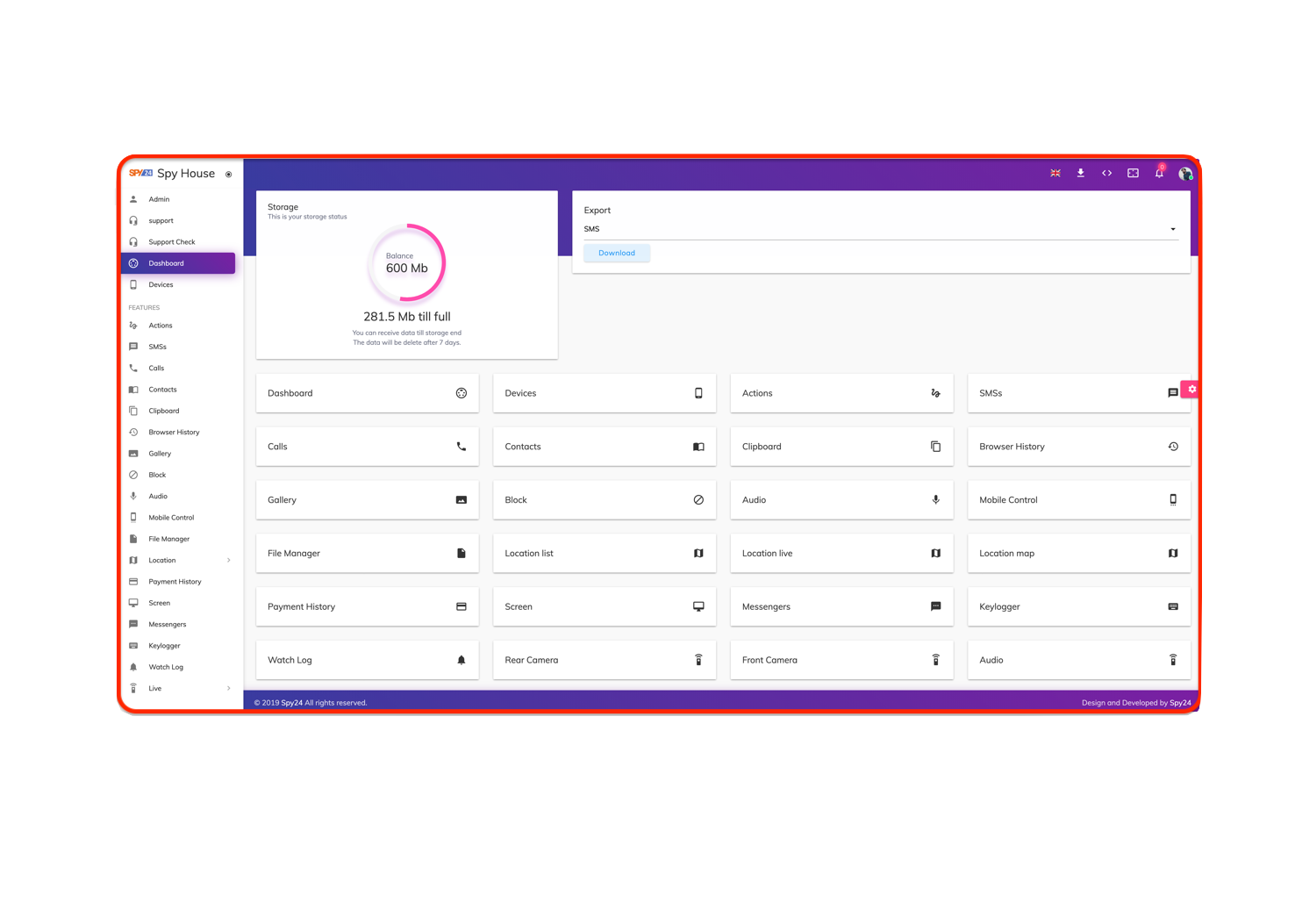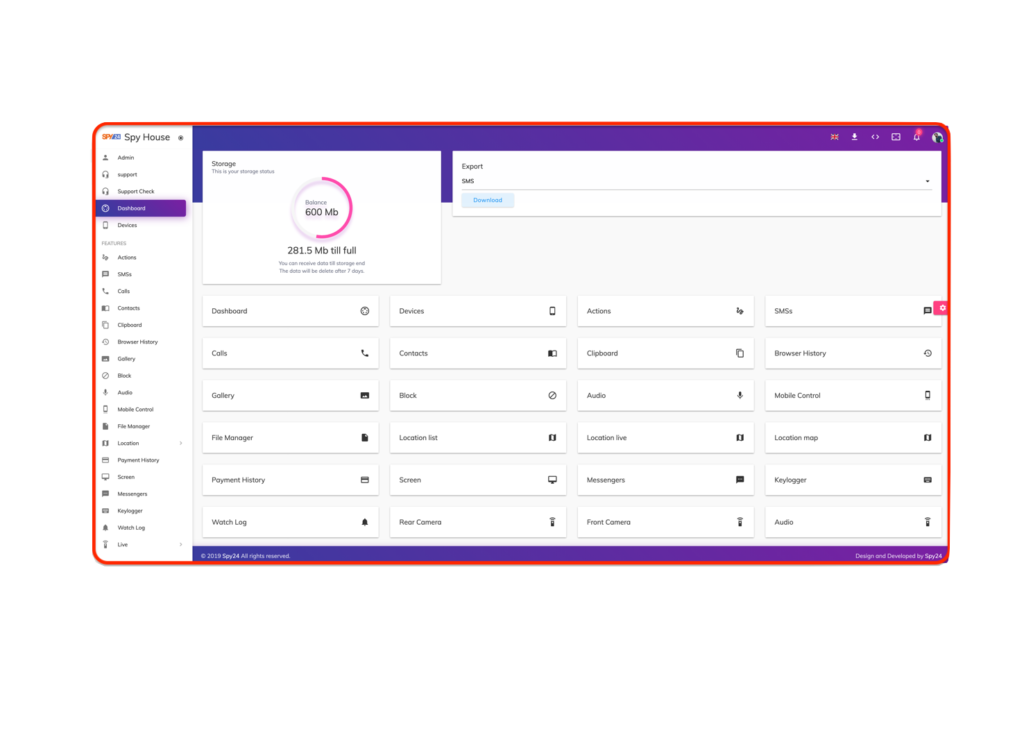 Email Monitoring: JJSPY doesn't offer email monitoring, but SPY24 does. You can monitor all emails sent and received by the target device, along with additional details like sender information and timestamps.
Geofencing: SPY24 offers advanced geofencing features, which allow you to set up boundaries for your kids or employees. When they enter or leave those areas, you get instant notifications.
Blocking and Restrictive Features: SPY24 offers a range of blocking and restrictive features to help parents get full control over their child's device. You can block WiFi, websites, and applications, but JJSPY doesn't provide these features.
Cost-Effective: JJSPY is a relatively expensive spy app and only offers one plan for its customers, which can be limiting. In contrast, Spy24 offers a more affordable and flexible pricing structure with a 30-day free trial, allowing customers to try out the service before committing to a subscription.
Better Customer Support: SPY24's customer support is available 24/7 and is more efficient and reliable than JJSPY's.
Bottom Line
JJSPY Reviews 2023 indicates that while the app has numerous features for monitoring someone's phone activities, it does have some limitations, such as being unable to work on PC and requiring an internet connection to function. Additionally, the app has limited features for iOS devices, making it a relatively expensive option.
If you're looking for an alternative monitoring app to JJSPY that offers wider compatibility and advanced features, SPY24 is a great option to consider. With a user-friendly interface and a wide range of features, SPY24 allows you to monitor your child's or employee's phone activity with ease. It's compatible with both Android and iOS devices and offers a free trial period of 30 days to give you a chance to test out its features.
FAQs
Is JJSPY truly hidden?
Yes, JJSPY works invisibly and stays hidden on the target device. After installation, the app hides its software icon, so the target person will never find out they are being monitored.
Can I trust JJSPY?
Yes, JJSPY is a reliable monitoring app that parents can use to monitor their kids, and employers can use it to track their employees. It is compatible with both Android and iOS devices and works effectively.
Is JJSPY compatible with iPhones and Androids?
Yes, JJSPY works on both Android and iOS devices, and there's no need to jailbreak or root the target device to use it.
What is the best spy app for Android?
JJSPY is a good option for monitoring Android devices, offering over 20 monitoring features. However, for advanced features, SPY24 is a better option as it provides a wider range of monitoring features for both Android and iOS devices.