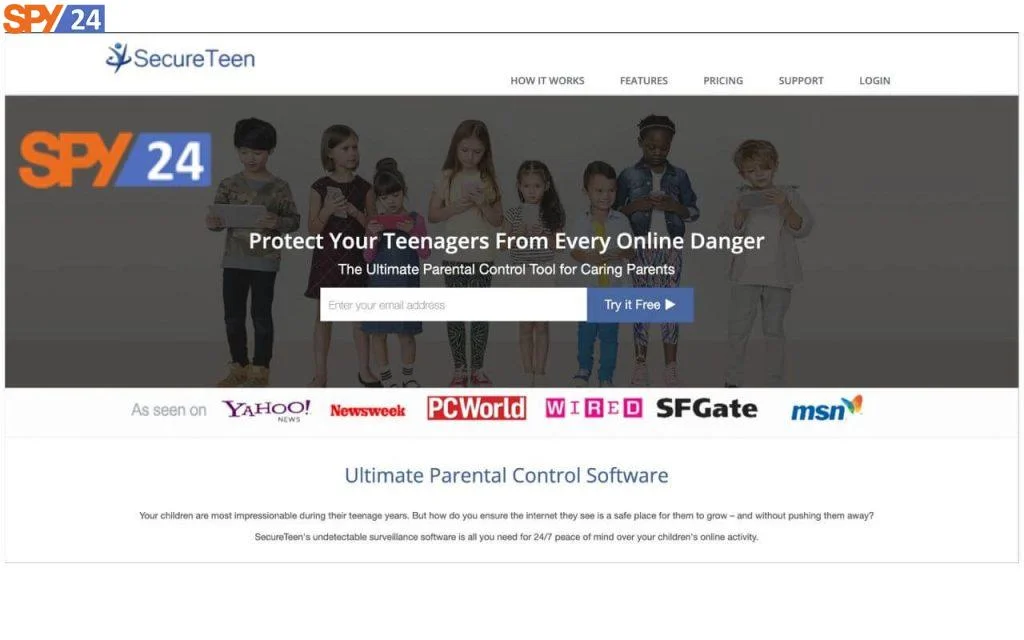 Internet usage is one of the most common activities among children today. There is no doubt that the internet is an invaluable tool for having access to a great deal of information. Nevertheless, everything has its advantages and disadvantages. Similarly, children have many disadvantages when it comes to the internet. Online safety is difficult for children because they don't have enough experience. In order to prevent their kids from visiting unsafe websites, using potentially harmful services, or downloading unwanted content, parents should take steps to protect them.
The SecureTeen cell phone monitoring service provides sophisticated monitoring, so parents can feel safe about their children's safety on the phone.
In this SecureTeen Parental control review, we'll take a closer look at this monitoring application.
Platform:
| | |
| --- | --- |
| Android and iOS(iPhone/iPad) | Yes |
| Windows | Yes |
| Website:  | secureteen .com |
| Domain Age: | 2010-02-16 |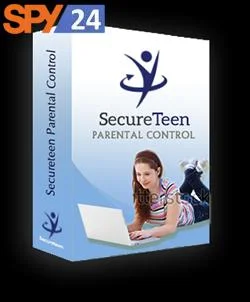 What is SecureTeen
A mobile app called SecureTeen provides users with the ability to monitor another individual's cell phone without them knowing. Operating systems such as iOS, Android, and Windows can be used with the app.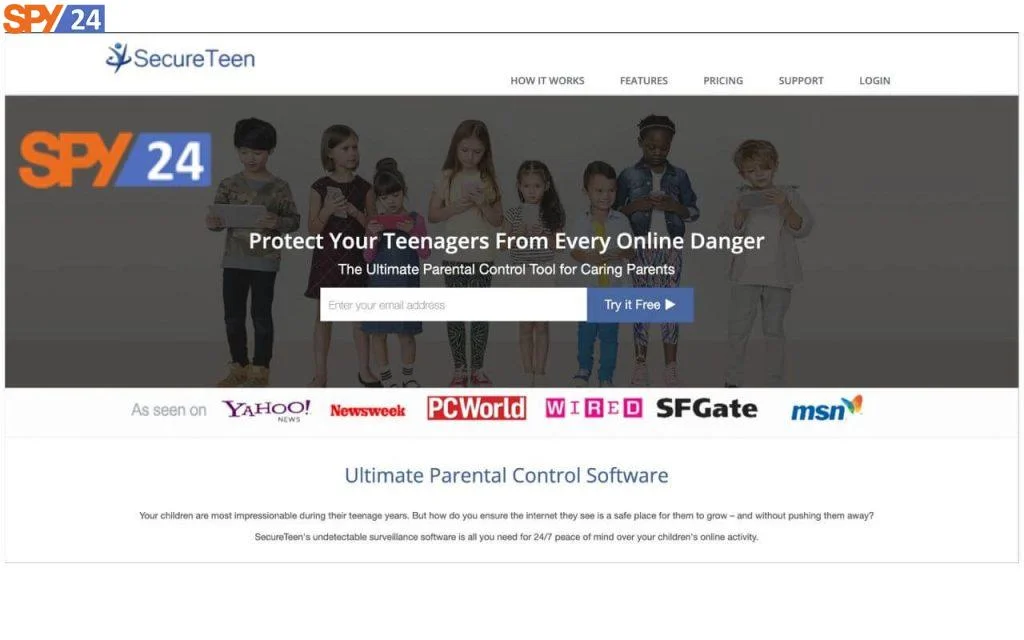 Several monitoring functions are available in the SecureTeen parental control app, which helps parents stay on top of their kids' online activities in order to keep them safe. With this app, you can monitor instant messengers and determine smartphone usage schedules, as well as restrict access to age-inappropriate games and apps.
How Does SecureTeen Work?
The Secureteen app can be downloaded from Google Play if your kid uses a mobile device that is Android-based or from the App Store for an iPhone if your kid uses an iOS-based device. It is necessary to download the file from secureteen.com in order to install the app on Windows.
Once the app is installed, your child should be able to use it on his or her PC or mobile device. The data collected by SecureTeen can be viewed when you log into your dashboard after setting up the required features.
Dashboards are control panels where you can monitor your target devices and view other people's activity. Your SecureTeen account is similar to your Facebook account.
SecureTeen Key Features:
With SecureTeen, you can ensure your child's online safety through a number of useful features, such as: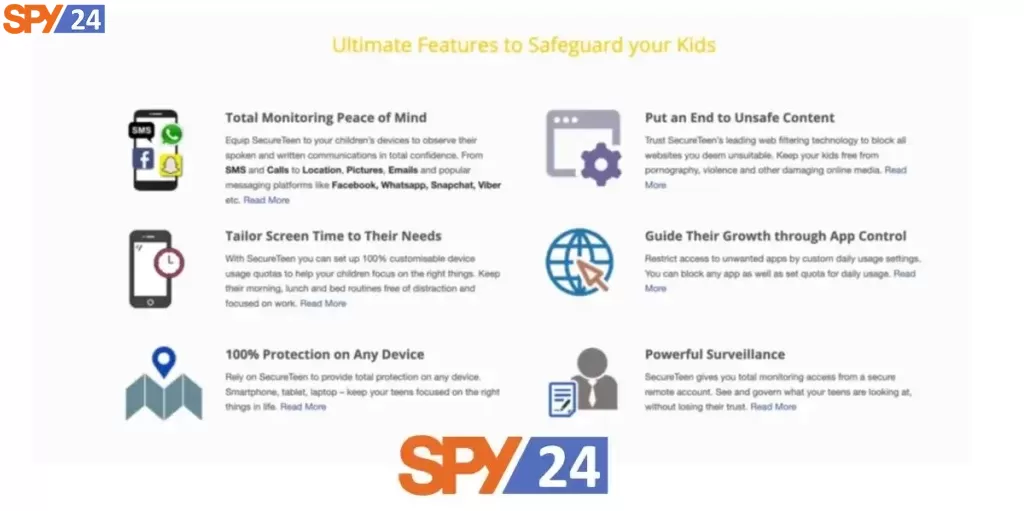 Mobile apps can easily be limited so that your child does not spend too much time using them. By activating the relevant feature on your user dashboard, you can restrict access to any of them.
Set a timeout for the target devices you want to target. Over time, the screen will automatically turn off if your child leaves it on for too long.
Checking browsing history
In case your kids are exposed to inappropriate content, this feature will come in handy. You can view all of your child's browsing history, including the websites she has visited and the search terms she has entered.
By helping kids protect themselves from cyberbullying in text messages, SecureTeen helps prevent cyberbullying. By viewing their outgoing and incoming messages, you can prevent sexting and other dangers associated with chatting with strangers.
WhatsApp, Snapchat, Viber, Skype, and Facebook are all platforms where you can find out who your child is communicating with. As a bonus, you can limit your child's access to social apps by finding out how much time they spend using them.
The SecureTeen app tracks incoming and outgoing calls. This app can be used not only for finding out who is calling and who is receiving calls, but also for viewing your own phone number.
It's possible to monitor your kid's location in real-time even if GPS isn't active. In the event of an emergency, you'll be able to get all the information you need about their whereabouts.
It is possible to record keystrokes on the target device with SecureTeen. This means that you will be able to see everything your child types on their phone or PC, including text messages, searches, and passwords.
Using SecureTeen, you can view your child's messages, details about the person who sent them, and the date and time they were sent.
SecureTeen For iOS Monitoring
Besides the functions mentioned above, if you would like to track an iOS device for the purpose of monitoring, you will also be able to:
Track phone calls:
You can monitor and view all details about your children's incoming and outgoing phone calls. Date and time logs, names, numbers, and addresses can be accessed.
Monitoring social media:
All social networks and messengers used by the target device owner are tracked by SecureTeen. You can find out how everyone is using KIK, Viber, and WhatsApp;
Spying on Skype and LINE:
With Skype and LINE spyware, you can keep track of all your kids' activities.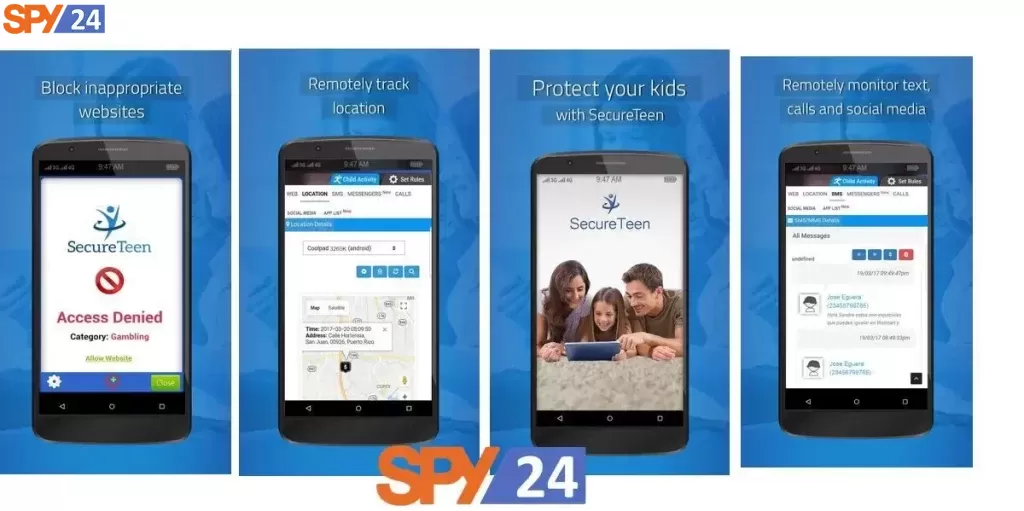 Computer Monitoring
When tracking a target computer, you can also use special monitoring features: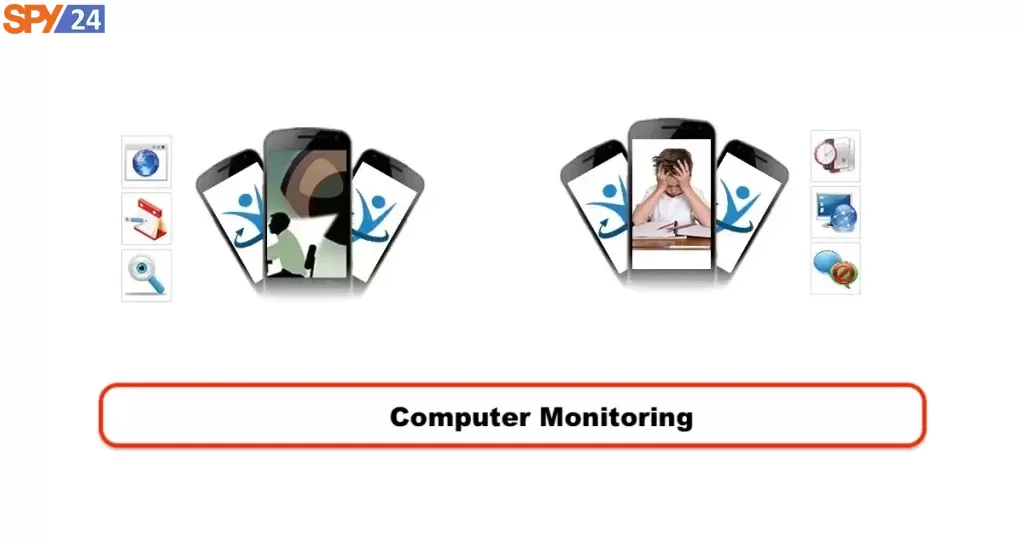 Safe Search
With SecureTeen's special filters, your child will be protected from harmful content and search results.
Filtering Internet activities
The SecureTeen app allows you to block pornography and other unwanted content from reaching your children. You can ensure that your child won't see one inappropriate web page by setting up filters.
Blocking unwanted apps
You don't have to find and delete unwanted software or applications from your kids' devices if you believe some app is suspicious or don't want them to spend too much time there. It is much easier to complete this process with the spy app. The only thing you need to do is add any unwanted apps to the block list. SecureTeen will take care of the rest.
How to Install SecureTeen
Installing SecureTeen App on Windows is as simple as following these steps: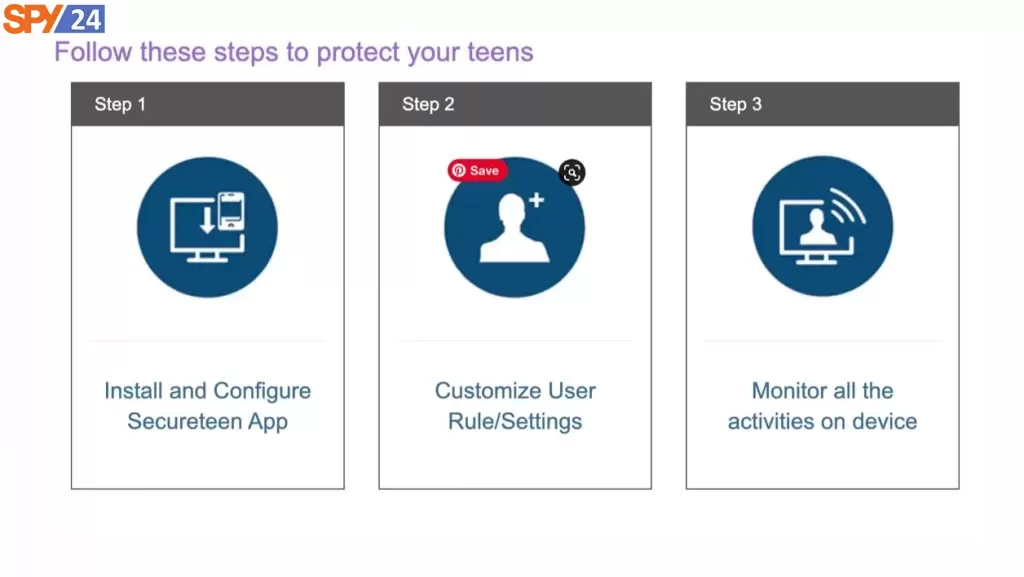 Join SecureTeen and make a payment on their official website. Activate your account using the code they will send you after your payment gets processed.
Run the installer as an administrator on your PC after downloading it from the official website.
The installation will begin after you click 'Yes.' During registration, you will be prompted to enter your username and password.
Complete the installation process. After the installation is complete, you might need to restart your PC in order for the application to function fully.
Start monitoring your child by launching the app, visiting the dashboard, and configuring the profile.
Best Windows 10 Parental Controls – SecureTeen
---
The following steps will guide you through installing SecureTeen App on Android:
Using the previous instruction as a guide, repeat Step 1.
The target device should have an internet connection that is stable.
For more information on SecureTeen Child App, go to GooglePlay and search for it.
Tap on "Install." Once you've found it, allow access to the OS in the new window that opens, then tap on "Install."
Upon successfully installing the app, launch it and enter the verification code.
Once the app has been activated, you will have access to all the system functions (such as Messages) you need.
Tap on "Finish" after configuring the app. Now you can monitor this Android device from anywhere.
Parental Control App SecurTeen – Apps on Google Play
---
The following steps will guide you through the installation of the SecureTeen App on iOS:
From the previous instruction, repeat Steps 1 and 2.
For the SecureTeen Child App, visit the AppStore and search for it.
In Step 1, enter the verification code you receive after completing Step 1 and then tap "Install SecureTeen Profile." Once you find it, start the installation process.
Follow the installation instructions, tapping "Allow" and "Install" as needed.
Upon checking the MDM profile, tap on "MDM Profile Status": it should say "Successfully."
After tapping on "Install Child App", tap on "Install." again.
Installing the app on the target device is simple. Launch it and select "Allow" for the system functions you wish to control.
You will need your username and password to sign in. Remotely monitoring this iOS device is now possible with this app.
SecureTeen Parental Control on the App Store
---
How Much Does SecureTeen Cost? 
One of the most important features of a spy app like SecureTeen is that it has quite an affordable price point.
The following pricing plans are currently available: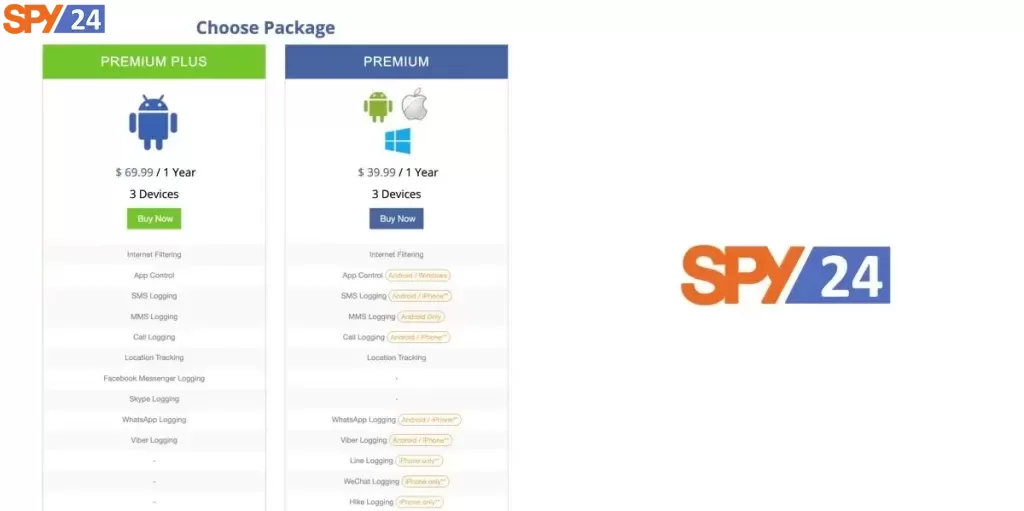 SecureTeen Premium 
Price: $39.99 per 1 year
A maximum of three devices can be tracked at once. Android, iOS, and Windows platforms are supported.
All the basic functionality is present. The main logs you can access are those from Line, WeChat, and Hike. There is no option for logging pictures.
SecureTeen Premium Plus
Price: $69.99 per 1 year
Android users can choose from a variety of plans that include extra features. As part of this plan, you will be able to use Facebook Messenger, Skype, Instagram, WhatsApp, and Snapchat on the target device. A picture-logging feature is also available.
If you choose SecureTeen, you can expect high-quality monitoring at an affordable price.
SecureTeen of Pros and Cons
Pros:
The ability to set up quickly and easily is a plus
Your kid won't receive any annoying alerts as the app works undetected on their phone
Access restriction and monitoring are easy to implement
Monitoring is possible for a maximum of three devices at the same time
There is an offer at a fair price.
Cons:
Playback of multimedia files is not possible on the intended device
There is no option for setting a time for the device to be locked, as there are many other parental controls
The iOS platform does not support some functionality
A subset of functionality is available on devices running other operating systems, but the apps are primarily designed for Android smartphones
It does not, however, support geofencing with its GPS tracking features
It is not possible to evaluate videos or audio files
There is no time-based lockout support on the devices.
Why Is SPY24 App Better?
In addition to being a good spy app, SecureTeen has many cons as well. SPY24 App has, on the other hand, carefully researched all the defects that other spy apps, such as SecureTeen, have in an attempt to fix them all. It resolves all the cons SecureTeen had before. Having a strong developer team and also knowing the exact needs of the users, SPY24 has developed an app with lots of features, and the satisfaction of the users speaks for itself.
SPY24 App Pors Cons
To make sure Spy24 is a good fit for you, it is logical to weigh its pros and cons before signing up.
Pros 
If you use Spy24, you'll be able to monitor all Android devices and iOS devices that are the most popular on the market.
In addition to a number of advanced features, such as call recording, geofencing, key logging, and geofencing, a number of other features are available as well.
The analytics you can view on the overall activity of your device will be able to give you an idea of the performance of your device.
Cons
The Spy24 app can be very expensive to use if you want to track multiple devices with it.
Installing and setting up Spy24 on a target device can be quite challenging, as it can take a lot of time and effort.
Several of the advanced features of the app require that root access be granted or that a jailbreak be performed.
Spy24 App Cost
Android Packages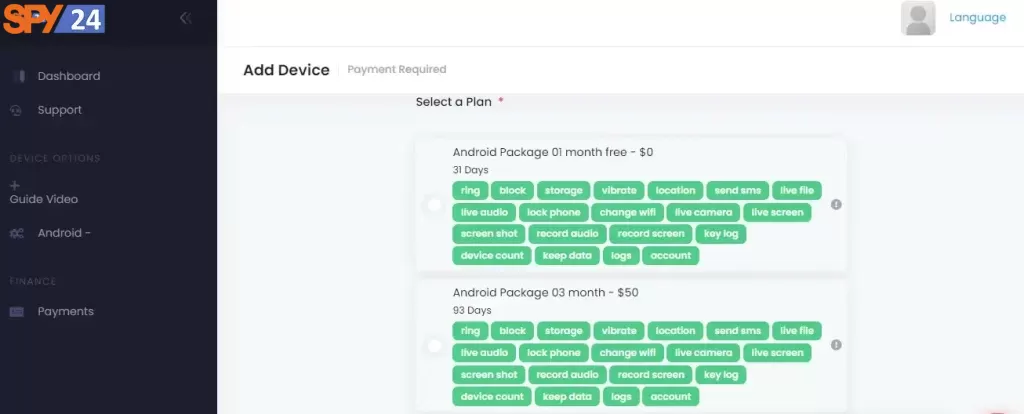 Windows Packages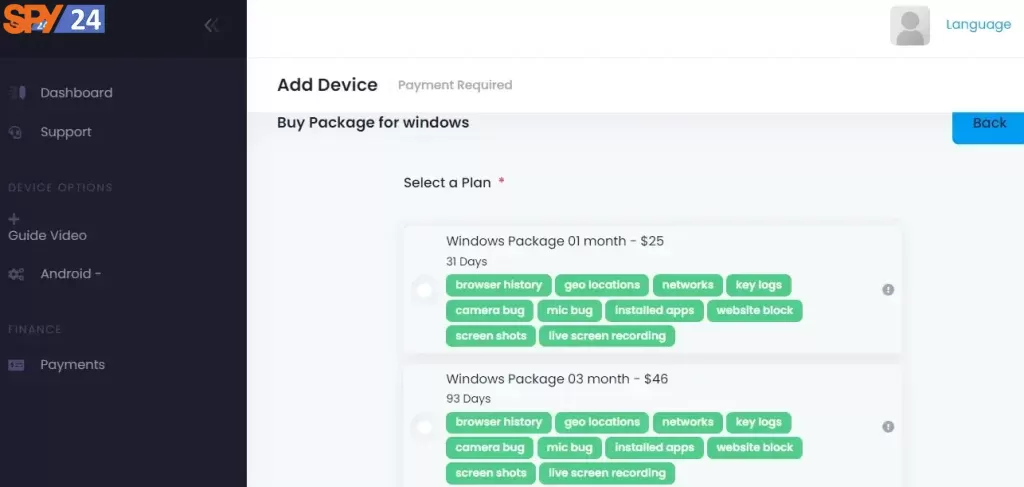 MAC Packages

SPY24 App Features
With more than 190 countries using SPY24, it offers the comfort users want. SPY24 also offers a free live demo that anyone interested in learning more about how it works can take advantage of to discover how it can help them.
This Powerful Hidden Spying App Monitors Android, IOS, Smartphone & Tablet Devices Remotely. A parental control application for Android that keeps your children and teens safe online.
It has never been easier to monitor Android and iOS devices than it is now, with exclusive features that make monitoring more effective than ever. Track Voice & Text Messages, Listen to & Watch Surroundings in Real-Time, and Unleash Digital Parenting with Android, IOS Spy App Spy (Surround Listing & Front/Back Camera Bugging). With Android Tracking & Parental Monitoring Software, you can record VoIP calls on Android OS 13 and higher and get 250+ Surveillance Tools at your fingertips.
SPY24 allows you to spy on what your target says on WhatsApp in real-time by monitoring what they say. It is also possible for users to see media that has been shared by others. Your phone allows you to view every text message you send or receive. By utilizing this app, the user will be able to read any suspicious or private messages sent by the target if the target forwards them to the user.
In this app, you can access all devices' information through a dashboard that is easy to use. It is possible to view information on the dashboard of this software even after deleting information, media, or messages. Access to information is possible through any device and web browser.
Keeping track of browser history
The tracker allows users to track their search history and see what they have searched for in the past. Additionally, he can observe whether a particular website has been visited. Using a user's browser, users can determine whether a certain piece of data has been viewed or searched. The user can then quickly determine if the target gets suspicious if the user starts noticing that he or she has viewed a particular webpage a certain number of times. This is because the target starts acting suspiciously.
You can also view the search history of the person you are tracking fromWhen the user's history or details are lost through error, the dashboard of this software will allow him or her to regain access to them.
Message history is available along with timestamps, contact information, and more with this feature. In addition to figuring out when and to whom messages were sent, one can find out who sent them. This application allows you to spy on shared media, including photos, videos, links, documents, and more.
It is still possible to access deleted information through the dashboard even if the details or media of the message have been deleted on the target phone. Having information stored in an accessible format makes it easier to read and use.
A very useful feature of this software is the ability to record all keystrokes on the target device. A user has the option of being able to view all conversations taking place on a target device through this feature. Passwords and search histories can be viewed for different types of accounts.
Using SPY24 in this way is very useful since it allows the user to get to the small and large details of the system with ease. There is an easy way for you to see whether a message has been deleted, as it can be viewed on the dashboard.
Remotely Control a Cellphone:
With SPY24 phone tracking software, you are able to control a phone from a distance while tracking it. By using this feature, you can remotely change the settings on the targeted phone and send commands.
The system will alert you immediately when certain words are sent via social media from a targeted device. It is possible to prevent abuse of people we care about online and offline by doing this for them.
If you make a call via the device during a specific hour or day of the week, you can also generate call time activity punch cards for every call made via the device during that particular time period. You can do this to find out what activities you repeat most often.
Emails & Online Activities:
It is possible to track emails that your targeted person sends or receives, as well as the websites they visit, using this amazing feature. The frequency with which their bookmarks are visited can also be viewed.
Record Phone Calls & Surroundings:
This feature allows you to discover what people's ambitions and goals are whenever they are near their phones. It will be invisible to them that you're listening to their phone calls or live conversations.
Multimedia Files & Appointments:
Verify that their phones and tablets have been updated with all photos and videos. Monitor all appointments scheduled on the target devices.
In order to take advantage of this feature, you will need access to all the messages sent and received on the targeted device.
In addition to being able to view all the incoming, outgoing, and missed calls on the targeted device, you can also view the duration of the call, the date, and the time of the call as well as the duration of the call.
By tracking the device's location LIVE, you can keep an eye on where the targeted individual goes at all times.
You will be able to see all the photos that the target person has taken and received if you use this feature to share them with them.
With this feature, you can delete data, vibrate your phone, take pictures, etc., among other things, and control your phone in many ways.
With this feature enabled, you can view whatever is happening on the screen of your phone as well as the surrounding area without being noticed as long as you have this enabled.
If you use this feature, you will be able to browse the file manager application of the targeted device freely and view all files available on it without anyone being aware that you're doing so.
An individual cannot access any of the applications on their phone by using this feature.
As a result of this feature, all applications installed on the targeted device are accessible.
The use of this feature will give you the ability to check which websites the targeted individual has visited and block those you do not want to be visited by the targeted individual.
Viewing events on the targeted device's calendar and receiving alerts when upcoming events are added are features of this app.
It is possible to view, edit, and even delete the contact information of the targeted phone by using this feature, and you'll be notified when any new contact information has been added to the phone.
This feature allows you to generate an Excel or PDF report of the targeted individual's activities. Ideally, the person you wish to reach will be able to provide you with information regarding who they speak with, what games they play the most frequently, etc.
With SPY24, you will be able to track incoming and outgoing messages, as well as messages generated by a wide range of Instant Messaging Applications (Facebook, Instagram, WhatsApp, Telegram, etc.), all without rooting the targeted device in any way.
Conclusion
Our review of the app has led us to conclude that even though it has a wide variety of features, it is still considered outdated. Moreover, we have gathered the following complaints regarding this app after reviewing several reputable resources about apps. The following is a summary of the complaints we found:
There are some devices that do not update their SMS logs regularly;
There are some users who report that they have unneeded restrictions and blocks that they did not set;
It would be better if the help section was more comprehensive;
The customer service department does not respond in a timely manner;
There is a possibility that it may be difficult to get a refund;
There is a lot of difficulty in uninstalling the software.
Rather than doing this, the SPY24 app is able to provide you with the most powerful and updated features that you will need to keep your child safe. As such, SPY24 is the most powerful assistant you need if you are concerned about your child. We hope you find this article in SPY24 useful! You can also read our other articles, such as Best Parental Control Apps Android And IPhone.