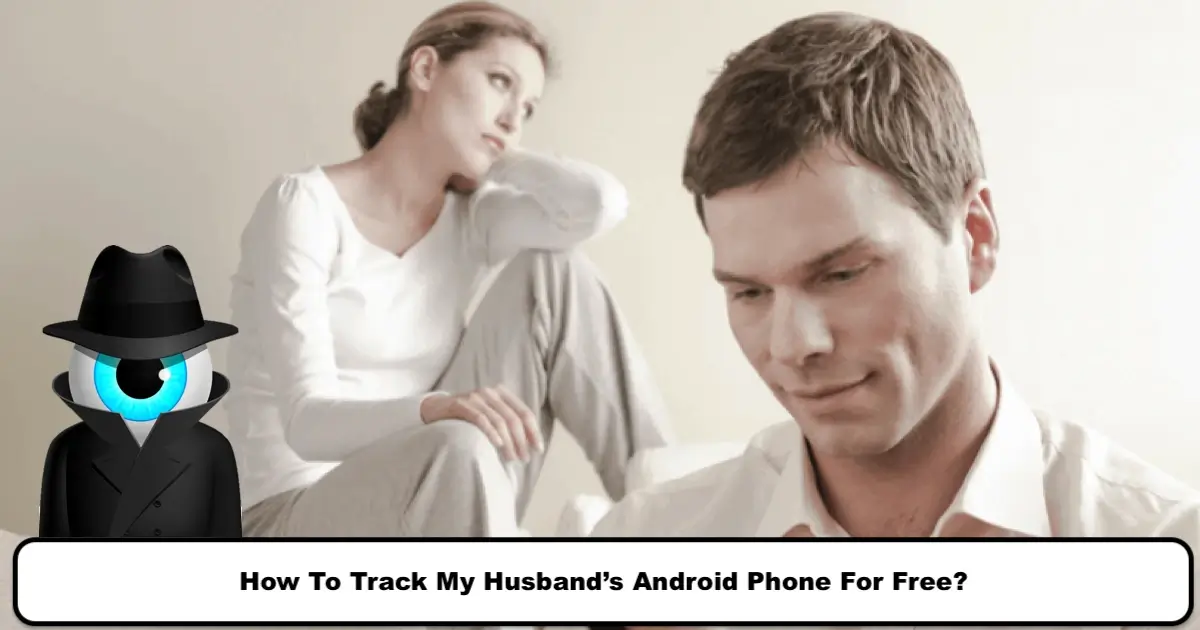 If you want to know how to track your husband's phone or prevent your kids from watching sensitive content, SPY24 is your best option. Using this app, you can monitor every activity of them without their knowledge. In this article, we're going to explain why many people, especially women, try to spy on someone's phone and how they can do it using SPY24. You can also read our other articles, such as Best Free Apps to Spy on Cheating Spouses (Android, iPhone).
Common Reasons to Track Someone's Phone
First, let's take a closer look at why people might want to track someone's phone. Of course, not all spying activities are malicious. Many times people want to prevent something bad from happening.
Here are 4 common ethical reasons to track someone's phone.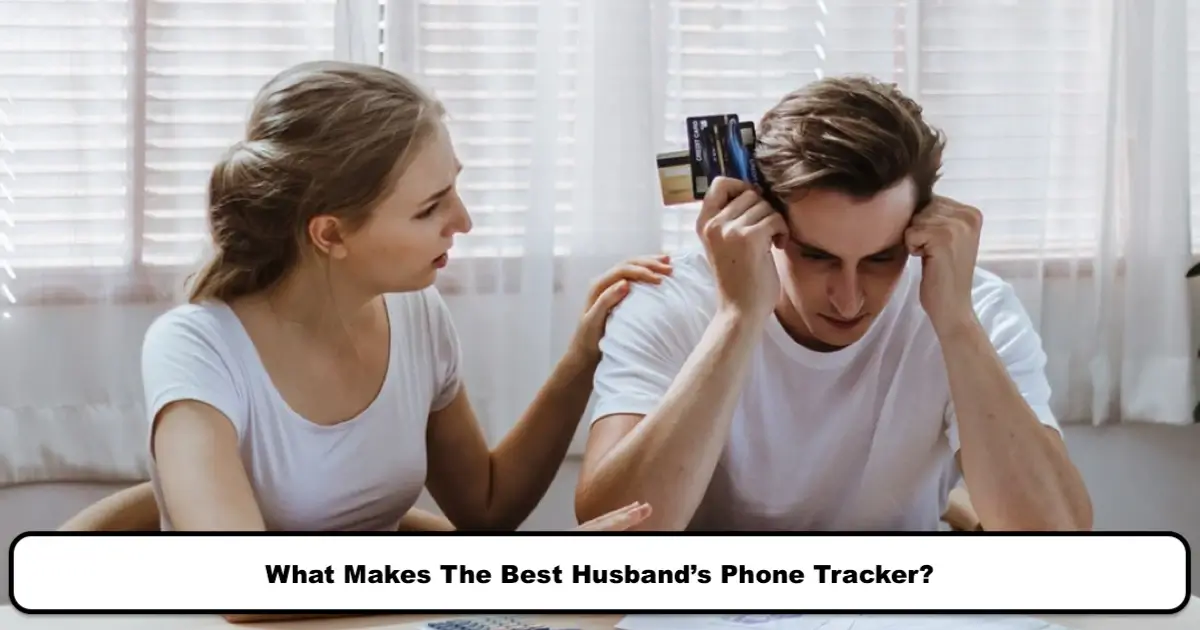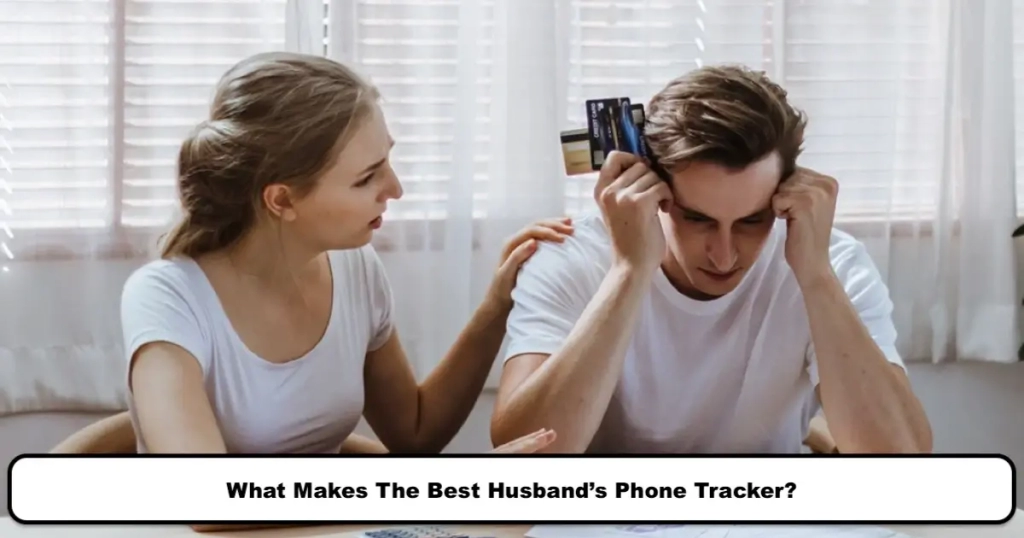 Your Husband is Cheating on You
The most common reason why people want to track someone's phone is to catch them when they're cheating. Women always complain about their husband's relationships, and that's why they want to track their husband's phones to figure out if they're doing anything wrong.
In this article, we're focusing on this reason and will help women solve their problems with their husband's suspicious activities.
Your Children Are Communicating Sensitive Content
Smartphones can now provide access to everything, and this is not safe for children. Parents need to control their kids' phones to know if they're using them in the right way. You can easily track your children's activities on their phones by spying on their phones.
Your Employees Are Not Doing Their Jobs
Many managers are worried about their employees' working efficiency. Actually, many times they think that their staff uses the company's internet connection for personal use. That's why they want to track all of their activities to make sure everything is ok.
Your Company's Data is Leaking
Sometimes, companies have important information about their products and services, and they want to make sure that their information is safe. So they have to track all the communications in the company to spot anything wrong.
5 Top Ways to Know if Your Husband Is Cheating on You
In this section, we're going to discuss the ways you can figure out if your partner is cheating on you.
Here are the top 5 methods to do that:
Watch His Cell Phone
The first and easiest method is to look at his phone to identify if he's a cheater. Do a complete phone search to spot any wrong activity.
To figure out who has talked to your husband the most, you can monitor their phone calls, texts, and emails.
Check Out His Social Media
Social media posts, stories, comments, and mentions are good signs of a person's true relationship with others. You can check out your husband's social media activity, even with an anonymous account, to ensure he is not cheating on you.
Use a Tracking App on His Phone
The next method is to install a monitoring and tracking app on his phone. A tracking app can give you full access to his smartphone without his knowledge. This is actually the most comprehensive method to spy on your cheating husband.
Track Him with GPS
You can also monitor your husband's location using a GPS gadget. You can see whether they frequently visit any suspicious areas. Of course, you can just see the location, and this is not a concrete piece of evidence to prove that he is cheating on you.
Track His Friends
Keep an eye on the individuals your husband hangs out with if you believe he is cheating on you. Who just joined his social network? Who does he speak with the most? Who are the individuals in his life who are unique?
Track Your Husband's Phone Number for Free
Tracing your spouse's mobile number may provide you with the evidence you need to confront him if you suspect he is cheating on you.
Several methods are more successful than others for monitoring a phone number, despite the fact that there are several alternative ways.
Using a reverse phone lookup service is one of the greatest techniques to keep track of your spouse's phone number. These services are used to identify the owner of a particular phone number by keeping track of all the phone numbers assigned.
All you have to do is put your husband's mobile number in the search box on the website, and the service will provide his name and address.
What to Track on Your Husband's Phone?
You must know what you want to monitor on your husband's phone. If you determine this factor, it'll get easier for you to choose the best way to track your husband's phone.
For example, a lot of girls and women just want to know where their partners are to make sure they haven't gone to the wrong place without their knowledge.
It is really simple to accomplish this task if you choose the right app. However, just knowing the location of your husband isn't enough.
Because many times they are in the right place, but they're chatting with the wrong person! So you need to track many other things on their phones.
You'll need to do more than just discover where his phone is in order to get more details about their hidden relationships.
As a result of this, his phone's location would merely indicate where he is. It won't tell you who he is calling or texting, nor will it reveal the identity of the audience of your husband's chats.
But you might say that it's enough for you. If you just want to know the location, here is how:
How to Track the Location of Your Husband's Phone
Thanks to new technologies, you can easily track the location of your husband's phone:
If your husband has an Android phone, Google's Find My Device feature can help you locate him. On a PC, go to android.com. Then, find and use the same Google Account that your husband's phone is linked to. After that, sign in to use it.
However, there is another way to do it if you are not near a computer. You can use another Android phone to locate the target device.
You just need to download Find My Device and sign in. Then, Google will let you track your husband's cell phone.
You will be able to lock the target device or even make it play a sound with this great feature. The problem is that if the phone is off, you can't track your husband.
Also, when the tracking feature is turned on, Google will send an alert to the phone, which is not good for you in you want to be undetected.
It's also simple to monitor your husband's iPhone using the iCloud feature. You can locate the location of your iPhone with the Find My iPhone app. Here is what you must do:
Tap "Find iPhone."
Look at the map to figure out where the phone is.
If the target device is missing, you will be able to label it as lost. This gives you the ability to turn it off or delete everything on it.
Localize.mobi: Track Your Husband's Location by Its Phone Number
We already talked about tracking your husband's phone number. Localize.mobi is a great tool to track your husband's phone number without his knowledge.
Go to its website to see all the features of this simple phone tracker that works without a network. Here is why you have to use this tool:
No Installation Required: You don't need to install any app on your husband's phone. You just have to enter his phone number and then, Localize.mobi will get to work.
Compatible with all Phones: Whatever phone they use, Localize works like magic. In fact, you don't even need to know the brand or age of their phone to find them.
Exact Location: The GPS tracking of Localize is really accurate! You can get the precise address using Localize.
Worldwide Coverage: Localize works across the globe. It doesn't matter where your target device is.
Unlimited Phone Numbers: You can search for unlimited phone numbers.
What Else You Can Track on Your Husband's Phone
You might want to track more things other than the location of your husband. For example, many women want to know about their husbands' social media connections.
The question is how? Some other apps, like SPYFamily, provide more features compared to Localize.mobi.
As it comes from the name SPYFamily makes you a real spy. All the text messages transmitted, received, or deleted, as well as all phone calls made and received on your husband's phone, can be tracked with this app.
The target phone's GPS coordinates can also be tracked, just like what Localize does.
You can see everything your husband does on his phone while using SPYFamily. The good news is that this app can monitor Whatsapp, Snapchat, Instagram, and Facebook accounts.
SPYFamily is fully compatible with iPhone, iPad, and Android devices, so you can easily use it on your husband's phone, no matter what type of device it is.
Another excellent feature that this app offers is that you can remotely block some inappropriate websites on your husband's phone. Also, it allows you to monitor your husband's incoming and outgoing calls.
The only drawback of this app is that it works only on one device, and therefore, you can't monitor other devices of your husband or your children.
Also, the price of this app is a bit high compared to the features it provides for a single device. Therefore, you need a more versatile app if you want to have full control of your family members' devices using a single dashboard.
In the following section, we'll introduce this app.
The Best App to Track Your Husband's Cell Phone: SPY24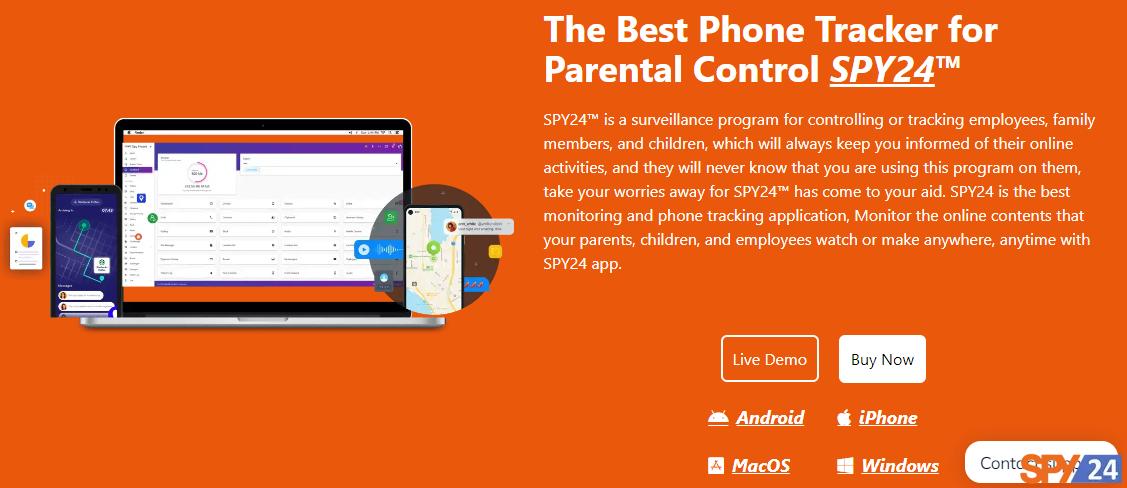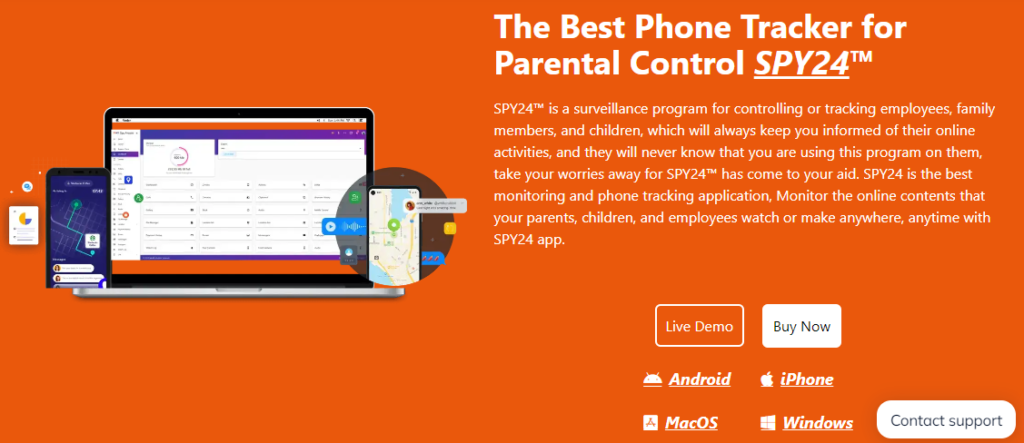 In this section, we're going to introduce all the features SPY24 offers to see why it's the best phone spying app on the market.
What Is SPY24?
SPY24™ is a monitoring application that can be used to monitor workers, family members, and children.
They will never know you are using this program on them, and this app will always keep you informed of their online activities.
This is the best monitoring, tracking, and spying app out there, and you don't need to go anywhere else.
Install SPY24 without Jailbreaking Your Husband's iPhone
You just have to follow the steps below to install SPY24 on your husband's iPhone without jailbreaking it. The good news is that you can install SPY24 on iPhone devices without even touching them. You just need to make sure that:
iCloud Backup is enabled on the target device
The 2-factor-authentication feature (2FA) is disabled on your husband's iPhone
Now, follow the steps below to install SPY24 on your husband's iPhone:
Sign up on SPY24's website
Choose the plan and make your purchase if needed.
After the purchase, you'll get a confirmation email including your login name and password.
Get back to the login page of the website and enter your details to log in.
In your dashboard, click on "Add a new phone."
Tap "iPhone (not jailbroken)."
Tap the "Go" button.
Fill in the form for your Apple ID and tap "Verify."
Then, the iPhone's name will be displayed, as well as its most recent update date. Press the Go button to begin.
Without having to jailbreak the device, you were able to install SPY24. However, a jailbroken device makes it simpler and quicker to install the software. It's all about what you prefer.
SPY24's "No Access Mode" to Track an iPhone Device
Every iPhone comes with iCloud capability. As a result, all of an iPhone's data is automatically synced to the iCloud server when turned on. The backup information from SPY24 contains private data about your spouse.
As a result, all you have to do is provide your husband's iCloud credentials if he has an iPhone. The rest of the job will be handled by SPY24.
Install SPY24 without Rooting Your Husband's Android
Using SPY24, you can easily monitor your spouse's Android phone in just three easy steps. You can do the following from any web browser to keep an eye on your spouse's phone.
Step 1: Create an Account
To subscribe to a package on the SPY24 website, you will need to create an account. You can start with a free 30-day subscription package to test the app's services. After the trial period ends, you can choose a package that suits your needs.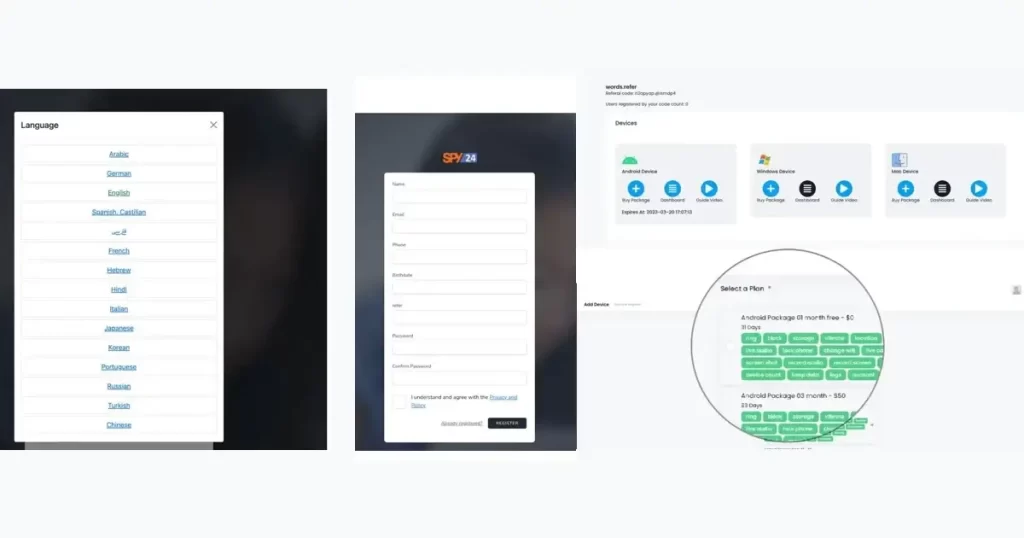 Step 2: Install the App on Android (Choose Your Husband's Phone)
You will need physical access to the target device to install the SPY24 APK, which will take less than a minute to complete. Follow the onscreen instructions to set up the app. It's important to disable Google's Play Protect before installation.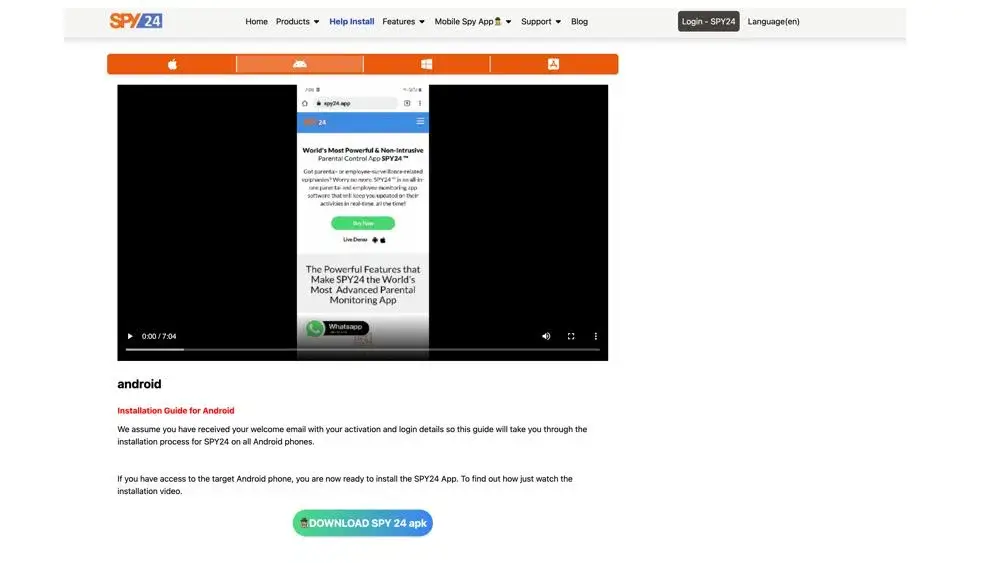 Step 3: Access the Online Dashboard
Log in to your account to view the recorded information, which will be categorized into different tabs. If you have subscribed to the 'Business' or 'Professional' package, you will also receive a 'Mobile Viewer' app, which allows you to not only view but also download messages from all tracked devices and view them offline later.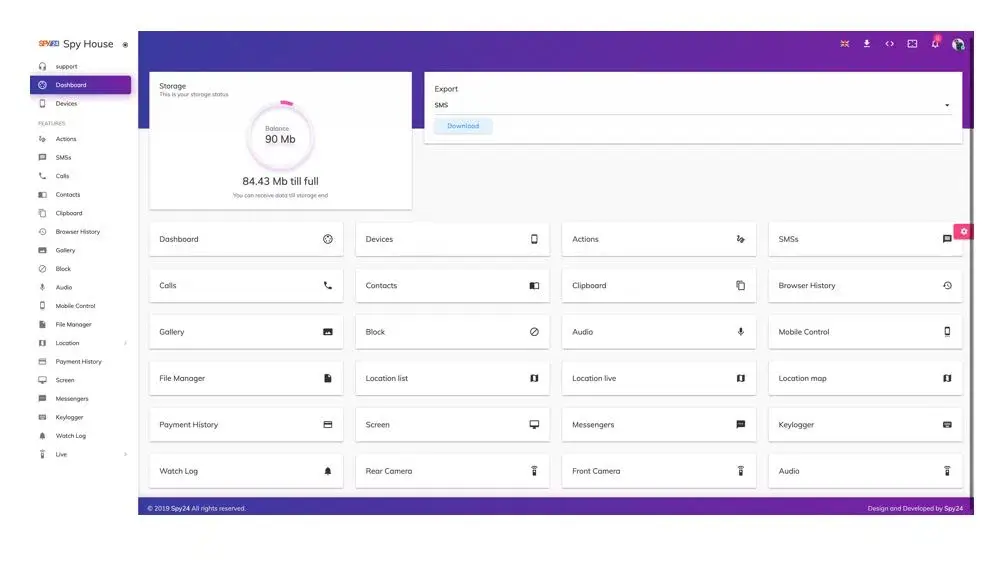 Why Women Use SPY24 to Spy on Their Husbands
Here is a summary of SPY24's benefits that encourage women to use it to spy on their husband's phones.
A Web-Based Dashboard
You don't need to install the tool on your phone or computer. You can easily use SPY24 using a comprehensive dashboard accessible using a browser.
No Need to Root or Jailbreak
As mentioned earlier, there is no need to root (Android devices) or jailbreak (iOS devices) to use SPY24. This way, you'll make sure that the phone remains safe because rooting and jailbreaking make a phone much less safe.
100% Security of Your Data
On SPY24's servers, no private data is stored. Even SPY24's employees can't see your data. Only you can see your data using your dashboard.
More than 250 Features
You can see everything on your husband's phone with the help of SPY24.
Stealth Mode: SPY24 Works Without Your Husband's Knowledge
If you use SPY24, your husband will never know that you're following him. Since SPY24 has something unique to offer on both Android and Apple smartphones, this is the case:
You will need to install the SPY24 Android app on your husband's phone in order to monitor his location.
SPY24, on the other hand, has created an Android app that makes it difficult to locate. It's just a few KB, and it takes only a few seconds to install. The app icon will no longer be available in your husband's app menu once it has been installed.
The app doesn't send out any notifications and only runs in the background. It's also designed to operate without a battery.
In addition, using the SPY24 dashboard, you can remove the app from any internet browser.
As a result, you won't have to utilize his phone again following your initial usage. Even if a person doesn't know, this can help you discover where your phone is.
How to Track Your Husband's Phone Using SPY24
Now, let's look at the features you get when using SPY24.
Recognize Where Your Husband's Phone Is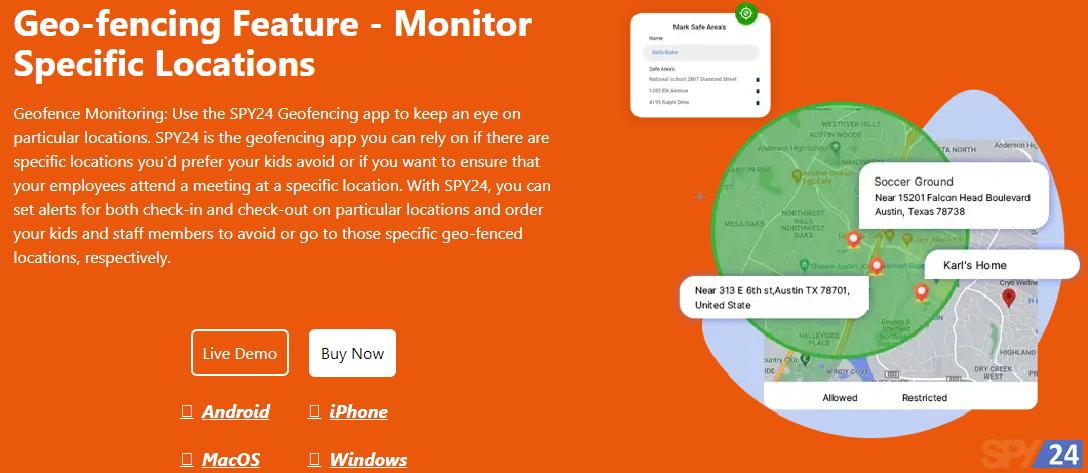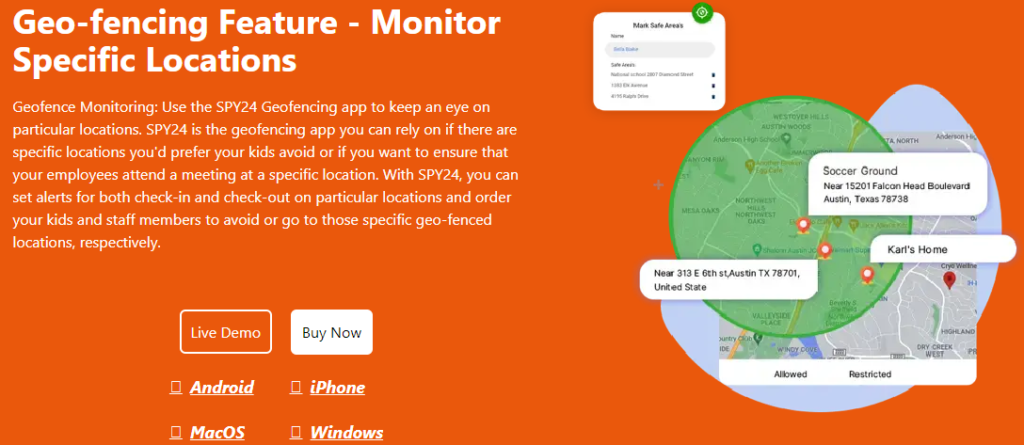 Using SPY24, you can easily track the location of your husband. The app provides you with perfect location tracking features like:
Current Location: To figure out where your husband is at a specific point in time, you can easily check SPY24's precise current location tracking.
Location History: Do you want to learn more about where your husband usually goes without your knowledge? Every little move will be explained in your location history logs using SPY24.
Geo-Fencing: Don't want to be mentally distracted by everything? You can keep an eye on particular areas and get notifications whenever your husband leaves or arrives at the workplace, local pubs, discos, or any other suspicious places.
Find Out What Your Husband Is Looking at Social Media


SPY24 has one of the most comprehensive social media monitoring features because it understands the importance of monitoring your family's social media.
With SPY24, you may read current social media postings, identify their consumers and followers, and watch all of their videos, pictures, etc.
SPY24 supports almost all major social media platforms:
Facebook Messenger
WhatsApp
Skype
Hangouts
Line
KIK
Viber
Tango
Snapchat
Telegram
Instagram
Hike
IMO
Zolo
Twitter
Monitor Your Husband's Browser's Data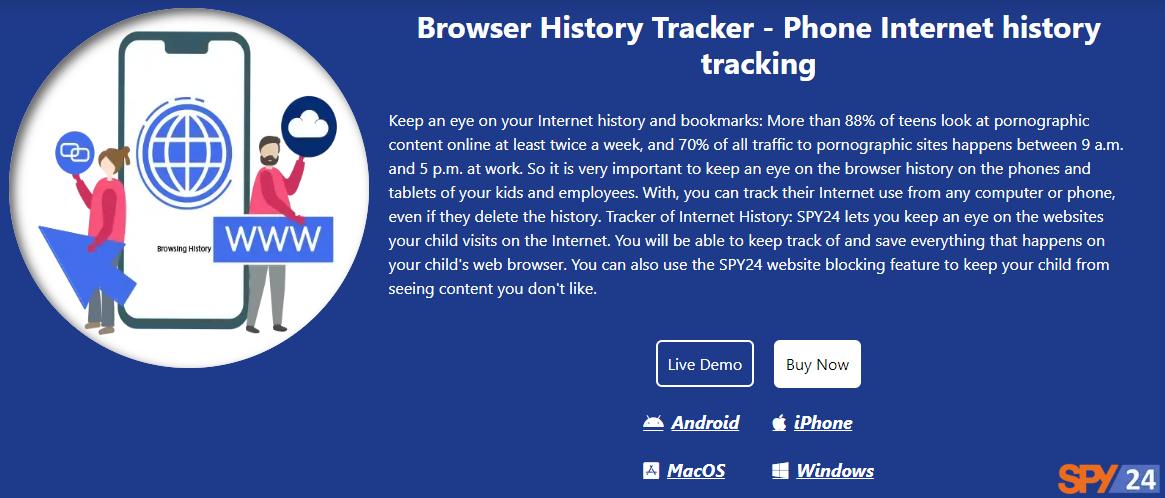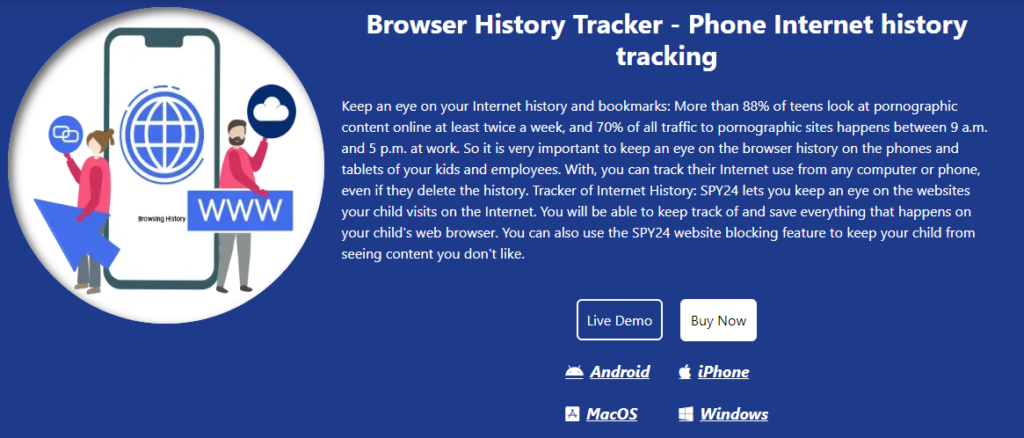 More than 88% of teenagers visit pornographic material online at least twice a week.
This might be so annoying to figure out that your husband is still watching these sites. So you can use SPY24's internet monitoring feature to catch him.
Here is what you can see:
Browser History Tracker
Web History Tracker
Monitor Browser Bookmarks
Best Site Blocker App
Instant Alerts
Read Your Husband's Emails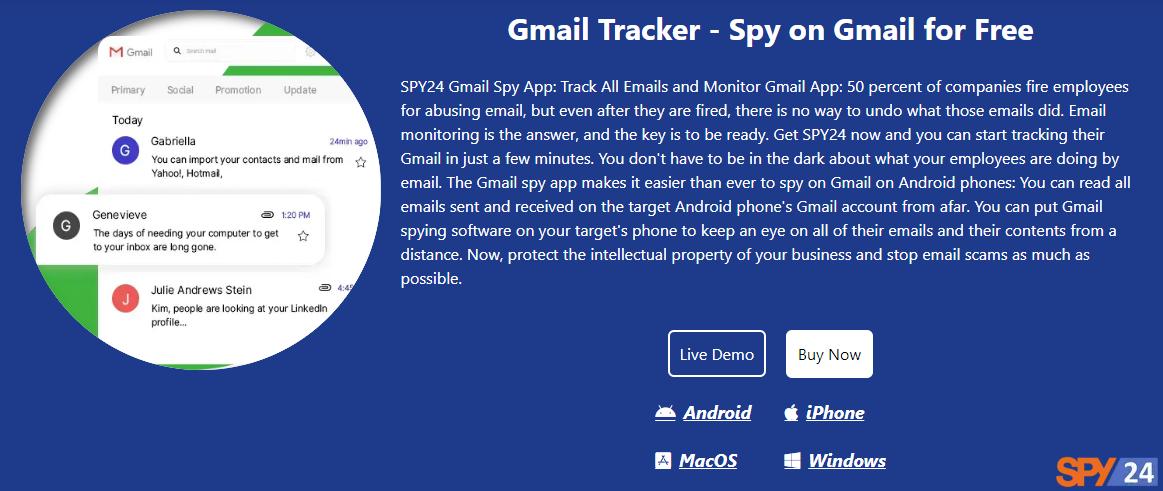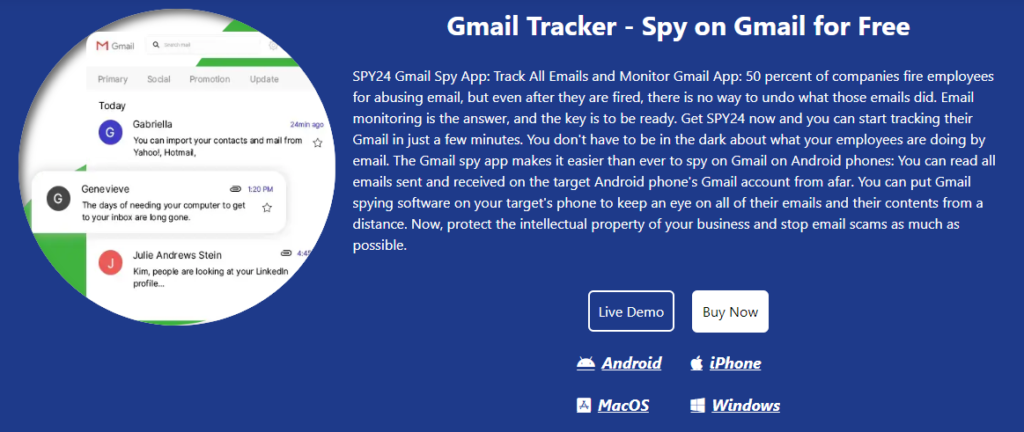 Thanks to SPY24, you can keep an eye on your husband's emails. In complete stealth mode, you may read entire email threads as well as browse through history.
You can check all the attachments, contacts, and many other details.
Read Your Husband's Text Messages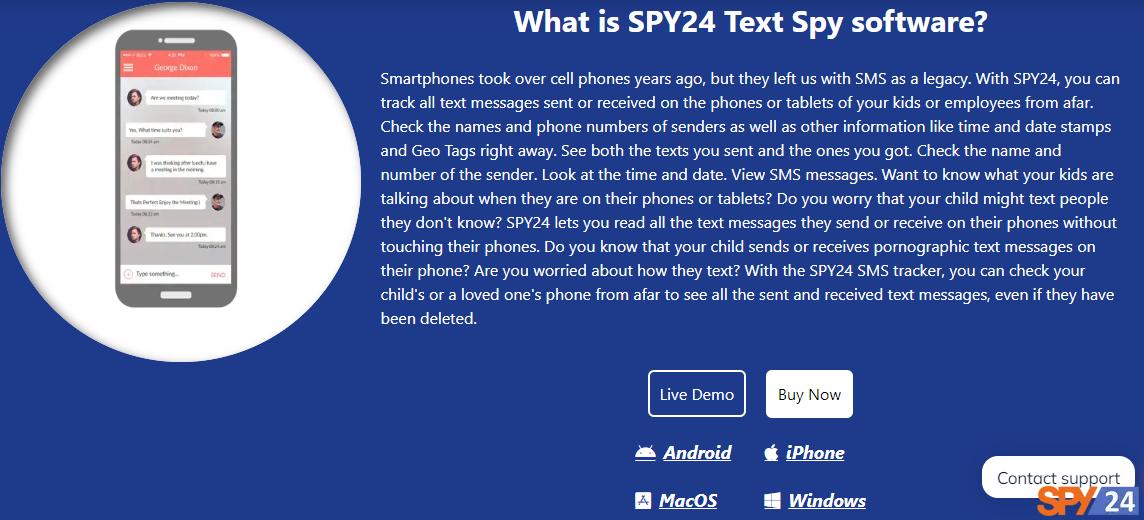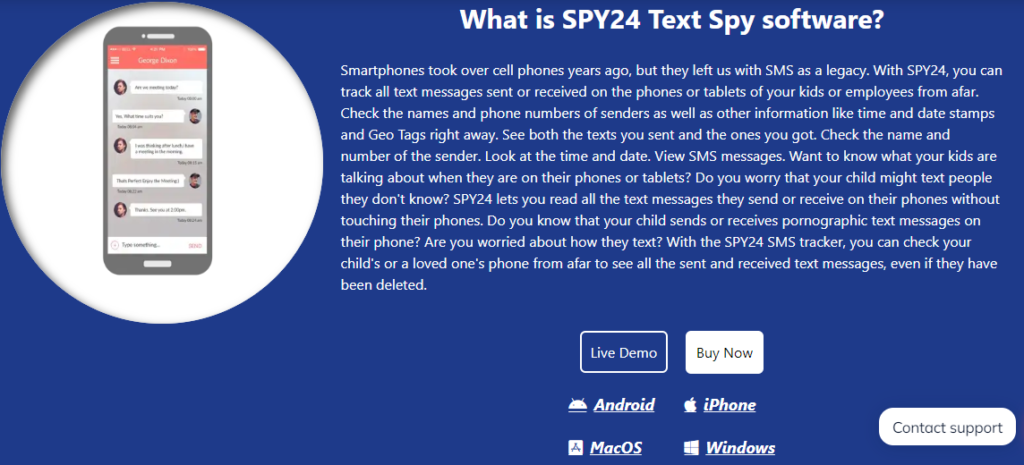 If you want to view all your husband's messages, you can trust SPY24. You can remotely monitor incoming and outgoing SMSs. In your personal control panel, even the deleted messages will be accessible to you.
You may also view all of your husband's MMSs. You can make sure that no private photographs are transmitted or received via MMS. It's worth noting that this functionality is only available on Android smartphones.
Track and Record Your Husband's Calls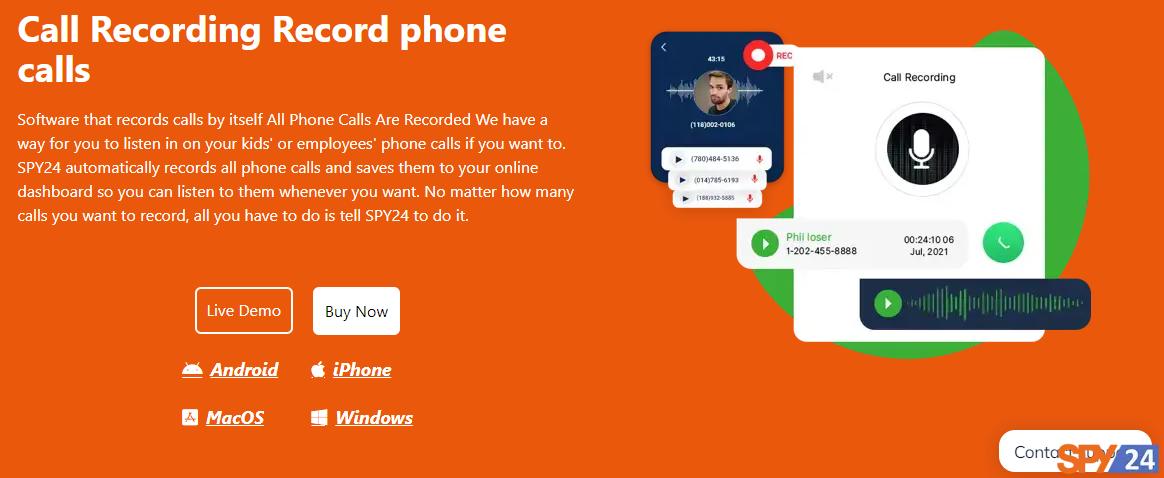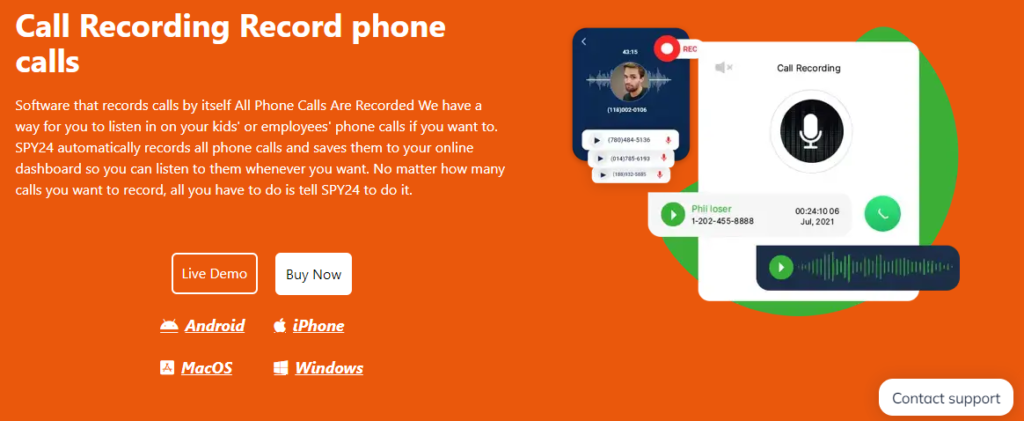 Another great feature that helps women understand if their husband is cheating on them is call recording. Using SPY24, you can:
Monitor Phone Call History
The full records of both incoming and outgoing calls may be seen through SPY24. Dialed numbers, contact names, and other information may be monitored.
Find Out Frequently Contacted People
View contact information and call duration with time and date. Discover the most frequently contacted people.
Contact name, number, email, and other saved data from the target phone can be monitored using SPY24.
Record the Voice and Video from Where Your Husband Is

This is an unbelievable feature for you to track your husband's activities. You can:
Take Photos Remotely: Take photos using a phone cam that you're not in control of.
Control the Front & Back Camera: SPY24 can hack the front and back cameras of the target phone.
Watch/Record Phone Surroundings: Hidden activities can be tracked and monitored.
Record Surroundings: It gives you the option of secretly recording nearby pictures.
SPY24 Cost
SPY24 has a variety of packages for different people, including women who want to track their husband's phones for free. Here is a summary of the SPY24 pricing policy.
Android Packages
1 month for free – $0
3 months for $50
6 months for $76
12 months for $120
Windows Packages
1 month for $25
3 months for $46
6 months for $60
24 hours for $0
MAC Packages
1 month for $25
3 months for $46
6 months for $60
24 hours for $0
XNSPY – Track husband's Android cell phone
XNSPY husband phone tracking app is a top-class app with great remote control features. XNSPY is a fascinating husband spy app with very powerful remote control capabilities and one of the best spy apps you can use.
If you are worried about the secret activities of your husband's life, you can easily record his voice and those around him remotely, you can even turn on his phone camera remotely, record all outgoing and incoming calls of your husband, and you can even record your husband's phone screen when he uses social networks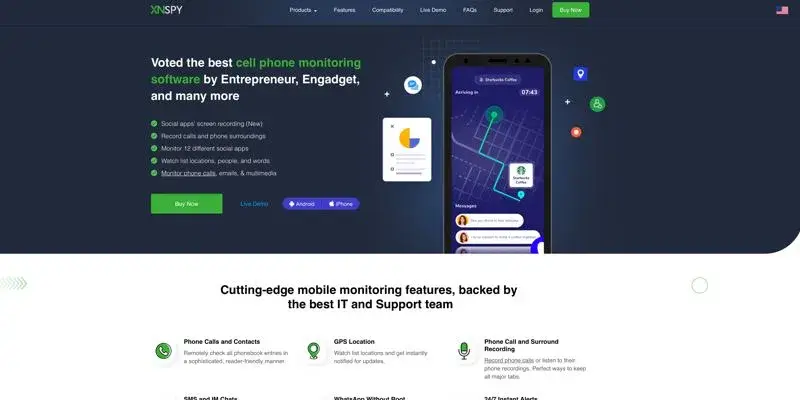 XNSPY allows you to have a complete picture of your husband's activities when he is not with you. With XNSPY, you can monitor the storage space of your husband's phone, and if you think that your husband has inappropriate pictures or videos on his phone, you can Find out about them. You can even delete images and videos.
 One of the best features of XNSPY is that you can set up a list of words, places, and people so that if your husband contacts those people, reaches the place you want, or says certain words, you will be immediately alerted. All these facilities can provide you peace of mind, and you can be sure that your husband is not hiding anything. 
XNSPY features:
Inform about received and sent emails.  
calls and messages and GPS access
Control over sound recording and camera.
Recording phone screens
Has a warning list
Monitor phone storage space
How to Track My Husband's Location for Free
To locate the whereabouts of your spouse, using Google's Find My Device feature is a reliable option. However, it's worth noting that your spouse may receive a notification and the location provided is only approximate and not always precise. Here are the steps to follow: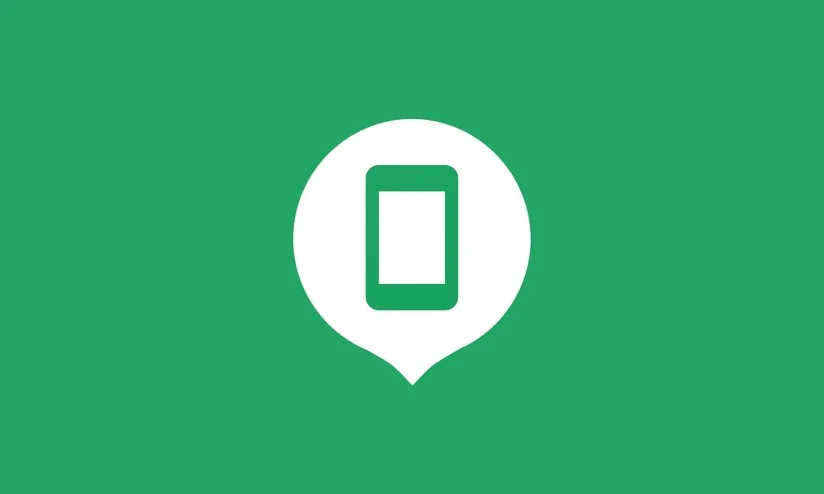 Visit https://www.google.com/android/find and sign in to your Google Account.
Make sure Location is enabled on your spouse's device.
Activate Find My Device on the device.
Select the target phone from the top of the screen.
The target phone will receive a notification, and the map will display its location.
If you're looking for a solution to track a cheating spouse, SPY24 can provide you with the answers you need. However, before taking any action, it's important to consider the following:
Stay calm and avoid reacting impulsively to your spouse.
Decide if you want to save your relationship or end it.
Try to understand the circumstances under which your spouse may have cheated.
Be honest with your spouse and let them know that you're aware of their infidelity.
Evaluate your relationship and decide on your next steps, whether it's to leave or try to work things out. Ultimately, the decision is up to you.
Mspy – the nightmare of cheating husbands
You won't regret trusting MSpy to track your husband's cell phone. Because with nearly ten years of experience, it is one of the best. With MSpy, you can see all the messages exchanged by your husband in messengers and social networks. MSpy allows you to see all the pictures and videos that your husband sends or receives on social networks.
In addition, if you think that your husband is lying to you about the places he goes or has been, with Mspy you can easily reveal the truth because Mspy not only informs you of your husband's current location but also you can access his location history. You can even choose a location range to alert you if your husband leaves or enters that range.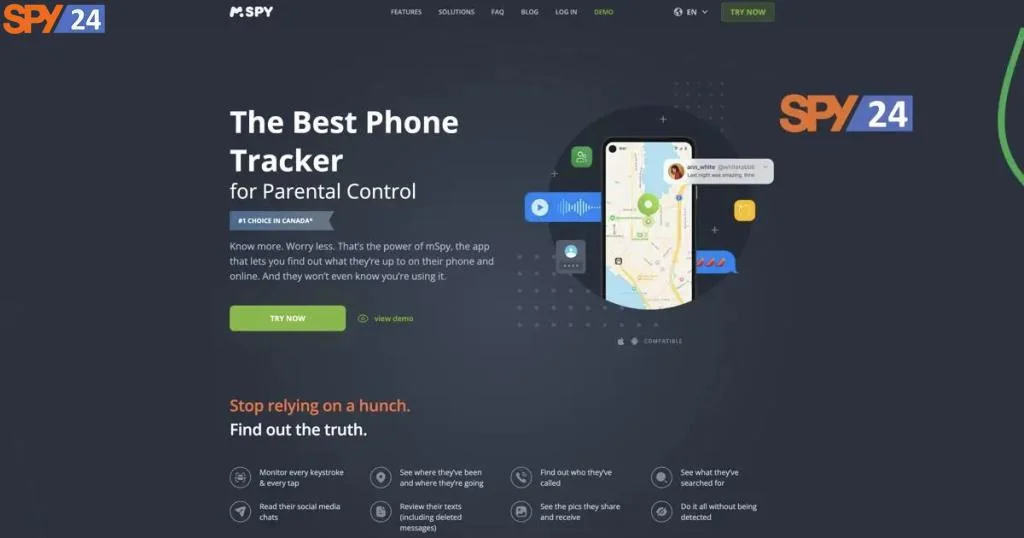 Also, if you doubt what he is doing, you can use the remote control capabilities of the Mspy. You can turn on the front or back camera of your husband's phone and view live images or record them to get useful information.
You can get everything you need to know about your husband by using MSpy. Also, there is no need to worry about your identity being hidden because MSpy will protect you well.
mSpy of Features:
Creating a geofence and access to location history.
Great remote control on mobiles like cameras and messages and calls.
Full display of multimedia messages on social networks.
Completely hidden on the phone.
Screen recording
Kidsguard Pro – Spy on husband's cell phone without him knowing
It is quite clear that doubts can destroy a marriage. Doubt also robs you of peace. So it is better to remove your doubt. If you doubt your husband, using Kidsguards Pro is the best way to remove this doubt. If you want to know where your husband goes during the day and how long he stays in those places, Kidsguard Pro will provide you with all this information.
Kidsguard Pro is the best phone tracker. You can find out the current location of your husband, and you can use the location history to find out what places your husband has gone to. If you suspect that your husband is going to inappropriate places, you can create a geofence and when he enters those places Kidsguard Pro will inform you quickly.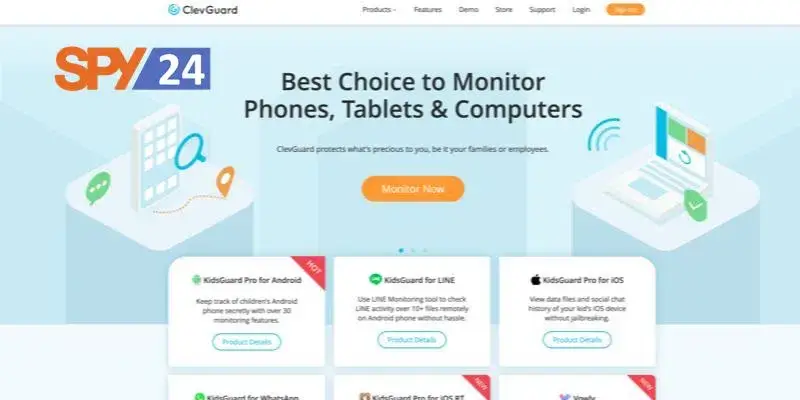 Kidsguard Pro also has excellent monitoring features. You can use it to check all incoming and outgoing messages and calls from your husband. you can see what photos and videos your husband shares with others on social networks. also, You can find out the identity of people who are related to your husband on social networks. In addition, you can view his browser history and find out what sites he visits. Kidsguard Pro has a very secret function, and your husband will not know that he is being watched by you, and there is no need to worry about it.
Kidsguard Pro of Features:
Easy and simple user interface.
Real-time location display.
Very high accuracy in location tracking
basic monitoring features such as messages and calls.
View browsing history.
Secret and completely imperceptible operation
EyeZy – The most advanced husbands phone tracker
As one of the most advanced cell phone trackers, EyeZy offers you features that you may not find in other cell phone trackers. by Using EyeZy, you can get the information you want in great detail. EyeZy is special for those cheating husbands who act very cautiously. EyeZy shows you very detailed information from your husband's web browsing.
It provides you with information such as the history of browsing, time of entering sites, browsing habits, most searched terms, most visited sites, and use of incognito mode. Also, by using EyeZy, you can know the text of the messages sent by your husband. You can also use the keylogger feature for specific phrases or words so that if your husband uses them, EyeZy will notify you.
EyeZy also gives you detailed information about your husband's calls. You can see the list of callers and received calls. Also, find out who has been called the most, the longest talk time, and see your husband's frequent calls. If you find out that your husband is having a relationship with inappropriate people, when he wants to send them a message, you can use EyeZy to stop him from sending the message. EyeZy has a precise performance and remains well hidden. In no way will your husband find out that you are spying on him.
EyeZy OF Features:
Keylogger feature
Display detailed information on browsing habits
Display contact information separately
The ability to prevent sending messages remotely
Tracking text messages and messages on social networks
The inconspicuous and secret operation
Conclusion:
According to what we discussed, monitoring your husband's phone can be easy using the SPY24 app. You just need to install the app on your husband's phone and connect it to your dashboard. Then, you'll easily track everything on your husband's phone, from social media to SMS. The app offers different packages and pricing plans for various users and supports different devices. You don't need to be an expert to be able to spy on your husband's phone. SPY24 gives you the power to do this without needing any special hardware or coding. See also the best phone tracker app Android.
FAQs:
Here are some other questions regarding SPY24 and the way you can track your husband's phone.
What Android phone tracker app can I use to track my husband?
There are many Android phone tracking apps that you can use. But the best of them are SPY24, XNSPY, MSPY, KidsGuards Pro, and EyeZy.
How To Spy on Your Husband's iPhone Without Even Touching It?
If your husband's mobile is iPhone, you can easily install SPY24 on it without even touching it. You just need to activate iCloud Backup and disable the 2FA feature. Android users, on the other hand, have to access the target device for a minute to install SPY24. After the installation process, you can monitor your husband's phone without even touching it.
Is it possible to see my husband's call logs without his password or phone?
Sure. If you can install the app on your husband's phone, it can send all the data to your dashboard.
How to spy on your husband's iPhone without jailbreaking it?
Jailbreaking and rooting are not required when it comes to using SPY24.
Find my husband's deleted messages?
Apart from reading the current messages, SPY24 provides you with the ability to read all the deleted messages.
How can I read my husband's text messages (SMSs) remotely?
You just need to install SPY24, and then you can track all the SMSs on your husband's phone.
Is my husband's phone hackable?
Using SPY24, you don't need to be an experienced hacker to spy on your husband's phone.
What are my husband's hidden apps?
SPY24 gives you this opportunity to see all the installed apps and even block them remotely.
How can I hear my husband's phone calls?
All the conversations with your husband can be tracked and recorded using SPY24.
How to check your husband's online activity?
SPY24 has various features to track your husband's online activities, from social media to emails.