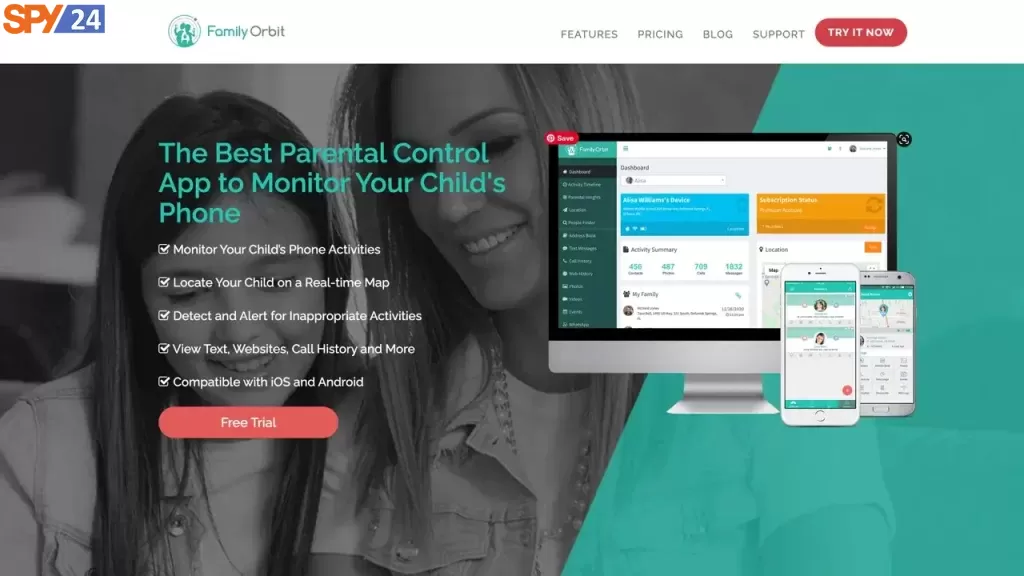 Have you ever been worried about the threats of the digital world? Smartphones can be so helpful for children, connecting them to their friends through various platforms and access to many websites that can help them to learn better and improve their performance at school and many others. However, this modern Mobile phone can be dangerous too, causing anxiety and depression. Spending too much time on the Internet would cause serious physical issues. Many children lose track of time when they are playing games which makes them not move from morning to night.
It is not possible to keep them away from the digital world because they would not be benefited from the great advantages. So the best decision would be to limit their online activity and monitor them by using a trustworthy tracking app.
Tracking apps would help parents to stay up-to-date with their online locations so they can feel safe. Various tracking apps are available in the market. To assist you in choosing one, we have prepared an overview of the Family Orbit review based on in-depth research, and we hope to guide you to make the best decision.
| | |
| --- | --- |
| Android | Yes |
| iOS(iPhone/iPad) | Yes |
| Website:  | familyorbit .com |
| Domain Age: | 2004-04-15 |

What is Family Orbit? 
Family Orbit is one of the best parental monitoring apps on the market. Family Orbit would let you monitor all online activities of your child, track all places on a real-time map, see call history, and more. The company has seven days refund policy of charging ten percent. If you inform them after 48 hours of your purchase, their technical staff will start working on it for 7 days. If they cannot solve the problem in this period, the app will be refunded. If you have any questions, you can check the FAQ parts on the official website, https://www.familyorbit.com/, or you can submit your question via email. The size of this app is 16.5 MB.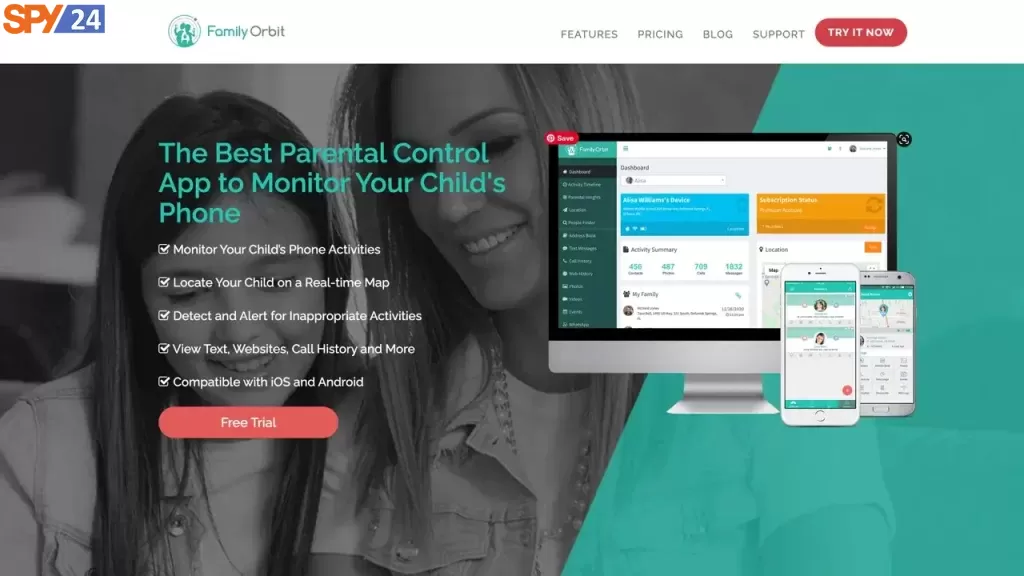 Platform:
iOS: (9.0 – 15) iPhone, iPad, iPod Touch
Mac ( macOS 11.0 or later and a Mac with Apple M1 chip or later)
Family Orbit Best Features:
Parents can easily access many features to monitor their kids to see where they go and who they meet, and what is in their minds. Some of the key features include: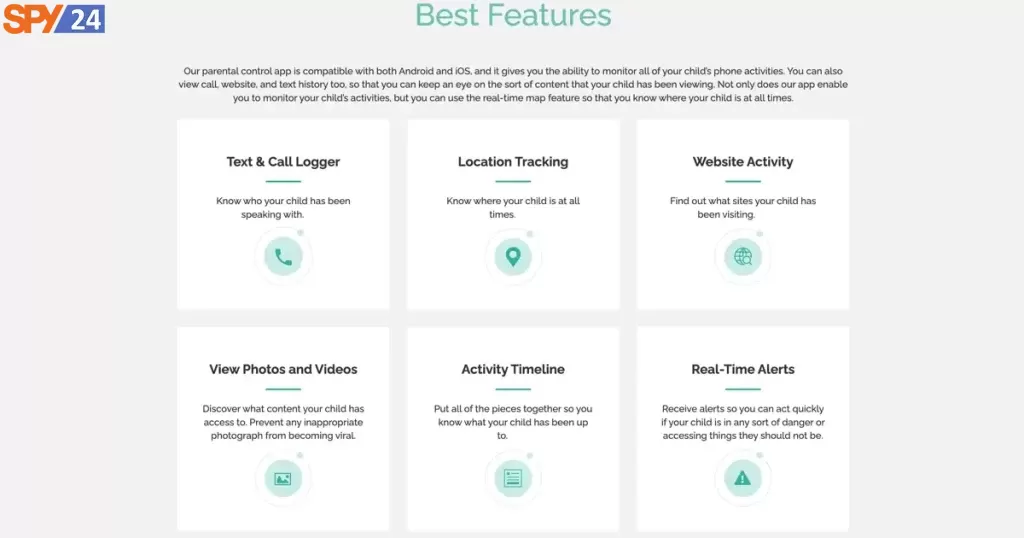 This would help parents who their children have been talking to by monitoring all incoming and outcoming messages and calls, even their duration.
With location tracking, parents will be updated about where their children are at any time. So they do not need to guess anymore about their current location. They see them right on the map by just pressing some clicks in less than a few minutes! Battery life can be decreased as GPS runs in the background to save battery life. The app algorithm turns it on and off.
Website monitoring would help parents to protect themselves from inappropriate content.
Parents would be informed of multimedia files that have been shared so they would prevent inappropriate content from becoming viral.
Parents will get an alert if their kid is trying to access a website that they should not visit.
Parents would be able to read all chats and call remotely.
Why should I choose Family Orbit to Monitor My Child's Phone?
Various advanced features of Family Orbit, including the ability to monitor multiple devices with one account, compatibility with both iOS and Android and no jailbreaking, have made this app a great choice. The greatest function of this app is alerting parents; the app always notifies them, so they do not need to spend their time tracking their kids; this option would tell them if they are in a place that they should not be or if they are visiting a website that is not suitable such as gambling and porn. Furthermore, you can be sure about the safety of the exchanged information between you and your family. Besides,5G storage space would let you save many photos and videos. Last but not least is that you can connect it to more than one device, which can be a great option for the family; all members of the family can be added.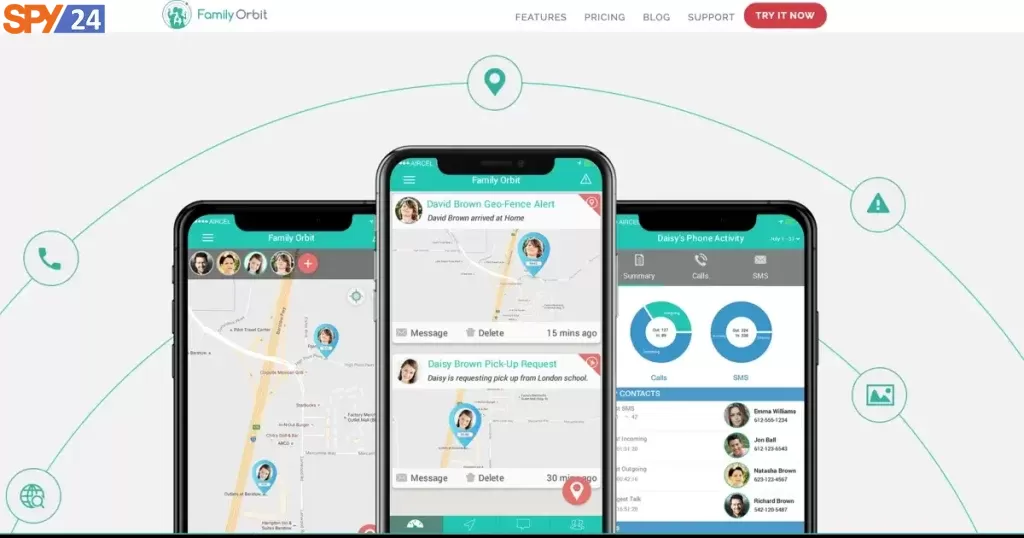 How to install Family Orbit on an Android device?
Follow the steps below to install the app :
Step 1: Click on the link ' http://bit.ly/foand91'.
Step 2: Download the APK file.
Step 3: After the APK file has been downloaded, open it.
Step 4: Go to settings and install the app.
Step 5: Open Family Orbit and create your account; your password will be sent to you by Family Orbit.
Step 6:Finally, you can select who can use the app, write the name and age of the child and start monitoring.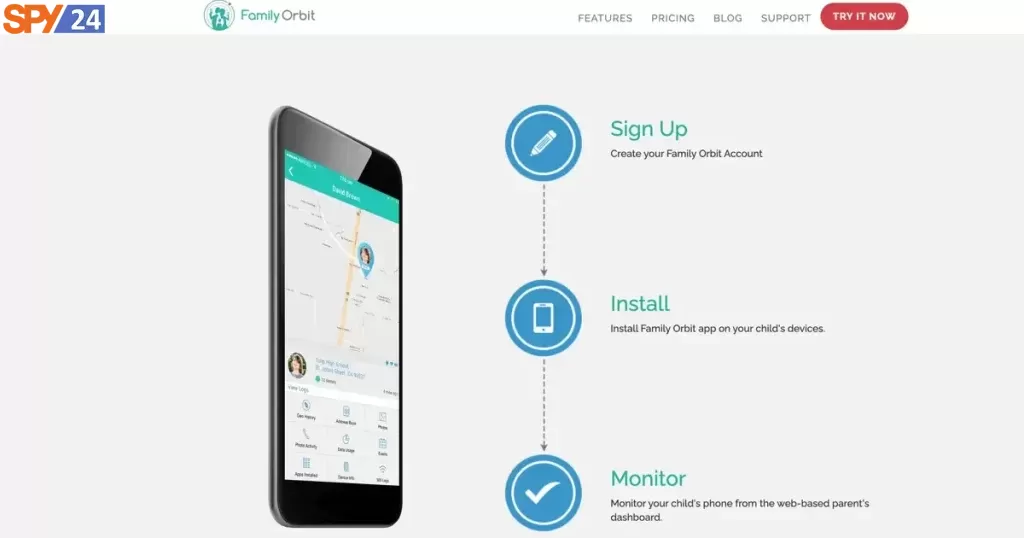 Family orbit Pros and cons
Pros:
The app offers 7 days Free Trial.
Customer service offers 7 days refund policy.
The price is not too costly.
Sharing feature of this app makes it look like a social media. 
Cons:
Not all features work on iOS.
The website is just in English.
Family Orbit cost
Family Orbit is available in three plans on its premium as below: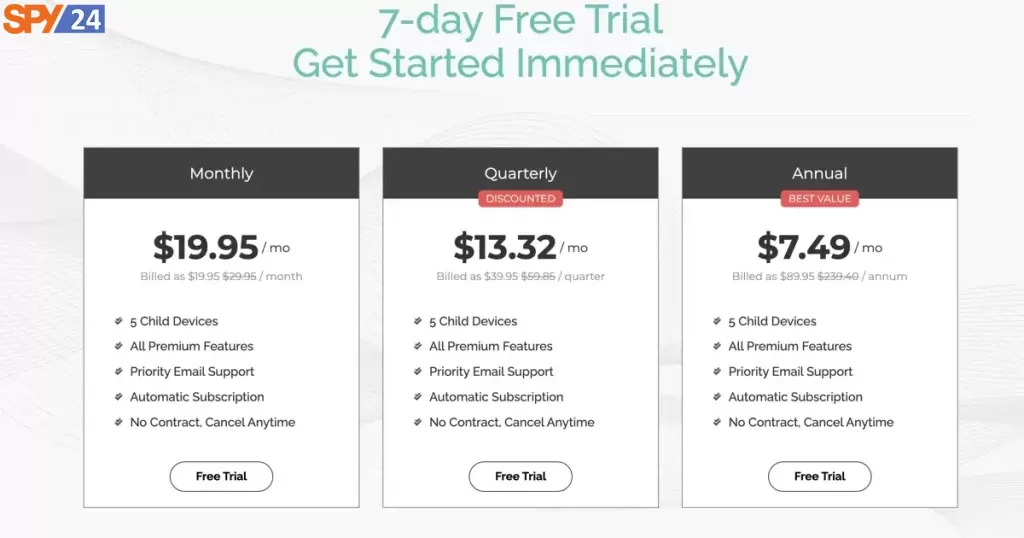 Monthly $19.95 / mo, Billed as $19.95 $29.95 / month
Quarterly $13.32 / mo, Billed as $39.95 $59.85 / quarter
Annual $7.49 / mo, Billed as $89.95 $239.40 / annum
By purchasing every, you will be connected to 5 devices with access to all premium features; the company will support you through email.
SPY24 vs. Family orbit
The SPY24 offers a 30-day free trial which is  4 times more than Family Orbit by a 7-day free trial, So you would have a month to check all options that have been developed by professional developers.
The SPY24 offers to monitor plenty of social media, from the most popular them around the world, Facebook and Instagram, to ones that are popular among specific countries, such as We chat, while with Family Orbit, you can only monitor WhatsApp; as children prefer to use various online platforms, Family orbit would not be so helpful in this case.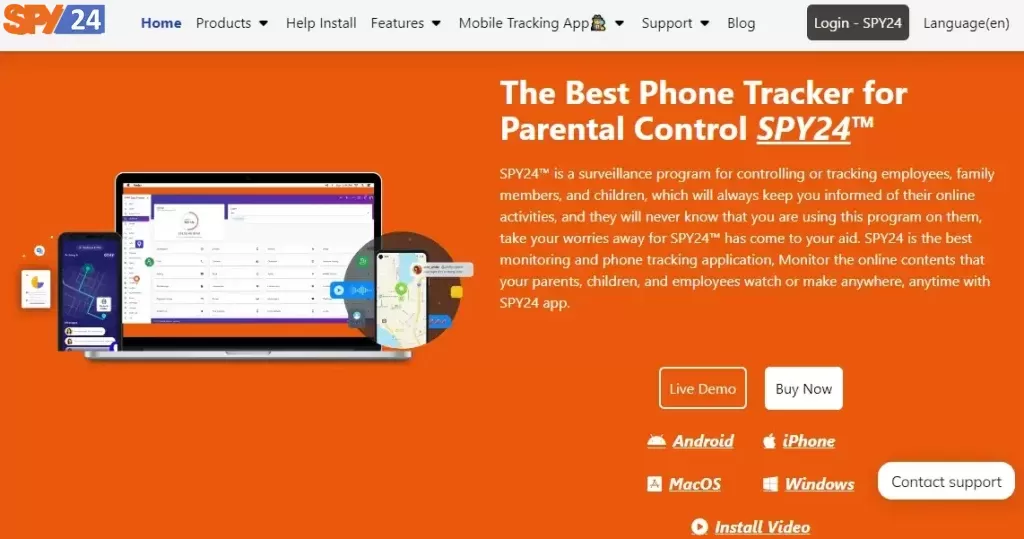 The SPY24 is available on Android, Windows, and MAC, while Family Orbit is only available on Android and iOS. Although the low prices of Family Orbit make your eyes sparkle, that would not give you as many options as SPY24. Some users say that the app does not send you notifications as they claim it would. 
The SPY24 is available in multiple languages, while the Family Orbit website is only available in English.
SPY24 of Features:
SPY24 App is a unique application that is available on Android, iPhone, Mac, and Windows. What makes this app apart from other parental monitoring apps is the various features this app offers to the customers.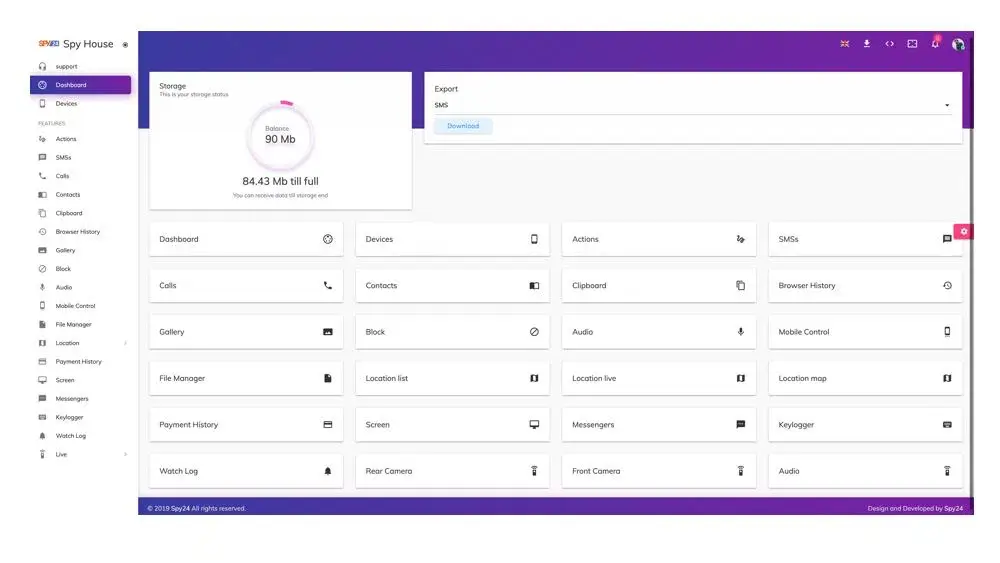 By SPY24, you will be able to track more than 20 social platforms, which would come in handy for parents who are worried about their teenager's safety on these platforms. 
location tracking of spy24 will show parents the current location of their teens on the map, and if their kids reach the specific location, the alarm will be sent to the sensitive parents. 
By installing SPY24, parents can monitor all incoming and outcoming calls, the length of their calls, and all contact lists on the targeted person's phone.
This is the most functional option for parents, which lets them block harmful apps and addictive games; they can install apps that improve their physical and mental health.
SPY24 provide you the accessibility to see all photos and videos on your phone so parents can inform them about online threats and cyberbullying by sharing private pictures. 
Web browsing and bookmark monitoring
Checking the websites children have been visiting is a great option that would help parents to protect their children against websites with inappropriate content that would have a negative effect on their health and also prevent them from involving in gambling websites.
SPY24 Cost
In the following table, you can see the various packages that SPY24 offers:
| | | |
| --- | --- | --- |
| Android Packages  | Windows Packages | MAC Packages |
| 1 month – $0  | 1 month – $25 for  | 1 month – $25 |
| 3 months  – $50 | 3 months – $46 | 3 months – $46 |
| 6 months – $76 | 6 months – $60 | 6 months – $60 |
| 12 months – $120 | 24 hours – $0 | 24 hours – $0 |
Conclusion:
Family Orbit is a great app in terms of not overpromising; The app has 7 days refund policy if the app does not work in the way the website has advertised. But if you are looking for more advanced tracking power, The SPY24 would be a great choice as it offers more features and more social media tracking, plus you can use it per month without any cost. You can also read our other articles, such as Best Parental Control Apps Android And iPhone.
FAQs
Is family orbit free?
The company offers 7 days of a free trial.
Is family orbit legit?
The family orbit app is designed to monitor children who are not mature enough to live in the digital world alone, and using it for this purpose is completely legal.
How do I cancel my Family Orbit subscription?
Log in to your panel, click on a subscription on the appeared page, click on subscription again, click on "X," and confirm it. It has been done! Your subscription is canceled.
How can I download Family Orbit?
You can download it on Android, Apple iOS, iCloud,  and iTunes.