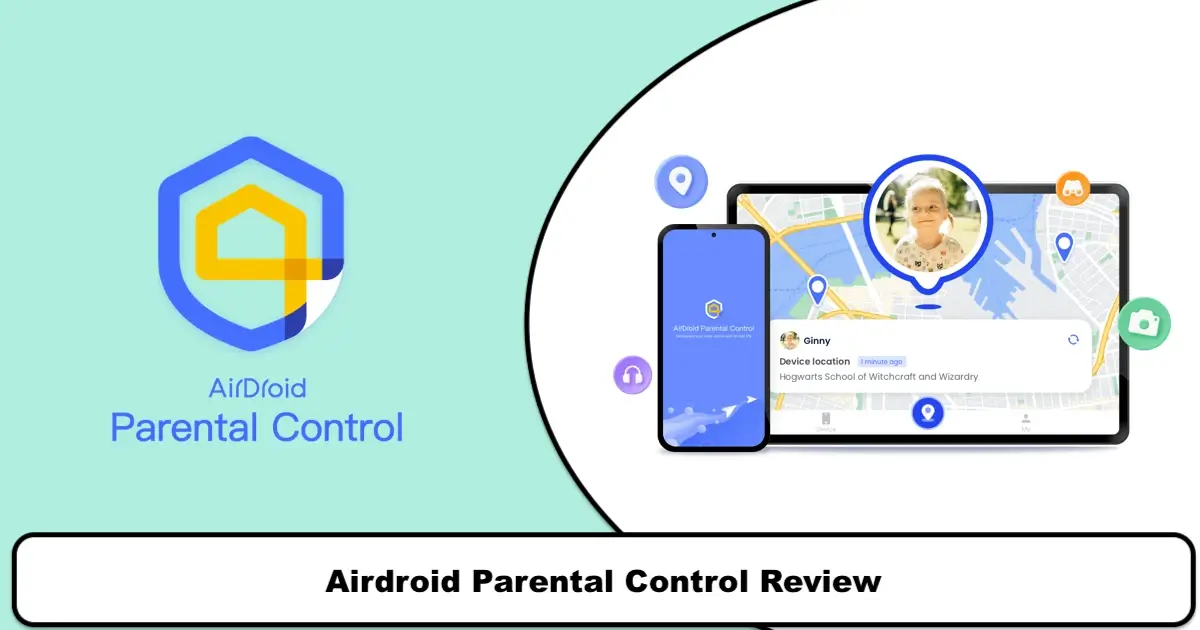 AirDroid is a popular remote access and administration solution for Android devices. It has file transmission, remote camera access, SMS management, and more. Below is a quick assessment of AirDroid based on its features, usability, and security.
"It began with a goal to alter the world using revolutionary technologies." Creator of the AirDroid app, Anson Xiong.
Managing storage space on a smartphone may be difficult, particularly when storage space is limited, and you must give up some of your valuable stuff. The solution is to use a tool like AirDroid that can assist you in simply managing and intelligently transferring data between the two devices.
Have you ever felt that your mobile phone space is full and you need a suitable application to transfer files and data from your phone to the computer in the shortest possible time? Or even need a powerful application to manage your mobile even remotely with a laptop or computer?
AirDroid application is one of the most powerful applications for transferring files, SMS management, screen mirroring, and file management between smartphone and computer wirelessly. As you know, there are many ways to transfer files between a computer or laptop and a smartphone. One of the easiest ways is to use a cable. But one of the problems that may exist in this method is that there is always no access to the data cable, or it takes time to transfer the file in this way.
But today, the use of screen mirroring programs has made it possible in the shortest possible time. The Airdroid application is one of the best and most popular applications for managing and transferring files and data on a smartphone and managing it even remotely. So don't waste time and read this review article till the end, and we, SPY24, will fully answer all your questions about the AirDroid app in this content.
| | |
| --- | --- |
| Android | Yes |
| iOS(iPhone/iPad) | Yes |
| Website:  | airdroid .com |
| Domain Age: | 2010-01-13 |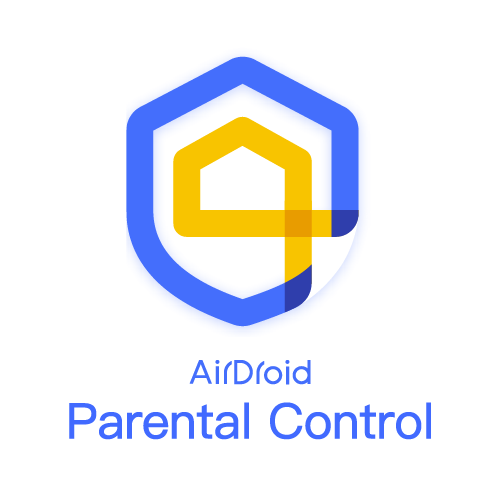 What is AirDroid Personal?
As mentioned in the above section, one of the problems that every person may have faced is managing the storage space in the mobile phone, which in some cases has been deleted due to the filling up of the mobile phone space with some valuable content. Therefore, it is always better to use a tool like AirDroid Personal that makes it easier for you to manage and transfer data between two devices intelligently. But what is AirDroid Personal?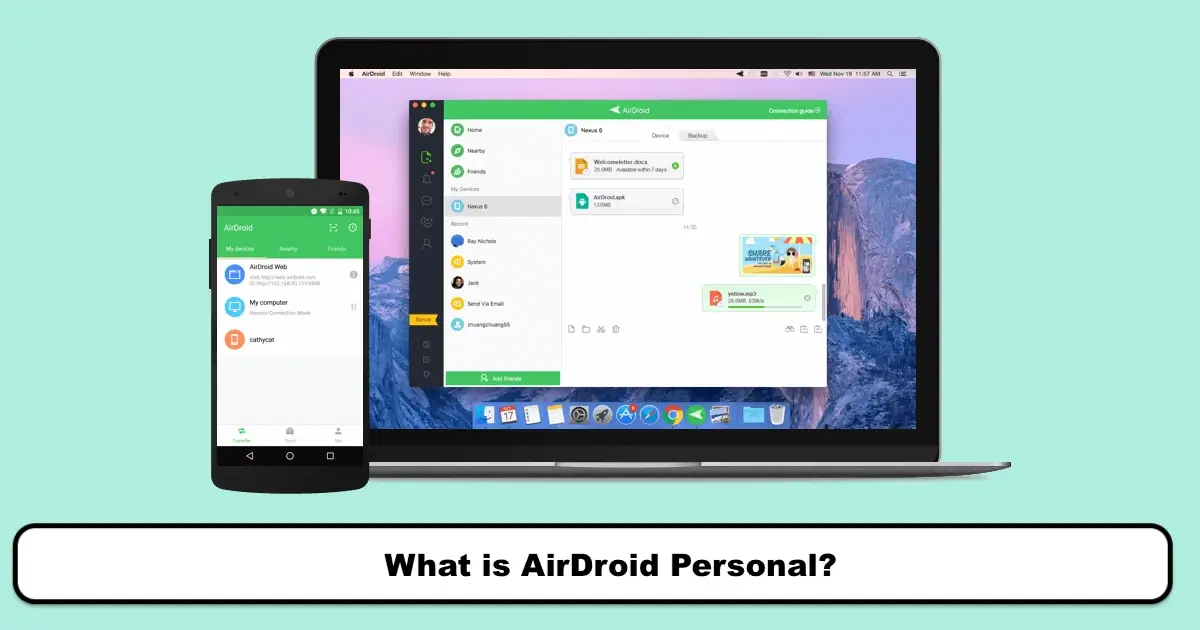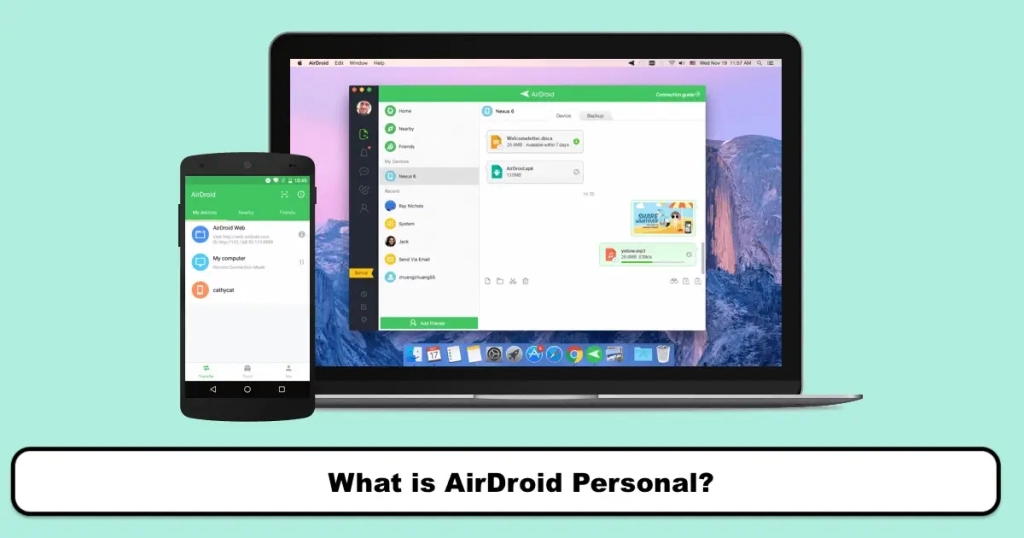 The AirDroid review will help us to use this popular application better. It can be said that the AirDroid Personal allows you to transfer files across platforms and even share files with friends and people nearby without using cloud storage. You can do this easily with high speed and security. According to the statements and opinions of many users who have used AirDroid, it has several practical tools. That one of them is the "AirDroid Personal Remote Phone," which allows you to remotely access files and data on your mobile phone with your computer, transfer files to multiple devices, and remote monitoring and manage notifications and SMS from a PC.  Also, for non-technical people, there is an interface where they can do their work without any problems.
Download and install AirDroid (Computer -Android – IOS)
Considering the excellent performance of the AirDroid application, it seems that every person needs a powerful tool like the AirDroid in his life and work.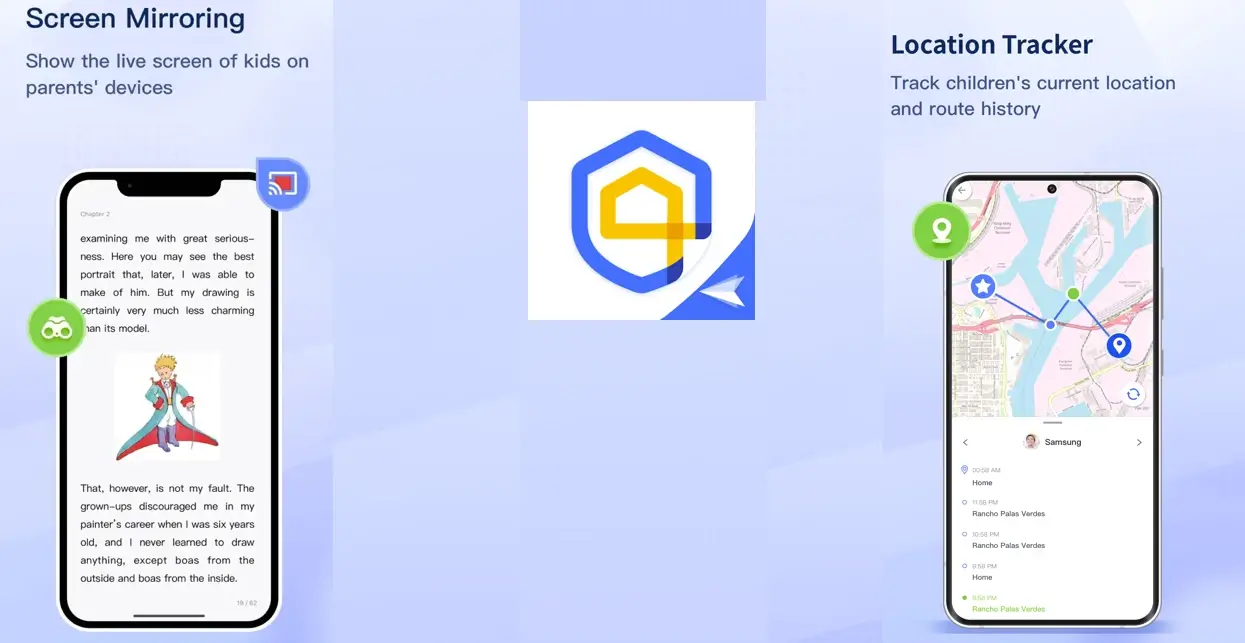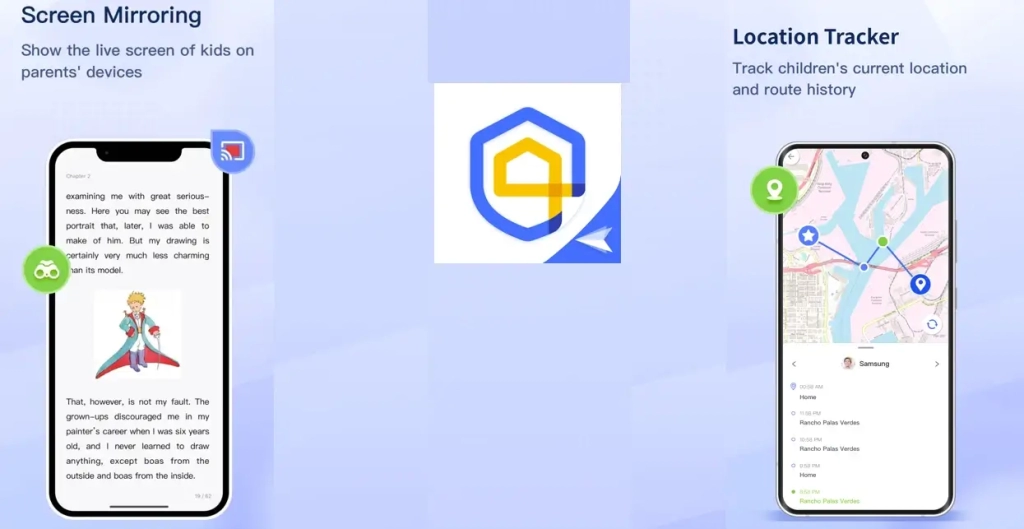 This application has a lot of functionality due to having various tools, which can be mentioned as follows:
Enhance personal productivity
Support Multiple System Screen Casting
Parental Control and Monitoring of Children's' Mobiles
Empower business continuity
Also, according to the AirDroid reviews, the AirDroid application has over more than 10 years of dedicated experience in managing Android devices, and this application has been downloaded more than 500 million times and counting. Most importantly, the AirDroid app has 4.3 stars out of over 600,000 reviews on Google Play.
Do not worry about downloading and installing the AirDroid application because this application is applicable for Android, iOS, Mac, and computer operating systems.
So what are you waiting for? You can download and install AirDroid (computer – Android – IOS) through the link below. Do not miss this unique application!
What is AirDroid Parental Control?
Airdroid Parental ControlAirdroid Parental Control can help protect your child in both the physical and online worlds, as well as help them develop healthy digital habits. Location Tracker: You can track your child's real-time location and view the places they have been through a timeline. Geofencing: Set geofence boundaries and receive notifications when your child enters or leaves specific zones.
Using AirDroid Parental Control, parents may restrict their children's device use, monitor their whereabouts, and prevent them from accessing inappropriate content. Parents may monitor their kids' online activity, block problematic information with personalized filters, and be notified when their kids try to access restricted content.
The AirDroid software, which works with both Android and iOS smartphones, offers the capability as a paid service. It is intuitive and flexible, enabling parents to set it up to meet their kids' individual needs and preferences.
AirDroid of Features:
So far, we have understood what the AirDroid application is and how users can use it. In this section, we want to overview the features of the AirDroid application to better understand this widely used application and make the AirDroid review more accurate. AirDroid application features are as follows: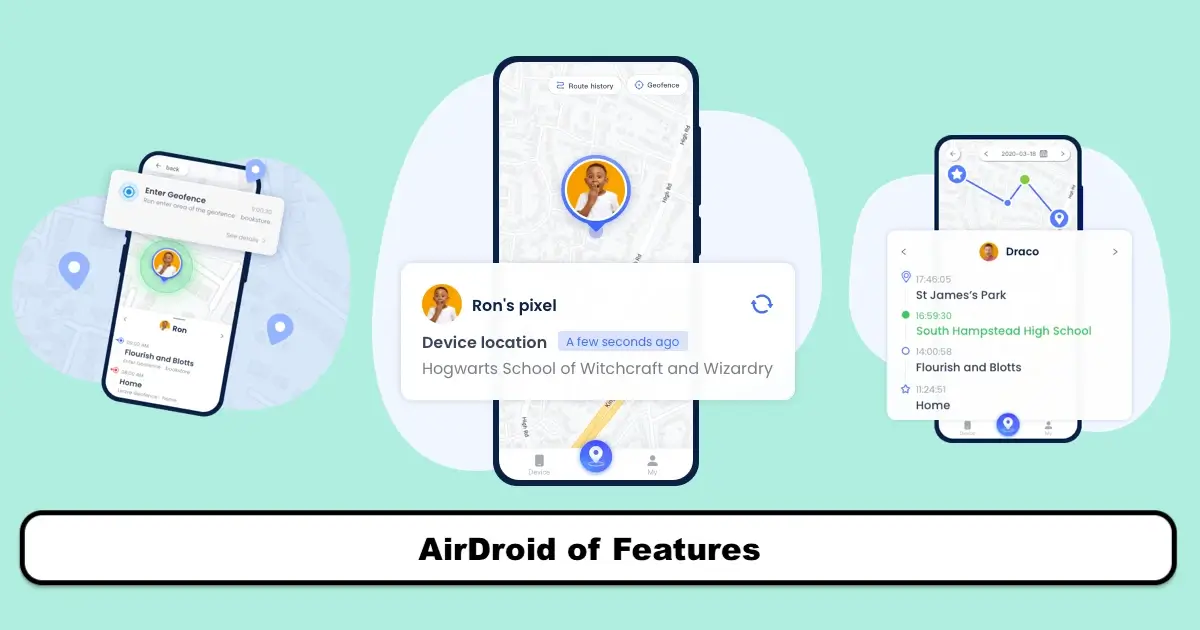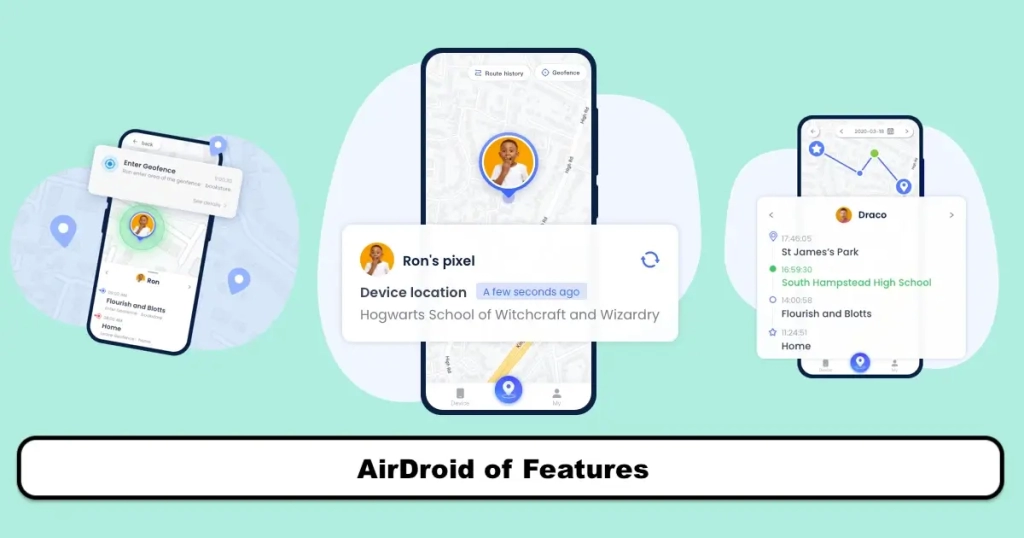 One of the essential needs it fulfills is its ability to allow you to transfer data from one device to another wirelessly. With the aid of AirDroid File Transfer, you can transfer data between smartphone and laptop, smartphone to smartphone, Android to iOS, or vice versa, etc. You can send files to people who are far away. The AirDroid web app's wireless transfer feature allows you to transfer data in bulk with ease.
It's easy to connect tablets or smartphones to your desktop or laptop using the AirDroid web app on whichever browser you choose. After connecting the device, you can access device data, including pictures, videos, messages, contacts, etc. You can also remotely open your phone's camera to use it as a webcam.
Reply to SMS or Read Messages on PC
As mentioned before, the AirDroid screen mirroring app allows you to access SMS and call logs from your computer. However, you can also get back to the sender of the message from your computer itself without even touching your phone. For multitasking, the AirDroid screen mirroring app is a top tool.
Turn your phone's camera into a web camera.
Once connected, you can turn your smartphone's camera into a perfect webcam that can also capture surrounding sound. To connect to AirDroid cast for the first time, you must accept AirDroid permissions like camera access and microphone access for this feature to work. Note that you must have a premium account to use this feature.
Track phones if you lose them
The AirDroid file transfer app lets you find your connected device using its GPS location. Not only that, but you also have the option to wipe your data completely or remotely lock the device to ensure that your phone is not misused by using one of the best phone apps.
Wireless data and file transfer
Notifications and SMS Management
As mentioned in the previous sections, wireless data and file transfer and remote control are among the main and important features of the AirDroid application. This feature of the AirDroid application has solved one of the most basic needs of users.
Even the wireless transfer feature of the AirDroid web app allows you to transfer your bulk files and data easily. This tool transfers files between devices faster. Another interesting feature of this application is that you can remotely open the phone's camera to use it as a webcam. Using the remote monitoring tool in AirDroid, you can easily keep an eye on the activities of your baby or pet at home or your employees at work, and it's amazing!
Common Use Cases
You may have noticed the common use cases of this application from the features and explanations we gave in the AirDroid review. As mentioned, one of the most common uses of this application is to transfer files from smart devices to laptops and Windows and vice versa. Among other common cases of using this popular application is to reply to texts or read messages on the computer that lets you access your texts and call logs from your computer.
Another feature of the AirDroid that has been used a lot is that by using the AirMirror app, you can easily log into your mobile phone and play your favorite game, take notes, and browse media files. Even for people who cannot use smartphones easily, you can access their phones remotely with the AirMirror app and help them use smartphones. Another common use case of AirDroid is the Screen Mirroring feature, which allows you to mirror your smart device on a computer screen. This feature helps you to easily transfer your programs and data from the phone screen to the larger screen of the laptop or computer.
Getting Started AirDroid
In this AirDroid review content, we got to know the unique and interesting capabilities and features of this application. Now it's time to download AirDroid as soon as possible and take advantage of its great features and abilities.
Getting started by downloading the app, which we put the download link in the previous sections
In the second step, you need to create a personal account in the AirDroid application. In fact, by creating a personal account in this application, you can use all its features easily.
In the third step, you can add your smart device. 
Please note that if you want to use this application for free, you can only add 1 smart device (iOS or Android). But if you are among the premium users, you can add 3 devices to this application for free. If you are among the users who need to add more smart devices to the application, you can use this feature by paying a fee. But if you have more than 10 smart devices that need to be managed, you are recommended to use AirDroid Business.
Well, your work is done, and enjoy the features of the AirDroid application.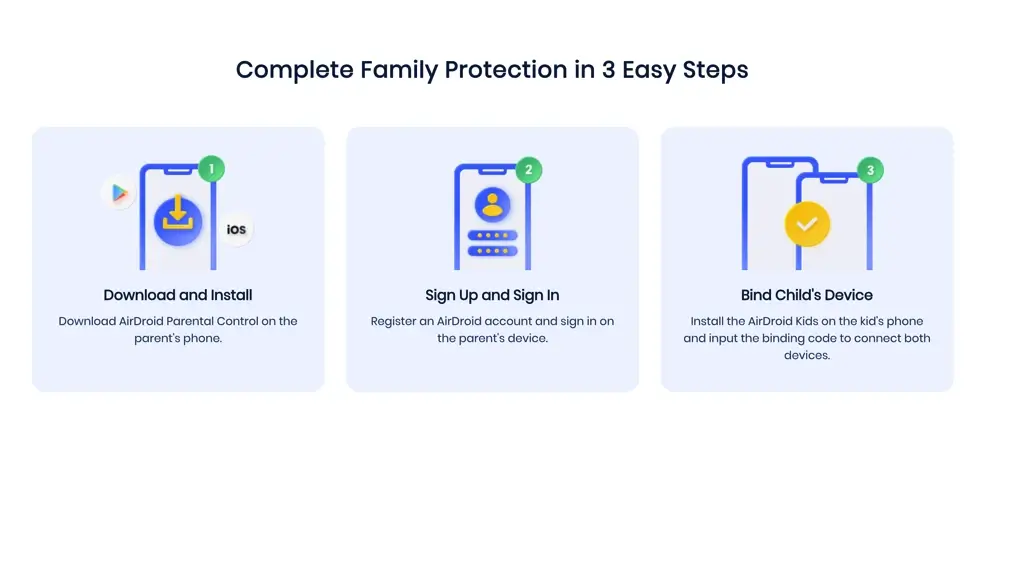 Exploring the AirDroid Cast Interface
AirDroid Cast is a powerful but simple way to mirror and control screens. By exploring the AirDroid Cast interface, you can easily cast your smart device's screen to your PC, Windows or Mac wirelessly or using a USB cable. In general, using the AirDroid Cast interface on both a smartphone and a computer is a simple task, which is one of the most desirable features of the application. AirDroid Cast allows you to share your device's screen with Wi-Fi or USB connection whenever you need.
It should be noted that to use features such as remote control, SMS notification, and remote camera under remote connection; you need to enable remote permissions through the AirDroid personal app Android > Me > Security & Remote Features.
AirDroid Cast in Action
In this section, we explain about AirDroid Cast in Action. So, join Spy24 in this AirDroid review to enjoy the AirDroid Cast feature.
Download and install AirDroid Cast.
At this stage, you only need to install AirDroid Cast on your mobile phone and Windows and connect it to a Wi-Fi network.
Initiate a Cast request on your smartphone.
To connect two devices and start sending data requests between the two devices, you need to enter the Cast code shared on the computer in your mobile phone.
Accept the request to send on the computer
Activate the permission to send files and data on your mobile phone
At this stage,  a casting permission page and a window will appear on your mobile phone. By tapping the ENABLE and Start Now buttons, you can activate the sending permission.
The final step
After two devices are connected, the mirroring process starts immediately. In this way, AirDroid Cast works on your phone and computer through the same Wi-Fi network. In this way, you can display your phone screen on the computer.
AirDroid App Pricing:
The AirDroid application is one of the programs that offer both free and non-free plans. The difference between these two paid and free versions relate to the number of devices that the user needs to connect to the application. In the paid version of the AirDroid application, you can pay both monthly and annually and use the useful features of AirDroid.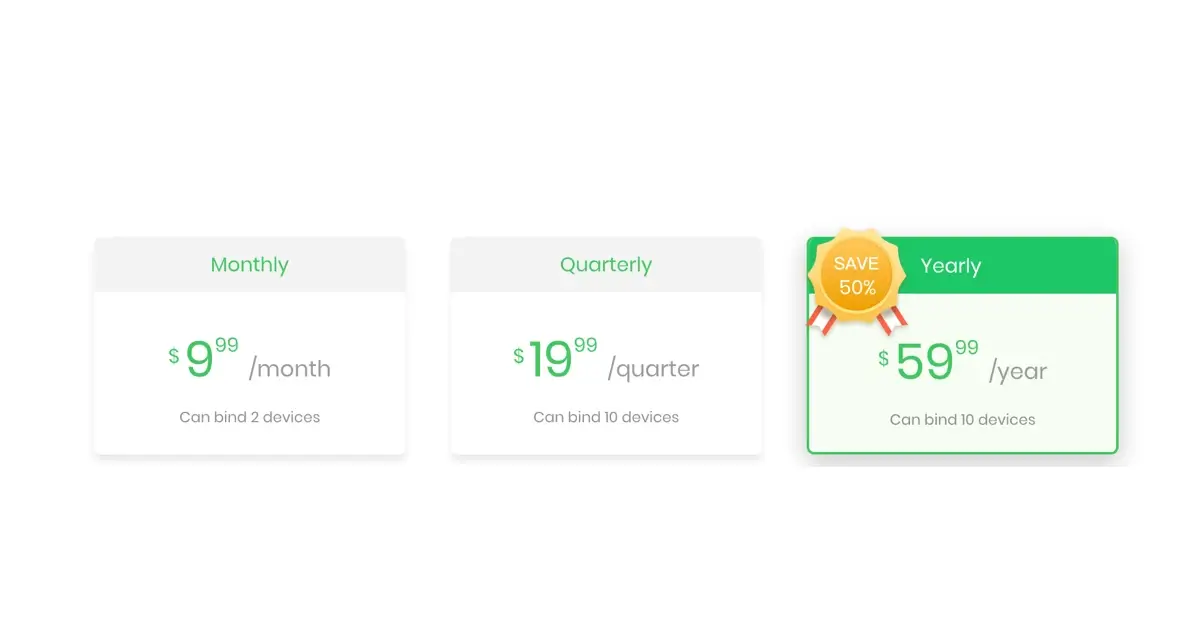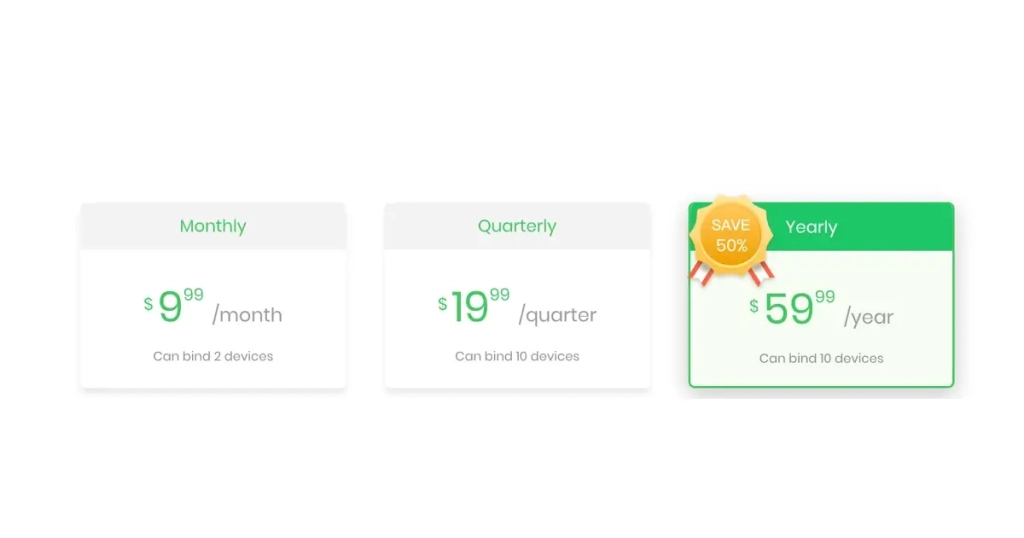 As mentioned in the previous sections, you can connect only one device to the application in the free version, but in the paid version, 3 devices can connect to the AirDroid application along with other features and functions, such as airplay service, remote casting, control android, and ios devices, etc. Prices range from approximately $1.60 to $29.99 in monthly and yearly paid versions. Visit the AirDroid website for more information on app pricing.
Pros and cons of the AirDroid app
Before we get to the end of the content related to the AirDroid review, it is better to talk about the pros and cons of the AirDroid app. Every application has advantages and disadvantages, and AirDroid, although it is a very useful and practical application, has its advantages and disadvantages. So, Checking the advantages and disadvantages of the AirDroid application will help you get to know this application better and more.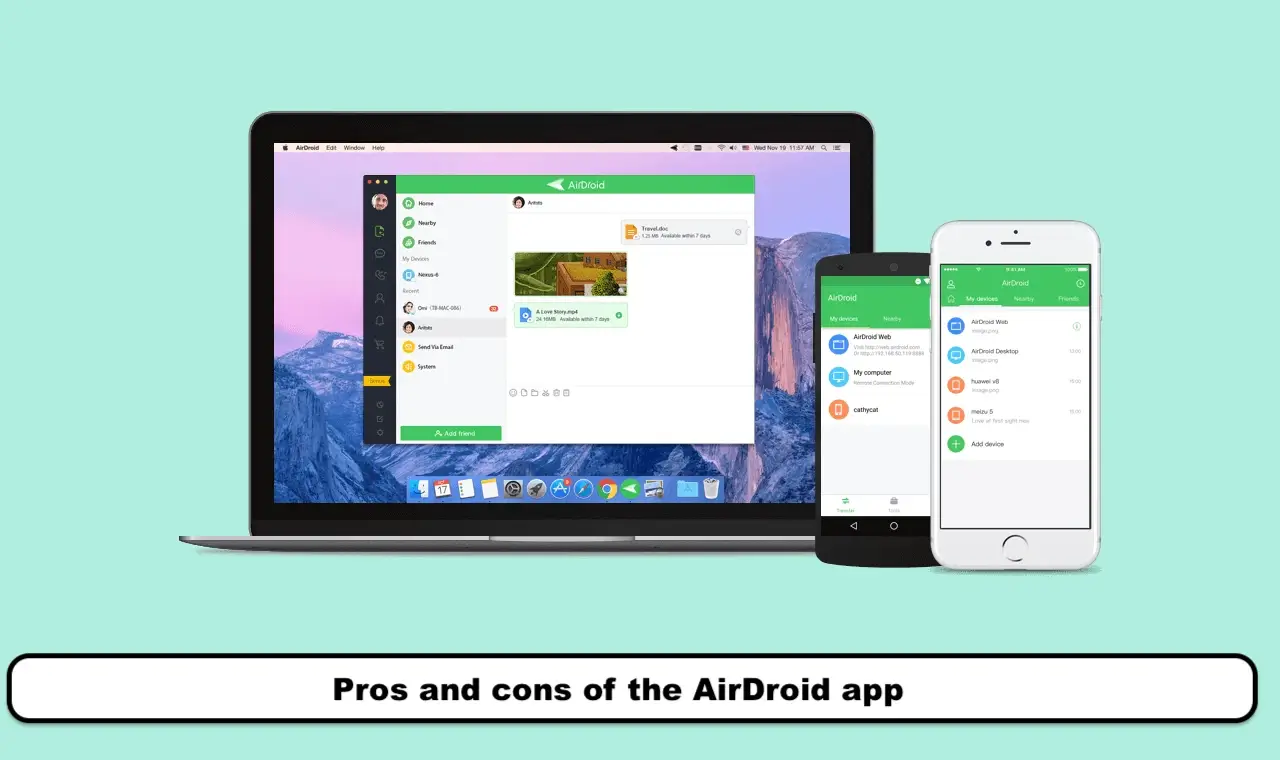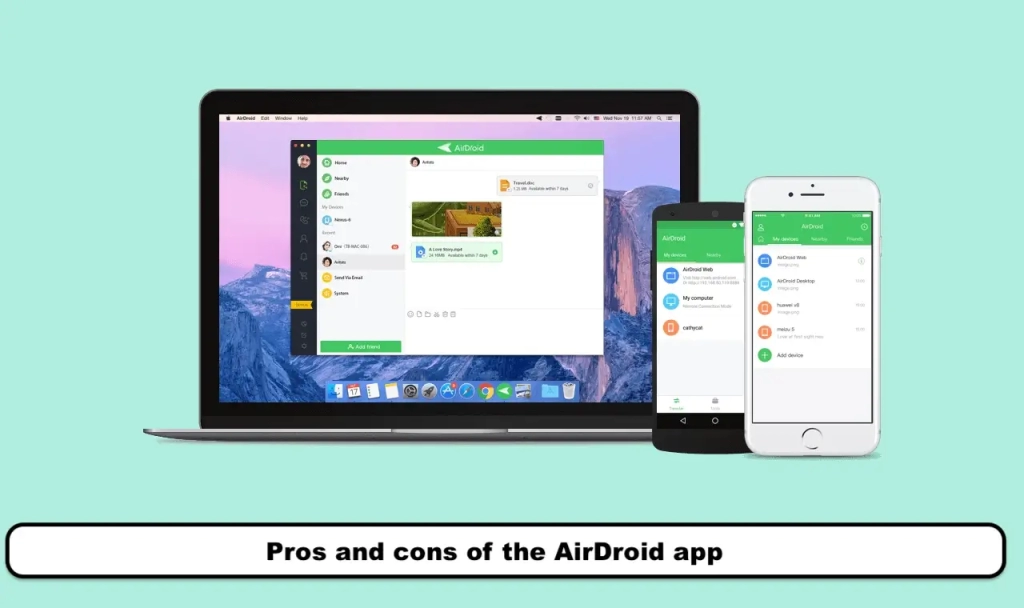 Pros of AirDroid application:
User-friendly environment
Very simple and easy user interface
Fast connection without delay
Having a program for Windows and web
Requires one-time registration
Secure encryption to protect connected devices
Manage various documents and files on the smartphone, including photos, videos, audio, camera, etc
Cons of the AirDroid app:
There are many restrictions on sending documents in AirDroid over the network
It is impossible to access your smartphone camera via the AirDroid web. To get it, you need to find the premium paid version.
Some features require a premium subscription.
Is AirDroid Safe?
You can reduce your worries because the AirDroid app is entirely safe. Keeping your data safe and guarded is one of the AirDroid security team's top priorities, and they have taken many steps to achieve this service. All your data transfers are over an HTTPS connection, and nothing is saved in their database.
Tips for Using AirDroid Safely
Safety is a two-way street. It depends not only on the application's security but also on how careful you are when using it. You can follow these tips to secure your data when using AirDroid.
Authorized users must sign in.
Use two-factor authentication
Don't leave your device around
Final Thoughts
In the AirDroid review, we fully discussed the features and capabilities of this application. The AirDroid application is one of the programs that many users have used due to its ease of use and unique features. If you are also looking for an application that can easily and in the shortest possible time transfer files and data from your mobile phone to your laptop or computer and share it with others even remotely, the AirDroid application is the best option. The AirDroid application has been able to solve one of the most basic needs of users that were mentioned in different sections of the AirDroid review. In fact, this is the reason why it has been able to get many points and positive comments from users.
The SPY24 expert team is trying to introduce the best and most up-to-date information and applications to its specific audience by reviewing and explaining various programs and applications. So, stay with SPY24 to get the most up-to-date information about various applications. We hope you find this article in SPY24 useful! You can also read our other articles, such as Best Parental Control Apps Android And iPhone.
FAQs of AirDroid
---
What is the AirDroid app?
AirDroid is one of the best personal mobile device management apps. Based on 10 years of continuous development, the ability to transfer and manage files, screen mirroring, remote control, and receive SMS notifications directly from your smartphone to your computer, laptop, or Windows.
How many devices can I log in to AirDroid at the same time?
It depends on whether you are using the free version or the paid version of the AirDroid app. With the free version, you can only log in to 1 device, but using the paid version (annual and monthly), you can log in to up to 3 devices with the same account at the same time.
Can we use AirDroid without an account?
Yes. You can use the application without creating an account. But in this case, you cannot use all the features of this application. For this, you can use Lite Mode or QR code.
Is AirDroid Free Secure?
Yes, even the free version of AirDroid is completely safe and secure and offers encryption features. With other versions of AirDroid, like the AirDroid Business version, you also get further security controls such as 2-factor authentication, restricted access for remote control, etc. But even without these features, your data is secure with AirDroid.
Is AirDroid completely free?
When conducting a remote session with a free version of AirDroid Personal, there's a limited monthly data usage of 200MB. When you upgrade to a Premium membership, you have unlimited remote data usage when you use amazing features like File Transfer and Management, Remote Control, Screen Mirroring, and more.
Does AirDroid Contain Malware?
No, AirDroid does not contain any malware or virus that can damage your phone or PC and make it vulnerable to third-party attacks. You can scan the app with anti-virus software before you use it to check.
Is AirDroid hidden?
AirDroid Kids goes on your child's Android smartphone. This app can also be hidden away if you don't want your kid to poke around. Then, AirDroid Parental Control is available for both iOS and Android and goes on the parent's phone. This is a paid app and will cost you $9.99/month, $19.99/quarter, or $59.99/year.
Can AirDroid work without Wi-Fi?
To Screen Mirror Android/iPhone/Tablet to PC without Wi-Fi, you can use the AirDroid Cast app. It is screen mirroring software that allows you to share your device screen with a computer.