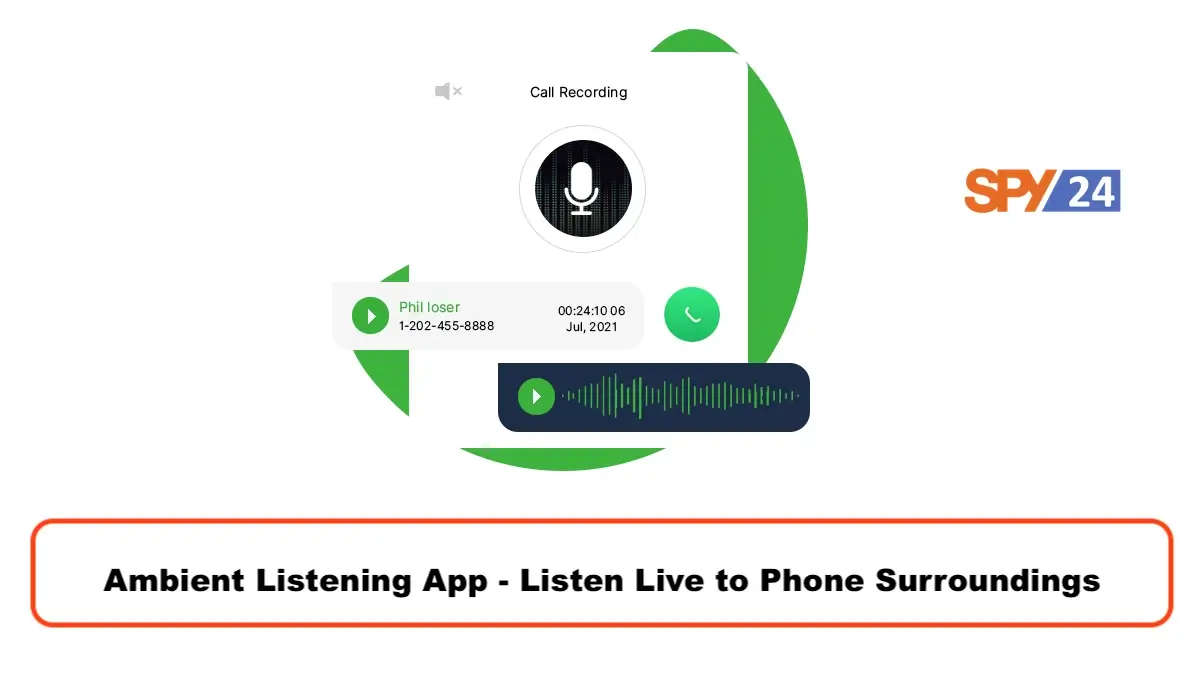 If you want to monitor your partner or child's surroundings, an ambient recording spy app could be the answer. By allowing you to eavesdrop on conversations remotely, these apps can help you stay informed about what's going on in your loved ones' lives.
But with so many spy apps on the market, choosing the best one for your needs can be challenging. That's why we've tested and compiled a list of the 14 best surround recording spy apps available. In this article, we'll share our findings with you, so you can decide which spy app is right for you.
Short List of the 14 Best Surround Recording Spy Apps for Ambient Listening
Why Do you Need to Surround Recording Spy Apps?
Parental Control
As a parent, keeping track of your child's behavior when they are away from home can be challenging. Giving them a smartphone for emergencies is necessary, but what about their activities in school? It's not okay for children to skip classes, play games during class, or be bullied. Sometimes, children hide these things from their parents. There are apps like SPY24 that can help parents secretly record what's happening around their child's phone to detect if there's any inappropriate behavior.
Workplace Surveillance
Monitoring employee behavior is crucial for managers and employers to ensure their company's smooth functioning and reputation. However, it can be a challenging task to identify disloyal employees who leave no clues behind. Fortunately, surround-recording spy apps can help managers and employers by capturing evidence of misbehavior. These apps can record the sound around company-provided smartphones, enabling managers to catch inappropriate behavior and take timely action to prevent any harm to the company's reputation.
Top Features to Consider When Choosing Spy Apps for Surround Recording
Ambient Voice Recording:

The app should be able to record surrounding voices to listen to later.

Live Listening:

The app should allow you to listen to ambient sounds in real-time remotely and discreetly.

Scheduled Voice Recordings:

You should be able to schedule voice recordings for a later date and time, so you don't have to monitor the app continuously.

High-Quality Audio:

The audio quality should be clear, and the Recording should be free of any distortion to ensure you have helpful and accurate information.

Downloadable Audio Recordings: The app should let you download ambient audio recordings for later use.
1. SPY24: The Best App for Secret Surround Recording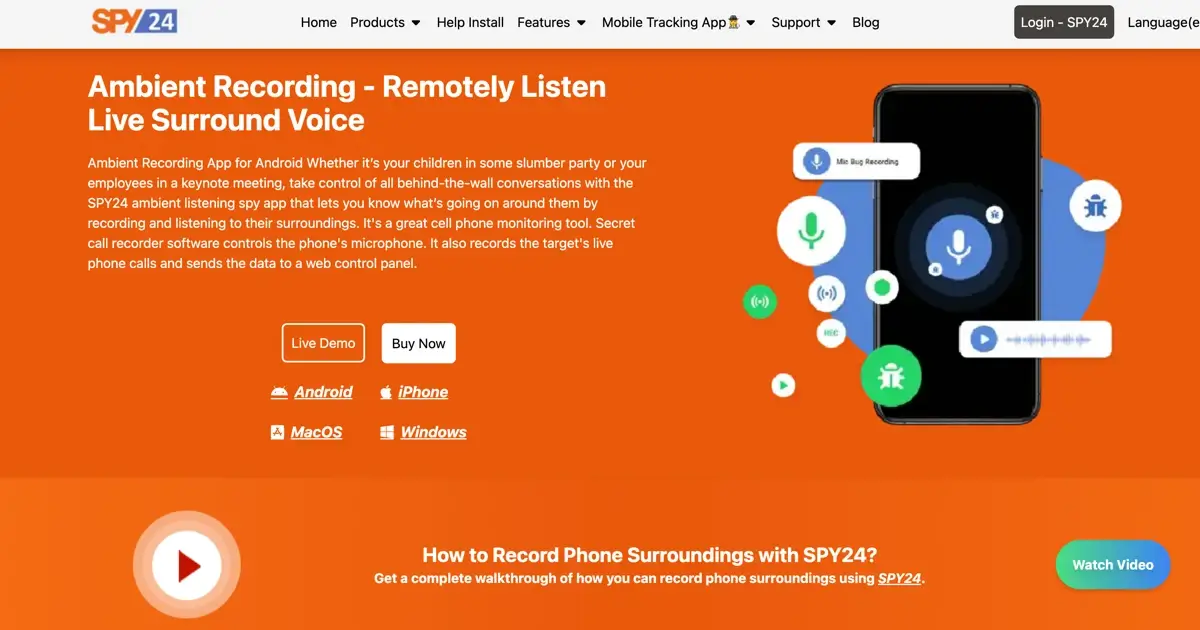 Suppose you want to record surrounding sounds or listen to confidential conversations without noticing. In that case, SPY24 is the perfect solution for you! With its Ambient Voice Recording and Listening features, you can record live conversations and voices in stealth mode.
SPY24 lets you record all nearby sounds and save them for later use. You can also monitor live audio in real-time with the live Recording and listening feature. The remote access function allows you to set recording times automatically. You can check the date and time of each Recording to maintain complete control over your spying activities.
SPY24's hidden voice recorder captures high-quality audio without any disturbances, making it the ideal tool for recording confidential conversations. And the app is undetectable, so you can listen to phone conversations and surroundings without any fear or hassle.
Features of SPY24 for Secret Surrounding Recording:
Ambient Voice Recording and Ambient Listening features for recording live conversations and voices

Records the voice around the device remotely without the user's notice

Provides high-quality audio recordings with no disturbances

Allows you to access phone surroundings online remotely

Offers live surrounding monitoring feature for real-time audio capture

Provides remote access function for setting automatic recording times

Allows you to check the date and time of each Recording

Saves recordings for later use 
Compatibility:
Android,iPhone,iPad, MacOS, and Windows
SPY24 Pricing Options
| | | |
| --- | --- | --- |
| Android Packages  | Windows Packages | MAC Packages |
| 1 month – $0  | 1 month – $25 for  | 1 month – $25 |
| 3 months  – $50 | 3 months – $46 | 3 months – $46 |
| 6 months – $76 | 6 months – $60 | 6 months – $60 |
| 12 months – $120 | 24 hours – $0 | 24 hours – $0 |
Get Started with Secret Surround Recording: Install SPY24
Subscribe to SPY24 mobile monitoring subscription plan

Choose a payment option that meets your needs

Download and install SPY24 by following the emailed instructions step by step.

Easily install the app on your desired device.

Set up the app by logging into your SPY24 dashboard with provided account information.

Get started with SPY24 in just a few minutes.
2. TheOneSpy – Surround Recording Spy App

TheOneSpy's Spy360 Live Surround Listening is their most sought-after feature, allowing users to monitor the live surroundings of a targeted cell phone. This hidden microphone app enables users to remotely activate the Android Microphone and gain real-time insight into what is happening in the target device's surroundings with precision and efficiency. With Spy360, users can stay informed about the actual events occurring around the cell phone device.
Features of Spy360 Live Surround Listening:
Real-time monitoring of targeted cell phone surroundings

Remote activation of Android microphone for listening

Accurate and efficient listening to sounds and conversations

Discreet monitoring with hidden microphone app

No rooting is required for Android phone

No SMS commands or push notifications needed
Compatibility:
Android and iOS devices
TheOneSpy Pricing
TOS XLite Edition is available for $25 per month.

TOS Premium Edition is available for $43 per month.
How to Listen to Target Phone Surroundings Remotely with TheOneSpy App?
Once you have installed the TheOneSpy app, you need an activation key to monitor the target phone's surroundings. After subscribing to the app, this activation key will be sent to your email. The entire process is simple and user-friendly, allowing you to listen to the surrounding sounds of the target phone easily. As an end-user, you can activate the phone's Microphone remotely to eavesdrop on the surroundings whenever necessary.
Is Record Surrounding Possible on Non-Rooted Android Phones?
It is completely feasible to record surrounding sounds on any Android device, regardless of whether it is rooted or not.
3. Ogymogy – Ambient Listening App

OgyMogy stands out as a top-notch app for tracking microphones. It possesses remarkable stealth capabilities and can eavesdrop on a phone's environment without physical access. The app can hijack the Microphone of any other Android device and record any audible activity in the surroundings, including conversations and other background noise. The recorded data can then be accessed through an online dashboard for playback.
Ogymogy's Powerful Monitoring Features:
Monitor and record your teenager's conversations remotely to prevent bullying and ensure their safety.

Remotely control any Android phone without root access

Record live verbal communication in the phone's surroundings

Listen to hidden chats, discussions, sounds, and voices secretly

Keep track of what your children are discussing with their peers

Track your child's hidden whereabouts by listening to their surroundings

Protect your children from predators, cyberbullying, and blind dating

Listen to your employee's secret chats to prevent damage to your business reputation.

Take over another phone's Microphone without needing physical access to the device.
Compatibility
Android , MacOS, and Windows
Ogymogy's Pricing
Android Basic:

Non-rooted Features for $43/month (physical access required for installation)

Android Extreme:

All Features without root for $125/12 months (physical access required for installation)

Android Standard:

All Features with the no-root option for $105/6 months (physical access required for installation)
Steps to Start Monitoring with Ogymogy
Choose Your Preferred Pricing Plan and Package

Download and Install the App in Seconds

Begin Tracking Your Target Device
4. XNSPY – Call Recording Software

XNSPY is an advanced app that lets you remotely record your children's or employees' phone surroundings. All you need is a one-time installation of the app. With XNSPY, you can easily listen to the surroundings of an Android phone or tablet and receive remote commands to record the surroundings as required. Additionally, you can view the date and time stamps for each Recording, giving you complete control over the monitoring process. 
 Features of XNSPY Surround Recording
XNSPY allows remote access to Microphone on Android and iOS devices for ambient listening.

The app works flawlessly with a remote command to the monitored device, including the duration for Recording.

XNSPY is compatible with the latest Android smartphones and tablets, including Android 11.

The app can record surroundings on all jailbroken iOS devices.

XNSPY offers crystal-clear spy ambient voice recording for clear and lucid voice recordings of conversations.
Compatibility 
Android and iOS devices
XNSPY Pricing
Yearly Extreme: $7.50 per month

Quarterly Extreme: $20.00 per month

Monthly Extreme: $35.99 per month
How to Install XNSPY on Android and iPhone Devices
To install XNSPY on an Android phone, you will need physical access to the target device. Some features may require the phone to be rooted. Also, note that XNSPY features that work with rooted Android devices may take a few days to become available on new Android releases.
To install XNSPY on an iPhone, you need to physically access the device and connect it to a computer via iTunes during installation. Both the monitored iPhone and the computer must be connected to the same Wi-Fi network for the service to work correctly.

uMobix offers a powerful tool for parental control, allowing you to remotely activate your child's phone microphone and listen to their surroundings in real time. This feature is specifically designed for parents who want to keep track of their children's activities and ensure their safety when they are outside. The audio stream feature lets you listen to everything happening around your child using the phone speaker
Using uMobix, you can always stay informed about your child's surroundings, regardless of location. This feature is particularly helpful in ensuring that your child is not being bullied or mistreated by others at school. By activating this feature, you can hear what your child is up to in real-time and have peace of mind knowing they are safe.
Features of uMobix's Parental Control App:
Remote activation of cell phone microphone to listen to phone surroundings.

A powerful tool for effective parental control to ensure the safety of children.

Audio stream feature to hear everything happening around the child in real-time.

Accessible from anywhere, providing parents with peace of mind.

It helps detect any threat or bullying that a child may face.

Operates in stealth mode to maintain the child's privacy.

Uses the phone speaker to transmit audio.

Provides real-time access to your child's surroundings.

Enables parents to listen to conversations from a distance.

Helps ensure that children are not being offended by others at school.
Compatibility:
Android devices
uMobix Pricing Options:
The premium package can be purchased for one month, three months, or twelve months.

The cost for a single month is $49.99.

The cost for three months is $27.99/month (totaling $83.97).

The cost for twelve months is $11.66/month (totaling $139.92).
How Does uMobix's Audio Streaming Work?
To activate a cell phone microphone remotely using uMobix, you need to install the uMobix parental control app on your child's device. 
This app allows you to monitor your child's phone activities, including their audio surroundings. Once you've installed the app, you can access the uMobix dashboard to view your child's phone logs and turn on the audio stream tab to listen to their surroundings in real time. This feature can help you detect potential threats or bullying your child may face. It's important to understand that you cannot save the Recording for later use when using this feature. However, being able to listen in real-time can provide you with valuable information to help keep your child safe.
6. Flexispy – Ambient Listening Spy App

FlexiSPY offers an innovative feature called Ambient Recording, which enables discreet Recording of a phone's surroundings that can be listened to later. This feature allows users to either start recording on-demand or set specific times for Recording. The audio files are automatically uploaded to the online user portal for convenient listening.
What You Can Do With flexispy's Ambient Recording Feature
Ambient Recording allows you to remotely activate the target device's Microphone and record the surrounding audio without requiring physical access to the device. With this ambient recording app, users can:
Save the ambient Recording for later listening

Stay completely undetected at all times

Create scheduled Ambient Recordings for even greater flexibility and convenience.
Compatibility 
Android and iOS device
FlexiSPY Pricing Options:
EXTREME: At $119, EXTREME is a premium plan designed for the most demanding detectives. It offers monitoring and Recording of all audio streams and other advanced discovery tools.
1-month subscription: $119
3-month subscription: $239
12-month subscription: $419
How FlexiSPY Works:
FlexiSPY is a user-friendly monitoring software that's easy to set up and use. Here's how it works in five simple steps:
Purchase a FlexiSPY license for the phone you want to monitor.

Install and activate the license on the target phone.

All calls, SMS messages, contacts, and call data are captured and recorded.

The recorded data is uploaded to your secure FlexiSPY account.

You can access all the captured data round-the-clock via any computer using your secure FlexiSPY account.
7. ClevGuard – Free Surround Recording App

ClevGuard is a top-notch app for secret surround recording. It offers personalized plans that top publications for their capabilities have recognized. The surround recording feature is available on both Android and iOS versions. However, the app is divided based on social media and instant messengers, which means that extra payment is required if you want to monitor WhatsApp activity and need surround recording.
The app works discreetly in the background without indicating any activity tracking or logging to the user of the device, making it an excellent stealth surround recording application.
Features of Clevguard:
Personalized plans

Available for Android and iOS

It has a surround recording feature

Bifurcation of app versions based on social media and instant messengers

Stealth mode for background activity tracking
Compatibility 
Android and iOS devices. 
Clevguard Pricing Options
KidsGuard Pro for iOS costs $34.99 per month.

KidsGuard Pro for Android costs $27.99 per month.

KidsGuard Pro for iCloud costs $27.99 per month.

KidsGuard for WhatsApp Monitoring costs $16.99 per month.
How to Use KidsGuard Pro to Listen to Surrounding Live
Step 1: Select a suitable plan and create a KidsGuard Pro account with your email address.
Step 2: Log in to your account after completing the registration process.
Step 3: Access the target phone and visit the download page via a web browser to download the KidsGuard Pro app.
Step 4: Install the app by tapping on the downloaded apk file and following the instructions displayed on the screen.
Step 5: Return to your device, log in to KidsGuard Pro's Dashboard, and select the option to record surroundings.
To clarify, recording the surrounding sounds while the target individual is on a phone call is impossible, so you will need to listen to and record the call instead; this can help you gain insight into who the person is communicating with and what they are discussing.
8. mLite – Surround Recording Microphone

mLite is a monitoring app that was developed by the well-known brand mSpy. It allows you to listen to the surroundings of a mobile device in real time and save the recordings. The app offers several features, including a bullying prevention tool to protect your child from being bullied.
You can also track the live location of your kids and get instant alerts if anything happens. The app provides good voice quality and can record up to 5 phones, with the option to save the recordings in the cloud.
mLite ensures complete privacy and is compatible with all Android devices. It also has worldwide coverage, making it a reliable option for monitoring your child's phone activity.
Features of mLite:
Listen to the surroundings of a mobile device in real-time and save recordings.

Prevent your child from being bullied with the bullying prevention feature.

See the live location of your kids with the location tracking feature.

Get instant alerts if anything happens with the alert feature.

Record up to 5 phones with the smartphone icon.

Save recordings to the cloud with the save in cloud icon.

Ensure complete privacy with the guard icon.

Compatible with all Android devices with the Android logo icon.

Provides worldwide coverage with the earth icon.
Compatibility 
 Android devices
mLitePricing Options
1-Day Trial: $0.99
1 Month: $19.99 per month
12 Months: $8.3 per month
Using the Microphone with mLite
To use the microphone feature in mLite, follow these simple steps:
Step 1: Download mLite onto the child's device.
Step 2: Select the child's profile and grant the necessary permissions.
Step 3: Input the code on your child's phone and start listening in real time. With mLite, you can easily and discreetly monitor your child's surroundings and ensure their safety.

Mobistealth is a monitoring app that offers a feature called "Surround Recordings." With this feature, you can bug any environment by recording the sounds in the target cell phone's surroundings. This feature is only available for Android devices. Once you activate the Surround Recordings feature, you can listen to the recorded sounds at your convenience from anywhere and at any time.
Compatibility 
 Android devices
Mobistealth Pricing Options
Monthly Plan Price: $69.99 per month

3-Month Plan Price: $99.99

12-Month Plan Price: $179.99
MobiStealth: A Brief Guide on How it Works
Sign-up for MobiStealth Service by choosing the pricing plan that meets your needs.
Connect with the Target Device by installing the MobiStealth app on the Android/PC device. The installation process takes a few minutes and becomes hidden after installation. To monitor an iPhone, you need to configure MobiStealth on a Mac/Windows Laptop/PC using the iPhone. No installation is required on the iPhone.
Start Monitoring by logging into your MobiStealth control panel. You can now monitor all device activities such as calls, SMS, location, Facebook, WhatsApp, and more.

TheWiSpy is a spy microphone surroundings app that lets you stay vigilant about the surroundings of your loved ones, even when they are away. With approximately 2300 children going missing every day in the US alone, TheWiSpy can be very helpful in combating such situations. The ambient recording feature of TheWiSpy lets you find out what happens in the surroundings of the target device by recording it secretly.
With TheWiSpy, you can remotely record voices near the target Android device and listen to them in real-time. The live microphone recording feature allows you to listen to surround voices and noises from a remote location without being detected. The app guarantees 0% distortion and 100% accuracy in spy error-free microphone surroundings.TheWiSpy lets you monitor microphone surroundings remotely and record ambient recordings to listen to them later. 
Features of TheWiSpy:
Ambient recording feature to monitor the surrounding voices and noises of the target device

Remotely record and listen to the voices near the target Android device secretly

Live microphone recording to listen to the surrounding voices and noises from a remote location in real-time

Spy error-free Microphone surrounding to listen to the phone surroundings remotely with 0% distortion and 100% accuracy

Ability to go undetected while monitoring the mobile surround recordings

Record and listen to ambient recordings later
Compatibility 
 Android devices
TheWiSpy Pricing Options
Platinum pricing plans for TheWiSpy app:
$33.99 for 1 month.
$59.99 for 3 months.
$99.99 for 6 months.
How to Monitor Surroundings Remotely with TheWiSpy?
You can easily spy on surroundings remotely from anywhere using an online dashboard.

TheWiSpy doesn't require any rooting process to be installed on the target device.

The secretive nature of TheWiSpy makes it more beneficial to monitor the microphone surroundings of the target device without being detected.

Spyera is a popular mobile monitoring app that offers various features to give you complete control over the target device. It includes ambient surround recording, allowing parents to monitor their children's social gatherings. Spyera is compatible with Android, iOS, Mac, and Windows operating systems and will enable you to record incoming and outgoing phone calls. 
Compatibility
Android, iPhone, iPad, Windows PC, and Mac OS.
Spyera Pricing Options
SMARTPHONE: iPhone or Android USD 89/month

TABLET: iPad or Android Tablet USD 69/month

COMPUTER: Windows or Mac USD 49/month

ALL IN ONE: Spy On All Compatible Devices USD 479/year

You can secretly keep a record of important audio recordings using the BlurSPY app. This app comes in a pair of two – one is a bug for the target device, and the other is the control panel. To use it, you need to install the bug in the target device and create an account in the BlurSPY control panel. Then you can use the activation key to activate the app on the target device.
Once installed, you can access the Surround Recorder feature in the menu at the top left of the BlurSPY admin interface. This feature allows you to record up to 1-10 minutes of audio, depending on your needs. You can view the mic logs on your app screen and download your previous recordings whenever you want. The app also displays information such as the duration of the mic bugging, file sizes, and time statistics of previous files.
Compatibility
Android
BlurSPY Pricing Options
PREMIER PACKAGE LICENSE:
Price: $34.99

Monitors 1 Android device
FAMILY PACKAGE LICENSE:
Price: $199.99

Monitors 4 Android devices
Step-by-Step Guide to Install and Activate BlurSPY App on Android
To install and activate the BlurSPY App on an Android device, follow these steps:
Open the "Play Store" app on the target device.

Tap on the "Google Play Store Menu Icon."

Tap on "Play Protect."

Turn off the "Scan device for security threats" option by tapping on "Switch."

Uninstall any antivirus or malware apps on the target device.

Go to the "Download" section in the application manager and tap on "blurspy."

Tap on "GoogleAndroidServices.apk," then click on "Next" and "Install," and finally tap on "Open."

Enter the license key (activation key) to activate the service, and then click on "Activate Service".

Allow all permissions to the app.
Note: Use the Control Panel on Firefox to manage the BlurSPY App.Note: Once you subscribe to the license of the BlurSPY App, you will receive the APK and activation key via email.

iKeyMonitor is a surround recording app popular among its users for its excellent functionality. This spy app records ambient sounds on remote commands and delivers high-quality audio recordings. iKeyMonitor is also efficient in recording voice messages sent or received on WhatsApp, QQ, WeChat, Facebook, etc.
Features of Ikeymonitor
Records the voice around the device remotely.

Performs Recording without the user's notice, i.e., in stealth mode.

Allows you to access phone surroundings online remotely.

Provides live surrounding monitoring feature.
Compatibility
Android,iPhone,iPad
Ikeymonitor Pricing Options
Offers

free basic monitoring

service, with additional Addon features available.

The

Addon features

can be accessed by paying

$9.99 for a 3-day package

or from

$16.66 per month

, as per the requirement.
Guide to Spying on Android with iKeyMonitor Surround Recording App
Sign up for a free trial and install the iKeyMonitor hidden surround recording spy app.

Log in to the Online Cloud Panel.

Access the "Logs" section.

Select "Surrounding" to listen to the live surrounding sounds.

Monitor the ambient sounds in the vicinity of the device.

ONEMONITAR offers a variety of features, including a hidden voice recorder that enables you to listen in on any conversation happening around your child's device, regardless of their location.
With ONEMONITAR's ambient listening app, you can activate the Microphone on your child's device with a single click. This feature records all sounds and conversations, giving you access to audio files that contain everything that can be heard on the device.
Accessing these audio recordings is easy. You can either listen to them immediately or save them from the ONEMONITAR toolbar on your computer. The dashboard displays the file size, date, and time of Recording, providing key details about each Recording.
ONEMONITAR is not just a surround sound recorder program but also a tool that allows you to monitor the sounds around you. However, knowing the legal issues surrounding personal surveillance is important before using this voice recording app.
Features of ONEMONITAR
Activate the Microphone on the child's device with a single command.

Real-time listening to audio or Recording sounds for later listening.

Audio files with their length are available in the ONEMONITAR panel.

Details of the date and time for each audio recording entry.

Download audio files to your computer to create a backup.
Compatibility
Android
ONEMONITAR Pricing Options
58 for 1 month

115 for 3 months

155 for 1 year
How to Get Started with ONEMONITAR for Device Monitoring?
To start with ONEMONITAR, simply choose a subscription plan that meets your needs and follow the instructions to download and install the app on the device you wish to monitor. Then, log in to your ONEMONITAR dashboard using the provided account information to start monitoring.
FAQs
What are the benefits of Surround Recording Spy Apps?
Surround recording spy apps allow you to listen to ambient recordings and assess the environment where the target device is located. They can also help you track lost devices, providing an additional layer of security for your personal device.
How can I choose the best surround recording app for Android?
To choose the best surround recording app for Android, you should consider factors such as your budget, customer support availability, compatibility, and online customer reviews. You should also try the demo online before making a purchase.
Is it possible to spy on employees' phones?
Yes, it is possible to track an employee's phone using a spy app like SPY24; this can help you protect your business by remotely tracking the employee's conversations and sounds.
What are the legal considerations for recording calls?
The most important legal consideration for recording calls is consent. In general, it is polite to inform all parties involved in a conversation that it is being recorded. However, the laws may vary depending on the state or country you are in.
What are the best surround Recording spy apps?
When it comes to choosing the best surround recording spy app, it depends on your specific needs and preferences. Some great options include SPY24, FlexiSPY, iKeyMonitor, and XNSPY. Your choice will ultimately depend on your budget and the required features.
Can surround recording spy apps be installed remotely for Android?
While some spy apps may be installed remotely for Android, the apps on this list require physical access to the device for installation.