Children are increasingly accessing the internet at an early age, thanks to tablets, mobile phones, and laptops. Despite the amazing amount of educational, resourceful, and fun stuff on the internet, there's also a ton that can be dangerous, especially for children. But don't worry. Technology has always been a solution for everything. There are Parental control apps that let parents supervise their kids' online activities and keep them safe. 
It's easy for parents to keep track of their children's activities on their devices wherever they are with parental control apps. They're just like parental control routers, where parents can control which websites their kids can't go to on their Wi-Fi network. 
It's important to know that the best parental control apps offer a wide range of features like tracking physical location, monitoring phone calls, tracking text messages, and phone calls, as well as providing real-time alerts, so parents can make sure their kids are safe, whether at school, home, or everywhere else.
With OneSpy, parents can easily and reliably track their children's internet browsing activities. OneSpy can handle all aspects of monitoring and keeping an eye on their online activities at any time.
Those who own or manage businesses, as well as parents and employers, can use this tool to monitor their targeted audiences and address any problems they might face.
| | |
| --- | --- |
| Android | Yes |
| iOS(iPhone/iPad) | Yes |
| Website:  | onespy .in |
| Domain Age: | 2012-11-21 |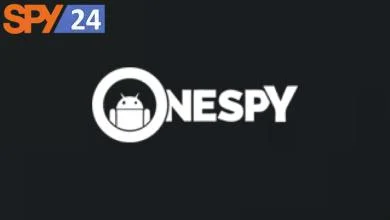 Introduction To ONESPY App
Monitoring tools like OneSpy, which allow parents to monitor their children's online activities, can help the parent keep track of their kids' activities, including live screen recordings, location tracking, and monitoring of social media accounts.
ONESPY- World's No.1 Android Monitoring App | Mobile Monitoring App: ONESPY is an Android Monitoring App that lets you monitor mobile phones. It has features like a hidden call recorder, location tracker, WhatsApp monitor, Facebook monitor, Instagram monitor, and more. The ONESPY mobile Monitoring App stays hidden on the target phone and lets you track all of the above.
It sounds like you'd have to install The One Spy on the target's phone, based on the reviews on the web. This is accurate because it collects information from a kid's smartphone, which is then transferred to the parent's account.
To get started with the app, you need to sign up with onespy.in and purchase a subscription. You also need to make sure that your kid's device is compatible with the app's usability requirements.
How does ONESPY work?
As a first step, remember that ONESPY works on any Android phone you want to spy on, as well as any version of Windows, Mac OS, or even ANY type of network you might want to spy on. You can use ONESPY with your phone if you verify that it's compatible first before buying a license through its website once you're sure it'll work.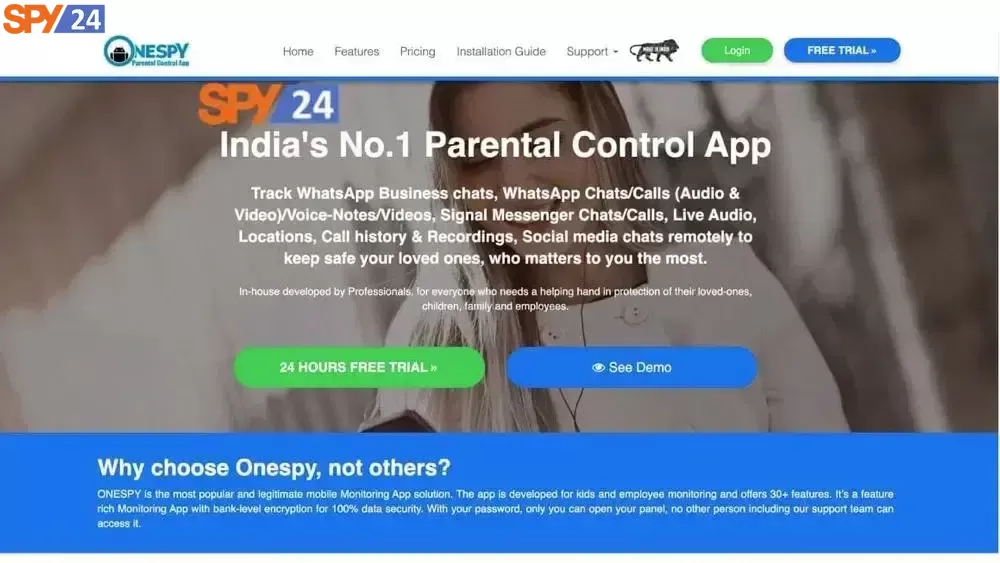 It only costs once to get ONESPY, and then all you have to do is install the app on the phone you want to monitor. Follow the instructions on How to install ONESPY to do it, and you're good to go.
Within minutes of installing the OneSpy App, you'll be able to upload all of your phone's data to a cloud service. You'll always get all data and logs after the first upload.
The target device uploads the data collected from it to the cloud whenever it detects new activity, and all the settings and preferences you've set up are stored along with the data. Whenever it detects new activity, the target device might do this.
The console/dashboard is where you are able to see all the logs, details, and monitoring data that are being generated by the system if you have access to it (by logging in).
Features of the ONESPY
According to the One Spy reviews and its website, this spyware app is packed with features, but some of them aren't always relevant to parental monitoring. These features include: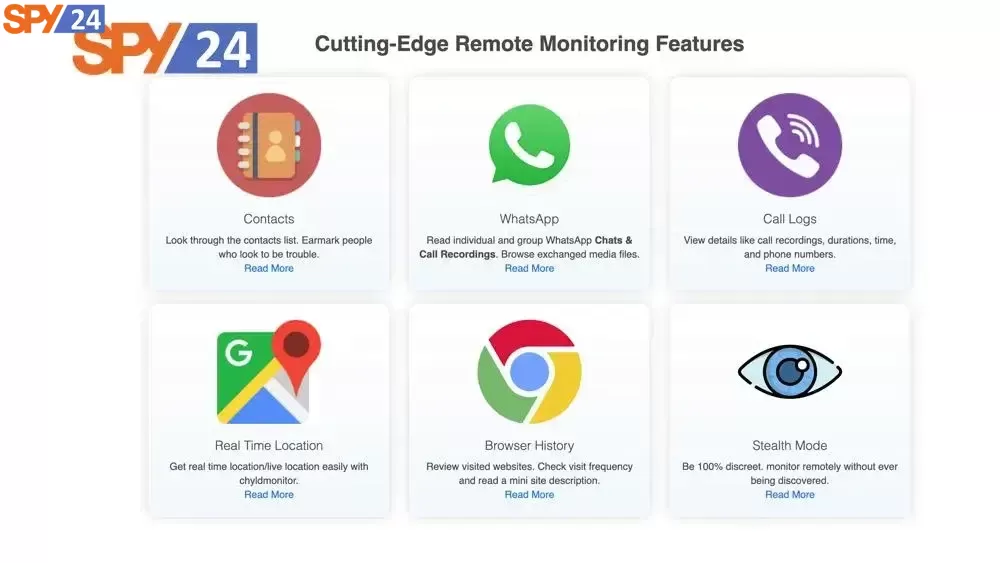 Spy on Social Instant Messengers (Social Media Apps)
A great spy app to track the most popular social networking applications. This application tracks WhatsApp, Facebook, Instagram, Snapchat, Skype, Line, Hangout, IM, Telegram, Tumblr, Tinder, Kik, and Viber among others.
VoIP Calls – Messenger Voice Calls Recording
It will run on most Android devices, including those that come with Android OS 10 or higher, and you do not need to root your device to use it.
As well as recording voice calls, this app is also capable of recording video calls made over WhatsApp, Facebook, Skype, Line, Viber, and Google Hangout as well.
Record Phone Screen Remotely
There is a screen recording feature on the app that allows you to record whatever appears on the target's phone screen in real-time. Screen recordings are made using screenshots or short videos to record whatever occurs on the target's screen.
Record & Listen to Phone Calls
This application records incoming and outgoing telephone calls of the target without disrupting any of the conversations on the phone lines. The end-user can retrieve recordings and logs of recorded phone calls per request via the top web portal.
Spy on SMS Messages
By using this app, the end-user will be able to see incoming and outgoing SMS and MMS messages that have been saved on their phone. Through a portal, the end-user will be able to read these messages and find out who sent or received them.
Monitor Contacts List
A web portal can be accessed and used to manage the contacts saved in the Phonebook. This portal gives you the ability to add new numbers and delete unwanted contacts without having to grant access to your device.
Track GPS Location Remotely
Besides providing the current GPS location of the target smartphone, the app provides a history of the phone's location as well as a geo-fence feature to mark boundaries around the target smartphone.
Listen & Record Surrounding Sounds
This app allows you to turn on the camera and microphone of the targeted cell phone, allowing you to view and record the surroundings of the phone as you like.
Access Browsing Details
As part of the app, you will have access to the browsing history of the targeted smartphone, as well as bookmarks and favorite content from the smartphone.
Retrieve Deleted Media (Video, Photos)
Using the app, you can create a backup of all the photos, videos, and voice recordings that are stored on the phone and the user can retrieve any files that have been deleted from the phone.
Remotely Control Installed Apps
It is possible to block, unblock, and uninstall apps installed on the smartphone remotely through spyware. The end user can do this through the web portal or, if necessary, via the mobile app.
Remotely Lock/Unlock the Device
Additionally, the cell phone tracker provides the option to lock and unlock the target device without the need to take it into custody in the process.
Bugging the Phone
This app has a few other cool features as well, aside from being able to access the camera and microphone on the target device.
The target smartphone can be used to take pictures with its camera, or outdoor noise can be recorded remotely using the target smartphone's microphone.
In addition, this feature allows users to keep an eye on the location of the phone and the activities taken by the owner as well.
However, once you begin to use the app, you'll realize that it doesn't offer you all the information you need and doesn't meet all your expectations in terms of functionality.
Keylogger
With a keylogger, virtually every touch made on a touchscreen can be recorded, which is why spy programs should also have this feature so they can track their targets.
If you enter a query into the web, you will be able to see what it is that you have searched. This allows you to evaluate what you have searched for on the web.
SMS keylogger allows users to view both the current content of sent and received text messages separately, using the features provided by the SMS program.
OneSpy does claim to have this feature, but many users have reported that this is not available in the program.
Emails And Keylogs
Companies are able to track the location of the targeted phone in order to keep track of the activity of their employees' emails, as well as monitor how they are using their emails.
In addition, there is an Android tracking app downloadable from Google Play that enables you to access keyloggers installed on the targeted phone.
They can not only record passwords and usernames, but they also record the e-mail addresses of the users during the session.
With just a few keystrokes, one can gain access to the online accounts of minors, employees, and others and trace clues as to whether wrongdoings have taken place, as well as evidence of wrongdoings.
View Media Files
With the spy app, you'll be able to view all of the images and listen to all of the audio files that your teenager has stored on their phone. This includes pictures and videos from their phone that they've taken themselves.
As an additional benefit, it is possible to download images from another computer or images that are either removed or hidden from a compromised device in addition to those from another machine.
Screen-Time
When you have configured ONESPY's screen time mode according to your needs in the internet dashboard and have signed in to your mobile phone, you can take immediate action to block access to the target phone's apps within the internet dashboard if you want to spend less time staring at the device.
There is an option for users to block WhatsApp, Facebook, Snapchat, Tinder, TikTok, Discord, Wire, and over a hundred other apps at the same time, so according to their preference, they could block WhatsApp for one hour or twelve hours.
You're blocking certain apps from accessing it, so your target should not have any issues with using it since you have blocked certain apps accessing it.
As parents and employers become increasingly concerned about the amount of time their children spend in front of their electronic devices, businesses apply the same regulations to their workers.
Live Spy 360
There have never been any spy apps with this feature before. Besides, what good is finding something that doesn't work if it doesn't even work at all?
Using Live Spy 360, you can access the online dashboard provided by ONESPY, which allows you to control the microphone and camera of the targeted phone from anywhere.
Your smartphone's cameras can be integrated into Spy 360, so you can watch live video and audio feeds and connect them to your control panel. Aside from controlling the video feed on your phone, you can also control the audio feed with your back and front cameras.
You can control the target phone from the dashboard, but you can also listen in on what's going on around it thanks to the phone's inline microphone.
For live spy 360 to work, cameras, microphones, and a constant internet connection must be present in order to make it possible.
How to use the ONESPY
Today, there are a lot of spy phone apps out there, so finding one that's good for you can be a challenge because it provides not only the best features but also the best price. You have to make sure you choose the best spy phone app.
This is why you should check out ONESPY in such a situation because it has so many features as well as a bunch of packages that are incredibly cheap and dependable. They've made sure that they're offering the right level of service so that they can provide the right level of service for the services they provide.
The application lets you track someone discreetly with your phone without getting stopped. It's perfect if you'd like to keep an eye on someone with your cellphone. The interface is really easy to use, so you don't need any technical skills.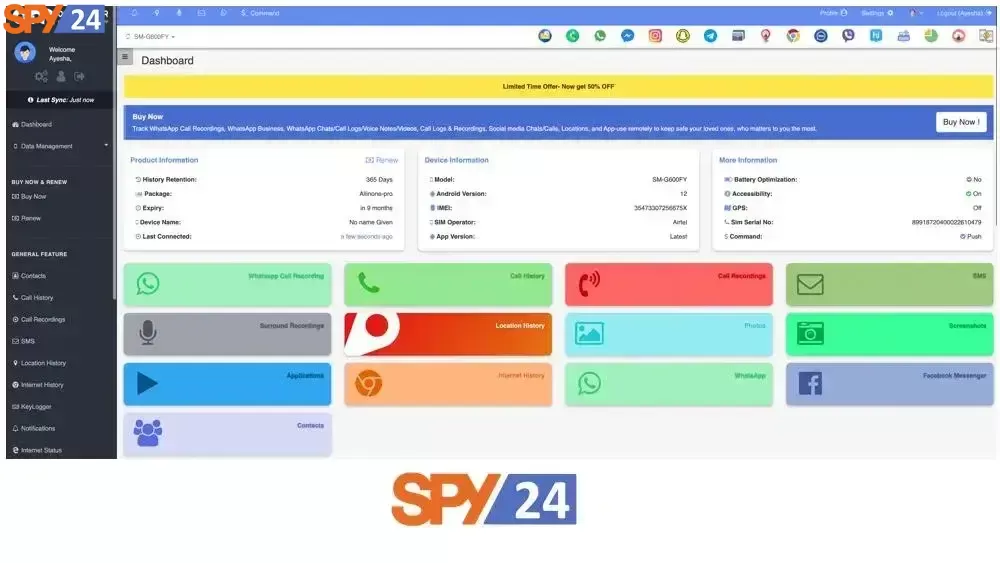 The application can be used by visiting https://onespy.com, then subscribing to one of their monthly or annual packages. There are a lot of features in this package, including the ability to cancel at any time, plus the ability to cover multiple users.
You can subscribe to an account on the official website of ONESPY and then log in. After logging in, you will need to install the ONESPY Spy Phone App on your targeted phone, and directions are provided on the website.
To access all the information on your phone, including calls, SMS, GPS coordinates, location, social media monitoring, etc., you'll need to install the app. The information will be displayed, and you can get all the information if your phone has a stable internet connection.
In the event that you experience any problems accessing the application, customer service representatives are available around the clock to assist.
How To Install ONESPY:
Account Setup
Visit ONESPY's website and click on view plans and prices.
When choosing a plan, make sure you take your needs into account.
Plans are available on a monthly, quarterly, and yearly basis.
You'll need to complete the payment process so you can get your account so can go ahead and buy. Your registered email address will be contacted after you've completed the payment.
By creating a user account, you can install this app on your Android device.
Using ONESPY, you can log in with your username and password from any Internet-connected device.
It is included in the dashboard, a complete guide that will help you to install the app on the target smartphone, as well as a video tutorial that will also assist you in the process.
Getting ONESPY installed on the target phone is as easy as following a few simple steps. As soon as it is installed, it can be monitored to ensure that they are being monitored correctly.
How To Detect And Uninstall ONESPY:
There are lots of spyware, stalker ware, and surveillance software out there that are hard to detect since they're all different types of software. You can still find out if you're being watched even though these programs are invisible.
Android
In essence, a giveaway is a setting that lets apps be downloaded and installed outside the official Google Play store on Android-compatible devices. It changes how apps can be downloaded and installed.
A jailbroken device may be evidence that the owner's device has been tampered with, but spyware, stalker ware, and other malicious software don't require jailbreaking to run.
This setting is found in most modern Android builds in Settings, Security, and Allow unknown sources. This varies depending on the device and vendor. If not there, then you can also check Apps, Menu, Special Access, and Install unknown apps to see if you can recognize anything, but there is no guarantee that spyware will appear on the list.
Nevertheless, you can also find spyware hiding behind generic names and icons, so if you find some processes or applications you don't recognize, you can run a quick Google search to find out if they are malware.
iOS
When you don't jailbreak your iPhone, you can't get malware on it unless there's a zero-day vulnerability. If you can install software packages on your phone (unless you've put them on deliberately), that's an indication your phone has been tampered with. People use Cydia to install software packages on jailbroken phones.
You may see your device overheating, draining its battery, or acting strange after upgrading.
How to delete and uninstall the app?
Spyware and stalker ware are hard to detect by design and even harder to get rid of. Even so, spyware or stalker ware can be removed; but you have to follow a few steps first. Sometimes you just have to give up on it.
When stalkers or malware are removed from the victim's device, you might receive an alert. Another clear sign that the malware has been removed is if you are suddenly unable to receive information from the victim's device or when the victim is no longer online.
In case of a threat to your safety, you should never tamper with your device. Instead, get the police involved or another agency.
Here are a few methods for removing spyware:
Run a malware scan: If you want to get rid of spyware from your mobile device, you can use an anti-virus program that will detect and remove any mobile malware. Malwarebytes, Avast, and Bitdefender are free and can detect and remove malware from your mobile device. But in general, the best thing to do may not continually infiltrate your phone.
Change your passwords: When you suspect your account has been compromised, change your password. Most people are those individuals who have a central account that links all of their other accounts together, such as an email account. Don't let any compromised device use the hub account services.
Enable two-factor authentication (2FA): A smartphone application can also use the 2FA Protocol to protect a person's account if additional consent is needed for logins or account activity. (Mobile app codes can get intercepted by spyware, but they're not protected from interception.)
Consider creating a new email address: If you want, you can create a totally new email address. Although it's for your own use, it's also connected to your main account.
Update your OS: Keep this updated because when an operating system releases a new version, it may come with security patches and upgrades, which could cause conflicts and spyware problems.
Protect your device physically: Your mobile device can be physically protected from being tampered with by setting up a PIN code or a pattern or by enabling biometric authentication.
Fall else fails, factory reset… or junk it: Factory resets and clean installs can usually remove spyware and stalker ware from your device when you suspect it has been compromised. Taking a backup first is a smart idea, however. You will usually find it under Settings, General, Reset, Factory Data, and Reset on Android devices, while it will be under Settings, General, Reset on iOS devices.
Uninstall the App Remotely on the Target Smartphone Instantly
Whenever you feel that you have achieved your purpose, you can uninstall the app remotely from the target device. Keeping your target person from catching you may be a good idea. Remote removal of the application is possible without any difficulties.
You can uninstall an application from the dashboard of ONESPY. Additionally, you should activate the flexibility feature and choose "remotely uninstall an application". Mobile devices that are targeted will automatically be removed from the application.
ONESPY app for iPhone and Android
Mobile phones running Android OS 5 to Android 10 and above are compatible with the app, including Samsung, LG, Sony, Huawei, and Motorola.
Furthermore, ONESPY is compatible with iOS jailbreak devices ranging from OS 11.2 all the way up to iOS 14.3. ONESPY is a jailbreak solution that is compatible with iOS jailbroken devices. This application can be installed on target iPhones and iPads and track the following activities.
ONESPY App Pricing
There are two pricing plans available with the ONESPY app, and you can choose the one that suits you best. A premium plan and a pro plan are available. It costs 22 dollars per month for the premium plan, which does not feature call recording, instant photo capture, or surrounding recordings. All of the features are included in the Pro plan for 58 dollars per month.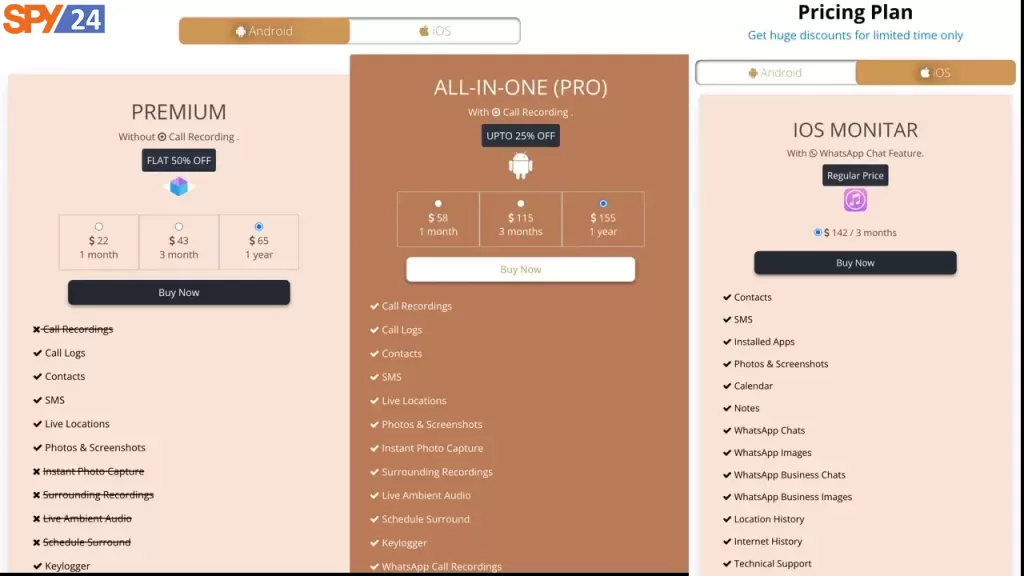 ONESPY App Review
Thousands of people around the world use Onespy to monitor their cell phones. It is possible to take full control of your child's or employee's phone from afar with one piece of software. Through Onespy's easy-to-use online dashboard, customer service that is available 24 hours a day, 7 days a week, and strong encryption techniques, thousands of customers around the world have been satisfied.
Kids between the ages of 8 and 18 spend an average of 7 hours a day staring at their phones. As reported by the American Heart Association, this is what research has found.
Additionally, kids should not spend more than 2 hours a day watching screens. The task can be challenging for parents, however. Hence, parents may find it useful to use apps that allow them to control their children.
The Onespy app may have already caught your attention after looking at your options. The following review will give you a good idea of what the app has to offer and what it lacks. If you would like to keep an eye on what your child does online immediately, you can use SPY24.
An app called Onespy can be used by parents to keep track of their kids' online activity. The app is capable of tracking your location, recording your screen in real-time, and keeping an eye on your social media accounts.
Onespy reviews online state that you need to install the app on the phone of the person you want to spy on. Children's phone information is collected and sent to parents' One Spy accounts by the app.
It is necessary to sign up and pay for a subscription to Onespy.com in order to access the app. As well as checking the app's requirements, you should make sure your child's device meets them.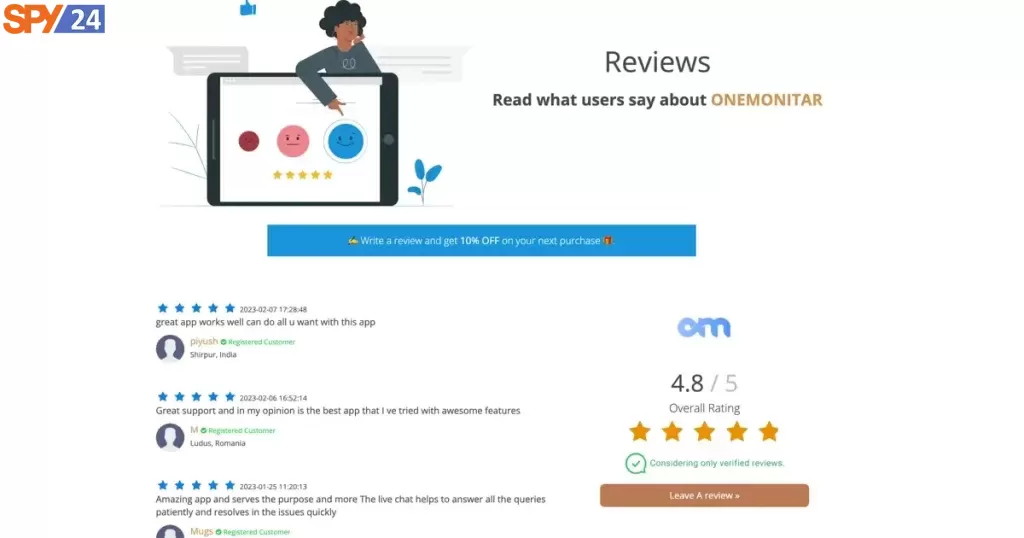 Pros and Cons of ONESPY
There are also advantages and disadvantages to the ONESPY app. In the following paragraphs, we will examine some of the advantages and disadvantages of using this app.
Pros
It is easy to set up and quick to use.
There will be no indication to the target phone's owner that they are being monitored.
Keeping an eye on your kids' activities is easier than ever with this app.
Cons
The internet does not come with built-in filters.
In order to install it remotely, it is necessary to have physical access to the device.
The iPhone version lacks some functionality that you will find disappointing.
This app does not have web filtering capabilities.
There are several features that are lacking
There are problems with geofencing
Neither the recorded chat history nor the recorded call history is displayed.
ONESPY Customer Service
It is first imperative to mention that I am not happy with the customer support offered by OneSpy, as it does not offer chat support, unlike other spyware programs. On the dashboard itself, there is a Support feature from which you can send them an email. Nevertheless, none of the features in this app need support, so you won't need to contact them anytime soon.
ONESPY App Aggregation Software
If you're looking for a cell phone monitoring app that lets you spy on Android phones, OneSpy is a wise choice. You have already been informed of everything you need to know about this product. So, it's probably already clear whether or not you want to purchase it.
In other words, if Onespy Reviews have convinced you that you should purchase it, you simply need to visit their website.
Considering the reviews and website of The One Spy, it's clear that the app wants to be perceived as spyware. For this reason, it lacks some features that are needed for simple parental monitoring: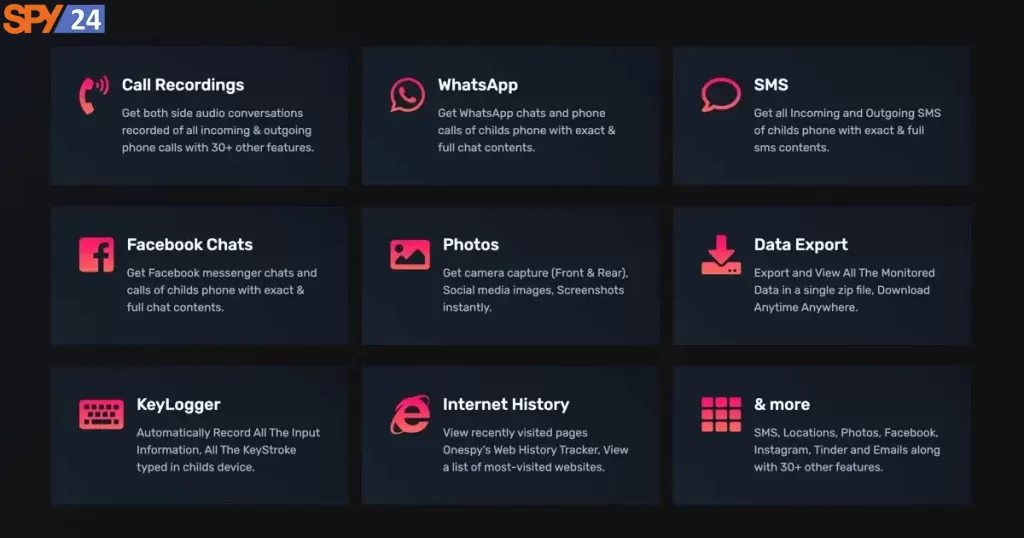 2. Call records. The ability to view the call history of someone else, including the times and dates of both incoming and outgoing calls;
3. Bugging. Using the remote control feature, you can control the front and back cameras, record conversations, and track the location of the target phone.
4. Chaser of Passwords. Track the digit password used to open a phone and the PIN code used to lock the screen of a target device.
5. Keylogger. Find out when text messages or WhatsApp messages are sent and received on a target phone;
6. Social Media Apps. Stay up-to-date on Snapchat, Viber, Line, Tinder, Hike, Instagram, Tumblr, and IMO from anywhere. Identify the messages and media files that were shared;
7. Grab screenshots. Taking pictures of the target's phone's screen from a distance without their knowledge;
8. SMS. Find out what messages were sent and received by watching text messages;
9. E-mails. Geolocation tracking lets you see someone else's Gmail from your phone. Tracks someone's current location and activities.
---
ONESPY VS SPY24
It is an app for both computers and cell phones that lets you spy on your phone and computer. It is equipped with features such as monitoring, tracking, and remote control. GPS tracking, spying on calls, listening to surround sounds, recording live monitor activity, and many other features can be tracked through one solution.
According to this review, Onespy isn't quite a parent. There are better things to do with it than protecting kids from the dangers of the internet.
It has the following features that make it the most effective software for keeping an eye on kids:
Track your visits to websites, your social media interactions, bookmarks, and browsing history;
A controlled approach should be taken to using apps such as Tinder, Instagram, Snapchat, WhatsApp, Kik, Facebook, and Line.
Passwords can be compared using the Keylogger;
Make sure your child's device keeps track of forbidden words.
Real-time tracking of GPS locations, geofenced areas, and geofencing;
Check your text messages and call history.
You can view the multimedia files that were sent and received;
Get a better understanding of what your child is doing online by using a screen recorder.
You can choose any monitoring app you like. The only thing you need to keep in mind is to make sure it fits your expectations and your needs.
Conclusion
There are a lot of features that the OneSpy app offers, so it is one of the leading applications for monitoring a person's phone. However, it is less reliable due to its poor customer support service. The SPY24 monitoring solution is the perfect solution for those who want to have the most advanced monitoring solution at their disposal. As a result, there are no disadvantages associated with it, and the customer support team offers excellent services. There are a number of features in this solution that make it a fantastic choice for users. You can also read our other articles, such as the Best Phone Tracker Apps Without Permission.
FAQs
Is This Spyware Safe?
Yes, there is no risk associated with using the ONESPY app. Both the target phone and the confidential information of the target person are not damaged by this software.
Is ONESPY Free?
You cannot download the app for free, but there is a free trial version available.
Will It Track an iPhone?
It can spy on iPhones that are jailbroken, but only on those that are jailbroken.