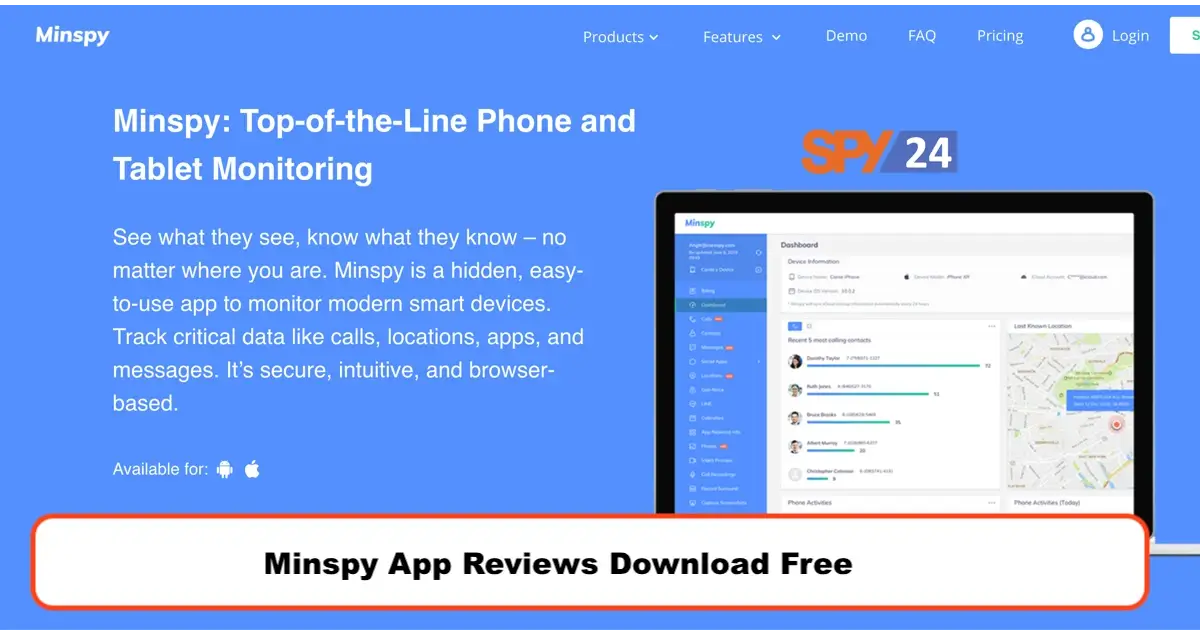 What is Minspy? Full introduction of the spying application from Minspy: In this article from Minspy, I, as one of the authors of the SPY24 blog, will introduce you to the MinSpy application and tell you about its features.
In the following, I will examine the strengths, how to install, how to remove and compare it with the SPY24 application, and finally, I will have a conclusion for you from this article.
While the online world can be an excellent learning tool for kids, it also poses significant threats that cannot be ignored. From cyberbullying to online grooming, children are at high risk of developing internet or phone addiction and facing internet dangers.
Minspy is a versatile mobile and tablet monitoring tool that records all digital activities on your target device. However, keep in mind that mobile or tablet monitoring is only legal when you have valid reasons for doing so.
Minspy is a legitimate app as long as it is used for ethical purposes. The service providers do not encourage the audience to use Minspy for illegal activities.
According to parental reviews, Minspy is an efficient app for tracking and monitoring kids. The app has also received positive reviews on Trustpilot, with a 4.6-star rating.
| | |
| --- | --- |
| Android | Yes |
| iOS(iPhone/iPad) | Yes |
| Website: | minspy .com |
| Domain Age: | 2020-02-01 |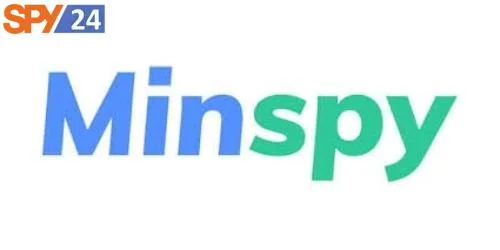 Introduction of the Minspy app: what is Minspy?
Minspy is a parental control application that allows parents to monitor and control their children's activities on their mobile devices. Minspy helps parents with a variety of tools to manage their children's activities, such as controlling app downloads and usage, tracking their location, monitoring their online activities, and limiting their screen time or accessing content. It is easy to use and has a simple interface that allows parents to easily monitor and control their children's activities from anywhere, anytime.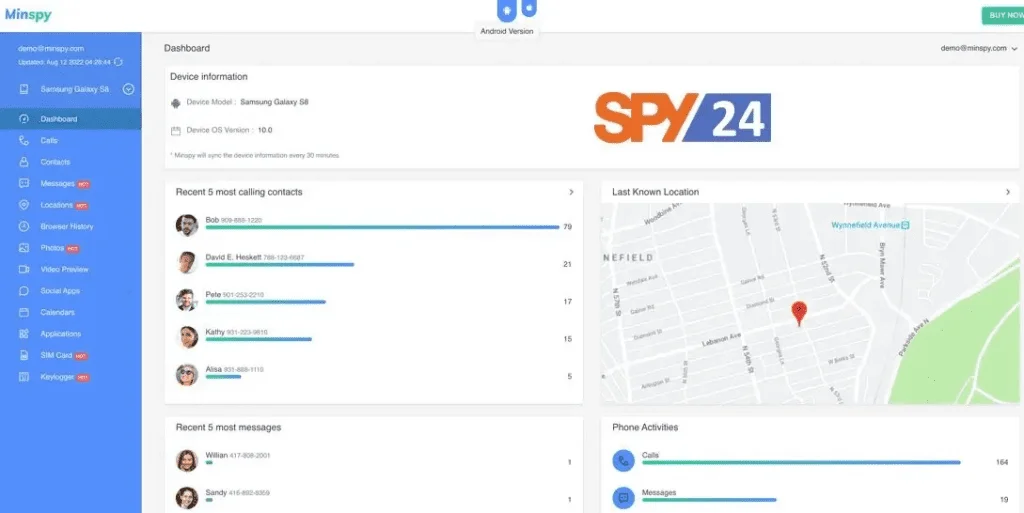 Minspy Key Features:
The Minspy parental control app has a number of compelling features that make it a powerful and effective choice for parents.
Here are the key features that parents should be aware of when considering the Minspy app: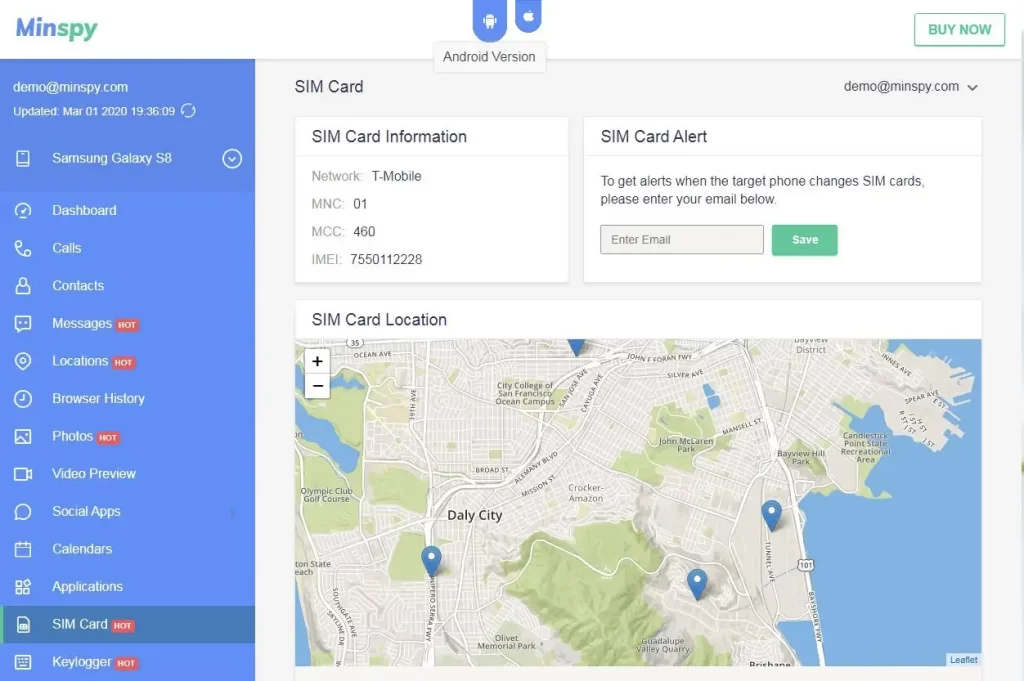 The app allows parents to monitor and control their children's smartphone usage and activities online. Parents can view their children's activity on a variety of platforms, including social media, texting, calling, and more.
The app offers a variety of parental controls that allow parents to set limits on app usage, screen time, and other activities.
The app is compatible with Android and iOS devices, giving parents greater flexibility and mobility when using it.
The app offers parental controls, such as blocking certain apps, websites, or activities if necessary.
Parents can also set up alerts and notifications for suspicious or questionable behavior, which can help them keep better aware of the content their children are consuming and interacting with online or on their phones.
The app has a user-friendly interface that is simple and easy to use, making it ideal for parents and grandparents who are not as tech-savvy.
View Live Streams or take front or Rear camera photos with Minspy App. You can also see the live stream with a Microphone. Please do not enable this option without the proper consent of the device user.
Track the live location and location history of your employees or your kids with Our unique phone monitoring app and make them more secure. Minspy shows you the real-time location instantly.
Monitor your employee's skype chats and gossip, which they do use company-owned cellphones and monitor their client meetings, call logs, and chats with our skype monitoring feature.
You can secretly monitor call recordings of your company-owned mobiles as well as your kid's mobile and prevent them from bullies or voice phishing with Minspy hidden Call recorder.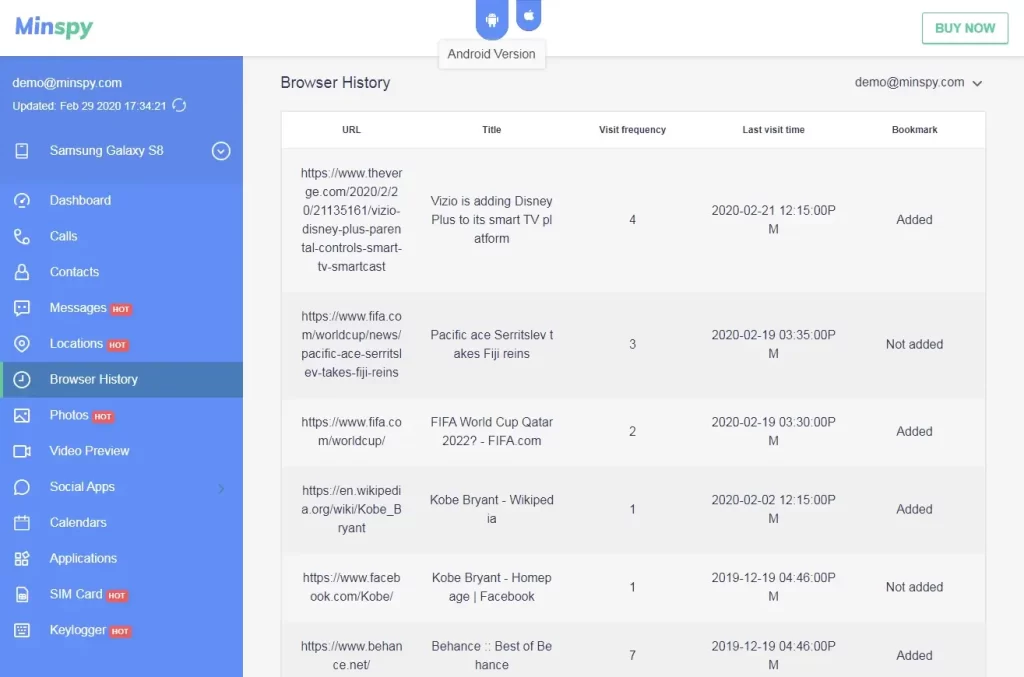 Track the SmS/MMs of your kid's devices instantly on your own pc or mobile and make them more secure from harmful people. Minspy gives you the authority to read the deleted sms also.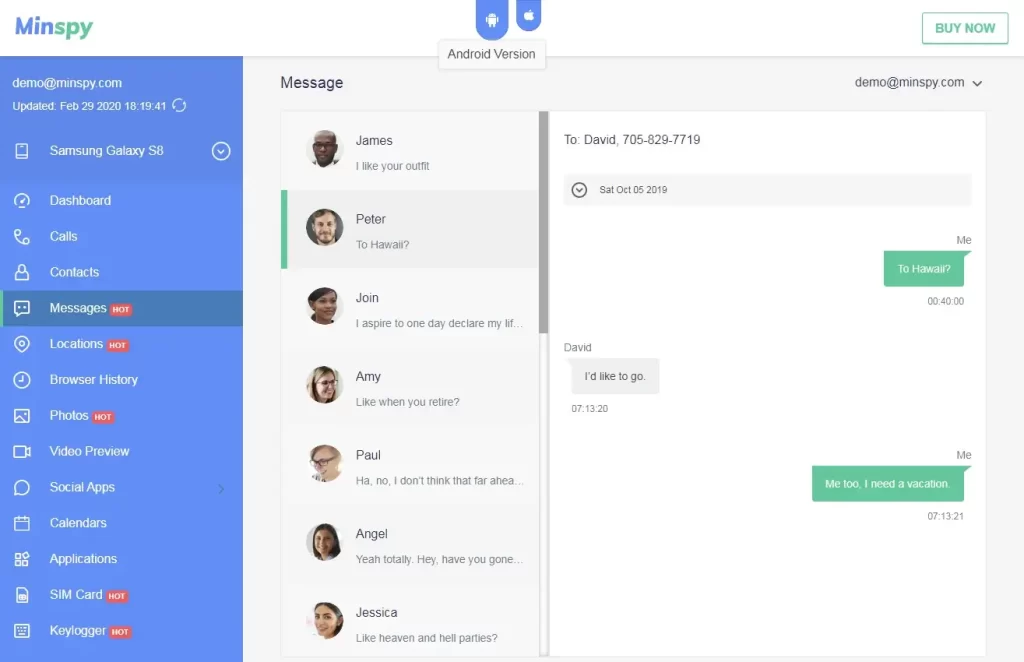 Check all the Incoming, Outgoing, and Missed calls of the target device with our Minspy call logs monitoring feature. Minspy shows all the real-time call log details with the time stamp.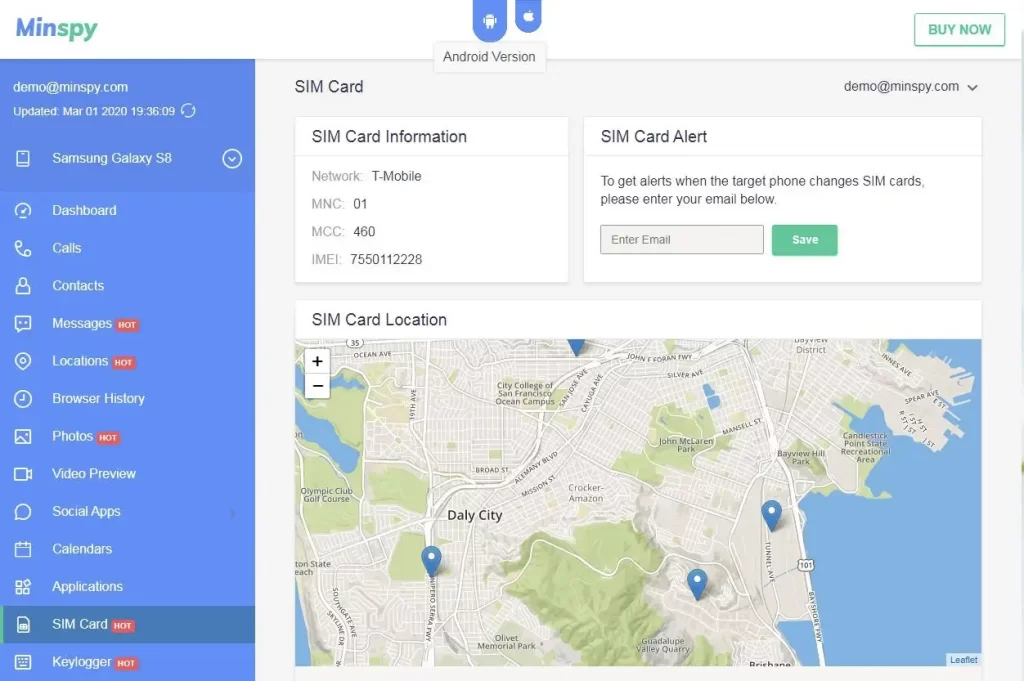 Employees mostly waste their time searching for non-official things on the internet. Monitor all their internet surfing history and track their work performance at the time of work with Minspy.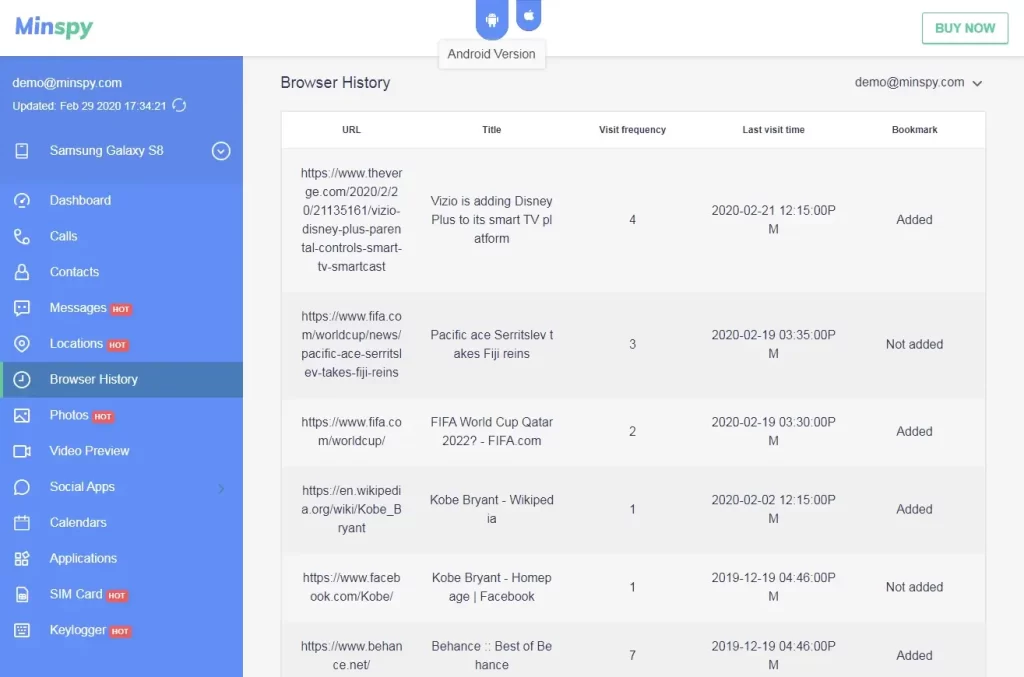 Keep an eye on every key your kid is using while texting with some unknown numbers or a person with our keylogger monitoring feature. It shows you all the keys pressed at the time of chatting or searching for something.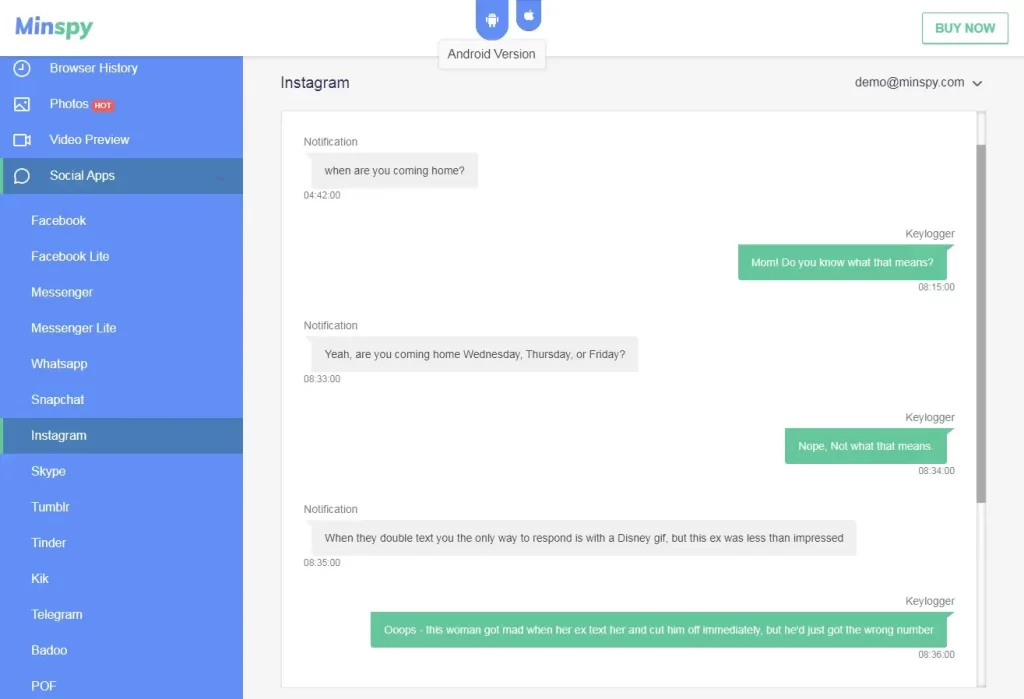 TOTALLY HIDDEN & UNDETECTABLE
Our app is totally hidden and undetectable phone monitoring app that totally works in stealth mode and also surpasses antivirus scanning.
Snapchat monitoring has become easy now with Minspy. Monitor your kid's Snapchat chat activities online and prevent them from online bullies.
Check all the photos which your kid is receiving or capturing with someone who is unknown to them. You can track their gallery images with our well-developed tracking app.
Check all the applications which are installed on your kid's cellphone and identify the harmful apps. You can block all those apps with our app-blocking feature.
What are Minspy Benefits for Parents?
Minspy parental control app provides parents with a number of benefits. Parents can easily track their children's smartphone activity, such as their recent calls and text messages, as well as the websites they visit and apps they download.
They can also restrict their children's mobile activity, such as blocking certain apps or setting a curfew on their smartphone usage. Another benefit is the ability to monitor their children's online activity and browsing history and social media profiles.
Parents can also set up notifications for any suspicious or problematic behavior, such as when their children text inappropriate messages or visit potentially harmful websites.
The app is compatible with Android and iOS devices and offers a money-back guarantee, which adds further peace of mind for parents.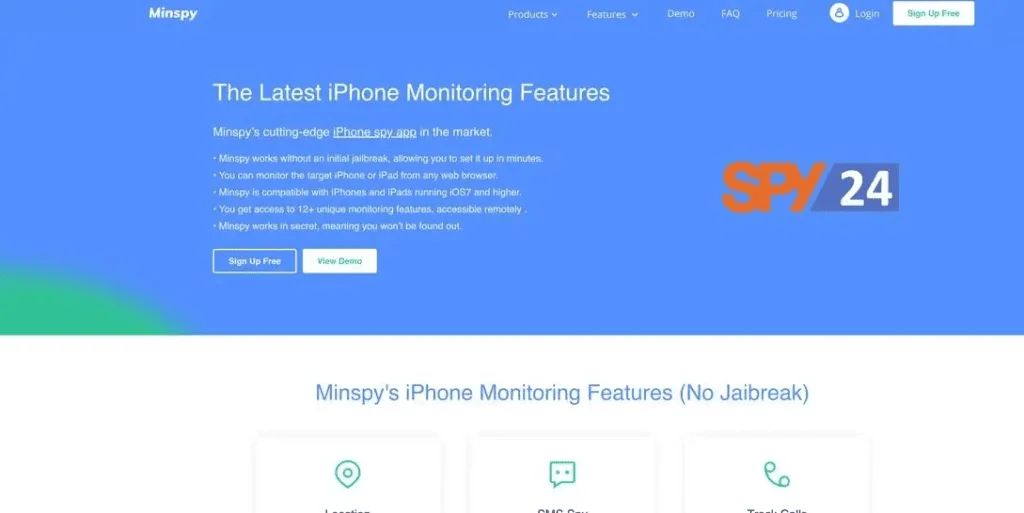 Minspy App Pros and cons
The parental control app Minspy offers some great benefits to parents, but it also has some limitations.
The Minspy parental control app has a number of benefits, including the ability to monitor your child's smartphone usage, restrict access to certain apps, and block content. Parents who use this app are able to better monitor their children's smartphone usage, which can make parenting more manageable and enjoyable.
However, the Minspy parental control app does have some limitations that parents should be aware of before using it. The app may be too expensive for some parents, and it has no free trial available, and only the demo version is accessible. It also has some weak points, such as limited features.
Conclusion: Minspy is a powerful and effective tool for parents who want to monitor and control their children's online and mobile activities, but parents should be aware of any limitations in this app.
Why Should You Try Parental Control Spy Apps?
Minspy parental control app is a powerful tool that can help parents more easily monitor their children's smartphone use.
With its simple and intuitive interface, parents can quickly and easily view their children's location, recent activities, and online activity.
The app also allows parents to set up alerts for potential problematic behavior such as inappropriate messages or websites accessed, which can help parents better manage their children's smartphone usage.
Minspy Apps for iPhone and Android
Minspy is available for both iOS and Android devices. The app is easy to install and use, and it is regularly updated to ensure that it is up to date with the latest security protocols and features. The app is free to download and use, but there are paid plans available for those who want access to additional features and tools.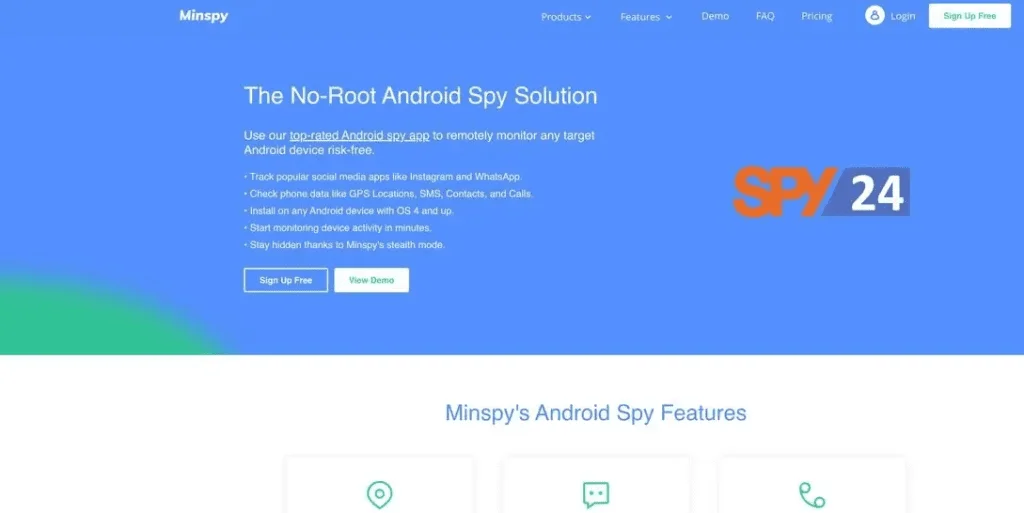 Minspy's Compatibility:
You can install Minspy on all leading iOS and Android devices. This includes devices running Android 4+ for manufacturers such as Samsung, LG, HTC, Lenovo, and more. It supports almost every major iOS device that can be linked to an iCloud account.
Android Compatibility: 4.4.4 to 10 .xx
iOS Compatibility: IOS 7 to IOS 13. xx
How to Install Minspy Application
If you want to install Minspy on your targeted phone and your own device, the process is straightforward. Follow the steps below:
Step 1: Create an Account
Begin by visiting Minspy's official website and creating an account with a valid email address. Once registered, select the subscription plan that fits your needs based on the devices you want to track and the features you want to use.
Step 2: Install on the Targeted Phone
Install the app on the target Android phone just once. The app will operate in stealth mode, making the icon invisible to the user. For iPhone, enter the device's iCloud account information to access the data.
Step 3: Start Tracking with Minspy
Access the online control panel and remotely track the target device.
Comments on the Procedure:
Installing Minspy on both devices is relatively easy, thanks to its user-friendly interface that doesn't require jailbreaking. Physical access to the targeted phone is necessary to install the app. The installation process doesn't take much time.
---
How to Uninstall Minspy Application
To uninstall Minspy, you have two options. First, you can log in to the dashboard and remove it with a single click. Alternatively, you can uninstall it directly from the monitored device. Here are the steps:
Option 1: Uninstall from Dashboard
Log in to the dashboard and click on the uninstallation option to remove Minspy.
Option 2: Uninstall from Monitored Device
Go to Phone Settings, tap on Security, and select Device Administrators. From there, find Update Service and deactivate it. Go back to the Settings menu, move to Apps, select Update Service, find Minspy, and tap on the Uninstall option.
Pricing of Minspy
Minspy is a very powerful and full-featured spy software that allows you to listen to calls, monitor instant messenger chats, read text messages, and spy on any other activity on the phone. The cost of the Minspy subscription varies depending on the number of devices you need to monitor and the length of your subscription.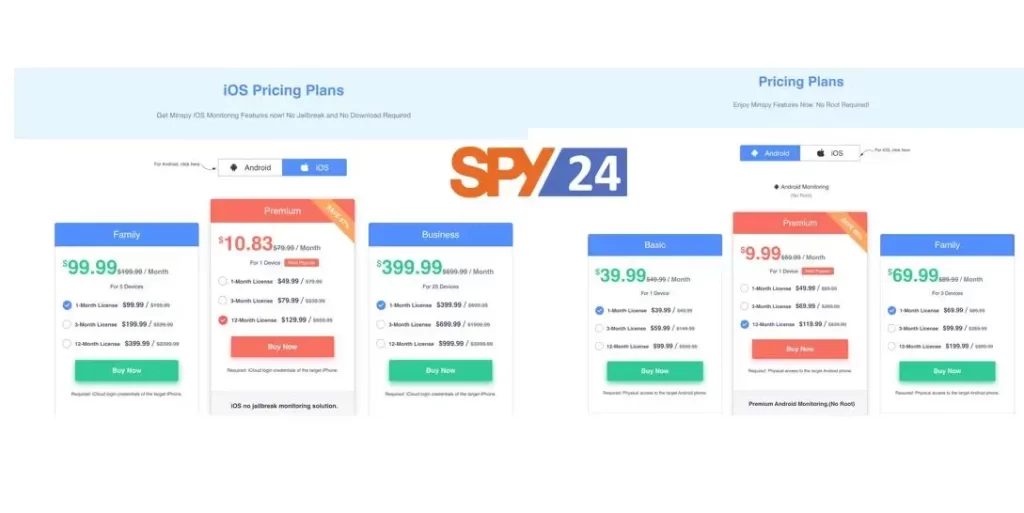 A premium single-device account for Android starts at $9.99 per month, while for ios, it starts at $10.83 per month. The most comprehensive plan that includes everything you need for monitoring and can support 3 devices starts at $69.99 per month for Android and $99.99 for ios.
There are multiple payment methods that you can choose from when subscribing to Minspy. The most popular choices are credit cards, PayPal, and money transfer services. The subscription can also be paid in full at any time, if necessary.
| For Android: | Basic | Premium | Family |
| --- | --- | --- | --- |
| 1 Month   | $39.99 | $49.99 | $69.99 |
| 3 Months  | $59.99  | $69.99 | $99.99 |
| 12 months  | $99.99  | $119.99 | $199.99 |
| For IOS: | Basic | Premium | Family |
| --- | --- | --- | --- |
| 1 Month   | $99.99   | $49.99 | $399.99 |
| 3 Months  | $199.99   | $79.99 | $699.99 |
| 12 months  | $399.99  | $129.99 | $999.99 |
What do customers think? What are their opinions?
These are the questions we ask when we want to know about customer reviews.
Check out the customer feedback section to find out what people are saying about Minspy. It has received a total of 20 reviews and an average rating of 4.6.
Whatever: Did not work at all. Asked for money back but they refused. The app for downloading doesn't even exist. It is a scam. (trustpilot)

Flora, US: "I can finally control my daughter's phone usage. She used to chat during sleep time, but Minspy Cell Phone Tracker has helped me deal with that. Minspy is really an awesome monitoring app for parents. I will recommend it to my colleagues."
Minspy Vs. SPY24:
SPY24 and Minspy are two popular parental control apps that provide parents with insight into their children's smartphone activity. With these apps, parents can monitor calls, texts, GPS location, web activity history, social media accounts, and other activities from anywhere in the world.
 Both apps offer various parental controls to help ensure that children's online and mobile activities are appropriate and safe. 
On the other hand, they have some key differences that parents should consider before deciding which one is right for them.
To avoid the above limitations of Minspy, you should consider using Spy24 instead. It can help you track all major Android and iOS devices remotely without being detected.
with Spy24, you can easily track someone's live location or track their past whereabouts remotely.
It also allows us to set restricted areas through the geofencing feature and be notified of the user's real-time movements.
spy24 also supports tracking every major social app like Facebook, WhatsApp, Instagram, and more.
You can use the built-in keylogger feature in spy24 to hack into their email or social media accounts.
spy24 also supports tracking their stored media files, browsing history, messages, and a host of other details.
What is SPY24?
The SPY24 parental control app offers some great features for parents, including the ability to monitor their children's online and mobile activities and set up alerts for suspicious behavior. Plus, parents can block and restrict certain content and apps if necessary. SPY24 is compatible with both iOS and Android devices and gives parents more flexibility in using it. While this app offers many great features, parents may find it to be expensive, as the premium versions are required for some features, such as live monitoring. Overall, the SPY24 parental control app is a solid choice for parents seeking to monitor their children's online activities.
---
Minspy features:
Minspy monitors your child's messages, GPS location, online activity, and other personal information from the app. 
Parents can use Minspy to set restrictions and alerts for suspicious behaviors 
Parents can view detailed data on how their children use their mobile phones and other devices, including how long they spend on each app and what websites they visit 
Parents can control how often their children play games or use social media with time limits and activity-blocking features 
Minspy also comes with a dashboard that allows parents to view the total amount of time spent on each app
SPY24 features:
SPY24 can monitor calls and texts in real time. 
Monitor GPS location anywhere in the world. 
Monitor web activity and social media accounts. 
View children's online search history. 
View downloaded apps. 
Can lock apps or block content.
Set usage limits on social media and other apps.
Provide parents with real-time insights and data on their child's activities.
Monitor and control children's internet usage.
SPY24 offers an extremely intuitive and easy-to-use interface that can be accessible to users of all levels of experience.  With the app, users can quickly set up alerts and notifications for suspicious behavior, keeping them informed and in control. 
With these features, the SPY24 parental control app is a comprehensive and powerful all-in-one monitoring solution for parents everywhere who want to keep their children safe and healthy when it comes to smartphone usage. The SPY24 parental control app also offers an affordable solution for parents looking for a convenient and powerful solution to monitor their children's online activity.
Conclusion: 
The Minspy app is a powerful and effective parental control app that allows parents to monitor their children's smartphone usage and control their activities online. 
The SPY24 parental control app is a reliable and affordable choice for parents looking to monitor their children's smartphone usage and control their online activities. Its extensive suite of monitoring features and parental controls help keep children safe and healthy when it comes to online and mobile activities. We hope this article on SPY24 helps you. You can also read our other articles, like the one about Best Phone Tracker Apps.
FAQs:
What is the Minspy parental control app? 
The Minspy parental control app is a powerful tool that gives parents the ability to monitor their child's activities on their phones. Using this app, parents can track who their child texts and calls, monitor their location, watch which websites they visit, and view their social media accounts. Parents can also block certain activities or websites to ensure their child is using their phone in a safe and appropriate manner. With Minspy, parents can stay on top of their child's phone usage and make sure they are being responsible.
How does Minspy parental control app work? 
The Minspy parental control app works by tracking your child's phone behavior and activity and then sending you a summary of the data.  With Minspy, you can set rules and limits for your child's smartphone use to help them use it responsibly and safely.
Is Minspy Free Available?
No – there is no Minspy free trial or free version available. You can easily check the demo version available for free on the website.
Can Minspy Help Me Hack Someone's FB Account?
Minspy has a built-in keylogger that can record every keystroke typed on the targeted device. It allows you to easily hack someone's Facebook, Instagram, or other account details.
Can Minspy Track Someone's Live Location?
Yes – Minspy supports real-time tracking of the target device's location. You can even include stealth mode to track the location invisibly.
What is the best parental app to control children?
SPY24 is one of the best parental control apps on the market. It offers a combination of powerful and comprehensive monitoring capabilities and parental controls that help ensure the safety and security of children online. 
You May Also Like: