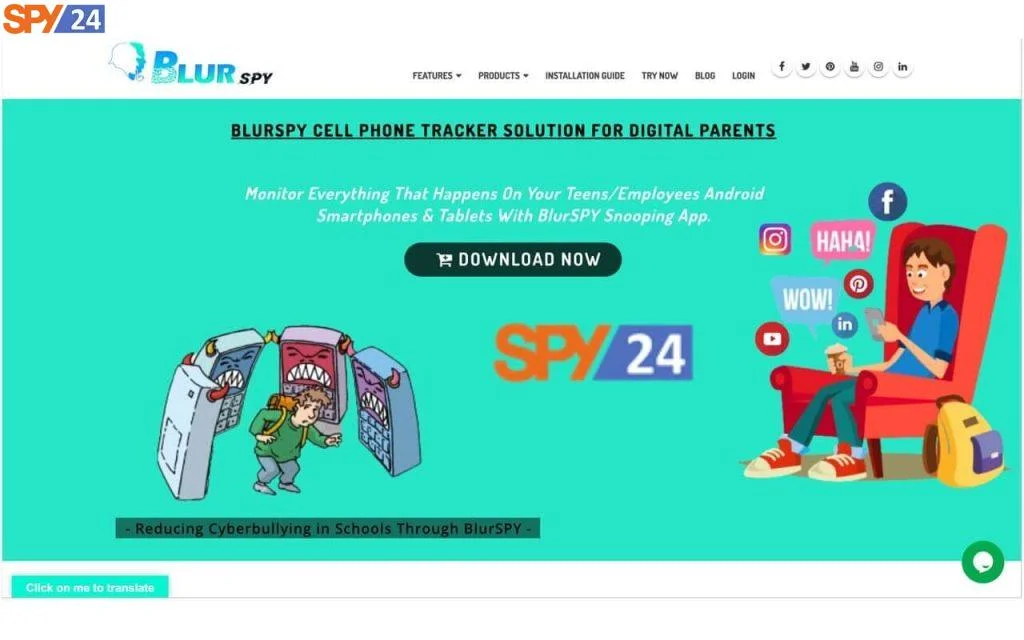 You can monitor all of your children's strange and perhaps dangerous online activities when they are using an Android phone or tablet. BlurSPY gives you the ability to keep a careful eye on your business personnel as well. Get out your iPads, Androids, or Windows devices, and download BlurSPY, which is one of the best spying apps in the world. 
You can start keeping an eye on your children at home and your employees at work as soon as you download the online version of BlurSPY. Whether you're worried about the safety of your business or your adolescent, you have always been concerned about these issues. Adolescents, being innocent, have a greater propensity to become involved with the wrong people. 
Since you are their parents, it is your duty to have a positive relationship with them while also ensuring their safety. Moreover, maintaining an accurate headcount of your workforce is essential if you want to stop confidential information from falling into the hands of your rivals. 
With all of these obstacles, you will undoubtedly find that you want mobile phone monitoring software that is both helpful and discreet in its operation. And BlurSPY is able to satisfy this need. Here in this BlurSPY review, we are going to look at this app's feature and compare and contrast it with the SPY24 app.
Platform:
| | |
| --- | --- |
| Android and iOS(iPhone/iPad) | Yes |
| Windows and macOS | NO |
| Website:  | https://www. blurspy .com/ |
| Domain Age: | 2018-05-10 |

What is BlurSPY?
In the first part of the BlurSPY review, we need to explain what BlurSPY is. Do you want to keep tabs on your children's activities online without them being aware that you're monitoring them? Watching after your teenager might be one of the most difficult things to do in the world. Your children are at a vulnerable age when they are susceptible to various hazards and dangers, particularly if you do not supervise them. 
Because of this, many parents in today's society are concerned about the whereabouts and hangouts of their children and adolescents. For parents, the BlurSPY app performs what they need to alleviate all their concerns.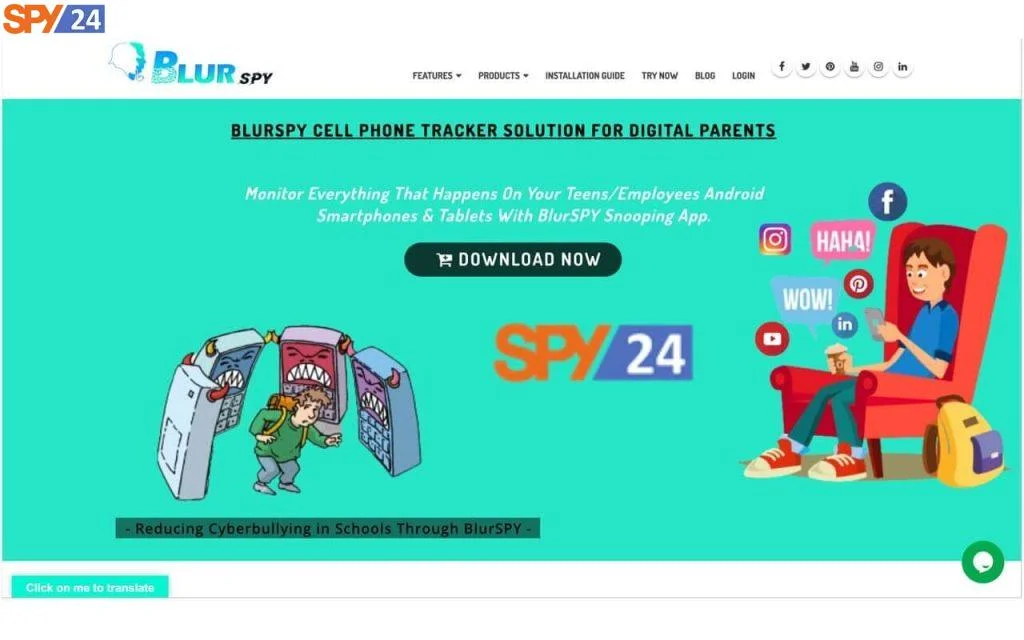 To keep your children secure, filter out harmful information, and safeguard their online activities, you need a parental monitoring tool if you're worried about the dangerous stuff that is now prevalent everywhere in the cyber world.
The BlurSPY software is packed with a ton of functions, each of which enables you to keep tabs on your child's activities in complete secrecy. With the BlurSPY app, you no longer have any need to be concerned about the well-being and protection of your child, as it will take care of that for you. 
With the BlurSPY software, you are able to follow anything, including listening to and recording the phone conversations of your children, employees, and other people as well as accessing their social networking platforms like Facebook and Twitter.
How does BlurSPY Work?
BlurSPY may be installed on a broad number of devices. On Android-based devices, it requires an operating system version 3.0 or above to function.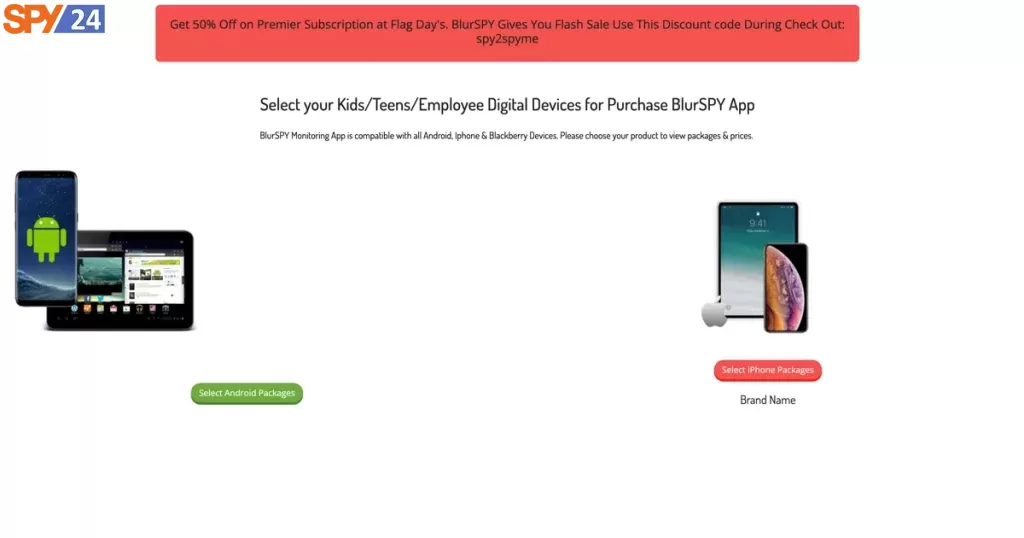 Downloading the BlurSPY app is the first step in reaping the advantages offered by the software. To begin, you will need to download the application onto your child's mobile or any other device that will be targeted. In order for the app to function properly, you will need to perform the following steps:
1. Before you start downloading the app, you need to go to the Play Store first and turn off the "Play protect" option in the settings menu. Also, if your device already has anti-virus software installed, you will need to uninstall or deactivate it before continuing.
2. After you have disabled the previously mentioned function, search for BlurSPY and then download it. When the "Install" button is tapped, the application will inquire as to whether or not it is permitted to input the activation key. It is essential that you grant this permission in order for the process to continue.
3. After you have downloaded the application, the next step is to set up an account and register yourself with the application. Remember the user ID and password for use in the future, and make sure you write them down somewhere safe.
4. It brings us to the end! You will now be able to track and monitor any device, whether it belongs to your child, an employee, or someone else.
When you have finished installing the application, you will need to disable the "Verify Applications" option. This is an additional critical step for users of the Android operating system. The procedure is the same for all users of Android, regardless of the version of the operating system that each individual is using.
BlurSPY of Features:
In this part of the BlurSPY review, we look at its features. BlurSPY gives you access to all of its functions, including the ability to monitor the target's position and see their browsing history. With sophisticated monitoring software, you may keep a careful eye on your workplace for any suspicious activity as well as on your child's life for any potential dangers. 
BlurSPY tracking software is compatible with every platform, including but not limited to Blackberry, Android, iPhone, and Tablets. The program's ability to perform its entire range of functions is not hindered by the existence of competing operating systems.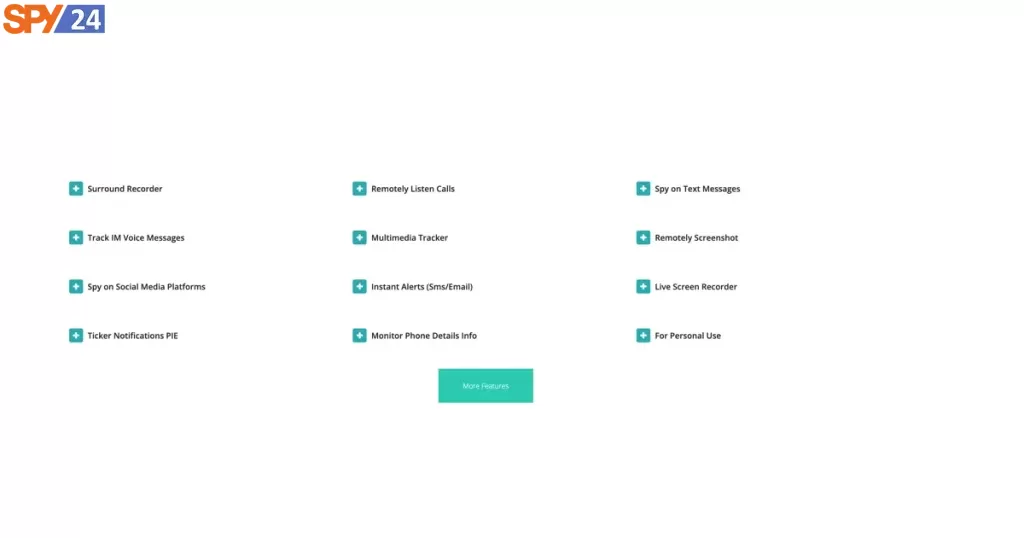 Record and monitor the surroundings 
The BlurSPY Surround recorder is useful for monitoring your target's suspicious off-call conversations and keeping track of them. In addition to this, you may preserve a record of key recordings without letting the people you are watching realize that you are doing so.
The BlurSPY app is sold in packs of two at this time. The first is a bug app and the second is the admin app. The bug app should be installed for the target device and the other is the admin app, which is installed on your own device. You need to register for an account in the BlurSPY control panel, then you will be given an activation key to use on the target devices after BlurSPY has been successfully installed on those devices. 
Under the BlurSPY admin interface, the Surround Recorder may be located in the menu at the upper left. The application will then inquire about the recording duration. You have the ability to record audio from one to ten minutes, depending on your requirements. Logs from your microphone may also be seen on the screen of the app. 
You will discover an exhaustive record of all of your past recordings in this section. The length of time the microphone was bugged, the size of the files, and the time statistics of the preceding files will also be presented. You are free to download your files at any time that you want.
Listening to calls   
Another feature that should be mentioned in this section of the BlurSPY review is listening to calls. You are going to be overjoyed to learn that this program also gives you the ability to listen in on both incoming and outgoing phone conversations made on your child's device. You are able to trace the history of each and every call that was made from that device by monitoring the call logs by using this feature of the app. 
Blocking calls, both incoming and outgoing, gives you complete control over who is able to communicate with your kid and who they may communicate with. Both the call and any instant messages that are exchanged may be recorded. So, you will be able to exercise full power over all of your child's activities that take place online.
Text Message Monitoring  
With the spy feature of the BlurSPY program, you can even read the text messages that your kid sends and receives on their phone. By the use of the spy tool, you may monitor every single communication that is sent and received by your kid with anybody else. 
If you discover anything that seems fishy, you have the option of taking fast action and even blocking any text messages that you feel are objectionable. Also, the text message tracking tool enables you to get notifications whenever certain terms are typed.
IM Voice Message Tracking   
In addition to being able to track text messages, the BlurSPY program has the capability of monitoring the messages sent and received via a variety of social networking applications, such as WhatsApp, Viber, Instagram, Snapchat, and Facebook. 
You are able to monitor everything that takes on these apps as well as any other app that is installed on your child's device. Hence, you will never miss a thing when you use this program, and your youngster will never go too far away from you.
Tracking Multimedia   
It is another feature that we should mention in this part of the BlurSPY review. The multimedia tracker function of BlurSPY allows you unrestricted access to the photo album stored on your child's mobile device. You get access to the audio material as well as the photographs, videos, and other media files that are saved on the other device. 
In addition to that, you have the ability to play back any voice recordings that have been stored on the device. Hence, BlurSPY makes it possible to access anything, including audio and video data, as well as documents and files.
Monitoring Social Media  
When you use this software to monitor your children's activities, you will have access to a vast range of different social networking platforms. These social networks include WhatsApp, Skype, Viber, Facebook, Instagram, Yahoo, Messenger, and Tumblr in addition to a plethora of additional platforms that are quite similar to these.
Capturing Screenshots   
It is easy to capture a screenshot of your employee's or child's smartphone, utilizing the BlurSPY spying program. Screenshots, like other forms of digital imagery, have the potential to be crucial pieces of evidence in legal cases. Be it rectification or current activity updates, screenshots have always played a key part.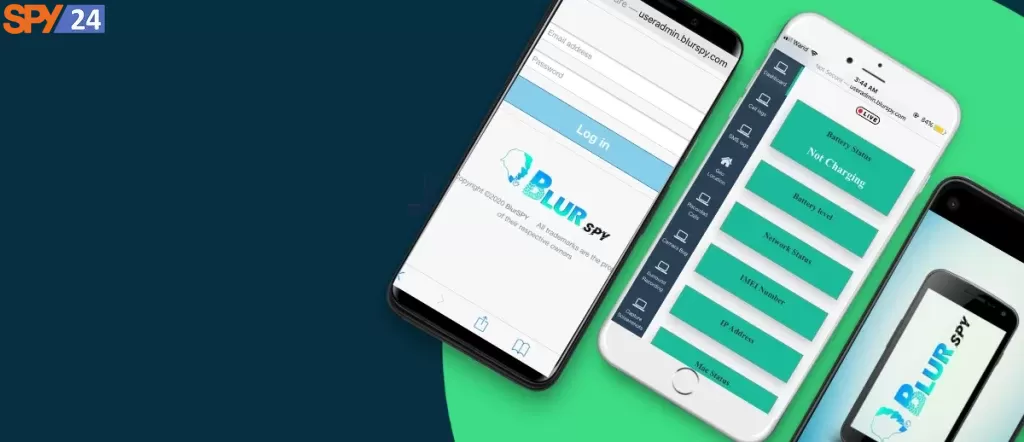 Screenshot taking, which is one of the distinctive features of BlurSPY, not only enables the user to take screenshots but also stores them in a secure location on the company's cloud server. 
Therefore, there is no need for you to load your phone with an excessive amount of media and pictures. Taking use of the function that captures screenshots is just as simple as doing it on your own device.
Instant SMS alert   
The software also provides fast notifications on a variety of actions, such as alerts on specific keywords and alerts for changing your SIM card. This function is particularly helpful in case your kid is a victim of theft or any other crime that threatens their safety in any other way.
Capturing and recording live screen   
The live screen recorder feature provides you with real-time access to the display of your children's smartphones while they are using those smartphones. The software will display you your child's live screen at all times, regardless of whether or not they are using Facebook or Chrome to browse some stuff.
Accessing Phone Details  
You will also have access to the contact information for the phone when you choose this option. With the phone details monitoring feature of this app, you will be able to keep track of everything that is going on on your teen's phone, including the GPS status, battery life, WIFI connection, IMEI, memory, storage, device model, and a multitude of other details. This gives you complete control over your teen's phone.
Accessing and blocking unwanted apps
You have the ability to promptly block any inappropriate content that you discover on your teen's smartphone. You now have the power to add, delete, or ban any app that you believe may pose a threat to the safety of someone you care about.
Blocking calls
In this part of the BlurSPY review, we should mention that not only can you block certain calls on the mobile device that you give to your child, but you can also do it on the devices that your employees use. It is not just about the applications. With this app, you will be able to keep tabs on your employees and record what they do when they are on the clock.
Monitoring calls and chats
We are cognizant of the fact that in this age of technology, the majority of conversations take place over electronic mediums such as emails, texts, and phone calls. The BlurSPY software is capable of taking control of these discussions as well as allowing you to effortlessly go through all of the conversations and chats that are being monitored. 
In addition, the BlurSPY software takes care of not only the communication that takes place through the SIM card but also the social interactions that take place. Thus, this app gives you instant access to the call records as well as the length of each call whenever you want it to.
GPS Tracking
As a parent, you are responsible for keeping track of your child's whereabouts at all times. Nevertheless, the question is, how? People don't always tell the truth when they talk. For whichever reason(s) you choose to focus on, BlurSPY is the answer to all of your concerns surrounding the well-being of your children. 
With one of the most sophisticated capabilities of the BlurSPY android spy software, the GPS tracker app, you can now find out about your adolescents' current positions in real-time. In addition, you will be alerted each time one of your children leaves a secure area.
The purpose of spying is not limited to uncovering rogue members of the group. Whenever you wish to conduct an evaluation of your staff, you must consult it. You will have a much easier time distinguishing truthful employees from dishonest ones as a result of this. Only those who are really worthy of rewards ought to get them. 
With the help of the BlurSPY phone history tracker, you may confidently make the judgments and selections necessary to issue promotions. You can never accurately assess someone just by looking into their eyes. You give them tasks, and who knows what they do with their time after they finish their work. 
It is necessary, at times, for you to keep track of their whereabouts, the paths they travel, and, most importantly, the amount of time they spend in a specific place. Get everything you need in a single BlurSPY kit to help the cause of justice.
Accessing contacts and calendar
The last benefit of installing the BlurSPY software on your teen's or employee's phone is that it gives you access to the calendar on that device, which allows you to stay abreast of any scheduled activities. In addition to that, you have complete control over the contact list and may access it at any moment to make additions, deletions, or block users.
Android Monitoring Prices Plan – BlurSPY Software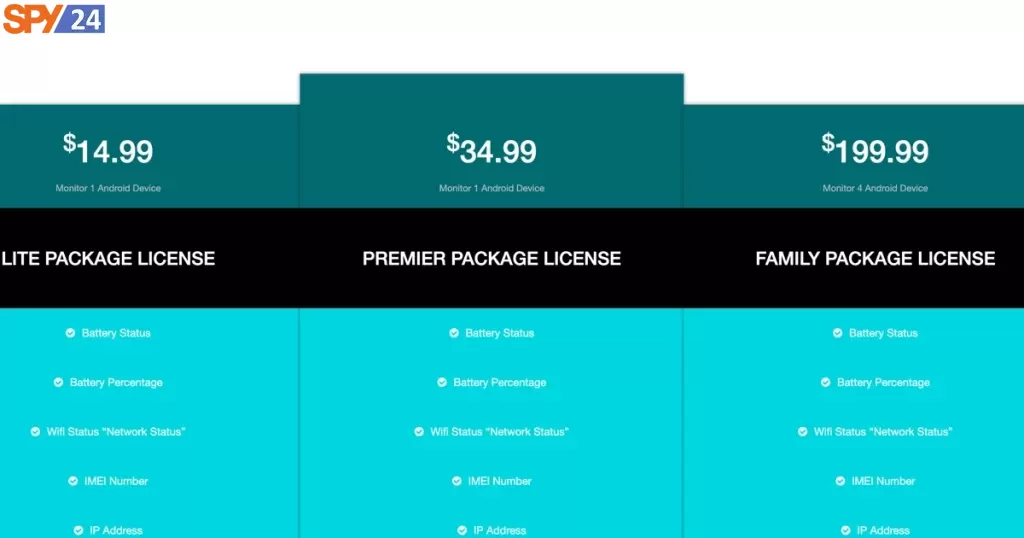 Why Should You Stop Using BlurSPY and Start Using the SPY24 App?  
As you have read in this BlurSPY review, it is just one of the numerous parental monitoring applications that are available on the market today. There are many more. But just a handful of them provides the most value for your money because of how effective they are and how many different features they have. 
Here in this part of the BlurSPY review, we want to introduce another app that is a better option. SPY24 is widely regarded as one of the most effective applications for parental monitoring. Not only is SPY24 packed with a ton of monitoring options, but it is also quite reasonably priced and works very well.
SPY24 App Features
With this software, you have access to almost everything you need to keep tabs on your kids' or employees' every step. Also, dealing with it is easy. As a result, you will have a valuable tool to monitor their online behavior. Next, we'll go through a couple of the most important components:
Call Monitoring
The call monitoring feature of SPY24 App allows you to keep an eye on both incoming and outgoing calls on your target phone. This tool allows you to find out who is calling and contacting your target, as well as the date, time, and duration of each call.
The call history for the last 30 days is also available. In addition to providing you with crucial information on your target's contacts, this tool allows you to maintain tabs on your target's behavior over the course of a month. By doing this, you could get additional insight into their daily activities, the individuals they converse with, and the topics they discuss.
SMS Tracking
With the SPY24 SMS monitoring application, you can keep a careful eye on incoming and outgoing text messages in real-time. With the help of this application, you can monitor how your kid interacts with others, get notifications whenever certain words are spoken, and even set up alerts for when particular contacts are contacted. This application is a great method to keep an eye on your child's activities even when you're not there.
This application takes the guesswork out of monitoring your child's communication since you could get timely notifications and alerts when certain people are contacted or when specified phrases are used in text messages. By using this technique, parents may make sure that their children are interacting with the correct people and avoiding danger.
Spy contacts
You may quickly go through each contact that your child has saved on their phone with SPY24. You will get notifications as soon as your child adds new contacts. By doing this, you can be sure that you are always informed of what your child is saying.
By using SPY24, you may find out the new contact's phone number and when they last called. It's possible that your children have saved individuals in contact, but how can you tell whether they are secure?
SD Memory Card
The SD Card Memory SPY24 spying program allows you to surreptitiously and in real-time see data contained on an SD card. Using this feature makes it much simpler to find stolen or changed data, sensitive information, or both.
The owner of the SD card whose data is being monitored won't be aware of the SD Card Memory SPY24 feature since it is designed to go unnoticed. It is thus the ideal tool for use by businesses and law enforcement agencies when seeking to retrieve sensitive information.
Location Tracking
With the help of SPY24's location tracking function, you may follow the subject of your surveillance in real-time and at a specific place. It is a very useful tool for parents who want to ensure the safety of their children as well as for businesses that want to ensure that their employees are in the proper location. The location tracking feature of SPY24 uses GPS to pinpoint a person's exact location down to the street level.
As a consequence, it is easy to find them even if they are in a crowded area. As it also updates the location in real-time, you can be sure that you always get the most current information. Due to its accuracy and real-time updates, SPY24's location tracking feature provides parents and employers alike added peace of mind.
Using geofencing
You may set fictitious boundaries for your children with the SPY24 Geofencing technology. When the restrictions have been set, you will be informed when your child enters or exits the designated area, giving you additional peace of mind.
This program allows you to monitor your children's whereabouts, ensuring their safety. It also eases your mind to know that you will be alerted if your child enters an area that you have considered to be dangerous. You can easily and securely monitor your child's whereabouts using SPY24's geofencing feature, which provides you peace of mind.
Social media monitoring capabilities
With SPY24's social media apps surveillance tool, you can monitor and maintain tabs on the online behavior of your kids or employees. Social media platforms like Facebook, Instagram, WhatsApp, and Twitter have many advantages, but there are also dangers for children.
Parents and companies may monitor and trace their children's or employees' social media activities with the help of SPY24's surveillance tool. This makes it feasible for them to recognize potential threats and, if required, take preventative actions.
By doing this, parents and employers may ensure that their kids or employees aren't engaging in any dangerous behaviors and perhaps protect them from harm. By keeping an eye on them, you can track their Internet use and discover what they are exposed to. With the help of this tool, you may set alerts and get notifications when suspicious behavior is detected.
What programs are installed on the device, and how much time has been spent using each one?
It is always a good idea for parents to be aware of the apps that their kids use the most on their smartphones or tablets. With this method, you can spot additional apps that might potentially take a lot of your kid's valuable time. With SPY24, you may find out which apps are downloaded on the phone and how long they have been used.
Knowing the programs your child is using will allow you to maintain tabs on how much time they spend using their devices and the content they are exposed to. This may help you see any potentially dangerous behavior before it gets out of hand, enabling you to step in and provide guidance.
Image Tracking Feature 
This feature allows you to monitor and see images taken on the target phone. This might assist you in monitoring the movements of your spouse, kids, or coworkers to make sure they aren't engaging in any nefarious activities. The Internet has many benefits, but it also offers hackers a lot of opportunities, many of which might be damaging to children.
Thanks to this feature, you have a helpful tool for safeguarding your loved ones online. It allows you to monitor their behavior and protect them from any hazards they may encounter online. By watching the target phone and the pictures it takes, you may instantly spot any shady activities.
For instance, if an employee is engaging in illegal behavior or if your child is talking to someone they shouldn't, you should let them know. Also, if your child is a victim of cyberbullying or other harmful behaviors, this tool will provide you with the evidence you need to take the appropriate legal action.
The Web History feature and blocking
With the SPY24 Blocking and History of the Web tool, users may monitor and assess their online activities as well as block websites that contain dangerous or inappropriate content. Users now have more control over their online profile, which makes using the Internet safer.
Logging keys feature
All keystrokes, mouse clicks, and other user activity on a computer are recorded by the advanced keylogger function of SPY24. Every keystroke made on the keyboard is recorded, even those containing credit card numbers, passwords, and other sensitive data like emails. Moreover, it may be used for employee activity tracking or parental oversight of kids.
Data from the SPY24 Keylogger is encrypted for increased security, and its stealth mode feature ensures that the user cannot access it. It may be installed on any Windows, Android, or iOS device and will run silently in the background. Accessible from any location with an Internet connection, the user activity data is stored in a secure online account.
Live streaming on screens
The SPY24 program allows users to stream live video feeds from their cell phones or other devices. It is a helpful tool for monitoring and surveillance since users may keep an eye on their homes, workplaces, or other locations.
The software also contains advanced features like facial recognition, motion detection, and others. It may thus be used as a powerful and trustworthy monitoring and surveillance tool.
Users can see their property in real-time thanks to the live streaming feature, and the motion detection and facial recognition features help identify any unusual activity. With its various features, this software achieves the perfect balance between convenience and security, providing parents with peace of mind that their children are safe.
Recording audio
The program, SPY24, allows users to easily record sound from their phones. It is designed to be stealthy and has the ability to remotely and stealthily capture sounds. Because of the user-friendly design of the app, users may start and stop sound recording quickly and easily.
Moreover, by capturing conversations in real-time, the program enables users to simply keep an eye on their surroundings. The software also has an encryption feature that ensures that recordings are preserved securely and that they cannot be seen without the user's permission. Also, by keeping recordings in the cloud, users may access their recordings from any device.
In other words, the program offers a secure and useful way to record and store chats while giving users complete control over their recordings. Also, you have the option of recording background noise. Users may thus safely record both talks and background sounds, providing a more comprehensive means of information storage and preservation.
Recording a video
You may record any topic in high-definition video with SPY24 and save it securely online. Also, you may watch the video at any time and from any location using any device.
The service uses cutting-edge encryption technology to safeguard all data, and it also provides users with complete access logs so they can keep track of who has seen the video and when. Because of this, SPY24 is the ideal choice for businesses and individuals that need to monitor or log their activity. Moreover, it uses the target phone's camera to capture photographs and videos of the surroundings.
Similar to Live Screen Streaming, video capture has two features, so you may utilize the second one if the first one isn't working. This suggests that you can keep an eye on the environment surrounding the phone even if you're not physically there. Two video capture capabilities double the security in case one fails for any reason.
Real-time audio and video
Users may record audio and video in real-time using the SPY24 innovative software. At the push of a button, SPY24 users may swiftly record meetings, seminars, discussions, and other activities. The recordings are then stored locally on the device so that users may access them at any time.
Today, it is possible to record both audio and video simultaneously. In this way, you can maintain tabs on everything that happens in the area, including possible intruders, and review it afterward to see if any action is required.
This is an excellent method to increase safety and mental clarity. By adding this feature, you may be able to organize your life more effectively. The program further captures the sounds the child hears and experiences in real-time.
With SPY24's comprehensive, secure, and user-friendly surveillance system, users can view and record their behaviors with confidence and peace of mind.
Scheduling element
The SPY24 app's Schedule feature allows users to choose the times when they want to monitor their devices. Users may choose the days, hours, and frequency of when they want to monitor the target device using this tool.
SPY24 App Price  
If you want to make use of it, then you should investigate the Spy24 cost for each of the many different plan choices that are available to you.
Spy24 now provides customers with a choice of three distinct pricing plans, each of which can be purchased for a monthly fee that falls anywhere between $24.99 and $98.99. The most expensive plan, which comes with all of the advanced features described in detail in the preceding paragraphs and costs $98.99 a month, is available.
SPY24 App Pros & Cons
Before you sign up for a current membership at Spy24, make sure you go over the following list of perks and downsides.
Pros
Spy24 works faultlessly with all common mobile operating systems, including iOS and Android.
• It comes with a variety of advanced features, such as the ability to record phone calls, geofencing, keylogging, and many more.
• A wide variety of metrics on the product's application as a whole are offered.
Cons
• There is a possibility that using the Spy24 program to monitor several devices would incur additional costs.
Conclusion
Here in this BlurSPY review, we explained the features of this app. Your first job is to ensure that your kid does not come to any harm. You can't be with your child twenty-four hours a day, seven days a week, but you may use reliable parental monitoring software to keep your kid safe and avoid any hazards that may not have been anticipated. 
Because of this, you should make sure you have an app that can monitor your child around the clock. One of the greatest examples of a solid parental monitoring app is the pair of applications that were just discussed.  But, if we consider how efficient each option is, we find that SPY24 is the superior choice. Thus, download the app as soon as possible, then kick back, put your feet up, and let it take care of your child.  We hope you find this article in SPY24 useful! You can also read our other articles, such as the best phone tracker.
FAQs
Here are some of the Frequently Asked Questions about the BlurSPY App:
What are the benefits of using BlurSPY?
BlurSPY may be of great assistance to you if you are a parent who leads a busy life and does not always have the time to keep an eye on your child. Moreover, BlurSPY is going to be the greatest option for you in this respect if you want to keep a careful eye on your employees.
Will BlurSPY ensure the confidentiality of my data?
Yes, BlurSPY assigns a username and password to each user, both of which the user is free to modify at any time. Remembering your password and securing it in a secure location are both your responsibilities.
What capabilities does BlurSPY provide?
BlurSPY gives you access to a wide variety of monitoring functions, beginning with the ability to listen in on and record live conversations and extending all the way to the surveillance of social networking applications like Facebook, Twitter, and WhatsApp, among others. BlurSPY allows you to monitor a wide variety of information, including the location, call log, SMS history, programs loaded, and many more.