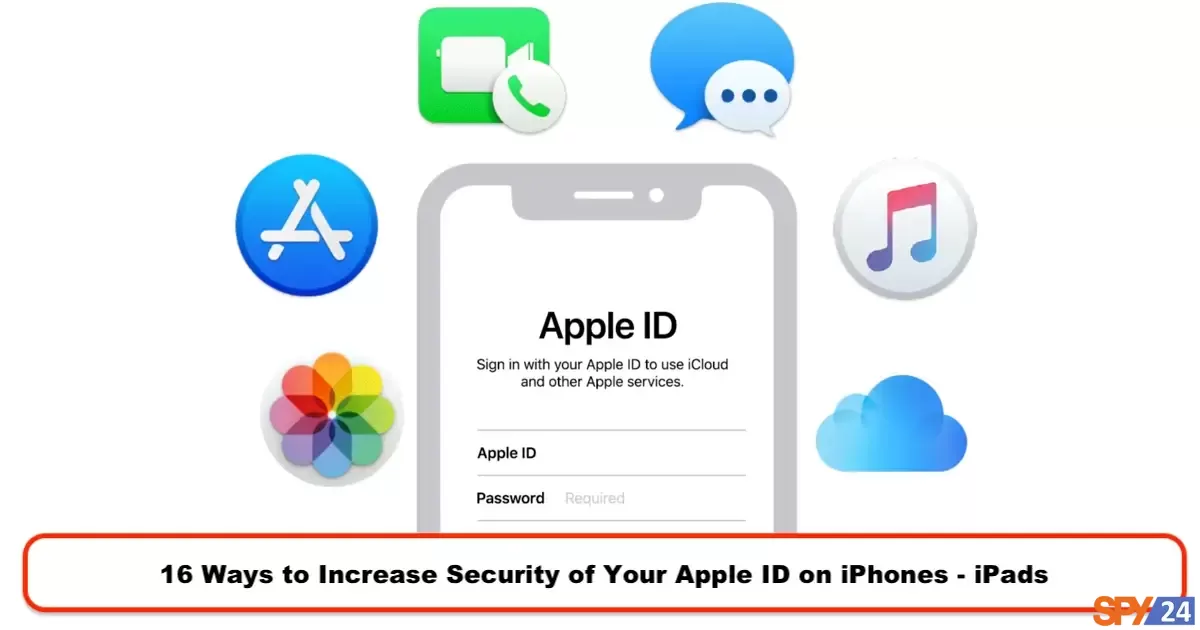 Ways to increase the security of Apple ID: People who use mobile phones, iPads, and other Apple products have a strong security feature called Apple ID. Apple company attaches great importance to maintaining the security and privacy of its users and uses various methods in this direction. To register a mobile phone, perform updates, buy or install software, etc. on Apple devices, you need this ID. Maintaining the security of Apple ID is very important; otherwise, profiteers and fraudsters can take advantage of you in various ways. But the main question here is, "how can we increase the security of our Apple ID?"
Some of the most important and practical exclusive services of Apple such as FaceTime, iCloud, App Store, and iMessage are only available and usable with an Apple ID. This ID is composed of a password and an email address that users must create using their personal email. If you intend to enhance the security of your Apple ID and prevent fraudulent individuals from intruding on your privacy, pay attention to the following points carefully. Read the article "How to Hack iCloud Account Password? Brute force & Phishing".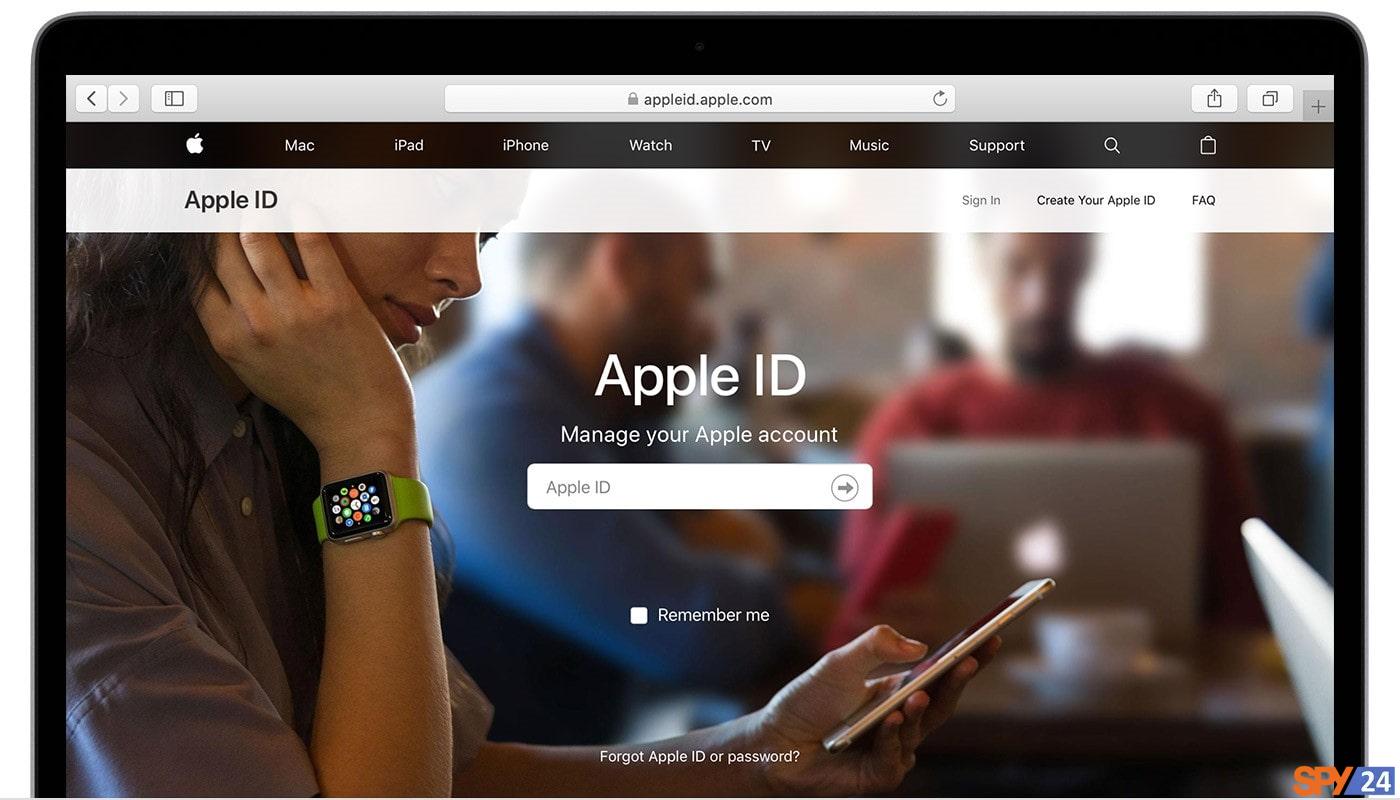 Method 1:Using Choosing a strong password to increase the security of your Apple ID
We highly recommend avoiding choosing simple passwords. The first and easiest step to increase the security of your Apple ID is to use a strong password. A minimum of eight characters is required for an Apple ID password; Apple also requires users to create a password that includes a combination of numbers, uppercase, and lowercase letters. One way to make your Apple ID password even stronger is to use punctuation marks.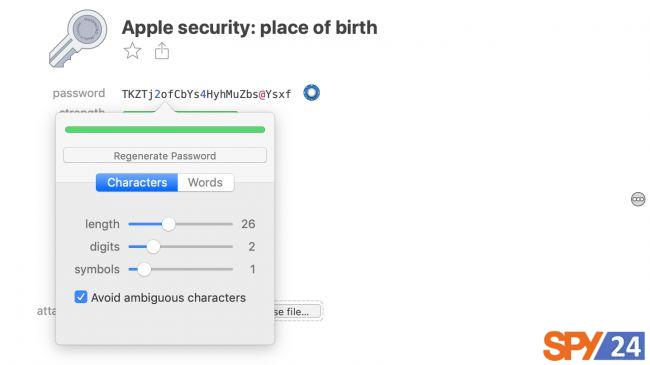 Method 2: Using Two-Factor Authentication to Improve Apple ID Security
Apple has employed modern two-factor authentication methods to increase the security of its users' Apple IDs and enhance the security level of access to them. Activating this login method for Apple ID is the user's responsibility; however, Apple strongly encourages all users to use it.
In this method, after entering your email and password, Apple will ask you for a six-digit code to fully verify your identity. This six-digit code is sent to the SIM card you have previously registered or displayed on your other Apple-branded devices. This feature is available for increasing the security of Apple ID on iOS 9 and later operating systems. To enable this feature, follow the steps below:
From the Settings section of your iPhone or iPad, tap on iCloud.
In this section, enter your Apple ID and tap on Password & Security.
Now, select the Two-Factor Authentication option from this section.
Now, your iPhone or iPad is equipped with two-factor authentication. This system plays a crucial role in enhancing the security of Apple ID.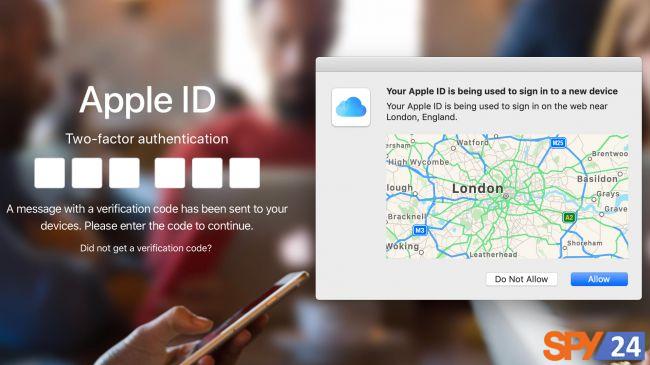 Method 3: Sign out of old devices
If you intend to sell your device, you must sign out of it. To do this, go to Settings, tap on General, click on Reset, and then select Erase All Content and Settings.
To find out which devices are connected to your Apple ID, check the Devices section of the Apple ID website. By selecting each item (device), you will be informed about the operating system version, serial number, and device model. Devices that use Apple Pay are also clearly identifiable.
To remove a device from your Apple ID, simply click on Remove from your account. This will also delete the Apple Pay information from the selected device. If you decide to use the same device with your Apple ID later, you will need to sign in using the usual method.
Method 4: Make guessing your security questions difficult
To recover your Apple ID password and account information, Apple asks you questions to verify your identity. The answers to these questions are provided by the user (you) in advance and now only need to be entered. If someone wants to access your Apple ID by guessing the answers to these questions, it is better to choose complex and difficult answers to security questions. These questions play an important role in improving and increasing the security of your Apple ID. To activate security questions, you only need to go through a few simple steps:
Go to Apple's website at com
After entering your Apple ID, click on the Continue button
Now select the option "I need to reset my security question" and click Continue
Now select your security questions from the page that opens and answer them
It is better to write down your security questions and keep them in a safe place for emergencies.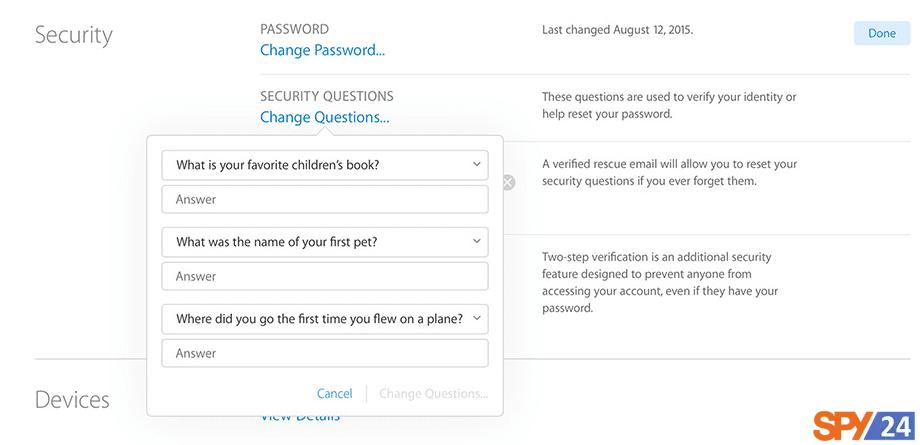 Method 5: Disabling Find My iPhone
With Find MY iPhone, you can remotely track your phone or lock it online. For example, if your device is stolen, you can put it in Lost Mode so that the person who stole it cannot use your device. These are the benefits of Find MY iPhone. However, if for any reason your Apple ID encounters a problem (such as becoming inactive, forgetting your password, and not being able to reset it), if Find MY iPhone is turned off, you can easily remove the Apple ID from the device even without a password or activation.
But if Find MY iPhone is on, you must first resolve the Apple ID issue and then remove it from the device with the correct password. To turn off Find MY iPhone, after entering your Apple ID on the device, go to Settings, tap on your Apple ID at the top of Settings, then go to Find MY iPhone and turn off Find My iPhone.
Increasing the Security of the iPhone with the Activation of the Find My iPhone Feature
Employing the Find My iPhone feature will be very useful in situations where it has been lost or stolen. By using this feature, you can track the location in different situations and even remotely provide alerts or messages on its display, as well as wipe all the information on it. This is another security feature offered in the iOS operating system, for which an active Apple ID is required to use it. Therefore, activating the Find My iPhone feature is one of the most effective ways to increase the security of iPhones and Apple iPads.
Method 6: Protect your account with specific phrases and expressions
If you do not want to use two-factor authentication, you can instead increase the security of your Apple ID with a series of secure phrases. When you want to use your Apple ID or when you contact Apple support, you must enter these phrases. Just make sure that the phrases you choose are very difficult and untraceable for others. In addition, we still recommend using a Password Manager application so that only you have access to these phrases and expressions.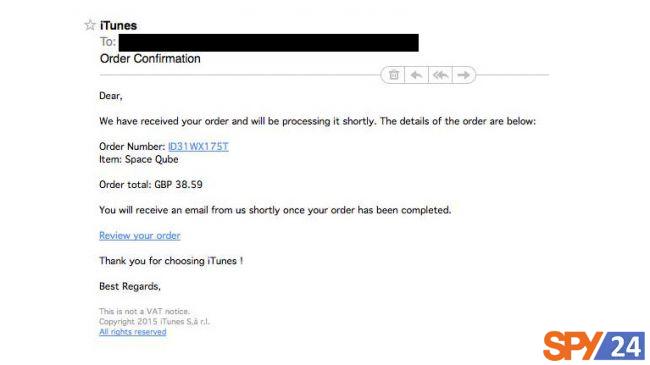 Method 7: Be cautious when dealing with phishing emails
Phishing emails appear similar to normal content and ask you to log into your Apple account. In most cases, these emails can be identified with just one glance. Usually, thieves try to scare you by saying that your account is in danger or that a huge purchase has been made on your account.
Never click on the links in these emails, and more importantly, do not enter a website that sends you such an email. Maybe that website looks like Apple's website, but it's not. If you enter your username and password on these websites, your information will fall into the hands of thieves and scammers, and you will be in trouble.
If you encounter these emails, go to the Apple Support website and select the Get Support option, or if necessary, contact one of the Apple experts.
Method 8: Increasing iPhone Security by Enabling SIM PIN
SIM PIN is actually a separate password that is set for the SIM card. And every time the user turns the phone on or off, they must enter this password to unlock the SIM card and enable its use. Therefore, activating this feature can also help increase security. Enabling the SIM PIN feature can be one of the effective methods to enhance the security of iPhones and iPads.
To activate this feature, follow the steps below:
Go to the Settings section.
Select the Phone option.
Choose the SIM PIN option.
Select the slider next to the SIM PIN option and enable this feature.
After activating this feature, you can provide a unique password for your SIM card.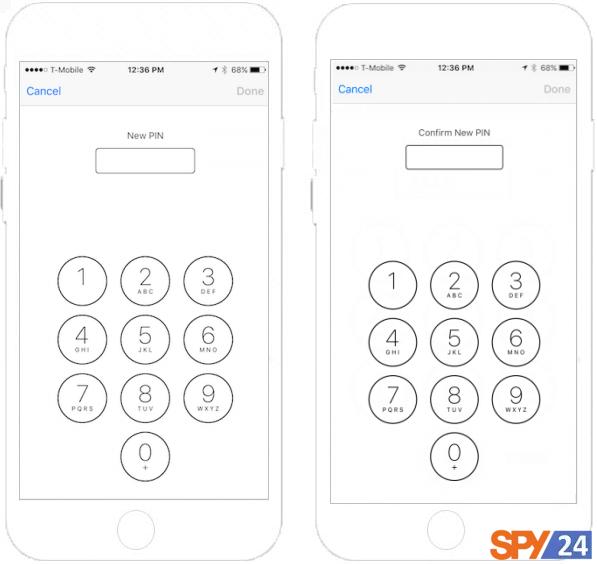 Method 9: iPhone security by activating Limit Ad Tracking
To increase the security of your iPhone or iPad, you must activate this feature. One of the features offered in the iOS operating system is the Limit Ad Tracking feature, which limits various applications' access to information for presenting advertisements relevant to personal preferences and needs.
To activate this feature, follow these steps:
Go to the Settings section.
Select Privacy.
Choose Advertising.
Activate the Limit Ad Tracking slider.
As a result, the ability to limit Tracking of information by applications that include ads will be enabled, and these applications will no longer be able to use personal information to provide relevant ads.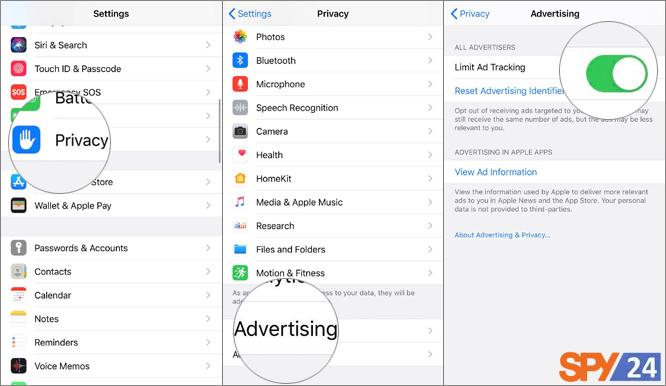 Method 10: iPhone security by disabling Location Based Ads
By deactivating this feature, you can increase the security of your iPhone to some extent. This can provide peace of mind and disable the Location Based Ads feature that displays ads on the iPhone or iPad based on the identified location.
To disable this feature, follow these steps:
Go to the Settings section.
Select Privacy.
Then choose Location Services.
Select System Services.
Disable the slider next to Location-Based Apple Ads.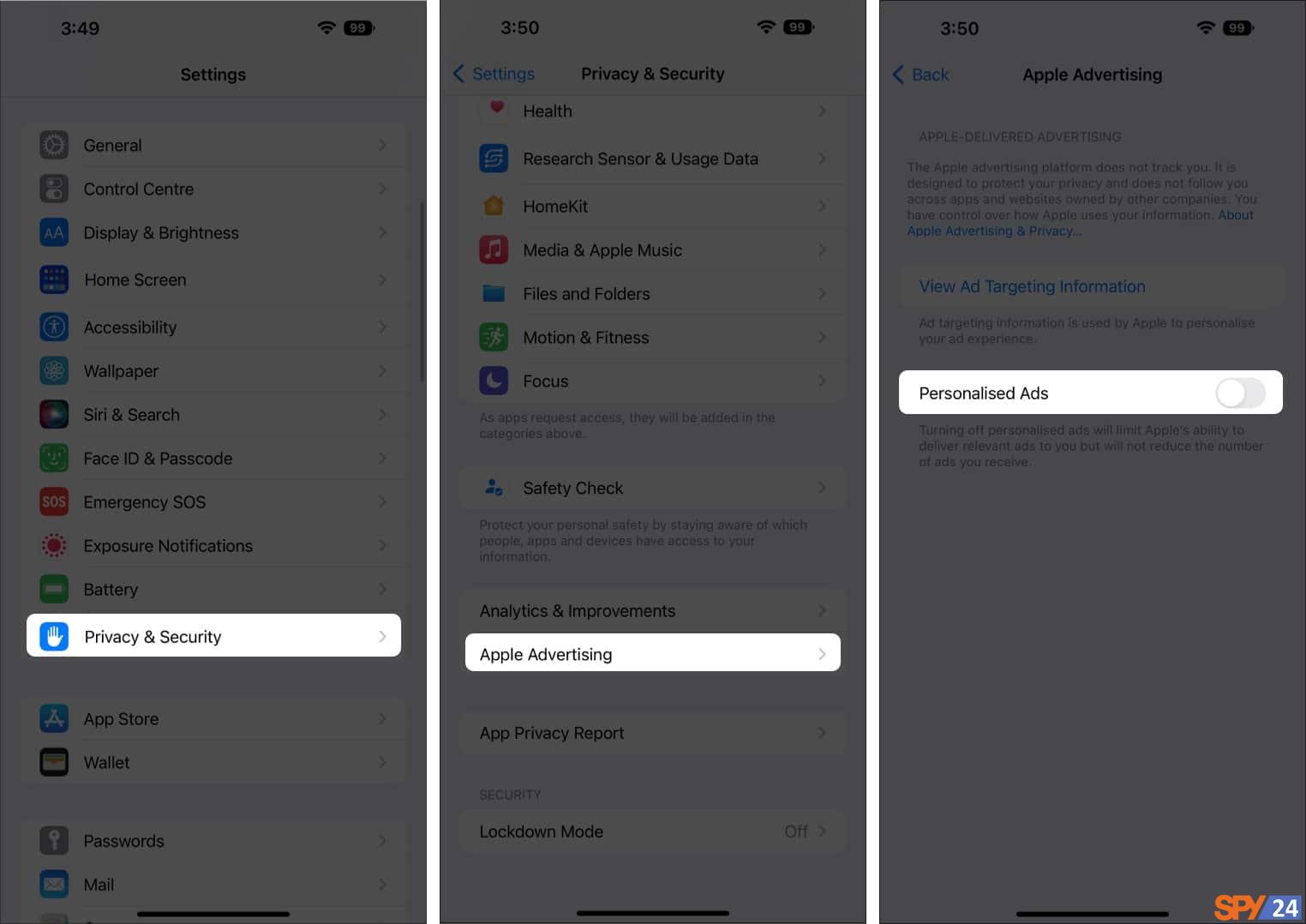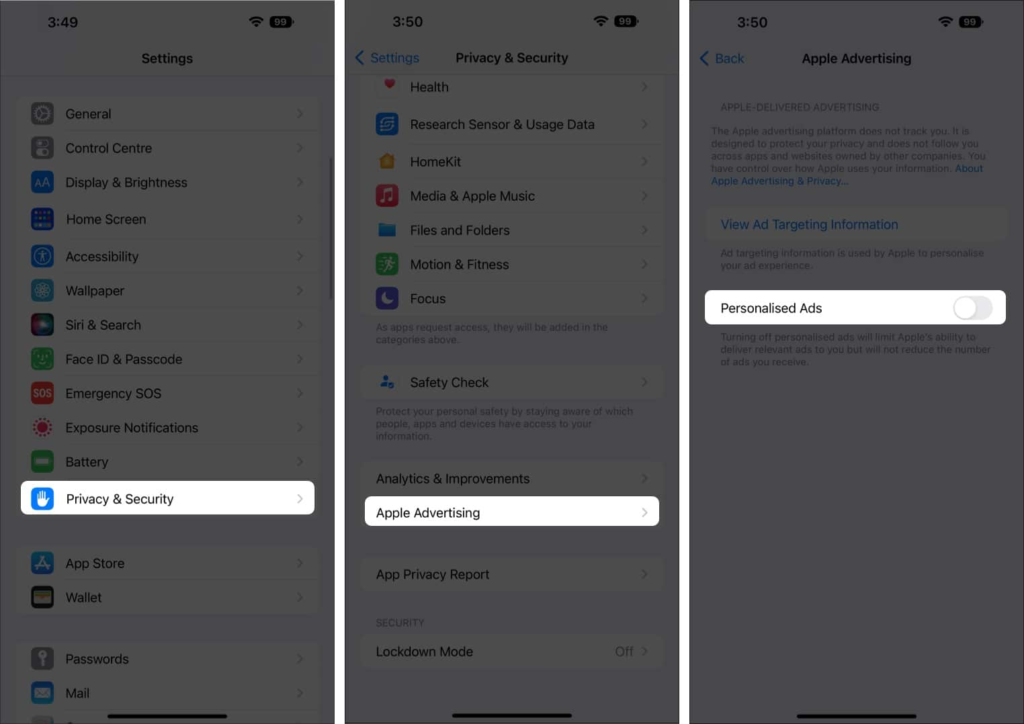 One good reason to do this is that it disables the GPS feature for detecting location and providing ads relevant to that area. This can lead to increased iPhone security and battery life in certain situations.
Method 11: iPhone Security by disabling automatic connection to Wi-Fi networks
To prevent opportunistic issues, it is enough to enable the Ask to Join Network feature on your iPhone or iPad. Of course, connecting to free Wi-Fi networks is one of the most enjoyable things, but it can also provide an opportunity for some people to exploit. Therefore, you should never connect to untrusted and unknown Wi-Fi networks.
To activate this feature, follow these steps:
Go to the Settings section.
Select Wi-Fi.
Enable the Ask to Join Network feature.
Not connecting to unknown Wi-Fi networks can be another way to increase the security of iPhones and Apple iPads. By enabling this feature, it requests your confirmation before connecting to any network.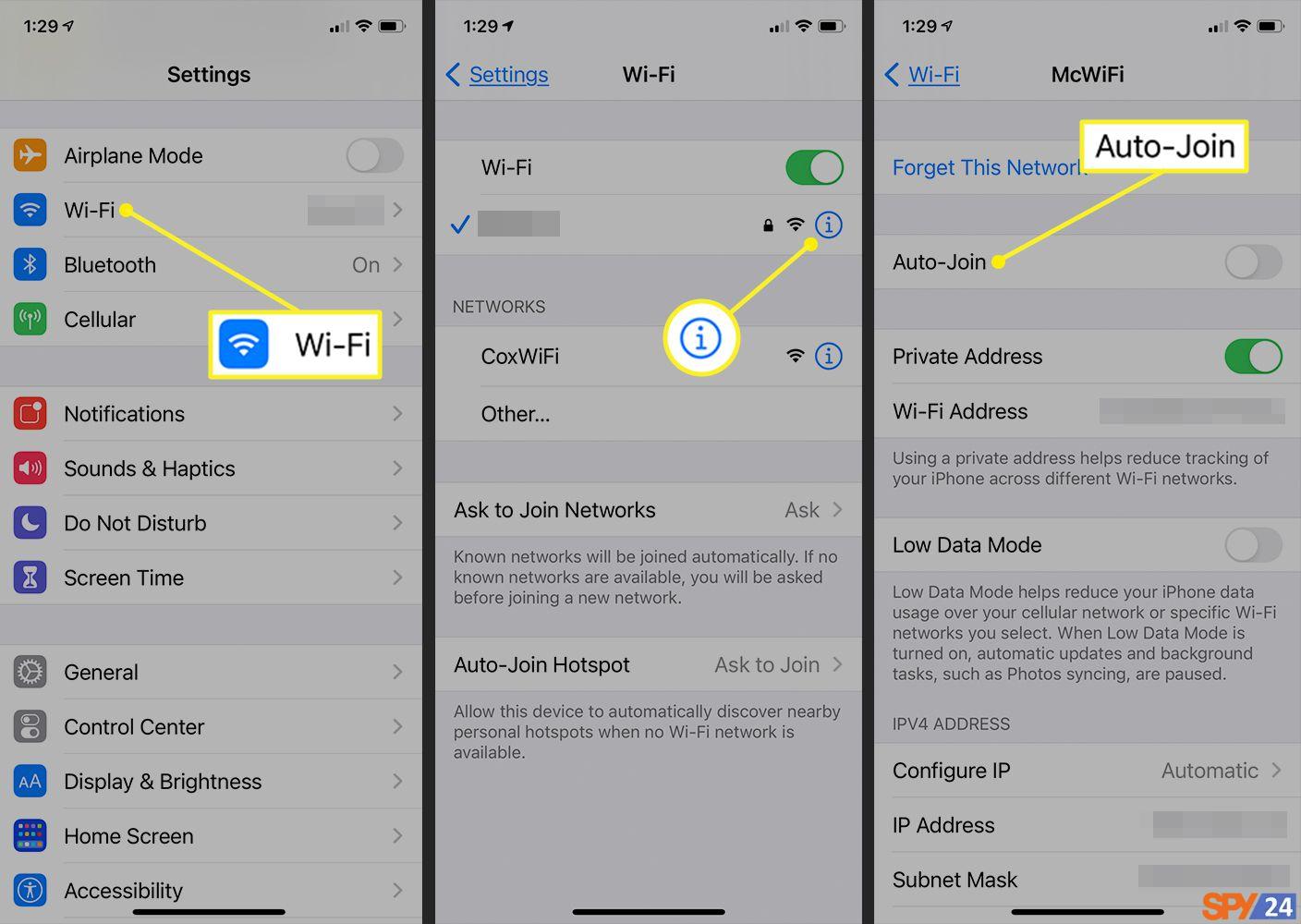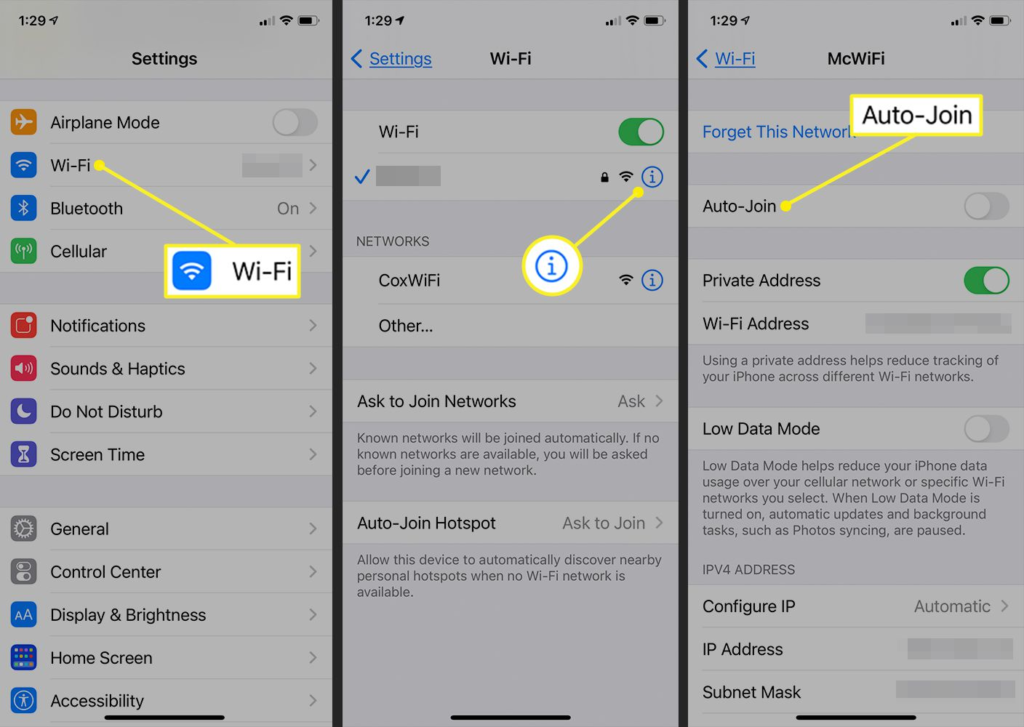 Method 12: iPhone security by creating a stronger password with letters
In general, passwords are used to create security on all mobile phones. However, in some operating systems, the password is much more advanced than normal and includes adding letters during password creation. The ability to use letter passwords on iPhones and iPads is another available solution for increasing security. Without a doubt, using this feature is one of the most effective ways to increase the security of iPhones and iPads.
To do this, follow these steps:
Go to the Settings section.
Select Face ID & Touch ID & Passcode.
Tap Change Passcode.
Enter your current password to display the password change page.
Tap the Passcode Options screen.
Choose the Custom Alphanumeric Code option.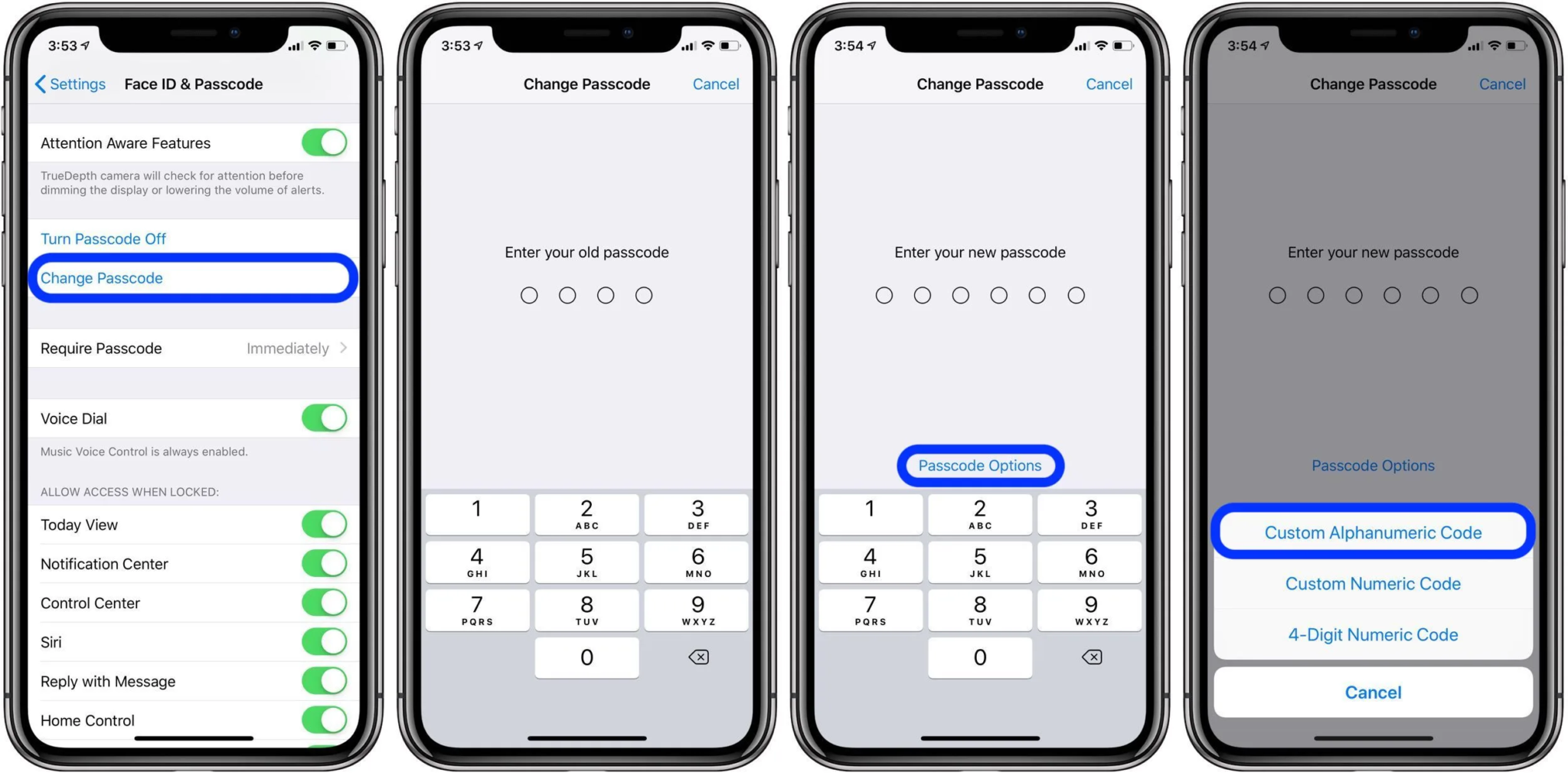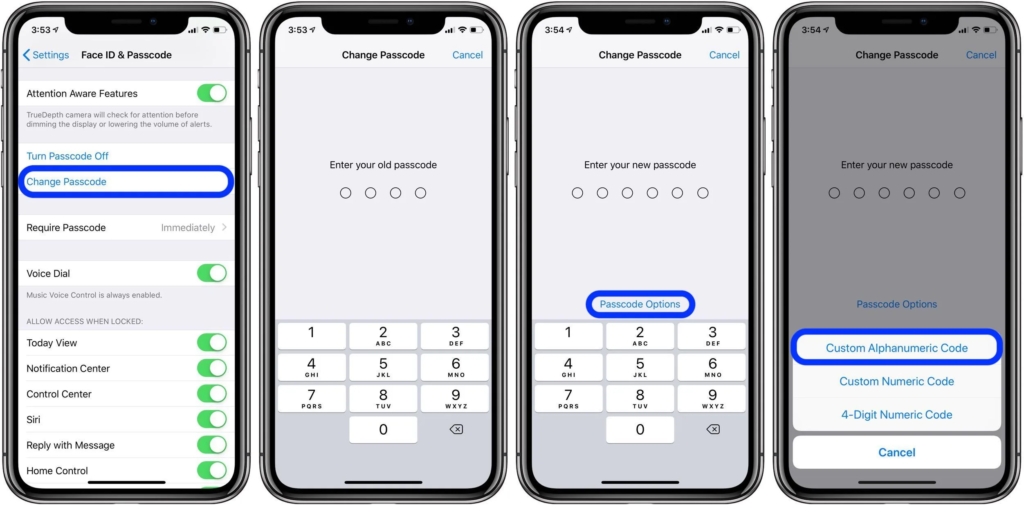 Method 13: iPhone security by limiting information and activity on the lock screen
In many cases, the lock screen is activated, and in this case, specific information is displayed on it. Notifications are visible in this state, and the user can respond to messages or perform certain tasks from the lock screen. If you want to increase security on your mobile phone, you can use this method. Additionally, using options like Reply With Message can result in receiving and responding to messages directly from the phone's lock screen, making it necessary to disable these features to increase security. Disabling the Notification View option in this mode can significantly help increase security.
Another way to limit lock screen activity is as follows:
Go to the Settings section.
Select Face ID & Touch ID & Passcode.
Go to the section labeled Allow access when locked.
Disable unwanted features.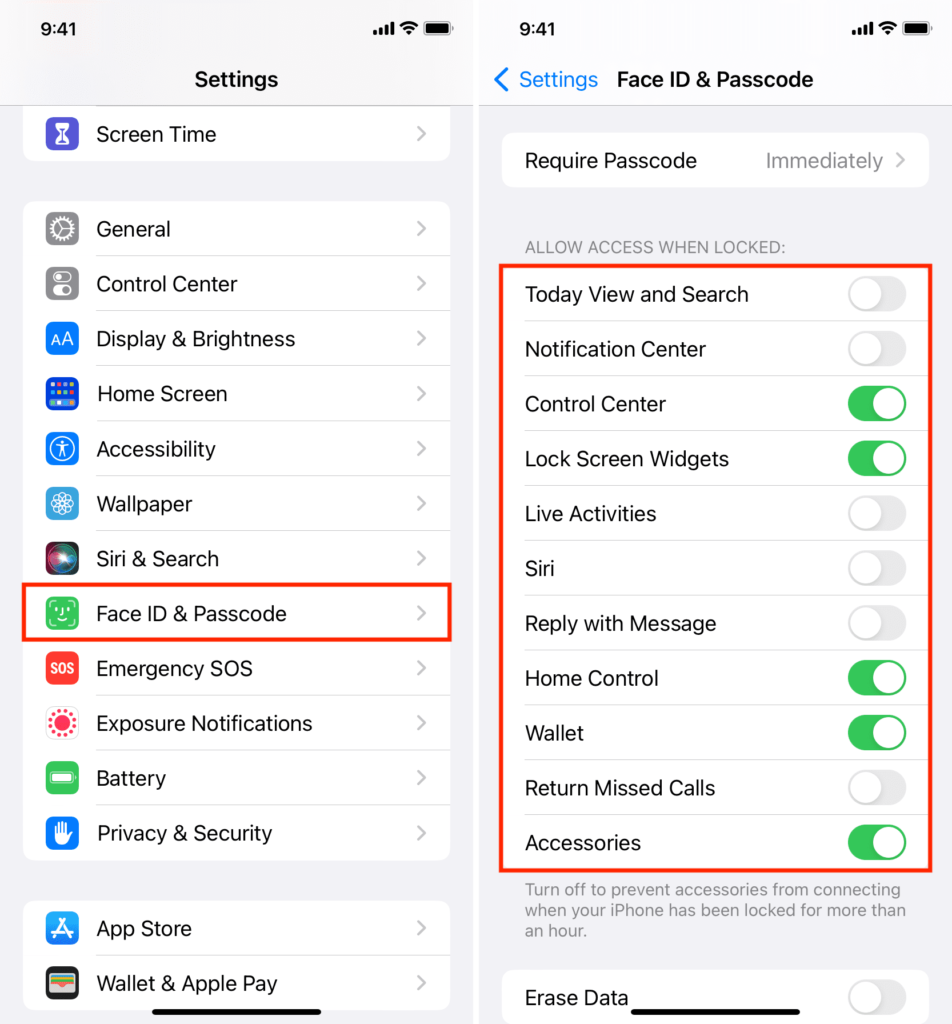 Method 14: iPhone security by optimizing Safari browser settings
In the Safari browser, like some other Apple applications, measures can be taken to increase its security. If you use the browser, there are some settings that can be optimized to increase the security of your iPhone or iPad. Additionally, preventing the storage of certain information, such as credit card information, can have a significant impact on increasing security.
For example, the auto-fill feature for password fields in this browser can be disabled so that no unknown person can access personal accounts through a personal browser. Also, we recommend disabling options such as Use Contact Info, Names, and Passwords, and Save Credit Cards in the browser's security settings.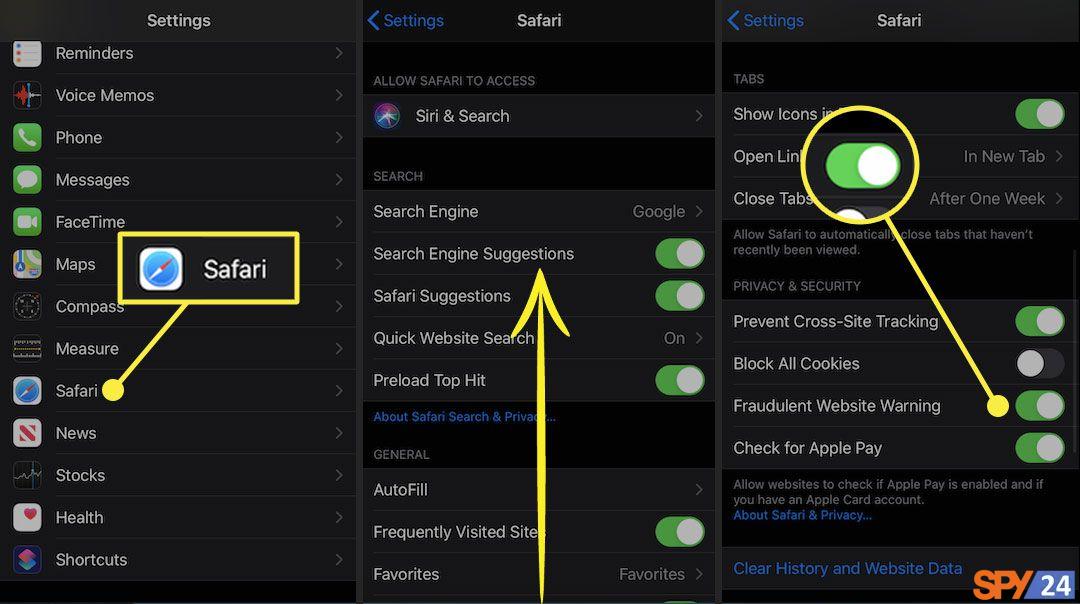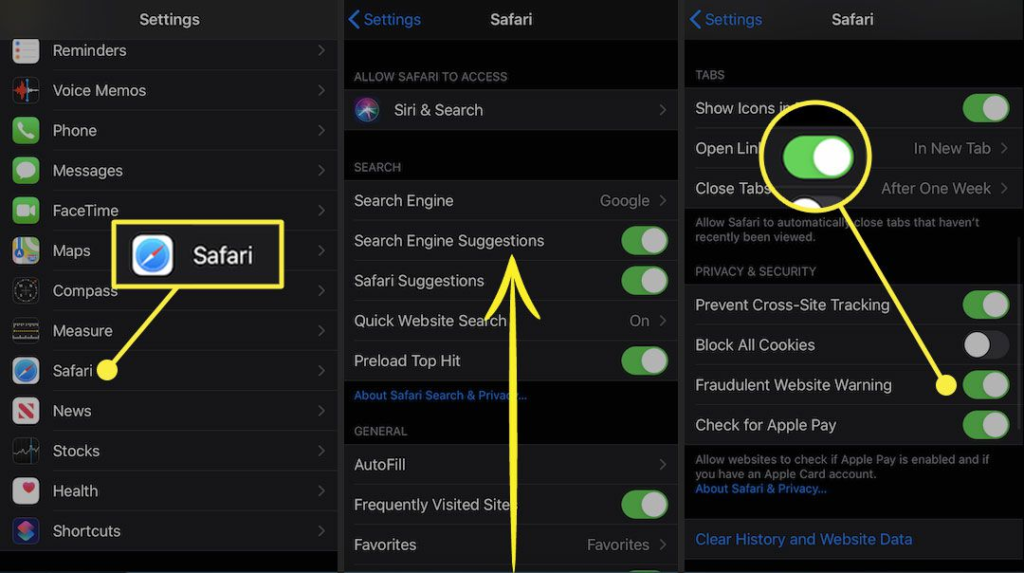 Method 15: iPhone security by enabling the automatic data erase feature after 10 incorrect password attempts
Another feature in this regard is the Erase Data feature in the settings menu, which automatically deletes internal data after 10 consecutive incorrect password attempts. By enabling this feature, every time the password is entered incorrectly 10 times in a row, it will automatically wipe and all personal information will be deleted.
To enable this feature, follow these steps:
Go to the Settings section.
Select Face ID $Touch ID & Passcode.
If password protection is not already enabled, turn it on.
Enable the Erase Data option.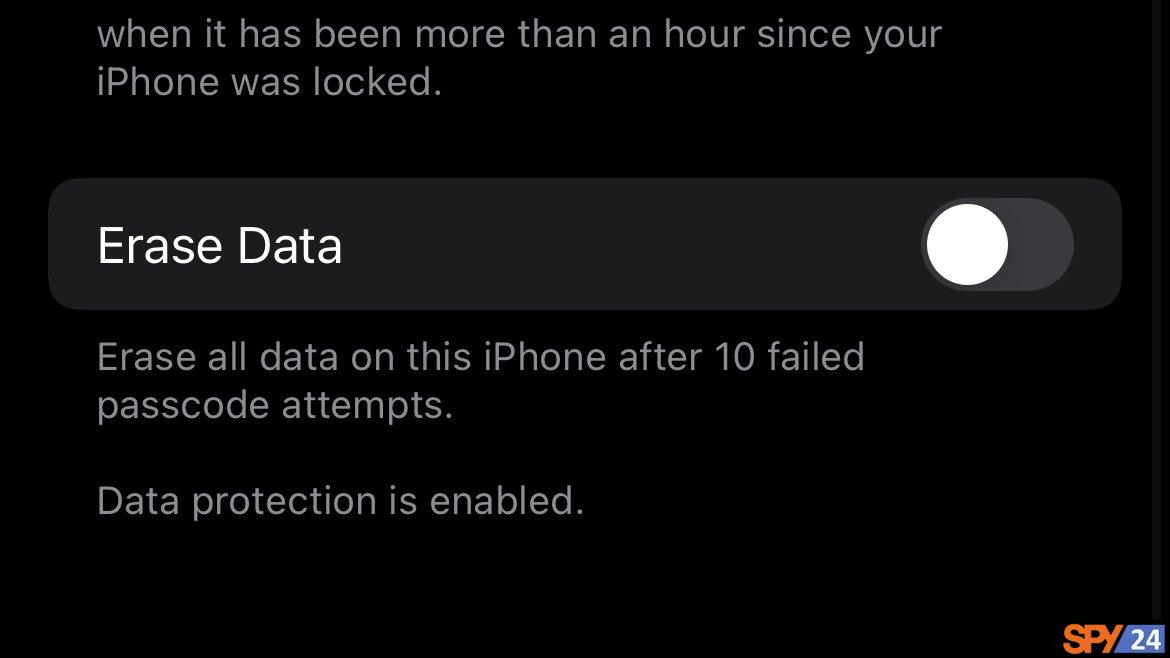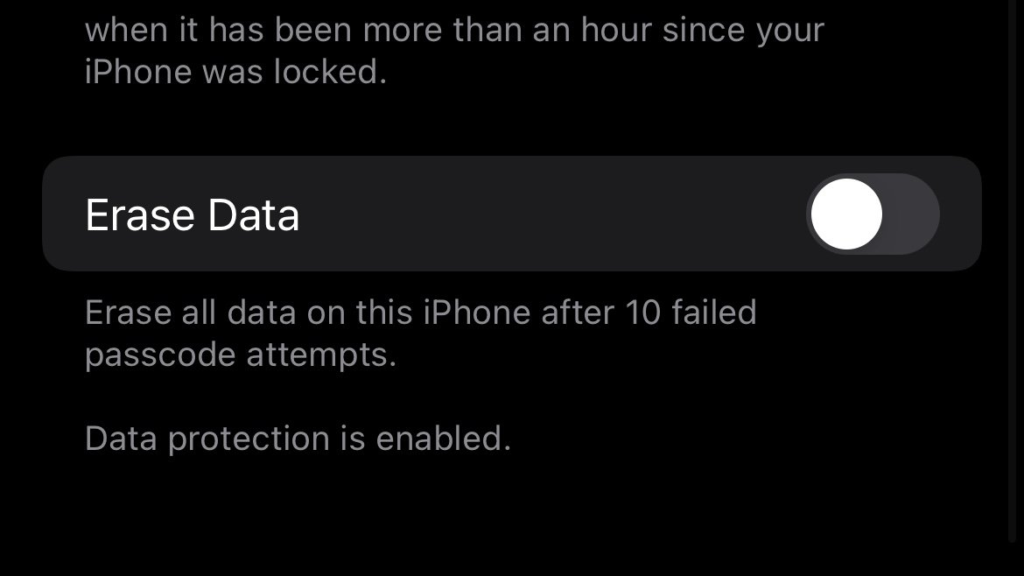 Method 15: iPhone security by regularly updating the operating system
In iOS operating systems, it is important to always upgrade the system to the latest version as this is also one of the ways to increase the security of iPhones and iPads. Updating the iPhone and iPad operating system can be another way to increase security. Moreover, new security layers are provided in the updates released for the iOS operating system, and installing them on the device will lead to an increase in its security.
Therefore, to access the operating system update menu on an iPhone, follow these steps:
Go to the Settings section.
Select General.
Tap Software Updates.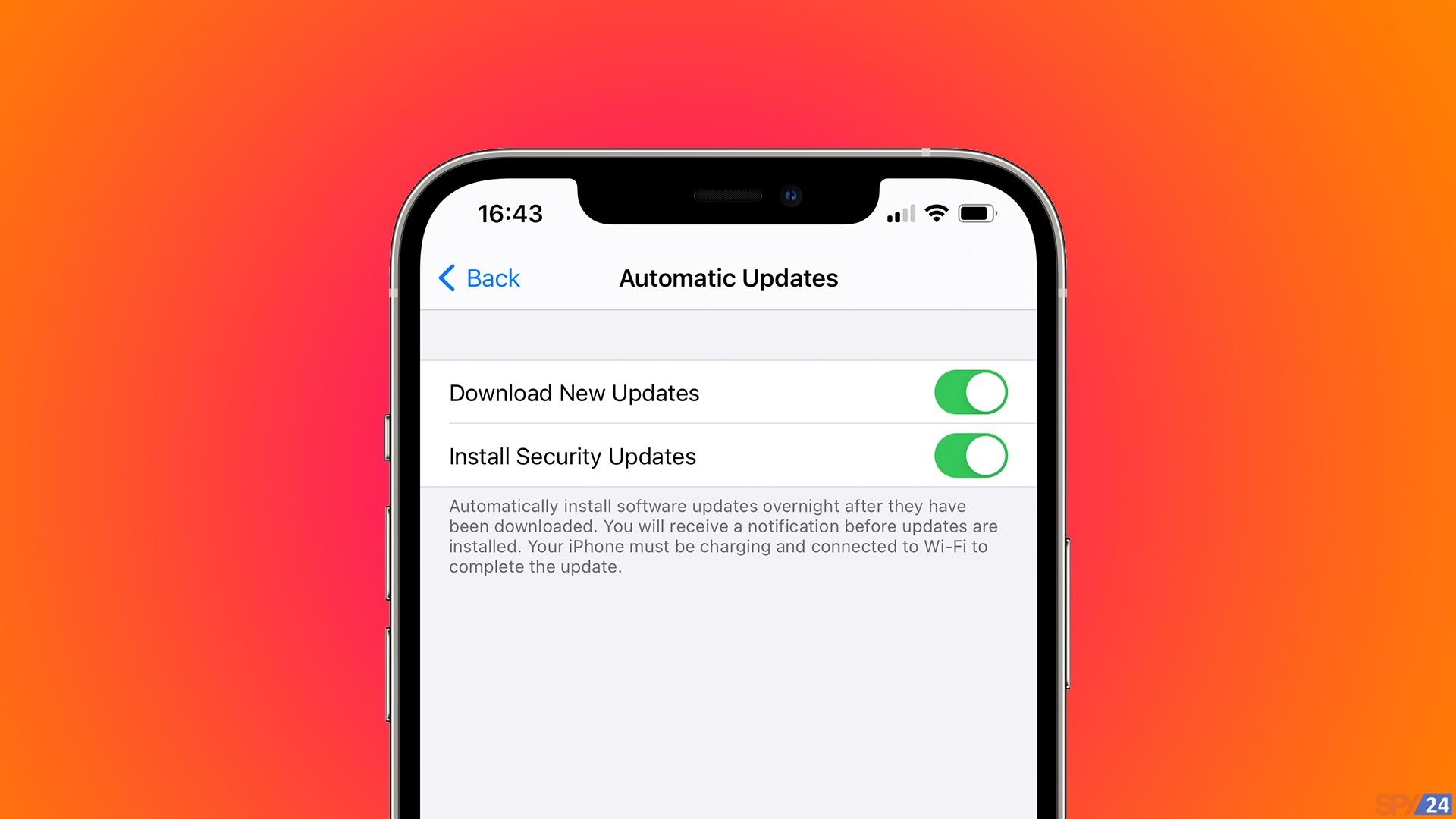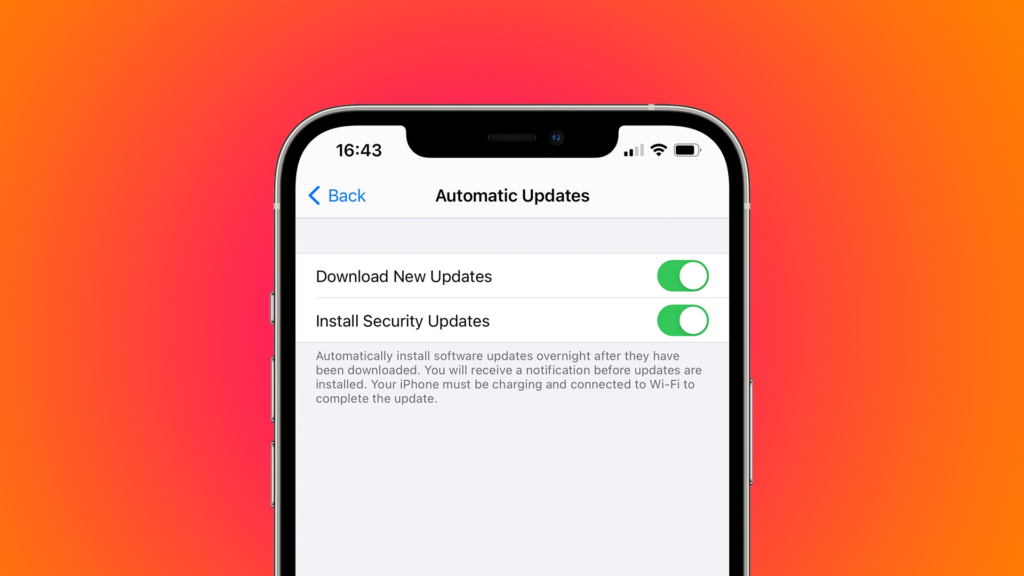 Method 16: Avoid buying unreliable Apple ID
There are various reasons why people prefer to buy a ready-made Apple ID from mobile phone shops instead of creating one themselves. In some mobile stores, they sell the Apple phone's password and ID that is placed on a card. Typically, these accounts contain a complex email and a long password. After purchasing and entering this email and password, you can use your iPhone or iPad.
The main problem here is that you have no control over the security of your Apple ID. In most cases, even the email password is not given to you! Interestingly, anyone who has access to this email password can access all of your mobile information. Essentially, all the information available in your iCloud device is also stored with the owner of this email.
Using this type of email and password puts your Apple ID security at its lowest level possible. Whenever you forget your password or if the email password owner changes the password, you will no longer be able to use your mobile phone.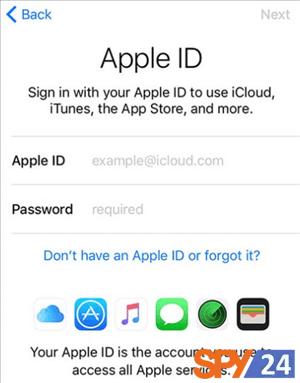 Also, pay attention to these tips to increase the security of your Apple ID:
Never share your Apple ID with anyone (even close friends and family members).
When selling your iPhone or iPad, sign out of your Apple ID account.
If you signed in to your account in public places such as coffee shops, make sure to sign out after finishing your work.
Avoid entering your Apple ID information on other people's phones.
Keep all Apple ID information such as password, email, and security question answers for yourself and do not share them with others.
Avoid entering your Apple ID information on untrusted websites and apps (especially on sites that send you their link via email or SMS panel).
Use a password or passcode for your Apple devices and activate Touch ID and Face ID.
Keep your device's operating system up-to-date. New software versions fix bugs, have new features, and provide important security updates. Always check your device and update it if a new version is available. You can also refer to how to update iPhone in this regard.
Protect your personal information. Learn about Apple and how its products are designed for more privacy protection.
Don't fall prey to scammers. If something seems suspicious to you, assume it is and consider safety precautions.
To enable two-factor authentication, go to Settings on your iPhone or iPad and select the iCloud option. Then, touch Password & Security and turn on Two-Factor Authentication (move to Turn On mode). By doing these steps, two-factor authentication for your Apple ID is enabled, and the security coefficient of your iCloud account and Apple ID is significantly increased.
By following the guidelines and tips discussed in this article, the security of your Apple ID on your device will be noticeably increased. The Apple ID is one of the most important tools for using Apple products. Be careful and sensitive in maintaining it as much as possible.