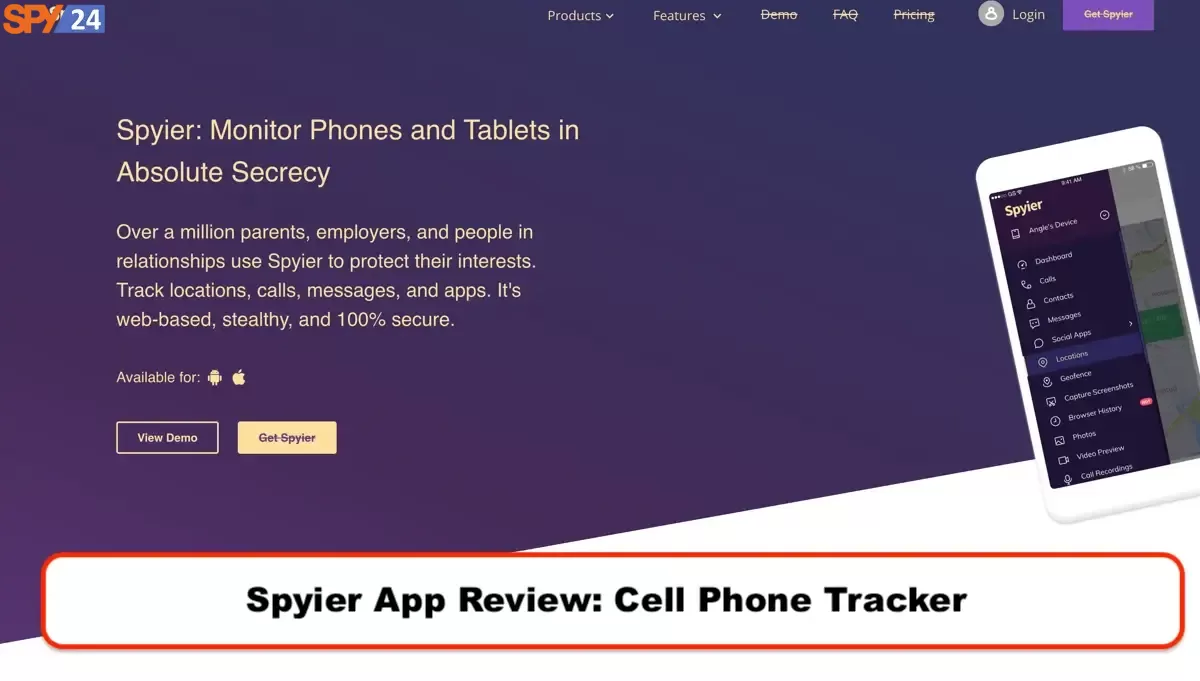 Spy applications are some of the most popular apps available, which have consistently upgraded their design, features, and monitoring capabilities. Because of these applications, we are able to protect the people we care about most from the dangers posed by digital technologies. 
When it comes to keeping tabs on children's online activities, many parents are willing to try monitoring applications of this kind. You can also use surveillance software on your own mobile device to search for and discover your misplaced or stolen phone.
This post provides an evaluation of Spyier, a mobile phone tracking and monitoring app, with the purpose of describing the potent capabilities of the app.
| | |
| --- | --- |
| Android | Yes |
| iOS(iPhone/iPad) | Yes |
| Website:  | https:// spyier .com/ |
| Domain Age: | |

What is Spyier?
With the assistance of reliable surveillance software, we are able to ensure that our friends and family are protected from harm at all times. Spyier is one example of this type of application, and users from all over the world have been giving it extremely positive evaluations. Let's take a more in-depth look at the characteristics that set this program apart from others.
Spyier is an app that can be used to observe the activities that take place on the mobile device of the target person. It comes with a variety of features that can be utilized for this purpose. The app performs its numerous functions in a totally covert manner, and there is no way for the user who is the subject of the monitoring to discover that they are being watched.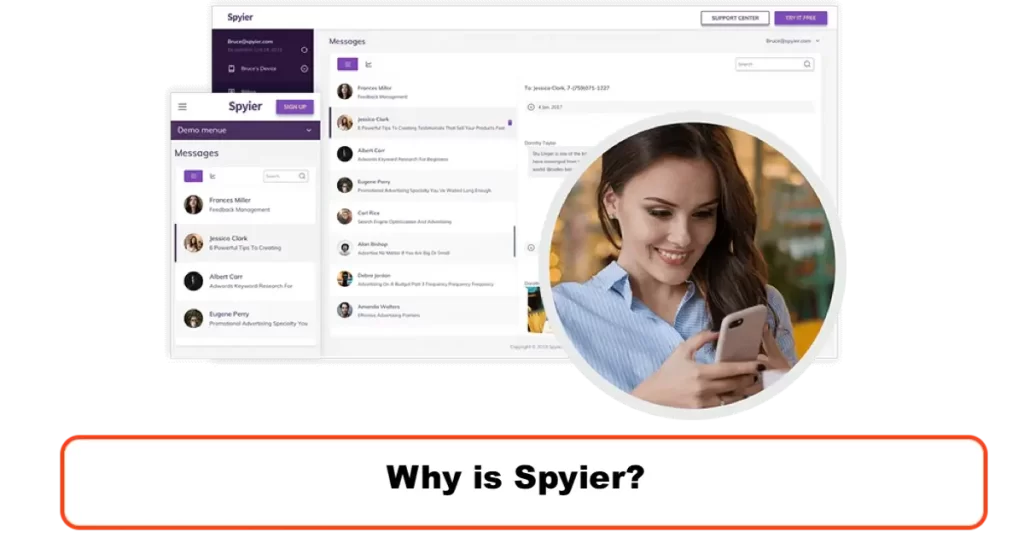 Spyier is capable of monitoring a wide variety of data, including phone records, communications, behavior on social media platforms, GPS position, and many more. One of the most appealing aspects of Spyier is the fact that it is very simple to operate. 
Setting up the application takes only a few minutes and does not call for any specialized technical knowledge or skills. After downloading the software on the target phone, you will be able to begin monitoring it within minutes.
Features: What You Get with Spyier
Spyier provides characteristics that are comparable to those offered by its competitors. You'll be aware of almost everything that takes place on the target phone, including the following: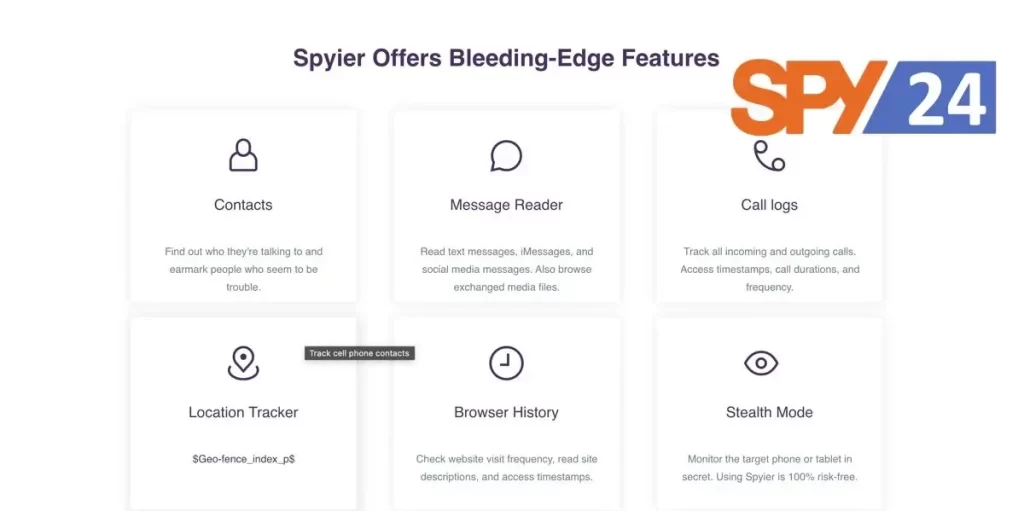 Message reader
This feature of the software monitors both incoming and outgoing communications and logs them. This includes text communications that are subsequently removed from the device. The messages are saved to a personal Internet account, which can be accessed through your computer at any time.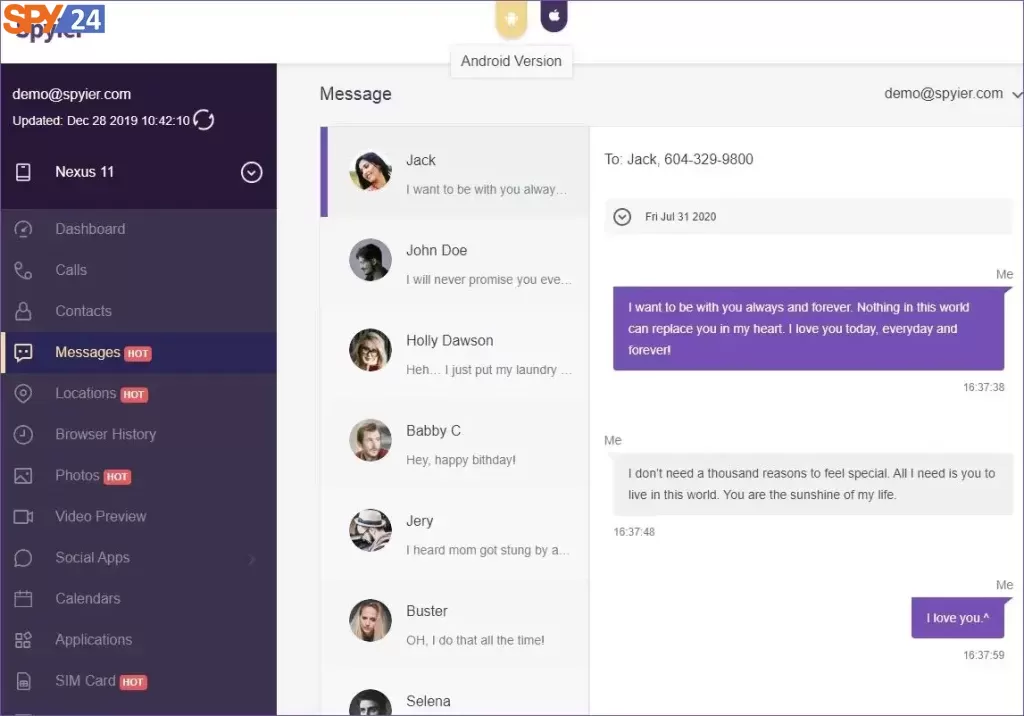 Social media watcher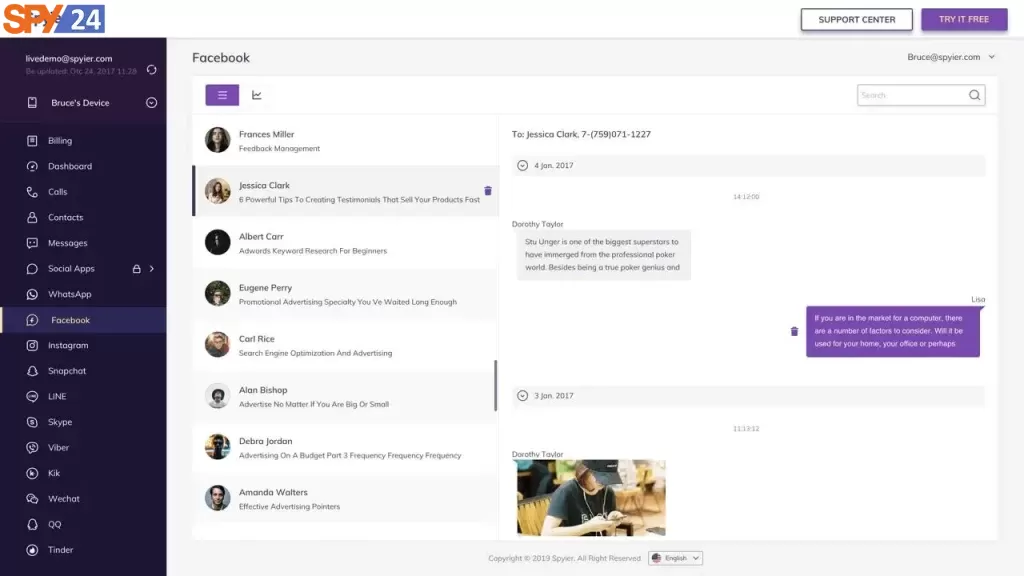 Spyier is a social media watcher that gives you the ability to keep an eye on a wide variety of prominent social media applications. This encompasses Facebook, Twitter, Instagram, as well as many other social media platforms. You have access to receive conversations, examine submissions and subscribers, and many other features. 
Location tracker
With the help of the location-tracking function of this app, you will be able to view all of the locations that the target goes to. The application has the capability to record the precise location, the time of entrance and departure, and even the topographical information of the place.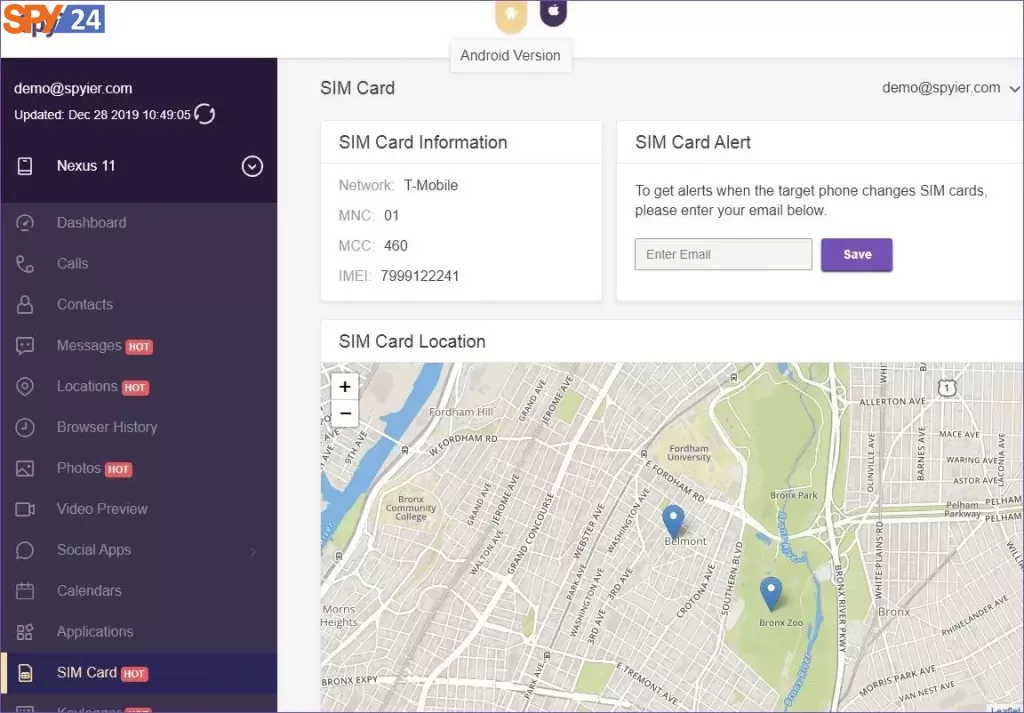 Activities in the web browser
The app can inspect the target person's past activities on web browsers: which web pages do they frequently access online? Spyier maintains a record of the person's browsing history, which may include information such as the regularity with which a website is visited, preferred websites, and site descriptions. 
Access to the contacts
Who is the individual speaking to? You have the ability to view the individual's entire address book and obtain details including contact names and locations, work descriptions, email addresses, and information regarding social media platforms, among other things.
Media files
Spyier gives you access to the photographs and videos that have been stored on the device you're monitoring. You are able to view any and all media assets that the user has downloaded from the Internet, transmitted to others, or received from others.
Information on SIM cards
With Spyier, you are able to monitor the information on SIM cards belonging to the target. You can also keep an eye on specifics such as the information about the provider, the numbers on the SIM card, and the phone number. You have the option of selecting to be notified whenever there is a change in the number.
Stored schedule
Spyier also gives you access to the person's stored schedule, which can be viewed using the calendar events reader. You are able to examine the forthcoming activities and read explanations of the events. If there is something significant going on, you will be aware of it.
Where exactly can you gain access to all of this information? The user interface for Spyier is web-based. This indicates that data is occasionally uploaded to a private account on the Internet. You can access this dashboard using the browser on any computer or mobile device.  
Spyier Review: Device Compatibility
As of right now, Spyier is functional with every major iOS device that can be connected to an iCloud account. This means that it can be used on almost every model of iPhone and iPad. On the other hand, in order to install the Spyier software on an Android device, you will first need to ensure that it is operating on Android 4.0 or a later version of the operating system.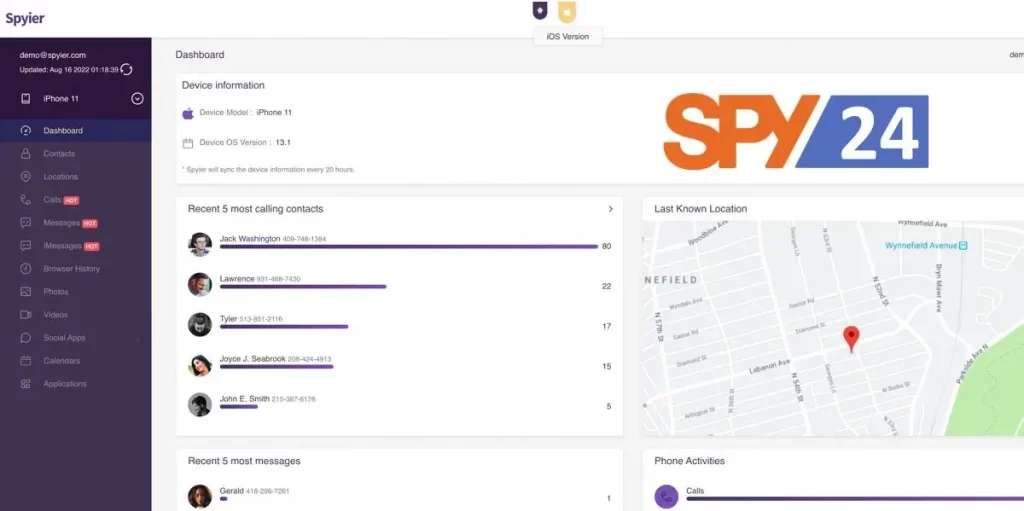 How Much Does Spyier Cost?
Spyier recognizes that customers have varying requirements and financial constraints, so the company provides a range of pricing options.
Basic Plan
Users are given the ability to observe the most important activities through the purchase of this subscription, which costs $39.99 per month. Text messages, call records, the user's present position, pictures, contacts, a video glimpse, favorites, and browsing history are all included.
Premium Plan
This upgraded version of Spyier's phone monitoring plan comes with additional features in comparison to the company's standard offering. This indicates that a person is able to use this method in order to keep track of the activities on their schedule, app lists, keyloggers, and conversations on social media.
It can be purchased for a one-year period for a price of $119.99 for the Android platform and $129.99 for the iOS platform.
Family Plan
Users are able to monitor up to 3 Android or 5 iPhone devices if they subscribe to the family package, which can be purchased for $69.99 or $99.99 correspondingly. They are able to monitor real-time position, text messages, SIM card notifications and whereabouts, keyloggers, social media activities, Internet records, and other features on the targeted phones thanks to this subscription plan.
Business Plan
This plan, which was developed specifically for iOS users, gives users the ability to monitor all activities taking place on up to 25 devices in real-time and with a high degree of efficiency. The fact that the Spyier app's various services each come with a free sample makes the app an even more interesting option.
Overall, the app has a ton of tools for tracking iOS and Android devices, but when compared to other choices, its membership rates seem pricey. With SPY24, you can get more surveillance tools for both iOS and Android devices without paying a lot of money.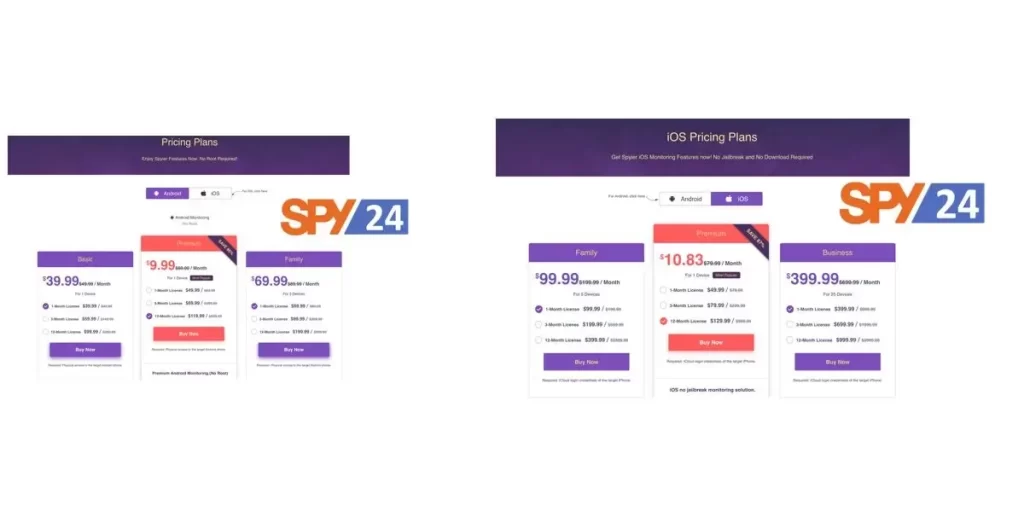 Pros and Cons of Spyier
Pros:
Compatibility: Spyier is compatible with both Android and iOS devices, making it accessible to a wide range of users.
User-Friendly Interface: Spyier's interface is straightforward and easy to use, even for those who are not tech-savvy.
Advanced Features: Spyier offers a wide range of advanced features such as call monitoring, social media tracking, and GPS location tracking, among others.
Remote Control: Spyier allows you to remotely control the target device, making it easier to manage the device from a distance.
Stealth Mode: Spyier operates in stealth mode, meaning that it remains hidden on the target device, making it hard for the user to detect.
Cons:
Price: Spyier is relatively expensive compared to other spy apps in the market, making it less affordable for some users.
Internet Connection: Spyier requires an Internet connection to work correctly, which can be a challenge if the target device is out of network coverage.
No Free Trial: Spyier does not offer a free trial, making it difficult for users to test the app before purchasing a subscription.
Is Spyier Detectable?
You'll be astonished to learn that the intended individual cannot at all identify the Spyier surveillance software. It is difficult for the individual to discover it thanks to the stealth function. It takes up very little room and does not deplete the device's charge. All of these characteristics demonstrate that you can use this app and it remains invisible.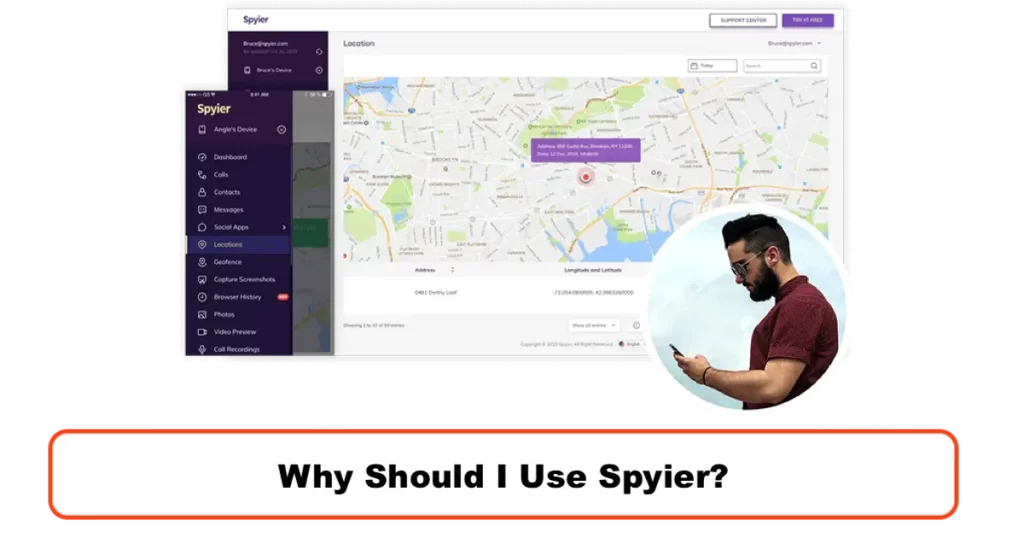 It is worth mentioning that SPY24 is an invisible app like the Spyier app. You must note that the SPY24 has much greater privacy policies than Spyier.
Is Spyier Legitimate?
The spyier program was developed and intended with legitimate uses in mind. It's crucial to let the other individual know that you're putting surveillance software on their phone. Any surveillance software used to invade someone's privacy is forbidden and regarded as a crime. It is advised that you speak with a lawyer before purchasing or utilizing any kind of surveillance software.
Spyier Review: Customer Service
Just go to Spyier's website to obtain client assistance in various languages. However, as we were penning this Spyier review, we became aware that the only way to contact customer care is through live support. (Without any live calling).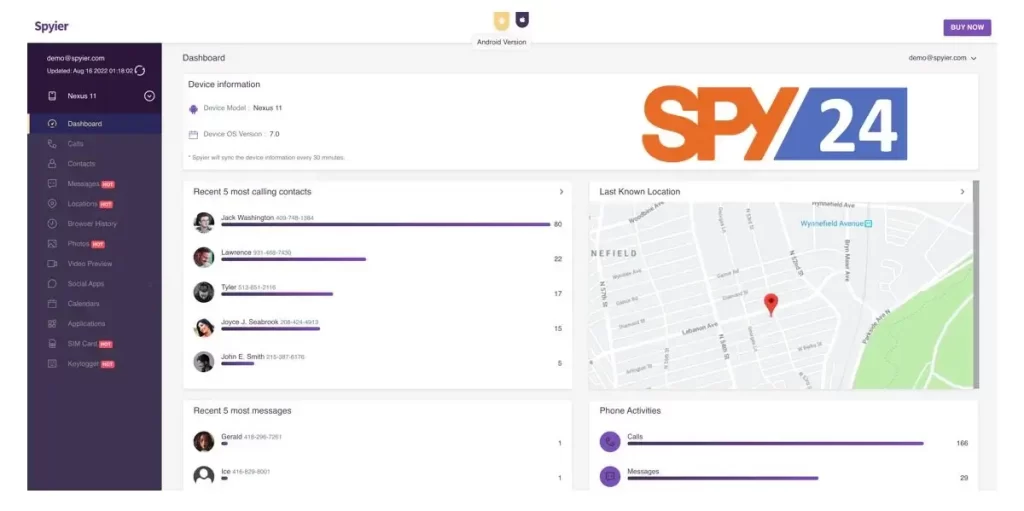 Does Spyier Need Root or Jailbreak Access?
To make use of Spyier, it is not necessary to first "root" the target device (if it is an Android device) or "jailbreak" the device (if it is an iOS device). Spyier ensures that it won't be a barrier for you, as the majority of users are hesitant to root or jailbreak another user's phone (or even their own).
How to Install Spyier App
Installing Spyier is easy. All you have to do is follow these simple steps:
Go to the Spyier website and create an account.
Download the Spyier app on the target device.
Install the app on the target device.
Log in to your Spyier account and start monitoring the activities on the target device.
Spyier Android and iPhone App Installation Guide
Spyier VS SPY24
Despite the fact that Spyier provides you with monitoring features, SPY24 App provides you with a greater number of monitoring capabilities for Android or iOS.
If you do not have a lot of money to spend, then you should go with SPY24. When compared to Spyier, the interface of SPY24 is more streamlined and user-friendly, and its subscription options are significantly more advantageous than those of Spyier.
The process of downloading Spyier can be quite cumbersome, particularly when it comes to installing the application on Android-based devices. Because you need to either keep track of the link in your head, which is necessary for downloading the application, or you need to find a way to communicate it to others.
But SPY24 makes the implementation process very simple; it gives you all of the instructions that you need, and you don't have to recollect anything or share anything with anyone else.
Final saying about Spyier review
Many evaluations of Spyier highlight the advantages of the application. We concur that it does a remarkable job, but there are a few things about which you need to be aware, such as the fact that some plans include only a limited amount of surveillance for social media conversation.
In addition, the app does not include a screen recorder, a keylogger, or any other sophisticated features such as keyword notifications, elements that are available in SPY24, an alternative top-tier surveillance app. You will, however, have a well-built app at your disposal if you discover that Spyier provides you with precisely what you require and you are prepared to spend for it. We hope you find this article in SPY24 useful! You can also read our other articles, such as the best phone tracker app without permission.
FAQs about Spyier
Here are some of the Frequently Asked Questions about the Spyier app:
Q: Is Spyier legal to use?
A: Spyier can be used legally, but it depends on the laws of your jurisdiction. It's essential to check local laws and regulations before using any spy app.
Q: Can Spyier be detected by the target device user?
A: Spyier operates in stealth mode and remains hidden on the target device, making it difficult for the user to detect.
Q: What devices is Spyier compatible with?
A: Spyier is compatible with both Android and iOS devices running Android 4.0 or above and iOS 7.0 or higher.
Q: Is there a free trial available for Spyier?
A: Spyier does not offer a free trial, but they offer a demo version that allows you to see how the app works before purchasing a subscription.
Q: Can Spyier track social media activities?
A: Yes, Spyier can monitor all social media activities, including Facebook, Instagram, Snapchat, and WhatsApp.
Q: Is it easy to use Spyier?
A: Yes, Spyier has a user-friendly interface that makes it easy to use, even for those who are not tech-savvy.