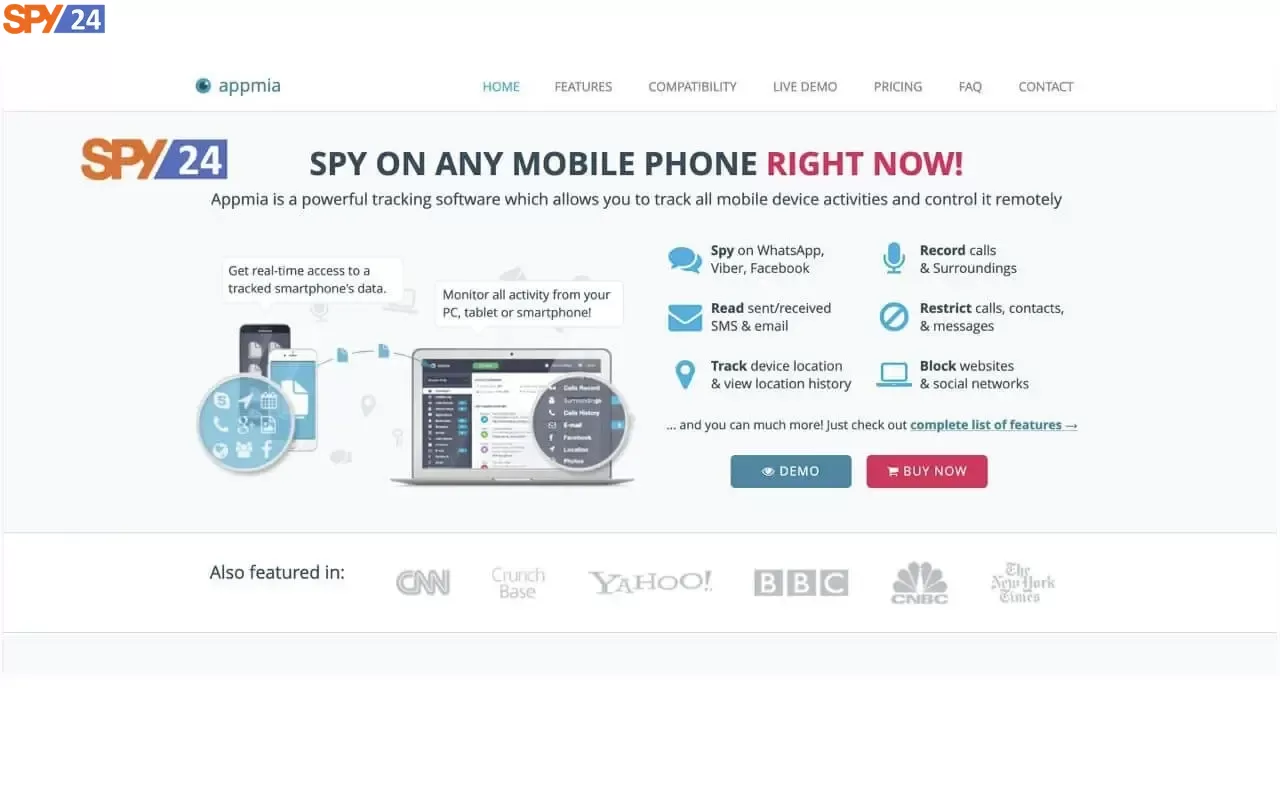 Have you ever wanted to track someone? Do you want to learn how to track them? Tracking apps are created to help you so. These apps are getting popular among parents, businesses, and partners. As parents can use it for monitoring their children, businesses can use it for improving the performance of teams and industry, and partners can monitor their loved ones.
If you're unsure about using Appmia as a monitoring solution, one of the best ways to make an informed decision is to read reviews about it from other users. It's a proven method to gauge the effectiveness and reliability of the application. Therefore, we suggest searching for Appmia reviews online to assist you in your decision-making process. The official website of Appmia has recently been taken down from the internet, which has raised concerns about its legitimacy. It is unclear whether or not Appmia is a scam at this time. (Website source)
As there are plenty of them in the market, it would be difficult to choose one. If you have no idea which spying app is best for you, you have to answer two questions. First, you have to determine why you want to use them, and second how much money you want to spend on the app.
In this post, you will be familiar with the Appmia app and SPY24. We will take a close look at both of them so you would be able to make the right decision.
| | |
| --- | --- |
| Android | Yes |
| iOS(iPhone/iPad) | Yes |
| Website: | appmia .com |
| Domain Age: | 2021-12-11 |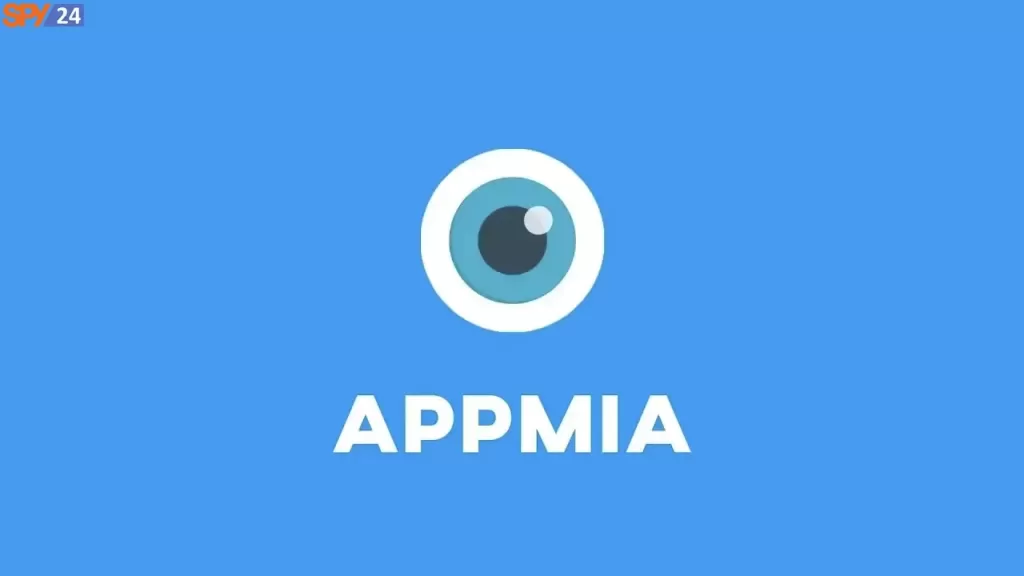 What is Appmia?
Appmia is an app development company in the USA that is designed for tracking people remotely. The app will enable you o monitor all online activities of the targeted Android device. You can monitor the smartphone remotely without having physical access to it. You can contact the supporting team via telephone and also by Email.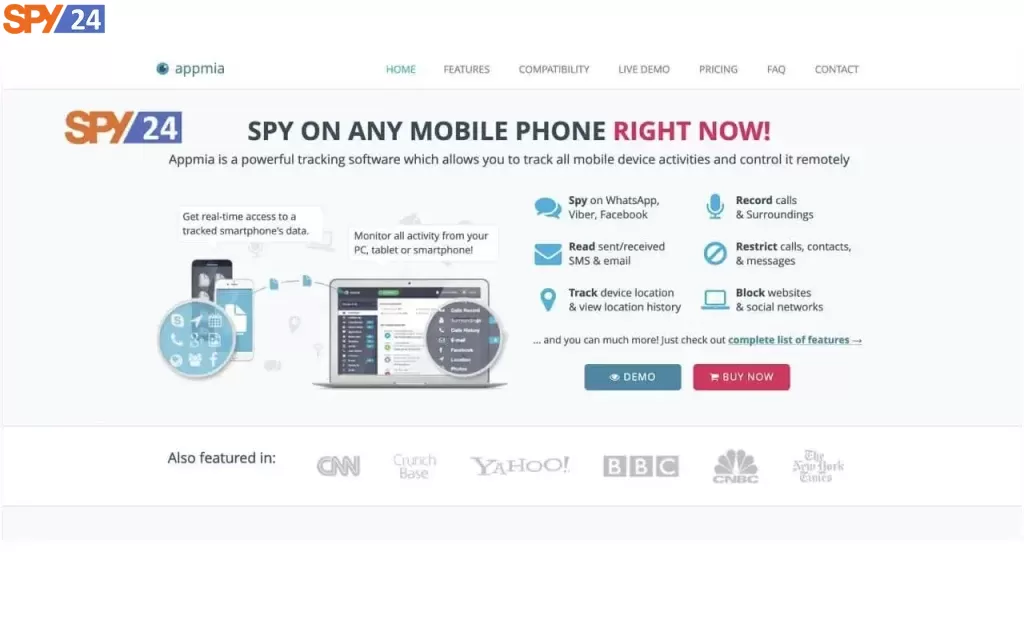 The website doesn't exist. It seems that the domain of appmia .com/ is for sale, and the other website https://appmia-68.webself .net/, is not working.
Appmia of features:
Appmia offers its users many functional features as below: Highly Advanced Mobile Phone & device monitoring Features, Appmia

CALLS & SURROUNDINGS RECORDING: With Appmia you can record all the phone calls or surroundings easily and undetectably. It enables you to set the time you wish to start recording calls or surroundings and play or download the records anytime from your personal account in our system.

Record Calls

Record Surroundings

Social media tracking: WHATSAPP, FACEBOOK, VIBER, SMS:

The app has the ability to view chat applications, instant messengers, and cell phone texts and gives the user the upper hand on checking out if the activities taking place on the mobile device are legal and if your close family is okay.

SMS
Skype
Viber
WhatsApp
iMessage
Facebook Messenger

GPS tracking: You get the ability to remotely check the location of your targeted device and acquire the necessary up-to-date information about them. This is collected through their own GPS. Their device can also give the history of their location.

Location History
Current location

EMAIL AND WEB TRACKING: All web activities come as an essential part as far as phone tracking is concerned. This application enables one to follow assorted activities on the net on the target device. You can check out past browsing activities emails and any other internet-related aspects.
Gmail
Emails
Browsing History
Bookmarks

MUSIC AND VIDEO FILE TRACKING: This software gives you the ability to access and even delete all multimedia files remotely and privately. This includes such files that are a creation of the owner of the targeted device, storage, or downloads.
CONTROLLING OF THE PHONE: The software gives you the ability to control all the major functions of the phone remotely. Moreover, you can also delete or block any activities that you might not need on the targeted phone, getting insurance of security. This includes sites, apps, and incoming calls.
Block websites
Block applications
Incoming calls blocking

EXTRA FEATURES: Our application also provides you with mobile phone device control and surveillance, hence all the information on the targeted phone, like voice mail, calendar, applications installed and key-logs are under your control.
Keylogger
Voice memos
Calendar
Apps installed

CALLS AND CONTACTS TRACKING: Our application is intensely made for tracking all logs related to mobile devices plus their contacts and any other cell phone functions. With this app, you can gain access to all basic information revealing what your children or employees are up to.
Address book
Call history
Why should parents use Appmia?
Locating your loved one anytime you want just by installing the app on the smartphone. Current and history tracking options will let you know where they were and where they are going now so you can get to them in case you are in need. By just logging into the website, parents can start tracking their kids. As soon as the photo is taken, it is uploaded to your account so you can see all photos. You also can see the contact list and save the added contacts there.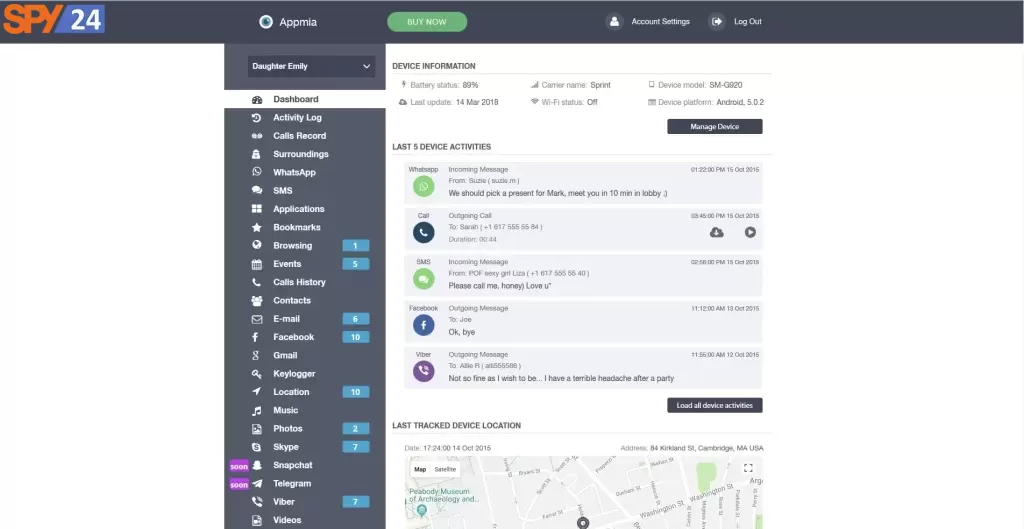 How does Appmia works?
It is quite simple to work with. You just need to download and install it on the targeted Android device and through your Appmia account.
After opening the Appmia application, tap on continue, read the license agreement, and accept it. It would give you three options, minor children and employ option give you the option to hide the app, but the other option tracking others, does not give you the option of hiding the app, tapping continue and activating the device, then the app wants you to enter your activation code that has been provided on the Email was sent you, That is it you can start monitoring everything via the dashboard.
All information about your device will be shown on the top of the screen, including below items:
you can change the logging setting, upload setting and restrict setting which gives you access to block calls or websites and also apps.
In the activity log section, you can see all the latest activity on the phone. Call recording will let you play call that has been recorded and download them. Surrounding will let you know where the targeted person is and who the company is with.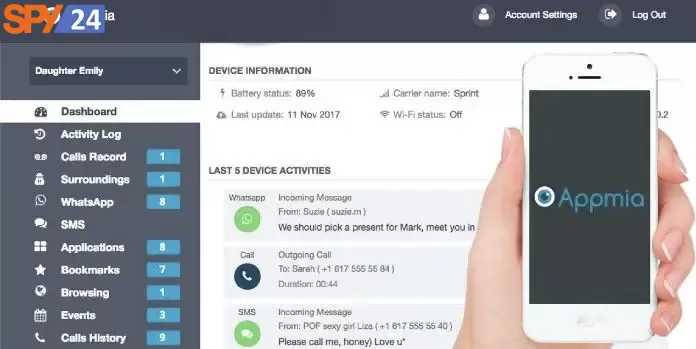 WhatsApp, sms, applications, bookmark, browsing, events, call history, contact with phone numbers, Emails, and Facebook chats are the next option on the dashboard. In the keyloggers, you can see all texts that have been typed on the phone on any app, such as Notepad, tasks, or any other one, and you can check the locations where the person has been on the map. All music downloaded can be played and downloaded. photos skype chat, and Viber is the last. Snapchat and telegram were supposed to be added.
How much does the Appmia cost?
Appmia is available in three plans, The basic plan would cost you $16 monthly, and for the Premium one, you have to pay almost twice the basic one, which is $49 for one month. The lifetime plan contains all features, and it costs you $99 for just a month.
| Basic | Premium |
| --- | --- |
| $0 | $16 / month |

Appmia App Pors cons
Pors:
Easy access to various settings on the dashboard.
Cons:
There is no free trial.
The website is just in English.
It is just compatible with Android.
The app is Costy.
This is a passive site
The domain of appmia .com/ is currently for sale.
MOBILE SPY APP FOR PHONE – APPMIA
An increase in connectivity of the internet has led to an increase in cybercrime. Cyberspace would definitely need a sharp eye. It doesn't matter what your status in life is. You have to ensure that your children are safe and they continue growing safely. If you are a business person, then it's vital to keep an eye on your business, ensuring that your employees don't share important information with your competitors. This is where Appmia comes in handy. This mobile spy app comes with sophisticated tracking technology that ensures that it is specifically meant for those who would want to protect their families and their companies. It enables you to follow messages (texts and emails), phone calls (incoming and outgoing), GPS location, messages stored in a mobile device, and all types of media files. On top of all this, it blocks unwanted apps and those calls that you deem to be dangerous. Hence, you always have the knowledge of all the potential risks and are able to put preventive measures before they strike. You are on top and always aware of all possible cyber dangers and you can easily prevent them. Makes it easy for you to live without fear or worry of whether your children are safe or an employee is dishonest.
As Parents with this mobile spy software will have the following confidence:
That your children are secure whether you are with them or not
You have the knowledge of the people your children have contact without
Where they go and where they are at a given time
That they know what problems your children have, especially the ones they are not able to tell them but share with their friends
A businessperson with this software will:
Be able to monitor the activities of their employees
Their productivity
The data their employees share
Avoid identity stealing
Have maintenance of integrity at the workplace
WHAT IS THE LEGALITY OF THE TRACKING SERVICE?
Before answering this, it's important to check out the following points:
Most parents usually claim that they have knowledge of their children's online activities when the fact is that most of them have no clues
Over half of the children are cyberbullied, but just a small number report to their parents
Internet bullying usually results in depression and later suicide
Children have problems that they share with their friends but not their parents
Through tracking, one can stop or avoid internet bullying that is aimed at their children and give them protection from wrong choices, drugs and early sex. If this application is used this way, then definitely it's legal.
WHAT IF APPMIA IS USED AT WORK?
If you are top management who is ignorant to the fact that companies lose vital information through leakage or that you're not following up productivity of your employees, then there are higher chances that the company will run out of business. With our tracking application, you have the ability to get a collection of data about employee's performance and make a decision about who needs to be given a promotion or fired. This is legal.
Using this tracking software is legal when you:
The employees are informed about its usage and accept it in writing
Have a very clear description of IT usage (What is allowed and what is not)
Ensure that tracking is only intended only for those activities related to work and not other private things.
NB: Appmia was made for parents to assist in the protection of their children from cyber risks and help the business people in monitoring the work carried out by their employees (with their consent). Illegal use of this tracking software includes tracking a cheating partner.
Appmia is used as stated above. Appmia will not be liable if you make an installation of the tracking application without the written permission of the owner. It also doesn't assume liability for any damages that may come up as a result of misusing it. Hence you are advised to make use of the app within the legal and ethical frameworks of your local laws.
How to Install Appmia?
To install and use the Appmia app on the target device, follow these steps:
Step 1: Go to the Third-Party Site
To download Appmia, you need to visit a third-party site that offers the installation.
Step 2: Download Appmia APK File
Choose the target device and download the Appmia APK file by following the instructions provided on the screen. You need to physically access the target device to install the app.
After the installation is complete, open the app and enter the activation code that you received in your email. Then, complete the setup process.
Step 3: Access the Online Dashboard
Finally, sign up to the Appmia dashboard and start monitoring the target device.
SPY24 App
VS
Appmia
SPY24 App is a unique monitoring app that is compatible with Android, iPhone, Mac, and Windows. What makes this tracking app special is that the app offers the customers thirty days free trial, plus there are several functional features that the company has provided. Let's look at some of them.
SPY24 Best Features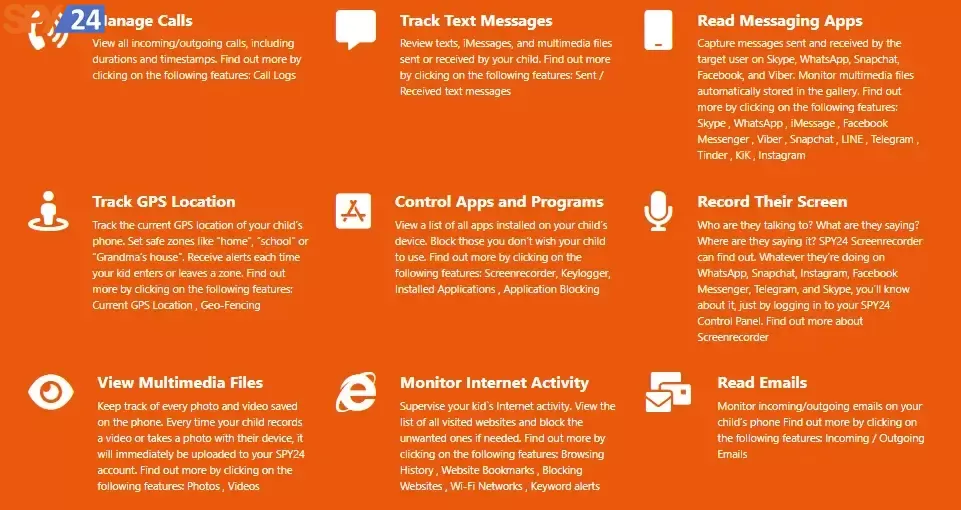 Tracking where the targeted person goes is a great advantage of SPY24; it helps parents control their kids by seeing where they are at any moment, besides they can set the alarm to inform you when they enter the special location or they get out of it. If they are late and act suspiciously, they can check their location history to figure out where they have been. Besides, it is a useful function for all companies to track their employees during working hours.
Monitoring calls and Text message
This amazing feature will let you see all Incoming and outcoming calls and the duration of each call. Tracking calls and messages will help parents know who their kids are calling or chatting with, so they can inform them about the possible threat and act in time.
This feature would let you install or block programs on the targeted smartphone, which can be useful for parents and employers. When a kid is spending too much time on their cellphone
Or is addicted to the online game, parents can take action and block the app. This function can be helpful in the workplace as employers can install specific apps that would improve the company's performance on their staff's phones.
SPY24 provides you the accessibility to see all photos and videos so parents can see what photos their kids are taking and inform them about cyberbullying and sharing on the Internet.
Monitoring web browsing and bookmarks
Tracking the history browser will help parents know what their kids are up to.
The essential feature of SPY24 is the ability to track social media, As social media are getting more popular day after day, and people are spending more time there. Parents can control almost everything by tracking their kids on social media, and SPY24 has made it possible to track more platforms than other spying apps, including Instagram, Facebook, WhatsApp, Twitter, Telegram, and others which we will look at them more closely.
The Skype monitoring feature of SPY24 will let you track all chat, Call Logs, photos, videos, and also a contact list of the targeted device with all detail, including their name, number, and profile photo. This can be helpful, especially for employers, as skype is mostly used for video conferencing. by tracking video conferencing, employers can be updated about the latest transactions and agreements in different departments. Besides, parents can track video calls and voice calls of their kids on skype, which would help them monitor people with who they are communicating.
By monitoring this American messaging application, you will not miss any activity. All messages, even the deleted ones, Contacts, and All other activities on this app can be tracked by SPY24.
SPY24 will give you access to monitor all shared media, chats, and snaps that have been saved, with the exact time and date of the snaps. This would help parents enormously as Snapchat has become popular among teenagers. Sensitive parents can feel relaxed by knowing their teen's online friends.
You will be tracking all conversations on this Japanese app with SPY24.
You can track all received and sent Messages, photos, videos, and Contacts, with their date and time. All activity in this Canadian mobile app would be spied on.
SPY24 will let you view all screenshots on this Indian messaging application, and also messages, along with Contents Sent and Received.
The Tano monitoring feature of SPY24 would enable you to track all tango conversations with detail. As Tango is a popular platform for Live Video Broadcasts, this can be useful for businesses to track their staff's business calls.
TikTok tracking features of SPY24 will enable you to read all exchanged text messages, images, videos, and documents. Plus, you will be able to see who likes and comment on the targeted person's posts. And how long the user spends on this app. This is a beneficial function for parents as this Chinese app become popular around the world between teenagers and youngsters.
The hangout tracking feature of SPY24 will let you spy on all texts, stickers, and multimedia files on this app that has been developed by Google. You can even download and save them to watch them anytime you had time. This would be a great option for busy parents that do not have time during the week. They can download them to watch them at the weekend.
By tracking this messenger, you would be able to see all texts, photos, and videos.
By the iMessage tracking feature of SPY24, you will be able to see all incoming and outgoing texts and calls, and it also gives you full access to photos and videos on Apple platforms, which can be a great function for monitoring their kids' activity on iMessage.
All QQ conversations, including every call, messaging, photo, and video shared with the date, time, and duration, can be tracked by SPY24. This is a functional app that is so useful for Chinese companies as most of them prefer to use QQ for daily job conversations.
SPY24 App Price list
In the following table, information about the price and duration of various packages is provided:
| Android Packages: | Premium |
| --- | --- |
| 1 Month   | (31 Days) for free – $0 |
| 3 Months  | (93 Days) for $50 |
| 45 Days | (45 Days) for $5 |
| 6 months | (180 Days) for $76 |
| 12 months  | (360 Days) for $120 |
| Column 1 Value 6 | Column 2 Value 6 |
| IOS Packages: | Premium |
| --- | --- |
| 1 Month   | (31 Days) for free – $0 |
| 3 Months  | (93 Days) for $50 |
| 45 Days | (45 Days) for $5 |
| 6 months | (180 Days) for $76 |
| 12 months  | (360 Days) for $120 |
| Column 1 Value 6 | Column 2 Value 6 |
| Windows Packages | Premium |
| --- | --- |
| 24 hours |  $0 |
| 1 month  | $25 |
| 3 months  | $46 |
| 6 months | $60 |
| MAC Packages | Premium |
| --- | --- |
| 24 hours |  $0 |
| 1 month  | $25 |
| 3 months  | $46 |
| 6 months | $60 |
SPY24 App Pors cons
Pros:
The ability to monitor many social platforms.
Cons:
A full subscription is needed for social media monitoring.
Appmia Review Conclusion:
At first glance, Appmia seems to be a functional app. however, by taking a closer look, we will see that the app doesn't give free services for customers to check the features they claim they provide. So if you were to buy it, you would have to go for it without testing. While Appmia is no free trial app, SPY24 offers you a 30days free trial. Furthermore, by installing SPY24 on your device, you would be able to monitor as many social media as you want, while Appmia would let you monitor a few of them, such as WhatsApp, Facebook, and Viber. SPY24 hopes this article helps! See also the Best Phone Tracker Apps.
---
FAQs:
Is It legal to use Appmia?
It depends on your purpose. If you want to monitor your own devices and you intend to use the app for parental monitoring or employed monitoring, it is completely legal to get their permission. If you do not have their content, you will be in trouble.
Is Appmia working?
It seems that currently, the website is not working. The domain of ' appmia.com' is for sale.
What does a spy tracker do?
A spy tracker gives you access to monitor all activities of the targeted person on the smartphone, including places they go, people who they call, etc.
Is the App Secretive?
Indeed, the user of the mobile device you are targeting will not have any clue about your surveillance activities. The application will not appear on their cell phone anywhere.
Where should I get help when I need assistance?
We always have our support online via our chat function. if not feel free to contact us anytime and we guarantee to respond as quickly as possible.
Is your software reliable?
Every customer is different, all those who have made use of our application have really enjoyed the great support we give them and have reported back about the success they have achieved through using our surveillance app. but should you find any problem with our software, and then we will definitely give your money back.
Is the application fit for my needs?
Go through the testimonies given about this great product and find out for yourself how our clients have made use of the application. this app comes in handy in checking out if your workers are making out the best in their working hours or if your children are involved in any dangerous activities that can be stopped in time.
How do I know if the software will work the way I want it to?
Check out our testimonies from thousands of clients who have made use of this app. We have built a reputation all over concerning the functionality of our software.
How do I find out the suitability of the app on the cell phone I wish to target?
We have a page set up for checking this out. our app has been used by thousands hence proof that it works. it actually works on multiple platforms including ios and Android.
Is Appmia a Scam?
Although Appmia has been used by many users around the world, its official website has recently been removed from the internet, which may indicate that it is a scam. Some third-party tools claim to allow you to install the Appmia application, but these are not trustworthy. It is recommended to use SPY24, which is an authentic and reliable tracking application available for all versions of Android and iOS operating systems. It works remotely and secretly and offers budget-friendly plans.
Is Appmia Truly Hidden?
Appmia claims to work in hidden mode, and its icon disappears automatically after installation, which can be set during installation on the target device. SPY24 also works in stealth mode and does not leave any trace that might make the target person suspicious. The app takes up only 2 MB of space on the target device and does not affect battery drainage, so the user will not realize that they are being monitored.
Does Appmia Have a Free Trial or Demo Version?
Yes, Appmia offers a free trial option, but the features available in the trial version are minimal and not very useful. SPY24 does not offer a free trial, but its basic plans are budget-friendly and offer all monitoring features to users.
Is Appmia Compatible with iPhones and Androids?
Appmia is compatible with both Android and iPhone mobile devices, but it has been reported by some users that rooting or jailbreaking may be required for specific types of target devices. SPY24 is also compatible with Android and iPhone devices and does not require rooting or jailbreaking, making it easy to use.
Can Appmia Monitor Multiple Devices?
One advantage of using Appmia is that after purchasing a subscription, the license can be used for up to three mobile phones simultaneously. Similarly, SPY24 can be used on multiple devices by purchasing the family package.
You May Also Like