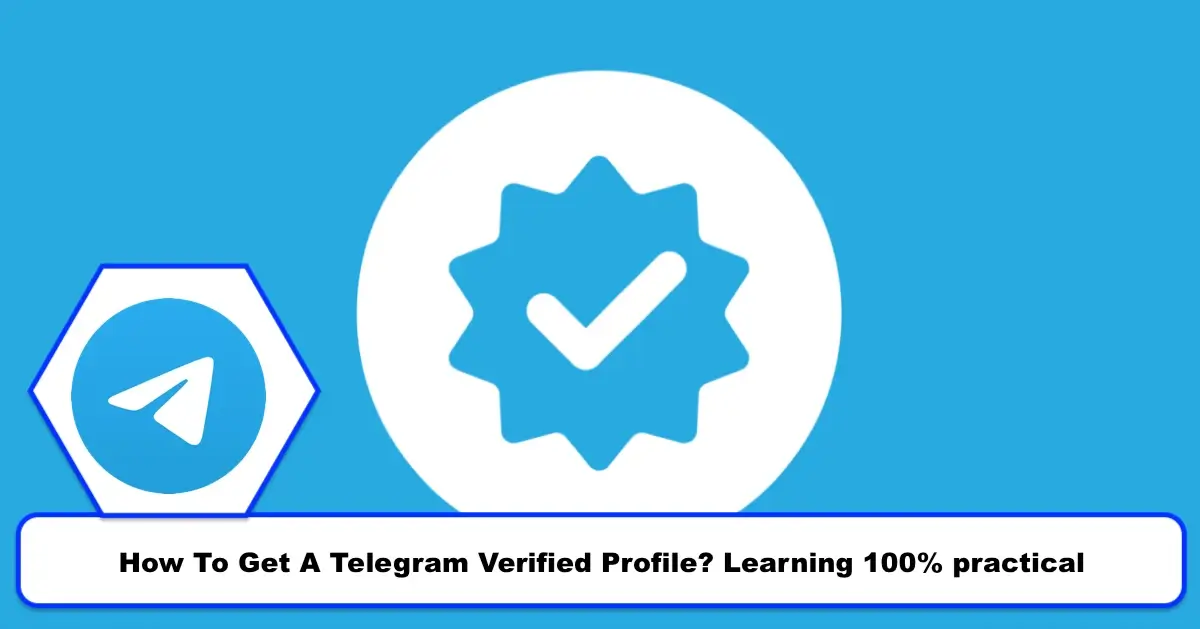 Nowadays, many famous individuals or people with a large following on the social network Telegram have become victims of abuse, where fake and fraudulent pages are created with similar names to their channels, groups, or user accounts. Verified activation on Telegram is a reliable and effective way to provide users and followers with the assurance that an account, channel or robot is verified and genuine. Therefore, all active channels that have a large number of followers and many fake accounts and channels can identify their real page by obtaining a verified Telegram badge. Join SPY24 to learn how to receive a Telegram-verified badge!
This means the channel, group or bot is official and their verification application was approved by Telegram. Any organization or public figure is welcome to apply for verification – the process and requirements are the same for all applicants.

https://telegram.org/verify
What does "Verified Telegram" mean?
The presence of "Verified Telegram" next to a username indicates that the robot or channel in question is not fake and belongs to the same person or brand. This has been verified by the Telegram social network, allowing you to be sure that the account is authentic. This blue badge can usually be seen on the pages of famous people such as politicians, well-known company brands, etc. If you are not a famous person or do not have a recognized brand, you will not have the official Verified badge. However, it is possible to bypass this by activating a Telegram Premium subscription, which we will discuss further below.
Many companies, organizations, news agencies, celebrities, etc. have activated the verified badge so far.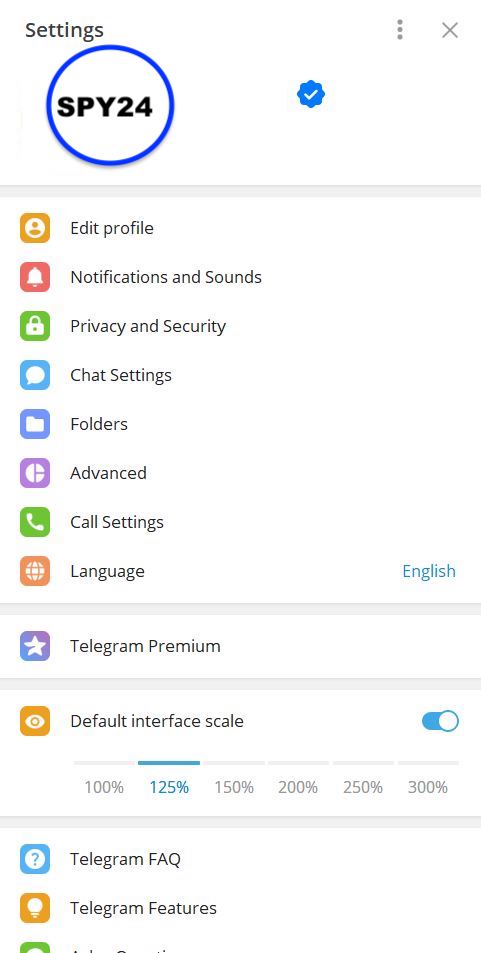 How to activate the verified badge on Telegram?
Activating the verified badge on Telegram has specific conditions. Until now, only channels, bots, and individuals who were active on the Telegram social network had the verified badge. But currently, individuals and companies who have verified accounts on other social networks such as Facebook, Instagram, YouTube, TikTok, Twitter, Snapchat, and VK can also get the verified badge.
Generally, if you have received the verified badge in at least two of the following social networks, you will be authorized to request and activate the verified badge on Telegram:
TikTok
Facebook
Instagram
Twitter
YouTube
Snapchat
VK
Bot for receiving the verified badge
In the first step, it is necessary to temporarily add a link (channel link) to your Telegram social network profile on your mentioned social networks. Then, start the official VerifyBot@ robot. After starting the robot, send the link to the group or channel in which you want to activate the verified badge on Telegram. At this stage, you will be asked to select the desired social network that has been verified, then insert the channel link and finally send it.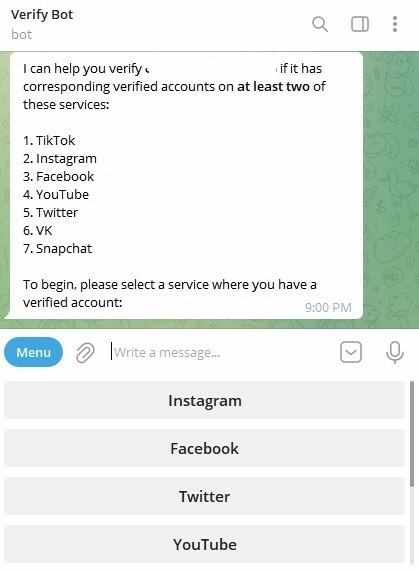 The verification process to activate the verified badge on Telegram may take between three days to one week.
What should we do if we don't have a verified social network?
In this case, you will need a Wikipedia link that has the necessary credibility. The above link must comply with Telegram's rules and include a link to Telegram. This link can be used instead of one of the three verified accounts required to receive the verified badge on Telegram. For organizations and institutions, if there is an official Telegram link on their reputable website, it can replace the above three accounts.
Is it possible to change the short link or username after verification?
Generally, a verified bot, group, or channel cannot change its username. However, if necessary to make these changes, you must first remove the verification status. To do so, contact VerifyBot for verification removal. Changing the username, group, channel, and verified telegram bot will deactivate the Telegram Verification badge, and you will need to reapply for activation of Telegram Verification.
What features does the blue checkmark on Telegram have?
Many people assume that getting verified on Telegram comes with special features for the account or channel owner. However, in reality, this is not the case, and activating this tick mark only indicates the authenticity of the account and the desired page. Verification is one of the most official ways for a group, channel, or bot to be recognized. Also, linking to Telegram through your official website or other official accounts can produce similar results.
How can we benefit from being verified without having a social network?
To activate Telegram Verification after purchasing Telegram Premium, you can use various stickers, including the attractive Verified sticker.
To use this feature, you can activate your subscription by visiting the Telegram Premium purchase page.
Then copy the link below and send it to your Saved Messages section:

https://t.me/addemoji/Decoration_Pack
Then add this collection of stickers to your sticker collection.
After that, click on your profile and add the verified sticker.
Price and How to Purchase Telegram Premium Subscription
There are various methods for purchasing a special subscription for Telegram. Some time ago, Telegram released an independent version of the app for Android devices that does not have some of the limitations of the store version, such as imposing restrictions on copyrighted content, and its updates are done from within the app itself. The method of activating the premium subscription differs between these two versions.
In the version published in Google Play, it is only possible to purchase a premium subscription through in-app payment, while Telegram provides the ability to activate the subscription through a dedicated bot for the second version.
What is Telegram Premium and What Features Does It Have?
By purchasing this app subscription, buyers will have access to a multitude of new features that can improve their experience using this software. Let's take a closer look at the features of this subscription:
Ability to upload files up to 4 GB
Faster downloading of files in Telegram Premium subscription
Twice the reduction of limitations
Ability to convert voice to text
Special stickers (such as Telegram verified)
Special Reactions in the Telegram Premium version
Better chat management in Telegram Premium
Animated profile picture
Premium profile (Premium Badge)
Exclusive app icon for Telegram Premium
No more ads
Ability to request to join groups
Display of Blue Verification Badge
Improved chat previews on Android
Do I Need Telegram Verification?
Note that obtaining the Telegram verification badge does not mean that your Telegram app capabilities will be increased. The Verified Badge is simply an official recognition of your channel. This applies to your official website or other social networks as well.
If we change the Telegram account name, will the Telegram verification badge also disappear?
If you intend to change the name of your channel, group, or bot, be careful! Because it is usually not recommended that accounts with Telegram verification change their name or short link. But if you have to change this information for any reason, you must first remove your account from verified status and enter the VerifyBot@ bot and type the unverified/ command.
What are the Advantages of Having Telegram Verification?
These days, with the increasing number of users in the popular messaging app Telegram, there are opportunistic people who try to profit from others and users by having fake profiles, fraudulent accounts, and unverified channels. Fortunately, having Telegram verification can create confidence for users in proving that the page is not fake.
With Telegram verification, it is possible to distinguish the main page from fake pages, and users can easily identify and trust it. In general, having Telegram verification helps to inform users.
Telegram Verification for Businesses
Considering that nowadays many accounts are active on Telegram, having verification will increase the visibility of any business or service on this social messaging app. Now that you have been with MyMember, you know that there are various ways to get Telegram verification that you can take advantage of.
Conclusion of Activating Telegram Verification
As mentioned, activating Telegram verification makes it easy to distinguish between real and fake accounts and pages. You also learned how to activate Telegram verification and alternative methods. SPY24 is useful! You can also read our other articles such as The How to buy blue tick on instagram 2023.
FAQs
How can we get a Telegram verification badge?
To get a Telegram verification badge, if you have a verified account on any of the various social networks such as Instagram, Facebook, or Twitter, simply place the link to your Telegram channel in them so that Telegram specialists can be sure that those channels belong to you. After that, you can receive this badge through the VerifyBot.
Can my user account be verified too?
No. Currently, user accounts are not verified by Telegram.
Verification badges are only for official and active bots and large channels.
If you don't have a verified account on any of these social networks, what should you do?
If you have a reputable page on Wikipedia that has been created based on the guidelines of this encyclopedia, or "Notability Guidelines," and a link to your public channel, bot, or group is included on that page, you can use that same page to get verified on Telegram.
If you are an organization, you can also use the link to your Telegram channel that is posted on your official website to get verified. However, in this case, the Telegram bot may request some additional information after examining your links on social networks.
Do I need a Telegram verification badge?
Note that receiving a Telegram verification badge does not mean increasing the capabilities of your Telegram application. Verification is just an approach to officially confirm your channel. This also applies to your official website or other social networks.
Although we expect to see more information on this in the future, currently only company owners and famous businesses can receive verification for their channels or groups by sending a message to Telegram support.