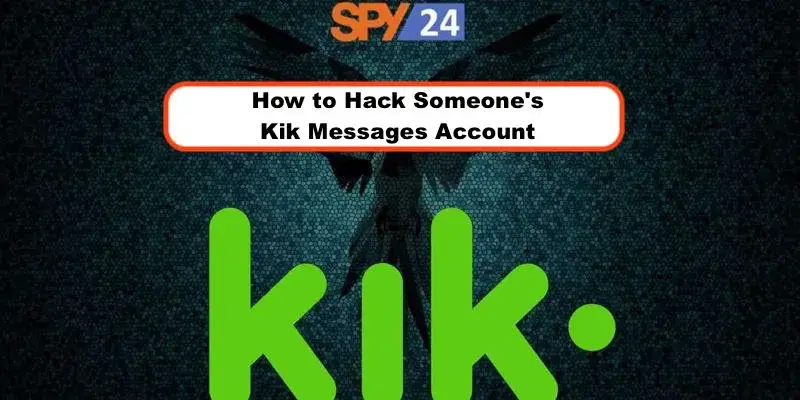 You may have a young teen at home, and they may be just starting to use Kik. Or you know your partner is spending too much time there. If you are concerned about their online activity on the app, read our guide on how to hack someone's Kik messages account. If you are worried about your child being in potential danger or your partner having secret conversations, then this blog is ideal for you. Here we will discuss easy methods through which you can hack into someone's Kik account and browse their chats.
What are Kik Messages?
Kik is a cross-platform or instant messaging app freely accessible for a wide range of Android, iOS, and other devices.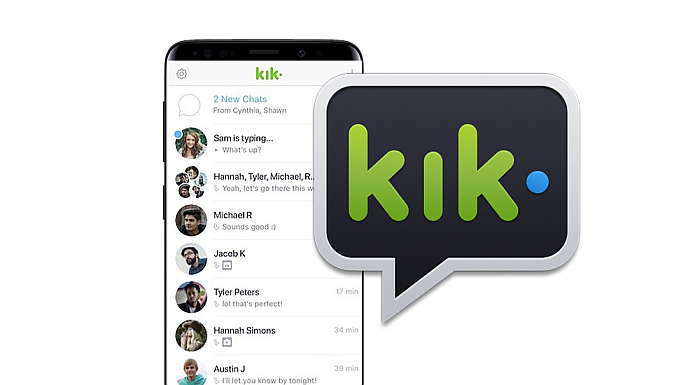 What features does it provide?
Kik provides a quick and easy way to communicate with all your friends, regardless of their device;
This is a very private application because users can block other accounts if they don't want to chat;
Users can set their invite-only groups to chat only with their friends;
Kik has an easy-to-use interface and special services;
How to Hack Someone's Kik Messages Account
Although Kik is a very widespread messaging app, it is not considered safe for children. There are several reasons for this. First of all, it is full of predators. Second, there's no strict age verification on the app, so anyone can create an account, including your underage kids. As a parent, you must find a way to hack into your child's Kik account to be able to monitor their conversations and activities on Kik Messenger. In this article, I will show you how you can hack someone's Kik messages account without investigating or knowing their password.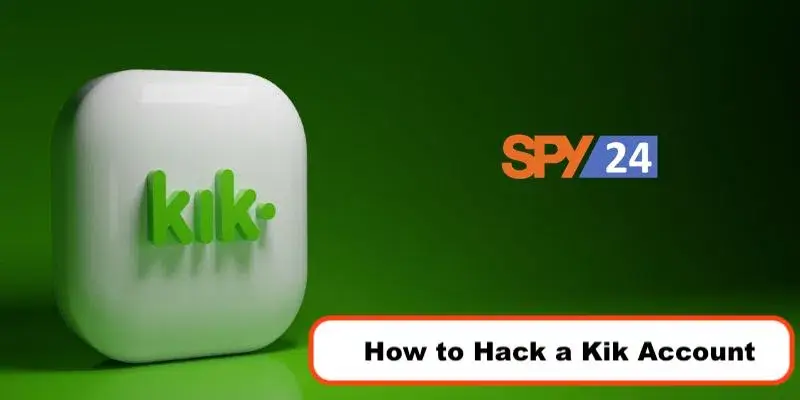 Is it possible to hack a person's Kik password and account?
Yes. There are many Kik hacking apps available that can assist you in hacking someone's Kik password and account. The most common tool for password hacking is a keylogger. This is a special app that can track all the words entered on the target phone. You need to install this Kik hack app on the target phone, and it will work in complete stealth mode in the background.
How to hack into someone's Kik account?
These days you can buy many licensed apps and software to hack someone's Kik messages account. However, most are not great and don't work as advertised. Here are 6 of the proven Kik hacking apps that you can try. The best way to hack into someone's Kik account is to use a hacking app. one of the best ones is:
SPY24 Hack Kik account Android and IOS
You can use the SPY24 app to hack someone's Kik messages account and track their chats and activities with screenshots and keyloggers. In addition to Kik activities and chats, it also shows you Kik notifications on its dashboard. Also, you can read our Bark app review 2023 to discover another amazing spy app. Alternative hack apps to trace Kik chats and activities If you need to see more apps and then decide, here are some other perfect tools: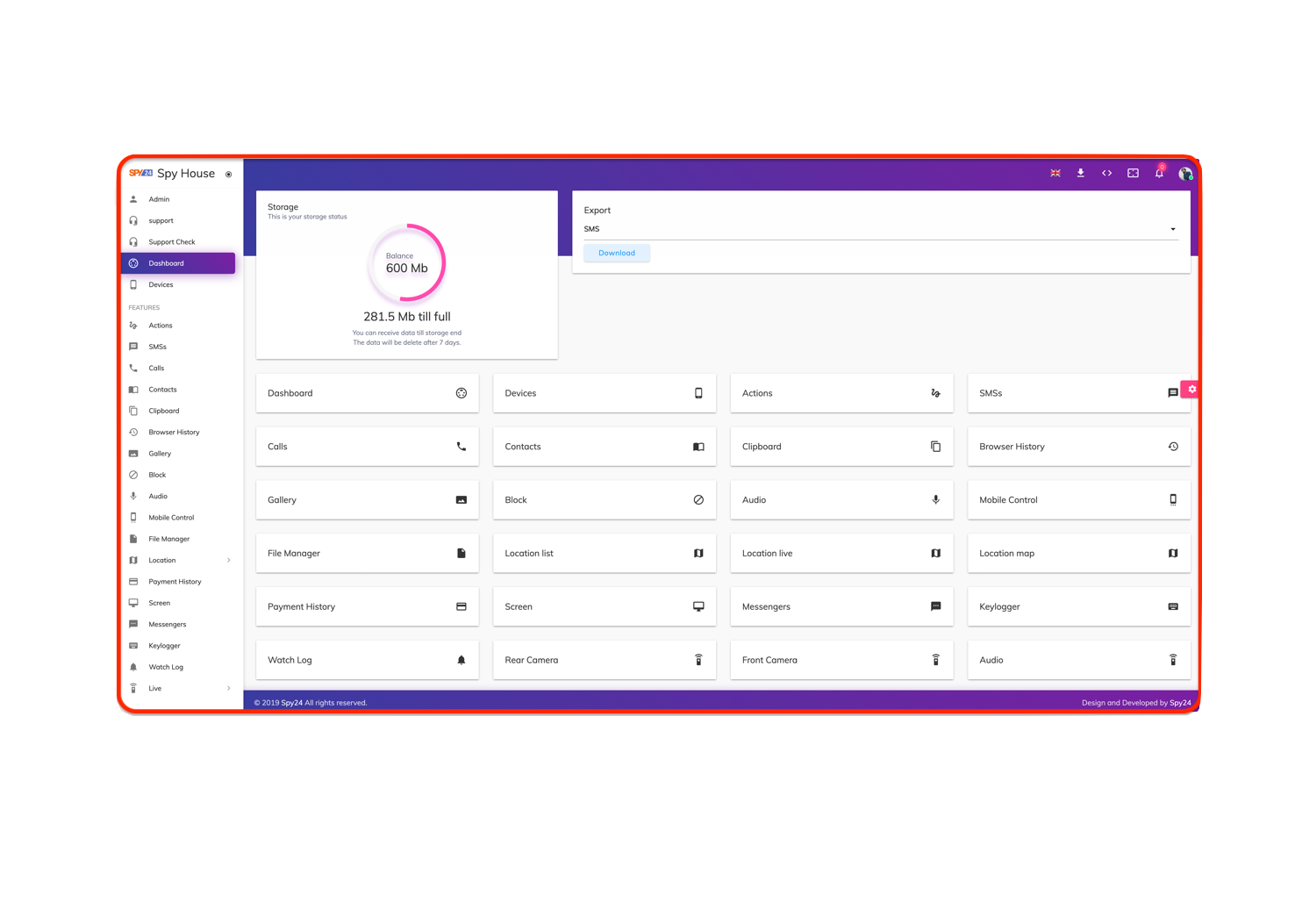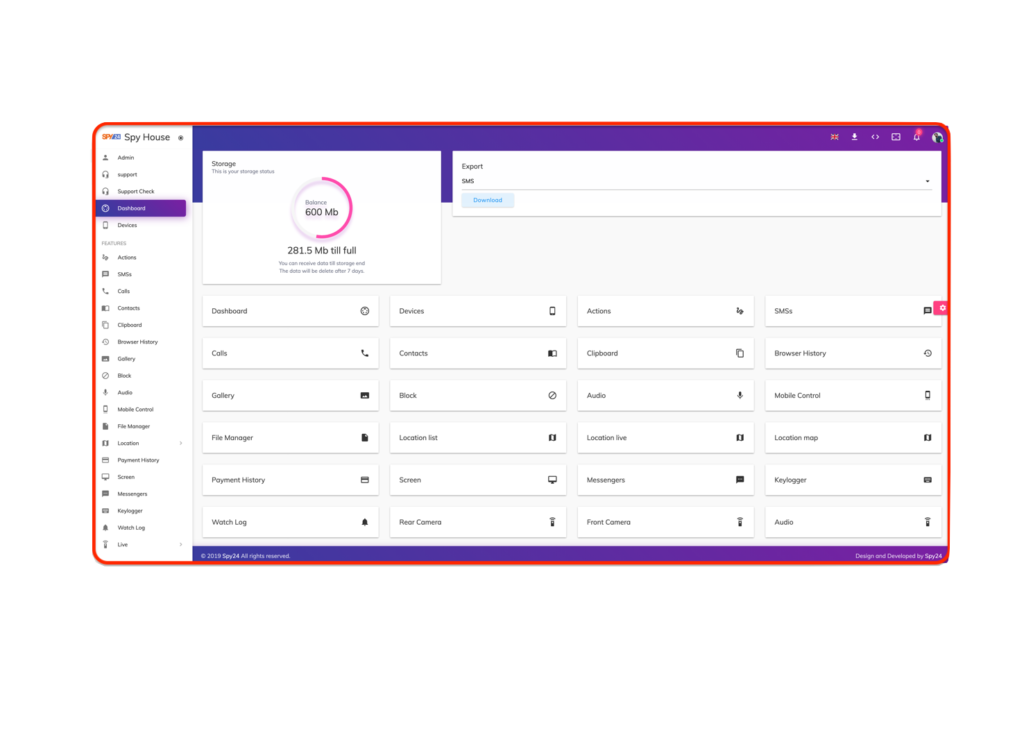 Key Features of SPY24:
Track SMS, call history, real-time GPS location, browser history, etc.
Able to crack passwords of not only Kik messenger
but many other instant messaging apps such as WhatsApp, Snapchat, Facebook, etc.
Compatible with iPhone, iPad, and Android devices.
Works in stealth mode.
Easy, quick install, and supports remote monitoring.
1. SpyBubble Pro
SpyBubble Pro allows you to track all Kik activities by taking a screenshot whenever the app is opened on the target phone. This app sends Kik messages and passwords using a keylogger and removes the Kik app from the target phone without touching it.
2. Spyic
With this app, you can view all the words entered on the Kik application, including their messages, searches, and passwords. Spyic takes a screenshot of the Kik app so you can see all their activities and read their chats. Besides these amazing apps, we recommend you to read Appamia review 2023 too.
3. uMobix
uMobix is a famous Kik hacking app that is the best choice to follow someone's Kik messenger. This app has a simple interface and provides many features to hack someone's Kik messages account without their knowledge.
How to Hack Kik on iPhone with uMobix
First, create a Kik account on its official website and then set up the target device.
Next, you need to install the app discreetly on the target device. Remember to disable the Play Protect option to prevent the Play Store from detecting this app.
When the installation is complete, open the Kik hack app, log in with your user details, and launch it. Make sure to give all necessary permissions at the end.
4. Cocospy
Cocospy is also one of the best phone tracking apps out there. The app runs quietly in the background, so you won't have a chance to get caught. Remember to hide the app icon once the installation is complete.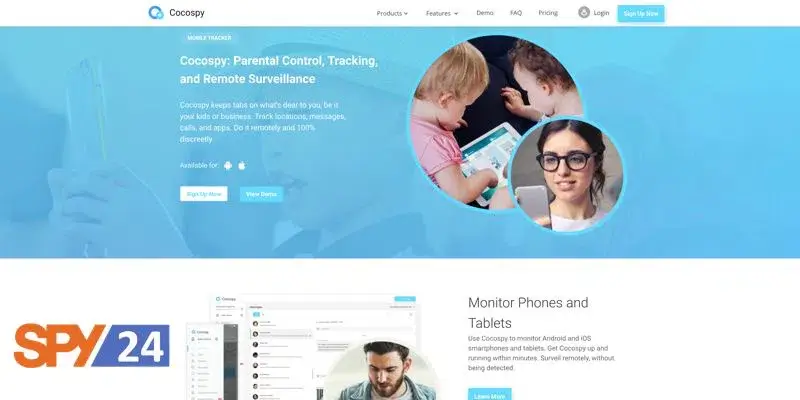 How to Hack Kik on Android with Cocospy
First, you must visit the official Cocospy website and create an account.
Enter the target phone, install the app, and hide the icon.
Installing applications on Android devices is quite simple. However, you need to enable iCloud backup for iPhone gadgets and know their iCloud credentials.
Now go to the app dashboard and tap on the keylogger and start tracking Kik.
5. mSpy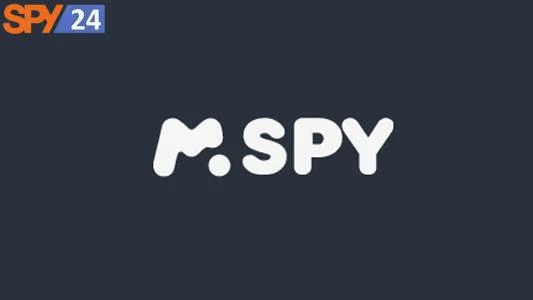 If you are looking for the best and easiest Kik hacking apps, then you can use mSpy. The app works on all leading Android and iOS devices. However, the hack tool only supports Android smartphones. Read our MSPY parental control review 2023 to get more details.
How to hack a Kik account without a password using mSpy?
To use mSpy, you need to visit the official website, fill in all your details and create an account.
In the next step, you need to access the target device. Then go to Settings, followed by Security, and click Unknown Sources. This will permit the device to install apps from third-party sources.
Now go to the official mSpy website, download the app, and install the Kik hack tool. Once the app is open, log in to your account and launch it. Make sure that you give all the necessary permissions for the app to work properly.
How to hack a Kik camera?
Are you looking for a hack that can fool the Kik camera for you? You can use third-party apps like GalleryCam, Fake Camera Kik, etc., to hack Kik cameras easily. These apps are freely available on the Internet. These apps will allow you to share your existing photos without the target person knowing.
Is Kik safe from hackers? How to protect it?
Kik is not safe from hackers as it can be easily attacked with special Kik hack tools. But don't worry. You can protect your Kik account from hackers by using the following tricks.
Never let anyone touch your phone, and protect your password strongly.
Never use public Wi-Fi networks.
Never tap on unknown links you receive in text, email, or chat in Kik or any other app.
Use a strong password for your Kik account and change it periodically.
Always have a strong anti-malware app installed on your phone.
Hack Kik with no Survey: Final Verdict
When you search online, you will see many websites telling you that you can hack someone's Kik messages account on a mobile device just by filling out a survey form. Let me warn you that all these websites are scams. If you want to hack someone through Kik without a survey, you should use Kik hacking apps and tools like the ones I shared with you above.
Can you get hacked by Kik for your iPhone?
Yes, Kik accounts can be hacked in a variety of ways. The most common way to hack someone's Kik messages account is to use phone hacking apps, but some options include:
Hire a professional hacker
Use the password reset method
Use a keylogger
Is it safe to use free online Kik hack tools?
Using Kik mobile hack is completely safe as long as you don't provide important personal information like bank details and social security numbers. Besides using hacking apps, you can also try explaining the dangers of chatting online with your kids. Completely free tools can be scams; Therefore, you're better off choosing a paid app to avoid becoming a victim of the malware.
How Do You Fake A Camera on Kik?
First, download Kik messaging for Windows or phone, and then you'll need a fake camera app. There are many of them, so you will probably have no problem finding the right one for you. Be sure to browse the App Store and read the reviews before downloading. One well-reviewed app is GalleryCam, which doesn't require root and seems to work pretty well.
How to hack a Kik account with no download software on the target device?
If you want to know how to hack a Kik account without downloading, we have to let you down. It is almost impossible to hack someone's Kik messages account without installing any third-party apps on the target device unless you are a professional hacker or know how to hack a smartphone remotely. Also, it is not possible to log in without a password.
Is it possible to hack the Kik password?
If you are going to log into someone else's Kik account without their password, the password change option is the most achievable choice.
Is it legal to hack into someone's Kik account?
Technically, hacking into someone's Kik account is an "invasion of privacy." However, if you protect your child from online predators and bullies, many will assume that's okay.
How to protect your Kik account from getting hacked?
As you can see, it's pretty easy to learn how to hack a Kik account without being detected. However, if you want to protect your Kik account from being hacked, consider following these recommendations.
Always keep your phone in a convenient place so that no one else can access it without your permission.
Alternatively, enable a screen lock on your phone and set up a strong, hard-to-crack password.
You may also consider installing an anti-malware or anti-spyware application on your device to protect it.
Avoid connecting your device to a public network or computer, as this may compromise its security.
Do not click on links from untrusted sources that are forwarded by anyone on Kik or other messaging apps.
Don't keep the same password for all accounts, and turn off Autosave so no one can access your account details.
Conclusion
You want the best for your kids, and that's why you might be looking to hack Kik to make sure they don't engage in dangerous activities on Kik. You can use SPY24, but you can also explain the dangers and instruct them on the do's and don'ts of using Kik. We hope you find this article in SPY24 App useful! You can also read our other articles, such as Best Kik Messages Spy Apps.
Spy on Android devices with SPY24, and be sure it won't let you down. By using SPY24, you can better understand your children and employees. Previously, cell phones were limited to making calls and sending text messages. The constant upgrading of the same products has made the use of mobile phones more than just a basic communication tool. Now that phones have the Internet, people can contact anyone, no matter where they are.
SPY24 is a developed monitoring tool for Android and iOS devices. You can use it to track the online activities of children or employees without being detected. It monitors a wide range of social chat apps like Kik, Snapchat, Line, Skype, etc., and it also is a Facebook Messenger spy app. Moreover, if you want to spy on an iPhone without Apple ID and password, SPY24 is the ultimate option. Here are some benefits of using this app: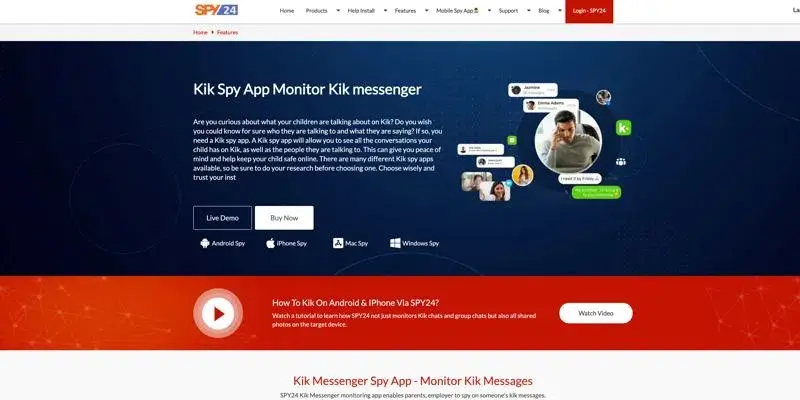 Kik messages Spy App, photos, and videos.
Access call logs easily
Check browsing history
Tracking social apps
Tracking GPS Location
To install SPY24, all you need to do is follow some basic steps:
1. Purchase a subscription. Once your purchase is confirmed, your username and password will be sent to you immediately via e-mail.
2. Go to the app website and sign in with your details.
3. Select "New phone profile."
4. Click "phone."
5. You will need to enable iCloud backup. Click "Continue."
6. Fill in your phone credentials and tap "Verify."
7. The name of the phone and the time it was last updated will be displayed.
8. Click "Continue."
FAQs
Can You Get Hacked Kik for iPhone?
Yes, there are lots of Kik mod APKs available for both iPhone and Android that allow you to hack the Kik application.
How Do You Fake A Camera on Kik?
To fake a live camera on Kik, you need special third-party apps like GalleryCam, Fake Camera Kik App, etc.
Is It Possible to Hack Kik Password?
Yes, with the help of a keylogger, you can easily hack Kik's password.
Is It Dangerous for Kids to Use Kik?
Whereas Kik can be useful and fun, it also poses some risks for teenagers – risks that make you want to know how you can spy on someone's Kik.
Are There Any Working Kik Online Hacks?
Sadly, most of the online password hackers for Kik are gimmicks and might not work (instead, they would ask you to complete unwanted surveys). You can consider using the Kik hack tools that I have listed in this post.